We love earrings. Earrings are probably the most versatile piece of jewelry you can have in your wardrobe. Earrings can match necklaces or they can stand on their own merits. They can enhance an outfit or draw attention from an outfit. They can be slender dangles. They can be chunky affairs. Earrings can be a discrete post or a monster hoop.

One fantastic thing about stringing your own jewelry is how easy it is to design earrings with wire and components that are remnants from previous projects. Nobody wants to waste a good piece of wire. Nobody wants to toss a pair of spacers or beads that just do not work on other projects. The length of most earrings is perfect for repurposing material that did not make the cut in other projects.
Earrings can also be made from brand new wire. There is no reason not to buy beads and components for earrings. Buying new wire for earrings is fun, you can opt to buy a bunch of ten foot spools of many colors and see what color you like best for any given project. A lot of people shy away from buying larger spools of color as they may feel they need to design with that color only, but not a spectrum. With ten foot spools, you can have a bigger color wheel to design from. Earring designs with colored beading wire usually means exposing the wire. So, plan carefully, do you want your earring wire to shine through the bead? Try a White Quartz colored beading wire – it will illuminate any crystal that is strung on it. Pink Tourmaline colored beading wire is an outstanding option for rose quartz – the color makes the gemstones really sparkle. You can also go with a timeless Sterling Silver plated beading wire or 24k gold plated wire – they will look stunning with any design you put together.
This free project idea began when Sara was doing a live Facebook unboxing show. She had just received a mystery gift from Plazko.com Marketplace. Plazko is an online store that sells chain, beads and findings, charms, Swarovski, tools, and Soft Flex Company products. Sara's unboxing videos are videos that feature mystery products from various bead stores. She opens their mystery gifts and then designs jewelry. It is all on the spur of the moment and she never knows what she is getting or what she is going to be designing. On this occasion, she designed a necklace using Soft Flex 24k Gold Extreme Beading wire and Plazko chain. Sara later decided to create some earrings to accompany this lovely necklace.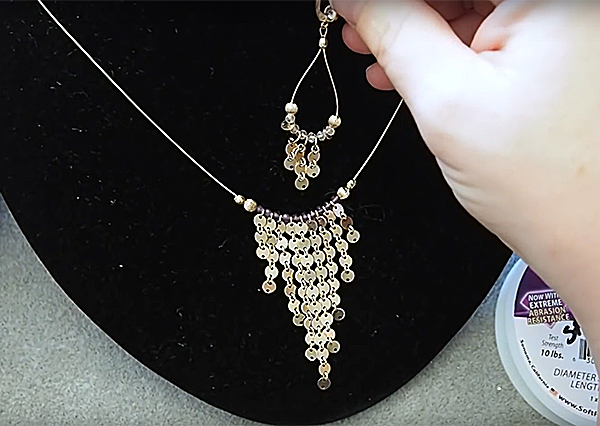 Materials
24k Gold Extreme Flex Beading wire .014 diameter
Plazko Gold Chain (discs connected by jump rings)
2x2mm Crimp Tubes
3mm Crimp Cover
Ear Wire
Beads (we went with Amethyst crystals)
Tools
Bead Stopper
Cutters
Crimping Pliers
Chain Nose Pliers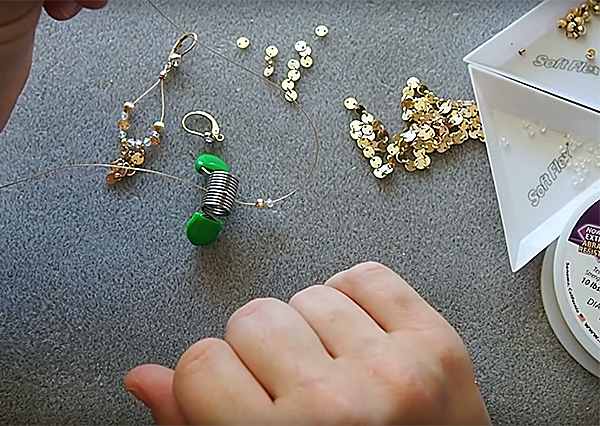 Instructions
Step 1: Choose the beading wire you would like to use. We used 24k Gold Extreme Flex Beading wire .014 diameter, but there are no hard rules. You can choose any color you find fitting. Cut a small piece of wire off the spool, four inches is a good bet for an earring, but you can make yours longer or shorter per preference.
Step 2: Attach a Bead Stopper to one end of the wire. This will prevent the beads from sliding off the end as you work on the opposite side.
Step 3: Cut some discs off the Plazko chain. For this earring, we cut one disc off, then three, then four and then three, and one. These will be dangling on the finished earring.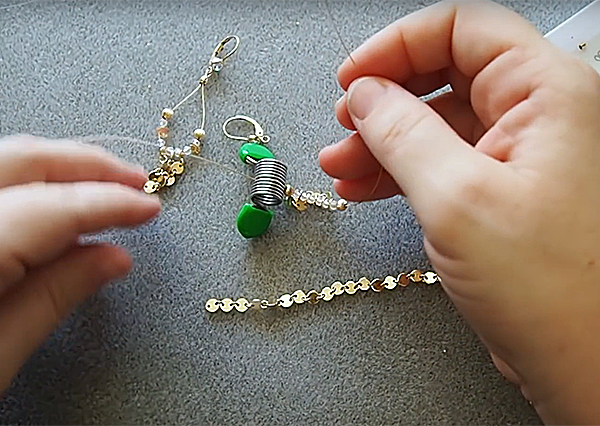 Step 4: String one metal bead and seat it next to the Bead Stopper. The metal bead we used was a 4mm metal bead.
Step 5: String a gemstone of your choice. We used an Amethyst crystal in this case to match other necklaces from our Plazko unboxing.
Step 6: String the single cut disc, use the hole where it was attached to a jump ring. String a crystal. String the three disc chain, string a crystal and then the four disc piece of chain, string a crystal and then the next three disc, a crystal, the one disc and then a crystal and metal bead.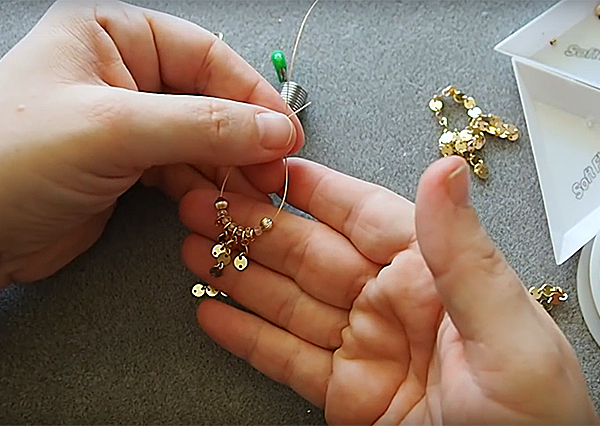 Step 7: Remove the Bead Stopper. Hold both stands and determine the length and drape you would like. The beads are going to float on the earring, so do not worry about making the design smaller, you want wire to be visible and beads to move freely.
Step 8: Place the 2x2mm crimp on the wire. You will have two pieces of wire sticking out of the crimp at the top.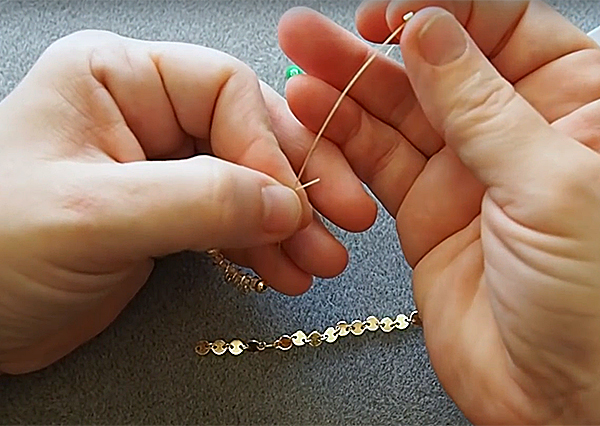 Step 9: Cut the wire once you determine how long you want it. Leave some room on one strand to loop back through the crimp. Leave a little room so you can trim after you crimp on both strands.
Step 10: Take a single strand of wire and loop back down through the crimp. This will become the loop that holds the ear wire. Make the loop small.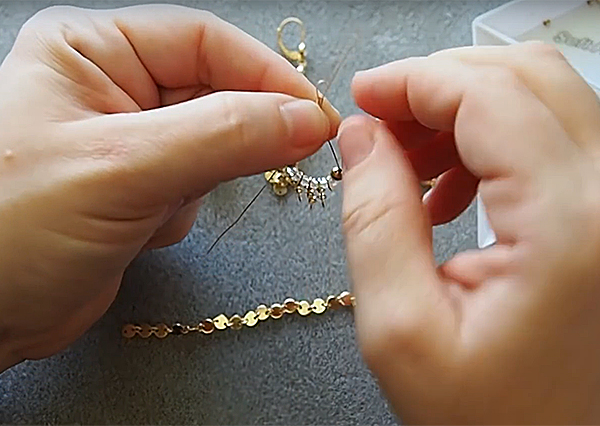 Step 11: Once you are sure you do not want to make any changes, crimp the crimp bead. We suggest crimping once with the crimping hole (the hole with the small tooth). This will put a divot in the crimp. We then suggest crimping with the rounding hole multiple times, turning the crimp each time you crimp down. This will give the crimp a beautiful rounded finish and will ensure that the piece is secured.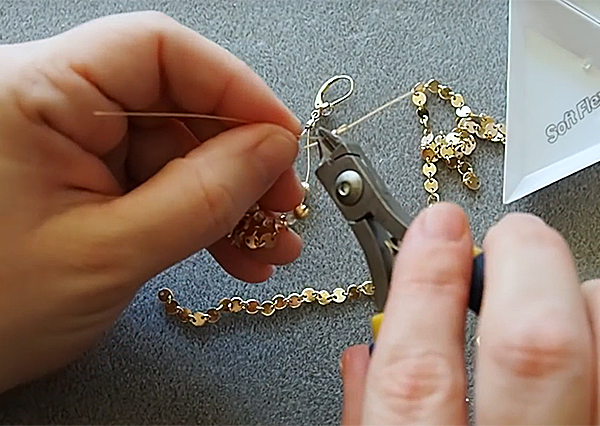 Step 12: Using a pair of flush cutters, cut the excess wire off the area around the crimp.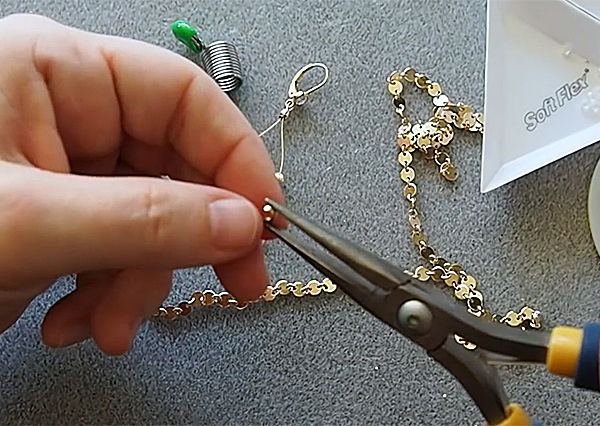 Step 13: Use a 3mm crimp cover to conceal the finished crimp. Close the crimp cover with a pair of chain nose pliers. You can leave the crimp as is if you do not feel like adding a crimp cover.
Step 14: Use the chain nose pliers to open the jump ring on the ear wire. Slide the loop in place and close the jump ring to finish.
Step 15: Repeat these steps to add your second earring and finish the set.
Watch the YouTube video below to see Sara create this earring. The video is short and easy to follow.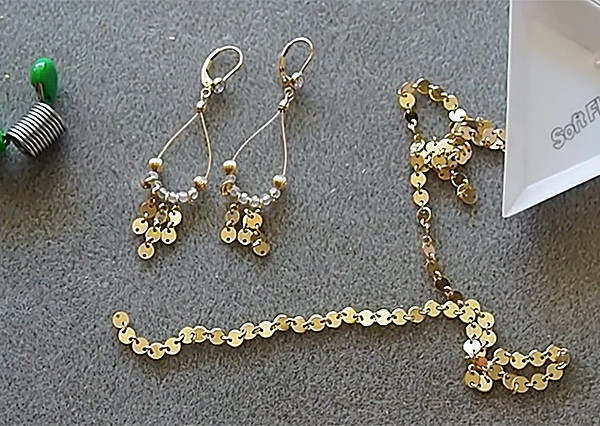 Projects not intended for children under the age of 13. The information on this instruction sheet is presented in good faith, but no warranty is given, nor results guaranteed. Soft Flex® Company disclaims all liability from any injury to anyone undertaking the construction of this project as a result of improper safety precautions.
Join our Facebook group – VIB. Stay in the know. Stay up to date. From our bead shows to our video shows and sales, you can stay in touch with us. The community is full of artistic and helpful beaders and crafty people. Inspire and be inspired. Share your pictures and get the beading bug from others!
Visit the Soft Flex Company YouTube Channel!
---
Blog contributor Thomas Soles is the Trade Show Coordinator for Soft Flex Company. His favorite stones are Lapis and Pietersite. His favorite hobby is day dreaming. And his favorite mustache is Tom Selleck's. As you can see, he has a healthy (or possibly unhealthy) sense of humor. You can write to him at Thomas@SoftFlexCompany.com