Do you work with brilliantly colored beads? Today, we are looking at metallic iris beads. Up close, they are dazzling little gems. Awash in fantastic colors and slick highlights. Each has a hot spot that catches the eye. These beads are very active and visually stimulating. But come away from the close look and the colors start to fade and blend into each other. The grand spectrum of the single bead becomes lost in a collection of similar beads. So, how do we work with an exciting bead that may be difficult? Margie Deeb has the answers in today's blog!

We love Margie Deeb's intimate knowledge of colors and we wanted to re-share some of our archive articles she has written for us. Margie is an incredibly talented artist, designer, and author. Follow along on her color journey. Let's all become students of color!
Below, Margie discusses how to tackle beads that may lose their identity when clustered with other similar beads. Metallic Iris beads can be a trap. They are very stimulating up close but can dull a design. Learn how to use these beads in ways so they do not lose their luster.
Make sure you visit our colorful Bead Mixes. Bead Mixes are themed collections of wonderful shapes and colors. Design with a juicy blueberry palette, celebrate a sunset, stir your wanderlust, and more. Take a journey on your next jewelry design with these fun selections.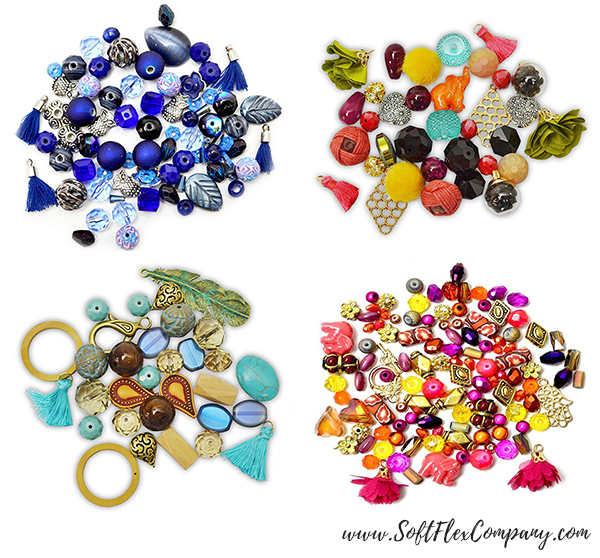 I solicited feedback from my newsletter subscriber list and Facebook for my 5th book, The Beader's Guide to Jewelry Design. I asked about the challenges you face as a jewelry designer in several arenas: color, composition, style, durability, wearability, and more.

Rosanne Andreas responded, "...working with iris/metal beads is a color challenge." Since a topic of Margie's Muse column was "Escape the Dark Metallic Iris Trap," I'd like to explore some of the most aesthetic approach to incorporating metallic iris beads in jewelry.
First, let's visually dissect the metallic iris bead. When we look at the bead we are seeing three things simultaneously: the actual base color of the bead, a coating on the surface much like shifting oil slick colors, and a reflective "hot spot" (a bright white dot reflecting the source of illumination right back to us). Each bead is like a little planet with its own surface (the original color), atmosphere (the AB finish), and sun (the hot spot). Keep in mind that all of this is taking place on every single bead. Visually, these are active, busy beads.

The most common mistake is using only and all metallic iris beads to make an entire piece, expecting that the piece will be as lush and gorgeous as all those sensuous, shifting, rainbow colors. It won't because to actually see those beautiful rainbow colors you have to inspect the beads very closely. When viewing metallic iris beads from a distance, you don't see all the rainbow colors. Depending on how much distance, you see one homogeneous color that the brain has visually mixed, just like it visually mixes the millions of pixels that make up an image.

When viewing metallic iris beads from a distance you see another thing: many hot spots. Lots of tiny white reflections. These detract from their gorgeous color as well.

So how to work with these busy worlds of color and light? The best way is to understand what they can and cannot do. Then craft your approach from that well-informed position.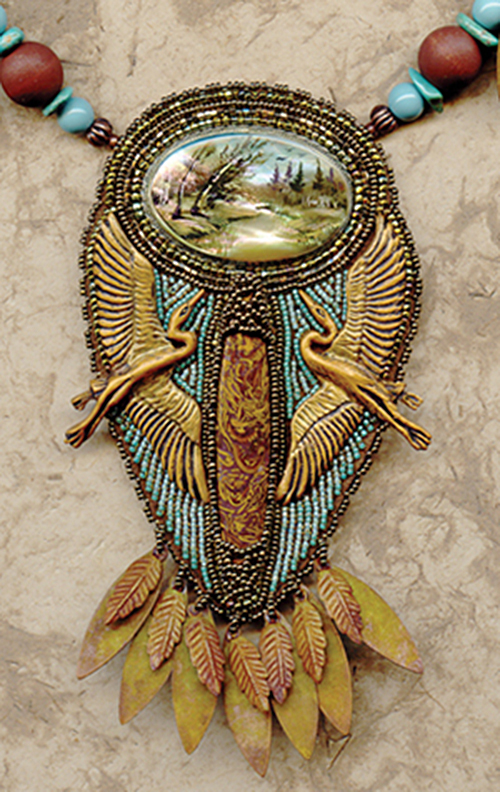 "Two Cranes" by Heidi Kummli
Study how Heidi Kummli uses iris beads and you'll see she uses them as accents, not focal points. She employs them only to support and augment the other more important component(s). She doesn't expect metallic iris beads to carry the whole color scheme. In addition to strong focal points of interest, Heidi includes strong points of carefully chosen color, often solid, in most of her pieces. She surrounds those solid colors with metallic iris beads. In her work, you don't see metallic iris beads on their own. Look carefully at her bracelets, especially "Road Trip"

Notice also the abundance of lighter metallic iris beads. Heidi incorporates the colors of their iris surface in her larger stones and focal beads. Their shifting color surface plays off the focal and accent colors giving her jewelry a warm, magical glow.

Sherry Serafini uses more dark metallic iris beads than Heidi, in similar ways. They are accents to more solid color focal points which incorporate the same oil-slick colors. Look at Sherry's gallery of handbags whose palettes rely heavily on colorful dark metallic iris beads. Her larger stones define the color scheme, and the metallic iris beads serve as accents to enhance the stones and palette.

Don't expect iris metallic beads to look as beautiful in concert as they do individually. It won't happen. They don't actually broadcast much color because they are so highly reflective. Your eye sees a lot of reflected light as well as color. Squint and you'll see what I mean. I'm not saying not to use them in broad expanses. Just don't expect them to convey what they can't. Realize that they convey lots of tiny shimmers and flashes of rainbow color rather than masses of lush, fluid, liquid rainbow color.
Remember that the dark metallic iris beads are visually heavy, they add visual weight. A palette that is full of dark metallic iris beads is visually heavy. You may or may not want this. Just be conscious of it.

If you are wanting to delineate a design or architectural component don't use two different colors of dark metallic iris beads to do it. There's not enough contrast for them to be distinguishable from one another. For example, if I want bead-woven flowers to stand out from the woven foundation of my bracelet, I would use different colored beads: two colors with enough contrast to distinguish flower from foundation. Two dark metallic iris finishes would not work in this case. The result would be a mish-mash; the flowers would be lost on the foundation because there is not enough contrast among the dark metallic iris finishes to flower apart from foundation.

Regarding color, treat metallic iris finishes as you would treat the underlying base color that they are. If you have a green metallic iris bead, treat it like a green. But remember, it will emit less green because of it's oil-slick and reflection than a matte green bead would be.

Bead photos courtesy of www.Whimbeads.com
Join our Facebook group – VIB. Stay in the know. Stay up to date. From our bead shows to our video shows and sales, you can stay in touch with us. The community is full of artistic and helpful beaders and crafty people. Inspire and be inspired. Share your pictures and get the beading bug from others!

Visit the Soft Flex Company YouTube Channel!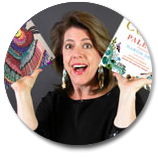 Artist and color expert Margie Deeb is the author of The Beader's Color Palette, The Beader's Guide to Color, The Beader's Guide to Jewelry Design and numerous beading and color publications. She teaches color and beading across the country and her free monthly color column, Margie's Muse, is available on her website. She writes regularly for Beadwork, Bead & Button, and Step-by-Step Beads magazines.
Visit Margie's website for her books, kits, patterns, jewelry, inspiration, and more: www.MargieDeeb.com