Let's think pink! Pink is truly a sublime color. It is fiery passion. It is warmth and sensuality. It is luminous and elegant. So lovely! Pink is a wonderful choice for bead stringing wire if you want a luscious complementary accent to your beads and gemstones. Today, Margie discusses pink. She discusses the strengths and weaknesses of her favorite tone - magenta. Let's have a look at this alluring color. Do you love pink as much as we do? Read our blog and we will think pink together!

We love Margie Deeb's intimate knowledge of colors and we wanted to re-share some of our archive articles she has written for us. Margie is an incredibly talented artist, designer, and author. Follow along on her color journey. Let's all become students of color!
Below, Margie discusses magenta. Her favorite tone of pink. Magenta is alluring and radiant. It can be more stimulating than true red. This color is seductive and wonderful. Designing jewelry with this wonderful color is sure to turn heads. Would you like to learn more about pink and magenta? Let's explore color!
With winter dragging on, Valentine's day ahead, and spring on the horizon, I am thinking pink. I'm eager for it's sensuality, vitality, and charm.
In her lighter, brighter versions, pink is such a flirt. She's a coy, coquettish version of red; a siren luring you to sensual pleasures. After these last months of bundling myself in sweaters against the teeth-chattering temperatures, I welcome her seductive warmth.
Magenta is one of my favorite versions of pink. An alluring purplish-red, more luminous than true red, magenta exudes luxury. The color itself seems to have a texture of damask, or silk, or perhaps taffeta. Indeed, the Victorians reveled in fabrics colored with newly discovered synthetic dyes of magenta and fuchsia. Think hot pink, neon-pink. Geraniums, cyclamen, fuchsia, primroses, orchids, peonies, and bougainvilleas are but a few of nature's blossoms that seduce with magenta.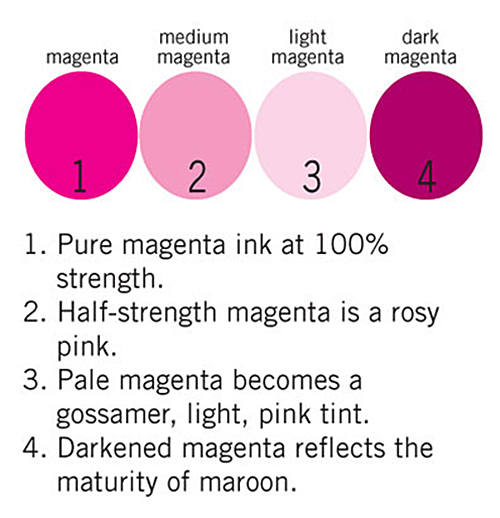 Most publications printed in color use a four color printing process referred to as "CMYK." The "M" stands for magenta. Magenta is responsible for every printed color that has a reddish tint. Magenta is the "red" primary of printer's inks. As a primary it creates brighter, more luminous oranges, purples, and violets than does its red counterpart.
Magenta and most pinks pose one major problem. They are insufficiently lightfast, especially in the medium of glass beads. Many magenta and pink glass beads will fade from exposure to cleaning agents or sunlight. Test beads for lightfastness by setting a bowl of them in the sun for a few days. If the beads are to be worn, wear a strand against your skin for a few days. Many dyed beads will not pass these tests as dyed beads are coated with color which can rub off. Glass beads, however, are impregnated with pigment, which produces a more stable color.
Because it is often an unstable hue, you won't find many natural materials for jewelry in shades of magenta (though some rubellite tourmalines come close). Wood, shell and howlite beads are dyed in shades of magenta. Glass, or plastic if you want a less sophisticated look, is the best way to charge your work with magenta and fuchsia tones.

Join our Facebook group – VIB. Stay in the know. Stay up to date. From our bead shows to our video shows and sales, you can stay in touch with us. The community is full of artistic and helpful beaders and crafty people. Inspire and be inspired. Share your pictures and get the beading bug from others!
Visit the Soft Flex Company YouTube Channel!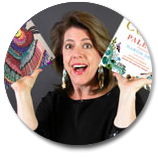 Artist and color expert Margie Deeb is the author of The Beader's Color Palette, The Beader's Guide to Color, The Beader's Guide to Jewelry Design and numerous beading and color publications. She teaches color and beading across the country and her free monthly color column, Margie's Muse, is available on her website. She writes regularly for Beadwork, Bead & Button, and Step-by-Step Beads magazines.
Visit Margie's website for her books, kits, patterns, jewelry, inspiration, and more: www.MargieDeeb.com