I bet the answer is "Yes." You may already have several! As you know, books can play a huge part in what you learn about making jewelry. The challenge lies in finding the right book. A brief look into the number of books that are on the market today is astounding. Just tap into any major book website and type in the words "Jewelry Making". If you get less than 1000 hits, check again! Of course, you could narrow your search to something more specific, such as "Beading". You will find close to 200 titles. At this point, be ready for the next challenge. These titles may not tell you what the book is about. Or at least not what YOU think it is about!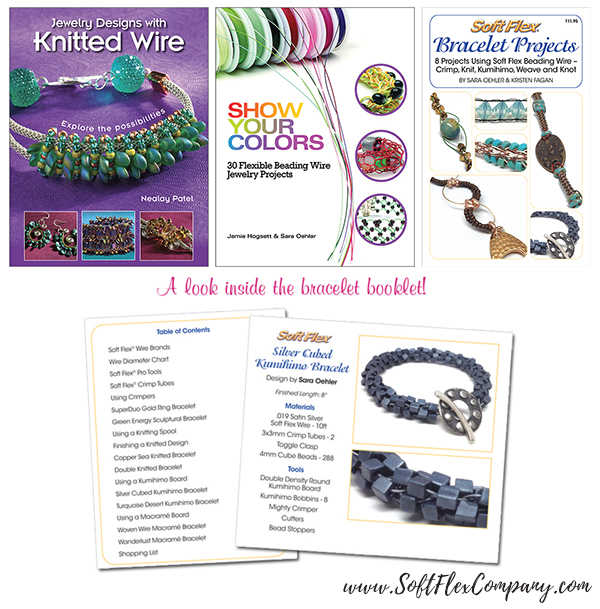 For example, if you bought a book with the word "Beading" in the title, you might expect it to include this kind of work: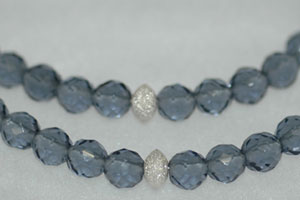 You would be quite surprised then, to find a book that featured this kind of work: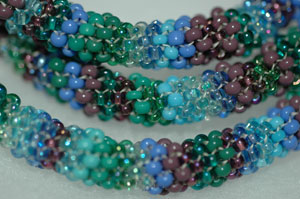 Beadwork courtesy of Julie Mueller
You will find that you will need to look beyond the titles to find what you want to learn. The issue lies in the language of jewelry making. It is really quite confusing. This article will discuss ways to find the best books for your needs to accompany you through the various stages of your jewelry making journey.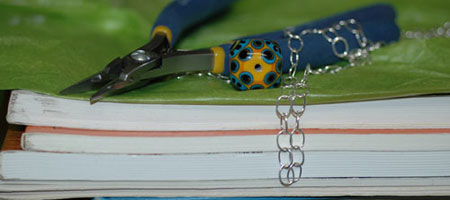 Getting Started
It is wise to start making jewelry with a moderate investment. Once you become more skilled and your interests more focused, you will be able to make more informed decisions about which tools and materials you will need. You can always build as your interests grow and change. A good place to start to learn jewelry making techniques is with books about Stringing and Wirework. These books offer many opportunities to develop jewelry making skills and give step by step instructions to complete attractive projects. The projects are typically bead oriented and the investment is reasonable. Beginner projects are simple and can be finished in short periods of time. In addition, while some jewelry making techniques are best learned in a hands on situation, these techniques are relatively easy to learn from a book.
Beads on cord courtesy of Sue Graves
For the purpose of this article, visualize a project where you would put a cord through the holes in your beads, perhaps you would knot it or maybe you would use a clasp. A good Stringing book will walk you through safety procedures and health practices. It will teach you about the supplies you will need (which are few) and about the materials that are appropriate for the size and weight of your beads. Any tool that you buy for Stringing can be used in other kinds of jewelry making. When you become more skilled in beginner techniques, there are books that teach more complex Stringing projects, such as multi-strand pieces and work that incorporates other techniques such as those used in Wirework, which is discussed further in this article. Stringing projects can be found in some books that include the words "Stringing", "Beading" and "Jewelry Making" in the title, but not always. One way to be sure that you are getting the book you want is to look at the photos to see what kind of projects are included. Check the table of contents and the index. Count the number of pages that are dedicated to Stringing. Look to see if the techniques that are used are the ones that you want to learn.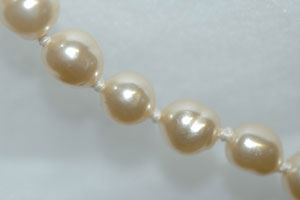 For the purpose of this article, visualize your mother's pearls. Knotting is repetitious work and time consuming. Very little in the way of tools and supplies are needed to complete Knotting projects. Knotting is often included in books about Stringing. There are also books that are completely dedicated this technique and are titled as such.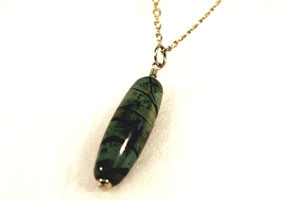 For the purpose of this article, visualize a project where you would wire beads and charms directly onto a chain. Your beads could even dangle from individual links on earwires.
Wirework earrings courtesy of Heather Jackson
A book that teaches Wirework will, of course, have "Wire" in it's title. Wire projects can also be found in some books that include the words "Stringing", "Beading", and "Jewelry Making" in the title but not always. "Wirework" books sometimes teach "Wire wrapping". Both are wire techniques, but do not confuse the two. You will read more about "Wire wrapping" later in this article. A good Wirework book will talk about safety and health practices, as well as describe the types of tools and supplies you will need. It will show you how to bend, twist, curve, coil and hammer wire in order to create various findings i.e. components in jewelry making used to connect, support and highlight beads in pieces such as earrings, pins, necklaces and bracelets. Beads can be made with wire. Jewelry pieces can also be made with wire alone. (Look Ma! No Beads!) "Wire" books will teach you to use "round" wire (a shape of wire used in jewelry making) in various thicknesses (gauges). These books will also discuss the various qualities of metals (base metals, such as copper and brass etc., or precious metals, such as sterling silver and gold etc.). What you use will depend on your budget and goals. Beginning Wire techniques require only a few more tools than Stringing and the basic techniques are not hard to learn. The time required to complete Wire projects can range from a few minutes to several hours. Some "Wire" books include only a few jewelry projects or are really not about jewelry at all. Picture frames, greeting cards and flowerpot decorations are some projects that will fill these books. One way to be sure that you are getting the books that you want is to look at the photos to see what kinds of projects are included. Check the table of contents and the index. Count the number of pages that are dedicated to Wirework. Look to see if the techniques that are used are the ones that you want to learn and that the work is of good quality. I have duplicated examples of the same wrapped headpin technique taught in two different books.
Which example would you choose to follow?: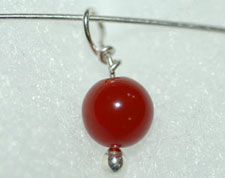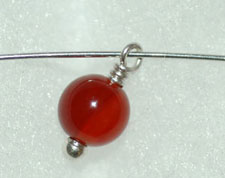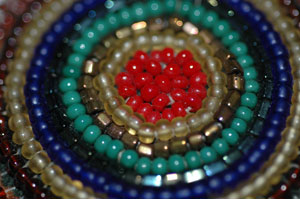 Beadwork courtesy of Julie Mueller
The word, "Beading" in a book title can mean many, many things. For the purpose of this article, visualize the kind of traditional work that Native Americans have done for centuries. Tiny colored "Seed" beads are strung onto threads into patterns. Sometimes looms are used. This kind of Beading can be completely comprised of seed beads, or can complement larger beads, such as a focal handmade glass beads (Lampworked piece). The versatility and beauty of this kind of beadwork and the length of time that it has been used on this planet, probably accounts for a prevalence of this type of work in jewelry making books. "Beading" is often a term that is sometimes used interchangeably with the term "Stringing" as described earlier in this article. Make sure that you look at the photos, the table of contents and the index and check to see how many pages are dedicated to the kinds of projects that you want to learn!
Books with a Focus
There are books that feature very specific techniques and materials. These are books that feature such topics as Buttons, Wire Weaving and Wire Crochet, Macrame, Filigree and Chain Making. These books may use the techniques that have been discussed earlier in this article and adapt them to a particular material or vice versa. They can also be focused on one type of jewelry, such as earrings, or material, such as felt. A variety of techniques are taught in the execution of these projects.
Other Kinds of Jewelry Making and Books that Incorporate Beads
At some point, when you have become more accomplished in your jewelry making skills, you may want to explore the following jewelry making processes and books. Beads are usually not the focus of these books but the techniques can be adapted for your use. These techniques require more from the jewelry maker in terms of tools, materials and time than what has been described previously in this article. They are also methods that can be more difficult to learn from a book.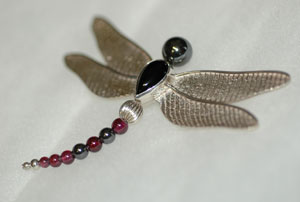 Fabricated piece courtesy of Lauren Brannon
Books with the words Jewelry Making in the title can include any number of projects and techniques. Some of these books are very focused and some are like samplers. "Jewelry Making" books can be a collection of projects or a compilation of techniques (Wirework, Stringing etc.). They can focus on using a variety of materials (wire, found objects, stamped materials etc.). The tools and supplies needed to complete a project can vary greatly. Silversmithing and Goldsmithing books are often found in the "Jewelry Making" department. These books will teach you all about metals and how to cut, saw, rivet, grind, polish, solder and cast them. It is obvious that an investment in the techniques found in Silversmithing and Goldsmithing books can be quite a bit more than what is required in Stringing and Wirework, but not always. These books offer opportunities to experiment and find out what types of jewelry making appeals to you. Make sure that you look at the photos, the table of contents and the index and check to see how many pages are dedicated to the kinds of projects that you want to learn!
Jewelry Making and Media
PMC (Precious Metal Clay), a clay made with fine silver, ART CLAY (also a clay made with fine silver), Resin Jewelry, and Polymer Clay are some examples of a particular media for jewelry making and there are many more. Once you learn to use the media, then you can learn to make beads, jewelry pieces and almost anything else that your heart desires. The books on these techniques are relatively recent and few in number compared to other books featuring more traditional media. On occasion, some of these kinds of projects are found in the kinds of jewelry making books that offer a variety of techniques and materials.
Other Suggestions
Prior to your book shopping, it is helpful to know the terminology. It will help you understand what the books have to offer.
You will want to know:
The types of metals and what their names mean (Sterling Silver, Gold Plated, Gold Filled etc.) This is very important in regard to metal allergies.
The terms "dead soft","half-hard",and "hard"as it applies to wire.
The meaning of gauge as it applies to wire and what the gauges are commonly used for (ex. 22 g is good for ear wires).
The names of beads (Lampworked, Czech, Swarovski etc.).
And If you are going to learn to string, you will want to know:
The names of Stringing materials and their uses (Soft Flex, rubber cord, silk, etc).
You can find these terms in books, jewelry supply catalogs, bead stores and on various jewelry sites on-line. You don't necessarily need to memorize the terms but if you can keep a reference on your person, you will never regret it. Unless you are looking for inspiration and ideas, beware of books whose pages are filled with photos of finished projects without any instructions. Look for books that offer clear, complete and accurate step-by-step instructions along with good illustrations. Examples of process and product must be of the highest standard. You will want to learn the best technique and be proud of your work. Check to see if the book meets your needs and skill level. Do you have the tools, time, materials and supplies that are needed? A good book will cite resources where tools and supplies can be found. Check out book reviews. They can be found on-line, especially on book sites and in magazines.
In Summary
Obviously, no one book will be able to tell you everything and almost every book has something to offer. You will want to purchase more than one, especially as your skills improve. My goal in this article has been to help you evaluate books for yourself and find what works best for you. It is important that you look beyond the obvious and become aware of certain aspects of book shopping that require a closer look before you invest in them. A good book is like a good friend and a person can never have too many friends!
Join our Facebook group – VIB. Stay in the know. Stay up to date. From our bead shows to our video shows and sales, you can stay in touch with us. The community is full of artistic and helpful beaders and crafty people. Inspire and be inspired. Share your pictures and get the beading bug from others!
Visit the Soft Flex Company YouTube Channel!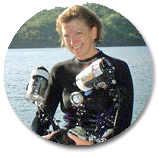 Michele Benson is the owner of the Cuttlefish Glass Studio in Klamath Falls, Oregon, where she teaches Lampwork (beadmaking) and jewelry making. She obtained her Bachelor of Arts Degree in Studio Art from Potsdam State College in New York and is a member of the ISGB. Michele credits her husband, Dan, and her students as being her greatest motivators and inspiration.
Michele can be reached at her studio at 222 S. 6th St, Klamath Falls, Oregon, and by e-mail at 2crazy4u@jsdive.com, or by phone at 541-892-4161.