Sara's latest live design challenge features our Harvest Moon beading kit. Every month we organize a kit featuring beads and jewelry making supplies. The kits are themed and each item in it is hand selected. The previous kit celebrated the enchanting mystery of the ocean: Mermaid's Lagoon. A month after the kit hits our shelves, Sara opens one and designs jewelry with the contents.

Harvest Moon is a feast of autumn flavored gemstones, beads, and wire. The kit is perfect for seasonal and holiday jewelry. Harvest Moon is a celebration of abundance. The kit's content will fit Halloween or Thanksgiving moods.
Sara starts the video with an introduction. She is a little under the weather, but she is rebounding. She is thankful for all of the well wishes from fans and friends on our Facebook group – VIB.
Sara discusses the live design challenge videos. She says the today's featured kit is Harvest Moon. Harvest Moon was sold last month – for this video. The kit is sold out and is no longer available. The people that purchased the Harvest Moon kit can watch the video and follow along with Sara as she creates jewelry. There are also people that purchase kits so they can make their own unique designs. Even if you have not purchased one of our kits, her live design challenges are fun to watch. Sara unboxes a kit that we sell or a mystery box from one of our friends at another bead store. She must then design a piece of jewelry while a live audience watches.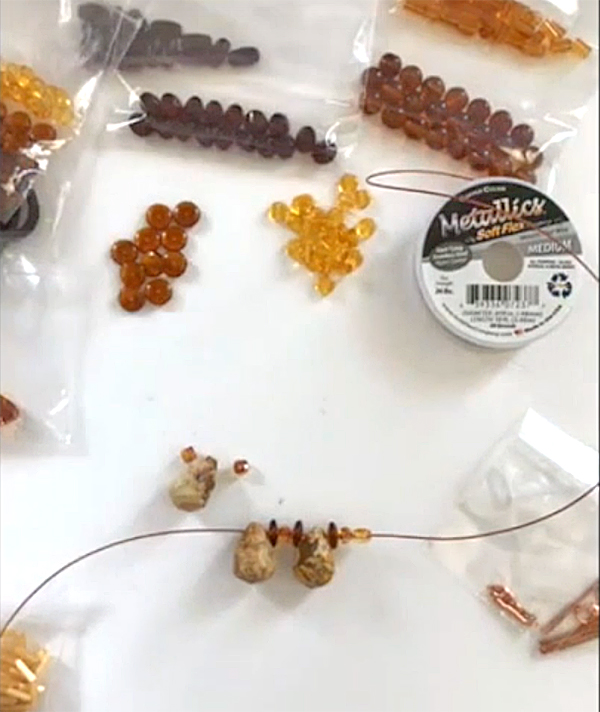 Sara encourages people to post their creations from the kits on our Facebook group. Every post featuring a jewelry creation from this kit will be noted as an entry for a giveaway for the next month's kit. After the deadline for the giveaway, we take all of the entries and assign each a number. We use a random number generator to determine the winning number. The winning post will receive the next month's kit for free. There is only one prize given away.
Part of the fun of the live design challenges is watching Sara work under pressure. She does not know what she is going to make beforehand and has to do everything on the spot. Sometimes she creates something she is not happy with and sometimes she makes mistakes. It is all part of the fun of watching her live. Nothing is scripted. Live design challenges are not tutorials. You may learn a new technique or two watching a challenge, but if you are looking for a straight up jewelry tutorial, you need to visit our library of videos on Facebook and YouTube.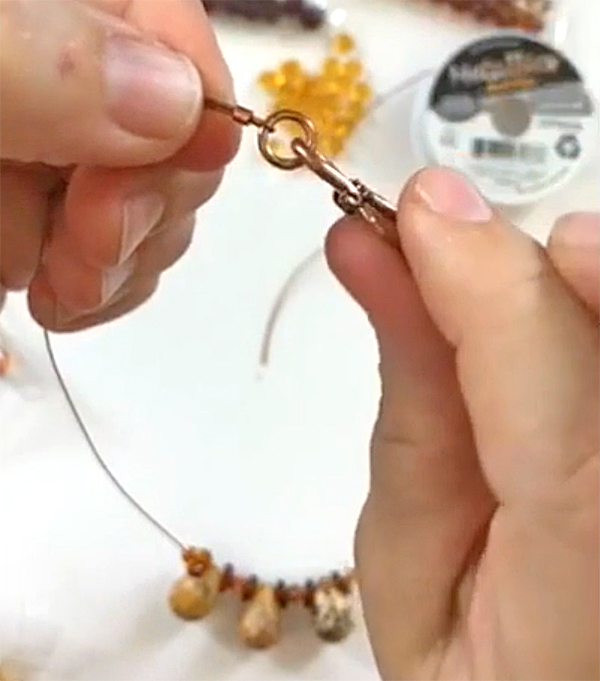 Sara has big news. Every design challenge, we reveal the newest kit and we put that kit online. The newest kit is our Black Magic Kit. Black Magic is a limited quantity kit (like all of our other kits). It will sell out quickly, so make sure you buy it soon. We will feature a live challenge with Black Magic next month –on Halloween of all days. We could not pass up the opportunity to make it a ghoulishly scary kit!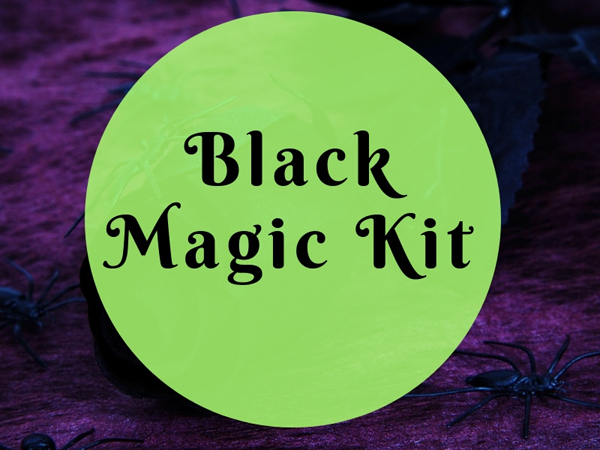 The Black Magic Kit is full of Halloween themed beads and wire. But the items in the kit are not overtly celebrating the holiday. Black Magic Kits are full of elegant colors. Designs for any occasion could be made from the kit. The kit is jewelry friendly and even if you do not like Halloween, you will love this kit. Even better, our friends at Jesse James Beads contributed to this kit. You will definitely get your money's worth!
Black Magic is available now.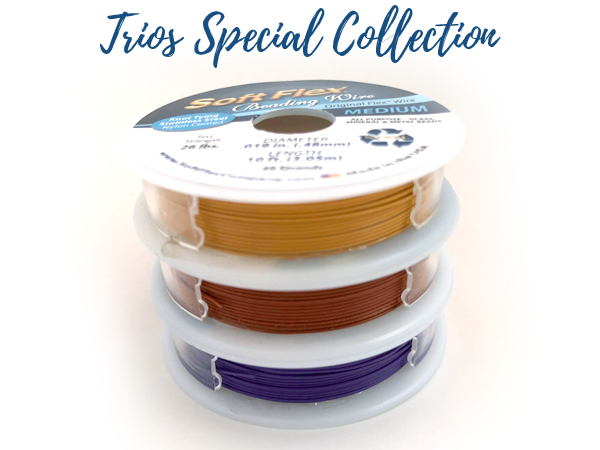 Sara also introduces our newest Trio. She put the new Trio colors together and posted it in Facebook even before getting the go ahead. She is super excited about the colors. She hosted a contest to see who could come up with the cleverest name for the new Trio. Autumn Spice was the chosen name after going through hundreds of suggestions. The colors of Autumn Spice are great complements for both Harvest Moon and Black Magic. The wire will match the contents of each kit beautifully.
Sara shows a pair of earrings she made for her first book, Show Your Colors. The earrings use Red Jasper color Soft Flex Beading Wire. She has orange seed beads and purple crystals on the wire. She says that is when she fell in love with that color combination. Autumn Spice Trios are more or less a result of that inspiration. She has a bracelet with the same colors she made for In BeadStyle Magazine. But she was unable to find that bracelet before the show.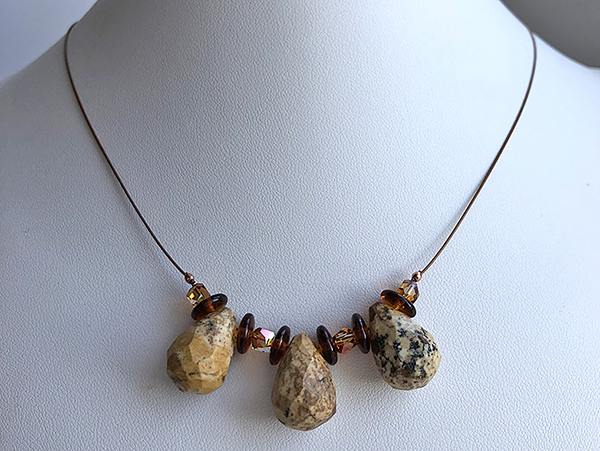 Sara says there is a big findings sale on Soft Flex Company's site.
Sara thanks everybody for their patience. We had to move the design challenge from Tuesday to Thursday because she is ill. She wants to make sure she is healthy and well rested before next week. Next week she will be in Ohio filming a show for PBS. She is doing a show called Beads, Baubles, and Jewels. She wants to make sure she is at her best before the trip.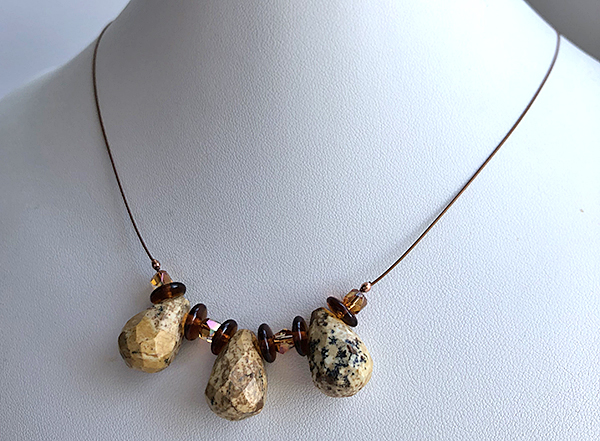 She opens the Harvest Moon kit. Inside is a fall colored beading palette. There is a ten foot spool of copper color Soft Flex Beading Wire. Soft Flex Wire is a marine quality stainless steel. It is coated with a colored nylon, so the wire does not actually touch the skin. The wire is kink resistant and very durable. She explains the 'Test Strength' on the label. The test strength refers to the tensile strength of the wire; that is the measure of force required to snap the wire. The medium diameter she is holding requires 26 pounds of force to break the wire.
Sara shows the copper findings that come with the kit. She shows the beads – Citrine colors, browns, and deep reds. There are seed beads, bugles beads, Swarovski Crystals, Picture Jasper, and more. There is some silk cord. As Sara sorts through the beads, she is already moving beads in place for a design. She opts to use the Jasper. She pulls some wire off the spool to string some beads and see if her idea is going to look good on the wire and if the colors will work together.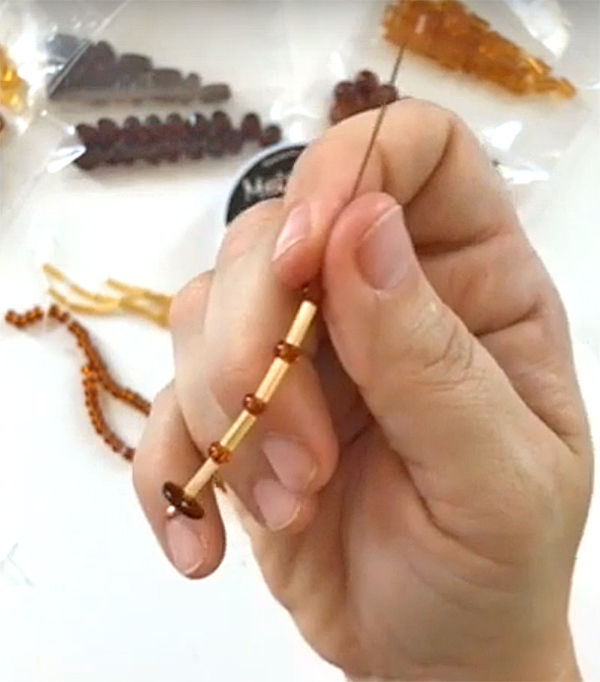 Sara designs a necklace and some earrings with her kit. Be sure to watch the video and see how she puts everything together. Even though this is not a tutorial, she has a lot of tips for beginners and watching her at work is a good way to see how a designer creates their jewelry.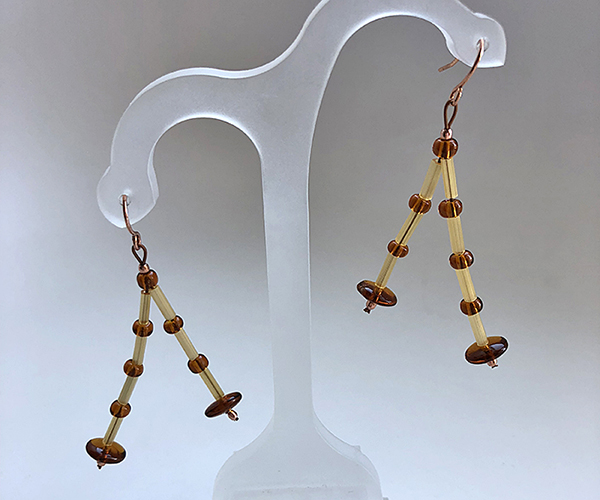 Be sure to sign up for our Facebook group – VIB. We would love to see pictures of your jewelry designs. If you buy the Black Magic Kit, make sure you post your designs once we open that kit on Halloween. Please don't post pictures from the kit early as we do not want to spoil the surprise of what the kit looks like.
Be sure to catch Sara on PBS's Beads, Baubles, and Jewels. Check out YouTube for our video Series, Kristen's Free Spirit Beading and James' Conversations in Wire.
Enjoy the Mermaid's Lagoon unboxing:
Visit the Soft Flex Company YouTube Channel!
---
Blog contributor Thomas Soles is the Trade Show Coordinator for Soft Flex Company. His favorite stones are Lapis and Pietersite. His favorite hobby is day dreaming. And his favorite mustache is Tom Selleck's. As you can see, he has a healthy (or possibly unhealthy) sense of humor. You can write to him at Thomas@SoftFlexCompany.com