Charlene Gary is a fantastic crafty person. She is versed in all things arts and crafts. From metal work and jewelry design to sewing, crocheting, and knitting - she is always exploring and always creating. She is fond of repurposing and reusing found treasures. In this quick article, she describes the ways she finds beads in unexpected places. She turns washers and rubber plugs into beauty. She gives old seashells new lives. She finds magic in the everyday and transforms common items into art.

I used to believe that everything was made or developed for one sole purpose. Once that purpose was obsolete or exhausted, the article would be thrown away, or possibly recycled, if facilities existed. I don't believe that anymore.
Ever since this past Earth Day, I am even more inspired to reduce, reuse and recycle. I grew up with that mentality, my mother being an old hippie and all. We were always trying to look at objects differently in our crafts at home. I've continued with that thought in my jewelry. To take something that-on the surface, to first look at it-seems obsolete and useless, and to turn it into a piece of art, is very exciting. I'm inspired to do more with ordinary objects I find around the house, in the junk drawer, the studio or workshop.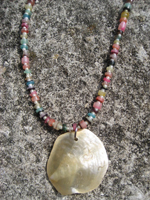 I have made some interesting necklaces using rubber cord, large hole glass beads and washers. The washers are a bit off-set, in that the ends don't totally close as a jump ring does. But it's a bit twisted, and almost open, but not quite. Kids and guys like that kind of look. They can still wear jewelry and look cool doing it. I have found square tubing made of brass that I have cut into 1/2 in. pieces and strung them along w/bone beads and other base metal spacers for an industrial look to a chain and bracelet. I've had to file the ends of the cut pieces so they won't scratch or scrape the person wearing it.
I have hundreds of old buttons passed down from my grandmother that I have been putting to use in bracelets using stretchy cord. I used the thicker diameter, to keep from breaking easily. I make sure to put a drop of super glue in the end knot to ensure it stays tied shut.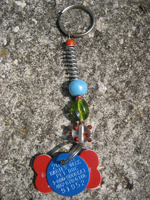 I have started to wire wrap stones that I find. I invested in a good quality, 2 barrel tumbler to smooth out and polish the interesting stones I find while walking, or while I'm with my dog at the park. I take a moment to look down to see what may be there. Some otherwise rough and unappealing stones have turned out to be quite beautiful once smoothed and polished.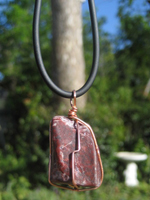 I've found some small shells on my visits to the lake with my dog. I've cleaned them up, washed, disinfected, rinsed and clean coated them to bring a shine to the shells, and have fashioned them into earrings. These shells are delicate, so I wouldn't use them for bracelets or chains. There's too great a risk of breaking them that way.
I've fashioned trinkets from bubble gum machines into bracelets. I've used my dogs old name tags into key rings as a memento of our time together. Springs from retractable pens can be unusual spacers in a chain, with an old skeleton key as the focal point.
Use your imagination. Try something new with something old. Think of objects in a sideways manner and see what you come up with.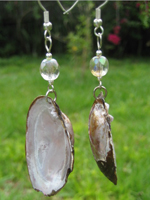 Check out this YouTube video for a quick earring project!
Join our Facebook group – VIB. Stay in the know. Stay up to date. From our bead shows to our video shows and sales, you can stay in touch with us. The community is full of artistic and helpful beaders and crafty people. Inspire and be inspired. Share your pictures and get the beading bug from others!
Visit the Soft Flex Company YouTube Channel!
---
Charlene Gary is a mild mannered secretary by day, rogue creator of recycled goods by night. I love working with metal, and went to trade school to learn how to properly use a torch and hammer. Silver and copper are my favorite mediums. Throw in gorgeous beads and some found, repurposed items and I'm in love. I've become reacquainted with my sewing machine, as we've been apart for too long. Yoga and my dogs keep me fit, and my husband and I have taken up photography.
Blog: www.graygirlstudioarts.wordpress.com
Instagram: manola_gray