Ever wonder what a professional jewelry designer's studio looks like? We asked Lori Anderson about her creative space. Lori is a lampworker, bead stringer, and all around crafty person. She was kind enough to share some photos and talk about her space:

For those of you who don't know me, I'm Lori Anderson, and I'm a full-time jewelry designer, avid reader, junk collector, and lately, an insomniac.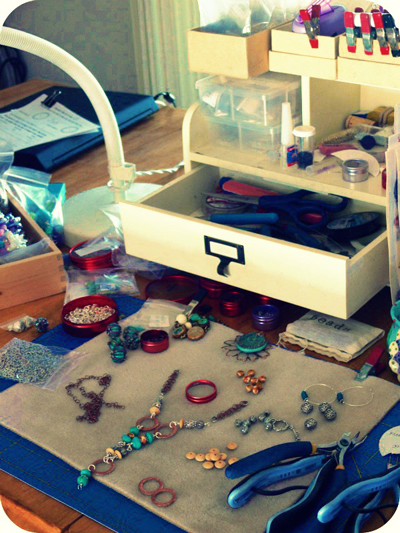 This article is about where I create my jewelry and handmade beads. I'm fortunate enough to have three different places to work, and I've decorated each one with things that inspire me and make me smile. I'm a firm believer that environment has a lot to do with a person's mood, so while most of the time I have "controlled chaos" going on, I'm still surrounded by color and interesting things to look at.
First stop, my office. Here's where I do all my computer work -- web design, invoicing, shipping, and product photography. I also store all my design books, magazines, and catalogs here, but this is also the room that holds most of my vintage treasures.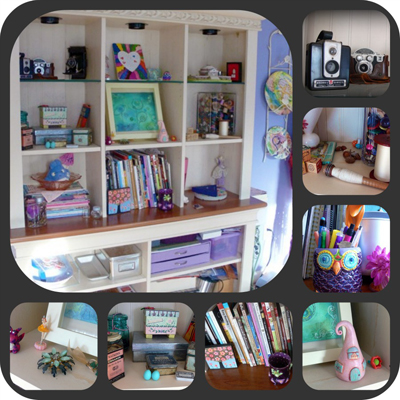 Bookshelf full of books, photo props, and random jewelry tools and supplies.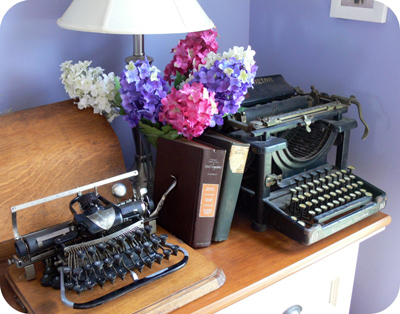 Two of my three vintage typewriters, both of which work.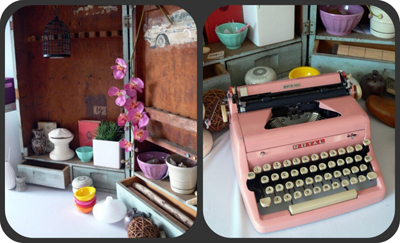 My photography table, with a vintage tool chest opened up on the left (full of photo props) and my third vintage typewriter, which I love with a silly obsession.
A full view of the photography table.
Then, of course, Office Central. The messiest place in the entire operation.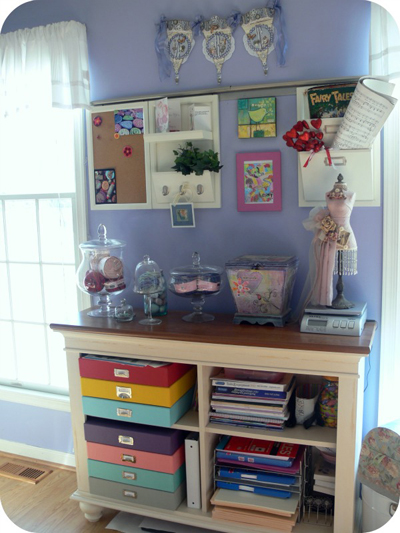 Plenty of storage. If it's a mess, nine times out of ten it gets hidden in a box. Lots of paper, labels, and the postal meter. And another passion, knitting - yarn stored in glass jars.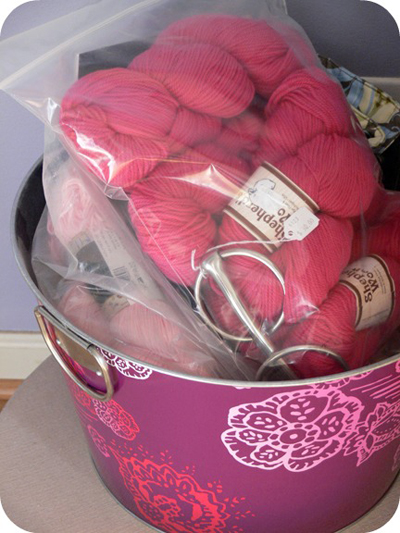 Yet more knitting projects.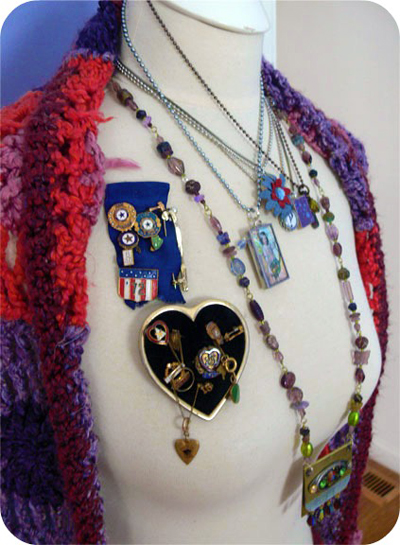 And my dressmaker's dummy with handmade jewelry and vintage pins.
Obviously, I spend a lot of time in that room!
Now we move to the table where I make my jewelry. It used to be the kitchen table, but alas, no longer. I love being here, though, because I can be in the center of any family action. I'm also one of those sorts of people who likes to listen to the television while I'm working. It's not in front of me, so I don't watch it, but the voices are good company when my son's at school. Lately I've been a huge fan of American Pickers and Pawn Stars.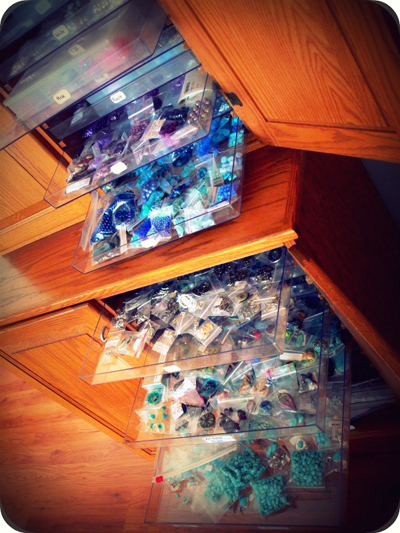 I have an enormous cabinet from Collectors Cabinets that houses all (well, almost all) of my beads. It's right behind where I sit, so all I have to do is turn around and there it is!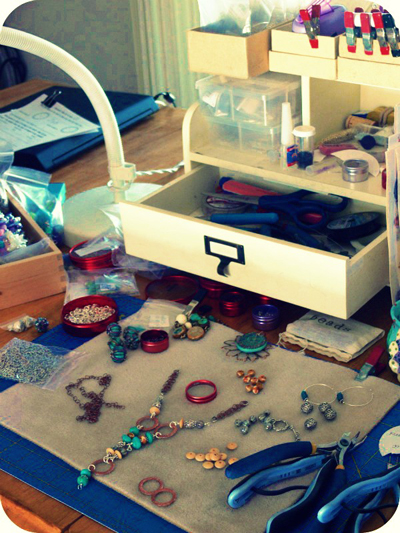 The beading table, with a desk caddy I use for tools (found at Marshalls).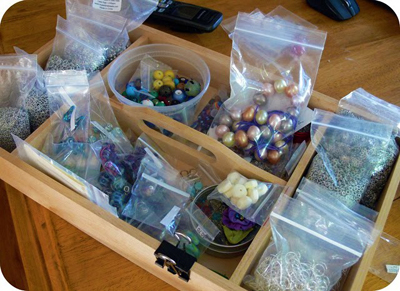 A "tray of the day" (which used to be a silverware tray) with things I plan on working with immediately.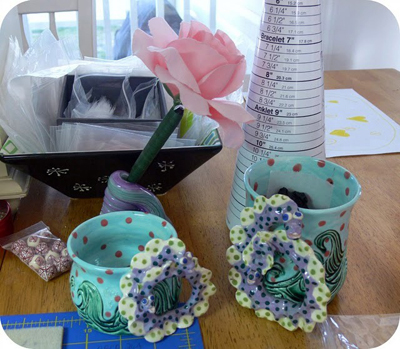 Even my silver scrap and trash containers are handmade and cute made by Whimsee Pots!
And now we move on to my lampwork studio, which is a converted shed in the backyard. It's been insulated, air conditioned, ventilated, and, of course, decorated. Here's where I make glass beads.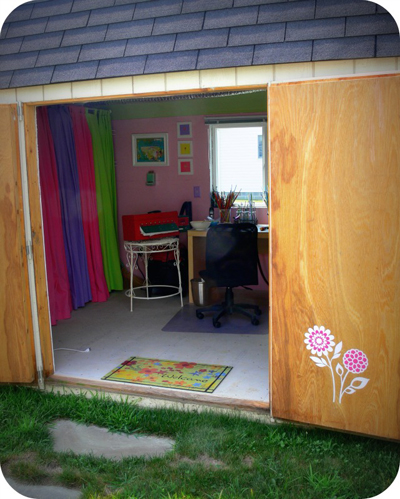 As you can see, even the door is decorated. The kiln table is vintage iron.
And of course, my torch had to be purple.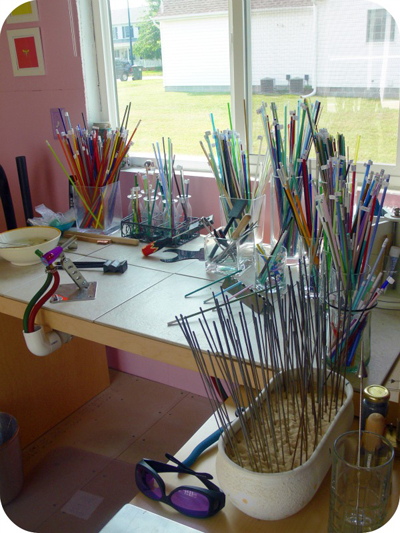 Some controlled chaos at the bench -- dipped mandrels on the right, various types of glass in heavy-bottomed glass vases from Pottery Barn, and a tiled desk top (desk thanks to IKEA!).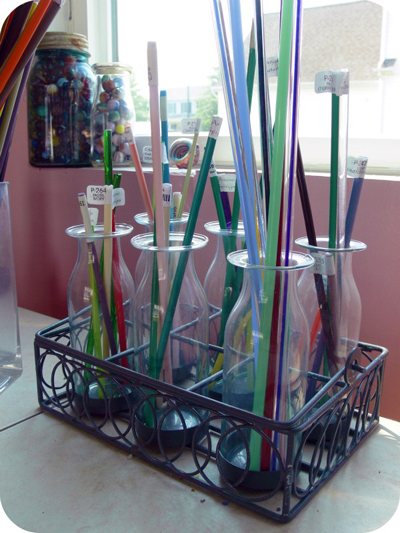 Another Pottery Barn find, and handmade marbles in the window.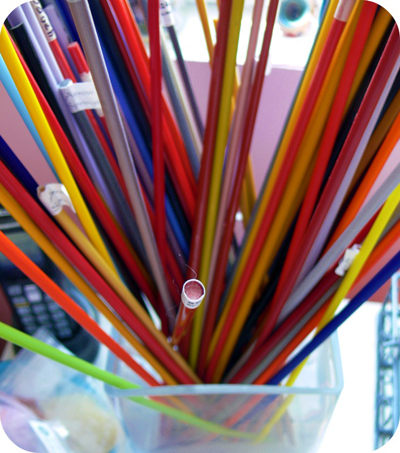 Effetre glass.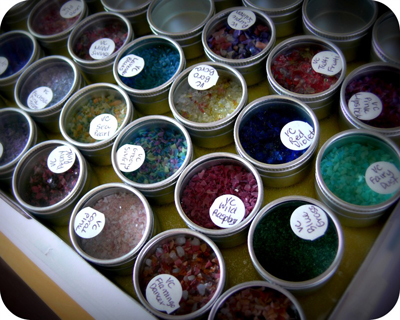 Frit, or ground up glass for decorating beads.
Art, and a vintage match holder for lighting the torch.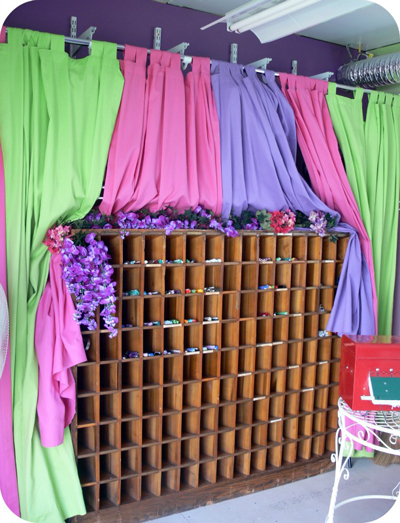 And I am so proud of this - my glass storage. One day I'm sure it will be full, but I'm a beginner so I'm being conservative with my rod purchases. But the storage is an antique postal sorting station, solid oak, with slightly down-slanting bins. Absolutely perfect for glass rods. I walked around and around this forever at an antique store before finally mustering up the courage to ask the price. I got it for $100 and I am still elated. Behind and above the bins is storage, and at night I drop the curtains to keep dust off the glass.
So there you have it - my creative corners. I hope you enjoyed your tour!
Join our Facebook group – VIB. Stay in the know. Stay up to date. From our bead shows to our video shows and sales, you can stay in touch with us. The community is full of artistic and helpful beaders and crafty people. Inspire and be inspired. Share your pictures and get the beading bug from others!
Visit the Soft Flex Company YouTube Channel!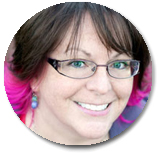 Lori Anderson creates in her studio in Easton, MD. Her work is sold on her web site, www.lorianderson.net and on the East Coast at craft shows. She also writes on her blog, PrettyThingsBlog.com.