You should be making gallery quality jewelry. What is holding you back? We are looking at nine things that will help make you a better beader. Learn how to make a secure necklace that will never break. Learn how to enhance your designs with color and components. Learn the difference between generic beading products and professional jewelry making supplies. We have a jewelry demonstration on findings that will help educate you on jewelry elements you may have overlooked. Improve your jewelry today!

Learn how to avoid some common pitfalls when making jewelry. We have tips that will make you a better bead stringer. Learn how to make a necklace that is strong and durable. Learn how to string a bracelet that everybody wants to wear. We want you to enjoy this lovely craft. Learning how to avoid mistakes will make jewelry making fun. You won't need to worry about restringing broken jewelry if you follow these tips. Let's make something amazing today!
Halloween Charms for Holiday Crafts and Jewelry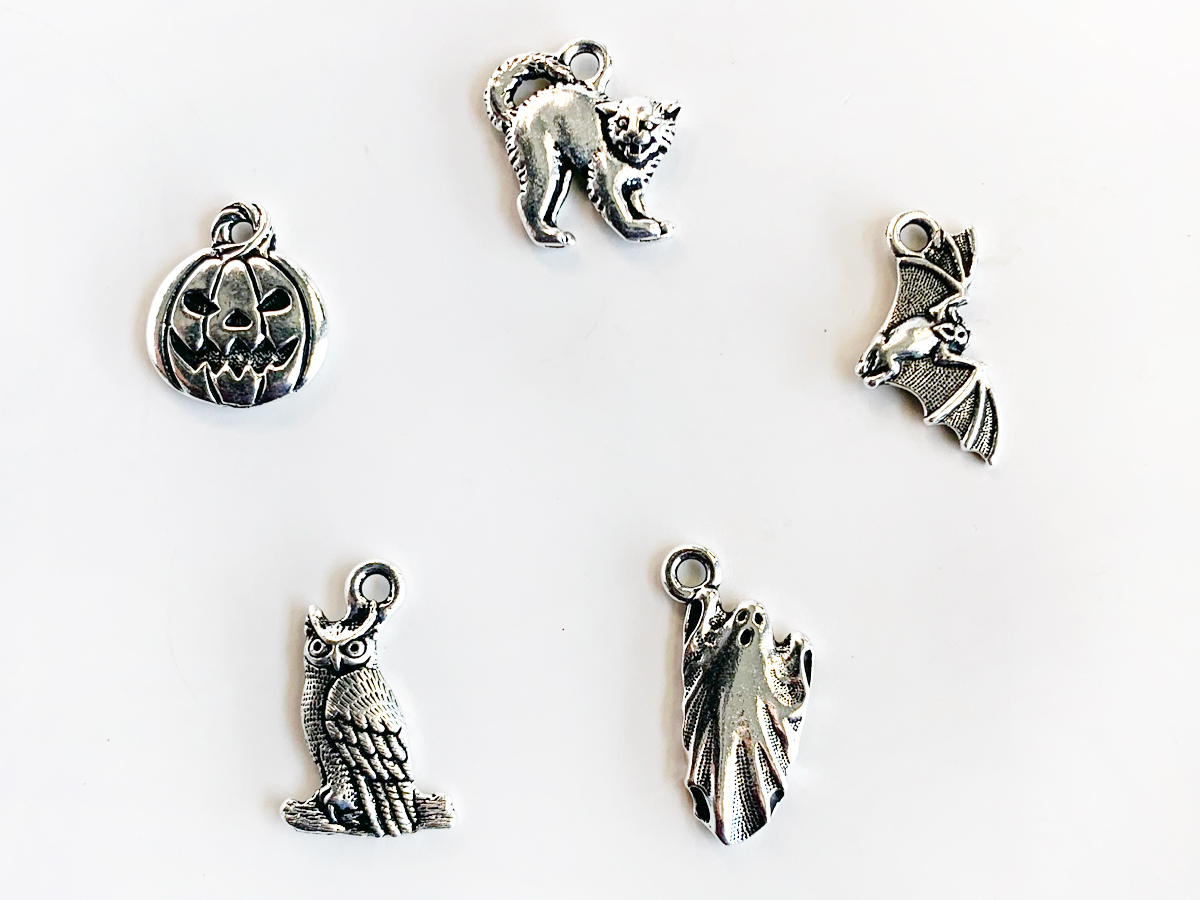 Don't be spooked. Make some Halloween magic. Rattle some chains and haunt the hallways. These frighteningly cute charms are the perfect way to make your next necklace terrifyingly adorable. Grim grinning ghosts will serenade your holiday style. Celebrate Owl-Leen with this collection of chilling charms!
Since 1978, TierraCast has been making high-quality, lead-free cast beads, findings and components in Santa Rosa, California, USA.
Note: Not for children under the age of 12.
9 Easy Mistakes To Avoid When Making Handmade Jewelry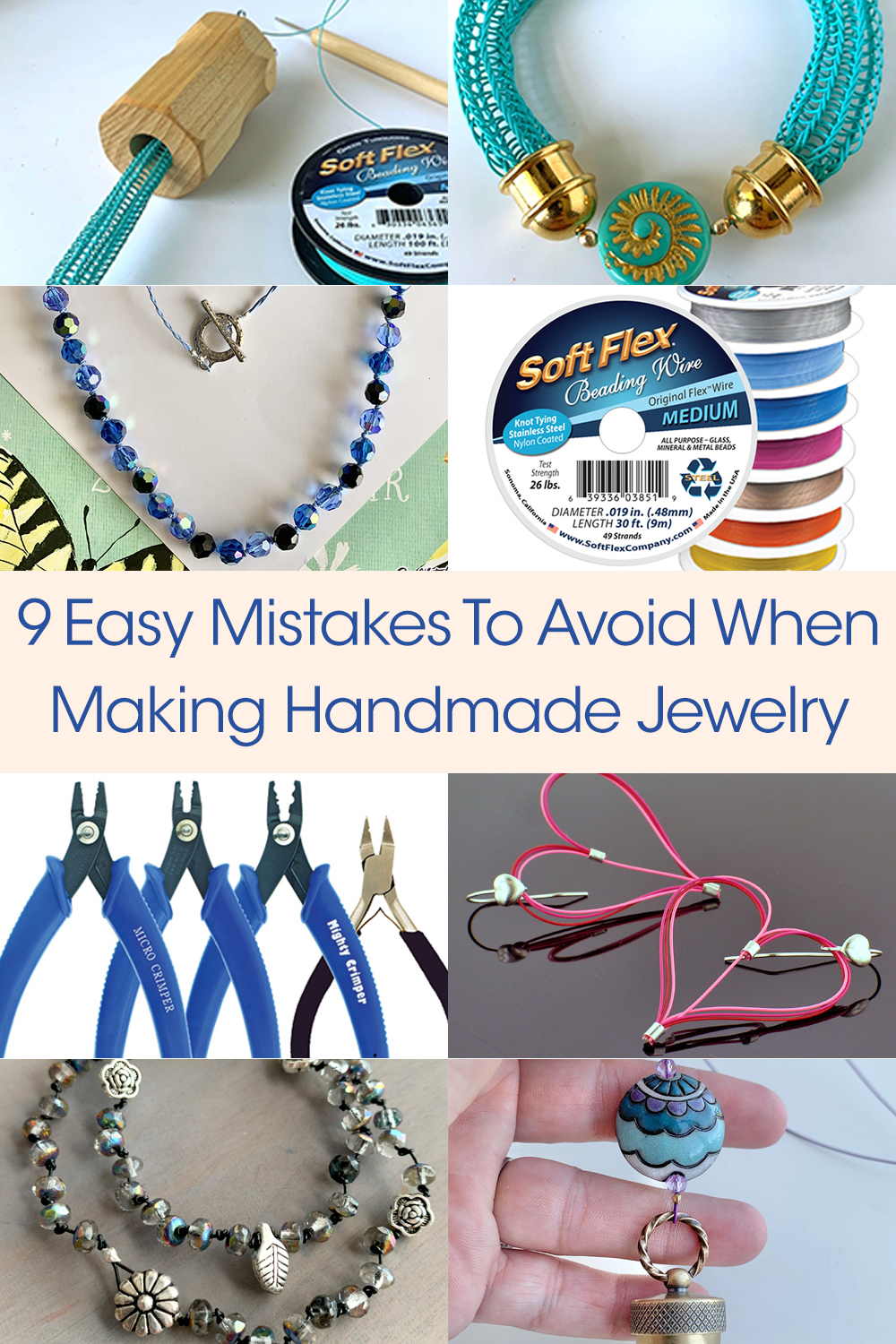 Don't Expect Generic Beading Wire To Have The Same Quality As Soft Flex Beading Wire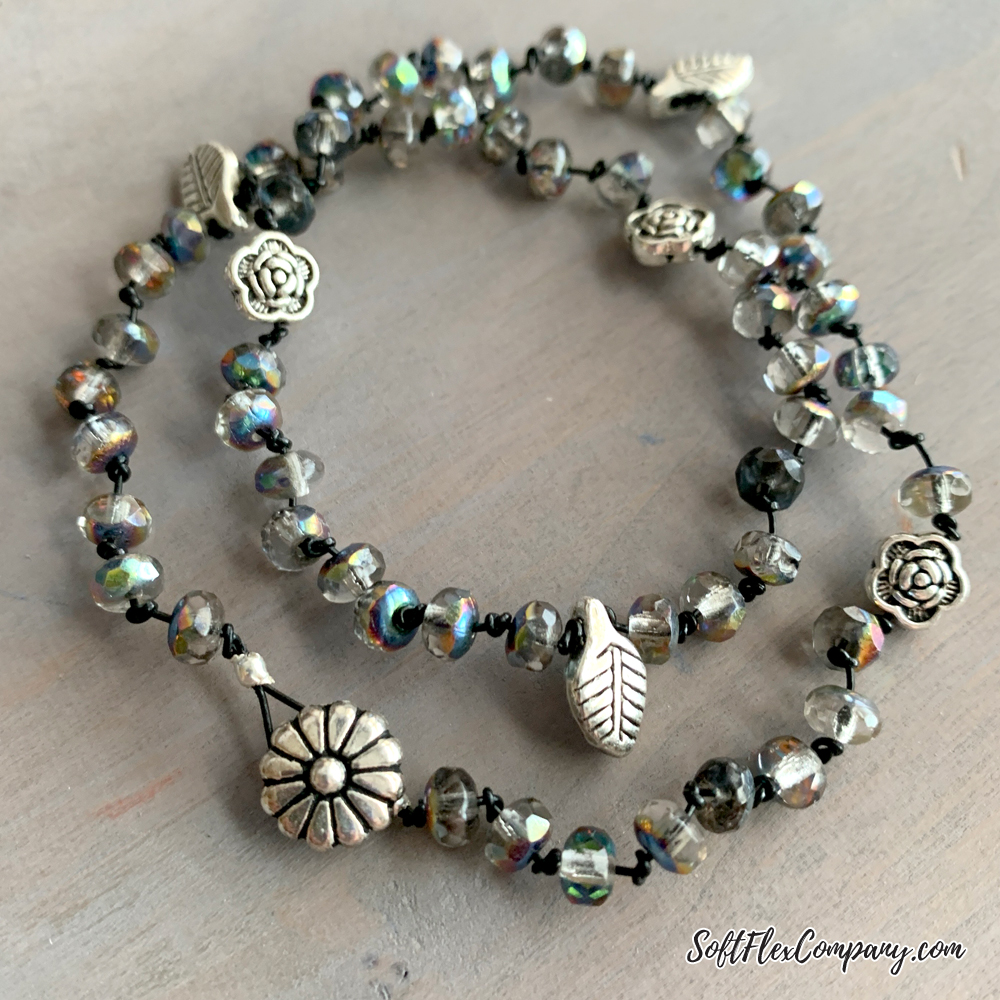 Generic might be fine at the grocery store. But generic is not always the same as a trusted brand name. If you are stringing jewelry and using a generic wire or beading string, you are going to be restringing much more frequently. Soft Flex Beading Wire is constructed with high quality stainless steel. It was built from the ground up to be a beading wire and not a fishing line. Our beading wire was created to have the strength of steel, but the grace of silk. Our wire is meant to drape like thread but be tougher than nails. Soft Flex was the first wire on the market that was flexible enough to knot- other wires would work-harden and break if they were knotted.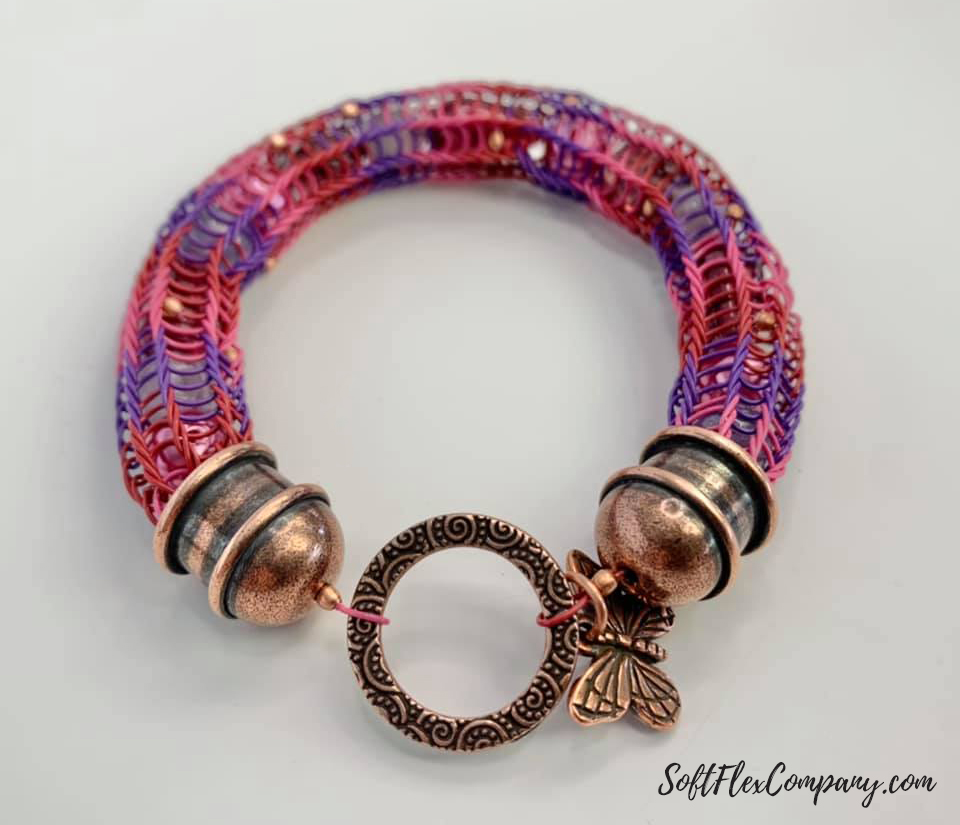 You might be buying cheap wire to save a little money. But, like tools, cheap wire is going to break on you. You are going to be spending more money replacing your wire as you restring your jewelry. Pay a little more for a trusted brand name and your jewelry is going to be dependable and sturdy.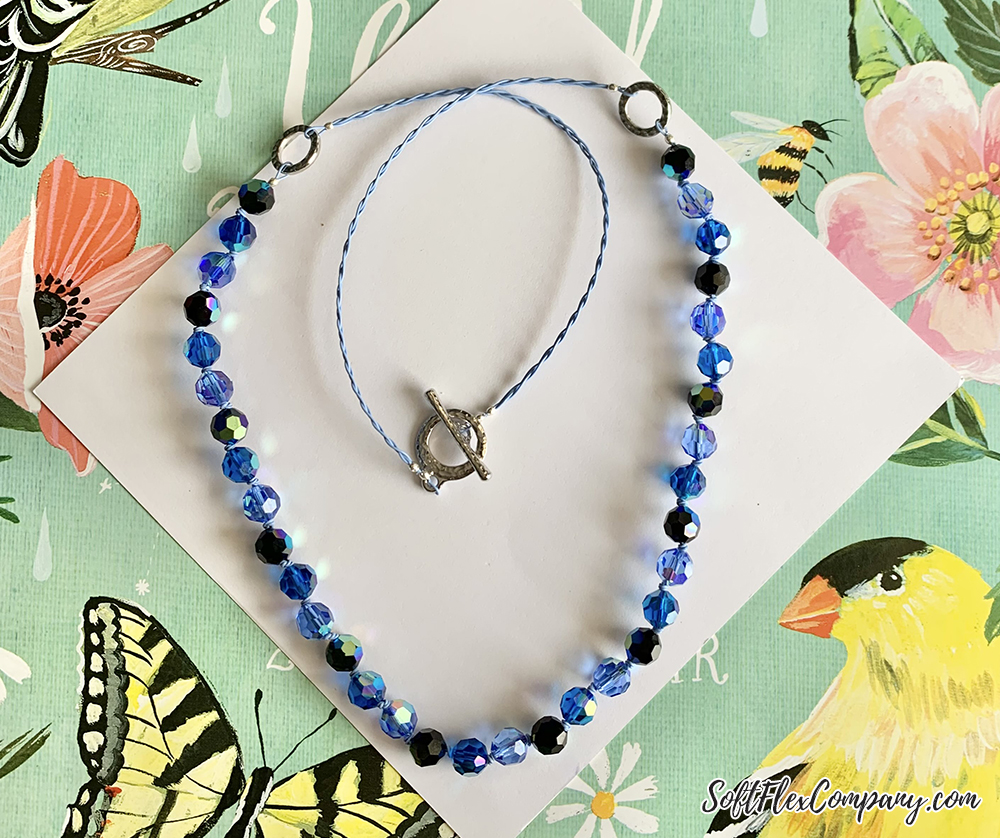 Soft Flex wire is comes in a wide range of colors and it is super flexible. Generic wires just cannot make that claim. Our wire is meant to be shown on a design. It is meant to be seen through a translucent bead. It drapes like thread, even though it is steel wire. You can use our wire for macrame, kumihimo, braiding, crochet, and more. Our wire is meant to last. Don't settle for stiff wire that kinks easily. Don't settle for a drape that looks terrible. Spend a little extra money and be confident that your jewelry is going to look amazing.
Don't Choose The Wrong Beading Wire Diameter
Our beading wire diameters are designed to withstand the abrasion levels of beads. If your beads have abvrasive channels, you need the right diameter. Every diameter has it's own purpose. We suggest you use our Fine diameter for delicate beads like pearls and seed beads. Our Medium can handle most abrasive beads and we suggest you use it for most of your work. Our Heavy diameter is great for those really chunky and abrasive stones, like Turquoise. Heavy is also great for jewelry that gets a lot of abuse, like bracelets. If you are not familiar with diameters and their proper use, you are probably going to string your jewelry on the wrong size. Our packages all come with the usage notes. You can also find more information about diameters on our blog and Tips section of our site.
One reason a lot of people tend to pick the wrong diameter is price. Some people choose our Fine diameter because it is less expensive. They are not aware this diameter is not designed for abrasive beads. They may even string a bracelet with chunky stones on the Fine diameter. The bracelet rocks back and forth on the wrist. The abrasive inside of the beads tears into the wire like sandpaper. The jewelry then breaks sooner than later and they wonder why the wire failed them. Our larger diameters might be a little more money, but they are well worth the price. The wire is up for the task and you are not going to be wasting wire with restringing.
Don't Hide Your Beading Wire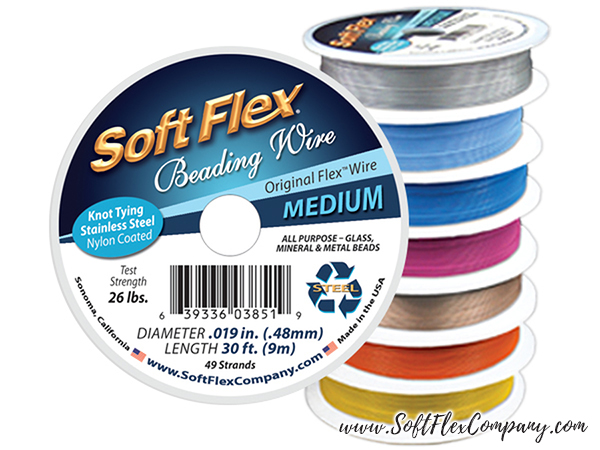 If you only string single strand designs and hide the wire under your beads, we challenge you to try something new! Our spools are dripping with delicious colors. We have a rainbow of options. Show your wire!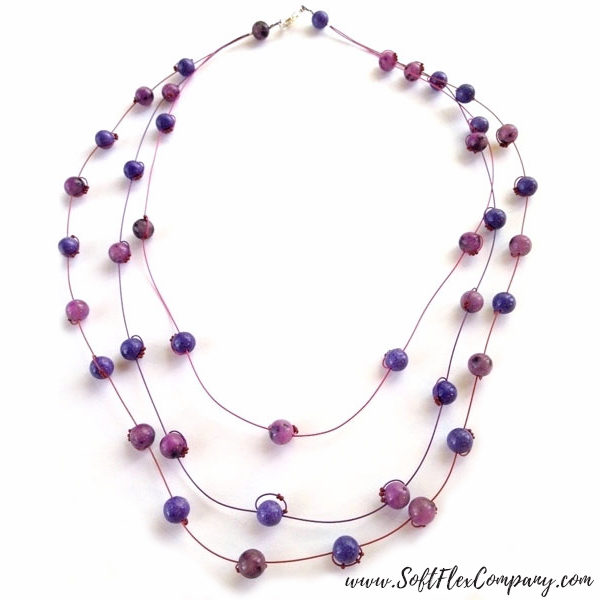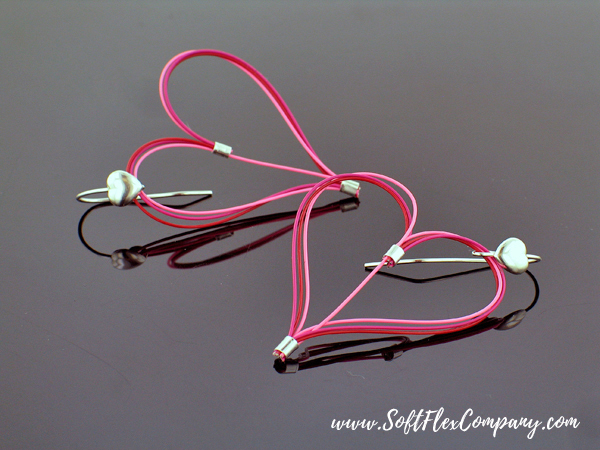 Try an illusion necklace or earrings with brilliant and colorful Soft Flex wire.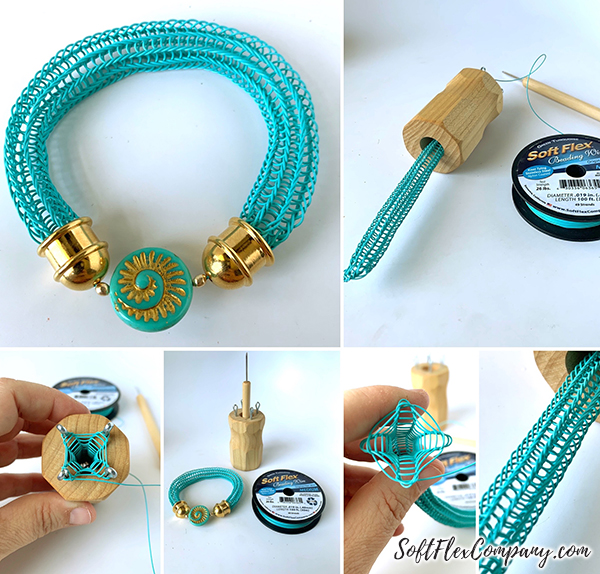 Use our wire for knitting.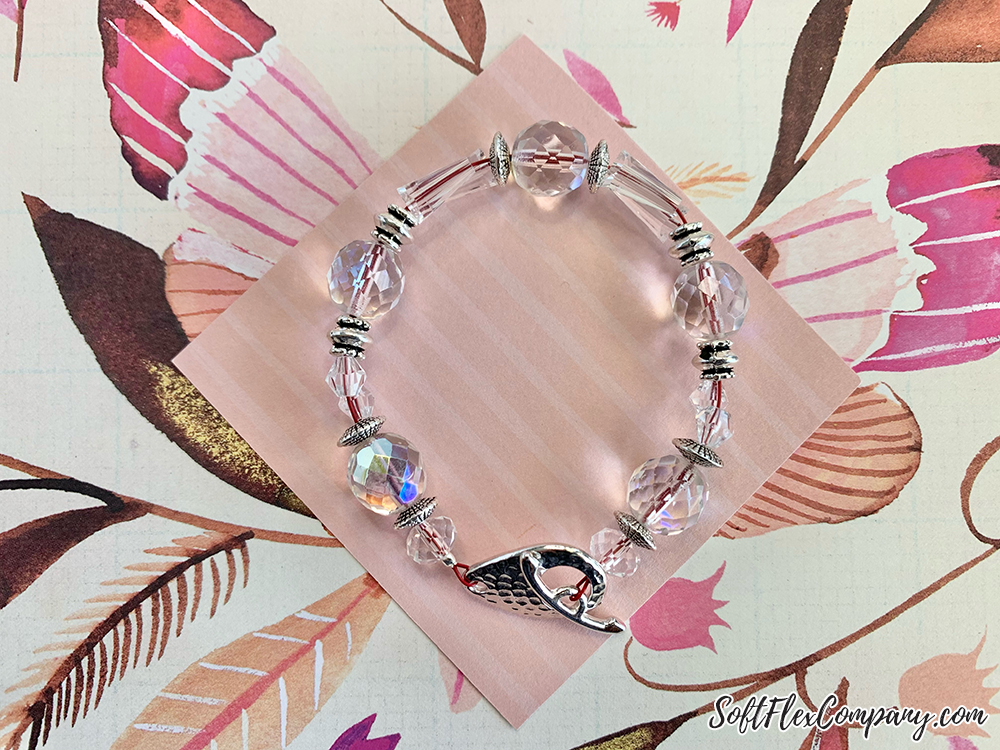 If you use our wire with a translucent bead, it will really POP! Don't hide your wire - show your colors!
Don't Use The Wrong Tools
You need the right tools for the job. Using the wrong tools will lead to jewelry that breaks. The wrong tools will give you a finish that is ugly and not as well optimized as a jewelry design that was created with the right tools. You don't want to cut your wire with scissors when you should be using beading wire cutters. You don't want to smash your crimps flat with a pair of common pliers. Don't even think of cutting Memory Wire with anything other than Memory Wire cutters. Invest in a good set of beading tools and you will always have a great finish.
Buy high quality tools. If you are buying poorly crafted tools, they are going to break or wear out on you. High quality tools might give you a little sticker shock. But the money that you pay for quality tools is money that you will end up saving in the long run. If you buy cheap cutters, your cutting edge is going to dull and wear the more you cut. Spend a little more initially and you will not be replacing your cutters frequently. If you buy poorly made crimps, you are going to be restringing your jewelry more often. Buy high quality jewelry making supplies and end the headaches.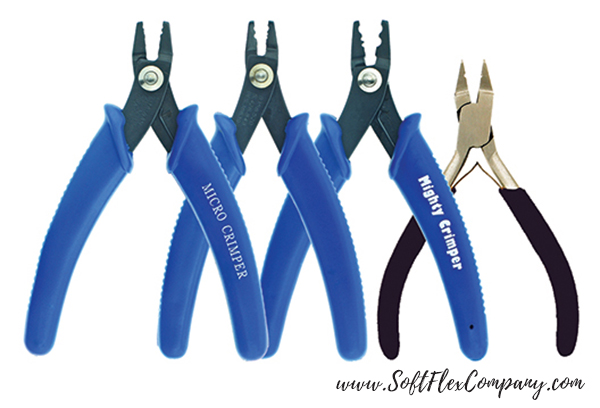 One tool that often gets overlooked are crimpling pliers. Crimping pliers are designed to crimp beads and tubes in the most secure and aesthetically pleasing manner. Common pliers, such as needle nose pliers, will only crush a crimp. A crushed crimp can have jagged edges that can irritate the skin or tear into the wire. A crushed crimp will not secure the ends. If you have spent the time beading a necklace, it is a good idea to finish it correctly. Using crimping pliers will give you a rounded bead with no irregular surfaces. Crimping pliers will ensure your beads have a professional and consistent finish.
Crimping pliers have a crimping hole and a rounding hole. Using this tool means that rather than have a flat smashed crimp, you are going to have a crimp that cradles and secures the beading wire. This tool is great for consistency and durability. Your jewelry will always have a professional look and it will always be strong. Don't smash your crimps. Invest in crimping pliers and learn how to crimp. Your finished jewelry will look one hundred percent better than any jewelry that was finished with a smashed crimp.
Don't Settle For A Poorly Secured Crimp
If you do not know how to finish your crimps confidently, you are not going to learn how to become a better jewelry designer. Learn how to crimp so your designs never come undone. Watch our videos and check out our tips and tricks. We want to show you how to crimp. We want you to master this technique. It is easier than you think. Buy some inexpensive wire or use remnant wire (wire that is too short to use for many projects but long enough that you don't want to throw it away). You can practice without wasting money on quality wire. Use sub par crimps, keep your good crimps for your jewelry. You can practice until you are comfortable and sure. It really is simple. You just have to get the hang of it. We are rooting for you!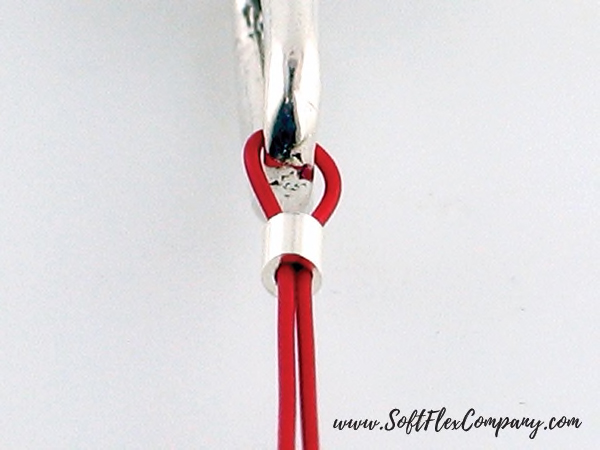 String a crimp tube and a clasp onto the wire. String the wire back through the crimp tube. Straighten the wires inside the crimp tube so that they lay side by side.
Using the crimper, gently compress the crimp tube, creating a divot.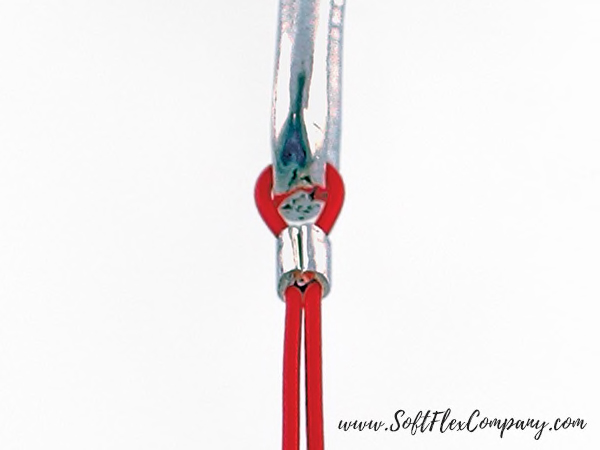 Using the "rounder" gently compress the crimp tube. Turn and repeat until it creates a round shape. Cut off the excess wire at the base of the crimp.
When compressing your crimps, be mindful of how much pressure you are using to compress them. You do not need to smash down on the crimp. Just compress with as much pressure as you would apply if you were shaking your grandmother's hand. If you smash down as hard as you can, you might work harden the crimp and make it brittle. Gently compressing your crimp and then turning it and repeating the compression will ensure that your crimps are secure and strong.
Don't Double Back Through Your Last Bead
You may have heard that it is best to double back through your last bead after crimping a jewelry design. This has been considered an extra way to add security at the crimp. This may have been true a couple of decades ago when stringing options were not as resilient and well crafted as they are today. Soft Flex Beading Wire is constructed of marine quality stainless steel. It was designed to last and withstand the wear and tear of even the most abrasive beads. Soft Flex crimps are seamless and thicker than most on the market. Doubling back through the last bead is no longer necessary. Doubling back may even make your designs less secure. Let's look at why you need to cut your wire flush with the crimp.
First off, leaving a length of wire after the crimp just looks unusual. If you have a clean design, why would you want the shaggy length of wire creeping around that last bead? It looks unprofessional. You can hide the wire, but it is really just out of place. Cutting that wire at the crimp looks much nicer.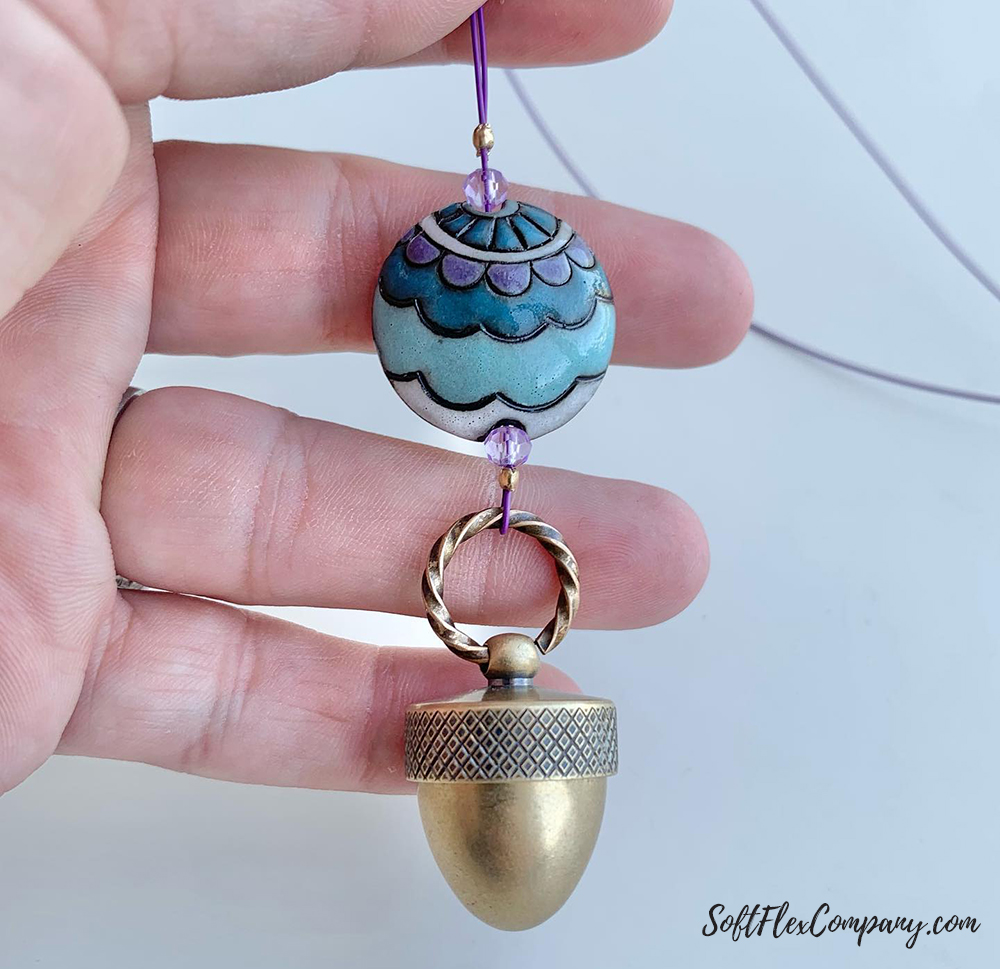 A better idea, rather than doubling back through the beads is to get the proper materials for your jewelry. If you only buy cheap poorly made crimps, nothing will prevent your jewelry from breaking. As long as the correct tools are used, the crimp will remain secure. So where is the harm in doubling back? If you want to get the wire through the beads again, you must use a smaller wire to allow it to fit. This will compromise the piece as a whole. Instead of buying the correct wire for the weight and abrasion level of the beads, you would have to use a finer wire. Even if doubling back somehow does add extra security at the crimps, you now have a necklace full of beads that are putting more tension on a less sturdy wire. Imagine building a bridge and putting all of your focus on securing the spans, rather than making sure the entire construction is solid. That would be a disaster. When stringing your jewelry, use hte largest wire that will fit through your beads once and your piece will be much more secure.
Watch the video above. You can see that Sara is cutting her wire right at the crimp. She tugs on the design forcefully and nothing is slipping or moving. Sara is a confident crimper and knows her material is well suited for the job. Use the right tools and quality stringing material and you will never have to worry about your designs coming undone. If you are not great at crimping, make sure you check out our Tips and Tricks or videos. We want you to be confident that you are crimping correctly.
Don't Finish Your Design If The Beads Are Tight Against The Crimps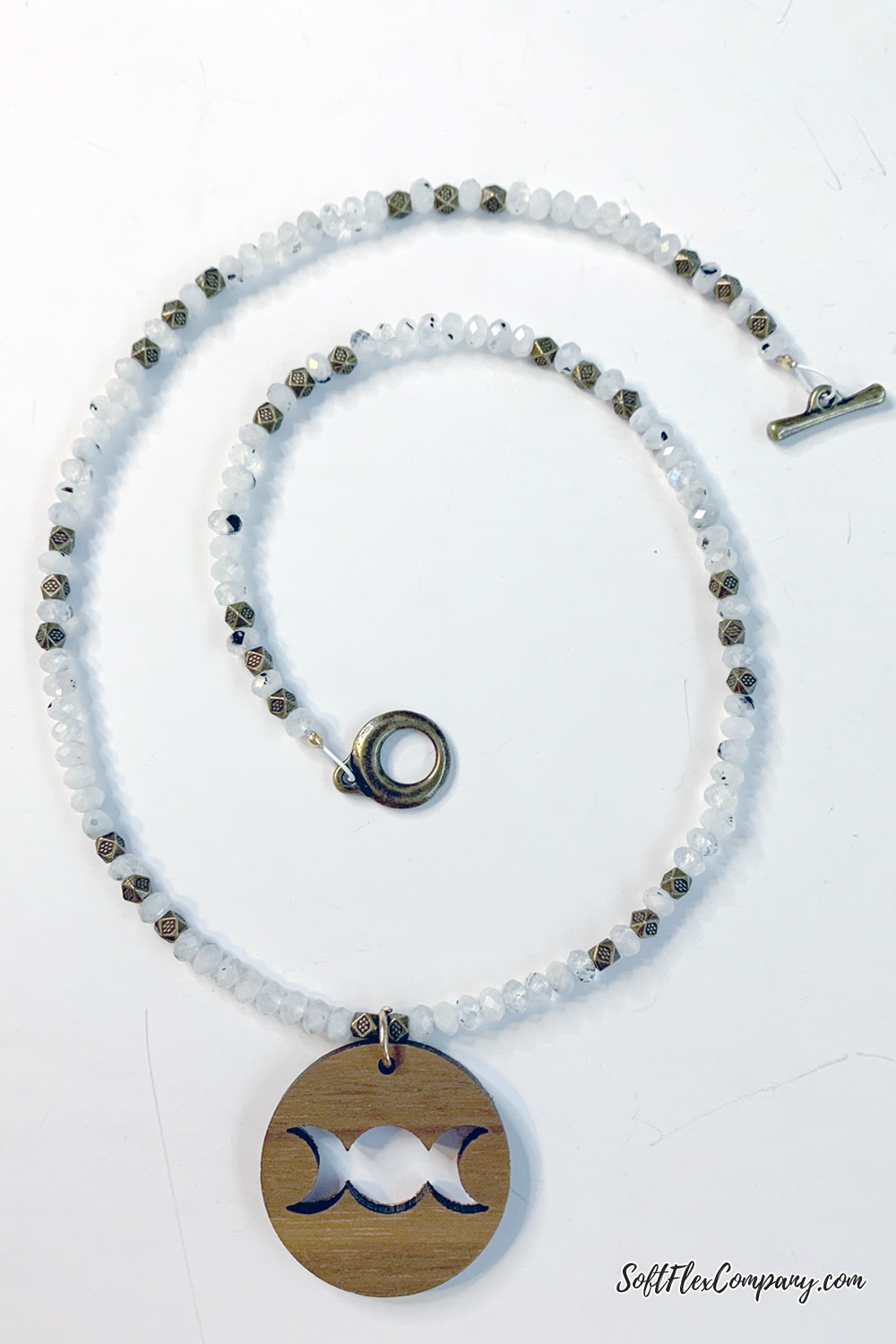 Some designers like to hide every inch of their wire beneath their beads. They try to crimp right up against the last bead so not even an iota of wire is showing. This is a terrible way to treat your beading wire. Leave some room between that last bead and your crimp. Let the wire breath. If you crimp up close, your design is going to be taut. The drape is going to be full of tension. Your jewelry is not going to lay right. Over time, any abrasive surfaces in the bead channels is going to wear deep into the wire since it is not able to relax. Your jewelry is going to break much sooner than later. This applies to any stringing medium - beading cord, beading thread, and wire. You need to let your beads have just enough room to stretch their legs and dance.
It doesn't need to be a lot of room. Just make sure there is enough give so there is no tension in your design. You can't even see that we left room on some of our designs. Once they are clasped and on the neck or wrist, the beads will cover the wire. If you don't like showing the wire, don't worry leaving room will not expose the wire. But, take our word for it, our wire is meant to be seen. Incorporate the color into the design and you never have to worry about the wire being exposed.
Don't Overlook Your Findings And Components
Sara has a lot of information about findings in this video. She shows you how to crimp with three crimp sizes and discusses why you should be using a bigger or smaller crimp. She shows you how to crimp with a Magical Crimper. Magical Crimping Pliers eliminate the need for crimp covers. She shows you how to use crimp covers to conceal regular crimps - not everybody likes the look of a finished crimp. If you need to know what eye pins are or how to close a jump ring, this is a great instructional video!
Clasps are often overlooked as a finish to a necklace. The old teachings have taught us that clasps are just there to finish the piece and are to be worn behind the neck as to conceal the clasp. The problem here is that clasps are now becoming very designer friendly and very fashionable. There are now clasps that come with imbedded stones and highlights. They are no longer something that demands to be hidden. Some designers even place the clasp on the side of a necklace - not far from the focal bead - just to call attention to the clasp. It is a great way of thinking outside of the box.
Don't overlook clasps and findings in your designs. Use high quality findings to match the high quality beading wire and crimps. Every part of your necklace should be an important element to the piece as a whole.
Check out Star's Clasps for some stunning findings!
Don't Forget About YouTube When Trying A New Technique
Don't forget about YouTube. Really, if you are a visual learner, there is no better place to pick up a new jewelry making technique. Want to learn how to wire wrap a bead? Visit us on YouTube. Want some great holiday ideas - we have lots of videos. We have every kind of DIY jewelry video imaginable - chain mail, wire working, knitting and macrame. We want you to feel like you have taken a beading course online. And everything is free. We want you to be the best designer you can be! Learn from our instructional videos. Join us for live shows. We are here to educate and answer questions!
We have a library of instructional beading videos. We have partnered with other stores and designers to bring you the world's biggest online bead show. We have held Customer Appreciation Week. We have tons of content and are always adding more videos. We film two or more live videos every week. If you want to expand your knowledge or just want to take part in an awesome community - check out our videos!
Join our Facebook group – VIB. Stay in the know. Stay up to date. From our bead shows to our video shows and sales, you can stay in touch with us. The community is full of artistic and helpful beaders and crafty people. Inspire and be inspired. Share your pictures and get the beading bug from others!
Visit the Soft Flex Company YouTube Channel!
---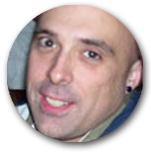 Blog contributor Thomas Soles loves Jazz Age writers and crunchy french fries. His favorite gemstones are Lapis and Pietersite. His favorite hobby is day dreaming. And his favorite mustache is Freddie Mercury's. As you can see, he has a healthy (or possibly unhealthy) sense of humor. You can write to him at Thomas@SoftFlexCompany.com