Do you love color? Do you feel you have a grasp for color? The beading and jewelry industry thrives on rich, vibrant color. The Pantone Color of the Year is something many of us look forward to. But, some of us have a blind spot when it comes to color. After Margie Deeb published her first book, she found out that not everybody had a natural understanding on how color works and not everybody knows how one tone can compliment another. As a beader or somebody that enjoys crafts, hobbies, and arts, you need to learn how to embrace and understand color before your work will really stand out. Margie has spent a good portion of her life educating people about color. If you are not familiar with her, you need to read on!

We updated our website last year. We had a lot of literature and articles we felt we needed to retain. We love Margie Deeb's intimate knowledge of colors and we wanted to share some of our archive. Margie is an incredibly talented artist, designer, and author. Follow along on her color journey. Let's all become students of color!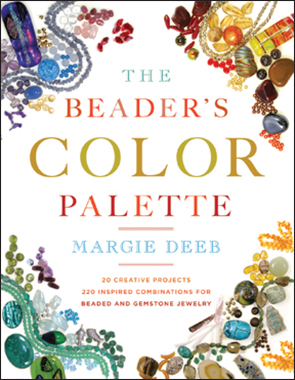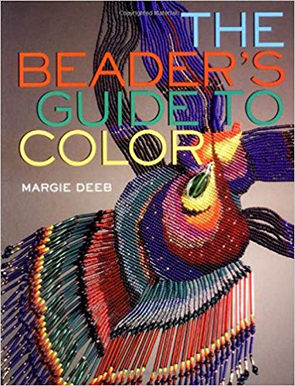 I first met Margie Deeb several years ago when I was working at a bead store in Glendale, Arizona. She was there as a guest teacher to teach a 2 day class in split loom necklace techniques. Myself and the other two employees were all entranced by the luscious colors and sensuous movement of her work. Naturally, we all wanted to take Margie's class and as only one of us could be spared from the shop that weekend the owner drew lots to see who would get lucky. Alas! I was not the lucky one. But since I did have to work that weekend I took every opportunity I could to sneak out to the classroom behind the shop to admire Margie's work and the work of her students.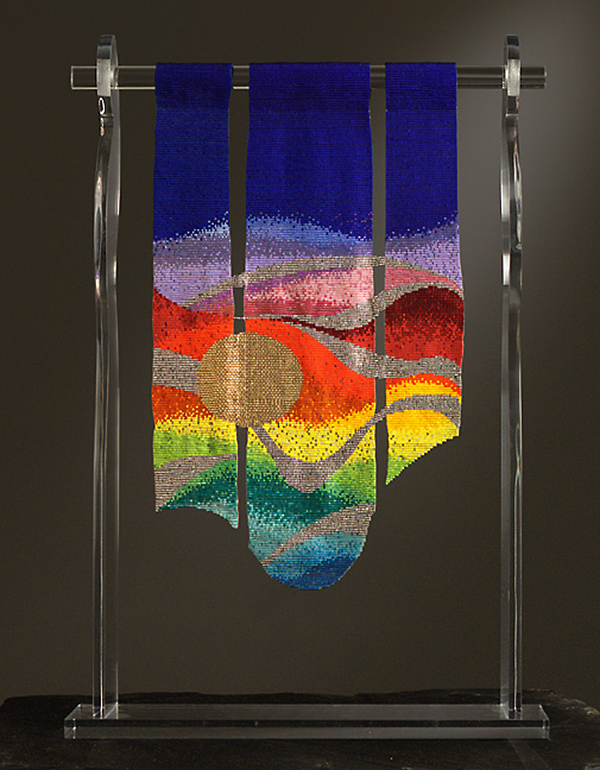 "That Silver Ribbon Of Road" Loomed Tapestry
Design by Margie Deeb
Close-up: http://www.margiedeeb.com/art/tapestries/tapestries.html
A couple years later, after the Bead Museum had relocated from Prescott to Glendale, I had another opportunity to meet Margie. This time I was able to take "A Passion For Color," her 2-day color intensive seminar. I found that not only did I learn a great deal about color, I learned even more about myself.

There are so many words to describe Margie's work: sensual, dynamic, spiritual, inspirational, vibrant, luscious, feminine, harmonious, joyful, playful, mystical, mythical, magical, passionate. Words that as I later came to know her better describe Margie herself. Especially "passionate."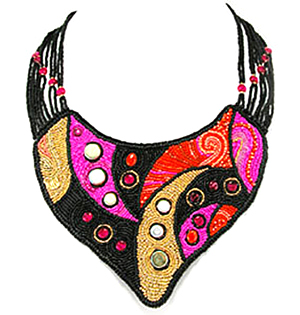 "Cameron's Light" Bead Embroidery
Design by Margie Deeb
Already an accomplished web designer, artist, writer, and musician, Margie first discovered beading in 1988. She recognized the potential of beads as an art form on their own, in addition to a jewelry medium. When asked what first attracted her to beads she replied "Light, color, and movement... the magic of creating something substantial and beautiful out of tiny bits of light and color. And my passion for earrings," she adds, "I beaded hundreds of pairs of earrings that first year." From there she progressed to extraordinary, complex, worldly colorful loomwork. Now she enjoys all kinds of off-loom weaving, embroidery, and stringing, and her work has appeared in exhibits and shows around the country. She is a regular contributor to magazines, and has been published in a variety of books and magazines including "Beadwork" and "Bead&Button" magazines, 500 Beaded Objects [2004] Lark Books, and Beading On A Loom by Don Pierce, [1999] Interweave Press.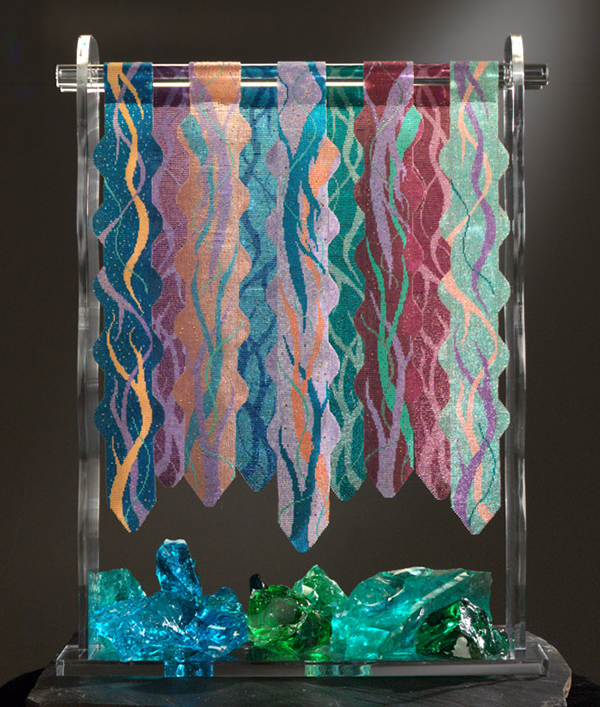 "Dance of the Undines" Loomed Tapestry
Design by Margie Deeb
Close-up: http://www.margiedeeb.com/art/tapestries/tapestries.html
While on her own creative journey with the medium of beads and her love for color she discovered a strong ability to inspire and encourage others. "My passion for creativity and for color is something I pass on easily when I teach."

Her first book, Out On A Loom, brought a flood of inquiries and praise about Margie's use of color. Beaders from all over the country began writing to her, asking for help. She realized that color didn't come so naturally to others, so she developed a 2 day intensive color class. She went on to teach classes and lectures at art centers, bead stores, conventions, ad agencies, craft guilds, and expositions. Many of her classes include a fast-paced regimen of exercises (both group and individual), workbook assignments, samples, examples, swatch games, and quizzes designed to help participants discover, develop, and fine tune their own color voice. She also offers "Personal Color Journeys" to private students.

Teaching has been an inspiring journey for Margie as well. "I learn so much from my students," she says enthusiastically, "I am always completely thrilled during and after teaching. Everyone approaches color so differently, just as everyone approaches creativity a little differently. The process is as fascinating as the results. I feel lucky to be able to teach because I have so much fun and learn so much."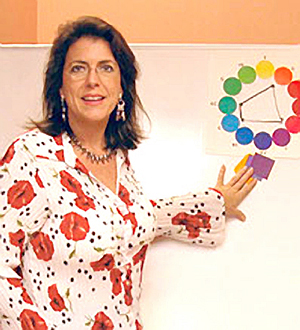 Margie Deeb Teaching
Realizing she wanted to share with a larger audience the language of color that comes so naturally to her, she spent the next 4 years writing The Beader's Guide to Color and Watson-Guptill (now Penguin Random House) published it in July, 2004. To call it a success would be an understatement. It has been named by Beadwork magazine as a top 20 must have bead book in "Beads 2006," has a 5-star rating at Amazon.com and continues to be a best seller, receiving rave reviews from beaders around the country and internationally.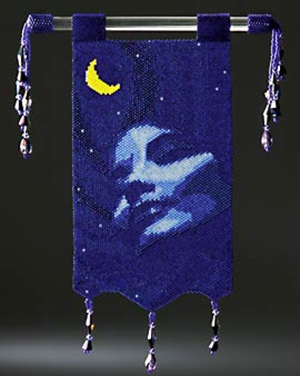 "Waning Crescent"
Design by Margie Deeb
Project available in The Beader's Guide to Color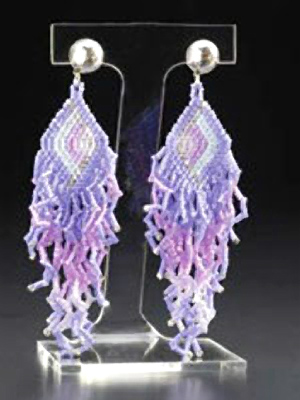 "Lavender Earrings"
Design by Margie Deeb
As seen in The Beader's Guide to Color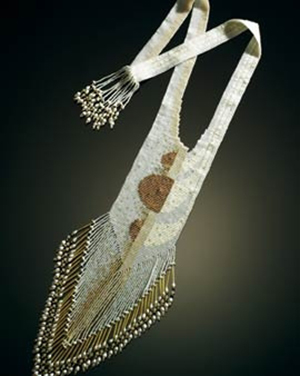 "Emerging Resonance" Multi-strand Loom-woven necklace
Design by Margie Deeb
As seen in The Beader's Guide to Color
Margie's second color book, The Beaders Color Palette, (June 2008, Watson-Guptill) is a natural extension of Margie's life work. "The palette book evolved from seeing how people want to make palettes with immediacy. They want to learn to translate something they see instantly into a palette. In my teaching I saw many having trouble with that. So the next book gives many solid ways to accomplish that. And loads of inspiration."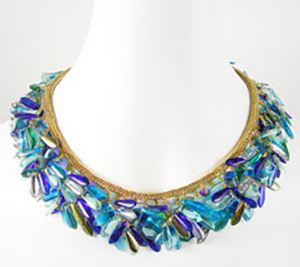 "Collar of Glass & Light"
Design by Margie Deeb
Project available in The Beader's Color Palette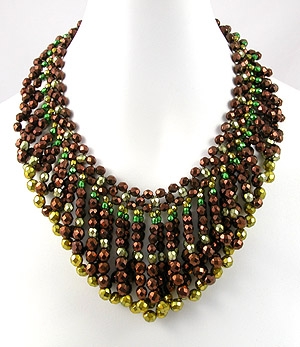 "Draped Loop Collar"
Design by Margie Deeb
Project available in The Beader's Color Palette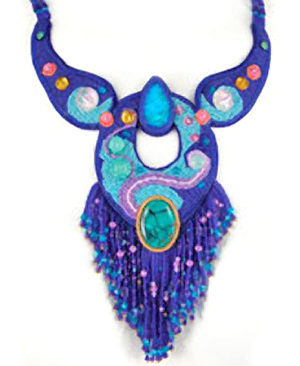 Bead Embroidered Necklace
Design by Margie Deeb
As seen in The Beader's Color Palette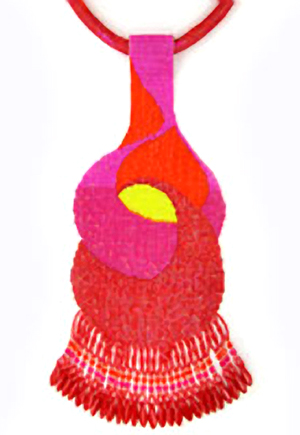 "Twisted Neon"
Design by Margie Deeb
As seen in The Beader's Color Palette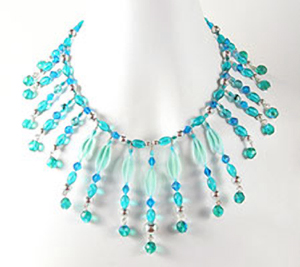 "Mermaid's Collar"
Design by Margie Deeb
Project available in The Beader's Color Palette

"Rainforest Cascade Necklace:
Design by Margie Deeb
Project available in The Beader's Color Palette
As she was writing her color books she kept in mind her goal of inspiring and encouraging others to explore the depths of beauty and creativity. "My work is to help others find their voice through creativity. It's one of the greatest gifts as humans we have, the ability to create."

Even though the artistic influences of Franz Marc, Georgia O'Keefe, and Wassily Kandinsky are reflected in the bright, jewel-tone saturated beadwork and patterns that she creates, she resists labels being placed on her work. Instead, she prefers to bring into being things that have not been created before; new motifs, color combinations, styles, etc. "It is because creativity itself is a passion of mine, that's why I do so much in so many areas. As long as I am creating, be it visual, or musical, or with words, I am happy."

Large complex projects that can sometimes take years to complete are what Margie enjoys most. These projects, either books or awe inspiring loomed tapestries, usually begin with a surge of energy, passion, and enthusiasm. "Then," she says, "I usually enter a period of intense doubt. I recognize that as part of the process, part of the dance that I do with my work. I reevaluate constantly then keep working, working, working. The doubt subsides. If it doesn't, I know the project is not what I thought it was and I abandon it but will often keep the work so I can later learn from it. When the doubt subsides I keep steadily working until it's done."

When I asked if she ever gets bogged down she was refreshingly honest with her answer, "Hell, yes!" Being bogged down, for her, means that she is overworked and tired. But once she takes the time to relax, sleep on it, or get a bit of exercise (walking her dogs or biking) she finds that she is able to move forward.

Margie's husband, Darren Nelsen, an accomplished composer, musician and web programmer, is actively involved in her creative process by inspiring and critiquing her work. It is something they do both for and with each other and is second only to spirituality as the most important thing in their lives and relationship.

Beading Her Image, her second pattern book for on and off-loom bead weaving, is the first and only pattern book on the market celebrating images of strong women. You can visit her website here: www.MargieDeeb.com. She lectures on copyright, color, and art related issues; and wrote a regular color column for "Step by Step Beads" magazine before it transitioned into Beadwork Magazine.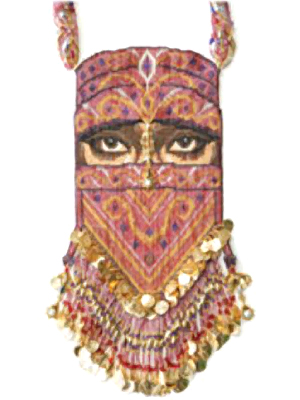 "Veil"
Design by Margie Deeb
Project available in Beading Her Image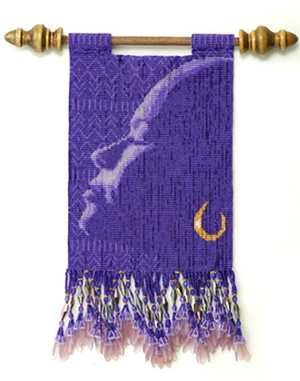 "The Golden Earring"
Design by Margie Deeb
Project available in Beading Her Image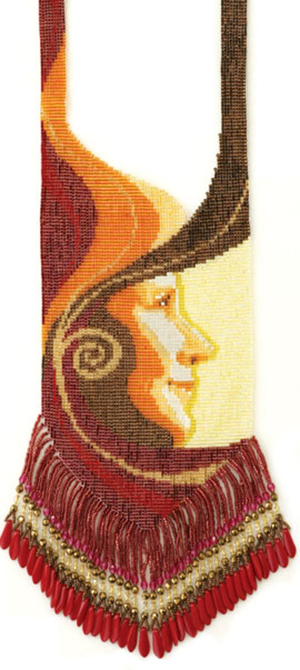 "Matriarch"
Design by Margie Deeb
Project available in Beading Her Image
When asked about her future she replied, "I see myself doing more of what I love to do now: teaching, beading, painting, traveling, and reveling in color."
Join our Facebook group – VIB. Stay in the know. Stay up to date. From our bead shows to our video shows and sales, you can stay in touch with us. The community is full of artistic and helpful beaders and crafty people. Inspire and be inspired. Share your pictures and get the beading bug from others!

Visit the Soft Flex Company YouTube Channel!


Guest witer SaraBeth Cullinan has written project ideas for Beadwork Magazine, Bead-Patterns Magazine and more. She has wonderful peyote, square-stitch and beadwork designs.