I've somehow managed to revolve my life around beads and travel. My love affair with both began back in the 1980's when I lived on the Navajo reservation. I fell in love with the challenges that come from living in an unfamiliar culture, and I also fell in love with their beadwork.


A simple three-hour class in basic stringing and looming techniques was all I needed to catapult me into the world of beads, and when I moved to Alexandria, Egypt a few months after taking that class I was ready. Ready to dive headfirst into my brand new addiction. As it turns out, I managed to injure my back within the first few months in the country and needed to travel to Cairo to visit a chiropractor each weekend – which wasn't a hardship at all. In fact, I came to look forward to my regular journey to Cairo as an excuse to shop for beads.
Every Saturday morning I hopped aboard the train and arrived into Cairo two hours later. After a quick visit to the chiropractor, I made my way to Khan Il Khalili – the famed bazaar in the middle of old town. After checking into a hotel, I headed out to see what treasures I could find. And treasures I found!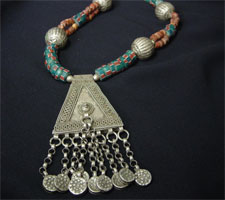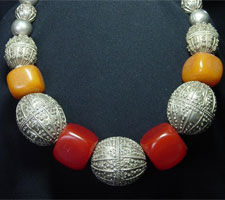 One of the benefits of living overseas was the fact that I had the opportunity to go back over and over and over again. It wasn't a one-shot deal, a stab in the dark, or a once-in-a-lifetime opportunity. I could take my time looking at the many unique and fascinating pieces I found week after week, knowing I had ample time to look before purchasing anything. And look I did. As soon as I dumped my pack in my hotel room, I headed out to explore the labyrinthine corridors of the market.
The narrow corridors – no more than six feet wide – were lined on both sides by hundreds of small shops piled high with a myriad of goods – mother-of-pearl inlaid plates spilled into the walkways, jewelry lined entire walls, clay figurines balanced precariously on wobbly tables, and bright, colorful clothing draped over it all. Shopkeepers called, tourists and locals enjoyed lively conversations, and car horns blared from beyond the walls of the bazaar. People of every shape and color crammed into the constricted passages lazily shopping or socializing. On the surface mayhem ruled, but in time I was able to make out a semblance of order amongst all the confusion.
Each weekend, small shops lured me in with promises of exotic wares and unique beads and focals. I pored through piles of odds and ends, unearthing treasures hidden amongst Bedouin robes, hubbly-bubbly pipes, and papyrus paintings. My senses were overwhelmed by the sweet, fruity smell of apple tobacco mixed with the aromas of falafel and schwarma emanating from many small restaurants lining the walkways. When I turned my head my nose picked up the heavy scent from a perfume shop, or perhaps the musty smell from a carpet shop. The call of muezzin echoed through the alleyways five times each day, followed by a mass exodus from the bazaar as all the faithful headed to a nearby mosque to pray.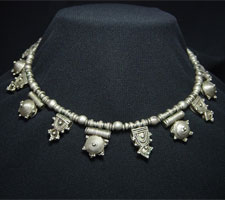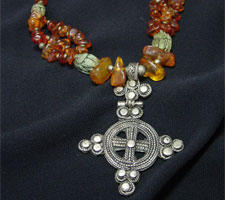 Returning to the bazaar week after week, I got to know shopkeepers which led to an even higher level of bead-shopper's bliss. The shopkeepers eventually invited me to their back rooms – the dens where they kept their real treasures. Typically, one wouldn't even know the shop had a back room as the entryway was covered by a Bedouin rug or Persian carpet, but once I found the secret entry no one could hold me back. I remember sitting on small stools, drinking chai, and chatting with shopkeepers while surrounded by the most exotic, luxurious collections I had ever seen. I felt like Bilbo as he snuck into the dragon's lair and was encircled by the most fabulous treasures he could imagine. The difference was that I had been invited, and was able to relax, take my time, and drink in the lovely sights and smells and feelings of being surrounded by such luxuriousness.
Sunday afternoons I reluctantly headed back to the train station for the journey home, with my newfound treasures packed away in my backpack. I spent the following five days playing with my new beads, while dreaming of the riches I might find the coming weekend. It's no wonder that beads have consumed a good portion of my life given the wonderful start my bead addiction had!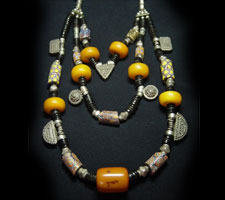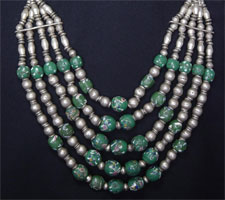 As the years went by, I moved to Ethiopia and enjoyed the same sort of relationship with Ethiopian shopkeepers. They called me on the telephone when they managed to find a special item, and I made a beeline to their shop. My stash grew by leaps and bounds as I added intricately worked Ethiopian silver pieces to my collection. And then we moved to Taiwan, and my weekly routine included wandering the aisles of the jade market sorting through piles of Chinese antiques. In Malaysia I found gem stones by the bundle, which found their way into my bead collection.
Living overseas afforded us the opportunity of traveling to many countries as well, and I enjoyed the many hours I spent shopping for beads in various places. I remember clearly dashing out of our hotel room at the last minute to buy a bunch of Chin Stones in Burma. In Tanzania, I managed to place a special order for a bunch of brightly painted Tingatinga figurines. In Mali, my frustration at not being able to find any beads in the shops ended up leading to one kind shopkeeper jumping in a taxi with me to take me to the bead market outside town. In Kenya a shopkeeper handed me a bunch of beads with instructions to pay him the next time I saw him when I told him I didn't have any more Kenyan schillings. I finally paid him one and a half years later when I got back to Nairobi. The silver market in Yemen was filled with fabulous silver beads and focals, and I filled my saddle bags to overflowing before we flew back home.
Life on the road is an exciting adventure, and beads have been central to many of my adventures. We rode our bicycles from Alaska to Argentina. The photo above is of the four of us from one of our trips.
Visit the Soft Flex Company YouTube Channel!
Nancy Sathre-Vogel is a modern-day nomad and vagabond who travels the world in search of beads and other treasures. Her preferred mode of transportation is a bicycle, although she's been known to travel in car, bus, plane, boat, donkey cart, elephant, and camel. She is now pedaling the length of the Americas because her ten-year-old sons have decided they want to get the Guinness World Record as the youngest people to cycle the Pan-American Highway. Although there are times when she questions her sanity, she somehow keeps going, knowing that more treasures await in countries far and wide. You can read about her and her travels at www.familyonbikes.org.