Are you starting a new career in bead and jewelry design? Or are you just looking to have some fun with arts and crafts? There is no better way to be creative than designing your own jewelry! There are thousands of different types of beads, and all of these are made from different types of materials. They can be found in different sizes and shapes for every taste. We have a guide to jewelry making and beads, as well as answers to any questions you may have.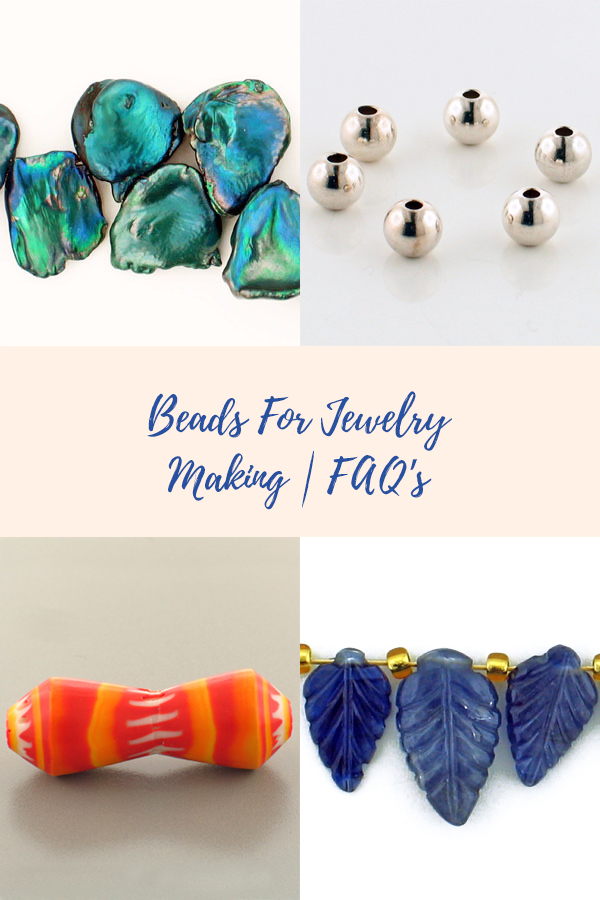 What Are The Best Types Of Beads For Jewelry Making?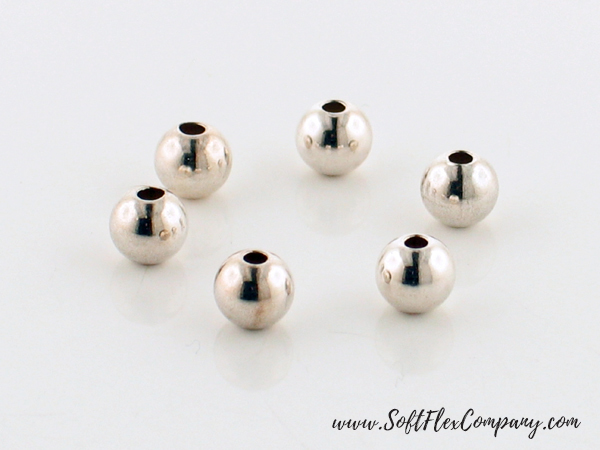 Metal beads can be broken down into two categories namely precious metals and non-precious metals (sometimes known as base metals).
Precious Metal Beads

These beads are made from 22 k, 18 k or 14 k gold, vermeil, gold filled, and sterling silver.


Non-Precious Metal Or Base Metal Beads

These metal beads include copper, brass, nickel, bronze, and pewter.
When purchasing beads, be sure to look for beads that are labeled as lead-free.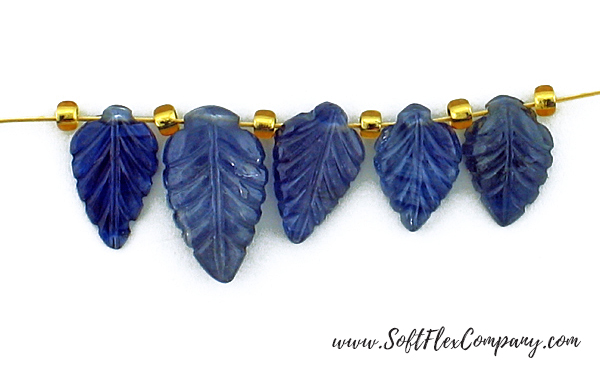 Natural stone beads are considered either precious or semi-precious. This depends on the type of stone and whether the stone is considered rare or valuable. Many gemstone beads go under a chemical or heat processes that are meant to harden or enhance the colors of the gems. This means they are bleached, dyed, hardened, enhanced, and oiled. Precious stones are sometimes referred to as gemstones, with only a few types that are actually made into beads because of the softness of the stone and rarity. Examples include: Diamonds, Opal stones, Rubies, Sapphires, Emeralds, and Tanzanite. Some of the varieties of semi-precious gemstone beads are: Amethyst, Citrine, Moonstone, Tiger's Eye, Quartz crystal, Rose Quartz, Turquoise, Jade, Garnet, Carnelian, Tourmaline, and so on.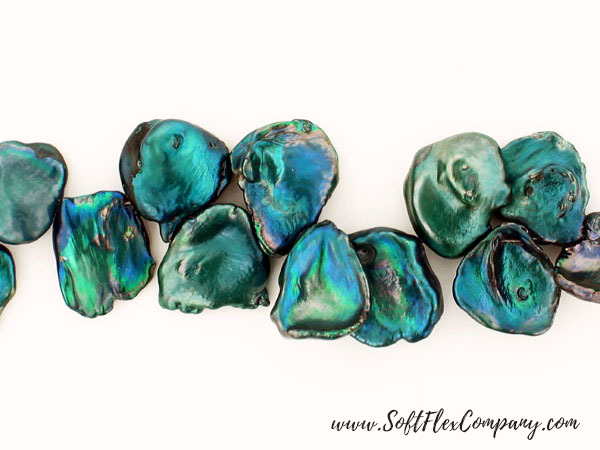 Pearls are always popular. Pearls are natural or cultured and are from saltwater or freshwater. Some common shapes of pearl beads include round, potato, baroque, rice, seed, and coin. Pearls are graded according to their quality, and a pearl that is graded AAA will have an excellent and blemish free finish. Pearls are often bleached and are available in a large variety of dyed colors for beading.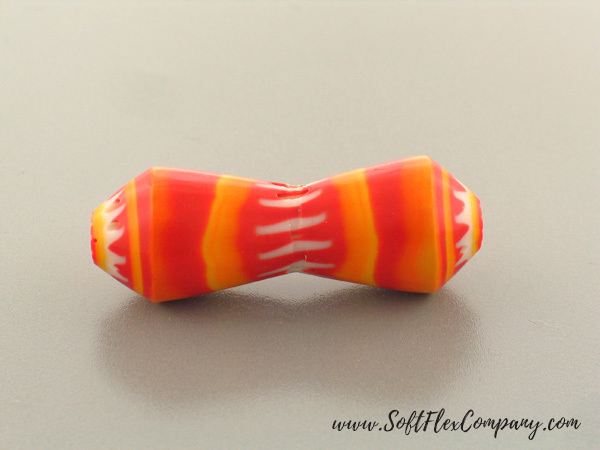 Glass beads are used in jewelry that comes in all shapes and is quite popular. These include pressed glass beads, lampworked or flameworked glass beads, dichroic glass beads (stunning in the sunlight), millefiori glass beads, seed beads, and frosted glass beads (glass beads coated with paint or an acrylic coating that makes them resemble pearls).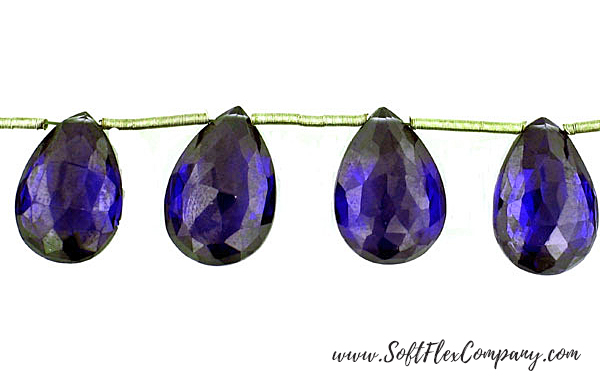 Crystal beads are known for their sparkle. They are machine cut glass beads that have an extremely smooth surface. They come in a wide variety of colors and shapes, but the most popular shapes are faceted cubes, tapered (diamond shaped), rounds, saucers, and teardrops.
Acrylic beads are made from different types of plastic and are usually the most inexpensive type of beads. They are available in almost any color and shape and are sometimes made to look like pearls, gemstones, and stone beads. You will not likely find higher end jewelry with these beads, but they can be fun for a child, a beginner or practicing hobbyist.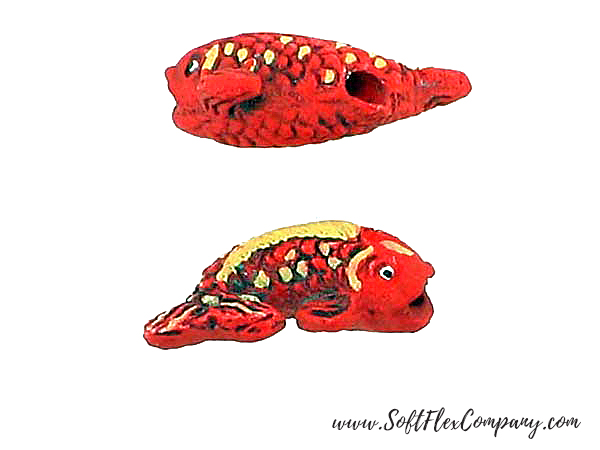 Other beads that can be used in jewelry making include paper, clay, glazed ceramic, polymer clay, dices, and coins.
How To Choose Beads For Jewelry Making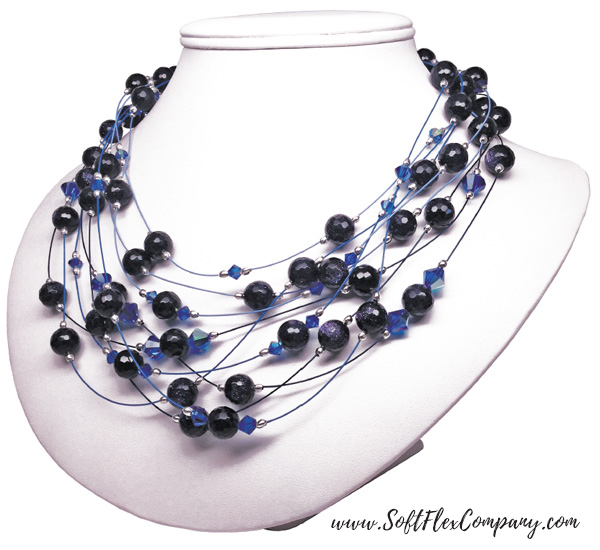 It can be really overwhelming when you first decide you want to try jewelry making because there is such a broad range of possibilities! Choose one kind you'd like to make first and go from there.
Perhaps you like wearing beaded jewelry best or metal stamped jewelry? Maybe you want to work with leather, clay or glass? Choose one medium to focus on first and build on your skills. In that way, you will have an easier time learning a new technique because of what you can already do. When choosing jewelry lengths, make sure you consider the size of each bead and the quality. Standard jewelry sizes include:
| | |
| --- | --- |
| | 16 cm to 17 cm (6.5" to 7") |
| | 22 cm to 25 cm (9" to 10") |
| | 38 cm to 40 cm (15" to 16") |
| | 45 cm to 50 cm (18" to 20") |
| | 58 cm to 68 cm (23" to 27") |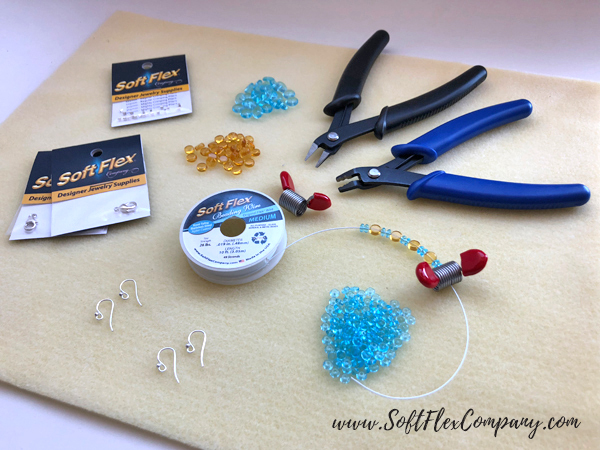 Jewelry design kits would be the simplest way to create impressive looking jewelry, without the need to invest in lots of jewelry making materials individually.
Consider how to personalize your beadwork by using birthstones (precious or semiprecious) or their crystal equivalents. The type of stone you use depends on your taste and what you want to personalize. If you are looking to follow a specific gem color for your birth here, there are specific stones for each month namely:
| | | | |
| --- | --- | --- | --- |
| January | Garnet | Rose quartz | Siam, garnet, or rose (deep to light red) |
| February | Amethyst | Onyx | Amethyst or jet (light purple or black) |
| March | Aquamarine | Red Jasper | Aquamarine (very pale blue) |
| April | Diamond | Rock crystal | Crystal AB (clear) |
| May | Emerald | Chrysoprase | Emerald (dark green) |
| June | Moonstone | Pearl | Light topaz, smoky topaz, or light tan or pearl |
| July | Ruby | Carnelian | Siam or garnet (rich deep red) |
| August | Peridot | Aventurine | Peridot (light green) |
| September | Sapphire | Lapis lazuli | Sapphire or Montana sapphire (dark blue) |
| October | Tourmaline | Opal | Smoky topaz (dark tan-purple) |
| November | Citrine | Topaz | Topaz or Colorado topaz (tan) |
| December | Zircon | Turquoise | Light sapphire or topaz (light blue or orange-red) |
What Are The Best Tools For Jewelry Making?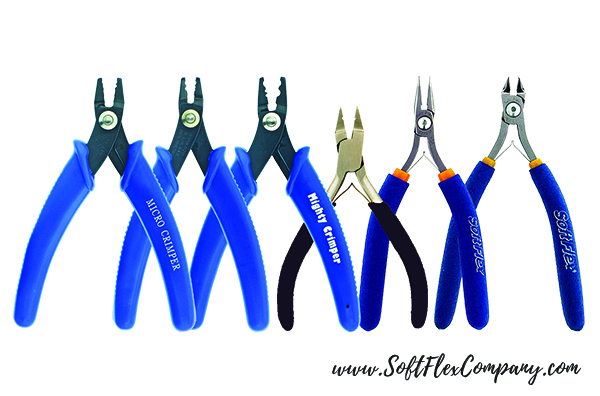 It may seem like a bit of an investment when it comes to specialty tools like metal stamps, but in the long run, they more than pay for themselves when you are able to create rather than buy your jewelry! It is also a worthwhile investment for jewelry to give as gifts and/or sell to others.
Consider buying higher end tools if you are going to commit to making jewelry. High end tools are hand made or use higher quality materials. They are more precise and then tend to last longer. In the long run, you will save money if you work with quality tools as you will not be replacing them nearly as often as you will need to replace economy tools.
Some tools you may need include:
Needle-nose pliers - a must for wire wrapping.
Chain-nose pliers - another great tool for manipulating Craft Wire.
Wire cutters - always have a good, sharp pair. Economy cutters are fantastic for a beginner, but professional flush cutters will last for years and can be resharpened.
Crimping pliers - for attaching crimp beads to flexible beading wire. We have lots of videos on Facebook and YouTube if you need instructions.
Round nose pliers - for bending and twisting wire, especially into loops of different sizes.
Bent nose pliers - for holding beads in difficult positions and bending the wire.
Jump ring pliers - for closing jump rings and bracelet rings without bending, scratching or distorting the shape.
Split-ring pliers - to open split rings. Your keychain is a great example of what split rings look like. Wouldn't it be nice to have a tool to open that ring?
Bead reamer - to enlarge the holes of beads and pearls.
Tweezers - to pick up beads.
Awl - to help you knot string very tightly. Great for guiding knots, too.
Beading needles of various sizes - for stringing smaller beads. Soft Flex Beading Wire is firm enough that you do not need beading needles, but they are handy for softer stringing material.
Beadboard - used to help you put beads in order for your jewelry, to hold beads in place, and to measure how many beads you need. These come in lots of finishes and sizes.
Hammer - used to work harden Craft Wire so it retains it's shape.
Toggles and Clasps - finish your design with these.
Some Bead Stringing Options Include: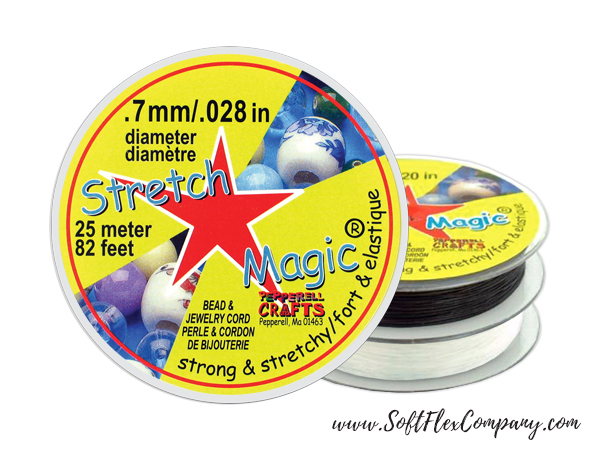 Stretch Magic is a strong elastic-like cord. It is constructed of a mixture of polyester and polyurethane. Stretch Magic is solid and will not fray over time. Stretch Magic does not contain any latex, rayon, or elastic.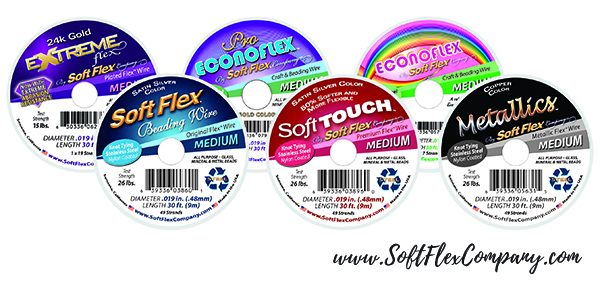 Soft Flex offers a wide range of beading wire to meet the needs of crafting and jewelry making.
Soft Flex Wire is a lead-free beading wire for designers that demand strength and durability. Soft Flex Wire is a superior beading wire, created by beaders for beaders. Soft Flex Wire is constructed of either 21 or 49 micro woven stainless steel wires. It is supple enough that it can be knotted and comes in a wide variety of colors.
Basic Usage:
.010 Very Fine - Ideal for embellishing, weaving, crocheting and stringing very small beads. We suggest finishing with 1x1mm crimps.
.014 Fine - Ideal for soft materials, seed beads and fresh water pearls. We suggest finishing with 2x2mm crimps.
.019 Medium - Ideal all purpose wire. Great with glass, mineral, and metal beads. We suggest finishing with 2x2mm crimps.
.024 Heavy - Ideal for abrasive materials, large stones, lamp work and bracelets. We suggest finishing with 2x3mm crimps.
How To Organize Beads For Jewelry Making
Choose a room of the house, table, desk or drawer that is just for you and your hobby. Sort your supplies and label each box. There are all kinds of jewelry making storage ideas for you to choose from. An example includes inexpensive bins and boxes you can get that already have dividers in them to easily store various beads, findings, and more. Find a system that works for you and stick with it to have fun!
Where To Buy Beads For Jewelry Making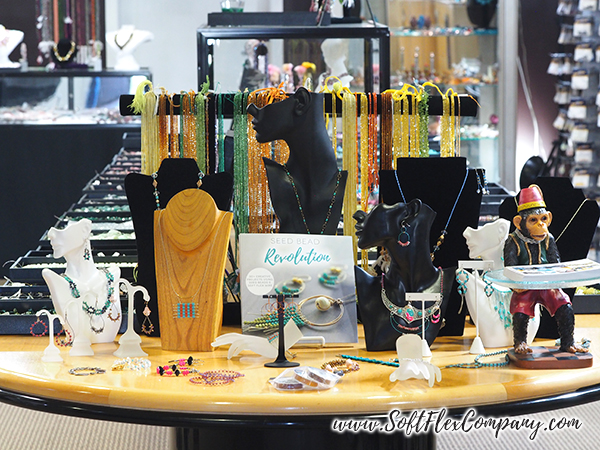 At Soft Flex Company, we offer crafters, hobbyists, and jewelry designers a one-stop shop for all their crafting needs through our extensive online bead store. At our online bead store, you can shop for gemstones and beads by color, material, style or shape, and we offer both short strands and single beads. Our bead types include all natural antler (collected from the ground, no animals were harmed) and lava rock beads, art glass, and vintage glass beads, pendants, teeny tiny character bead, cubic zirconia, faux pearl, metal beads, and much more. Visit our online bead store for beads for jewelry making or contact us today for more information.
Support your local bead stores! The best way to ensure this hobby lives a strong and healthy life is to make sure you help the local guys. Shopping at a local bead store is a great way to get involved with a community of talented designers. You will make friends, learn new techniques, and get some great discounts.
Shop bead shows. Bead shows used to be an extravagant affair. Cities would turn into a massive bead shop for a limited time - Tucson and Milwaukee used to overflow with beading tourism. A decade or so ago, the industry took a downturn. Shows are much smaller and in danger of disappearing. Support bead shows. It is much easier to attend one now that the crowds are more manageable. Bead shows offer a chance to meet vendors and stores that you would never come across otherwise.
Join our Facebook group – VIB. Stay in the know. Stay up to date. From our bead shows to our video shows and sales, you can stay in touch with us. The community is full of artistic and helpful beaders and crafty people. Inspire and be inspired. Share your pictures and get the beading bug from others!
Visit the Soft Flex Company YouTube Channel!
---
Blog contributor Thomas Soles is the Trade Show Coordinator for Soft Flex Company. His favorite stones are Lapis and Pietersite. His favorite hobby is day dreaming. And his favorite mustache is Tom Selleck's. As you can see, he has a healthy (or possibly unhealthy) sense of humor. You can write to him at Thomas@SoftFlexCompany.com