Way up high in the Christmas tree, I saw one candy cane looking at me. Boy do we have a delicious necklace for you. Kristen cooked up a simple and stunning design. This yummy beauty is perfect for an elegant dinner or an ugly sweater party at the office. Play with the colors to fit your style. You can even change up the color scheme and make this a year 'round necklace.

Make sure you check out our latest live sale on Facebook – the sale is open until Sunday, December 16th – there is still plenty of time to bid on some beautiful beads from our gallery.
If you normally join us on our Friday blog, you will notice that our Weekly Video Recap that is not here today. No worries. We will return to our regular blog schedule after the holidays. We have employees visiting loved ones and traveling right now. We did have a great selection of videos, though. Kristen filmed another episode of Free Spirit Beading on Monday. Sara held a live sale on Facebook on Wednesday. Sara filmed a design video featuring our kits and new Beading Inspiration Gift Sets on Thursday. It was a full week of fresh new videos; we just do not have the staff to organize everything. Links to the videos will be provided following the project.
Candy Cane Charm Necklace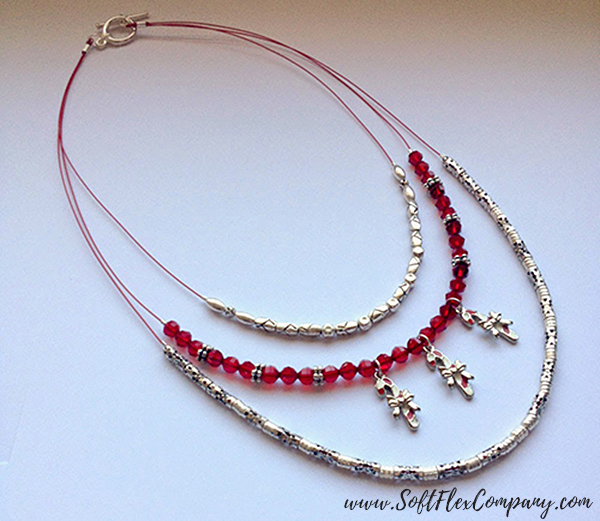 Designer Kristen Fagan
Materials
Red Coral Soft Flex Beading Wire, .019 Diameter - 6ft
6mm Siam Swarovski Crystal Rounds from Fusion Beads - 30 pcs
Beaded Heishi Spacer Beads - 6 pcs
Candy Cane Charms - 3 pcs
Long and Short Silver Tube Beads - 42 pcs
Barrel and Square Silver Beads - 21 pcs
2x2mm Silver Filled Crimp Tubes - 6 pcs
3x5.5mm Sterling Silver Crimp Tubes - 2 pcs
6mm Jump Rings - 5 pcs
Toggle Clasp - 1 set

Tools
Crimping Pliers
Mighty Crimping Pliers
Bead Stoppers
Cutters

Instructions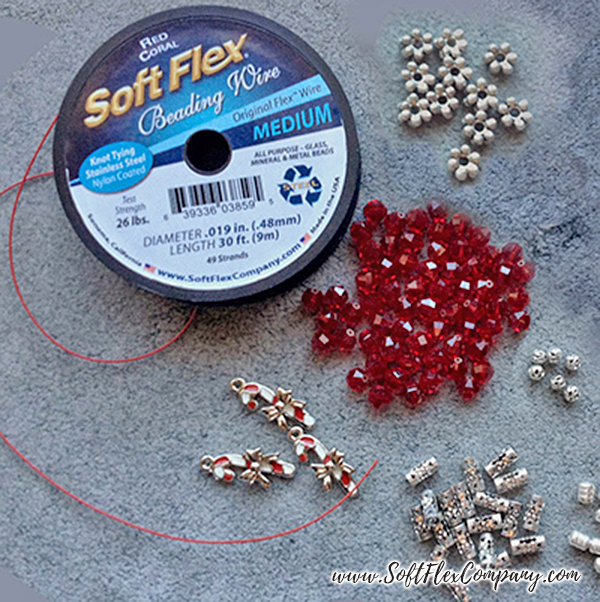 Step 1: Next string the middle layer in the following pattern; 3 red crystal beads, 1 double heishi spacer bead, 3 red crystal beads, 1 double heishi spacer bead, 3 red crystal beads, 1 candy cane charm on a jump ring, 3 red crystal beads, 1 candy cane charm on a jump ring, 3 red crystal beads, 1 candy cane charm on a jump ring, 3 red crystal beads, 1 double heishi spacer bead, 3 red crystal beads, 1 double heishi spacer bead, 3 red crystal beads, 1 double heishi spacer bead, 3 red crystal beads.

Step 2: Lastly, string a pattern of alternating barrel and square silver beads for your shortest layer.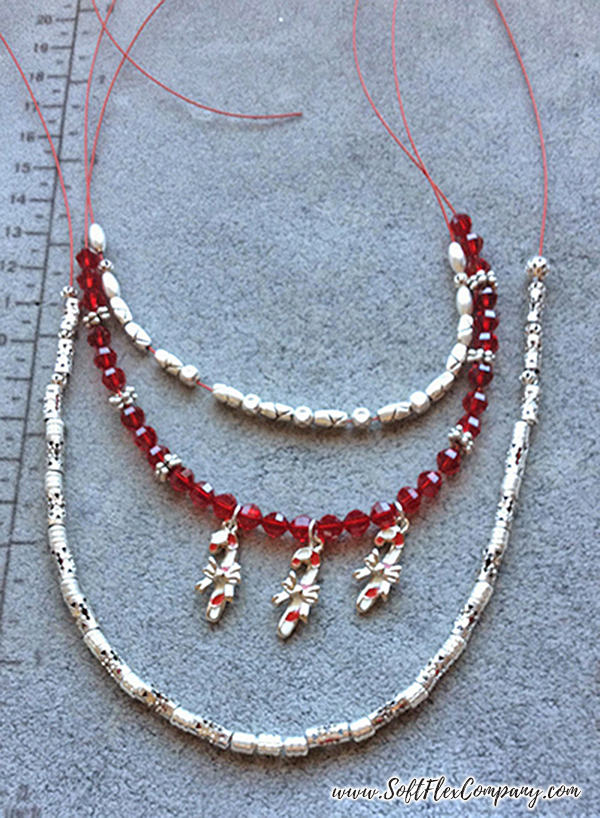 Step 3: Take some time to look at the three layers together on a bead board before crimping to make sure you are happy with bead placement. Starting with your shortest strand, string a 2x2mm crimp tube on each side of wire. These crimps will hold your beads in place. Attach a bead stopper on one side of your wire close to the crimp, this will keep your beads secure while you crimp the other side. Then remove the bead stopper and crimp the second side. Repeat this process for the remaining two strands. For step by step instructions on how to crimp, click here.

Step 4: Once you have all three strands complete and beads crimped into place, use a bead stopper to hold all three strands on each of the necklace being sure to leave some wire at each end for adding your clasp. Adjust your wire as needed until you are happy with the placement.

Step 5: Attach 1 jump ring to the toggle and 1 jump ring to the toggle bar. String a 3x5mm crimp tube on one end, loop wires through the toggle jump ring and back through your crimp tube. Crimp using mighty crimping pliers. Cut off your excess wire. Repeat on the other side of your necklace.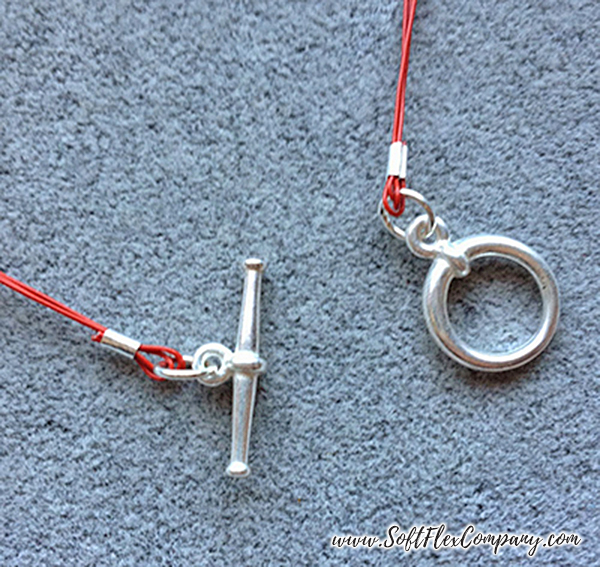 Projects not intended for children under the age of 13. The information on this instruction sheet is presented in good faith, but no warranty is given, nor results guaranteed. Soft Flex® Company disclaims all liability from any injury to anyone undertaking the construction of this project as a result of improper safety precautions.
This Week's Videos
Kristen filmed her last episode of Free Spirit Beading with Kristen Fagan for the year. She will be back the first Monday of January (January 7th). You can watch her video above. She created a lovely set of earrings and a scrumptious ornament.
If you would like to stock up with Kristen's beads and beading wire – you can find her beads here, our Holly Jolly Under The Tree Bead Mix. And click here for our Holly Jolly Trios Beading Wire Set.
Sara filmed a Soft Flex Live Sale featuring Mike Sherman's Private Collection. Mike Sherman is one of the owners and founders of Soft Flex Company. He has traveled extensively, networking and buying beads. All of his beads are hand selected and wonderful. The live sale is full of great deals and discounts. The sale runs until Sunday, December 16th. You still have time to bid on an item until then.
Finally, Sara filmed a video featuring our design kits. She used a Vintaj Innovations Kit for the video and discussed our newest Beading Inspiration Gift Sets. The kits come with everything you need to create jewelry – wire, beads, and components. The new Gift Sets come with a kit and a cutter and a pair of crimping pliers. If you need new tools or do not have a crimper and cutter – the Gift Set is perfect!
We hope this holiday season is wonderful. Thank you for joining us and reading our blogs and watching our videos. We feel blessed.
Don't miss our other holiday jewelry and ornament ideas. Follow our blog and check out our Free Beading Project Ideas. Subscribe to our YouTube channel for more tips. Visit our Facebook page if you want to catch our live shows and sales. And join our Facebook group – VIB, if you want to join a friendly community or jewelry designers and all around creative people. We would love to see your holiday creations. Post pictures on our VIB group!
---
Blog contributor Thomas Soles is the Trade Show Coordinator for Soft Flex Company. His favorite stones are Lapis and Pietersite. His favorite hobby is day dreaming. And his favorite mustache is Tom Selleck's. As you can see, he has a healthy (or possibly unhealthy) sense of humor. You can write to him at [email protected]