It is never too late to give a great gift to a cherished loved one. If you are still looking for Christmas gift ideas, check out some of our beading supplies. We are always adding new products to our shelves. And we are always looking to educate beginners on how to use our tools and components. If you give someone love the gift of beads this holiday season, make sure they know they can count on us for resources when they are finishing their first bracelet or necklace. We are a company created by jewelry designers and we are staffed by beaders of all skill levels. We want to empower you and yours to create the most amazing jewelry possible!

We love big sales and savings. Right now is a great time to pick up our newest inventory at big sales prices. Tackle that Christmas list and show it who is boss! We have great gifts for the most crafty and creative. Want to inspire a child to make jewelry? Want to give an old friend a new activity that will stimulate their mind and please their senses? Our beading supplies are perfect for inspiring artists to try new mediums and creative outlets. Our jewelry making supplies are great for necklaces, ornaments, and even massive art installations! Save big and spend little. Check out our gift ideas!
8x3mm Assorted Color Czech Glass Mini Dagger Bundle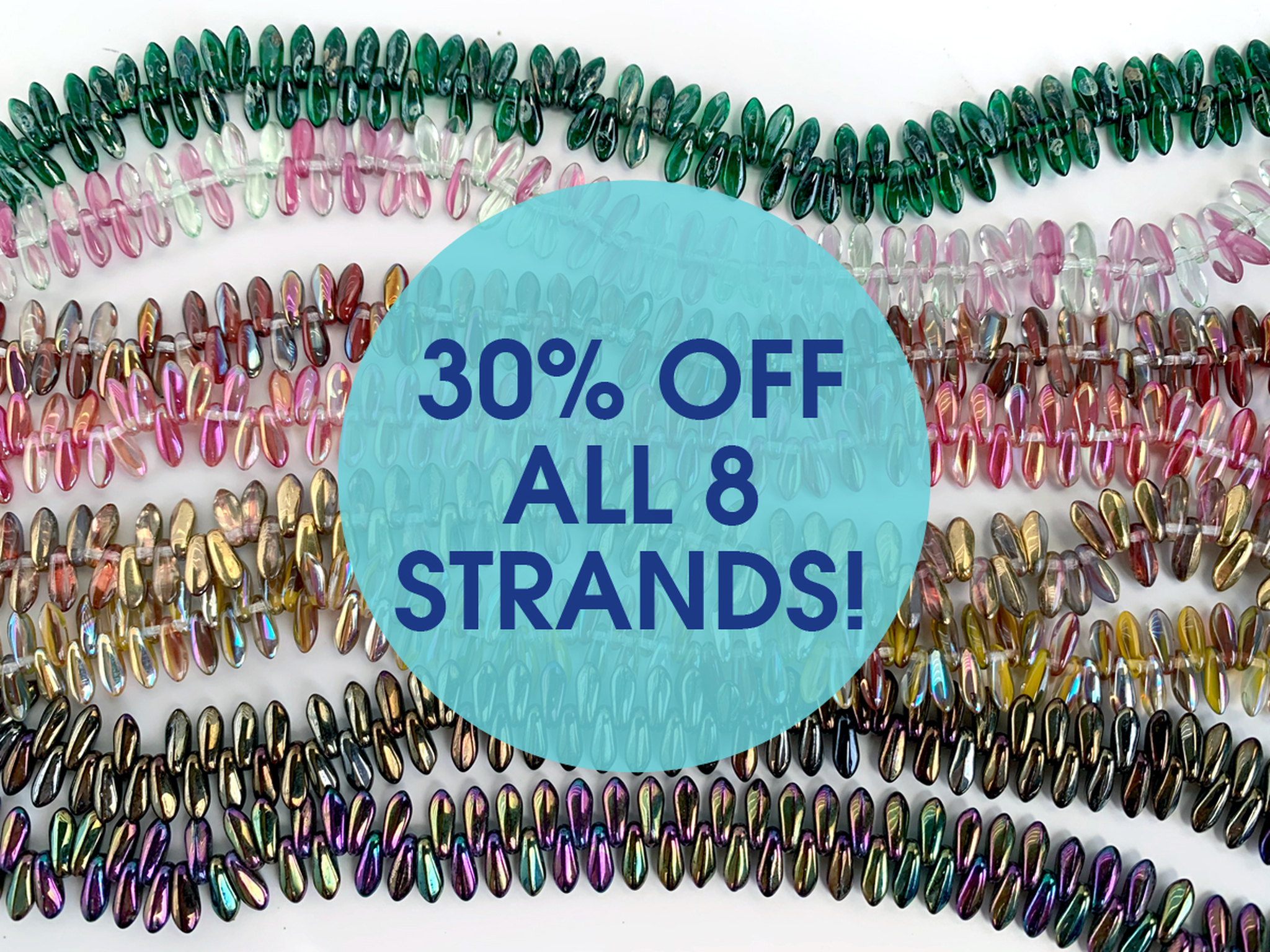 Do you love the inventive spirit of our Trios Beading Wire Collections? Do you love the exuberantly creative collection of colors and beads in our jewelry making Design Kits? You are going to love this mix of Czech Glass beads. We have put together a collection that celebrates our kits and Trios. Take a journey to an exotic Spice Market. Fall in love with a Valentine's colorway. Be balanced and one with our Harmony collection. Take a deep dive and explore a mermaid's realm. Fall in love with an amazing collection of hand curated Czech Glass beads!
Do you love vibrant colors and upbeat jewelry? Czech Glass Beads are a delight. Czech Glass Bead Strands are beautiful and come in the most wonderful shapes and sizes. Add a unique bead to your next DIY necklace as a pendant. A strand of Czech Glass can be turned into a beautiful bracelet without any extra additions. You can make a cute pair of earrings with Soft Flex Beading Wire and a single bead or three. You can mix and match with other Czech Glass colors and make jewelry that celebrates a holiday or moment in time. Czech Glass is playful, inexpensive, and slightly exotic - give your jewelry an accent of your personality!
Some of the most amazing glass beads come from the Czech Republic. An entire strand of our Czech Glass Beads will produce at least a bracelet. Don't be scared to mix and match a few different styles to make a design that is a one-of-a-kind piece.
Deck The Halls With Beaded Jewelry - Check Out Our Gift Giving Ideas!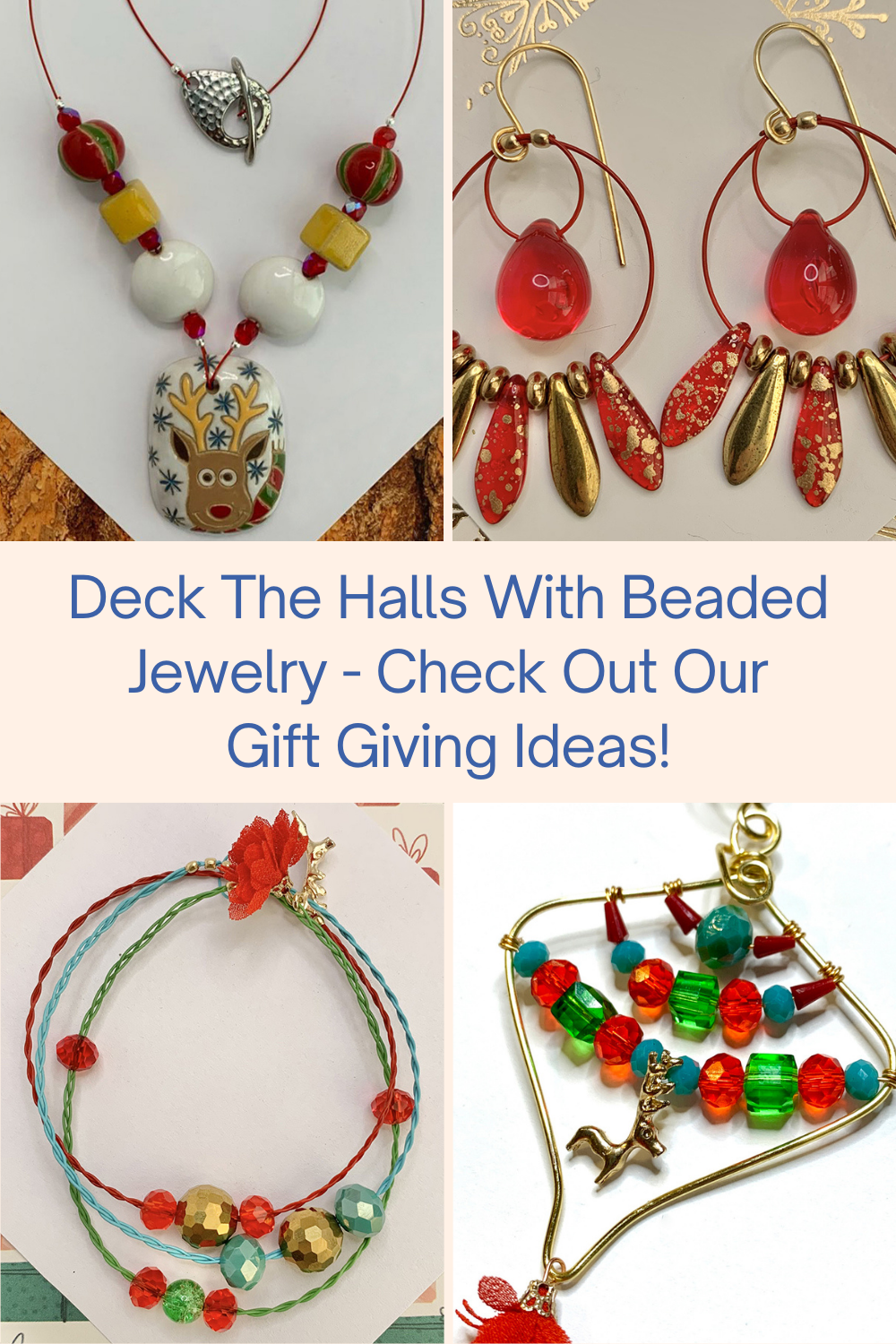 Give The Gift Of Creativity!
We have some great gift giving ideas for you. We have so many fun new items and we want to share them! We also want to show you what you can make with our exciting beading supplies. Check out our social media for jewelry making demonstrations and unique holiday designs. Buying beads is great for sparing your wallet. You can buy the jewelry making supplies you need to make inexpensive, but elegant, jewelry. You can buy bead mixes for friends. Buy charms for your little ones. Share your love of craft with family! Christmas crafts are great for bonding moments and spreading joy!
Reindeer Golem Studio Winter Ceramic Bead Set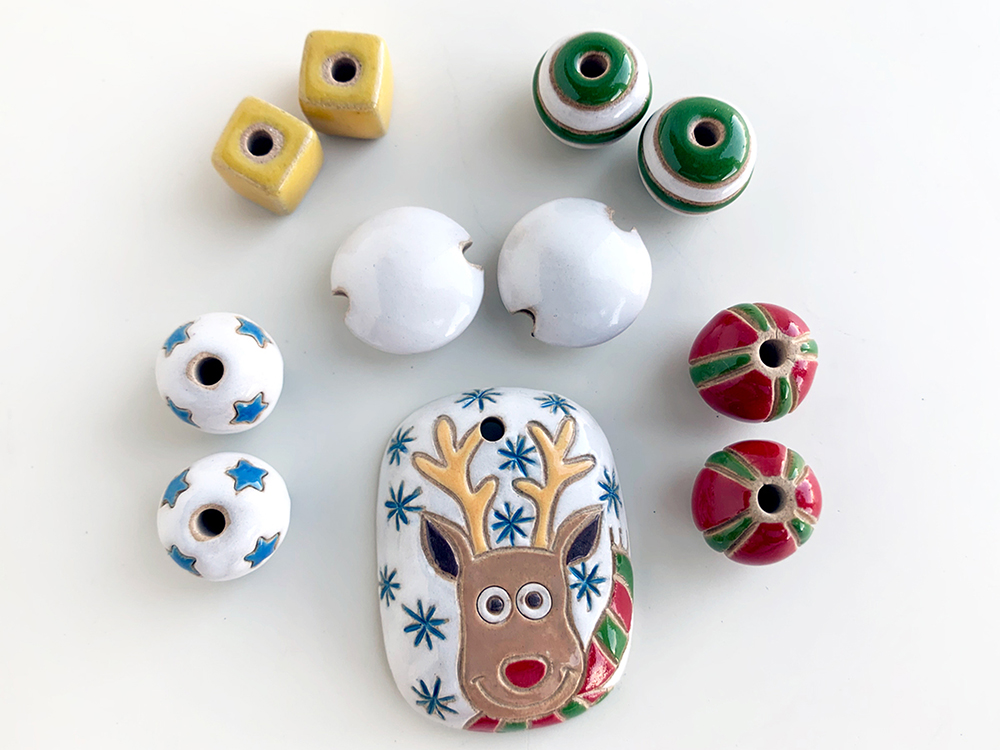 We love ceramic beads from Golem Design Studio. Every bead they produce is so full of love and masterful design. We hear it is impossible to be in a bad mood when you are bedecked in a jubilant collection from Golem Studio. We don't want you to prove us wrong, but you have to admit it would be hard to be sour with this gleeful bead set! Wear the beads as a set or break it up for multiple jewelry designs. Two ceramic beads would make a lovely set of earrings. Use a bead as a pendant or accent. These beads are a real treasure. But hurry, supplies are limited!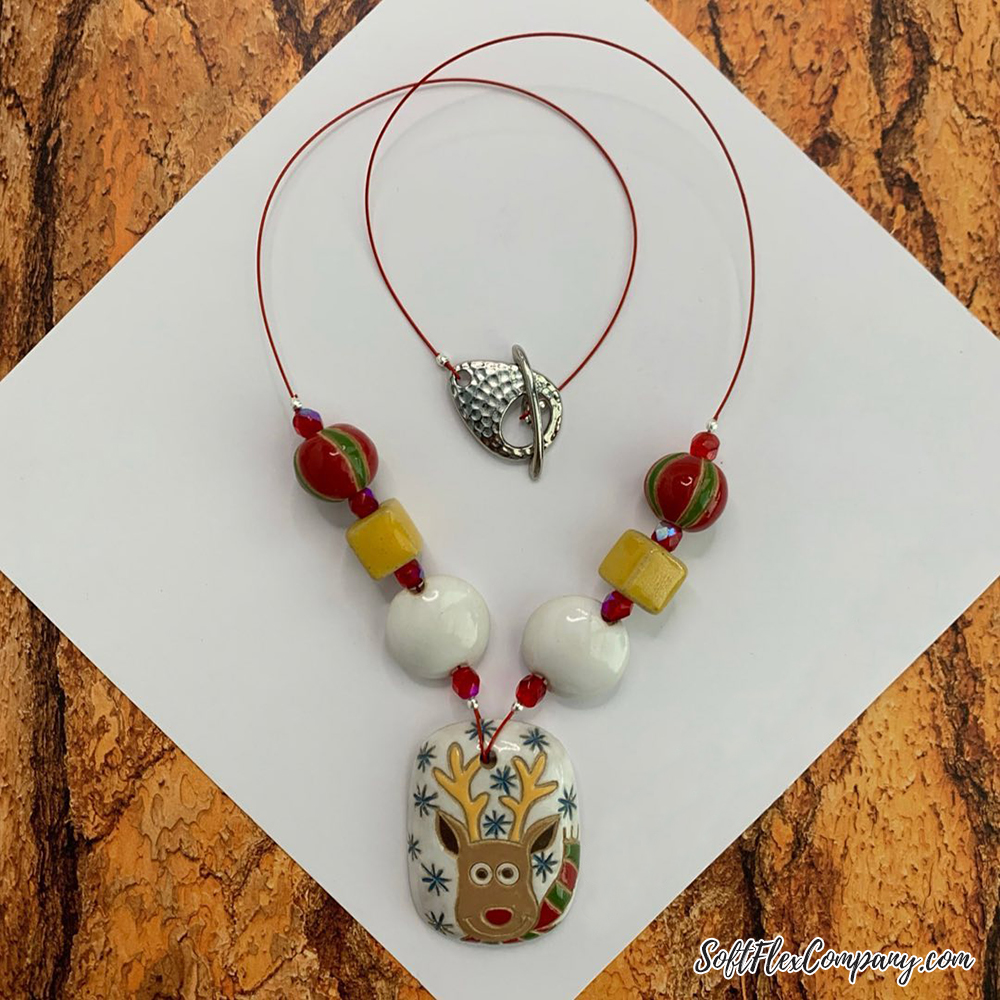 Red, Green, and Gold Christmas Czech Glass Bead Mix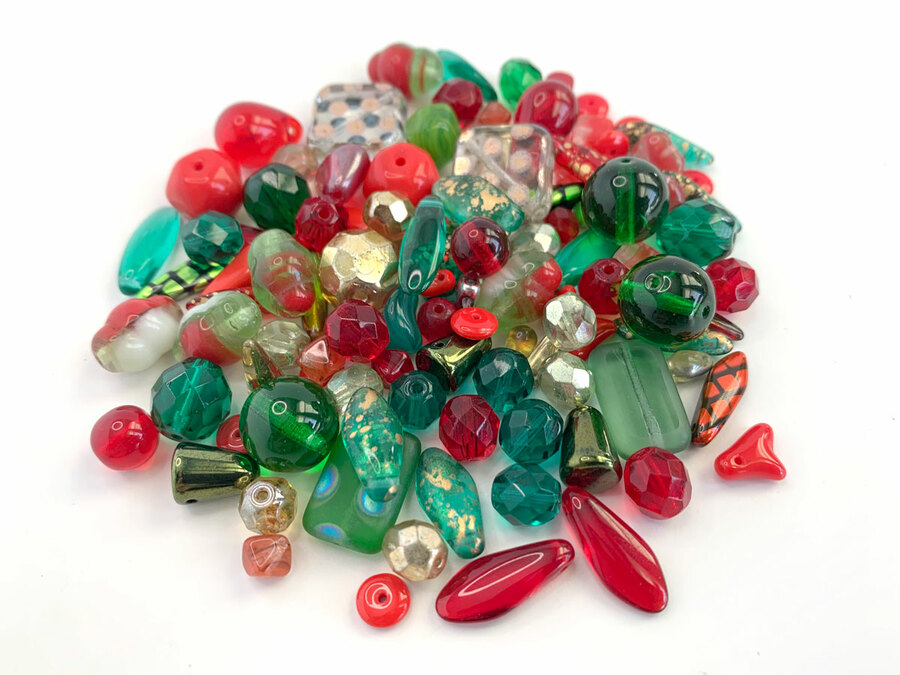 Our bead mixes are always joyful. They often arrive with the same colorway or theme as our latest kit. But sometimes we just like to feature a new bead mix just for fun. For the holidays, you can be sure our mixes will be festive and perfect for Christmas crafts. This collection is perfect for handmade ornaments or Christmas earrings. Give your loved ones a glowing collection of Christmas goodies this season!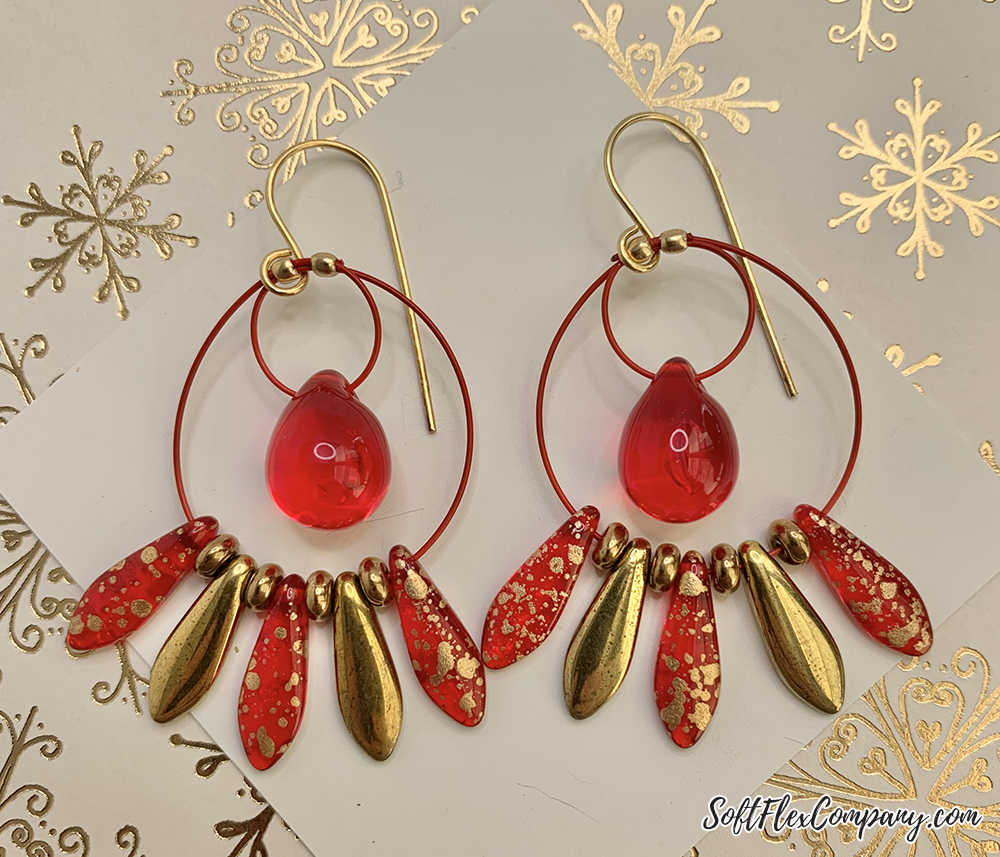 Antique Silver Plated Christmas Charms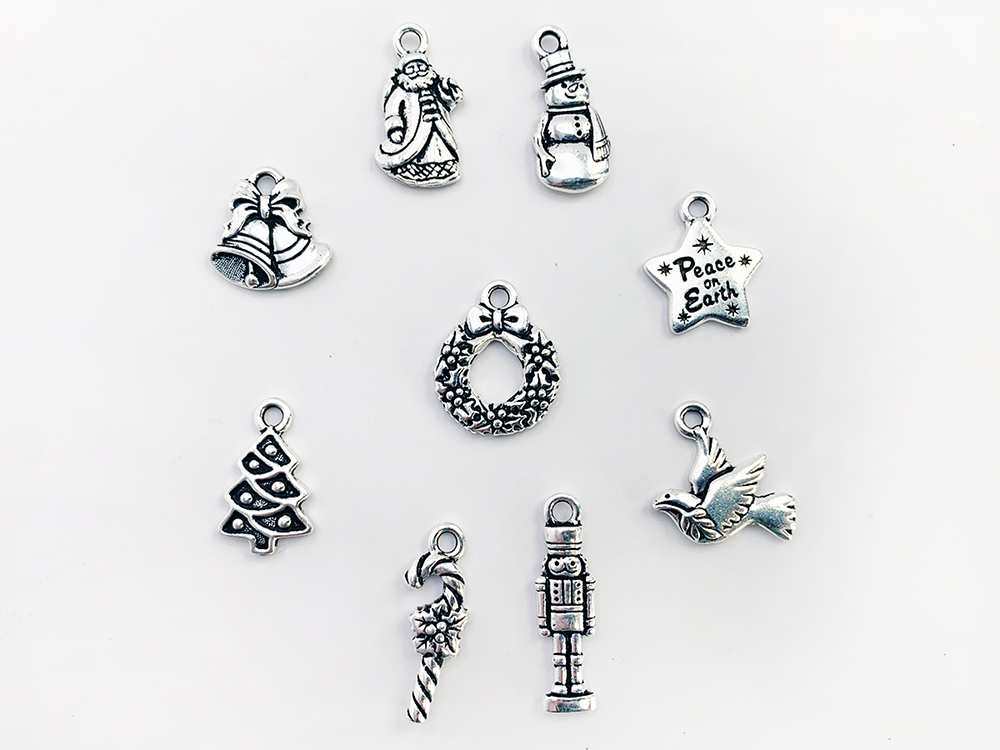 Charms never go out of fashion. Charms are a great way to tell a story. They are a great gift for a loved one. Have a friend that loves the Nutcracker Suite? Add a charm to a handcrafted bracelet. Or, give them a collection of charms and see how they turn these fun trinkets into something magical. Charms are great accents for ornate designs. Make a charming masterpiece for your favorite elf.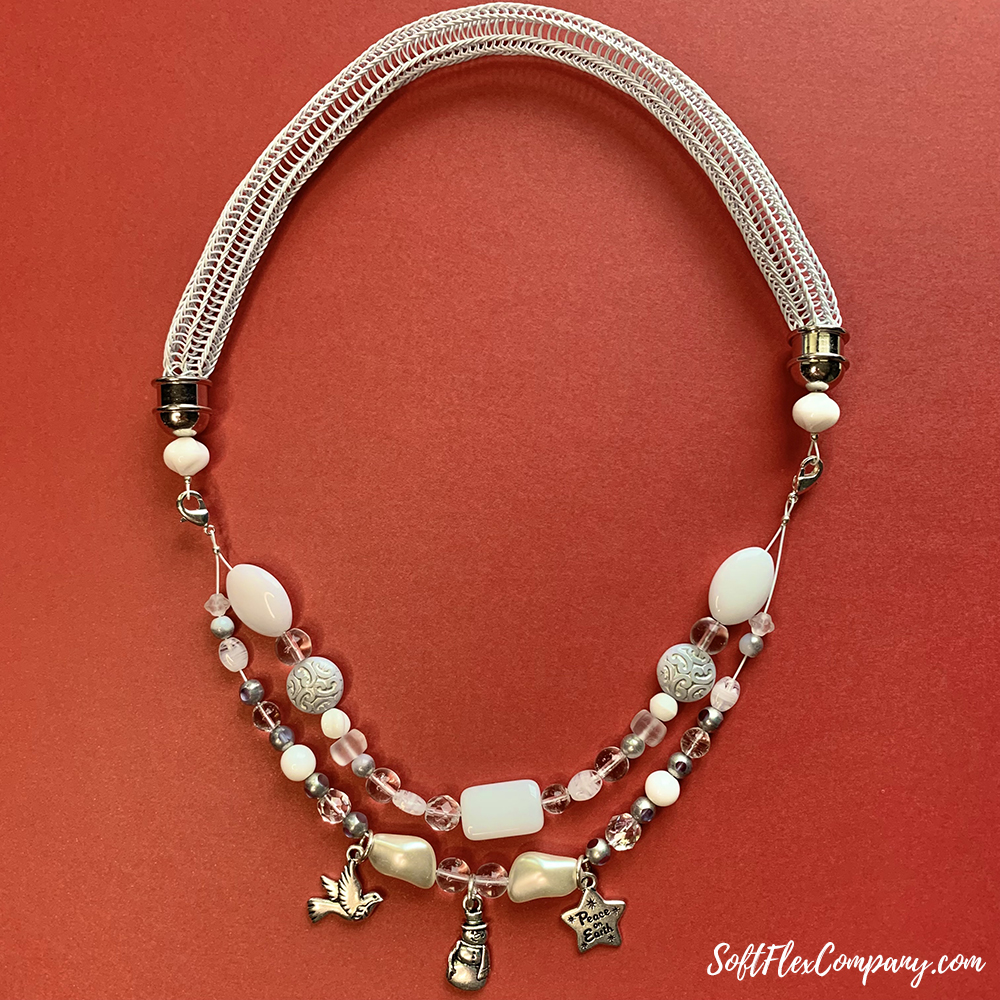 Soft Flex Craft Wire Silver Plated - 16ga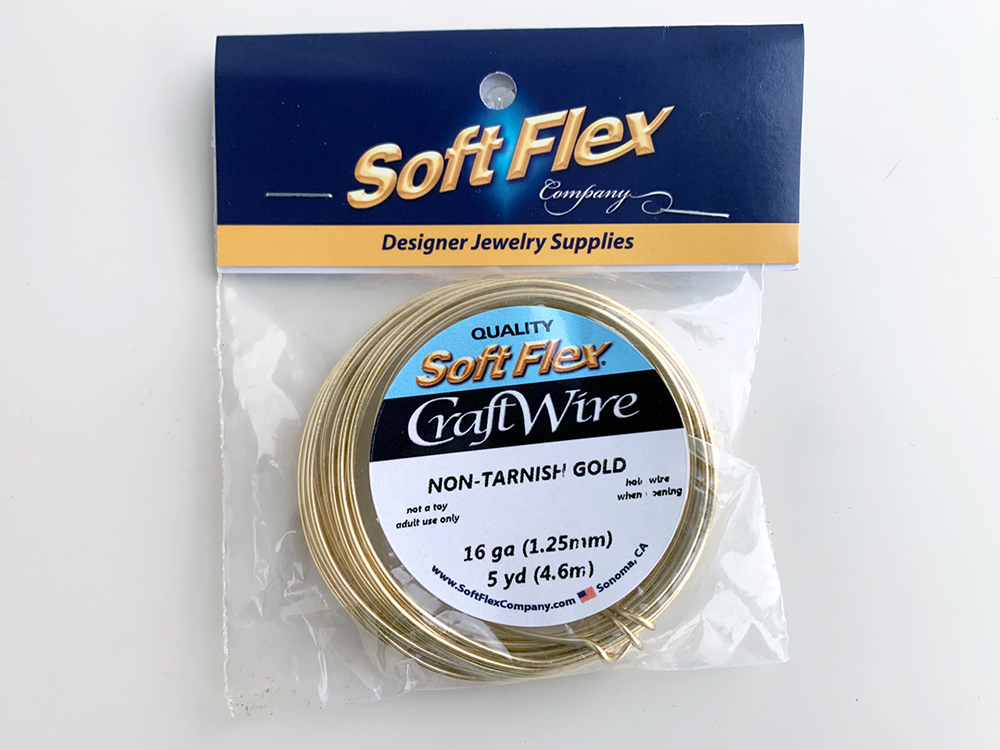 Go big with a BIG Craft Wire! 16 gauge is our thickest gauge yet. This sturdy wire is going to be your new favorite. This wire is great for interlocking chain pieces. Make an ornament that can weather the punishment of mailing or packaging. Use it as the foundation of a sculptured piece of wire worked art. Make an amazing Tree of Life. The only limit to what you can create is what you can imagine!

Retro color for your favorite vintage lover. Take your creative friends back in time with a bead mix that is as brassy as the crooners of old and as vibrant as a sunset on Christmas Island. The colorway we have here is a mix of Rudolph the Red Nosed Reindeer and a visit with Santa when you were a sleepy ten year old with big dreams. Make a little Christmas pop with a collection that will stir your nostalgia and remind you of Christmases long long ago.
5mm Spice Market Czech Glass Fire Polish Faceted Rounds Bead Bundle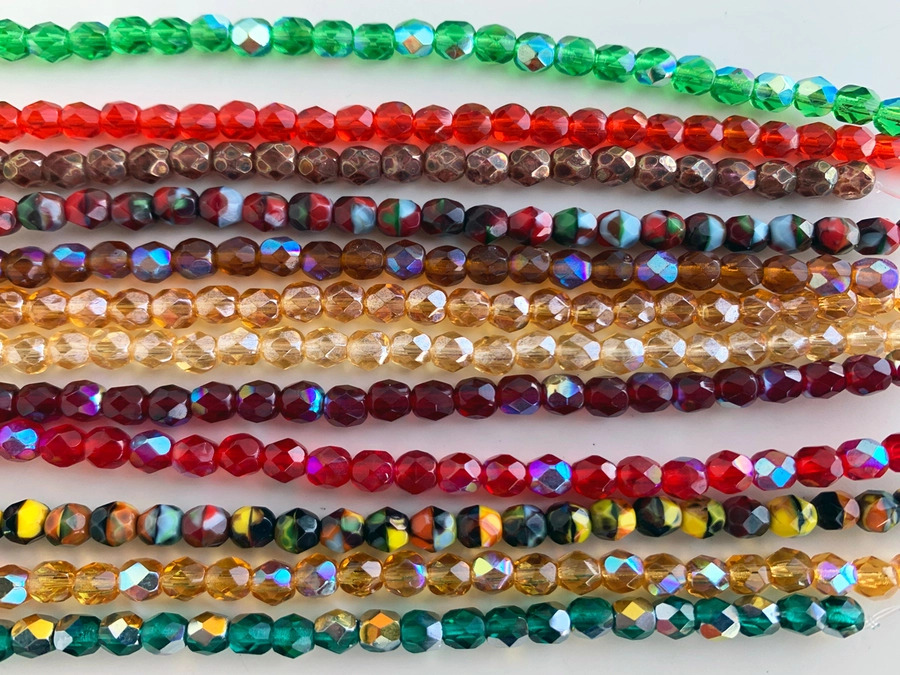 Czech Glass is the best! Any strand of Czech Glass can be turned into instant art. In most cases, a strand of these delicious beads can be strung and finished without any accompaniment. The glass is so colorful and vivid, it does not need an accent or pendant. But we know how you think! You want to add a charm or tassel. You want to give it an extra kick. We hear you! We have a ton of colorful Czech Glass beads and everything you need to make the most amazing jewelry ever. Shop our site and make the most stunning jewelry you can imagine!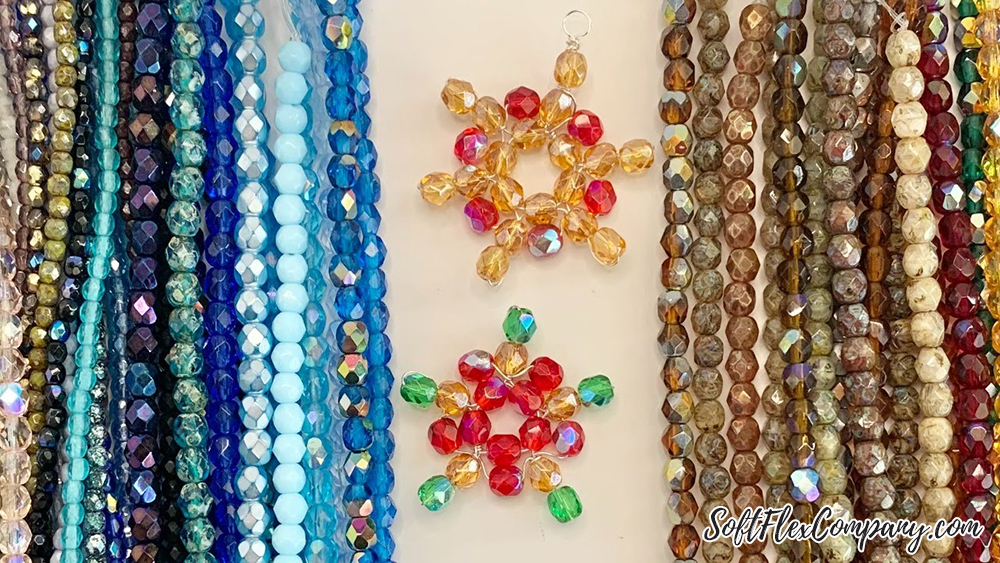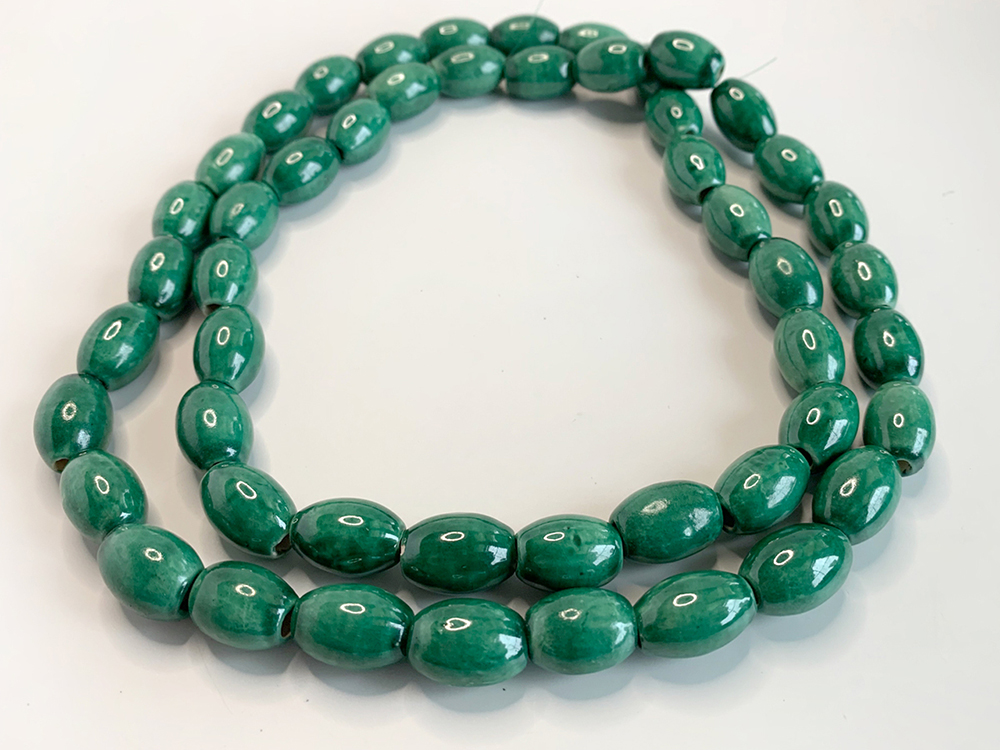 Ceramic Barrels are gorgeous. These beautiful beads are wonderful for jewelry for every occasion. They also make cute Christmas crafts. Make an elegant Christmas garland for your next get together. These beads will be the talk of the party! Check out the free spirited design Kristen made!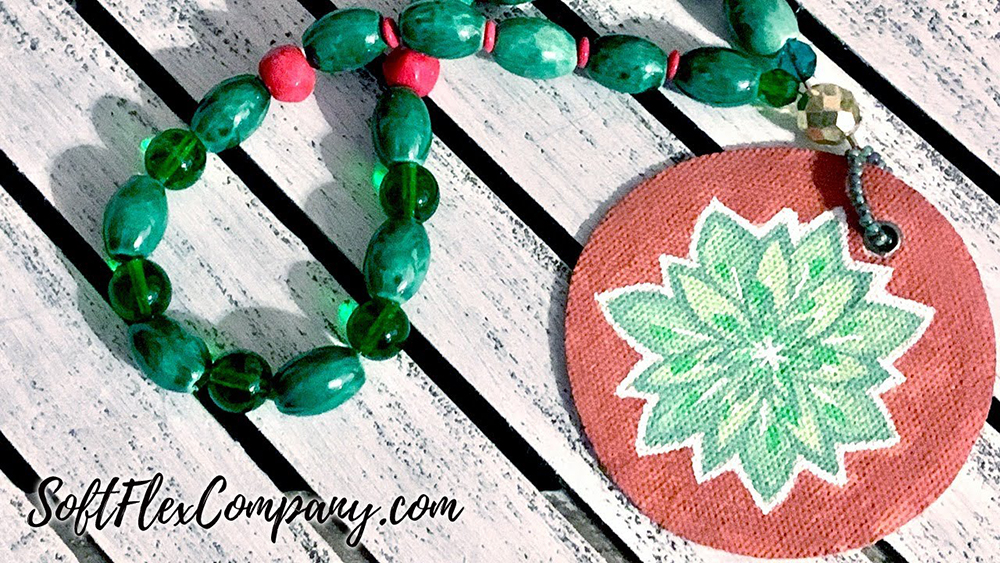 30x8mm Ceramic Pendant Snowflake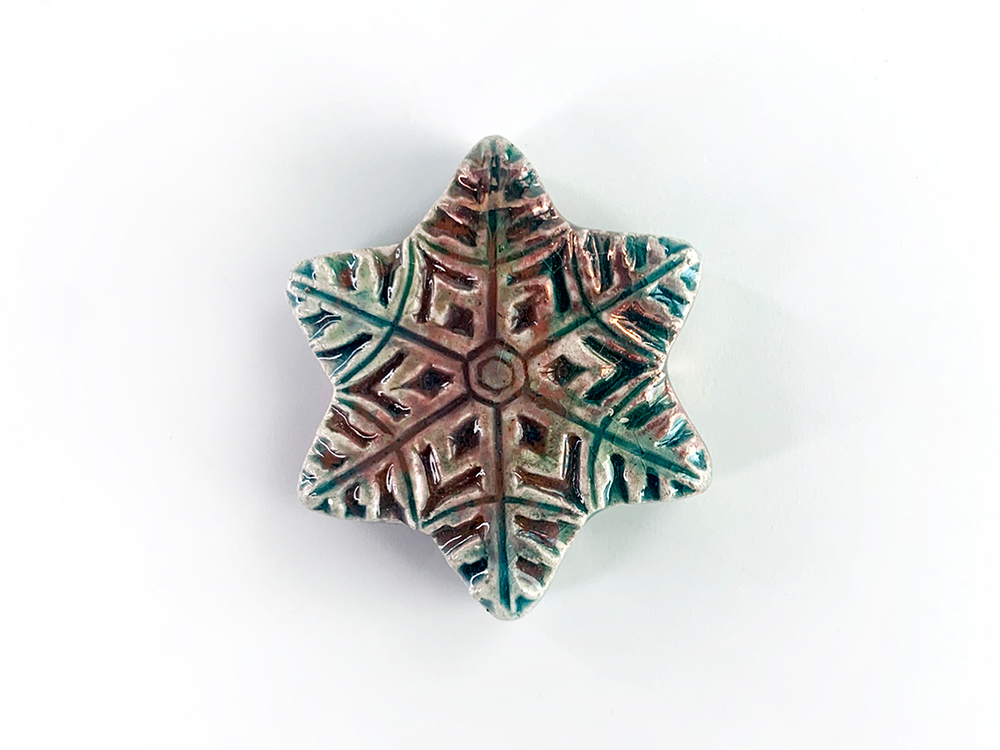 Seal it with a kiss! This cheerful snowflake is the chef's kiss! Give your next Christmas necklace a breath taking pendant. Or add it to a handcrafted ornament or your favorite homemade holiday decorations. We think this cute little snowflake is a great way to turn even the most subtle beaded design into a Christmas miracle!
22 Gauge Ear Wires With Ball End

Earrings are a snap with our ear wires. A simple set of earrings made with Soft Flex Beading Wire and a couple beads can be finished with style with one of these ball end ear wires. Earrings take just minutes to string and finish. This is the best way to make gifts for everybody on your list. Your Christmas earrings are going to light up the room this holiday season!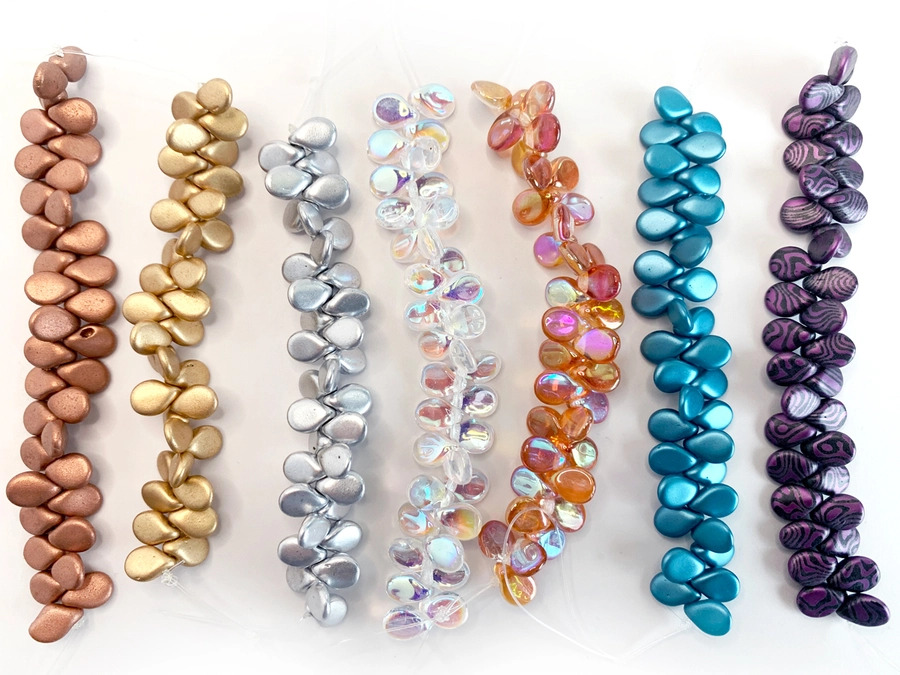 These Czech Glass pip beads are playful and punk. They do not follow rules! String something unique with a style that is rebellious and exciting. They make great individual beads and look amazing as a pattern. Each pip can be a leaf in a floral design. Frame your beads like these earrings - with unconventional rubber tubing. Make earrings as youthful as you feel! Get creative and make jewelry for Barbie. One of these pips can be her dream pendant!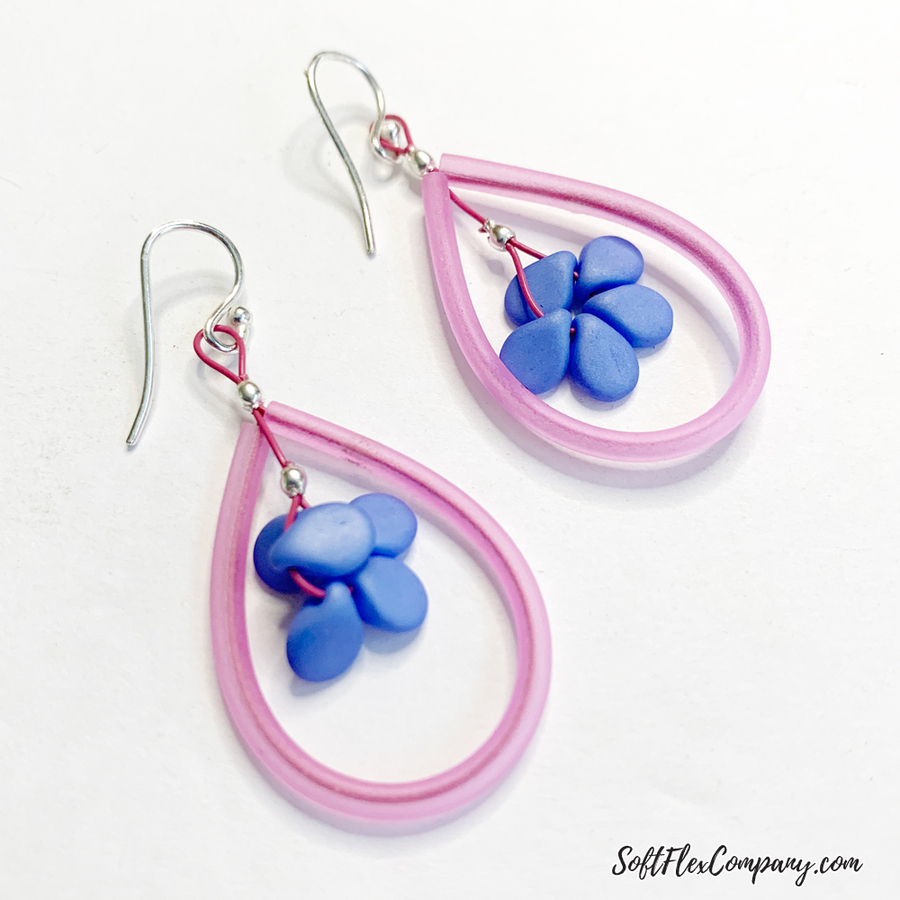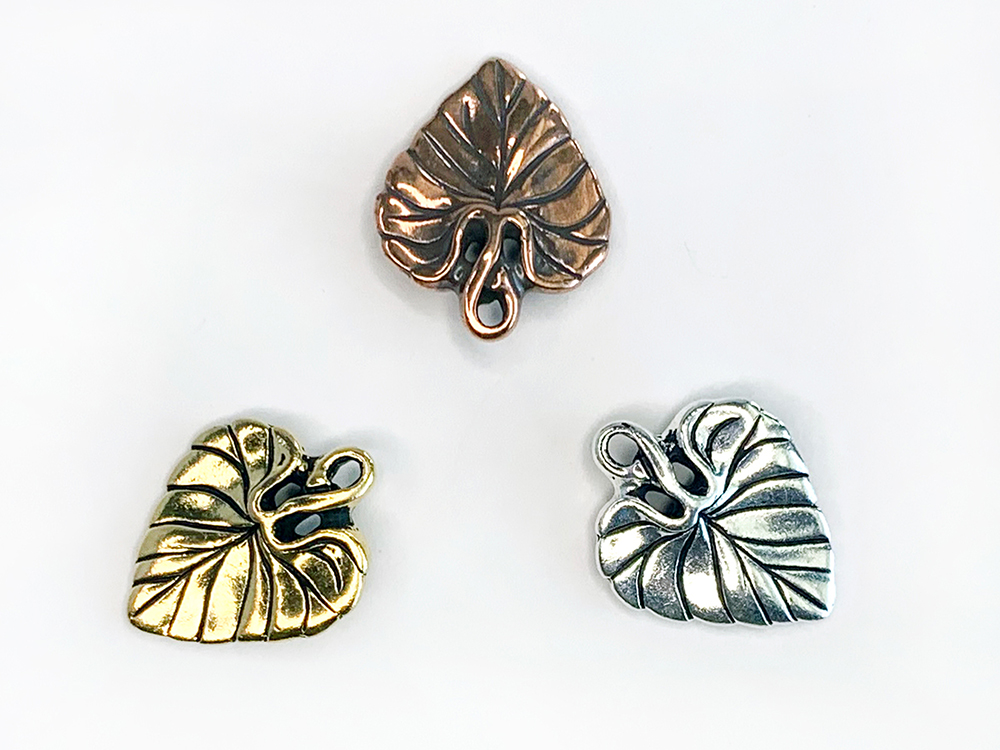 Fall means the trees have changed. Pay homage to nature with organic style and natural fashion. These leaves look amazing during the darker months. Make jewelry that shows your connection to this wonderful Earth of ours. Add a leaf to your next bead ornament design or holiday decoration.
Antique Brass Plated Leaf Charm

This little leaf is perfect for every month in fall. This cute little charm is great for Thanksgiving jewelry. It is a way charm to add to a beaded decoration for a wrapped Christmas gift. Add it to a charm bracelet or give it to your most crafty friends. We think this little leaf is amazing as is or pair it with other beads and charms for an organic and plant like design.
Join our Facebook group – VIB. Stay in the know. Stay up to date. From our bead shows to our video shows and sales, you can stay in touch with us. The community is full of artistic and helpful beaders and crafty people. Inspire and be inspired. Share your pictures and get the beading bug from others!
Visit the Soft Flex Company YouTube Channel!
---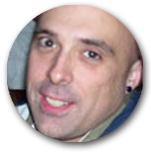 Blog contributor Thomas Soles loves Jazz Age writers and crunchy french fries. His favorite gemstones are Lapis and Pietersite. His favorite hobby is day dreaming. And his favorite mustache is Freddie Mercury's. As you can see, he has a healthy (or possibly unhealthy) sense of humor. You can write to him at Thomas@SoftFlexCompany.com