DIY Face Mask Lanyard Tutorial - Make Your Own Face Mask Necklace For Students And Kids
Wearing a mask is hard for kids. So anything we can do to make it fun and easy for them is helpful! In this video, I opened up our Face Mask Lanyard Mini Kit which can be used for both child or adult lanyards. The beads are Czech glass beads, but only in black. You can pop in any other color you want or leave it all black and elegant.

Watch and learn how to make a face mask lanyard that interchanges into a necklace for a student or kid in your life. There are so many times when a kid can take their face mask off but still need it handy and this offers a solution to make it easy to wear the mask (and not lose it) on or off of their face. The face mask lanyard can attach on one or both sides of their mask (like eye glass holders). Best of all, this mask lanyard interchanges into a necklace. To make this project, I used the limited quantity Mask Lanyard Mini Kit which comes with a large assortment of black Czech glass beads. I mixed in some fun two-tone Czech glass tulip beads and added a fun Disney princess button charm from our friends at Dress it Up Buttons, sister company to Jesse James Beads. You can find everything but the mask and buttons at SoftFlexCompany.com! It is a great way for kids to keep track of their masks if and when they do go back to school and is so fun to personalize. Help kids to keep their mask close and accessible.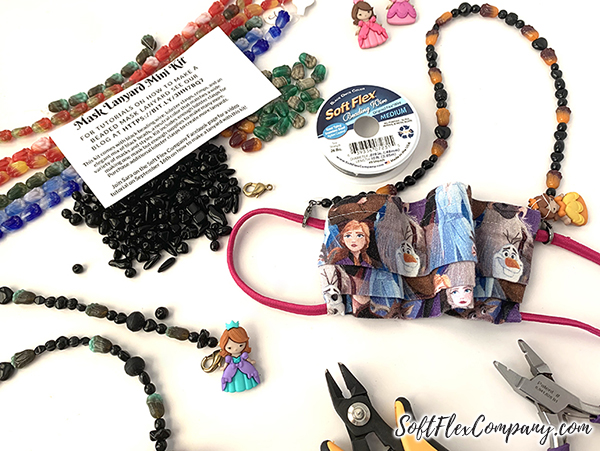 Face Mask Lanyard Mini Kit
Magical Crimping Pliers
Cutters
Surprise Color Czech Glass Tulip Bead Strands
Dress it Up Buttons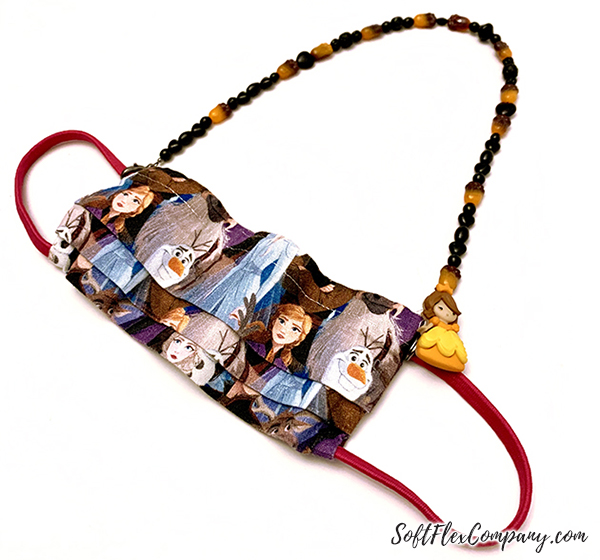 Using the 15mm clasp, attach to each side of the mask.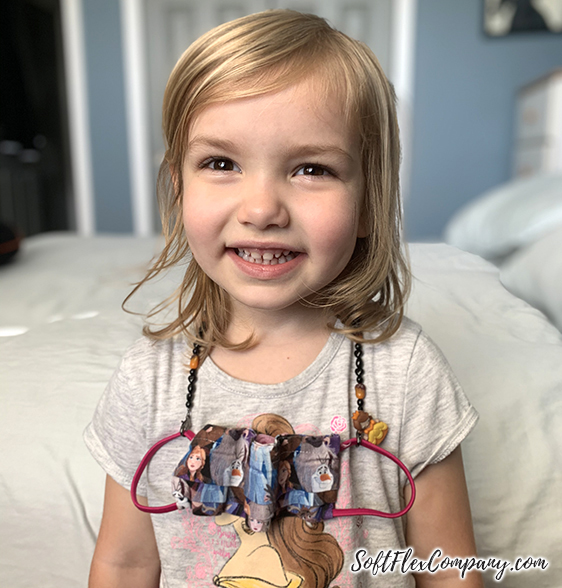 Hang the mask over your child's neck like a necklace. Clip and unclip the lobster clasps to move to a different mask.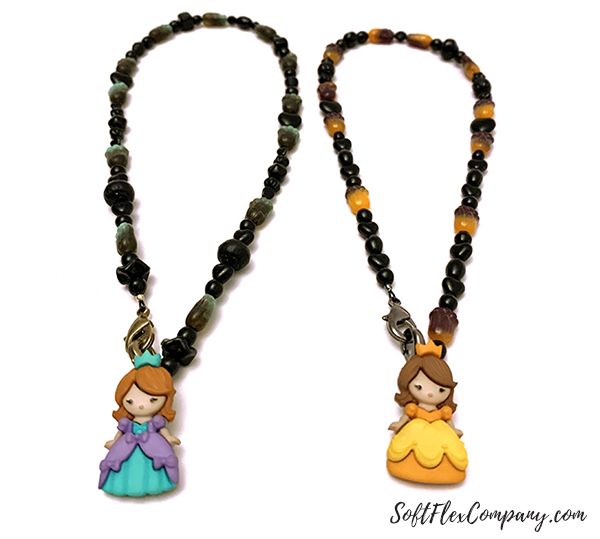 My favorite part is that it can also be worn as a necklace. So you can put it on them in the morning and then just clip their mask on it when heading out of the house.
Clip the two lobster clasps together to make a necklace.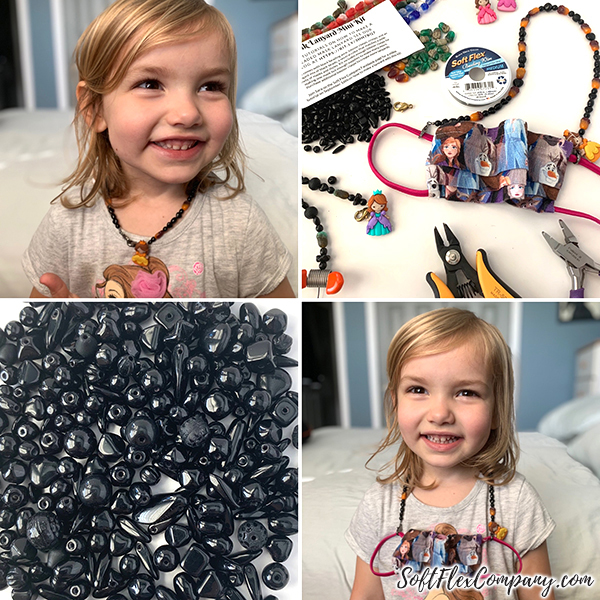 The Face Mask Lanyard Mini Kit has all of the basic things you need to make a lanyard mask. I just added the cute little button and the tulip Czech beads to make it feel approachable for a kid. Add in Swarovski crystal beads, metal charms or spacer beads and make it your own!
Following the Facebook video, I shot a second version for YouTube, as we know that not everyone likes Facebook. Also, I have two daughters. So what you make for one, you must also make for the other.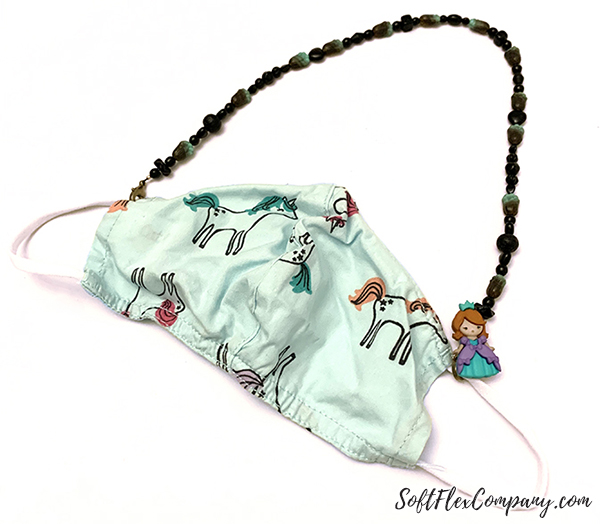 So, I duplicated the process for my older daughter in a new color scheme.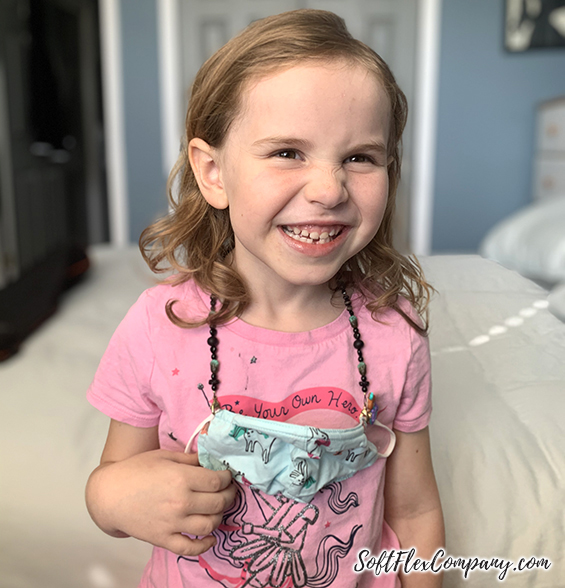 We have now used these on neighborhood walks, a trip to the beach and for biking in our paved alley with neighbor kids. Having to put a mask on your child is no fun, but it does help when the mask and mask lanyard bring a smile to their face.
These mask lanyards feel special because they were made for them with special thought put into each one.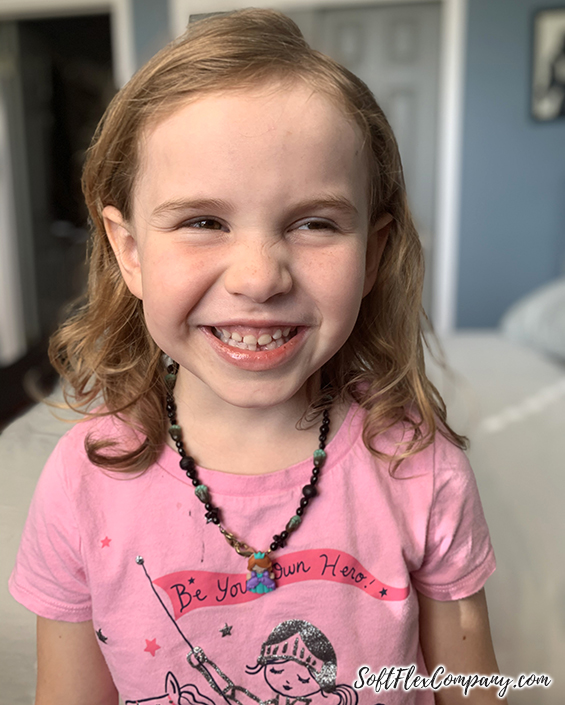 And someday, we look forward to putting the masks away and just wearing them as necklaces!
Join our Facebook group – VIB. Stay in the know. Stay up to date. From our bead shows to our video shows and sales, you can stay in touch with us. The community is full of artistic and helpful beaders and crafty people. Inspire and be inspired. Share your pictures and get the beading bug from others!
Visit the Soft Flex Company YouTube Channel!
---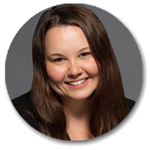 Sara Oehler (pronounced Ay-ler) is a well-known jewelry designer living in the Bay Area. Sara is the author of several beading books, including her latest title, written with Kristen Fagan, Seed Bead Revolution. She has designed and written for numerous publications including: BeadStyle, Bead&Button, Bead Trends, Stringing, Jewelry in Fashion Trends, Simply Beads, The Flow and Today's Creative Home Arts. Currently, Sara is the Sales and Marketing Manager for Soft Flex Company.Ask Sara Bead Expert
Blog: softflexcompany.com/beading-blog
Email: Sara@SoftFlexCompany.com