What do you know about Soft Flex Craft Wire? Have you ever worked with a firm wire that can be work hardened and shaped? Have you ever wanted to make your own jewelry findings at home? This versatile wire is great for so many projects. Craft Wire is perfect for linked chain. Craft Wire can be braided and knitted. Craft Wire is amazing when you want to wrap a cabochon or accent a focal piece. Take your jewelry making artistry to the next level. Let's learn about Craft Wire!

Soft Flex Craft Wire is a pliable wire that is easy to work with when pulled from the spool. It can be turned into shapes or wire wrapped around stones. You can use it to make jump rings, clasps, interlocking chain pieces, and so much more. If you want to set a shape or firm the wire, you can simply strike it with a tool designed to work harden the wire. This will enable you to set a design so it retains the shape you like. This stunning jewelry design option is an invaluable addition to your beading supplies. Let's look at how you can use this amazing wire in your next jewelry design!
Everything You Need To Know About Craft Wire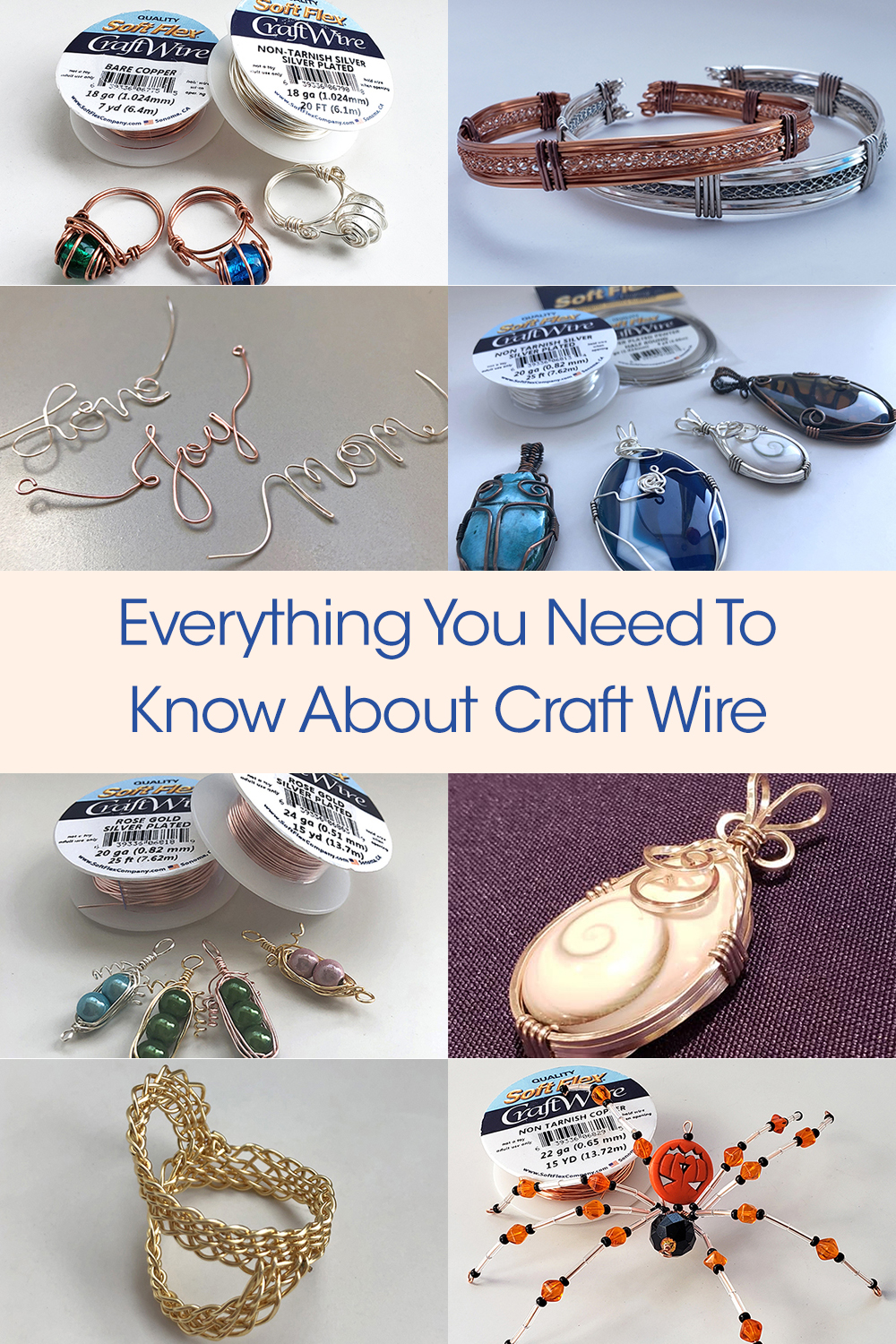 What Is Craft Wire?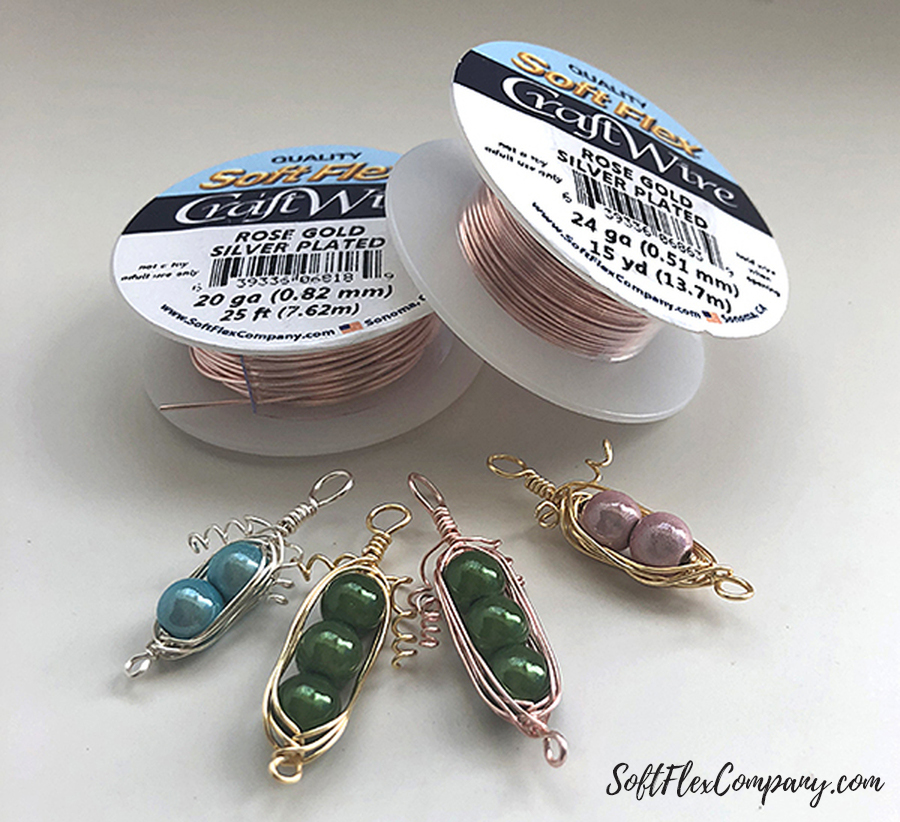 Soft Flex Craft Wire is a high quality, permanently colored copper wire. It is resistant to scratching, peeling and marring. This is due to the special enameling process used to coat the wire to produce the wide spectrum of colors we offer. After the enamel is applied, the wire is then clear coated to prevent tarnishing. Bare Copper is the only wire in the line that is not treated. If antiques and old findings are your medium, Bare Copper will patina - perfect for making that new project look like an heirloom. Add a skeleton key to a bare copper wire for an instant vintage focal with your own signature wire wrap.
Quality Soft Flex Craft Wire is 100% lead and nickel free. There are no other metals used in the wire production other than copper and fine silver. The temper of the wire is soft. It can be tempered to half hard. If you need to harden up your wire for ear wires or other findings, you may use a nylon hammer or wire whacker to work harden your project. Using a nylon hammer or wire whacker will allow the wire to work harden without marring or flattening the wire. An exceptional design idea deserves a professional craft wire.
How to Use Craft Wire
Like every art medium, Craft Wire is a blank canvas when you purchase it. The wire, coiled around the spool, is full of potential. Craft Wire is much firmer than beading wire. It does not have the drape you expect from wire that you use to string your jewelry. This firm wire is meant for different jewelry uses. At first this option may seem a little unforgiving. But, if you work slowly, you can always correct a mistake. There are so many wonderful applications for Craft Wire. The only real limit is your imagination.
Craft Wire is great for handmade findings. If you spend time and money shopping for ear wires and jump rings, this is a great way to save some yourself some hassle. Every finding you make with Craft Wire is an extra element in your jewelry designs that is made by you. Make your next necklace purely handmade from - clasp, jump rings, dangles, wire wrapped stones and more. If you sell your jewelry, making your own findings is one way to truly claim that every design you make is DIY.
Craft Wire is perfect for making new traditions. Share your love of crafting with your children or grandchildren. Make holiday decorations and ornaments with Craft Wire. You can form the wire into shapes - like snowmen or trees. You can use a WigJig jig board and form a stunning pattern. You can work with your hands and guide the wire shape as you go. Whatever tools you you choose, part of the fun of making handmade ornaments is that flaws are part of the charm. Don't worry about making your ornaments perfect. Homemade ornaments are charming and easy!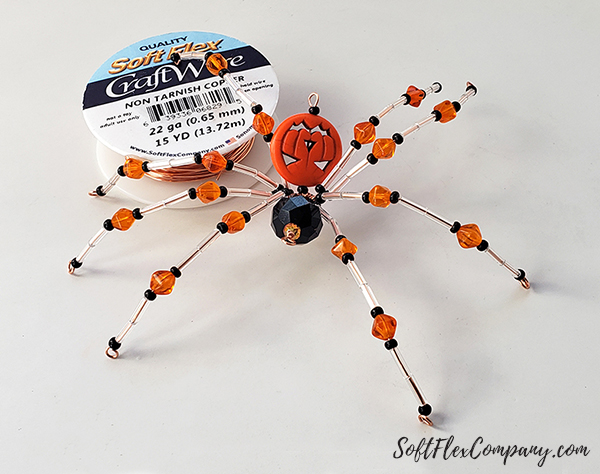 The spider above is wonderful for Halloween, but is also a traditional Christmas Spider. Decorate the tree with icicles and Christmas ornaments. Celebrate Hanukkah with silver Craft Wire and blue beads! There are so many wonderful ways to make your own holiday magic.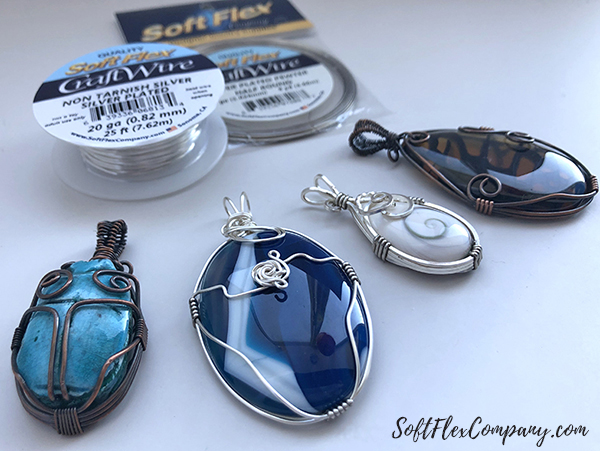 Do you have a stone that is gorgeous but not a great fit for your jewelry? Craft Wire is the perfect way to give a gemstone your own personalized artistic vision. Wire wrapping a stone can frame it to make it even more visually appealing. Wire work can change the wire the stone lays on your design. Craft Wire is the best choice to make sure your gemstones look amazing and behave how you want on your next necklace.
Craft Wire is also a brilliant option if you like to knit, braid, or weave with wire. We have used Craft Wire on knitting spools for an elegant design. You can add beads to the wire as you knit or just let the wire take centerstage. The beautiful designs do not need a beaded accompaniment. It may sound like a stiff medium for kumihimo, but we have made braided rings with Craft Wire. It is incredibly versatile!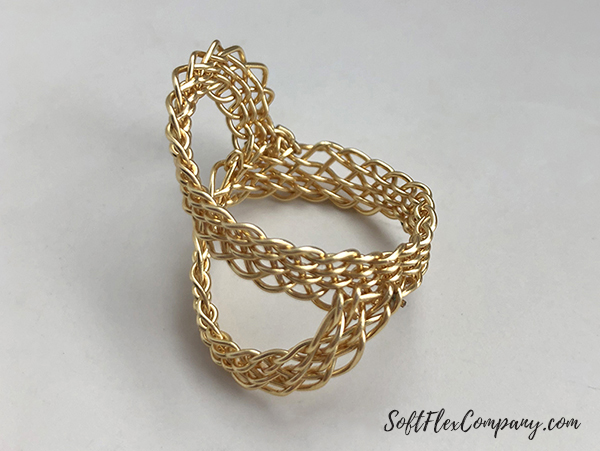 What do you want to do with your next jewelry or craft design? Craft Wire is easy to work with and allows you so many unique and varied design options. A WigJig jig board is a great tool if you need consistency. Jig boards allow you to make the same shapes each time when you turn the wire around the pegs on the board. But you do not need any tools to form the wire. You pick the shapes. You can sketch letters out, like James did below. You can even form them freehand. If you make jewelry, Craft Wire is a great option for cones. You can add a 'messy wrapped' cone at the end of you designs for an organic and stunning finish.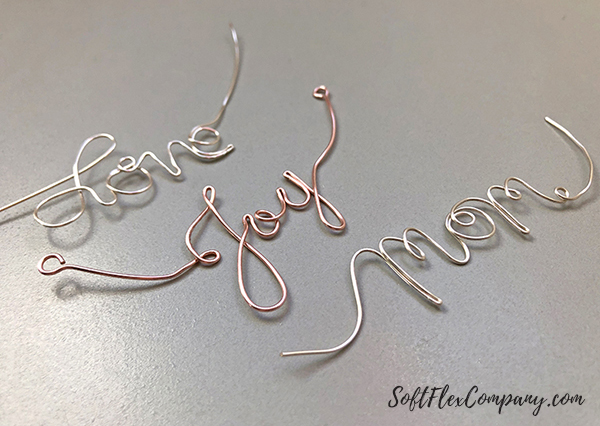 What is Craft Wire Temper?
Don't worry. Craft Wire is not a full of stress and storm. Temper refers to something else when working with wire. The temper of wire is the hardness or softness of the wire. Jewelry making wire comes in a variety of tempers. Different tempers are appropriate for different applications in making wire jewelry. The most commonly used tempers in wire jewelry are dead soft, soft, half hard, and spring hard.
Spring hard: The hardest temper appropriate for jewelry making, it is only recommended for making pin backs and other very sturdy elements.
Half-hard: One of the most common tempers used by jewelry makers, especially used for border wraps (a bezel around a cabochon or other non-drilled stone) or when binding wires together. In this site, half-hard wire is only used for armatures (thick gauges).
Soft or dead-soft: This is the softest temper used by jewelry makers. Thin wires (26g and 30g) in soft temper tend to behave like fiber and can be used in a variety of techniques, such as stitching, coiling, weaving, lacing. When working with soft wire, it is important to remember to not manipulate it excessively, since it can become very springy and brittle.
Let's look at the best choice for the job:

Temper
Wire Sculpting,
Coiling &
Weaving Border
Border
Wire Wrap
Binding
Wire Bundles
Pin Backs
& Sturdy
Elements
Dead Soft
X
-
-
-
Soft
X
-
-
-
Half Hard
-
X
X
-
Spring Hard
-
-
-
X
The shape of the wire is achieved by forming the wire and by drawing it through a draw plate. The temper increases each time that the wire is drawn through the draw plate. Wire temper is often referred to by numbers. For example, "one number hard" means that the wire has been drawn through a draw plate one time, and so on. Most of these operations are technical methods that only the dealers and mills perform. You can do it yourself, but most all wire sculptors buy it already prepared and ready to go. That way you can spend more time on perfecting your craft rather than preparing your wire.
Here is a wire temper chart:

| | |
| --- | --- |
| Dead Soft | Fully annealed |
| Quarter Hard | 1 number hard |
| Half Hard | 2 numbers hard |
| Full Hard | 4 numbers hard |
| Extra Hard | 6 numbers hard |
| Spring Hard | 8 numbers hard |
| Extra Spring Hard | 10 numbers hard |
Choosing a Craft Wire Size
Choose the size of wire for the right project. Wire is measured in gauges, where the lower numbers indicate thicker wires and higher numbers indicate thinner wires. Depending on style and designs, jewelry makers can choose any thickness they feel necessary. 22 gauge is great for ear wire. 26 or 28 gauge works great for knitting on a spool. Go thicker if you want to wire wrap a heavy stone.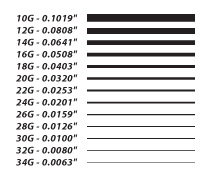 Thick wire: Ranging from 18 to 22 gauges can be used as base for which thinner wire and beads can be attached.
Thin wire: Ranging from 24 to 28 gauges is applied in techniques derived from needle-lace and basket weaving such as coiling and spiraling.
When combining thick and thin wire in the techniques, it is important to avoid combining gauges too close to each other.
Choosing a Craft Wire Shape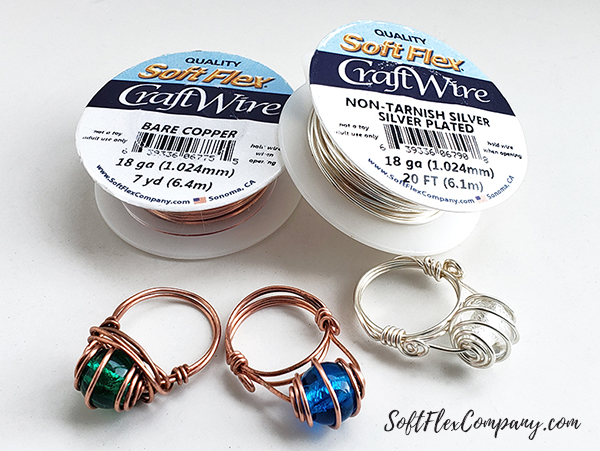 The most common Craft Wire shape is round. The majority of your designs will be created using this shape. Since this is the preferred shape for most designs, this shape has the most size options. The You will be able to find the majority of wire gauges in this shape.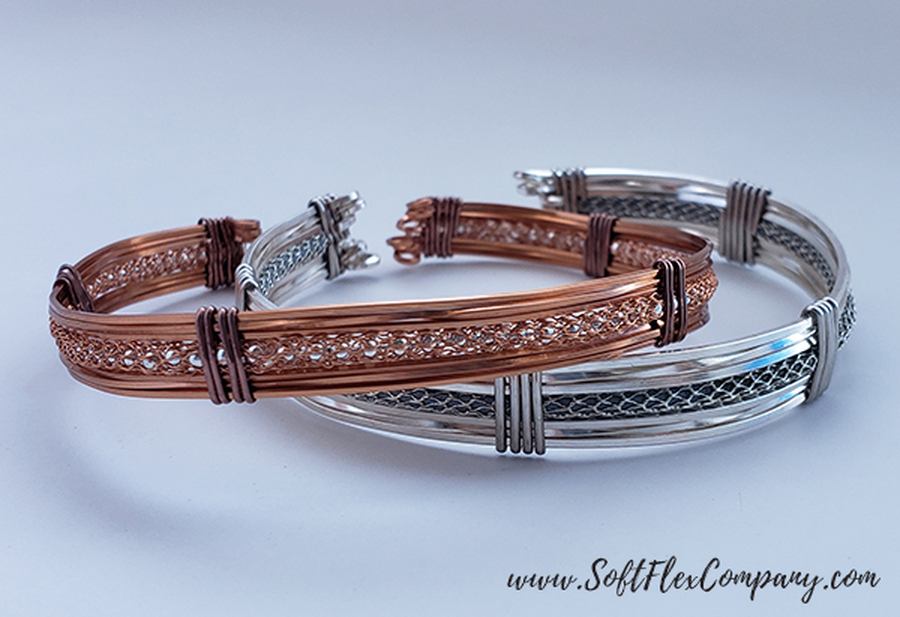 Square wire will, obviously, give your finished jewelry a different appearance. Square wire will lay flatter against the surface of your design since it does not have a round surface. Square wire reflects light like a facet and it will give a much different shimmer to a jewelry design. Give your square wire a twist for an amazing texture and shine.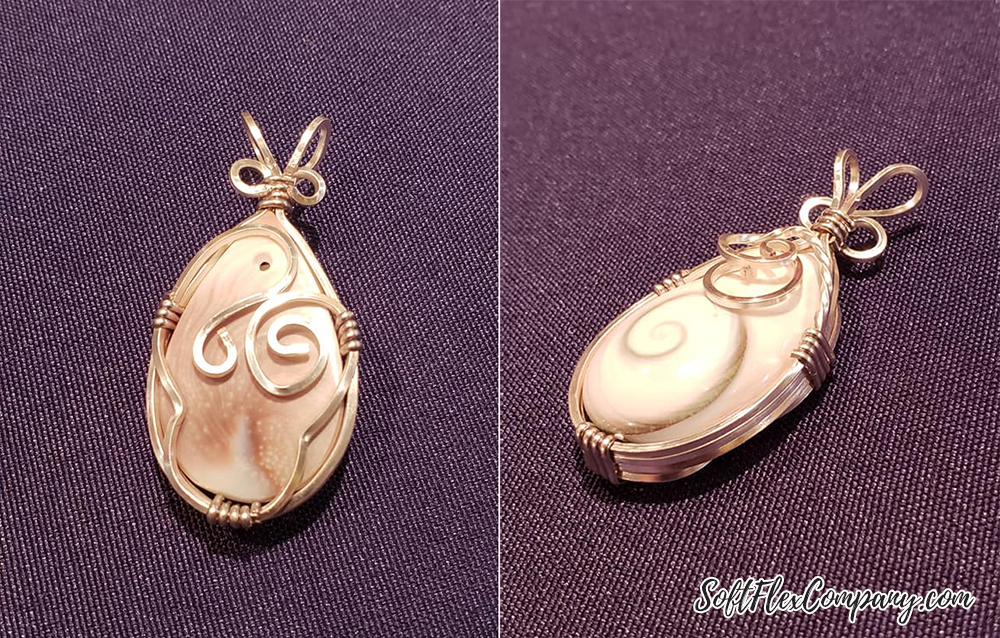 Half round can be used by itself, if you are thinking out of the box. But this is a great design choice if you want to pair it. Half round wire sits closer and tighter to square wire since one side is flat. In the design above, you can see that James Browning has completed his wire wrap with both half round and square wire. It looks amazing, right?
Work Hardening Your Craft Wire
Craft Wire is a soft wire. It does not drape like a beading cord or wire. Craft Wire is malleable and easy to shape. It will hold a soft shape until it is work hardened. Once work hardened, the wire will remain in the shape you wrapped. To finish a Craft Wire design, like ear wire, for instance, simply bend the wire into the shape you desire and then strike it. Work hardening is a plastic deformation of the wire. Plastic deformation is not reversible. The process causes the wire to become stronger and hold a desired shape. It cannot be undone.
Work Hardening your Craft Wire is great for finishing a design. But, it is also a bad thing when you are working on a design and accidentally work harden the wire. You can work harden a wire by over bending and shaping it. This will make the wire brittle, if you keep trying to force a shape. Eventually the wire will break. This can happen if you are making a loop and are not satisfied with the shape. So, you reshape the loop. You still are not happy with the result and repeat the process. Now, the wire is going to start holding a shape and also get brittle. If you rush through your work, it is going to be easy to fall into this trap. Take a breath. Slow down. You do not need to rush this!
Craft Wire Tools
Check out this instructive video. Learn how to use a jig board. Sara uses an Olympus lite to create a pattern on the board. Patterns make it easy to duplicate a design. If you are going to make repeating figures - interlocking chain, ear wires, etc - this is a great way to make all of your shapes uniform and gorgeous. She shows you the tools you will need to use to finish your ear wires after they have been formed on the board. She uses a Wire Whacker to work harden the ear wires so they retain their shape. The soft surface of the Wire Whacker means striking the Craft Wire will not scuff it or make a blemish on the wire.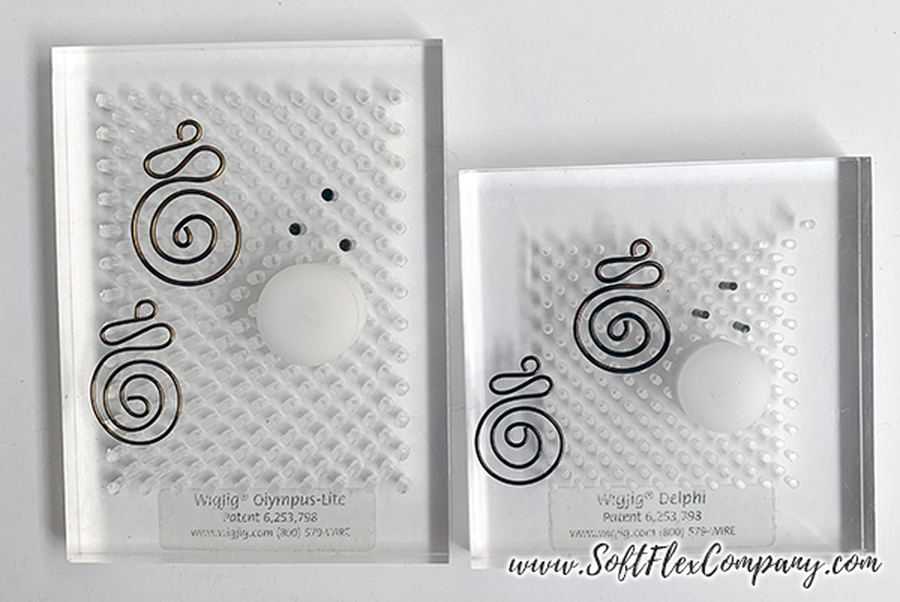 You are going to love our WigJigs!
The Olympus Lite is a great all purpose jig board. The Olympus Lite is the ideal jig board for larger designs. If you are creating interlocking bracelet components or necklace pieces, this jig board is super handy! The pegs are slightly larger and spaced further apart than the smaller Delphi jig board. This means your designs will have larger loops and allow for bigger patterns. You can reference any pattern for the Delphi and replicate it with your Olympus Lite, it will just make your pattern larger.
The Delphi is sweet and petite. This jig is the ideal smaller designs. If you are creating earrings or delicate components, this jig board is super handy! The pegs are slightly smaller and spaced closer together than the larger Olympus Lite jig board. This means your designs will have smaller loops and allow for daintier patterns. You can reference any pattern for the Olympus Lite and replicate it with your Delphi, it will just make your pattern more petite.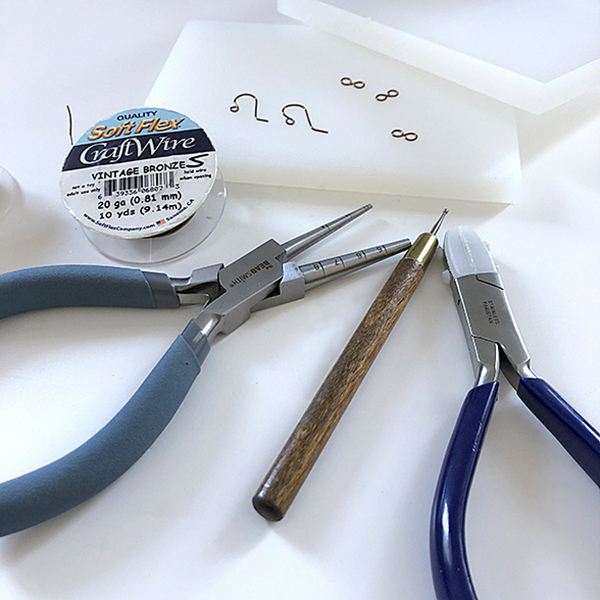 Check out our wire working tools.
Nylon Jaw Pliers - This is a must have tool for anyone who wire wraps and designs using wire. Due to the nylon jaws, the wire is less likely to be scratched or marred while being worked on. Also great to recycle and straighten wire! Replacement jaws are also available.
Burr Cup - A Burr Cup is used to file and round the end of Soft Flex Craft Wire. No more sharp or irregular edges on the end of your wire wrapped jewelry! It is manufactured with a stainless steel tip and wooden handle. The cup can accommodate up to 16 gauge wire.
Wire Whacker - The Wire Whacker is perfect for any wire wrapping designer. The Wire Whacker makes it easy to work harden a wire design with a couple of strikes, rather than slowly hammering the pieces. It is the perfect tool for Soft Flex Craft Wire, the Wire Whacker will not mar or damage the enamel coating on the wire.
Wire Looping Jewelry Tool - This amazing tool is a must have for anybody that works with Craft Wire. The multi-level loops on the head allow for a variety of projects. Whether you are making jump rings, connectors, s hooks, interlocking chain, ear wire, and more - this single tool has you covered. The variety of mandrel sizes on the head means you can have loops of varying sizes. Every loop you finish with this tool will be consistent and professional. If you are designing a piece of jewelry with repeating loops, this tool is going to be your new best friend.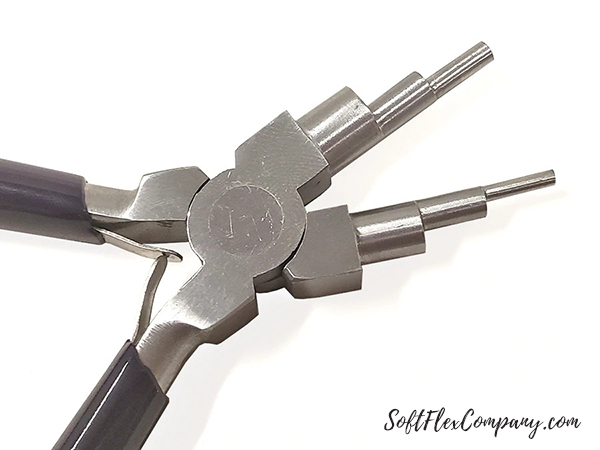 A perfect kit for anyone to get started in wire wrapping and making your own wire components. This kit is exactly what you need to make your own DIY wire work jewelry.
This Craft Wire Starter Kit includes a Bead Mat, Bead Nipper, Nylon Jaw Pliers, Round Nose Pliers, Chain Nose Pliers, Lobster Clasps, a 10 yard spool of 22 Gauge Soft Flex Craft Wire in your choice of metal color and a FREE package of Beads. (Bead colors vary and will be based on your wire color choice).
How To Create Jewelry With Craft Wire
James showed us how to make a European 4 in 1 weave pattern for chainmail. This pattern is iconic. This pattern is what we think of when we envision a knight suiting up in protective armor. Mail was used as decorative dress and defensive gear. A knife thrust or slung arrow can be deflected by the linked gate of mail. It looks amazing and you can create some stunning jewelry with the pattern. James has made a bunch of chainmail bracelets with exciting colorways. Let's learn how to make chainmail!
From Kristen:
I'm sharing how to make a wire wrapped bangle bracelet with Soft Flex Craft Wire and beads. I used Soft Flex Craft Wire in 18 gauge for the bangle base and 22 gauge for the wrapped beads. I mixed it up sharing two ideas with beads from our Pantone bead mix and then using the yellow Czech Glass beads from our Halloween Mini Design kit.
James used 18 gauge Soft Flex Craft Wire and two colors of 22 gauge Craft Wire to create his bracelet. This technique can also be used to create earrings. If you would like to learn how to work with Craft Wire, but do not have the tools or the wire, consider our Craft Wire Starter Kits. The kit comes with all of the tools and wire you need to start. The price is great too!
Crafting Projects With Craft Wire
Deck the halls! There are tons of Free Project Ideas available on our site. Craft Wire is great for any time of the year. It is wonderful during the holidays. Make your own ornaments and holiday decorations. Make a pair of frosty earrings or decorate the Christmas tree with your very own beaded and wire wrapped beauties! Craft Wire ornaments are great for adding an accent to a wrapped gift. Seal the gift with a bow and a cute little snowman that you made! Share the joy of crafting with your grandchildren. This is a great time to infuse a young mind with creativity and joy!
Visit Soft Flex Company for Craft Wire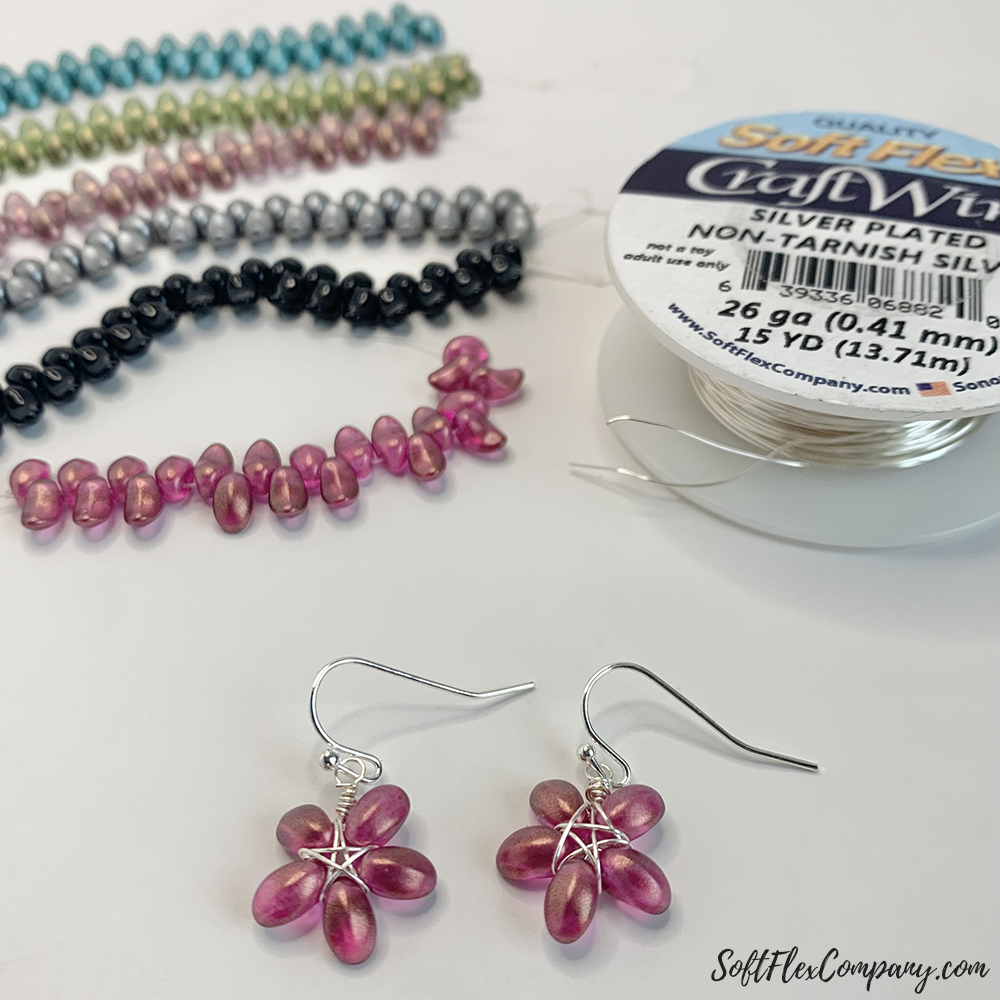 We love deals and sales. Visit our site and save money on Craft Wire and supplies. We welcome retail and wholesale buyers. Buy your Craft Wire in quantity and save. The more spools you buy, the more you save. Stock up your beading supplies or give out spools of your favorite wire to friends. It is never to late to turn your best friend into a beading buddy!
Craft Wire and Jewelry-Making Supplies for Designers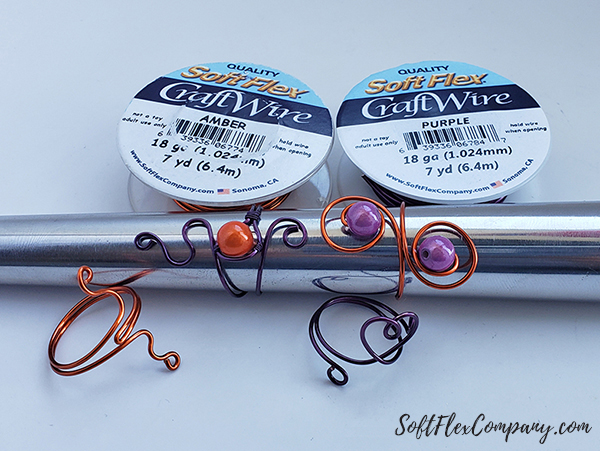 Whether you are an up and coming or seasoned, professional, jewelry-making designer, you are probably looking for quality wholesale beads and jewelry-making supplies at the best price. You may already have a game plan for success, along with the energy that is needed for your start-up or existing business, but where can you find the best materials possible to create your products at the best price possible? Whether you're creating bead works with Bali spacers, pearls, sterling rounds, gemstones or glass beads, it is important to know how to choose the right material and supplies for your jewelry product and where to obtain these supplies at the right price. You want to make jewelry that will last forever and not be returned due to breakage from using inferior products or tools. Often designers have the right mindset but limited information on the resources that are available to them. We have all the information you need on wholesale beads, jewelry-making supplies, tools, Soft Flex Craft Wire, Soft Flex Beading Wire and findings in order to achieve maximum profit for your designs!
Here at Soft Flex Company, we offer a tiered discount structure for jewelry-making designers and manufacturers. If you use our products in your designs and resell them as a business, you are considered a wholesale designer and after a few short steps, you will be able to purchase from us tax free and receive automatic wholesale designer discounts.
Discounts for Designers
Purchase an Assortment of Products from our online catalog and receive the following discounts:
20% off up to $249
30% off $250-$349
40% off $350+
No tax. Free Shipping on all orders over $65 in the USA.
Click to download PDF of Wholesale Designer Information and Application
Join our Facebook group – VIB. Stay in the know. Stay up to date. From our bead shows to our video shows and sales, you can stay in touch with us. The community is full of artistic and helpful beaders and crafty people. Inspire and be inspired. Share your pictures and get the beading bug from others!
Visit the Soft Flex Company YouTube Channel!
---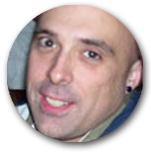 Blog contributor Thomas Soles loves Jazz Age writers and crunchy french fries. His favorite gemstones are Lapis and Pietersite. His favorite hobby is day dreaming. And his favorite mustache is Freddie Mercury's. As you can see, he has a healthy (or possibly unhealthy) sense of humor. You can write to him at Thomas@SoftFlexCompany.com