Did you join us for Customer Appreciation Week? We celebrated with a week of jewelry demonstrations and craft ideas featuring some of our favorite bead stores and YOU - our favorite customers. We truly appreciate everybody that has helped our small business stay strong and thrive during these crazy times. If you missed CAW, you can catch all of the excitement in our blogs. During this week, we unboxed one of our most colorful jewelry kits, the Butterfly Garden Design Kit (Sold Out). This kit was created especially for the celebration. Inside was the glow of mystical purple, the pop of radiant gold, the shimmer of sweet pinks and the fiery passion of red. Today we are going to look at some of the wonderful designs our community made with this gorgeous kit. Let's take a stroll through the garden!
Don't miss out on our mystery themed design kits. Each month we release a new themed mix of beads, beading wire, and findings. The theme might be a holiday, celebrating powerful women, a visit to an exotic location, and more. Every month is a surprising assortment of unique and exclusive goodies. Each themed jewelry making kit comes complete with everything you need to make a bunch of handcrafted jewelry. All you need are crimping pliers and cutters. We put a lot of love and creativity into every kit. We want to transport you to a new world or put you in a creative mindset. Our design kits are perfect gifts for beaders of all skill levels. They are great for sharing with children. Teach your child how to count and recognize patterns as you string their first jewelry with them.
Beak-a-boo! A parliament of owls is holding court. We don't want to ruffle any feathers, but the spooky season is nearly upon us. A wise session has gathered to hoot their approvals. An owllegiance of the most sage and knowing has congregated to herald the beginning of Owl-Leen celebration. The festivities will begin in the dead of night. Owlchemy, magic, and high spirits are the order of the eve. Who will answer the call? Owl are welcome here. Let's take flight and let inspiration guide our talons!
Sara will be doing a live broadcast on the Soft Flex Facebook page and YouTube Page, with the Happy Owl-Leen Design Kit, on Wednesday, September 29th at 3pm (PT).
If you'd like to join us in the design challenge next month, buy this kit and challenge yourself to try something new and unexpected. If you are new to beading, this kit comes with findings, beads, wire, and surprises.
Our kits are great for skill building. We want our kits to feel challenging. We want them to be accessible for beginners and advanced designers alike, but we love to throw in elements that may seem difficult to test our beaders skills and make them think out of the box. We think jewelry is great when it is easy. But when you really have to engage your mind and process your materials and tools, we think that your jewelry has the potential to be life changing.
Our kits may be inspired by a colorway or theme, but they are meant to be creative interpretations. Imagination and innovation do not follow the rules. Expect the unexpected.
Supplies are very limited. Don't miss out!
Finished Jewelry Designs From Our Butterfly Garden Design Kit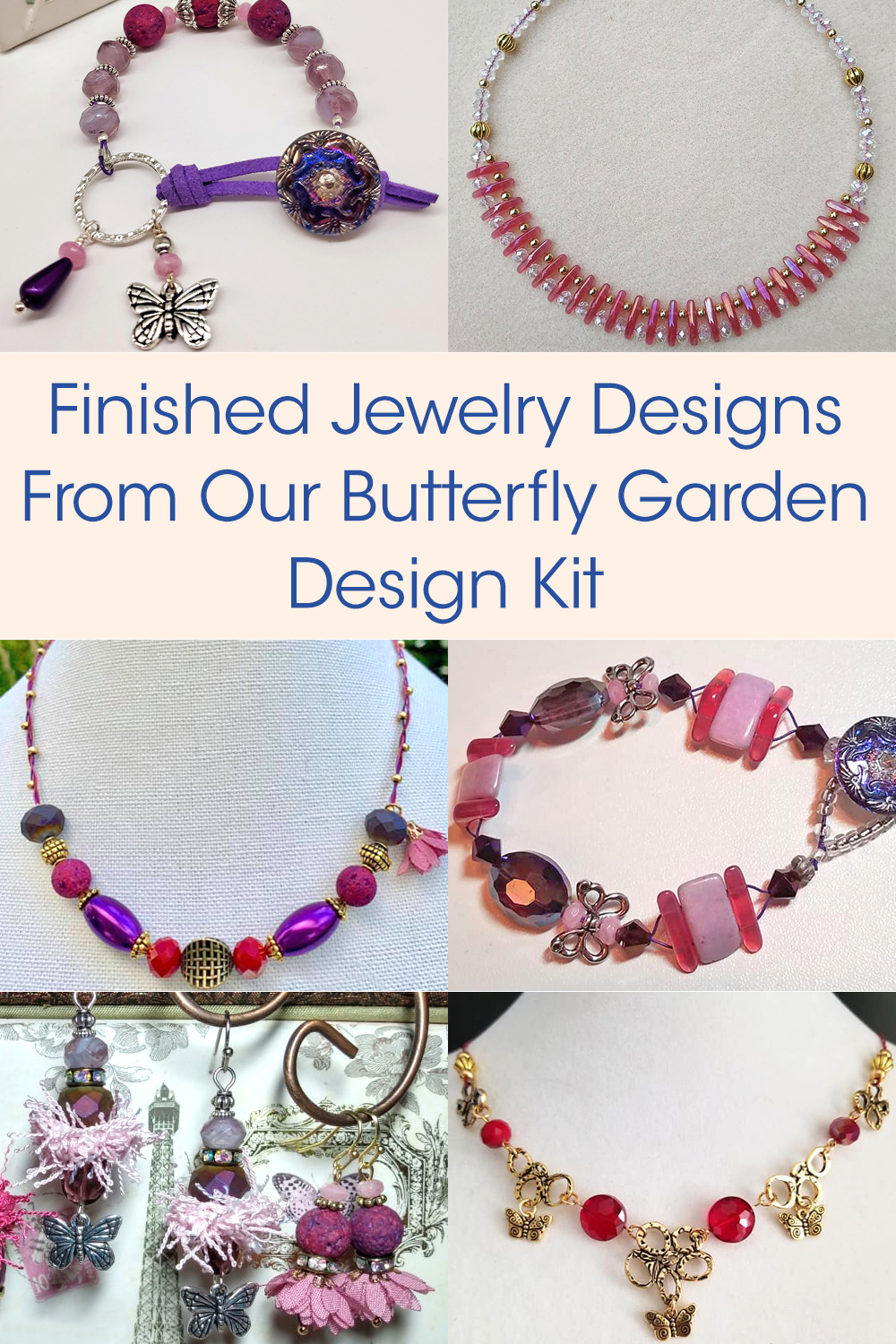 Learn How To Make Jewelry In 30 Seconds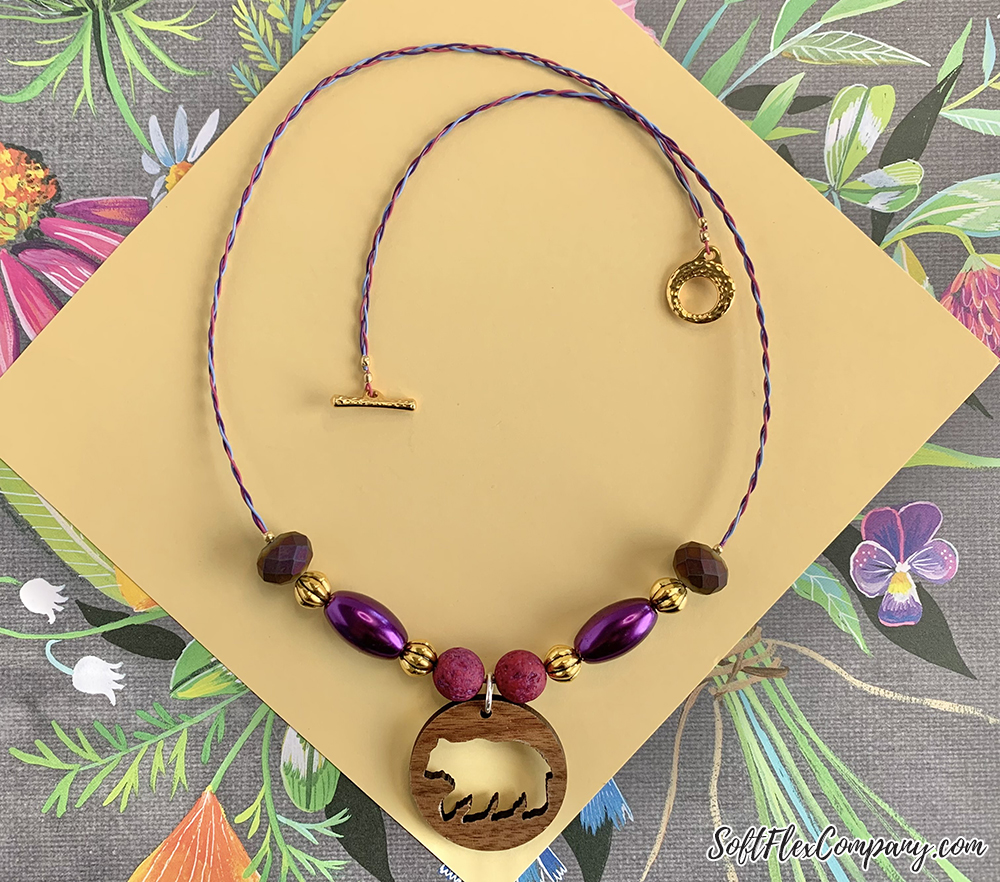 Check out our 30 second jewelry tutorials on Soft Flex Company's Instagram Reels! Sara showed us how to braid Soft Flex Beading Wire. Braiding adds texture and is a lovely visual element. She added beads from our Butterfly Garden Bead Mix and finished the necklace with a stunning pendant from Allegory Gallery. Master a new technique in minutes. These videos move quick but are easy to follow. You will get a sense of how to use your tools and finish your crimps securely. If you need more assistance, make sure you check out our YouTube catalog for deeper dives into jewelry making education. Become a better beader today!
Sara Oehler Designs
Sara used her Butterfly Garden collection to explore a new design idea. She loves her knitting spool and has made a ton of designs with it. She has made knitted Soft Flex bracelets with just wire and a clasp. She has made necklaces with beads added to the knitted design. She loves to explore and try new things. Often, she will attempt a new technique during a live show. Sometimes she nails it and sometimes it does not quite work. But it is always a teaching moment for her and her viewers. It is often more fun to watch her make a mistake as she goes. This gives the viewer an opportunity to see how a professional jewelry designer course corrects and fixes their mistakes. For this live show, Sara decided to try a multi-toned design. This would entail crimping new colors to each other as she knitted on the spool. Since the was her first time trying this technique, it was anybody's guess whether it would work or not. This time, Sara surprised herself. She nailed the challenge and delivered a stunning bracelet!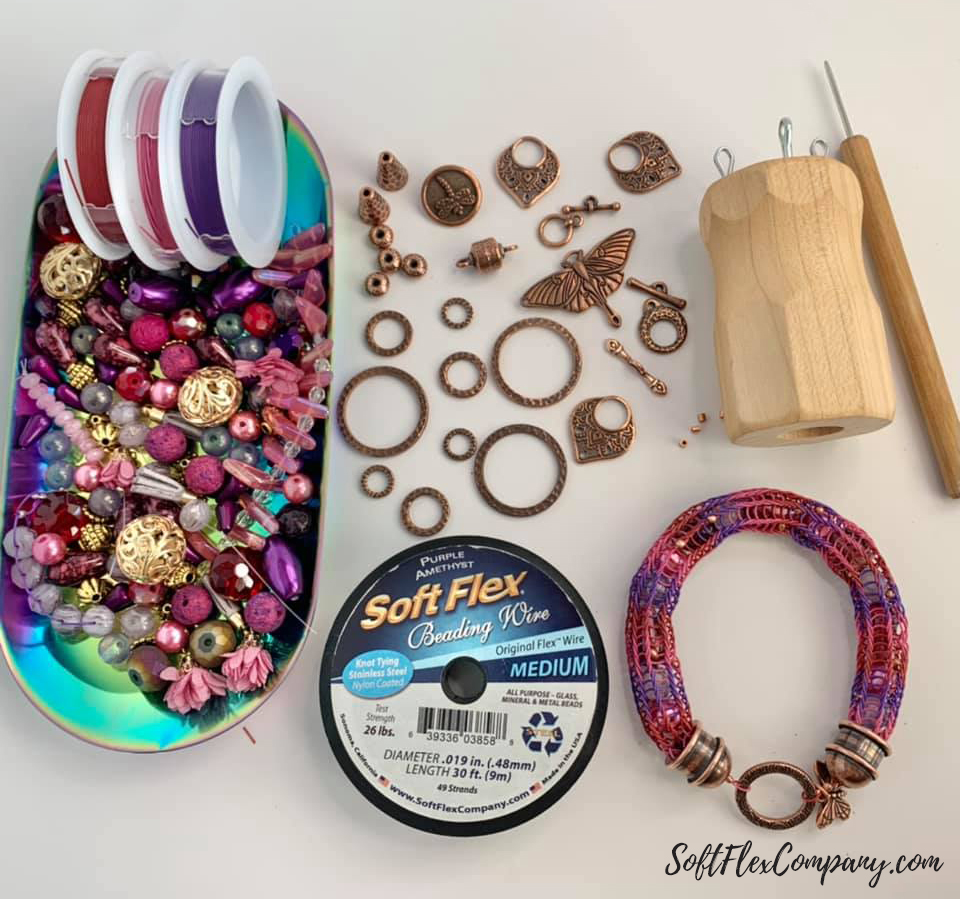 Sara was worried that crimping sections of wire to each other would leave the design with a an unusual collection of crimps on the finish. Fortunately, the crimps added a little character to the design. She also added some beads inside the core of the design. Everything looked gorgeous when she finished. The multi-color wire patterns looks absolutely amazing. Have you bought a knitting spool yet? They are simple to pick up and learn. Once you get the basic instructions, this is a fun tool to multi-task with - you can binge watch your favorite shows while you knit your favorite new bracelet! If you recreate this design, Sara would love to see your handiwork! Post your jewelry on our VIB group so we can all appreciate it!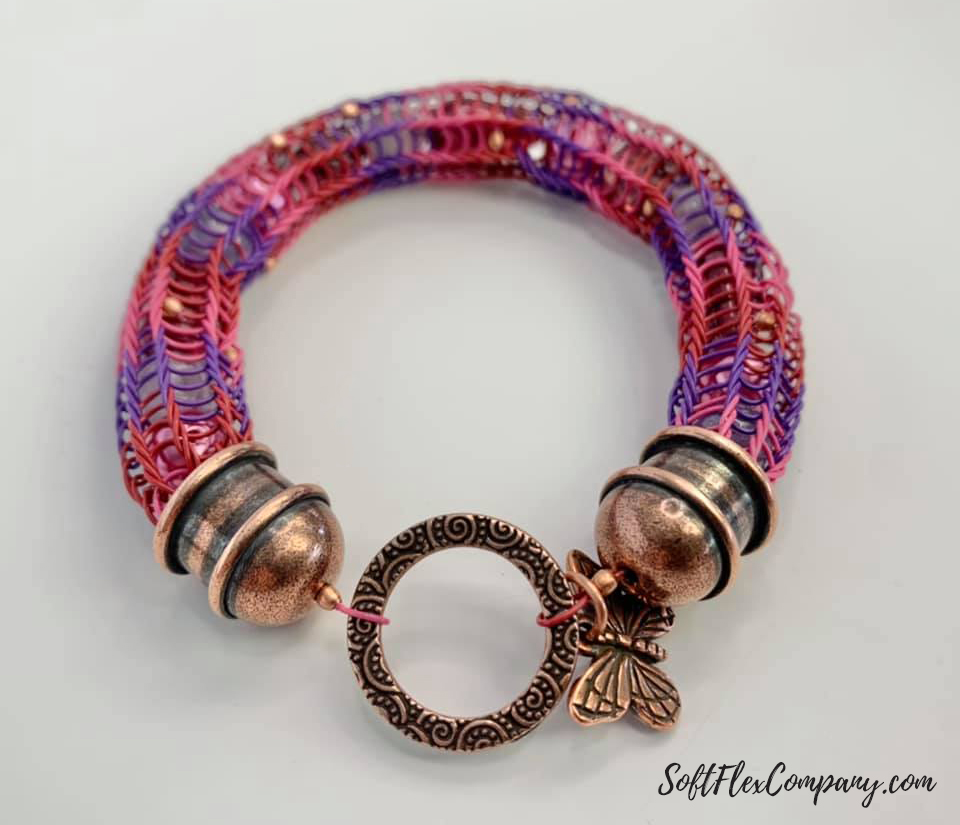 Kristen Fagan Designs
Kristen also had adventurous plans for her Butterfly Garden collection. She made a finger ring bracelet. This was the second time she created this exotic piece of jewelry. She originally strung this bracelet with the Bee Kind Design Kit (Sold Out). It was an outstanding first effort. She had to make adjustments on size after the live show ended, but she did a wonderful job. The original design was linked with a Temple Link Connector.. Kristen thought this would be a one time effort on camera. But, once we received our Luna Moth Pendant Link Connectors in stock, she knew she wanted to recreate the design. We are glad she did, it looks incredible!
Think outside of the box for your next design. Don't settle for the same boring necklace. Make something unusual and stretch your wings a little! Part of the fun of our design kits is that we often include an element in the kit that is challenging. We might add some rubber tubing. We might include Craft Wire or SilverSilk. If you are just stringing beads, we want you to explore new avenues. One of our kits, Neon Nights, featured a retro aesthetic and colors that some people were not accustomed to using in a jewelry design. The feedback was overwhelming - the kit presented a unique theme that seemed difficult at first, but as designers worked with the colors, they found they loved the extra challenge. Stringing a necklace is easy. But, pausing and considering every part of the jewelry before you crimp it will make you a better designer. Check out our kits. We know you are going to love them.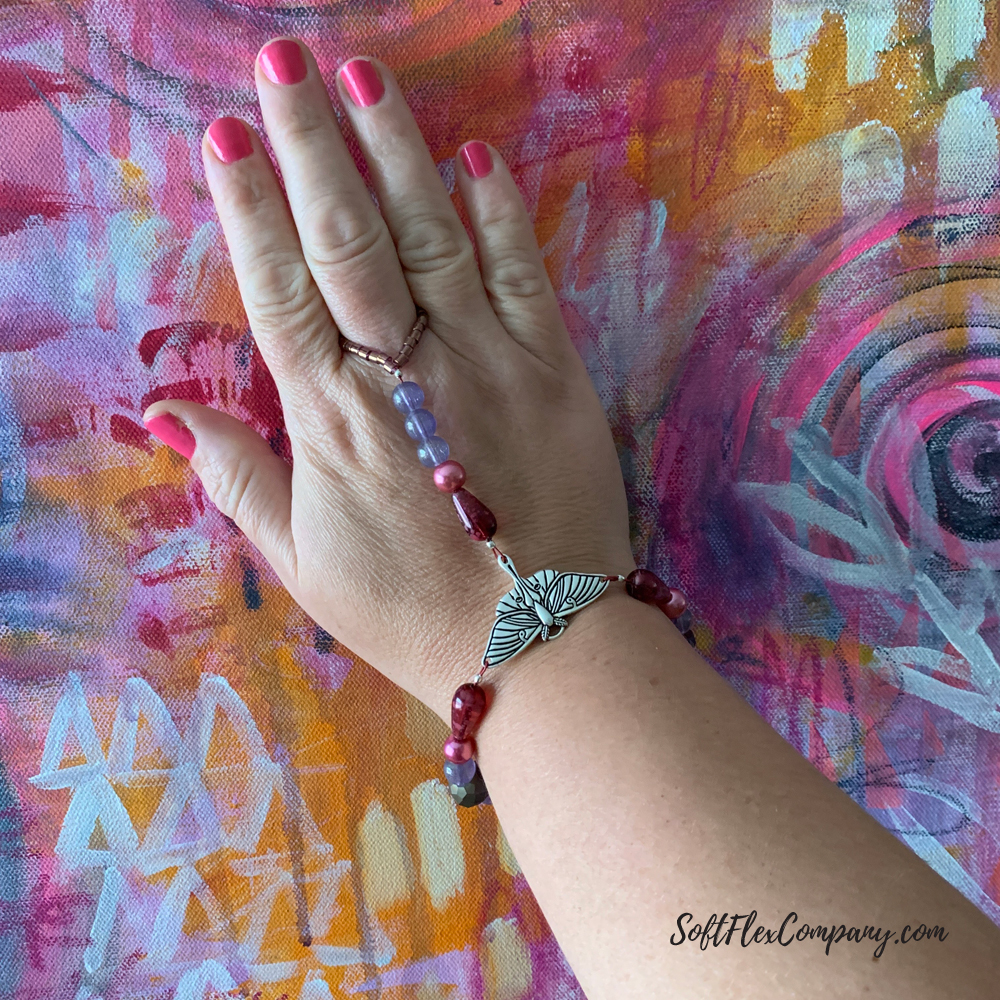 VIB Group Member Designs
We gathered a small assortment of fun designs from our VIB Facebook group. There were so many wonderful ideas and jewelry pieces. You really need to join our group to see them all. A lot of our members also have stores online. If you see a design you love, make sure you let the designer know. They may sell you that design or at least let you know how they made it. We would love to see your work too, join us today!
VIB is a great place to visit. It is an online bead gathering. It is a place to chat and meet new friends. It is a great way to be social if you are distancing. Stay healthy and stay at home. You can learn a new tip or technique daily. You can get inspired by the gorgeous jewelry designs other people in the community post. You can also get your own jewelry gently critiqued if you want pointers on how to make your designs really stand out. We love wallflowers and chatty designers alike. Lurk or showcase your talent. You are going to love our fun club.
If you would like to see more Butterfly Garden jewelry designs, go to our VIB group. In the 'Search this group' field (or magnifying glass icon on the upper right), type or paste this: #butterflygarden. This will search the inspired designs we hash tagged.
Designed by Soft Flex VIB Studio Member: Carey Marshall Leimbach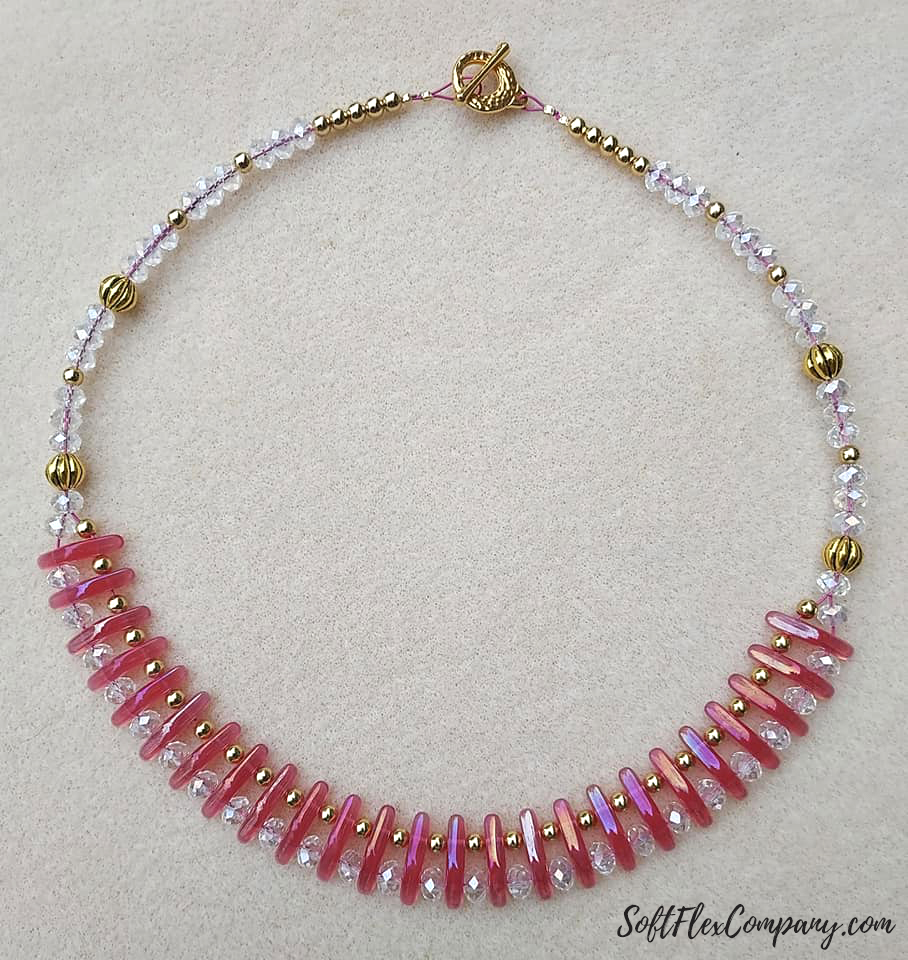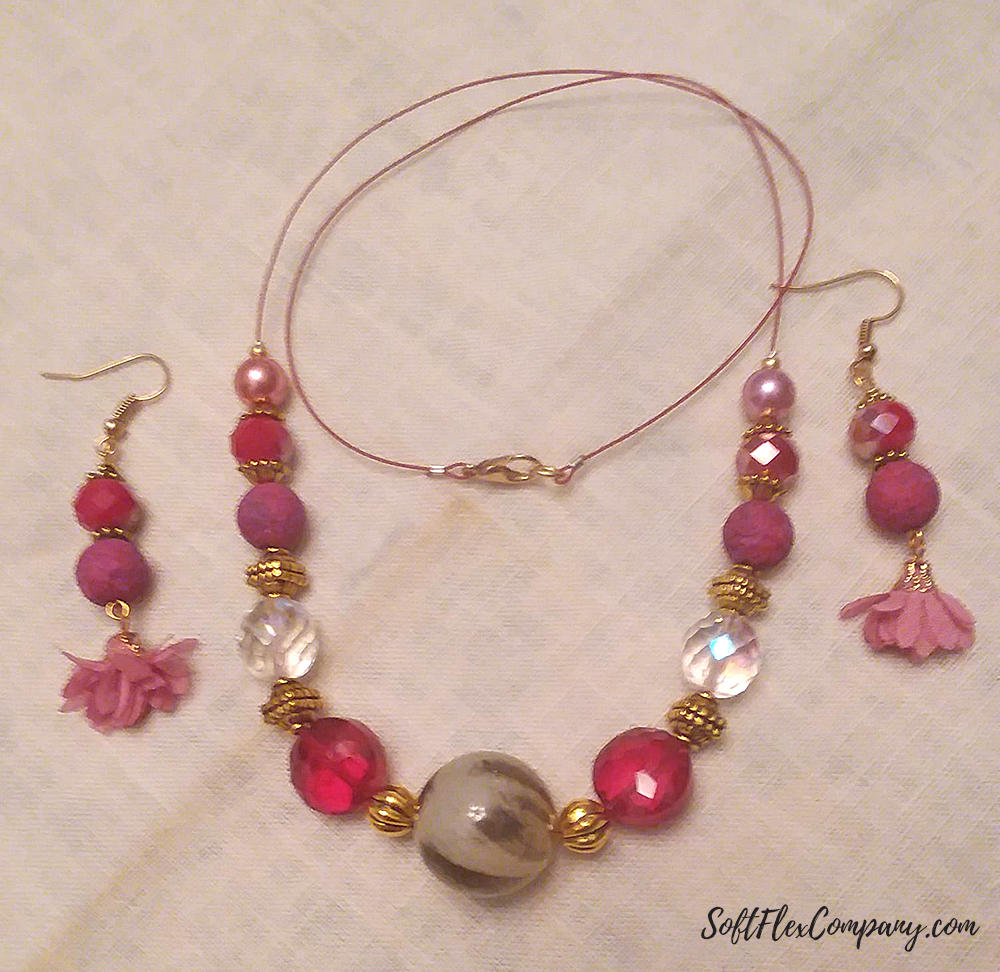 Designed by Soft Flex VIB Studio Member: Colleen Marie Sinkewicz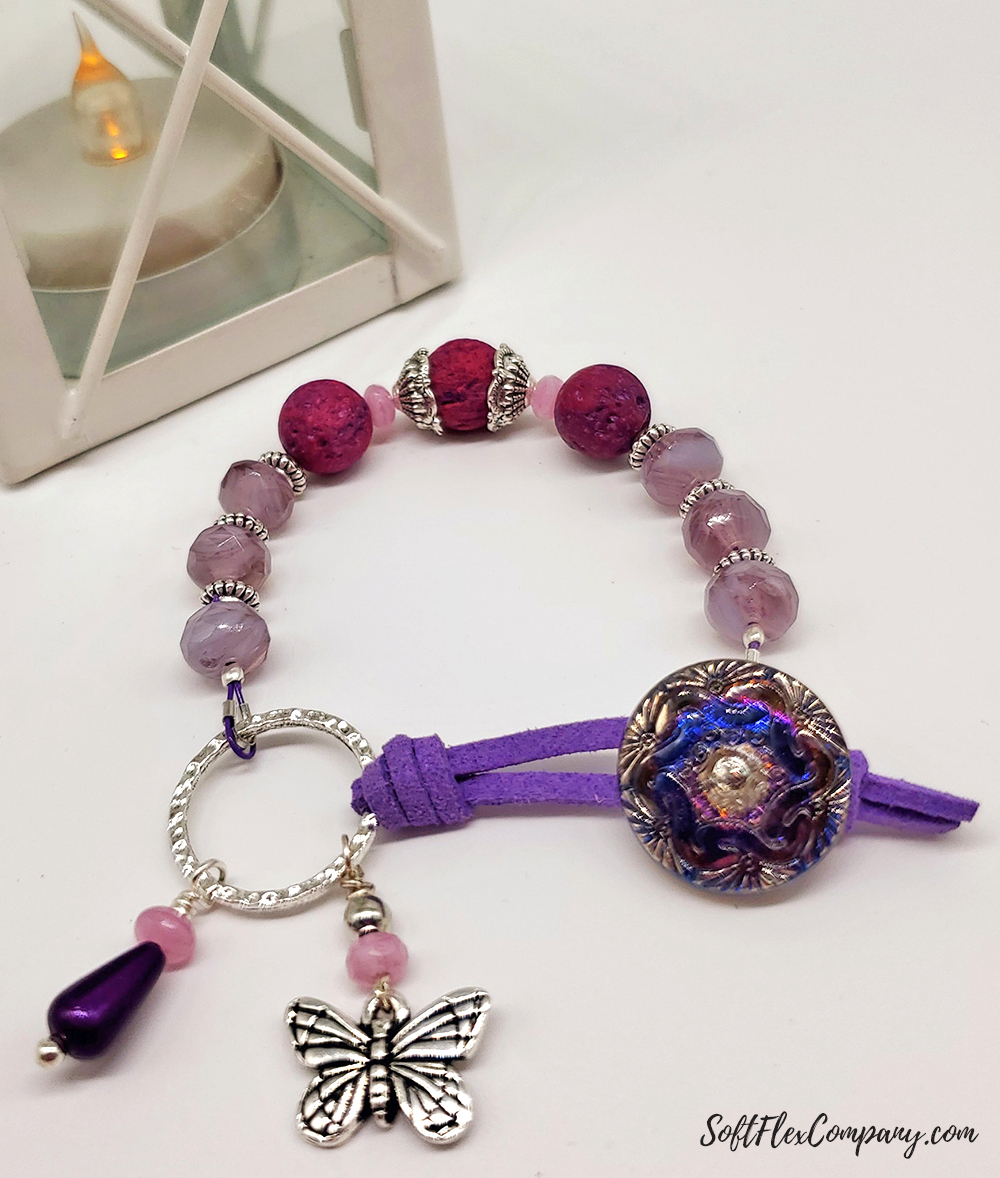 See more of her designs on her Facebook page and on her Instagram page.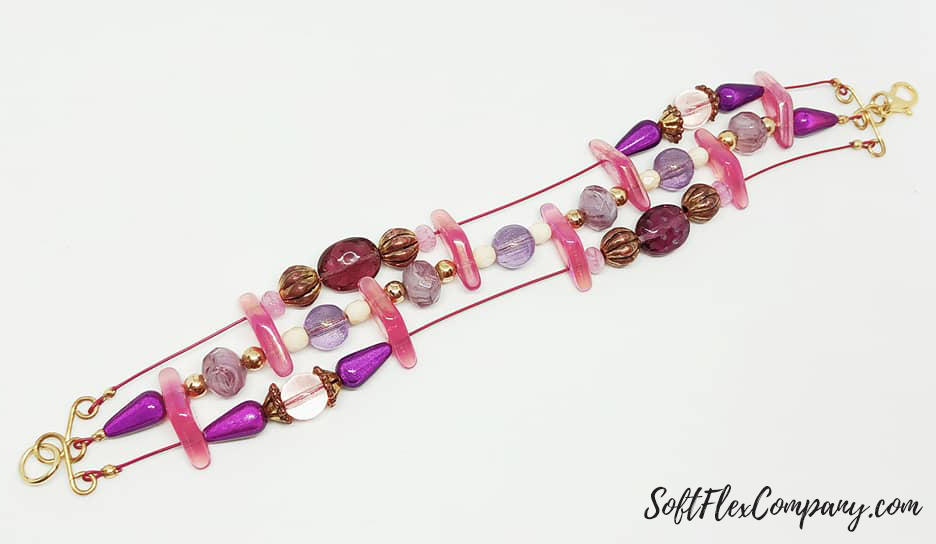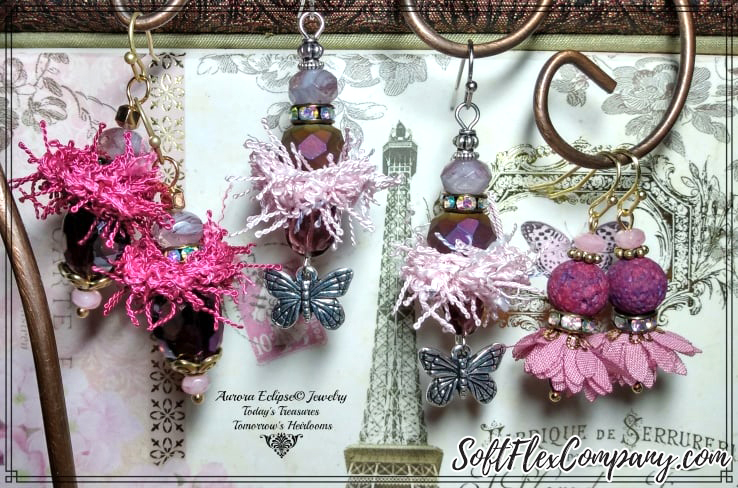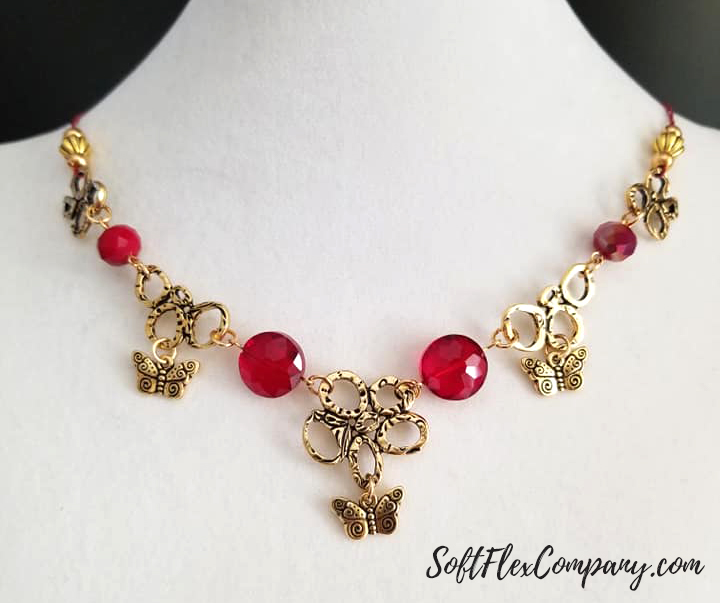 Designed by Soft Flex VIB Studio Member: Mercedes MillerBartley
See more of her designs on her Etsy page.
Designed by Soft Flex VIB Studio Member: Stacy Leigh Meissner
See more of her designs in her Etsy Shop.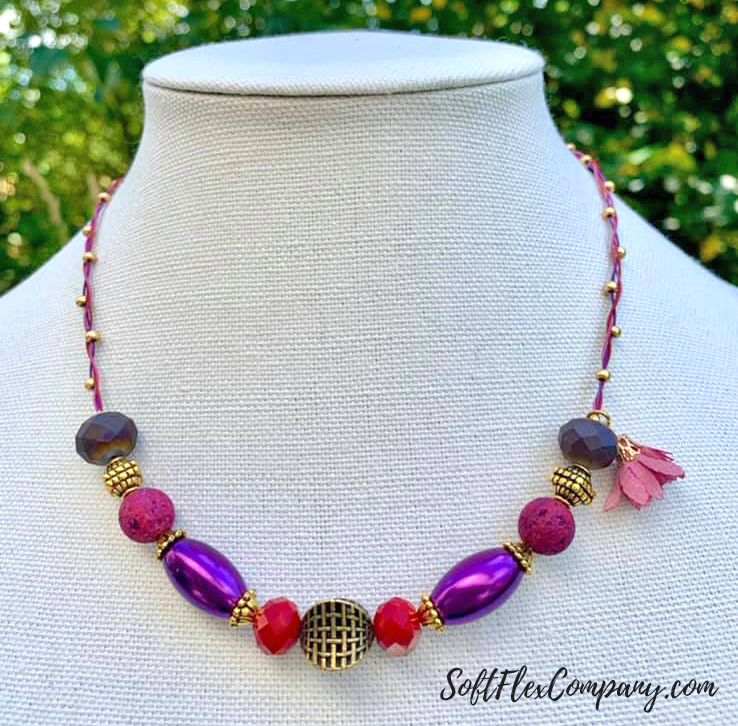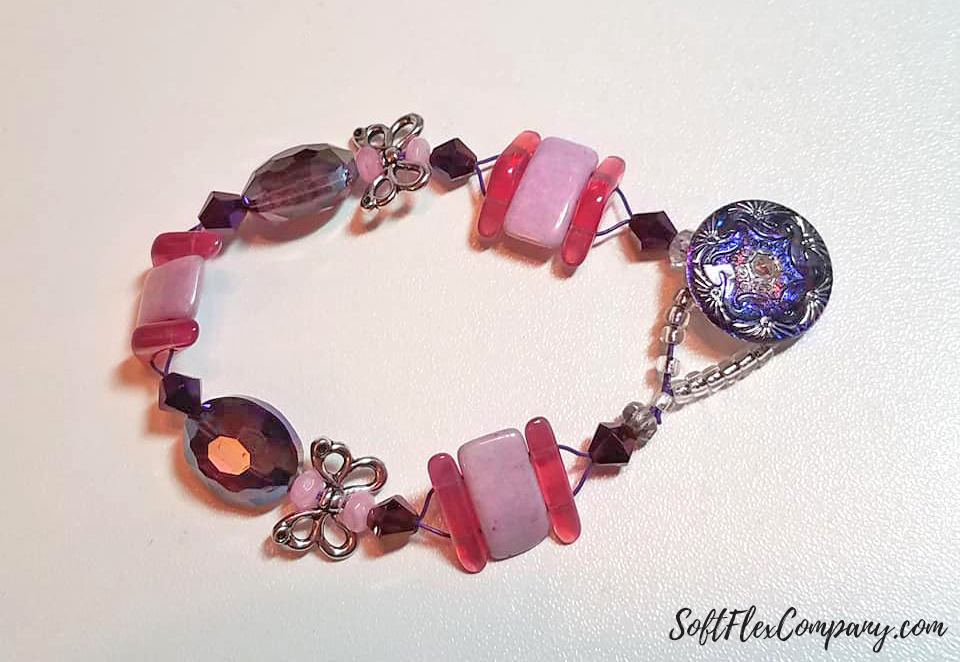 Join our Facebook group – VIB. Stay in the know. Stay up to date. From our bead shows to our video shows and sales, you can stay in touch with us. The community is full of artistic and helpful beaders and crafty people. Inspire and be inspired. Share your pictures and get the beading bug from others!
Visit the Soft Flex Company YouTube Channel!
---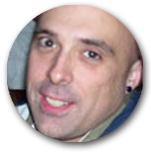 Blog contributor Thomas Soles loves Jazz Age writers and crunchy french fries. His favorite gemstones are Lapis and Pietersite. His favorite hobby is day dreaming. And his favorite mustache is Freddie Mercury's. As you can see, he has a healthy (or possibly unhealthy) sense of humor. You can write to him at Thomas@SoftFlexCompany.com