Welcome to Kit Day. Today is our favorite company holiday. We unveil our most recent mystery themed jewelry making kit and explore its contents. Last month we offered a Dr. Seuss inspired kit. The Whimsical Beadtastical Design Kit (Sold Out) was a cheerful ode to one of our favorite writers. We will unbox this fun kit and make some jewelry, live on Facebook.You are going to love our kits, we have a new one each month. Our kits of full of enough beads and components to make a bunch of jewelry. You just need basic beading tools. Let's have a look at what Soft Flex employees and members of our wonderful VIB Facebook group created with our previous kit, the Dark Heart Design Kit.
Join us live on Facebook, today. We are going to open our Whimsical Beadtastical Design Kit. Sara will show you how much fun our kits are and she will show you how to make some playful jewelry. Our Facebook videos are almost like a free jewelry making class online. Get a crash course on how to design and finish your favorite new necklace.

Let's look at a wonderful gallery of jewelry designs from our previous kit. The Dark Heart Design Kit (Sold Out) was a sophisticated collection of Valentine's Day themed beads and components. It was more nuanced than the normal bubble gum pink you might consider when you think about this holiday. We have Dark Heart jewelry from Soft Flex Employees Sara Oehler and Kristen Fagan. We also have a lush mix of twilight jewelry from the creative members of our VIB Facebook group.

The Painted Sunflowers Design Kit (Sold Out) is a reverent nod to the lush colors of Van Gogh's brushwork.
Vincent Van Gogh was enamored of the living beauty of sunflowers. These amazing heliotropic marvels of nature are a stunning paradigm of beauty. Van Gogh captured these sun worshippers with an intimate eye. His work has awed generations. We think your creativity will blossom with this floral kit. Blue skies are a beautiful backdrop for golden flowers and natural greens. Let the seeds of inspiration germinate!
Sara will be doing a live broadcast on the Soft Flex Facebook page, with the Sunflowers Design Kit, on Wednesday, March 25th at 2pm (PST).
If you'd like to join us in the design challenge next month, buy this kit and challenge yourself to try something new and unexpected. If you are new to beading, this kit comes with findings, beads, wire, and surprises.
Supplies are very limited. Don't miss out!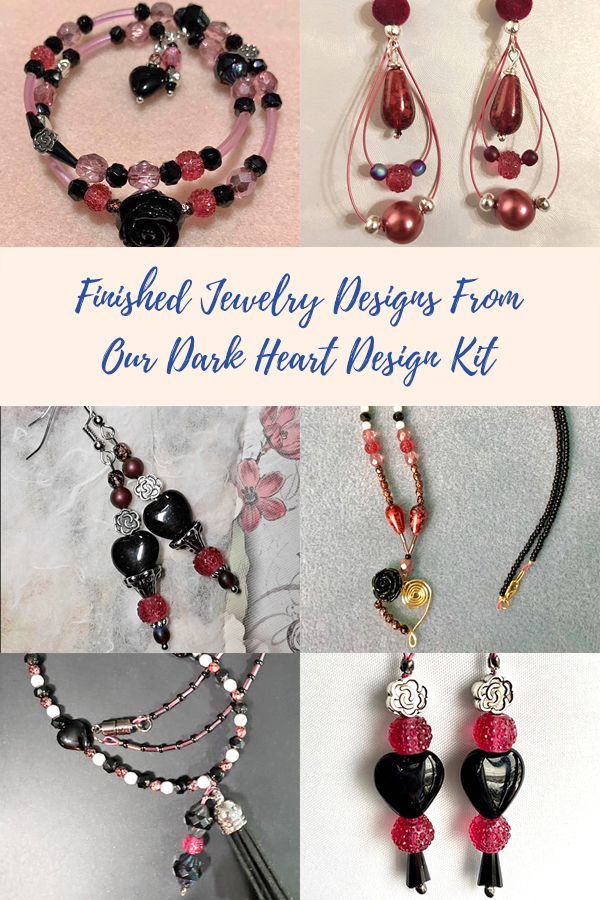 Sara Oehler Designs
Dare to be a designer. Our mystery kits are packed bundles of motivation. Even if you are in a creative dry spell, these little packages are sure to make you bristle with a desire to make jewelry. If you have the tools, a themed mystery kit includes everything else you need to create a bunch of unique jewelry.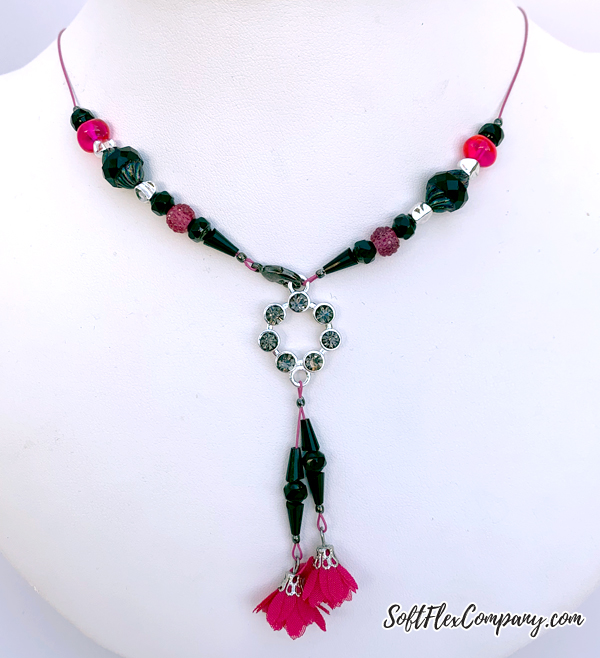 The talented staff in our gallery puts our Design Kits together. They start with a theme and explore it. What colors, what beads, what wire encapsulates their thoughts on this theme? Each month they put their dark hearts into a thoughtful kit full of unique and compelling elements.
All of our kits are unique and are not sold elsewhere. If you would like to purchase one, we release our latest kit towards the end of each month. Quantities are very limited, so make sure you grab one quick!
Our jewelry design kits are a great buy. Every kit is a bargain, chock full of interesting supplies and beads. Inside, you will find findings, beads, and wire. We include so many goodies. You will be making jewelry for days. The contents are themed, but they are also perfect if you just want to add everything to your existing beading supplies. We release holiday themes, but every kit is full of beads that can be worn year 'round. Our Dark Heart Design Kit (Sold Out) may be perfect for Valentine's Day, but they beads can be mixed with your own stash and added to a necklace for summer or a bracelet for winter.
Kristen Fagan Designs
Do you love our latest offering? Supplement your kit with more fun and more beads. We often have bead strands and bead mixes that expand the theme. Occasionally we will construct a new Trios Beading Wire Packs that celebrates a kit. We love fun themes. Do you want to daydream with us?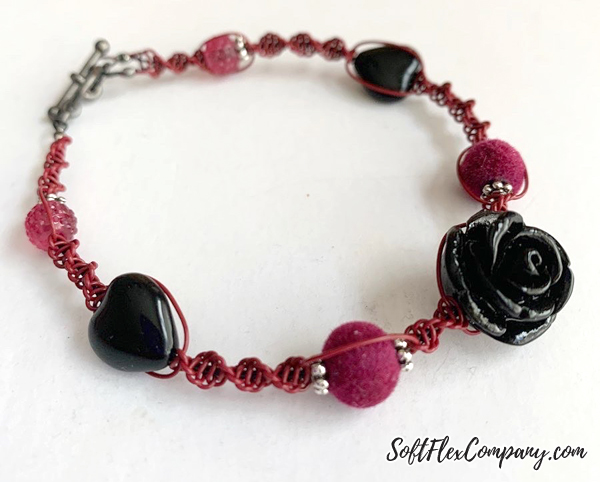 Our kits are made for all skill levels. From the beginner to the most battle hardened jewelry designer. There is nothing inside that will be too difficult to master for a newbie. And there is plenty inside to inspire everybody. They are especially fun if you network with us and show off your jewelry designs on our Facebook group. You will find gentle critiques and sage advice there. Need help with a technique or have a question about crimping? Our VIB group is the perfect place to find your answers.
VIB Group Member Designs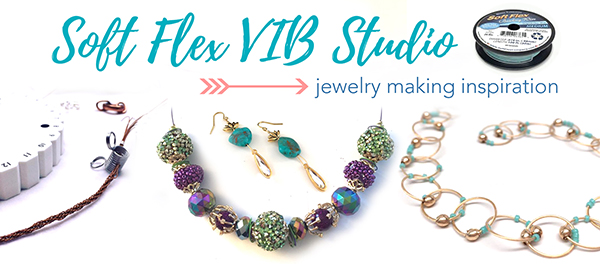 We gathered a small assortment of fun designs from our VIB Facebook group. There were so many wonderful ideas and jewelry pieces. You really need to join our group to see them all. A lot of our members also have stores online. If you see a design you love, make sure you let the designer know. They may sell you that design or at least let you know how they made it. We would love to see your work too, join us today!

If you would like to see more Dark Heart jewelry designs, go to our VIB group. On the left hand side of the page, in the 'Search this group' field, type or paste this: #darkheart. This will search the Dark Heart designs we hash tagged.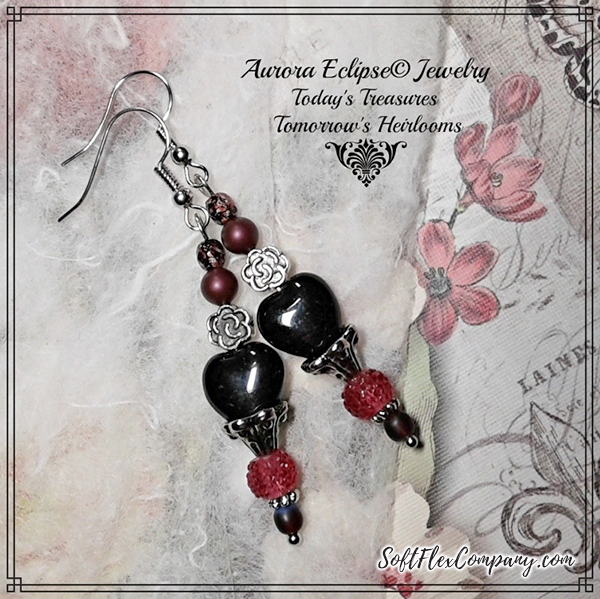 See more of her designs in her Etsy shop
Designed by Soft Flex VIB Studio Member: Carey Marshall Leimbach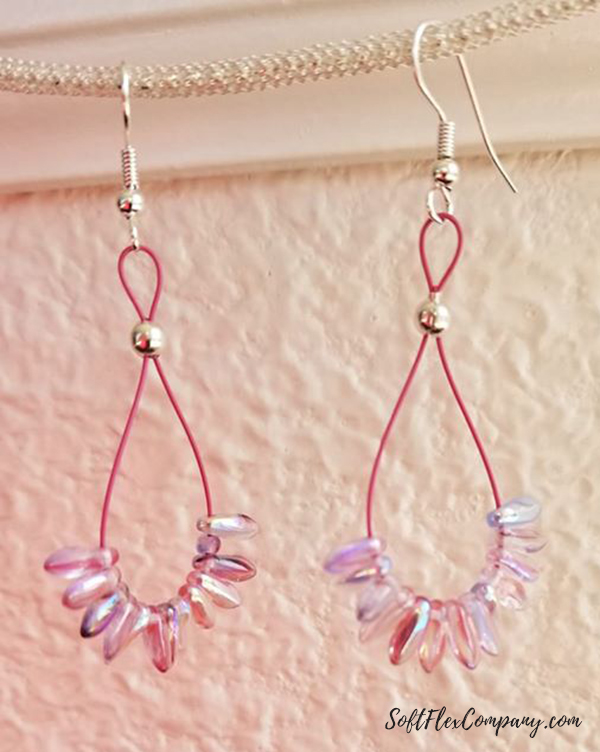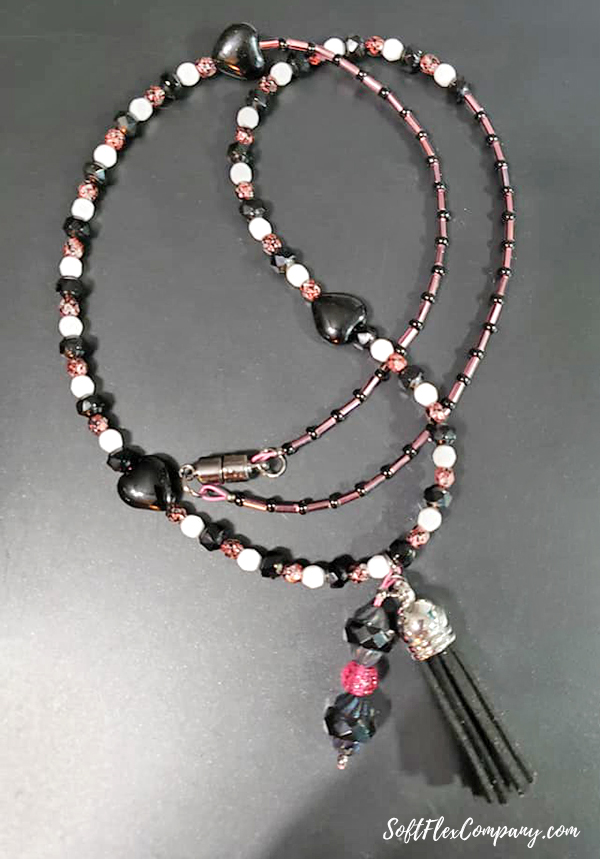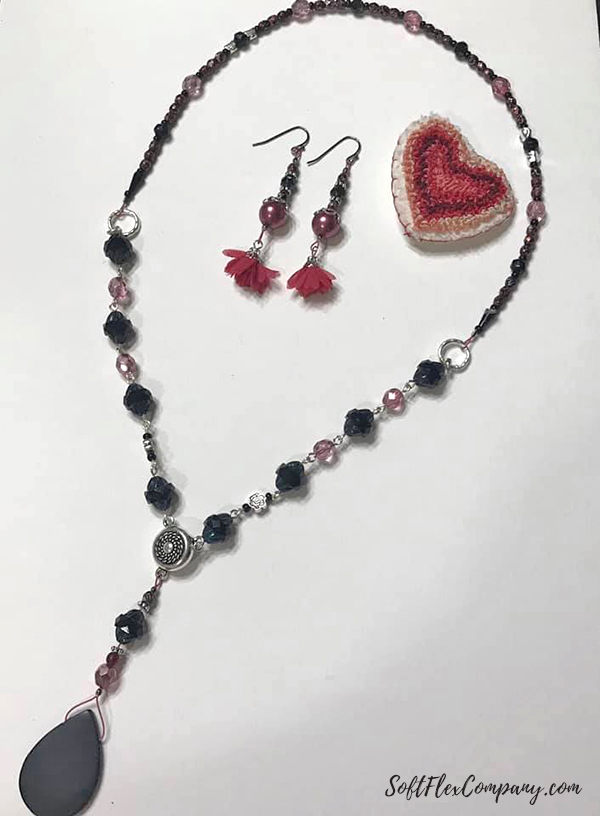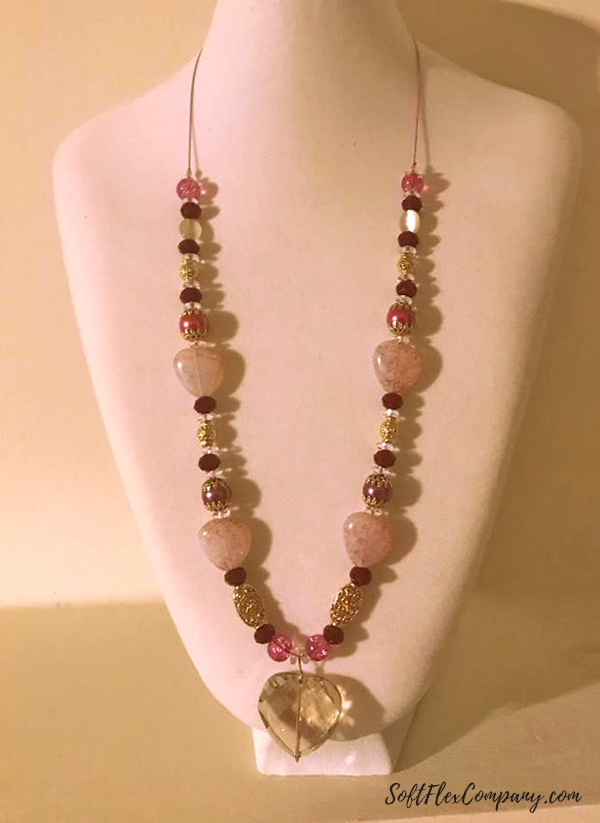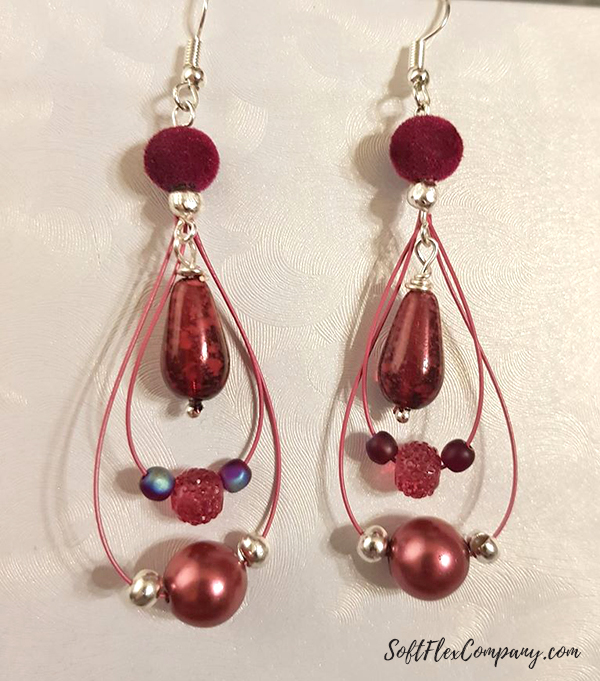 See more of her designs on her Facebook page.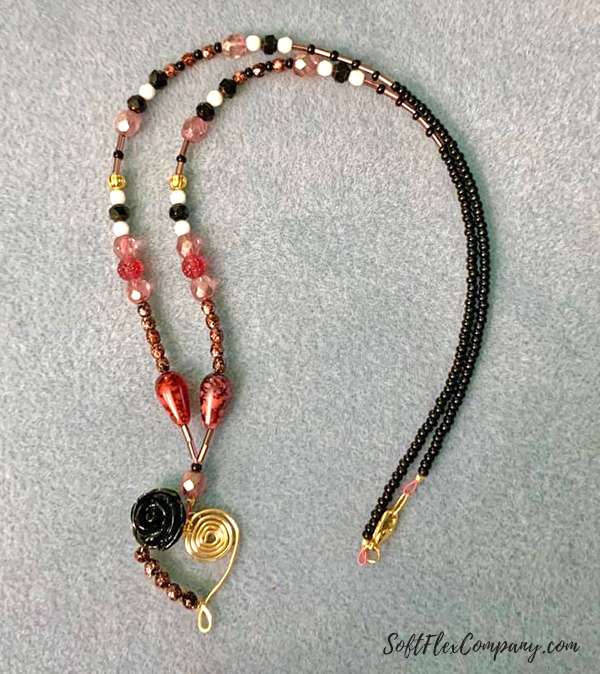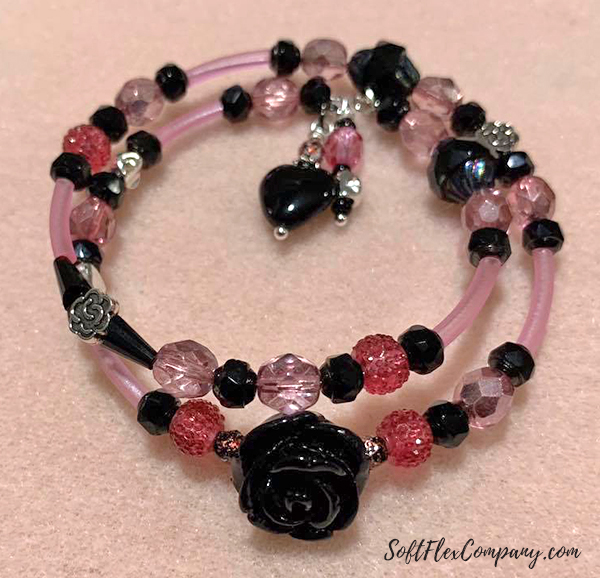 Join our Facebook group – VIB. Stay in the know. Stay up to date. From our bead shows to our video shows and sales, you can stay in touch with us. The community is full of artistic and helpful beaders and crafty people. Inspire and be inspired. Share your pictures and get the beading bug from others!
Visit the Soft Flex Company YouTube Channel!
---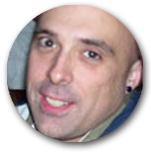 Blog contributor Thomas Soles loves Jazz Age writers and crunchy french fries. His favorite gemstones are Lapis and Pietersite. His favorite hobby is day dreaming. And his favorite mustache is Freddie Mercury's. As you can see, he has a healthy (or possibly unhealthy) sense of humor. You can write to him at [email protected]