Halloween will be here before you know it! Let's look some exciting jewelry making ideas for the most spooktacular day of the year! Melissa J. Lee gave us some wonderful jewelry and craft ideas. She uses traditional Halloween and Dia De Los Muertos icons - skull pendants, evil eye beads, and cobwebs. She also plays with unexpected colors, like floral pink and bright yellow. She has some playful ideas for this haunted holiday!

Make sure you check out our store for your new favorite eye beads!
Artist Glass Beads

Shop our beads and find some gorgeous eye beads. Eye beads or 'evil eye' beads are a bit misunderstood. They are not a bad omen or ghoulish jewelry accessory, there are, in fact, a talisman of protection. The evil eye was worn as protection against those that would seek to harm us. Typically, the evil eye that was cast our way, was a jealous or envious eye. This historically rich jewelry design idea was a shield that would halt the envy of others. Wear your eye beads with confidence. They are a charm that gives us protection. Eye beads are perfect for Halloween!
Halloween Jewelry Making Ideas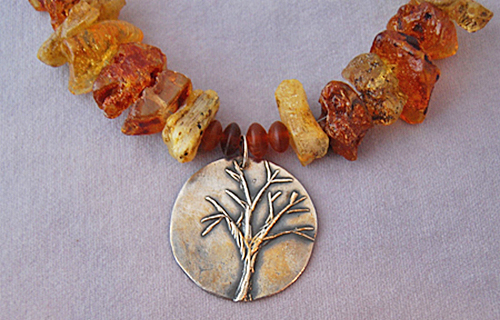 It's not a big secret in our house that autumn is my favorite season. I love the cool crisp air, the colors of the leaves, and visiting the orchards to go apple picking with my son. So, it's not surprising that much of my jewelry is influenced by fall themes, like the above piece featuring my own autumn tree design strung with beautiful Colombian amber. It's a nice, warm, perfectly respectable fall piece, eh?

I have to admit, though, what I really love about this season is my favorite holiday - Halloween. I love visiting the local farm to pick out just the right pumpkins and then decorating them with my son. I love seeing all of the children having a fun time in their costumes. Most of all, I love how generally colorful and over-the-top the holiday is - it provides a great chance to loosen up and kick back and be a little different from our everyday selves.

Just between you and me, I dress like a soccer mom, and I actually often don't wear jewelry - my mother-in-law once commented to me that I simply don't look like the kind of person who would wear the jewelry I like to design. But when October rolls around, suddenly I feel like wearing - and designing - necklaces with...eyes, for example: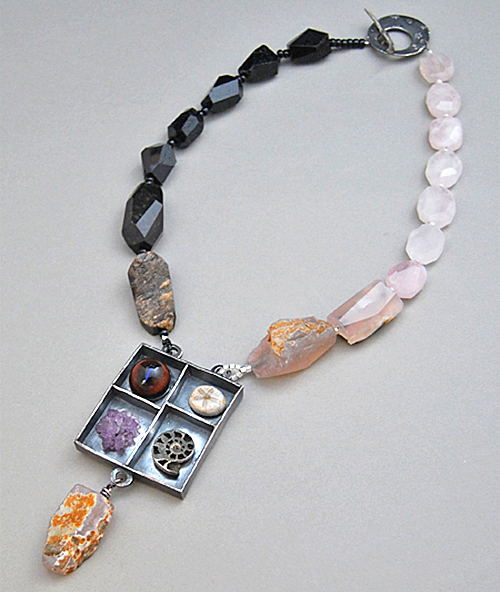 Here's one of my Cabinet of Curiosity pendants, in a piece entitled "Earth and Sky". Mostly I fill them with old fossils and beautiful geodes and crystals, but I just can't resist throwing in a glass eye here and there. This taxidermist eye is vintage German glass. Overall, I would still call this necklace pretty understated. But really, why stop there? There's always a little something spooky about a staring eye, don't you think?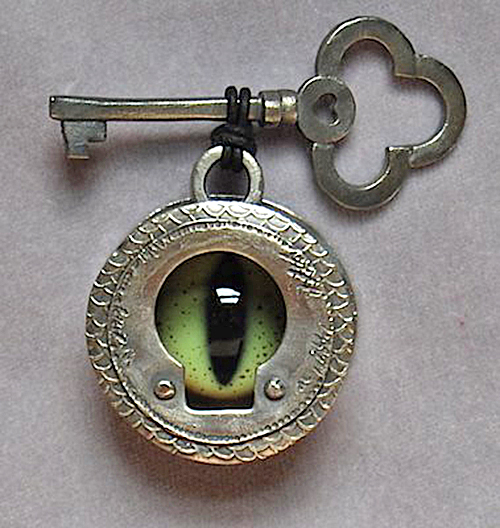 Here's my interpretation of the popular keyhole design in a large pendant. To my mind, it's simply not an interesting keyhole if you don't have a spooky eye looking at you through it.

Alternatively, some pieces can be made to suggest eyes, with a little push. Here's a lampworked foil bead by artist Sarah Moran that I incorporated into a Halloween-themed piece: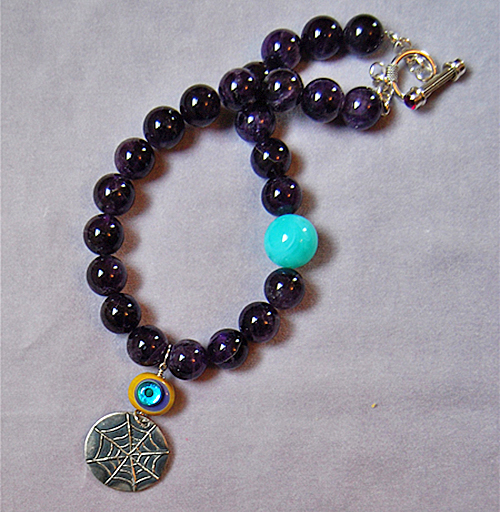 Although the artist did not design the bead with an eye in mind, I think it works pretty well here, paired with my large cobweb pendant. The piece is entitled "Blue Moon."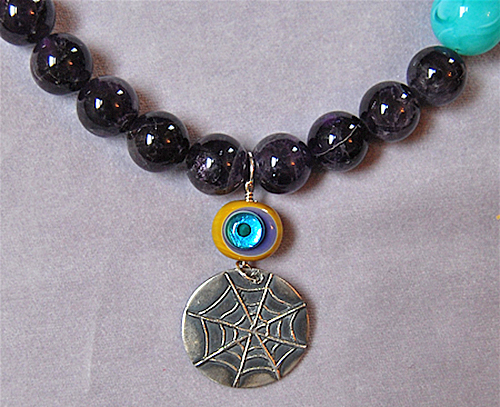 Flowers are another element that really come into play for me with October designs. As much as I enjoy spring floral designs, for me, there is nothing more wonderfully gothic than roses. I particularly like the large Lucite ones that your can find in different colors.

This piece is called a "Rose for Emily", after the Faulkner short story. I nearly jumped on them when I found these wonderful black Lucite roses. I think they are plenty gothic by themselves, but I paired them with one of my small cobweb buttons as a closure. All of which is not to say that pink or red roses wouldn't work just fine for an October piece: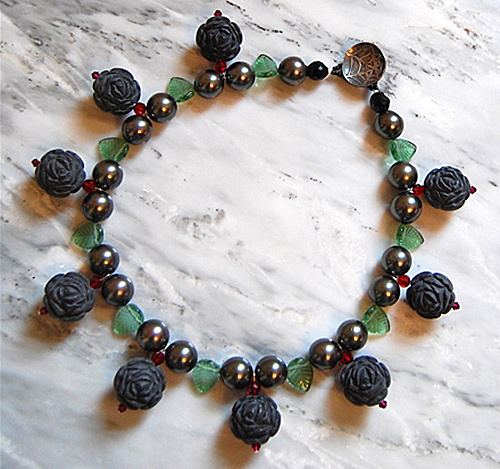 These beads are the same Lucite roses in a pale pink. While I'm sure they would also look wonderful in a pale springtime necklace, I think they work pretty fabulously in this Halloween-inspired design, "Gothic Pink".

Skulls are, of course, a natural design element for certain types of autumn designs. I often like to avoid combining these with somber colors, as in the above piece.
This necklace is from my personal collection, incorporating beautifully colored lampworked beads by Michele Goldstein. The quotation "present mirth hath present laughter" is from Shakespeare's Twelfth Night, and is a favorite. Some pieces are definitely influenced by the Day of the Dead (which, okay is early November, but still):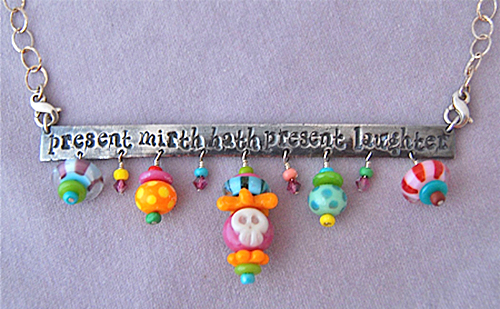 At other times, pairing skulls with unusual bead choices works well. Here, I've strung my large skull pendant (with its reference to, alas, poor Yorick, from Hamlet) with Roman glass, among others. I think the aged look of the glass works very well with theme of the pendant.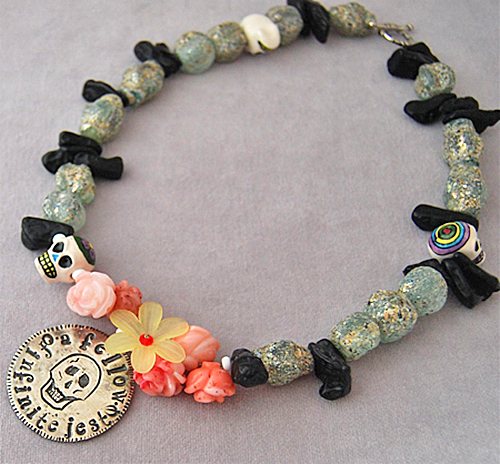 I think it's fair to say I find October very inspiring for jewelry design. The time of year provides a great opportunity to take chances with jewelry design and do a little something different from the ordinary. Why not take advantage of that?
Join our Facebook group – VIB. Stay in the know. Stay up to date. From our bead shows to our video shows and sales, you can stay in touch with us. The community is full of artistic and helpful beaders and crafty people. Inspire and be inspired. Share your pictures and get the beading bug from others!

Visit the Soft Flex Company YouTube Channel!
---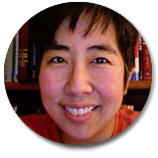 Melissa J. Lee started making beads from fine silver and designing jewelry when she left work to stay at home with her young son. Her work has been published in magazines such as Stringing, BeadStyle, Simply Beads, Bead Trends, Step by Step Beads, Creative Jewelry and BEADS 2009. She won first place in the Metal Clay category of the 2009 British Bead Awards and second place in the Beyond Glass, Handmade Beads and Components category of the 2009 British Bead Awards. She won second place in the Necklace category of the 2009 Bead Arts Awards. She was a finalist in the 2009 Bead Dreams competition and a finalist in Fire Mountain Gems' Beading Contest 2008. When not enjoying beady pursuits, she can be found spending time with her son, knitting or curled up with a good book.
Email: [email protected]
Blog: http://strandsofbeads.blogspot.com