YouTube Subscriber Giveaway Celebration!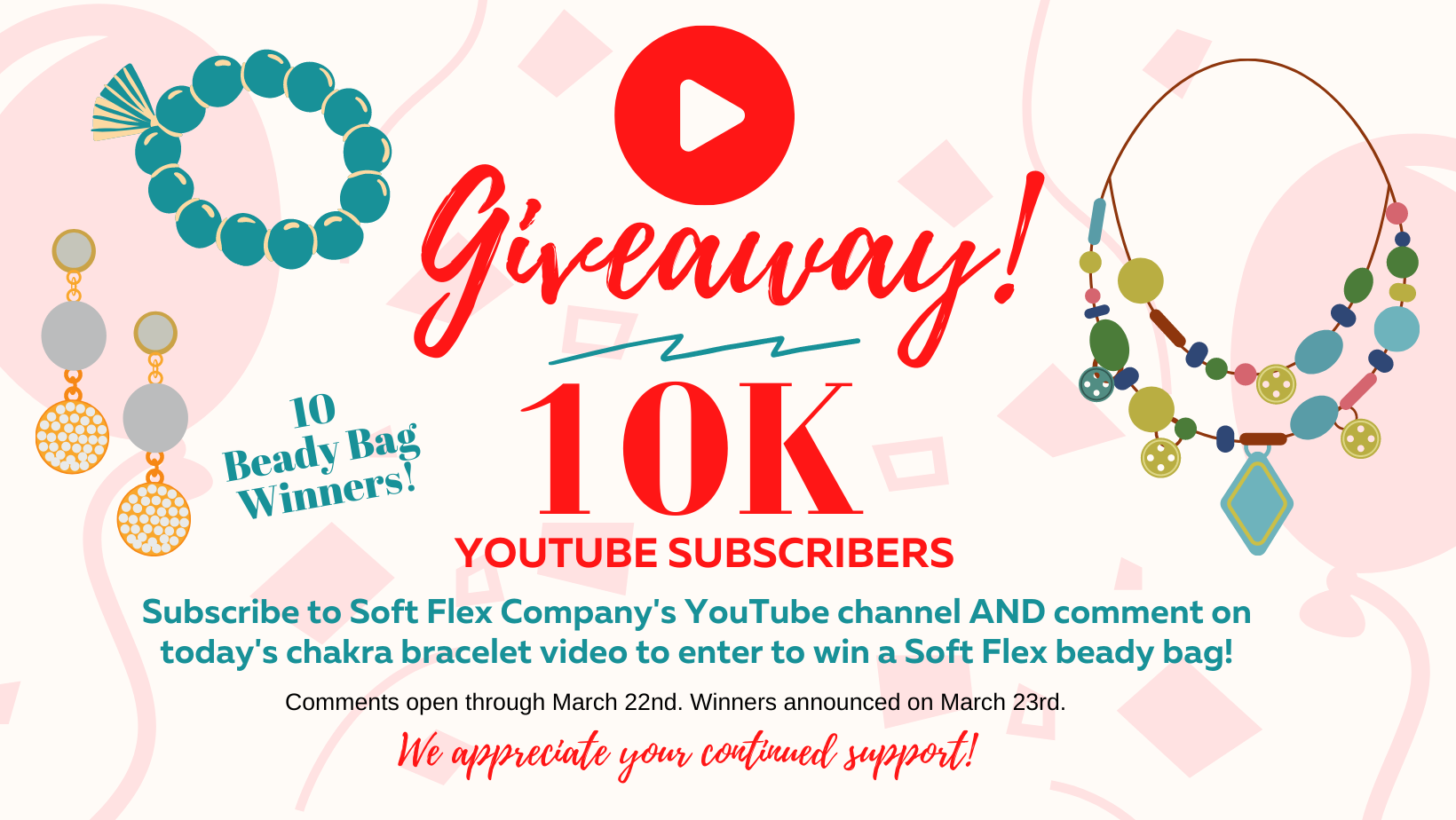 This past weekend we hit the 10K Subscriber Milestone! To celebrate, we are hosting a giveaway on the Soft Flex Company YouTube channel. 10 Beady Bags Winners! Be sure to SUBSCRIBE to our YouTube channel and COMMENT on this week's chakra bracelet video to enter the giveaway! Comment entries open through March 22nd. We appreciate your continued support. Good luck.
How to Make a Chakra Healing Gemstone Bead Stretch Bracelet
This week on Free Spirit Beading with Kristen Fagan, we used Stretch Magic cord, gemstone beads associated with each chakra, spacer beads and a large hole bead to hide the knot to create our own chakra healing bracelet!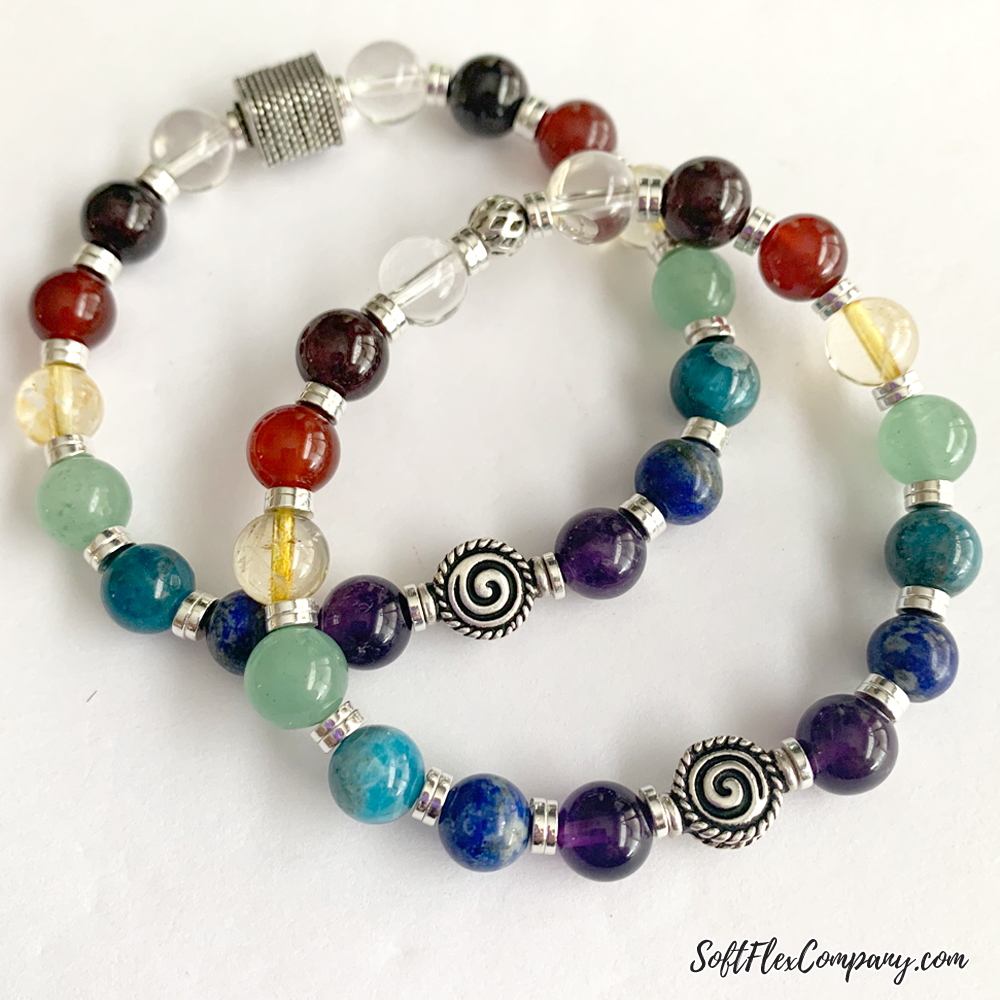 Supplies:
Stretch Magic Elastic Jewelry Cord - 0.7mm Clear
Special T or GS Hypo Cement Glue
Metal Spacer Beads and Focal Bead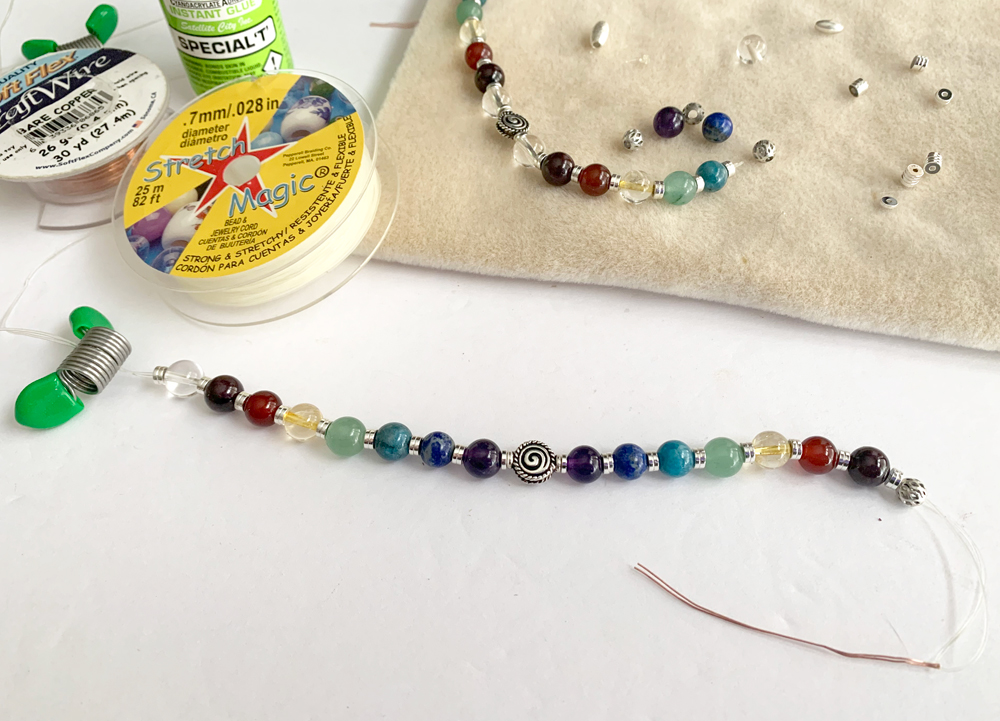 Start by making your stretch bracelets with good quality elastic cord meant for jewelry making. Stretch Magic is a strong elastic-like cord. It is constructed of a mixture of polyester and polyurethane. Stretch Magic is solid and will not fray over time. Stretch Magic does not contain any latex, rayon, or elastic.
It is recommended that you pre-stretch Stretch Magic before beginning a project. This will ensure the cord does not stretch and lengthen after beads are placed on it. Pre-stretch your cord by pulling on each end before stringing. This is a really important step. Your bracelet will stay the right size and won't stretch out leaving gaps between the beads.
This product is available in Clear or Black. To finish off a design, tie a square knot or surgeon's knot and Dab with glue to secure. We prefer Special T glue but, hypo cement is also a suggested glue by the manufacturer.
The most popular sizes of elastic cord for making bracelets is 0.7 mm or 1 mm elastic cord, but selecting one depends on the weight of the beads and the size of the hole. For seed bead bracelets, 0.5 mm works well. Thinner elastic cord can stretch out more quickly with heavier beads unless you use a double strand.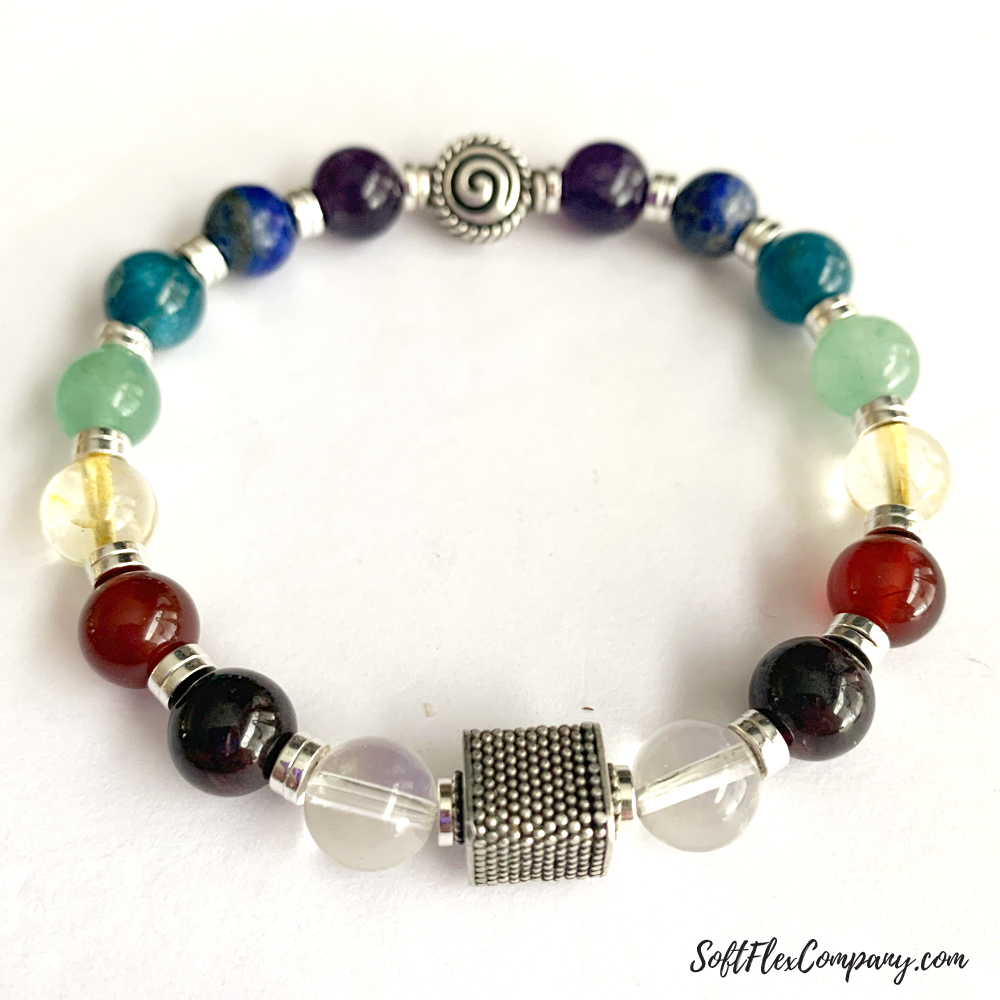 The chakra system originated in India. The word chakra in Sanskrit translates to 'wheel' or 'disk'. Chakra energy centers are said to link the physical, psychological, emotional, and spiritual and each of the 7 chakras has its own color, sound frequency, element, and properties attached to it.
Chakra Gemstone Beads Used:
Unifying = Crystal Quartz
Root RED = Red Garnet
Sacral ORANGE = Carnelian
Solar Plexus YELLOW = Citrine
Heart GREEN = Green Aventurine
Throat LIGHT BLUE = Blue Apatite
Third Eye INDIGO/DARK BLUE = Lapis
Crown VIOLET/PURPLE = Amethyst
What does a Chakra healing bracelet do? Chakras are believed to be vortexes of energy within us connected to certain aspects of our physical and emotional being. Gemstones are considered a powerful tool in correcting imbalances within these chakras. It is believed the healing powers of stones would subtly absorb the negative energy blocking the wearer's chakras and balancing their flow of energy.
The surgeon's knot is the most reliable knot for elastic bracelets. A surgeon's knot is a square knot with an extra loop through. The extra loop helps keep the knot from slipping. I love the Tricky Ricky knot technique for stretch bracelets and that is what I shared in this video.
Measure and cut the Stretch Magic cord. Cord length should be twice the wrist size plus 4". Use 26g craft wire to make a needle for two strand stringing.
Secure the cord with a Bead Stopper. String beads in your pattern for your desired length, leaving the large hole bead for knot to string on last.
Scoot bead down to the looped end. Secure the cord with a knot (surgeon's knot). To tighten the knot, pull the cord tails and stretch the bracelet. Clip the cording about 1/8" from the knot.
Secure the connection by applying GS Hypo Cement or Special T glue to the knot. Then slide the knot into the center of a large hole bead and allow it to dry. Now the knot is secure, protected, and hidden.
Tighten your knot from all sides. Pull the top two ends to tighten the knot, pull from the beaded side, pull the left loose end and the right beaded end and vice versa. If possible, cover your knot. This makes your elastic bracelet look nicer, but also protects the knot from wear caused by rubbing between two beads.
Always put your elastic bracelet on by rolling it over your hand without excessive pulling. Keep the bracelet away from soap, perfumes, hair and skin products. Many of the products can degrade the quality of the elastic over time.
To cleanse and charge your bracelet:
1. Place the bracelet under running water and set the intention for the gemstones to be cleansed and cleared of any and all heavy or unwanted energy.
2. Dry the bracelet off and place it in your hands. Close your eyes.
3. Set the intention that this chakra balancing bracelet cleanses, aligns, and revitalizes all of your chakras, allowing for greater ease, flow, and joy in life.
4. You can do this anytime you need a little boost. You can also charge your gemstone jewelry under the full moon.
Join me live for a jewelry making tutorial on Soft Flex Company's Facebook page or YouTube channel on Monday's.
If you like this idea, you may like these other goddess jewelry making tutorials:
Make A Colorful Bracelet with Stretch Magic
DIY Beaded Stretch Elastic Bracelet Tutorial for Kids, No Glue

Join the Fun in our Facebook Group Today! Stay in the know. Stay up to date. From our bead shows to our video shows and sales, you can stay in touch with us. The community is full of artistic and helpful beaders and crafty people. Inspire and be inspired. Share your pictures and get the beading bug from others! Visit the Soft Flex Company YouTube Channel!

---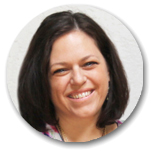 Kristen Fagan is a Website Graphic Designer and Jewelry Making Educator for Soft Flex® Company. She is the co-author of Seed Bead Revolution, an artist and creativity guide. She lives in Arizona with her husband, their two sons and two dogs. When she's not painting, drawing or beading, she enjoys reading, yoga, exploring the outdoors and traveling. Her favorite stones are Turquoise, and Quartz and she can't bead without Bead Stoppers. Contact her at [email protected] or visit her Website | Facebook | Instagram