Let's learn how to make a beaded bracelet. You might be a new beader. You might be new to jewelry-crafting. Or you might be very picky and just cannot find a piece of jewelry you love. Learning how to make your own bracelet is a fun, easy project that lets you stretch your creative muscles.

Christmas is almost here. Giving a store bought gift is great. But imagine designing personalized jewelry for all of your friends and family. Depending on the complexity of your ideas, you can design quite a few bracelets in a short period of time. If you have the materials on hand, it will be very affordable to finish your Christmas gifts early – and with some money in your pocket.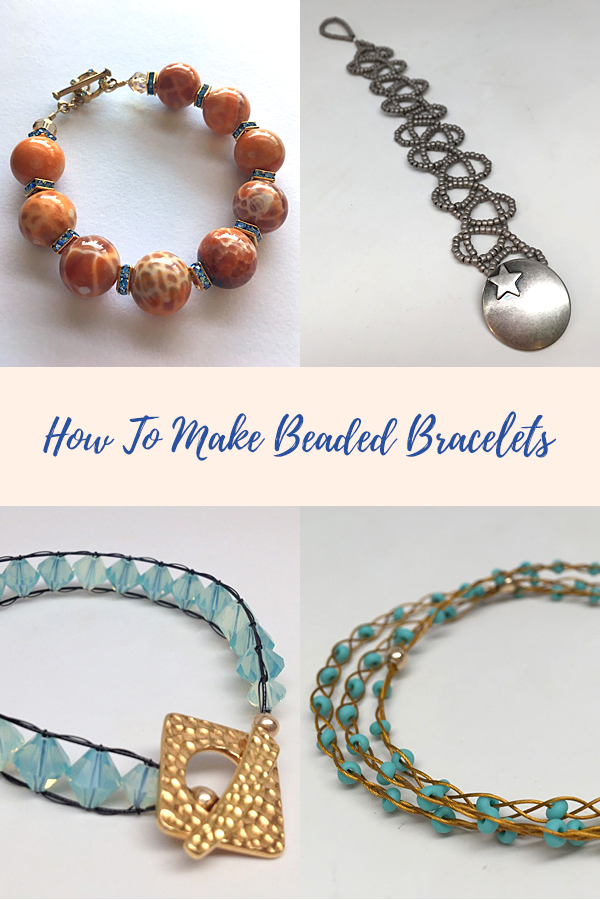 How to Make Beaded Bracelets
So, what will you need?
Crimping Pliers
Cutters
Beading Wire
Beads
Crimp Tubes
Clasp
Tools are important. We love Magical Crimping Pliers. They turn a crimp tube into a rounded bead. They eliminate the need for a crimp cover. We consider the design as a whole before stringing it. Knowing how your finished crimps will look on the bracelet is a good way to choose how you want to finish it. Regular crimping pliers are also great. Regular crimping pliers are a little more flexible than Magical Crimping Pliers as they can crimp a wider selection of crimp sizes. Don't forget a pair of cutters. Professional cutters will cost more when you purchase them. Bead nippers will be a lot cheaper. However, once you really start using your cutters, you will find that the blades dull over time. You are going to be replacing a pair of bead nippers much more frequently than a pair of well crafted professional cutters. In the long run, you are going to save a good deal of money using the better tool.
Beading wire is a consideration. Beading wire is similar to tools. You get what you pay for. If you settle for a cheaper quality beading wire, you are going to be restringing your designs frequently. If you are selling your jewelry – you are going to hurt yourself if you are using a wire that is prone to kinking and breaking. Soft Flex Beading Wire is a marine quality stainless steel beading wire. It is flexible enough that you can knot it. It is very strong and durable. It is kink resistant. Stringing your design with a high quality beading wire will ensure your jewelry stays strong and drapes like thread. Make sure you consider the color of your beads when selecting your wire. If you are concealing the wire, you can go with a subtle Satin Silver color. If you are showing the wire, let it complement your beads. Color wire is also great for translucent beads – your design will really pop when the wire shines through the bead.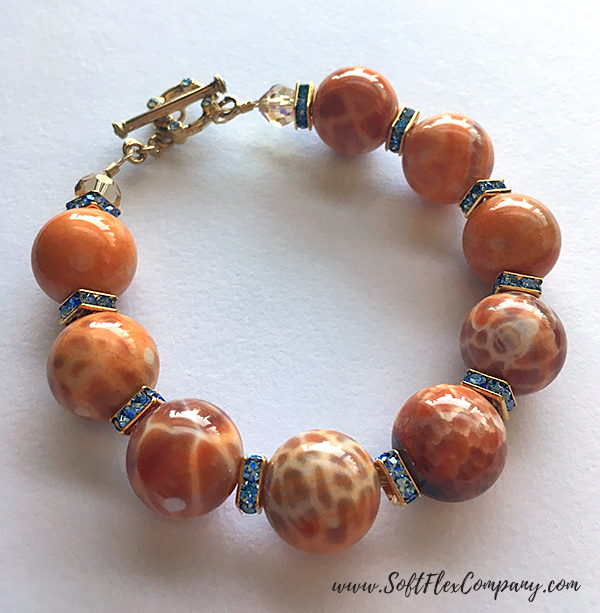 Agate and Crystal Squaredelle Bracelet by Kristen Fagan
When choosing beads , do not be afraid to get creative – there is a huge range of options to choose from! Think about your personality or the personality of the friend or family member you are making the bracelets for – it will give you some inspiration. Some great ideas include:
Natural beads – Made from bamboo, lava rock, deer or elk antler, or recycled glass.
Vintage beads – Pretty glass beads and pearls with a gorgeous retro design.
Gemstone beads – For genuine glamour and luxury.
Artistic glass beads – For individualistic designs and color combinations.
Cubic zirconium beads – For sparkle and style.
Charms, pendants, and teeny-tiny beads – To add some personal flavor in a range of forms, from peace signs, gemstones, and antelope heads to dragonflies and Santas!
Components are a factor. You should demand high quality here. Some crimp tubes on the market are thin walled and have a seam where the crimp was finished. This is a recipe for a broken piece of jewelry. These crimps are easy to work harden and break – just by crimping them. Demand high quality crimps. Soft Flex carries a crimp that is almost double wall thick compared to other crimps on the market. They are incredibly strong. They are also seamless. Our crimps are made to withstand the abuse that a bracelet can throw at it. Bracelets rock back and forth on the arm, if your crimps or beading wire is not ready to bravely face that abrasion, your jewelry is going to fail and you are going to be picking up beads.
The clasp you choose is an important part of your design. You can pick a small simple clasp for easy, everyday bracelets or more complex and decorative clasps for fancier pieces. It should suit the design you are going for. It should complement the beads you are working with. For example, bold and chunky clasps look great with large, rustic beads, while filigree clasps look best with pearls, polished beads, gemstone beads, and cubic zirconium. If you invest in higher end clasps, you can incorporate those into the design itself. Swing your clap to the front of the jewelry. Don't hide it if it is beautiful.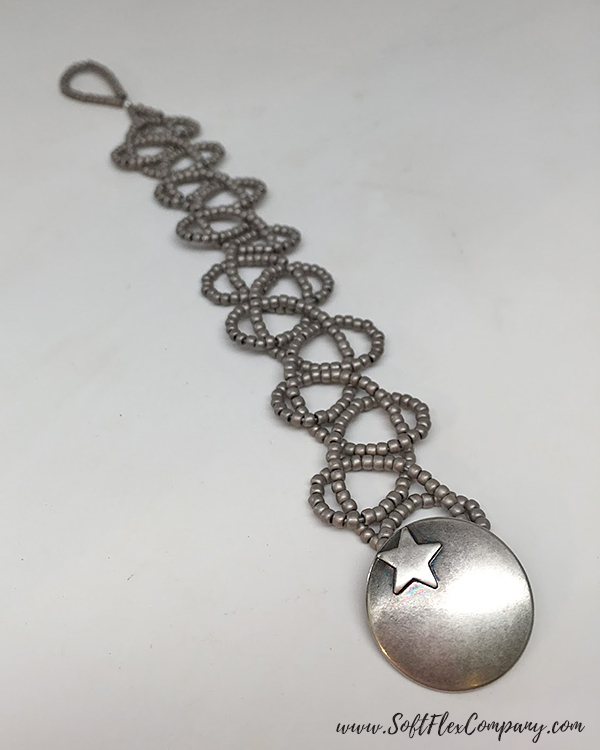 Beaded Bracelet With Button Clasp by Sara Oehler
Step One:
Cut your beading wire to the correct size (this should be 1½ times the circumference of the wrist). If you are unsure, rather cut too much wire than too little, as you can always trim it down in the final stage of making your bracelet.
Step Two:
Now, thread on a single crimp bead and your jewelry clasp and position about one inch from the end of the wire. Feed the wire back through the clasp and through the crimp bead to form a loop. Slide the crimp bead up close to the clasp along the loop.
Step Three:
Thread your beads onto the wire – this is much easier when you are using a firm beading wire that does not require a needle! Soft Flex Beading Wire is stiff enough at the end that you will not need a needle. This is a good time to try out different designs, color mixes, and more, as it is easy to explore your options and see what looks best. To get a pattern right, simply apply it according to the number of beads you have. This ensures an even pattern and helps get charms, pendants, or special feature beads in the middle of the bracelet. A bead board is a great choice for laying your design out before you string it. You can check the length and make sure your beads are pleasing and fun.
Step Four:
Once all your beads are on and you are happy with the pattern and size of the bracelet, thread on your remaining crimp bead and the tag that your clasp will attach to. Repeat step one by looping the end of the beading wire back through the crimp bead and feeding it through the closest 4 or 5 beads to hide the end.
Step Five:
Pull the beading wire tight so that there are no gaps between your beads and that your tag is secured against the crimp bead – but without distorting the shape of your bracelet. Using your wire crimper, flatten the crimp bead and trim away any excess wire.
Congratulations! You now have a pretty addition to your jewelry box or a great gift for a loved one to enjoy!
How to Use Crimp Beads
Crimp beads are more functional than decorative, and you use them to hold your components (the clasp and the beads) in place. To secure the crimp bead, position it close to the clasp and squash it lightly using your wire crimper. You will need to flatten it to secure the wire from slipping back through the bead and undoing the loop, so use a good amount of pressure and tug lightly on the loop to make sure it is secure.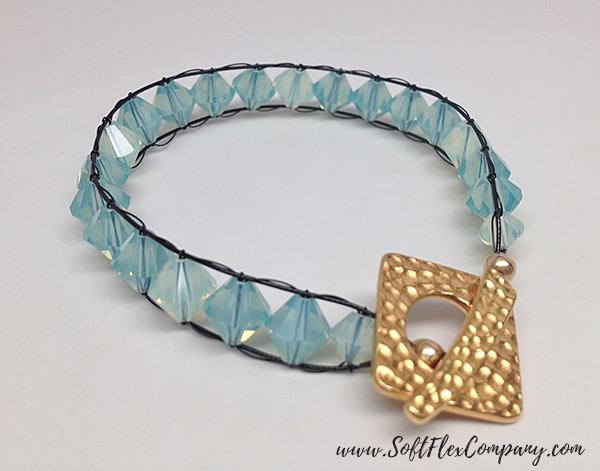 Woven Wire Macramé Bracelet by Sara Oehler
What are Crimp Tubes For?
Crimp tubes are similar to crimp beads and are used the same way. You can spot the difference just by looking at them – the crimp beads will be rounded and bead like, while the tubes will be longer. Some people prefer to use beads and others find using tubes easier, so try out both options to see what suit you. Make sure you are selecting a high quality crimp. A poorly made base metal crimp is going to hurt your design.
Crimp Beads vs. Crimp Tubes
So, should you choose crimp beads or crimp tubes when making a bracelet? It really comes down to personal preference but often the tubes have a thicker wall than crimp beads, so they are usually recommended for jewelry that is heavier or that you really want to last a long time.
What is the Best Size Crimp Bead to Use?
Crimp beads and crimp tubes come in a range of sizes, but the best size to use will depend on the diameter of your beading wire (or stretch cord if you are making stretch bracelets). The diameter of the crimp should be slightly bigger than the diameter of the beading wire, but not too big or it is more likely to split. You also need a wider diameter crimp bead or tube if you are making a multi-strand bracelet, so that it fits several strands snugly. If you would like to see what we suggest at Soft Flex Company, follow this link for the diameters we suggest for each crimp size.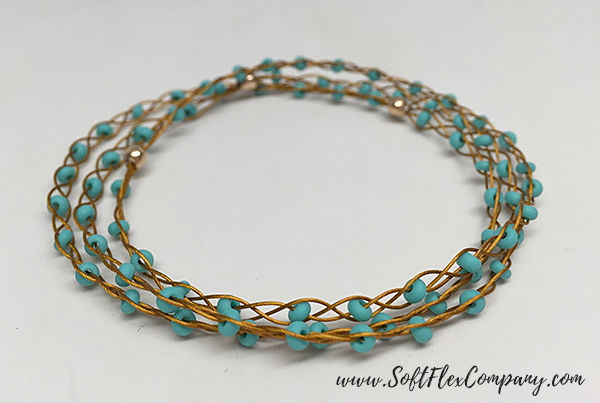 Summer In The Sun Bangle Bracelets by Sara Oehler
Best Bead Ideas
As you can see, homemade bracelets are an easy and rewarding crafting project. Here is some inspiration from our team to expand your collection of beaded bracelets.

The Evening Look:
Going to a glamorous Christmas or New Year's event? Your homemade tennis bracelet will look just like the real thing! Thread a single strand of high-quality cubic zirconium for an elegant look or go for pure sparkling style with multiple strands. Use a delicate filigree silver or metal clasp to finish it off.
Bracelet Stacks:
Few things are as pretty or as eye-catching as a stack of delicate sing-strand bracelets worn together! Think of a color pallet palette when you start shopping, and approach it like a patchwork quilt – they all need to go together in the end, but they should not be the same. Pick beads of different shapes, colors, shades and material, and bring them together differently on each bracelet to combine pattern and plain. It is a versatile favorite that suits any occasion and so fun to make!
Color-Block Bracelets:
Bold and trendy, color-block bracelets combine the season's hottest colors in different sections. Go for chunkier beads and bright colors to get this look and use a simple clasp to complement this modern style. While these bracelets look great in complimentary colors (like blocks of greens and blues), they make a real statement when you pick a pop of contrasting color.
Natural Beauty:
Nature is always a fantastic source of inspiration when you are looking for your next jewelry project. Think of stacks of bamboo bracelets in natural colors, bold lava rock beads to add some contrast, and antler beads to add visual interest.
Go Eco-Friendly:
Going green does not mean giving up your jewelry! From re-using vintage beads to choosing recycled glass beads, there are beautiful and creative options for earth-friendly jewelry – and that is not where it stops. There are eco-friendly beading wires that you can use too!
Multi-Strand Bracelets:
You can take your design to the next level by combining strands together and wrapping them for a complex, rope-like effect. One good idea is to have a single, bulky strand – of black lava beads, for example – and wrap it with two delicate strands of metallic or glass beads.
Themed Bracelets:
Bracelets can be themed through color, design, or bead types. Red, green, and white with Santa pendants make a fun Christmas bracelet;, green and blue beads with a starfish charm are perfect for a seaside holiday memento;, and autumn colors with a pumpkin charm are an easy Thanksgiving gift.
Friendship Bracelets:
If you are like me, some of your fondest childhood memories are linked to friendship bracelets! Nostalgic and fun to make, these are a wonderful gift for a birthday or special occasion that will lead to a trip down memory lane. Choose your friend's favorite colors and let your memories inspire you as you select charms, pendants, gemstone beads, and character beads. Think about the holidays, experiences, and memories you have made together.
Kids' Bracelets:
One of the most wonderful benefits of crafting is what a bonding experience it can be! Making bracelets together is a great creative activity to share with kids, whether they are your own children, if you are a beloved aunt or a teacher with a whole class full of kids. Even kids who are quite young can join in because there are no needles involved, and you can crimp the ends for them in advance. Let them choose their own beads and patterns and encourage them to tell you a story about what they are making – it has guaranteed to make imaginations soar, and they will have a beautiful memento to remind them of a fun day. Stretch Magic is a great option for children.
Mixed Materials Bracelets:
While simple bracelets look great, the sky is really the limit when you are making homemade bracelets, so don' not hold back! We have seen some beautiful bracelets that combine vintage glass beads with pearls, which combine bamboo beads with glass, and bring together some surprising textures and colors in exciting, unique ways.
Beaded Bracelets For Men:
Who says the special guy in your life cannot enjoy a handmade bracelet too? There are plenty of ideas for men's homemade bracelets online, but the biggest inspiration is already there in how you know him! Think of beads that may appeal to him – a single chunk of recycled glass on a leather strap, embossed silver beads with Aztec details and turquoise inlay, or a band of deep onyx. If the man in your life loves sparkles, do that too! Earthy colors are always a good choice. Bone, shell and wood are timeless ideas for surf jewelry. Peitersite and Lapis are very masculine choices for the fellow that loves gemstones.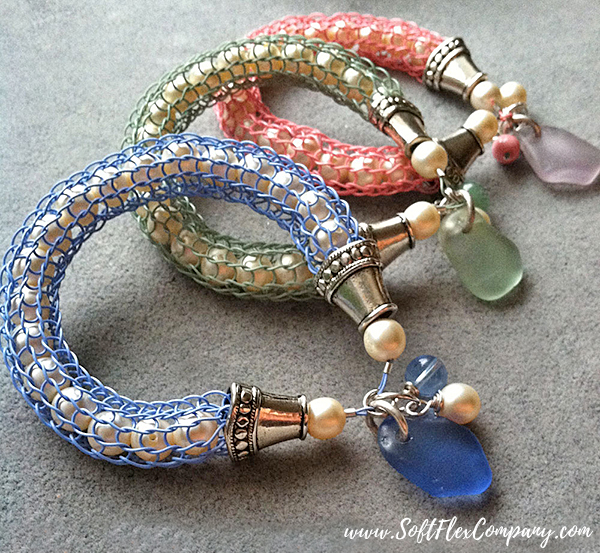 Knitted Bangles with Sea Glass & Pearls by Kristen Fagan
We have everything you need to create your next bracelet. Be it a simple single strand piece or a glorious knitted bracelet dripping with beads – we have it all. Visit our online shop and check out our selection. We have gemstones of all shapes and sizes. We have beads to fit every budget. We have a rainbow of color beading wire. We have all of the components and tools to fill your jewelry box.
We are a company that loves to bead. All of our employees are active jewelry designers. We want to educate you. If you have any questions, please call us or email us. We have friendly staff just waiting to talk to you.
Find us on social media. We have a presence on YouTube, Facebook, Instagram, Pinterest, and Twitter. We are always creating new videos and content. We have tons of free beading project ideas. Let us be your muse!
We would love to see your finished bracelets. Join our Facebook group – VIB. Post your finished pieces. We have a fun community of talented beaders that love to support each other and give each other jewelry tips and advice.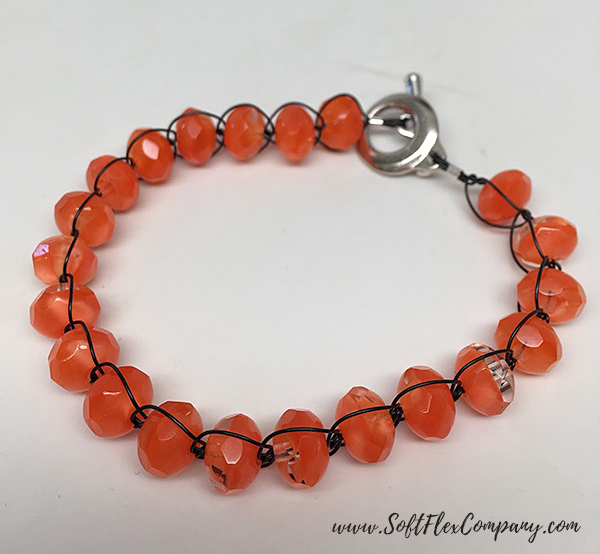 Knotted Soft Flex Beading Wire And Beads Bracelet by Sara Oehler
Visit the Soft Flex Company YouTube Channel!


---
Blog contributor Thomas Soles is the Trade Show Coordinator for Soft Flex Company. His favorite stones are Lapis and Pietersite. His favorite hobby is day dreaming. And his favorite mustache is Tom Selleck's. As you can see, he has a healthy (or possibly unhealthy) sense of humor. You can write to him at Thomas@SoftFlexCompany.com