Are you ready for winter to finally be over? At Soft Flex Company, we are all excited for the leafy palette of spring. The cold blues and whites of winter are elegant and wonderful, but the grassy splendor of green is a welcome change. Today, we are revisiting one of our archive articles. Melissa J. Lee had some lush ideas for summer jewelry that we think are fantastic for St. Patrick's Day, too. Would you like some jewelry making ideas for spring? Join us for a fun look at organic green jewelry.
Before my son was born and before I met my husband, I used to work fairly long hours at the job I held at that time. It was tiring, and I had a tendency not to notice much in the evenings beyond dinner and maybe a couple chapters of a mystery novel I read to unwind before sleep. Although, I was aware of the turn of seasons as each arrived, I was never really inspired by them.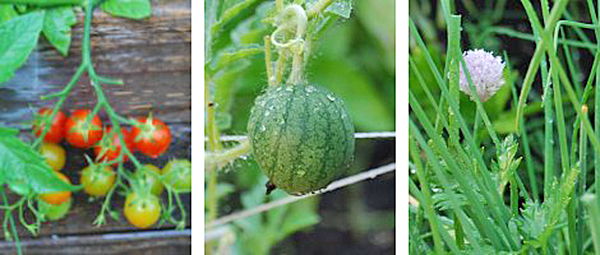 As corny as it may sound, all of this really changed dramatically once I had a family of my own. For me, now, summertime is bursting with color, especially the rich shades of green - the gentle spring green and the deeper, more robust green that appears everywhere around this time of year where I live.

I have to admit - this interest is largely due to my husband's interest in gardening. He comes from a family of avid gardeners, and when we bought our house right before our son was born, he studied our backyard carefully and plotted out a generous space for a vegetable garden. Now, I have zero talent for gardening - sadly, I kill pretty much every plant I take a hand to - so my husband's garden always seems like a mysterious and magical place to me. It continues to fascinate me, and it is probably due to this that I equate summer with green to the degree that I do. The above photos are all shots of our garden from last summer. (As I write this, our current garden is filled with energy - the seeds are sprouting and the seedlings are taking root. The garden boxes are not yet overrun with green shoots and leaves, but they will be soon.)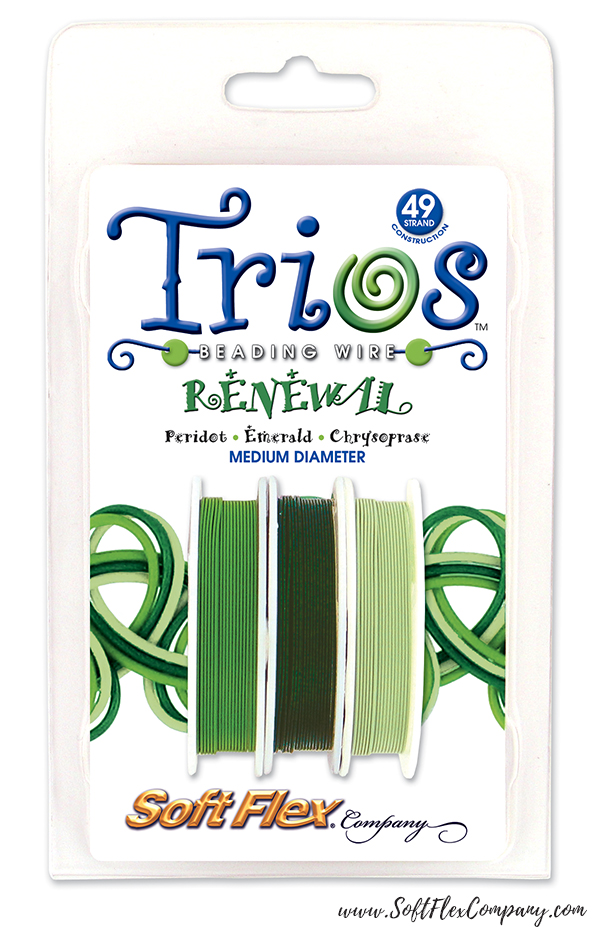 Find Free Beading Project Ideas using the Trios Renewal in our blog:
5 Rejuvenating Jewelry Designs You Can Make With Our Renewal Trios Beading Wire Packs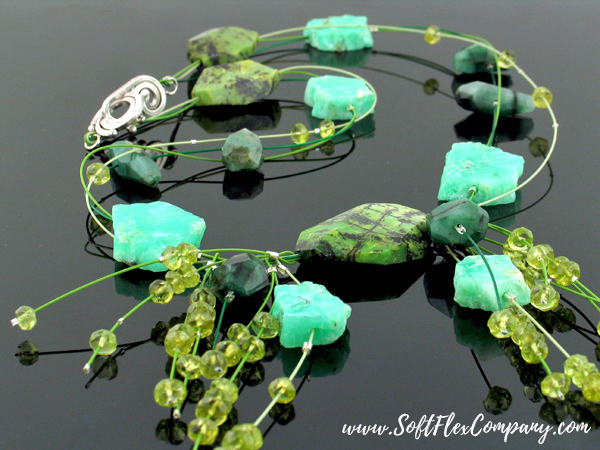 Naturally, much of my interest in color translates to varieties of green-toned jewelry at this time of year. I love the grass green shades of peridot and the more sea green chyrsoprase and often incorporate them into my summer designs. So it's not surprising that, when I was perusing Soft Flex's Trios line of beading wire, I would be immediately drawn to the Renewal set, with it's beautiful shades of green.
I thought I'd take the opportunity to experiment with this wire a bit, and have come up with three summery designs to show you. I hope they provide you with some inspiration as you work on your own summer pieces.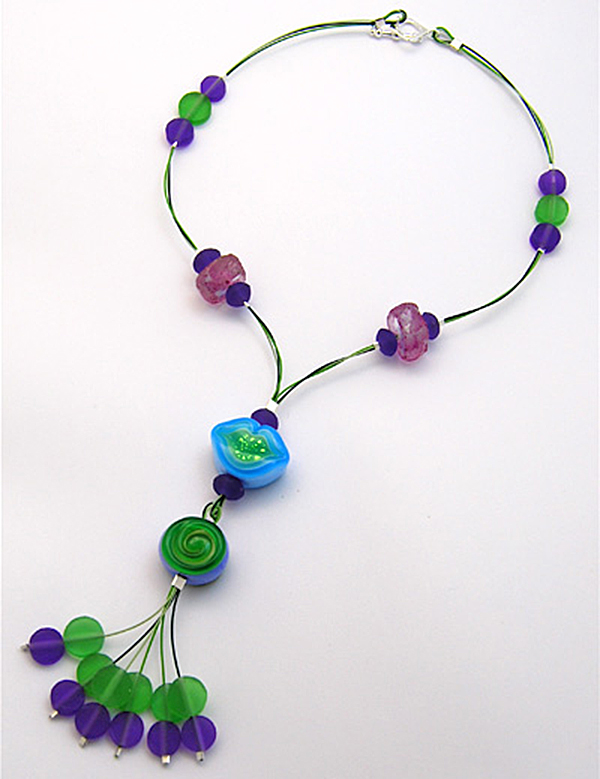 This first necklace, "Candy Kiss", incorporates lampworked beads by Sarah Moran. I often use leather cord when designing with Sarah's beads. I thought it would be interesting to use the Trios wire instead, to add even more eye-popping color to the design. I chose the color of the resin coins and rondelles to complement the wire.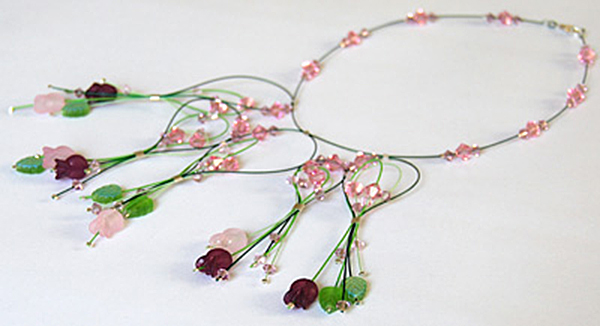 In creating this necklace, I worked with the concept of a delicate hanging garden. Here, the Trios wire stands in for flower stems and vegetation. Green, pink and purple is one of my favorite summer color combinations.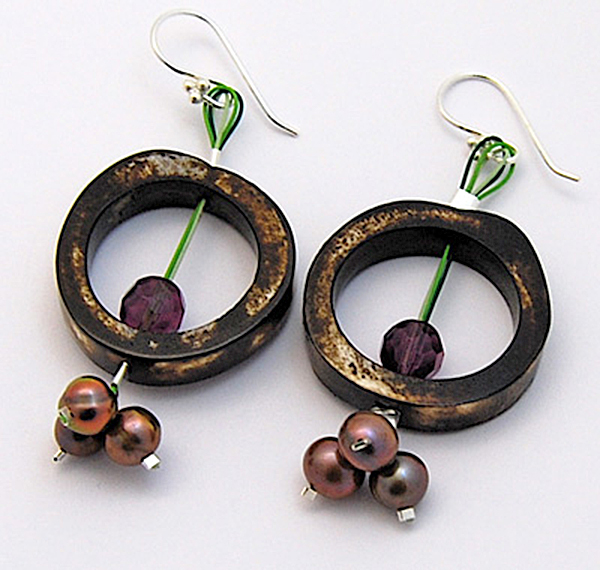 I thought these side-drilled bone beads would be perfect to frame colorful bits of Trios wire. The warm brown and maroon tones of the beads complement the shades of green in the wire.
Working with Trios Renewal wire is a wonderful experience. I love the fact that the wire is both functional and aesthetically pleasing. The impact of the color is also very delicate - just right for light, summery pieces. It makes adding a touch of green to a design perfectly easy.
Of course, best of all, the Renewal colors are just one of the beautiful Trios combinations available to designers. Hmmm, I think I'll try Serenity, next ...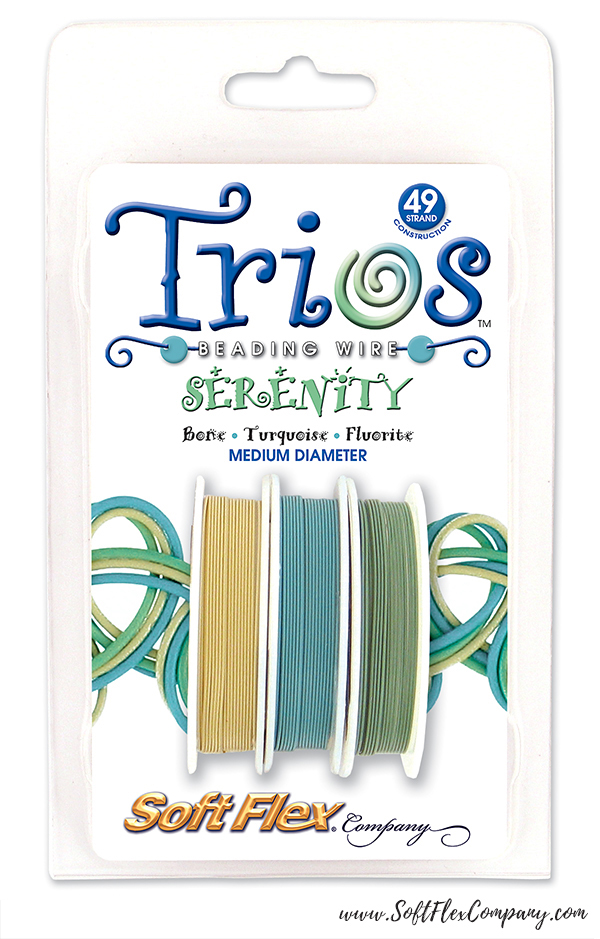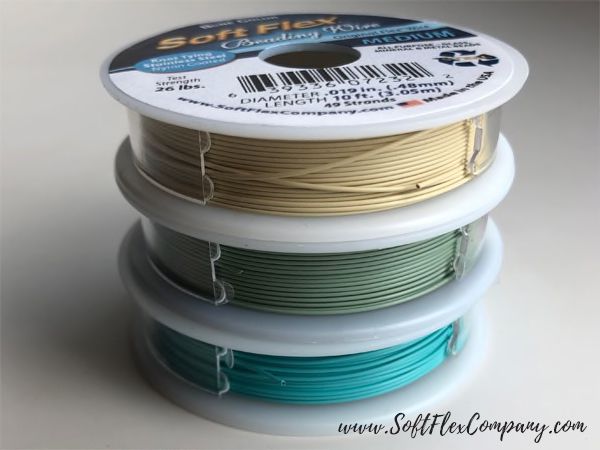 Find Free Beading Project Ideas using the Trios Serenity in our blog:
3 Gorgeous Projects For Your Trios Serenity Collection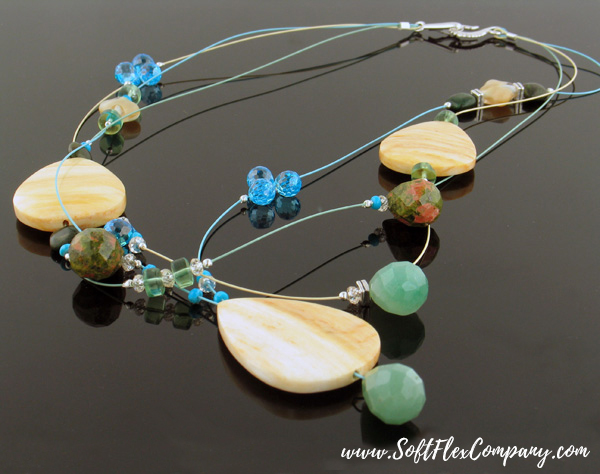 Join our Facebook group – VIB. Stay in the know. Stay up to date. From our bead shows to our video shows and sales, you can stay in touch with us. The community is full of artistic and helpful beaders and crafty people. Inspire and be inspired. Share your pictures and get the beading bug from others!

Visit the Soft Flex Company YouTube Channel!
---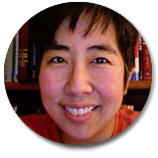 Melissa J. Lee started making beads from fine silver and designing jewelry when she left work to stay at home with her young son. Her work has been published in magazines such as Stringing, BeadStyle, Simply Beads, Bead Trends, Step by Step Beads, Creative Jewelry and BEADS 2009. She won first place in the Metal Clay category of the 2009 British Bead Awards and second place in the Beyond Glass, Handmade Beads and Components category of the 2009 British Bead Awards. She won second place in the Necklace category of the 2009 Bead Arts Awards. She was a finalist in the 2009 Bead Dreams competition and a finalist in Fire Mountain Gems' Beading Contest 2008. When not enjoying beady pursuits, she can be found spending time with her son, knitting or curled up with a good book.
Email: strandsofbeads@yahoo.com
Blog: http://strandsofbeads.blogspot.com