The simplicity of linked chain is effortlessly cool. Chain is timeless and full of jewelry design potential. If you have not worked with jewelry chain, we have a bunch of craft ideas for you. A chain necklace is easy to create and easy to finish with very few jewelry making tools. A chain tassel is an amazing way to enhance a piece of jewelry. Charm bracelets are back in style and have the potential to tell a wonderful tale on the wrist. Check out our thoughts on chain jewelry. We have tips and tricks for beginners and inspiration for the professionals.

Chain is loaded with symbolism. The interlocked links are a great gift for a loved one that is deeply interconnected with you and your life journey. The closed links are symbolic of infinity, another way to show a partner that your love is everlasting. The shiny bling of gold chain or silver chain can represent wealth and status. Chain can be a symbol of power, strength, and protection. Chain can tell a story between friends when charms are added. What does chain mean to you?
Add Chain to your beading supplies!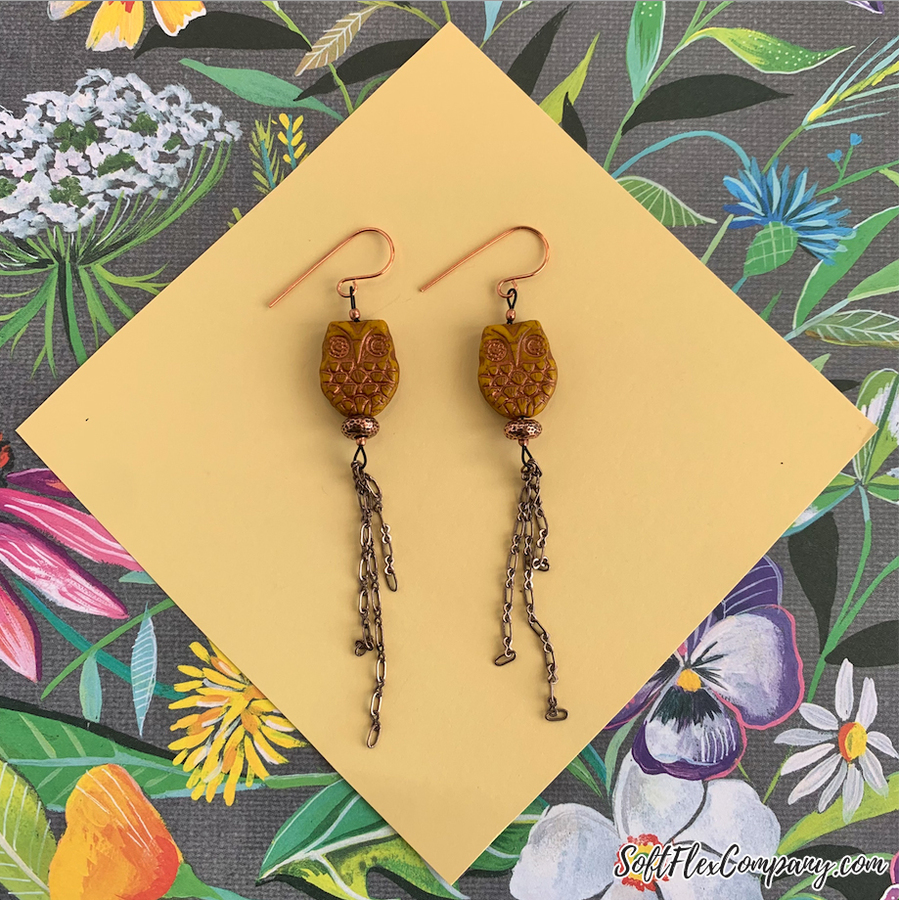 Handmade jewelry is easy to make with chain! Use a length of chain to create a bracelet or a quick necklace. Make a fashionable anklet. Add charms or a pendant to give your design a bit of flair. Finishing your jewelry is easy, simply add a clasp or a jump ring. Get creative and make a tassel with your chain. So many fun options!
Learn how to make this enchanting pair of owl earrings with a simple chain tassel.
Check out our 30 second jewelry tutorials on Soft Flex Company's Instagram Reels! Master a new technique in minutes. These videos move quick but are easy to follow. You will get a sense of how to use your tools and finish your crimps securely. If you need more assistance, make sure you check out our YouTube catalog for deeper dives into jewelry making education. Stand on the shoulders of giants and enhance your jewelry making knowledge in a flash!
Jewelry Chain Ideas For Every Designer And Tips You Need To Know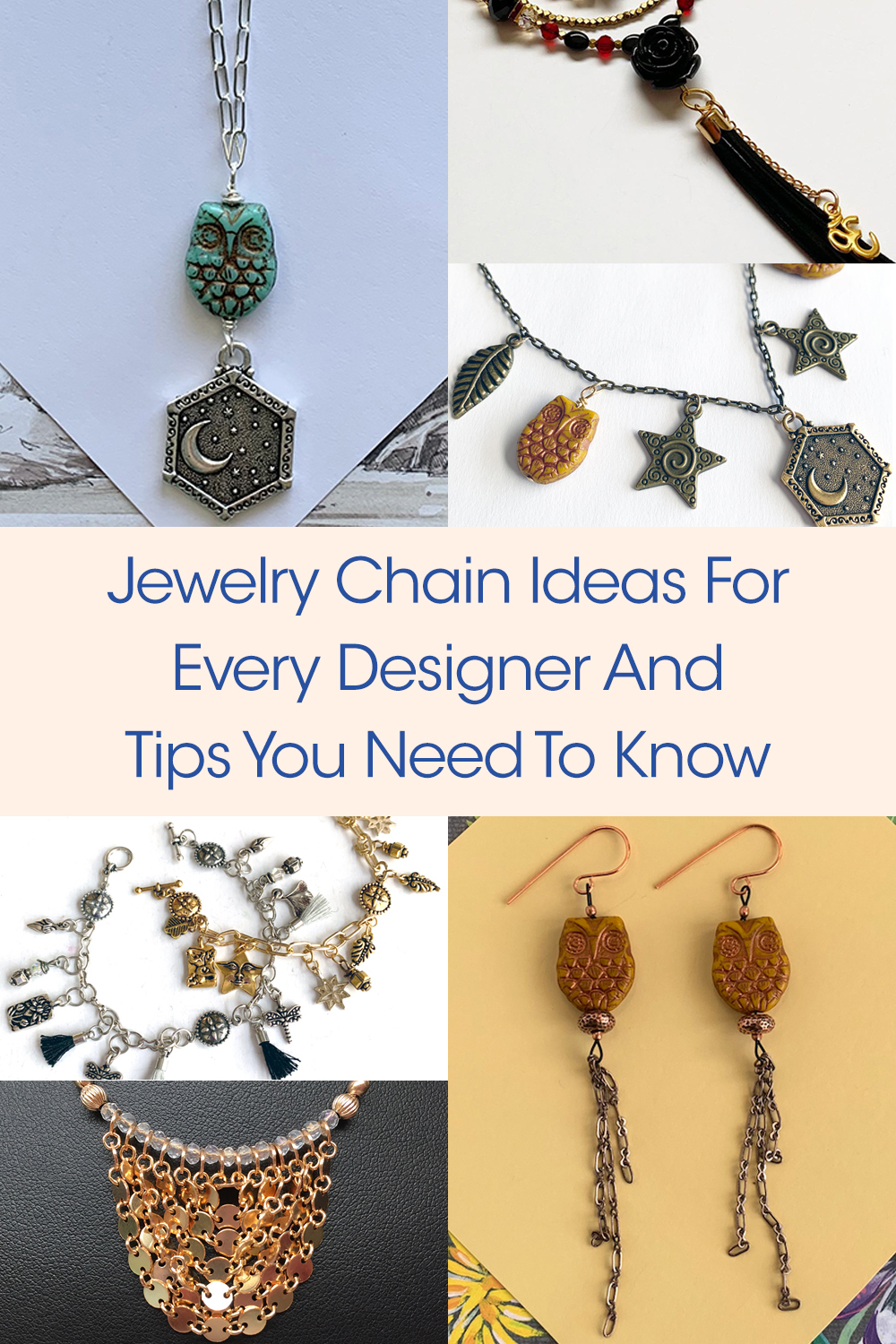 Why Do You Need Chain In Your Beading Supplies?
If you are like us, you are always looking for fun new ways to craft handmade jewelry. We love to try new things and expand our toolkit. A simple single strand necklace looks beautiful, but why not explore the possibilities that a mixed media design could add? Today we are looking at jewelry chain. Chain is so fun and easy. Add a dainty chain tassel to a necklace for an interesting pendant. Make chain earrings that sparkle in the sun. You won't believe how simple it is to add chain to a design and finish it.
Chain is versatile. The basic design is a simple necklace or bracelet. But there are so many other possibilities. You can add a length of chain to a beading wire design. Chain easily connects with a jump ring or crimped loop of beading wire. You can string your beads on chain if the channels of the beads are large enough. You can make an easy pair of dangling earrings with chain and a charm. We have lots of ideas for you. We will show you how to open and close jump rings along the way. We will show you how to wire wrap a simple connector with Soft Flex Craft Wire. All of these techniques are much easier than you would imagine and can make your next chain jewelry design look absolutely gorgeous!
Learn How To Make A Chain Necklace And Easy Jewelry Chain Project Ideas
This is your chance to learn some fundamentals. Sara filmed this video live on Facebook and YouTube after we received a new shipment of chain and charms for our shelves. She wanted to create a basic chain necklace with a simple charm pendant. If you are a beginner jewelry maker or are a bead stringer that is looking for other jewelry media to play with, this video is a great introduction. Sara shows you how to work with jewelry chain. She shows you how to add a charm with a jump ring. Learn how to create a simple connector with Soft Flex Craft Wire and add a bead to give the design a little pop. She also shows off other chain ideas that she has made over the years.
How To Make An Autumn Night Celestial Charm Necklace
Want to make some seasonal jewelry? Kristen showed us how easy it is to make a charm necklace that is lovely for fall. She grabbed an assortment of charms from TierraCast and some of our Czech Glass horned owl beads. Warm earthy tones and brass are always great for autumn and don't forget a little pumpkin spice to seal the deal! If you have never worked with a head pin or eye pin, this is your chance to see how to use one to dangle a bead from a necklace or bracelet. Head pins are invaluable if you have beads that have a channel that runs vertically down the bead, rather than through the side. The bead sits on the head of the pin and dangles beautifully. Jump rings are also essential when working with charms. It is easy to open and close a jump ring and Kristen is a great teacher.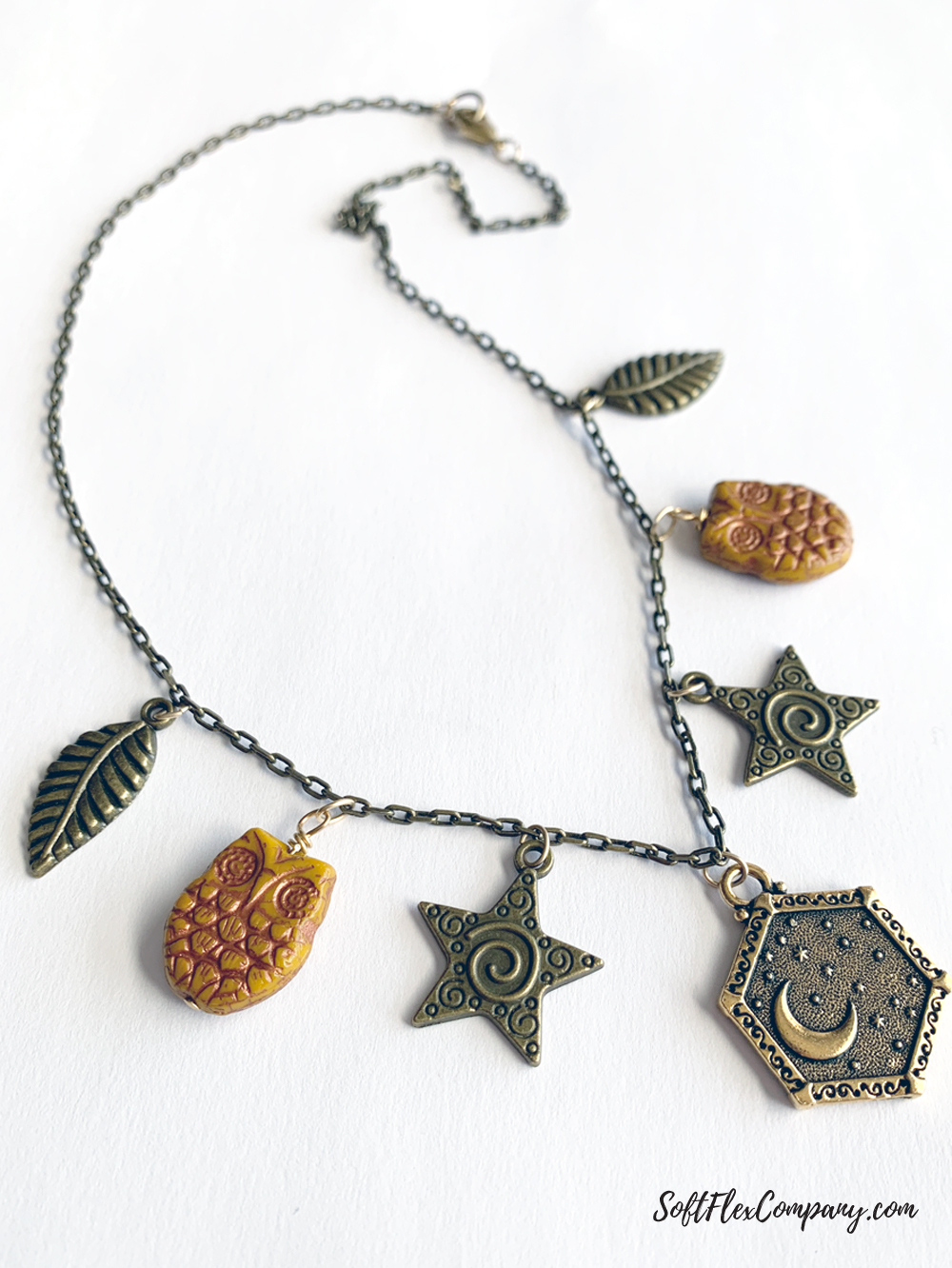 Knotted Necklace Focal And Pendant With Jewelry Chain Finish
This is a great mixed media design. Sara shows you how to string a unique design with Soft Flex Beading Wire and add chain to the necklace for an absolutely gorgeous finish. Sara chose a leaf pendant to give the design a warm autumn glow. This necklace is perfect for Halloween and autumn. If you want a fun new way to string your beads check out the video. Sara shows you how to knot between the beads on Soft Flex. Soft Flex is marine quality stainless steel, but it is so flexible and so resilient that you can knot the wire and not have to worry about it work-hardening and breaking! She then crimps her beading wire onto the chain. The knotted wire becomes a stunning focal piece with a lovely pendant.
How to Make a Simple DIY Charm Bracelet with Chain
Charms have been around as long as people have been making jewelry. Our early ancestors added charms that were natural and easy to acquire. Shell and bone were popular jewelry charms. As our predecessors grew more sophisticated and their jewelry more elaborate, they incorporated more exciting materials, like rock and gemstones. You may have made a charm bracelet or three in your high school years. Wearing a charm bracelet with hand selected charms was a great way to tell a story. A key might be found on a bracelet that held secrets. A cute little heart charm might be on a bracelet of a love stricken sweetheart. A cross or religious icon might be on jewelry that the faithful wear. What would you add to your charm bracelet?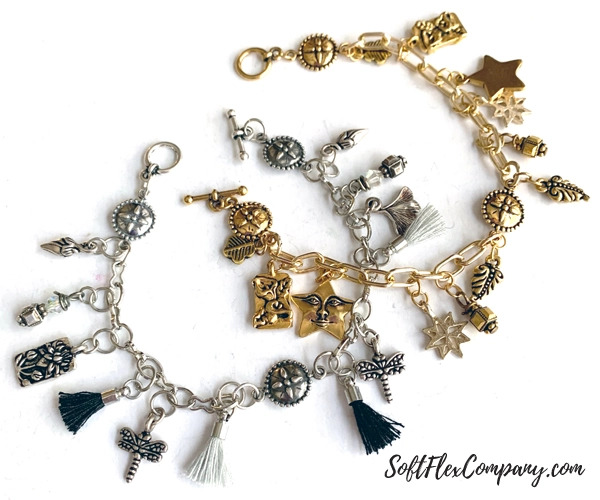 Kristen has a way with charms! These bracelets seem to glow and radiate with the unspoken words that great jewelry can impart. The silver and gold chain looks amazing layered atop each other. The collection of fun charms shows how elegant and amazing a well constructed charm bracelet can look! If you can open and close jump rings securely (it is really easy), you can make this lovely design in no time. Follow Kristen's easy to follow instructions and make your own! We would love to see what you make, share it with us on our Facebook VIB group!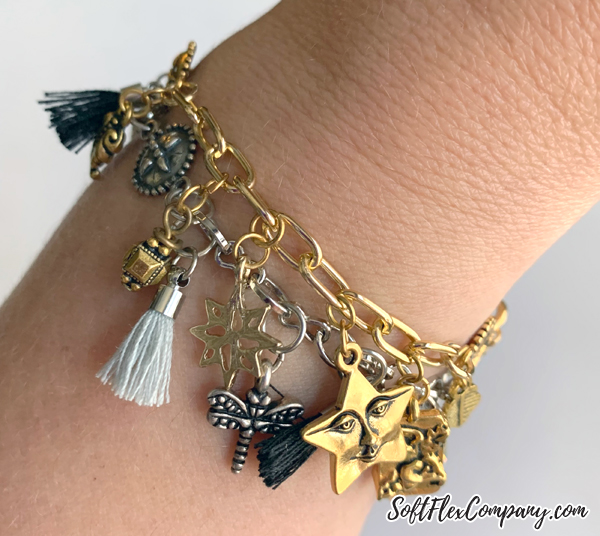 A Chain Dangle With A Charm Is The Perfect Accent To A Beautiful Design
Kristen is a bit of a free spirited Bob Ross. She creates a happy little piece of art. Just when you think her work is finished, she adds an amazing brush stroke that turns her canvas into a masterpiece! She had a multi-strand necklace finished with a beautiful black tassel. As she was looking over her work, she thought about adding an Om charm. For this charm, she added a length of gold chain that complemented the colorway of her necklace. The finished jewelry went from a gorgeous design to a wearable piece of art!
You never know when a little length of chain can do some heavy lifting on a design. Make a perfect necklace even better with a dangle and a charm. Chain is a great exclamation mark on your beaded poetry!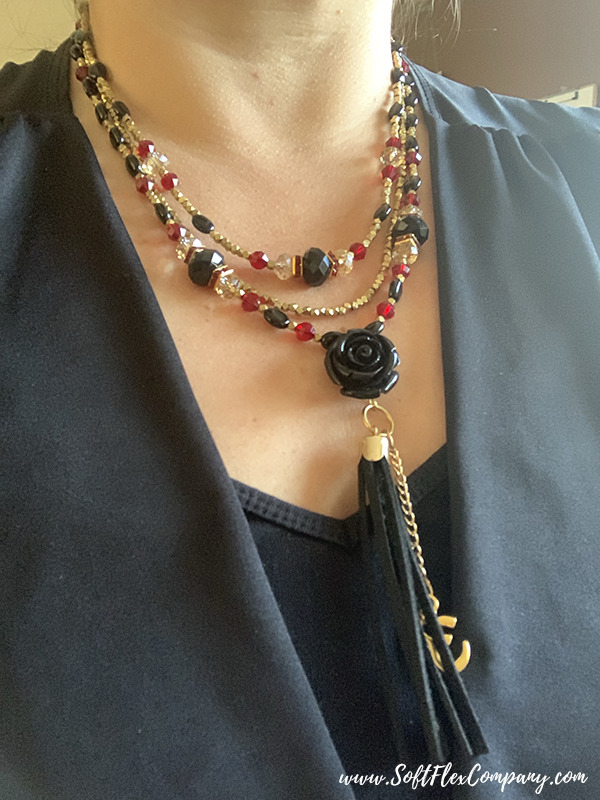 DIY Long Cluster Y Necklace With Chain & Boho Bead Earrings
Lots of lovely chain in this design! Kristen created a dangle using chain, a connector, head pins, and beads. She then used jump rings to connect the dangle to a chain necklace. This design is incredibly easy to craft and finish. This simple necklace requires very little supplies and time. If you have spare beads, like Kristen, you can create a pair of earrings to complement your new necklace.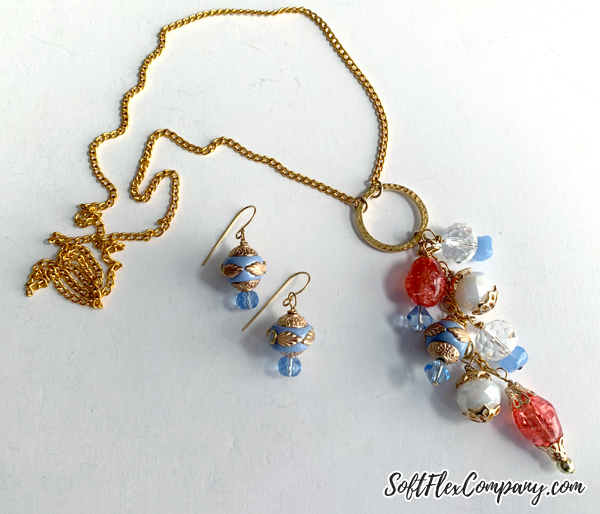 Look how fun this turned out! Change the color of your beads and make something seasonal. This would be a great autumn necklace if you go for earthy browns and jack-o'-lantern oranges. Go frosty blue and silver and you have a December necklace. Add some reds and greens and deck the halls! Chain has a fun tinsel look for holiday inspired crafts and jewelry.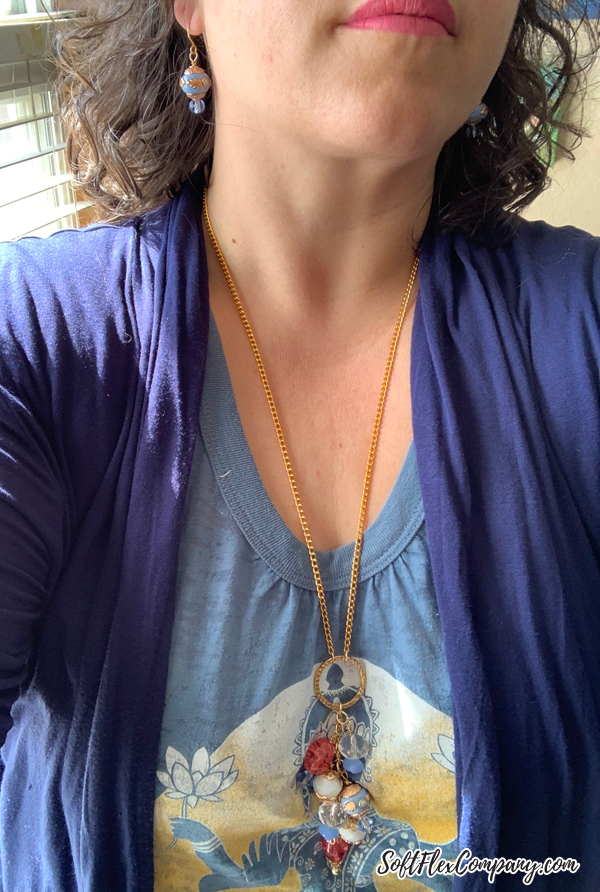 Don't Miss Our Plazko Chain Videos
Check out some of our older chain videos. We love Plazko chain. Plazko sells beading supplies, including Soft Flex Beading Wire. For this video, Sara unboxed a package from Plazko. She then made some jewelry with the goodies. If you love delicate jewelry, make sure you give this video a watch. Sara makes some really sweet pieces. She also takes us on a tour of the gallery at Soft Flex Company. Covid dampened the fun of gallery visits and tours, but hopefully someday soon we will be sharing smiles with our community again.
Soft Flex 24K Necklace Design Using Plazko Chain Variation 2
Chain is great for a focal on a necklace. In this video, Sara shows you how to string your chain like you would string beads. Beading wire gives the chain a layered look and allows it to follow a form. You are the boss of your chain! Show that chain how you want it to lay on the design and secure it in place. The finished look is elegant and lovely.
Soft Flex 24K Necklace Design Using Plazko Chain Variation 3
You don't need to spend big money on beading supplies to make jewelry that looks like it is worth a million bucks. This inexpensive and easy design looks like it would fit on an A List queen. Gold chain looks amazing and this delicate design is sure to turn heads. Play with your dangling chain patterns and make a necklace that fits your personality.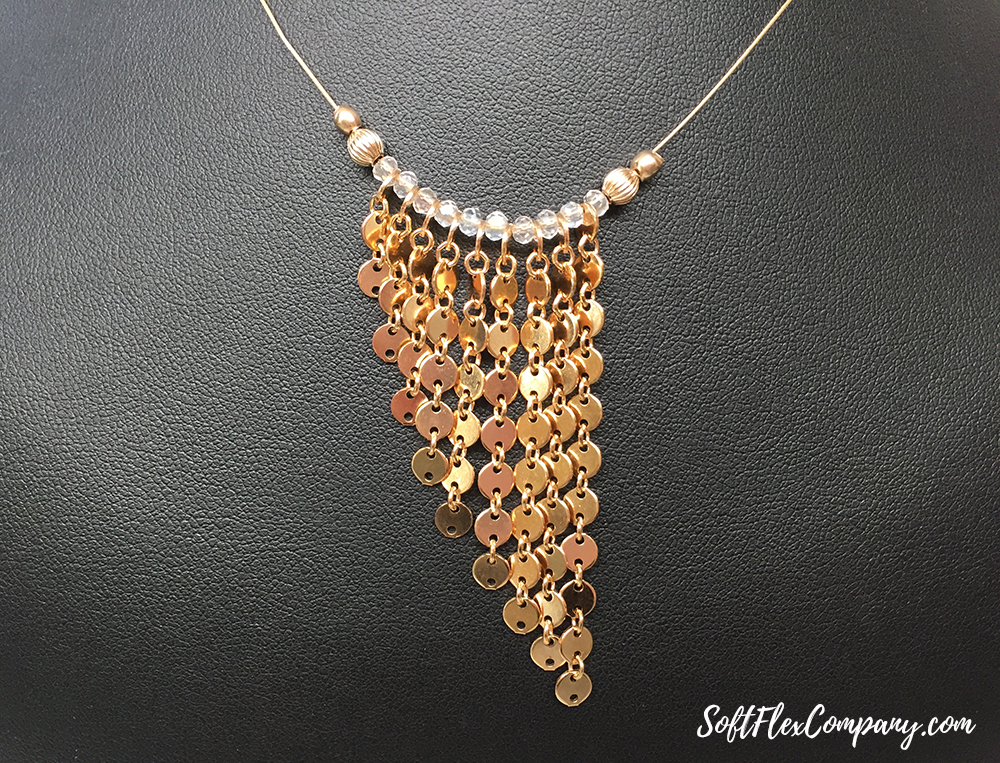 Soft Flex 24K Necklace Design Using Plazko Chain Variation 4
Learn how to make earrings with Plazko chain in this video. This design is a smaller version of the necklaces Sara made. This cute little set of chain earrings is the perfect pairing for a chain necklace. Gold and black are elegant ideas for New Years Eve. Get a jump start of festive jewelry that is graceful and wonderful for any sophisticated occasion. High class does not have to me top dollar!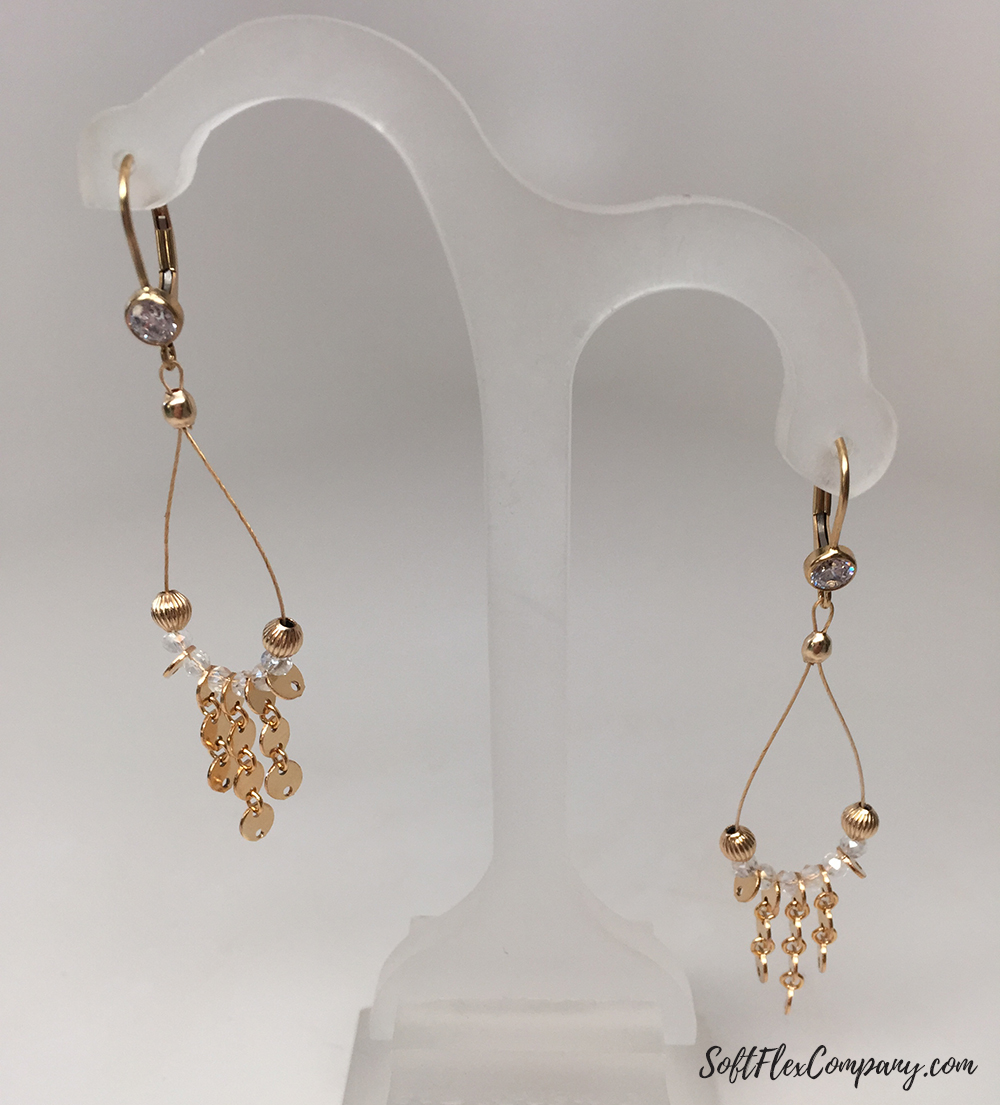 Join our Facebook group – VIB. Stay in the know. Stay up to date. From our bead shows to our video shows and sales, you can stay in touch with us. The community is full of artistic and helpful beaders and crafty people. Inspire and be inspired. Share your pictures and get the beading bug from others!
Visit the Soft Flex Company YouTube Channel!
---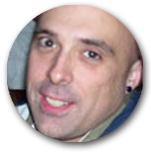 Blog contributor Thomas Soles loves Jazz Age writers and crunchy french fries. His favorite gemstones are Lapis and Pietersite. His favorite hobby is day dreaming. And his favorite mustache is Freddie Mercury's. As you can see, he has a healthy (or possibly unhealthy) sense of humor. You can write to him at Thomas@SoftFlexCompany.com