Autumn is going to be here next month. We are all ready for a break from the heat. Right now is a good time to think about your fall jewelry collection. Today, we are looking at a Margie Deeb article that discusses fall colors. She offers a surprising color accent that will make your jewelry look amazing. This color accent complements fall colors and every skin tone! You do not want to miss this short blog!

We love Margie Deeb's intimate knowledge of colors and we wanted to re-share some of our archive articles she has written for us. Margie is an incredibly talented artist, designer, and author. Follow along on her color journey. Let's all become students of color!
Below, Margie discusses how to use a fun color accent to make your fall jewelry look absolutely divine!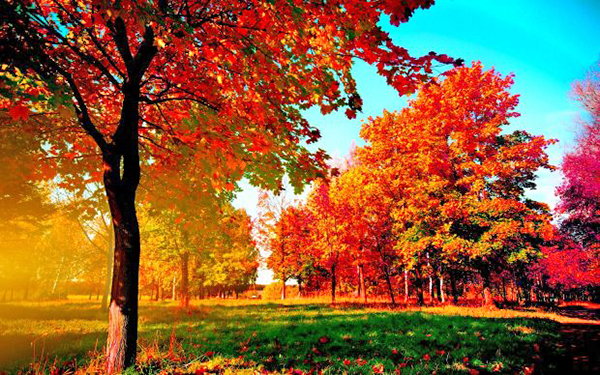 It's time to pull out gorgeous autumn colored gemstones and glass beads. Beads in rich shades of honey and amber, russet and pumpkin, wine and maroon, hunter and forest green and every shade of brown imaginable, from chocolate to black coffee. In gemstones, make sure you include Jaspers and Agates, Citrine, Carnelian, African Brown Rhyolite, Hematite, Obsidian, Aventurine, Malachite, Olivine, Tourmaline, Serpentine, Jasper, and Unakite.

Be sure to include the must-have metals of the season: copper, bronze, silver, and gold. Metals are essential to this earth-based season. Autumn inspired beadwork should give off a burnished glow, so weave radiant gold and/or warm bronze into every palette. The sheen of copper beautifully augments autumnal greens and blues.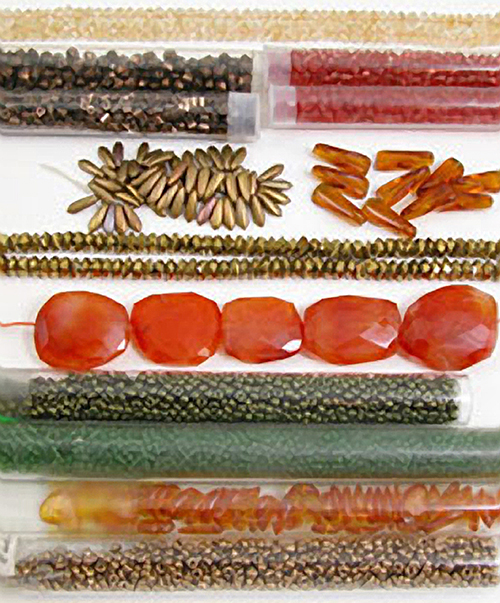 Autumns palettes are gorgeous...
Still missing is an important color that everyone overlooks in this season – a color that can make any autumn palette absolutely divine. Yes, Turquoise, that tone somewhere between blue and green, slightly darkened with its charcoal grey matrix.That sublime hue that looks good on every skin tone.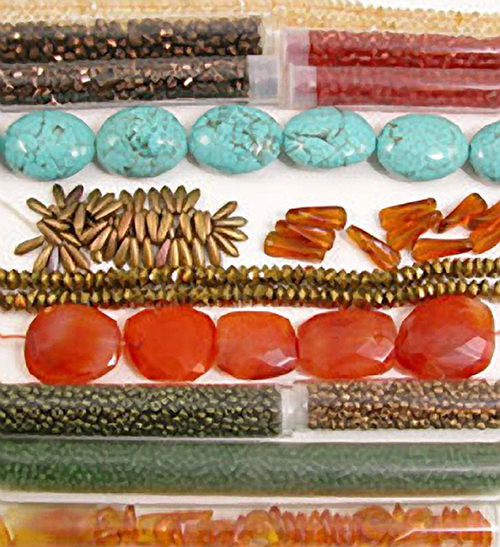 ... the addition of turquoise makes them divine!
Turquoise finds its way into every seasonal palette with only slight shifts. In seasonal color analysis one's subjective colors correspond to the colors of nature's seasons (I explain this in detail in The Beader's Guide to Color). Those with winter leanings (lovers of high contrast and saturation such as myself) love a pure turquoise. Those of the spring season love it pure and bright. Those of summer like turquoise gently tinted. And those of the autumn season love it in any variation.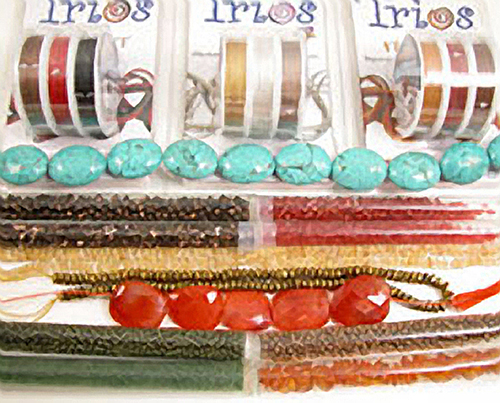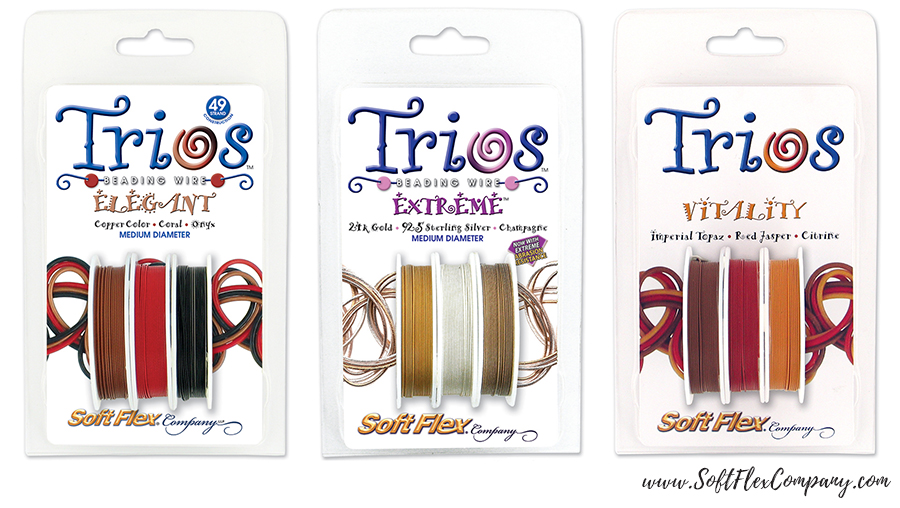 Three Soft Flex Trios Beading Wire Sets perfect for autumn: Elegant, Extreme, Vitality.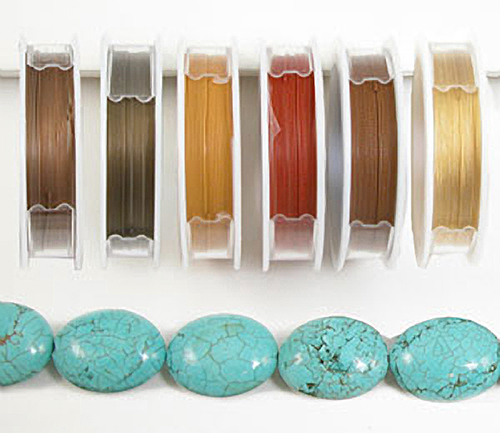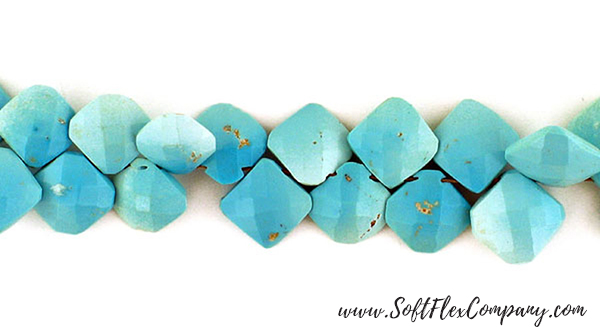 So, don't forget the Turquoise in your autumn creations. It will heighten the drama, the contrast, and the beauty of your beadwork.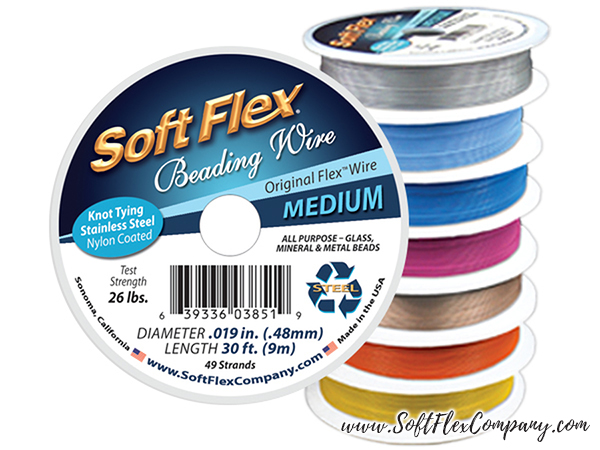 My Soft Flex Beading Wire color recommendations for the season (from left to right) Citrine, Antique Brass Color, Butterscotch Imperial Topaz, Red Jasper, Copper Color, and 24k Gold Plated. And don't forget the Turquoise!

Join our Facebook group – VIB. Stay in the know. Stay up to date. From our bead shows to our video shows and sales, you can stay in touch with us. The community is full of artistic and helpful beaders and crafty people. Inspire and be inspired. Share your pictures and get the beading bug from others!

Visit the Soft Flex Company YouTube Channel!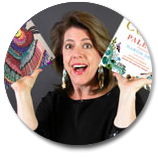 Artist and color expert Margie Deeb is the author of The Beader's Color Palette, The Beader's Guide to Color, The Beader's Guide to Jewelry Design and numerous beading and color publications. She teaches color and beading across the country and her free monthly color column, Margie's Muse, is available on her website. She writes regularly for Beadwork, Bead & Button, and Step-by-Step Beads magazines.
Visit Margie's website for her books, kits, patterns, jewelry, inspiration, and more: www.MargieDeeb.com