Do you know how composition affects your jewelry designs? Composition is the balance of color, contrast, and kinetic intrigue. Composition is the careful arrangement of the beads on your design. You must understand balance if you want your work to be visually stimulating. Masters of composition can create stunning pieces that challenge the viewer but look effortless. Learn how to make the most of your beads with composition.

We love Margie Deeb's intimate knowledge of colors and we wanted to re-share some of our archive articles she has written for us. Margie is an incredibly talented artist, designer, and author. Follow along on her color journey. Let's all become students of color!
The colors Margie discusses in this blog are complemented with our Serenity Trios Beading Wire Pack. Trios Wire is a lead-free beading wire for designers that want to create jewelry with color mixing in mind. Trios Color Wire Sets encapsulate the vivid palette of nature and the glamour of the fashion world. Trios Color Wire Sets are comprised of three 10 foot spools of Soft Flex Wire, the wire is constructed of 49 micro woven stainless steel wires.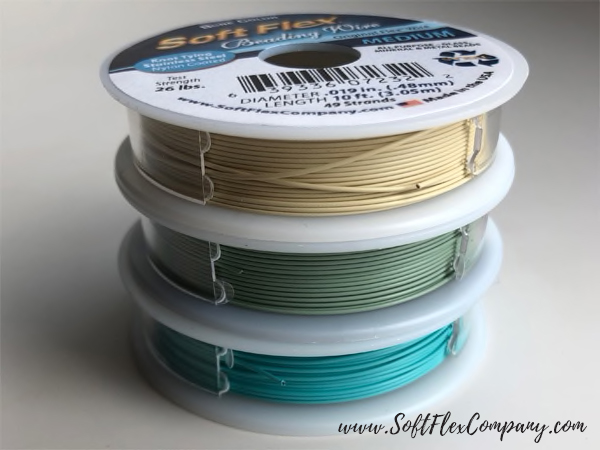 Below, Margie discusses composition and balance. Understanding how to structure your jewelry designs will make your work much stronger. Focus on balance in your next necklace.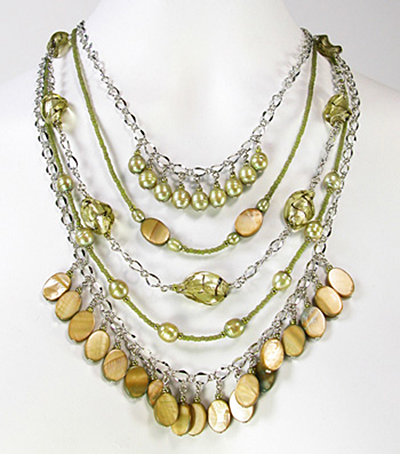 Jamie Cloud Eakin's multi-strand necklace balances all components
into a beautiful composition illustrating the color DRIED HERB, from
the Spring/Summer 2010 Color Report for Bead & Jewelry Artists.

My favorite necklace in the Spring/Summer 2010 Color Report for Bead and Jewelry Designers ...

...is not the most complicated
...did not require the most technique
...did not take the most time
...is not anywhere near my favorite colors

It is this multi-strand by Jamie Cloud Eakin (author of Beading with Cabachons and Bugle Bead Bonanza) created to illustrate the spring color, DRIED HERB.

The reason why I'm crazy about this necklace is because of her very thoughtful use of materials, their placement, and the gorgeous draping. Let me explain. The balance of metal and glass beads is beautiful, offering just enough contrast to satisfy me visually.

She carefully controlled and balanced where each major bead or grouping of beads is placed so that all 5 strands share the spotlight, making a unified whole. No strand competes with the other.

She hung the various beads in different ways, adding visual and kinetic (how it moves) intrigue. But not so much that its too busy.

This necklace is a beautiful example of balance in every way. Like a true master, Jamie makes it look so easy, so simple. Like those figure skaters who glide backwards on one foot while the other points toward heaven. It's that easy to create a necklace this beautiful!

As for color, DRIED HERB, a neutral color tinged with green, reminds me of the desert and its wind-blown weeds. It's a dry color in contrast to the moist dewiness of spring. Used in monochromatic schemes it puts forth a subdued intrigue. Used as a neutralizing accent it calms and unifies a palette, creating a bridge between dissimilar tones.

Because colors on computer screens vary based on the graphics card, the browser, and the monitor used in your system, for true color accuracy consult the Pantone Fashion & Home Guide.

My Spring 2010 Color Report for Bead & Jewelry Designers demonstrates more examples of this and the other 9 colors used in combination for beautiful jewelry in lush, springtime palettes.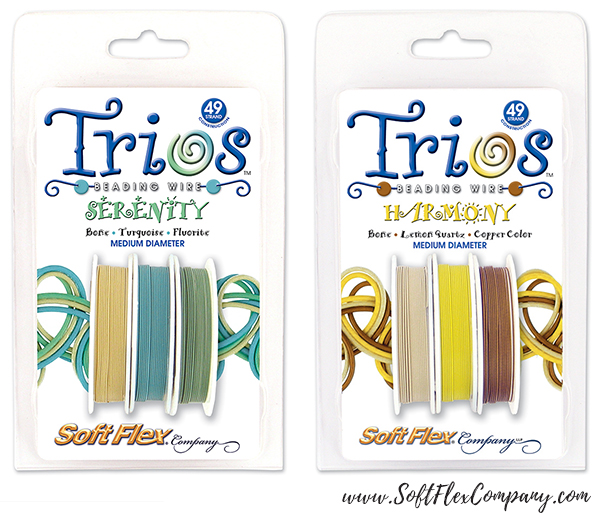 Suggested Soft Flex® colors to use with beads and stones that reflect the DRIED HERB color of the season: Bone, Turquoise, and Fluorite (found in the Serenity Trios), and Copper (found in the Harmony Trios).
Join our Facebook group – VIB. Stay in the know. Stay up to date. From our bead shows to our video shows and sales, you can stay in touch with us. The community is full of artistic and helpful beaders and crafty people. Inspire and be inspired. Share your pictures and get the beading bug from others!
Visit the Soft Flex Company YouTube Channel!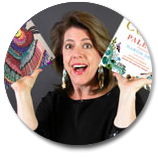 Artist and color expert Margie Deeb is the author of The Beader's Color Palette, The Beader's Guide to Color, The Beader's Guide to Jewelry Design and numerous beading and color publications. She teaches color and beading across the country and her free monthly color column, Margie's Muse, is available on her website. She writes regularly for Beadwork, Bead & Button, and Step-by-Step Beads magazines.
Visit Margie's website for her books, kits, patterns, jewelry, inspiration, and more: www.MargieDeeb.com