Want to add a little magic to your handmade jewelry this holiday season? Today, we are going to look at textures and color. We all have an idea of how traditional holiday jewelry should look - when we think of color. But a lot of us may overlook the textures when we are stringing beads. Color is great. But when we add interesting textures, we create a feast for our hungry eyes. Let's look at how color and texture are essential elements for holiday jewelry making magic!

We love Margie Deeb's intimate knowledge of colors and we wanted to re-share some of our archive articles she has written for us. Margie is an incredibly talented artist, designer, and author. Follow along on her color journey. Let's all become students of color!
Below, Margie discusses how texture and color are equally important details to consider when designing holiday jewelry. You may have an eye for color, but real jewelry making wizardry lies in pairing your color with sumptuous textures. What to make this season dazzle? Read on and learn how to plot out the most wonderful jewelry of the year.
Holiday jewelry calls for two kinds of texture that, when combined, create sumptuous elegance.

Facets. Faceted beads, like the red ones in the photo, are a must: they coruscate, tossing flashes of light all around. Faceted beads have a visual crispness full of edges, points, and lines of light.

Pearls. Smooth, and silky, pearls seem to glow softly from within. Theirs is a quiet radiance.

When juxtaposed against the linear sharpness of facets, pearls create a textural contrast. Contrast is always a point of interest. Combine these two opposing textures for luxurious elegance that is beguiling.

As for color, here's a holiday palette limited in hue and rich in texture (see photos). Gold, white, and red is a 3-member classic. Its the textures that make this simple palette gorgeous. Notice how your eye delights in the intrigue created by the various surfaces as they play against each other. For more textural interest, how about some gold chain?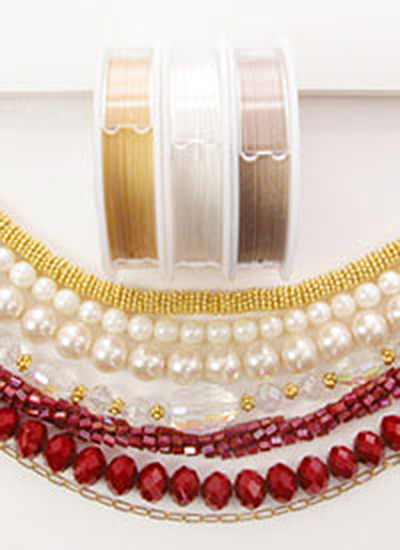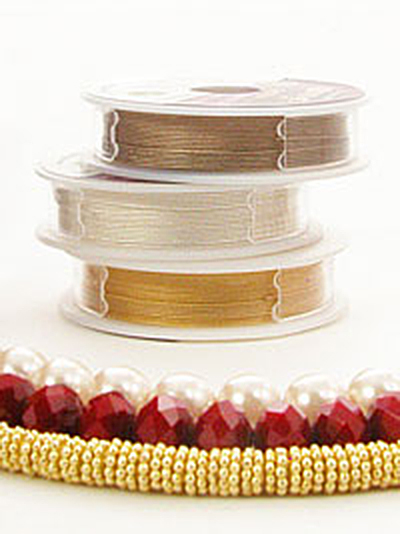 Any of the colors in the Trios Extreme Beading Wire Set - 24k Gold Plated, 925 Sterling Silver Plated, and Champagne - enhance the gold/white/red holiday palette. Their colors and metallic finishes harmonize beautifully.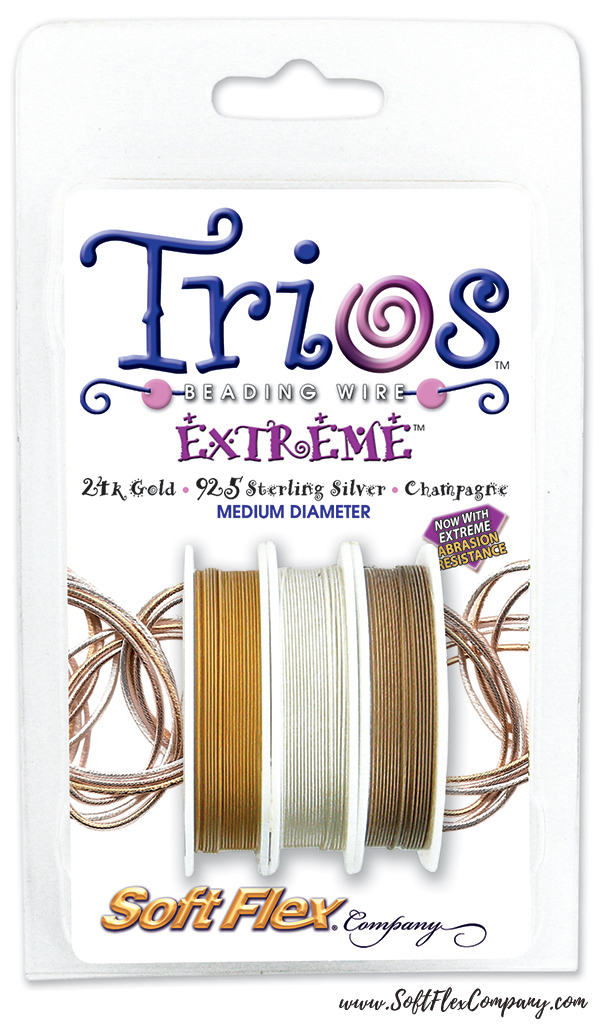 Lavish your holiday jewelry with contrasting texture and metallic opulence.
Join our Facebook group – VIB. Stay in the know. Stay up to date. From our bead shows to our video shows and sales, you can stay in touch with us. The community is full of artistic and helpful beaders and crafty people. Inspire and be inspired. Share your pictures and get the beading bug from others!

Visit the Soft Flex Company YouTube Channel!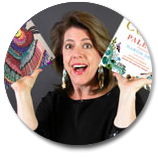 Artist and color expert Margie Deeb is the author of The Beader's Color Palette, The Beader's Guide to Color, The Beader's Guide to Jewelry Design and numerous beading and color publications. She teaches color and beading across the country and her free monthly color column, Margie's Muse, is available on her website. She writes regularly for Beadwork, Bead & Button, and Step-by-Step Beads magazines.
Visit Margie's website for her books, kits, patterns, jewelry, inspiration, and more: www.MargieDeeb.com