Let's make things interesting this holiday season. It is time to unlearn the unwritten rule that you cannot mix metals when wearing jewelry. Margie Deeb is going to tell us how to make the holidays glamorous with warm and cool metal tones. Forget the Ho-Ho-Holiday colors you always wear and show off your chic side. Mixed metals are sumptuous, stately, and perfect for this time of year.

We love Margie Deeb's intimate knowledge of colors and we wanted to re-share some of our archive articles she has written for us. Margie is an incredibly talented artist, designer, and author. Follow along on her color journey. Let's all become students of color!


Soft Flex Extreme Wire is the world's first eco-friendly beading wire. Soft Flex Extreme Wire is a beading wire, free of heavy metals, for designers that want to add sparkle and shine to a piece that exposes the wire. Soft Flex Extreme Wire will not tarnish and is great for free floating necklaces and pendants. Soft Flex Extreme Wire is constructed of 1x19 micro woven metal alloy wires. It is supple enough that it can be knotted and comes in 3 radiant colors. We recommend Soft Flex Extreme Wire for designers that want to be 'green' and desire a high quality wire for high end jewelry.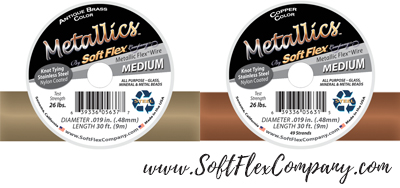 Ignite your creative fire and turn that attic treasure into a professional piece of jewelry. Don't trust that family heirloom on anything but the best. Soft Flex Metallics Beading Wire is constructed of either 21 or 49 micro woven stainless steel wires. Metallics is supple enough that it can be knotted and comes in Copper and Antique Brass Colors. Try a new project or turn an old skeleton key into a wonderful focal bead. Metallics lets the technology of today reinvigorate the findings of yesterday!
Below, Margie discusses how to mix metals to make a statement for the holidays. Pick a metal as a dominant color and complement it. Remember to make things visually appealing by varying textures and colors. If you have grown tired of the traditional, you are going to love this blog.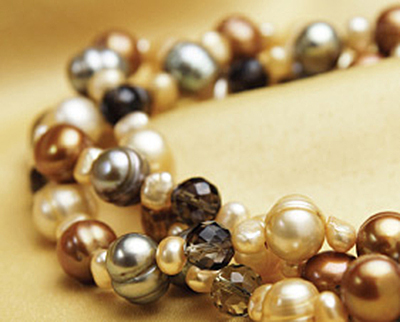 © iStockphoto.com/Luis_A_Pena
Excerpt from Instant Holiday Glam: Color Palettes of Splendor. Available as a downloadable PDF.
Were you taught the crazy idea that one should never mix metals when wearing or making jewelry? I was. It took me a long time to shake the feeling that I was breaking the law when I combined copper, silver, and gold. But this is a "law" worth breaking! And it is all the rage now: look at any jewelry or clothing catalogue.
Metals form the core of holiday glam: shiny, reflective, and dazzling. Their rich glimmer elevates anything! Work consciously with metals' warm or cool undertones: gold is related to yellow, a warm color; silver is cool because it has a bluish cast, or is void of color and warmth.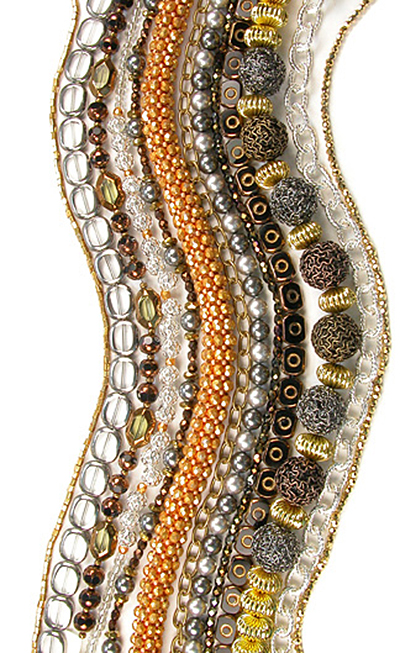 Photo by Margie Deeb
True metallic finishes like hematite, copper, and bronze add richness and depth. Muted in color, their non-distracting reflectivity lends an air of traditional elegance. Mix them with more brilliant golds.
When mixing metals, choose one to dominate the overall color scheme
Try clear faceted crystal accents with metallic palettes
Work with different metallic textures, such as filigree, brushed, matte, etched, and patterned
Texture, texture, texture! (see the photo above)
Add chains anywhere possible!
Vitrail finishes emulate the luxurious look colored metals because of a rainbow finish over a silver coating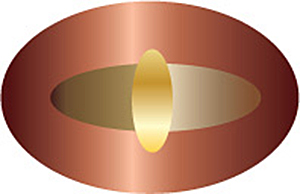 Copper, Bronze, Gold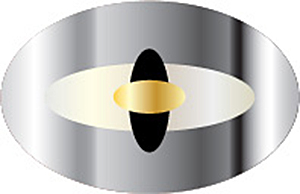 Hematite, Pearl, Black, Gold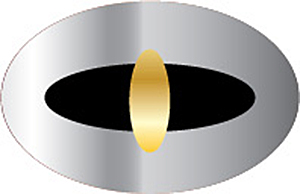 Silver, Black, Gold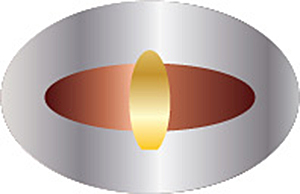 Silver, Galvanized Copper, Gold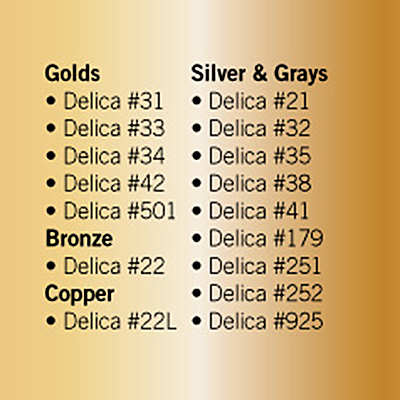 Join our Facebook group – VIB. Stay in the know. Stay up to date. From our bead shows to our video shows and sales, you can stay in touch with us. The community is full of artistic and helpful beaders and crafty people. Inspire and be inspired. Share your pictures and get the beading bug from others!
Visit the Soft Flex Company YouTube Channel!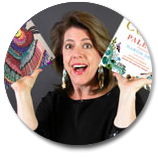 Artist and color expert Margie Deeb is the author of The Beader's Color Palette, The Beader's Guide to Color, The Beader's Guide to Jewelry Design and numerous beading and color publications. She teaches color and beading across the country and her free monthly color column, Margie's Muse, is available on her website. She writes regularly for Beadwork, Bead & Button, and Step-by-Step Beads magazines.
Visit Margie's website for her books, kits, patterns, jewelry, inspiration, and more: www.MargieDeeb.com