How organized is your studio? Whether you are a jewelry designer, artist, or craft and hobby enthusiast, a clean and well organized work space will show in your work. If you work with a color medium - like beads or beading wire, it can be difficult trying to figure out how to go about designing your next piece of jewelry. If you consider organizing your color chromatically, the process of gathering color components will be much less intimidating. Let's learn how to manage our color!

We love Margie Deeb's intimate knowledge of colors and we wanted to re-share some of our archive articles she has written for us. Margie is an incredibly talented artist, designer, and author. Follow along on her color journey. Let's all become students of color!
Margie discusses how she organizes her color Soft Flex Beading Wire by swatches. Knowing how the color spectrum of our wire flows, it is easier for her to get new color ideas. If you are not designing with color Soft Flex Beading Wire, your work is going to be limited. Don't hide a boring beading wire under your beads. Get colorful and expose and incorporate color wire into every design!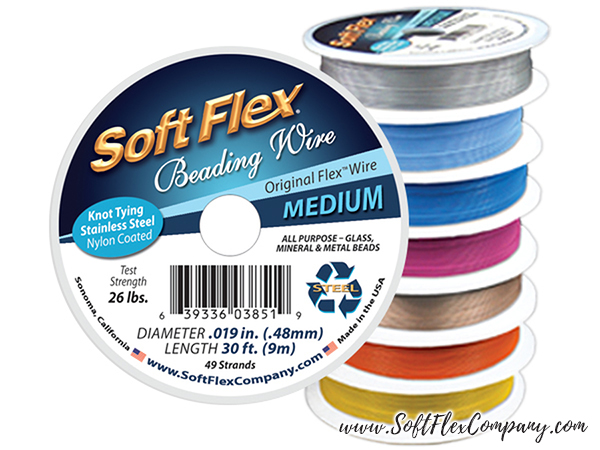 Below, Margie tells us about how she organizes color in her studio. If you leave your beads and color jewelry elements mixed, it can be daunting to try and tackle any project. Organizing your studio will enhance your output because you will not be focused on a mess of color.

The definition of being organized is that you know exactly where you can find what you are looking for. For the most part, I am, even though it might not be apparent to one who walks in my studio. Other than tax documents, the most organized area of my life is color.

I organize my colors with chromatic meticulousness in every medium I work in (beads, colored pencils, oils, acrylic, pastels, markers... the list goes on). I do this not only because I thoroughly enjoy it and it allows me to understand the hues in relation to other hues, but also because it allows me the freedom to make stronger color choices more easily.

Sometimes students bring in all their colors to show me: they've piled every hue, value, intensity and shade are in the same container. No wonder they are intimidated by color. Its overwhelming to look at and try to make sense of. Overwhelming and exhausting.

When colors are organized in a logical fashion, the intimidation factor dramatically drops. When your eye sees order, your mind can think more clearly and can make more informed choices.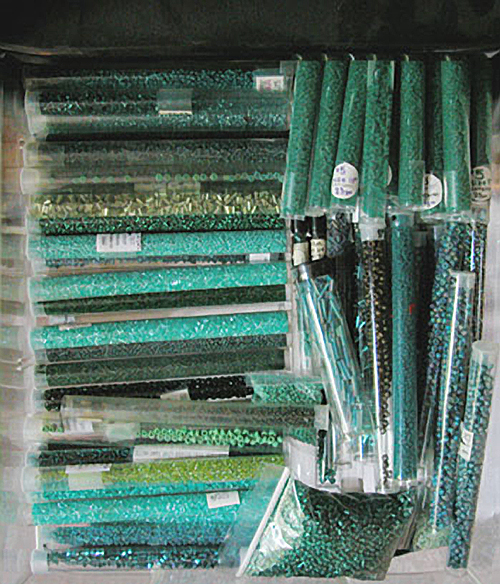 My green drawer: a little less organized lately than I prefer.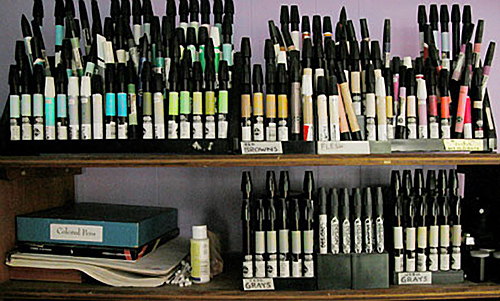 Not the neatest array, but I can locate any marker color I need within 5 - 8 seconds!
My oil paint swatches wall gives me the space to stare at colors in relation to other hues for long periods of time.
Each swatch gradates from the purest version of the color on the left to a tint lightened with white on the right.
When colors are organized chromatically, I see blocks of hues first: yellows, oranges, reds, violets, blues, greens. Within the blocks of hue I arrange according to value and intensity as best I can. Now I can see clearly what is available and can easily pick the tones I want to experiment with.

I do this on the computer as well, when working with palettes. I build documents organizing colors for all kinds of things. See the images to see how I've organized my Soft Flex Colored Beading Wire. I built swatches of flat color and placed them next to the photograph of the wire itself.

If you don't arrange your stash chromatically, try it. New color ideas will come easier. And you'll see color in a different way.
To assist me in color relationships while writing, I've made a digital document arranging my
Soft Flex Colored Beading wire chromatically. I can slide the images in any configuration I want.
This helps me visualize relationships that may possibly become palettes.
Join our Facebook group – VIB. Stay in the know. Stay up to date. From our bead shows to our video shows and sales, you can stay in touch with us. The community is full of artistic and helpful beaders and crafty people. Inspire and be inspired. Share your pictures and get the beading bug from others!
Visit the Soft Flex Company YouTube Channel!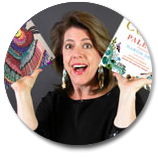 Artist and color expert Margie Deeb is the author of The Beader's Color Palette, The Beader's Guide to Color, The Beader's Guide to Jewelry Design and numerous beading and color publications. She teaches color and beading across the country and her free monthly color column, Margie's Muse, is available on her website. She writes regularly for Beadwork, Bead & Button, and Step-by-Step Beads magazines.
Visit Margie's website for her books, kits, patterns, jewelry, inspiration, and more: www.MargieDeeb.com