Do you like delicate and feminine jewelry? One way to design softer pieces is to work with a high-key color palette. High-key colors have a mid to high brightness to them. There is a lack of contrast. This light color scheme evokes purity and innocence. Let's learn how high-key colors can bring an angelic quality to your jewelry designs.

We love Margie Deeb's intimate knowledge of colors and we wanted to re-share some of our archive articles she has written for us. Margie is an incredibly talented artist, designer, and author. Follow along on her color journey. Let's all become students of color!
Below, Margie discusses high-key color values. Using these lighter colors can make your designs upbeat and serene. Add a radiant glow to your next feminine design!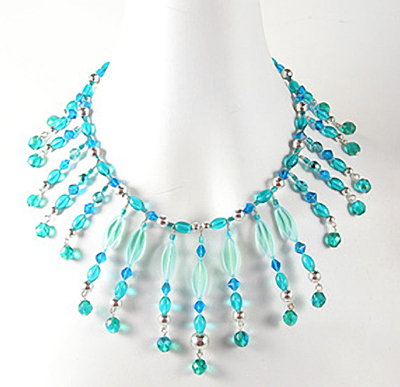 "Mermaid's Collar" by Margie Deeb employs a high-key palette.
Project instructions available in The Beader's Color Palette.

A "high-key" color scheme refers to a palette of colors whose value (lightness) is middle to high. They can include bright colors if those colors are not dark, like violets and deep blues. The high-key palette does not have much contrast. Pure colors mixed with white, called "tints," are high-key, and these make up much of the high-key palette.

In photography, the word key is used to describe the overall tonal range in which the photograph is created-including the background, subject, props, and clothing. If the tones are very light, the image is called "high key."

In TV, high-key lighting is used to create an upbeat mood. You've seen it employed in sitcoms and comedies in which everything is uniformly well lit and free from dark shadows.

Because of the amount of light they exhibit, compositions in high-key palettes convey cheerful moods, or speak to the ethereal and the divine.

High key is often used to portray a delicate or feminine feel. In movies, dreams are sometimes portrayed in high key, slightly out-of-focus and hazy. Most high key pictures contain small areas of dark tones - for example in the iris of the eyes in a portrait; without a small dark or black area high key effects can appear too washed out.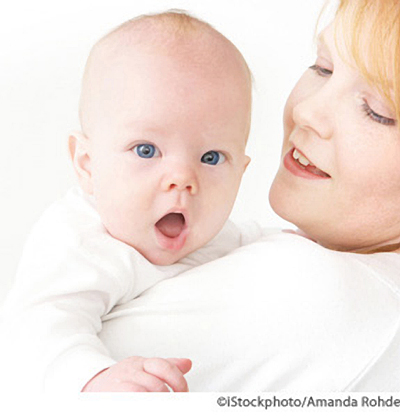 High-key portrait photography
Portraits of women and children that the photographer wants to appear innocent and pure are shot in high-key lighting, and the images are sometimes softened.

"Swirl" and "Blooming Vines" are examples of high-key patterns available in the " Patterns" section of the www.MargieDeeb.com website. They are both feminine and upbeat.

High-key palettes are those of early spring, with a fresh wetness to them, like new blossoms in the morning dew. Keep the palette clean by avoiding muted or grayed down shades.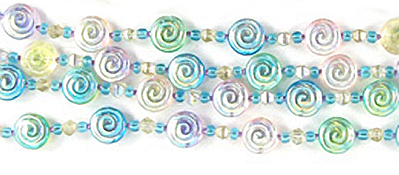 High-key glass beads
Glass beads skitter light in all directions, and are a perfect medium for extraordinary high-key palettes. Different surface finishes create varying degrees of transparency, refraction and reflection. Select light colors with the following finishes: semi-matte, frosted, color-lined, luster, transparent, and transparent luster finishes. The shimmery, shifting colors of AB finishes and dichroic on clear base glass embody the jubilance of a high-key palette.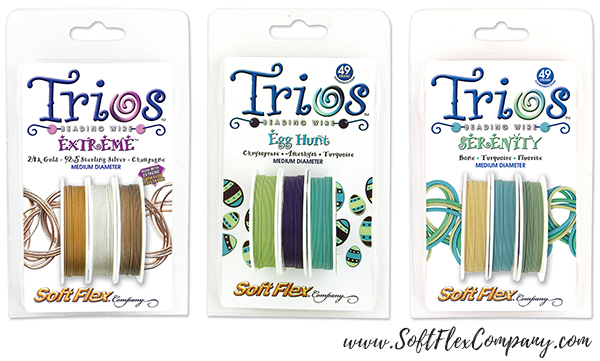 Suggested Soft Flex® colors to use for high-key palettes: 24k Gold Plated, 925 Sterling Silver Plated, Champagne (found in the Extreme Trios), Chrysoprase and Turquoise (found in the Egg Hunt Trios), and Bone, Turquoise, and Flourite (found in the Serenity Trios).
Join our Facebook group – VIB. Stay in the know. Stay up to date. From our bead shows to our video shows and sales, you can stay in touch with us. The community is full of artistic and helpful beaders and crafty people. Inspire and be inspired. Share your pictures and get the beading bug from others!
Visit the Soft Flex Company YouTube Channel!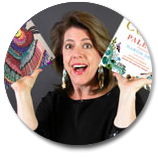 Artist and color expert Margie Deeb is the author of The Beader's Color Palette, The Beader's Guide to Color, The Beader's Guide to Jewelry Design and numerous beading and color publications. She teaches color and beading across the country and her free monthly color column, Margie's Muse, is available on her website. She writes regularly for Beadwork, Bead & Button, and Step-by-Step Beads magazines.
Visit Margie's website for her books, kits, patterns, jewelry, inspiration, and more: www.MargieDeeb.com