Spiders! These eight legged creatures are so fun to make. They may make you think of Halloween, but these kooky little guys play an important role in another holiday, Christmas! Want to learn how to make some beaded Christmas spiders? You are going to love this simple beading project!

While Americans don't typically include spiders in their canon of Christmas creatures, the arachnids are yuletide mainstays in some parts of the world, namely from Ukraine to Germany. This is largely due to the legend of the Christmas spider, a European folktale that offers a mythical backstory for tinsel on Christmas trees.
In one version of the story, it is said a widowed mother and her children were too poor to decorate their Christmas tree, so friendly spiders spun elaborate webs on the evergreen. When the family awoke on Christmas morning, they opened the curtains and the sunshine hit the webs, turning them silver and gold (sometimes said to be the origin of tinsel). The family had good fortune from then on. It's likely the legend is linked to the idea that spiders are lucky. Whatever the reason, Ukrainians decorate their Christmas trees with spider-shaped ornaments (often made of beautiful beads) to this day. Make your own good fortune beaded Christmas spiders and start the tradition in your home this year.

James shared how to create a spider using Soft Flex Craft Wire and beads earlier this month and that prompted us to create James' Spooktober Gift Kit! This kit includes everything you need to create your own adorable spider as shown above. Every kit is unique, your spider will be slightly different than every other spider. Add a mixed bead strand to your order and create an infestation! Kits have a limited supply.
Christmas Spider Using Soft Flex Craft Wire and Beads
James returned with another episode of Conversations in Wire. He uploads a new episode every other Thursday. His episodes are not live, but if you catch him when the episode is uploaded, he is on chat and ready to answer any questions about Soft Flex Craft Wire and wire wrapping - or in this case, a cute little spider.
Make your own Christmas Spider using Soft Flex Craft Wire and Beads. This DIY spider is fun and festive. You can make them as spooky as you want for Halloween or make them festive and jolly for Christmas!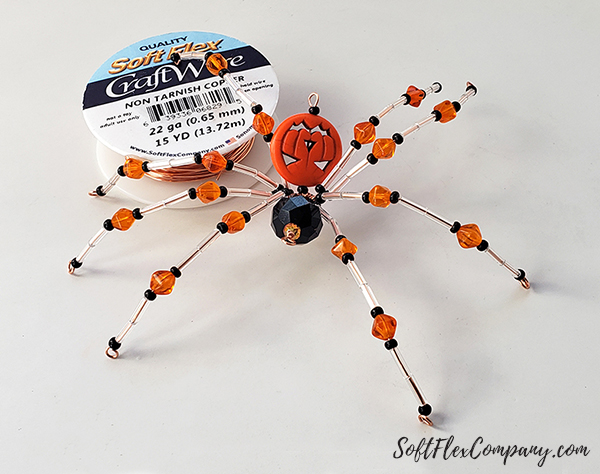 Make Christmas Spiders right out of the beautiful old German Legend using Soft Flex Craft Wire and Jesse James Beads. If you want, you can even give them a Halloween theme that looks a little like Nightmare Before Christmas! In this video, designer and Craft Wire expert James Browning shows you how to make your own unique, wire spiders to use for decoration or to be worn in jewelry. These colorful Craft Wire spiders are about as cute as a spider can be. This popular holiday project is festive, fun and easy. All you need are a few beads, Soft Flex Craft Wire and some basic tools.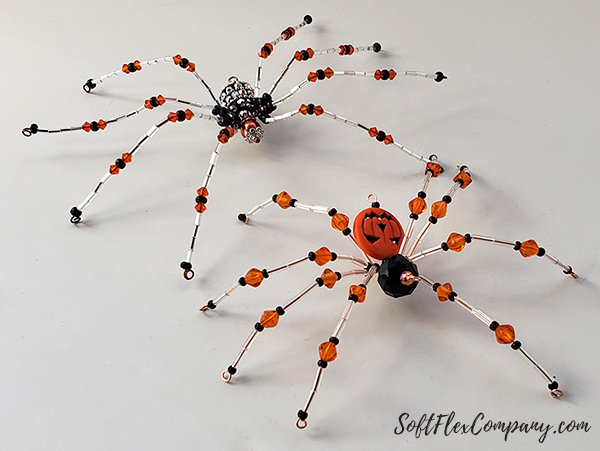 Supplies:
Soft Flex Craft Wire - Silver Plated 22ga
Soft Flex Craft Wire - 22ga
Beads - Assorted for Head, Body and Accent for Legs
Bugle Beads
Seed Beads
Chain Nose Pliers
Round Nose Pliers
LoopRite Looping Pliers
Nylon Jaw Pliers
Bead Nipper (Cutters)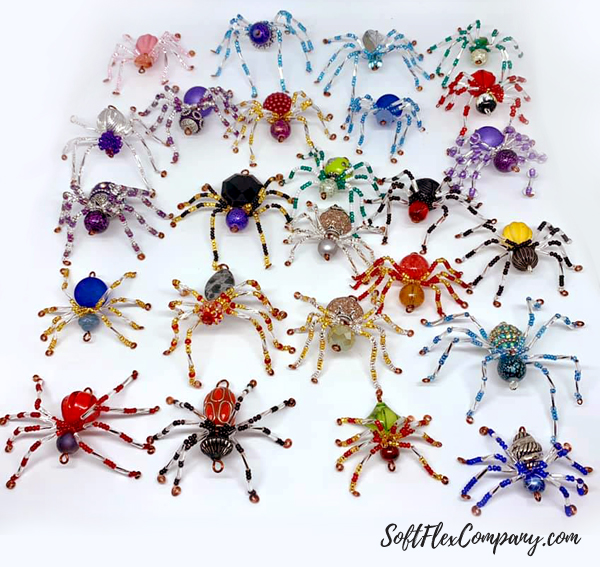 This is a CLUTTER of Christmas spiders Sue has made. (She learned this week that a group of spiders is called a clutter)! She used 20 ga Craft Wire for the body and 24 ga Craft Wire for the legs. Some of the beads were leftover from design kits along the way. Thanks for sharing your clutter of spiders with us, Sue!
Projects not intended for children under the age of 13. The information on this instruction sheet is presented in good faith, but no warranty is given, nor results guaranteed. Soft Flex® Company disclaims all liability from any injury to anyone undertaking the construction of this project as a result of improper safety precautions.
Join our Facebook group – VIB. Stay in the know. Stay up to date. From our bead shows to our video shows and sales, you can stay in touch with us. The community is full of artistic and helpful beaders and crafty people. Inspire and be inspired. Share your pictures and get the beading bug from others!

Visit the Soft Flex Company YouTube Channel!
---