Do you love Pantone color? Today we are looking at the glamorous world of color matching. We will look at the history of Pantone and show you our latest Quad Beading Wire Collection and Bead Mix. These new products are based on colors matched from the 2020 Spring/Summer Pantone selection. We are passionate about infusing our jewelry creations with the most vivid and trending tones. If you love topical colors and want to follow the latest in fashion, you will love this blog. Let's explore the delicious world of color together!

Today we will look at links for colorful beads and wire. We will explore the history of Pantone and the impact their color mastery has had on the language of color in the fashion and advertising industries. We will watch a fun video of Sara unboxing our latest items and then making some fun fashionable jewelry. If you love color, our Quad and Bead Mix will make your jewelry come alive!
Pantone Color Matching With Soft Flex Beading Wire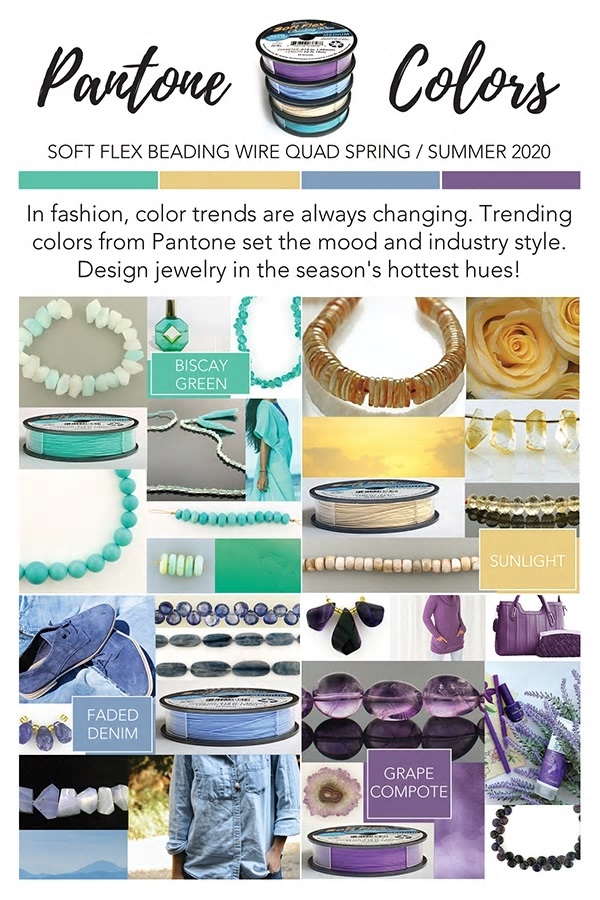 What Is The Pantone Color Institute?
The Pantone company was founded in the 1950s as a commercial printing company. It was originally named M & J Levine Advertising, after owners Mervin and Jesse Levine. In 1956, the brothers hired Lawrence Herbert, for part time work. Lawrence was a recent graduate from Hofstra university. Lawrence was skilled with colors and chemistry and was quick to notice how the science of color was a subjective language in the advertising community. One person's 'Warm Ochre' might be another's 'Toasty Butterscotch'. The system was extremely inefficient and without a solid, objective system, there would always be issues. In 1962, Lawrence purchased the company's assets from the Levine brothers and the Pantone company was born.
Pantone Is The Authority On Trending Color
Now in Carlstadt, New Jersey, the company forged ahead and created an easy system for printing companies to follow. The Pantone Color Matching System was launched and the color spectrum was given titles and numbers to make it easy for any industry that worked in color to create an objective Warm Ochre or Toasty Butterscotch. There would be no more guesswork. Using the CMYK process, colors could be duplicated using four inks (Cyan, Magenta, Yellow, and Black). The amount of mixing these colors would be be standardized and easy to replicate. In 2001, screen color was also adopted, using the RGB (Red, Green, Blue) color model.
In 2000, Pantone began announcing a Color of the Year. Twice each year, the company hosts secret meetings and collects input from representatives of various nations on what color will best represent the next year. The color is based on the meta of the current times and is a topical representation of how we collectively view color. Color is one language we all speak. The Color of the Year is infused with a global sense of what color represents every culture.
Color Match Your Beading Wire
Soft Flex Company has always taken color matching seriously. For almost thirty years, we have manufactured wire that is as elegant and colorful as the jewelry it is made to string. We believe that wire should not be hidden in a jewelry design, but incorporated into the piece as a whole. We have crafted a spectrum of color that will make your jewelry stand out. Soft Flex Beading Wire is meant to be exposed. Color gives a designer options. There is no longer a need to conceal every inch of the beading wire and hope it is not too exposed at the crimp. Color means that you can show all of your wire. This is ideal for illusion jewelry where large segments of wire are completely exposed. Color is perfect for braiding, weaving, and macrame. Don't settle for dull wire when you can design with color in mind.
We make it easy to be mindful of color. We offer single spools of color if you have a favorite. We also offer color sets. Trios Beading Wire collections are sets of three spools of beading wire. We put these colors together to fit moods, holidays, and to celebrate our mystery themed jewelry design kits. If you want to make jewelry that evokes a mood of Halloween fright, our Black Magic Trios are perfect for your holiday kit. If you envision a necklace inspired by calming energy, our Tranquility collection will take your away!
Be an explorer and fill your crafts with the living spectrum of glorious color!
2020 Spring/Summer Pantone Quad of Beading Wire

Explore the Spring/Summer 2020 Pantone Colors with our latest Quad Beading Wire Collection. This Quad selection of colors was built to match Pantone's Grape Compote, Faded Denim, Sunlight, and Biscay Green. We color matched with these wires: Purple Amethyst color Soft Flex Beading Wire .019 (Medium), Tanzanite color Soft Flex Beading Wire .019 (Medium), Bone color Soft Flex Beading Wire .019 (Medium), and Turquoise color Soft Flex Beading Wire .019 (Medium). We think you will love this color collection as much as we do.
Pantone knows color!
2020 Spring/Summer Pantone Bead Mix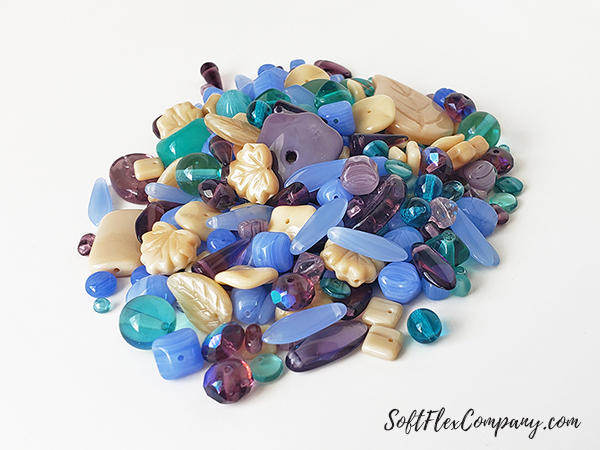 The 2020 Spring/Summer Pantone Bead Mix is the perfect complement to our 2020 Spring/Summer Pantone Quad of Beading Wire.
This is the biggest bead mix we have ever offered! We have retained the same low price as our other mixes, but filled this selection with an overflowing abundance of high quality beads from the Czech Republic. This gorgeous mix is stuffed with beads to match our 2020 Spring/Summer Pantone Quad of Beading Wire. This mix is a custom assortment of unique bead shapes and sizes in our Pantone Spring/Summer color way. Due to the random selection, there may or may not be exact matches of bead shapes and colors, perfect for "bead soup" and multi strand mixed bead designs!
Pantone is the authority on color - and boy do we love color! This bead mix is the perfect fit to use with our latest Quad Beading Wire Collection. We color matched some of Pantone's hottest tones for Spring and Summer: Grape Compote, Faded Denim, Sunlight, and Biscay Green. If you follow trends, you are going to be right on point this season. Show your colors!
NEW 2020 Spring/Summer Pantone Beading Wire Quad and matching bead mix! Take a peek here!
Sara debuts our newest Pantone color products. She shows off our 2020 Spring/Summer Pantone Quad of Beading Wire and then sorts through our 2020 Spring/Summer Pantone Bead Mix. She picks out her favorite beads and interesting stringing options. She then designs a fun bracelet. Get a sneak peek at this stunning color palette.
Grape Compote
Is there any other color more noble and furiously mystical than purple? This color exudes mystery and power. It is subtle enough to hide in the shadows. But it is also proud and demanding attention. Purple has long been associated with wealth and extravagance. The Grape Compote tone takes its name from a bright and delicious fruit dessert. This tasty color is as yummy as the dish. Make your next jewelry design thrill your sweet tooth!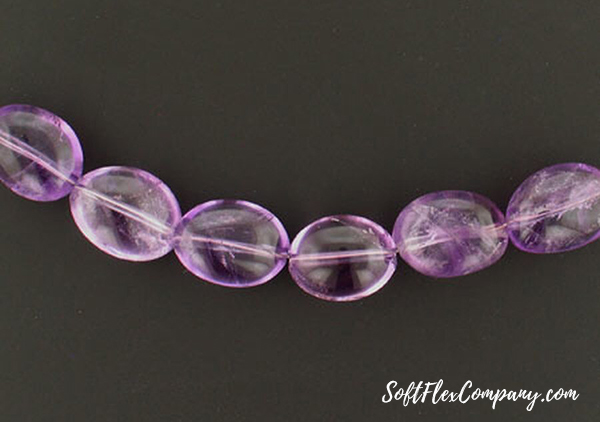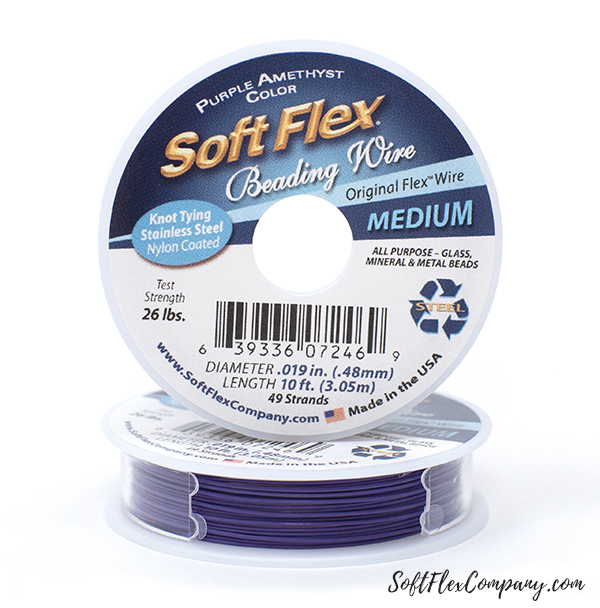 Faded Denim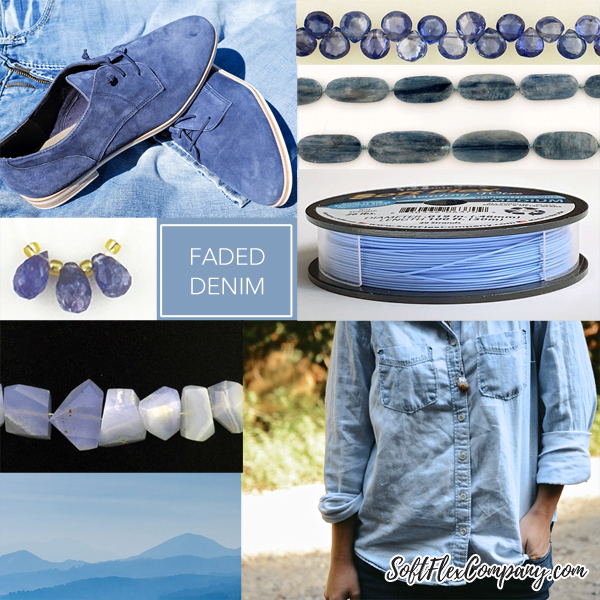 Blue skies have blanketed us since man first walked. This comforting color is part of how we view the world. Serene and invigorating, this color informs our mood and is an expression of happiness. The faded Faded Denim tone is a strong and enduring fashion element. Denim has gripped the imagination since it first left the domain of ranch utility and found its place in popular culture. Design your jewelry with a timeless look. Make a classic necklace that enhances every wardrobe.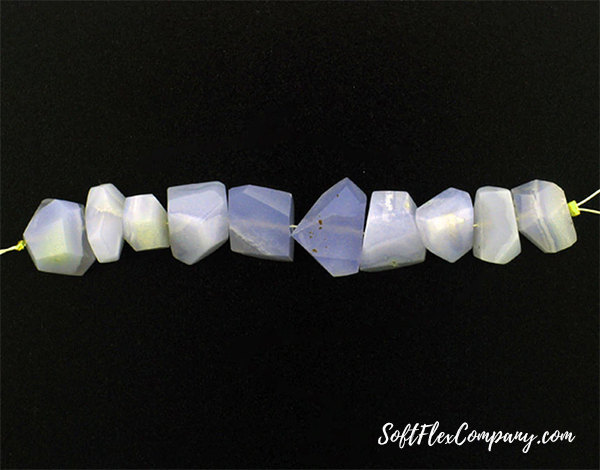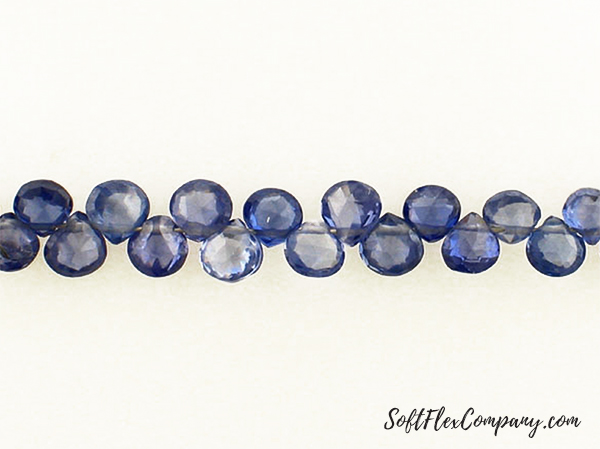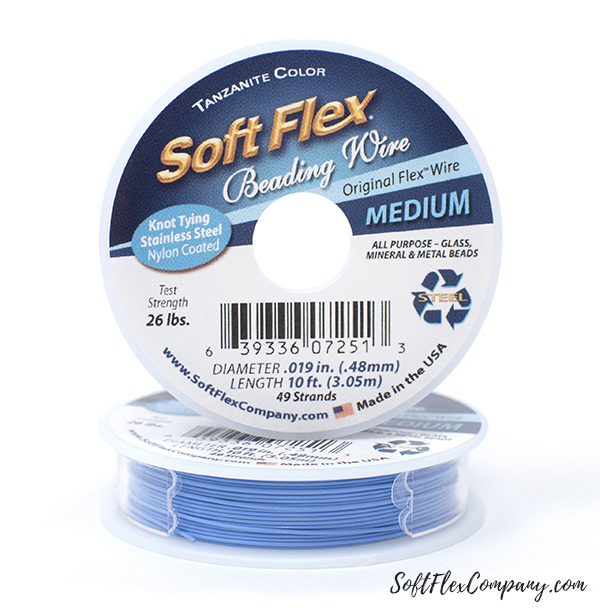 Sunlight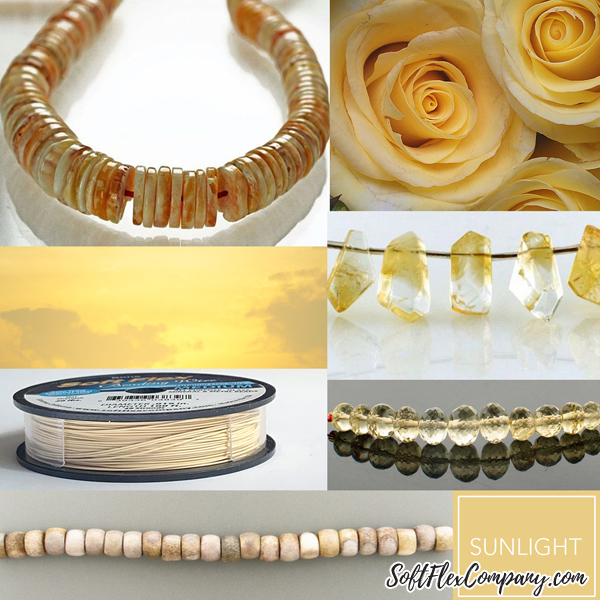 Sunlight is the antithesis of darkness. This wonderful color is full of warmth and enlightenment. Sunlight is a cozy hallway with a sleeping kitten bathed in radiance. Sunlight is the comforting embrace of a dearest loved one. Sunlight is the reassurance that everything is going to be OK. Design your jewelry with a summery glow that beckons happy gazes. A buttery stone is a delicious complement to a Sunlight matched beading wire.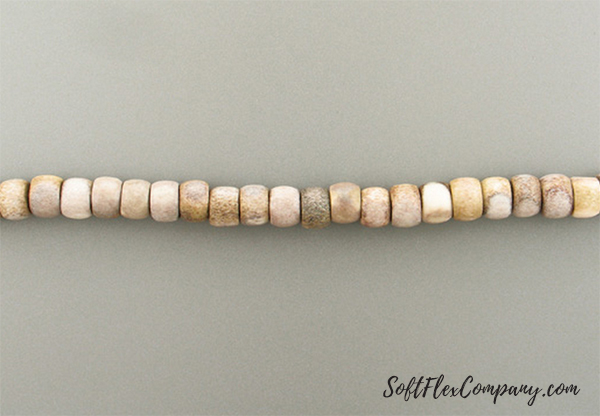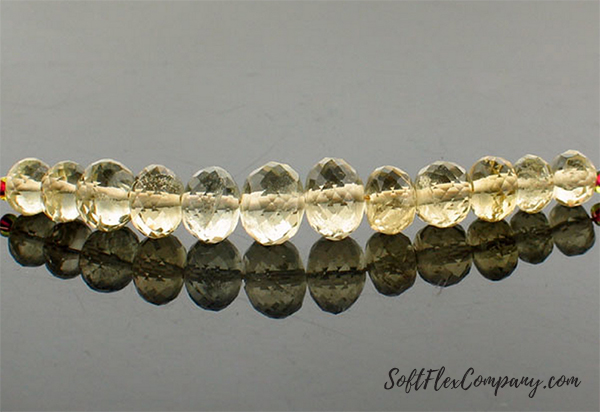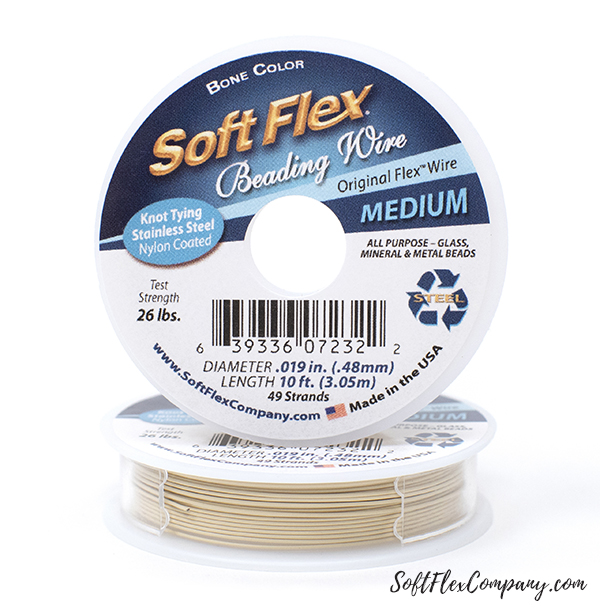 Biscay Green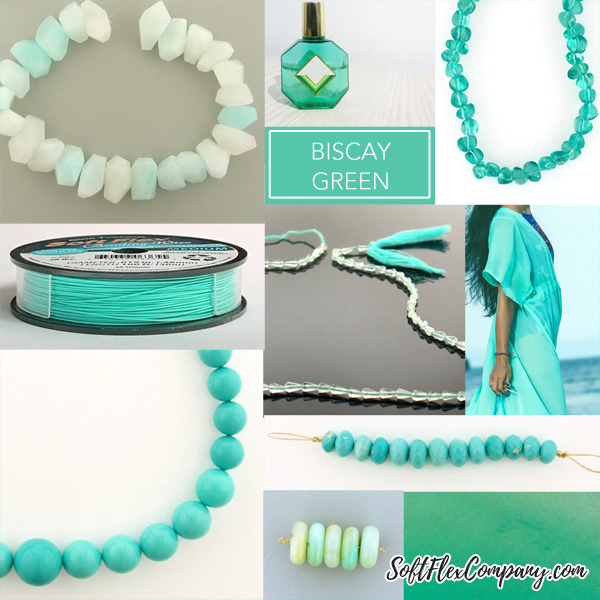 Biscay Green takes its name from the Spanish bay. Aquatic green evokes the wonder of a foamy surf full of adventure and promise. This tone is ideal for beautiful beach jewelry. Biscay Green is vitality and energy. This color is abundant with life and renewal. Add a minty note to an elegant necklace. Add a lucky green to a festive bracelet. Make your next design a natural beauty with this lush color.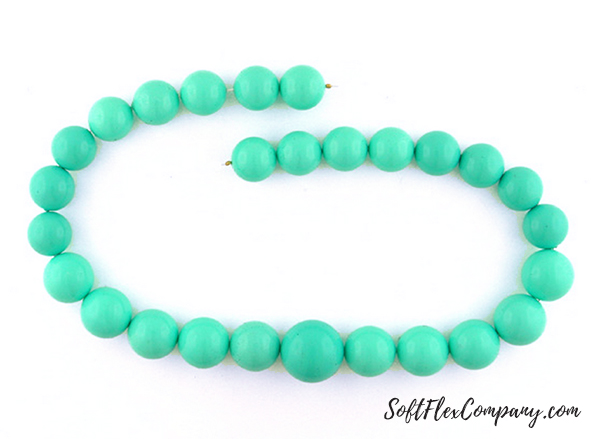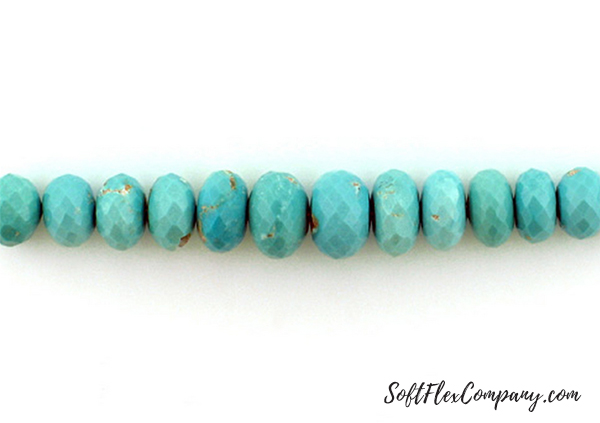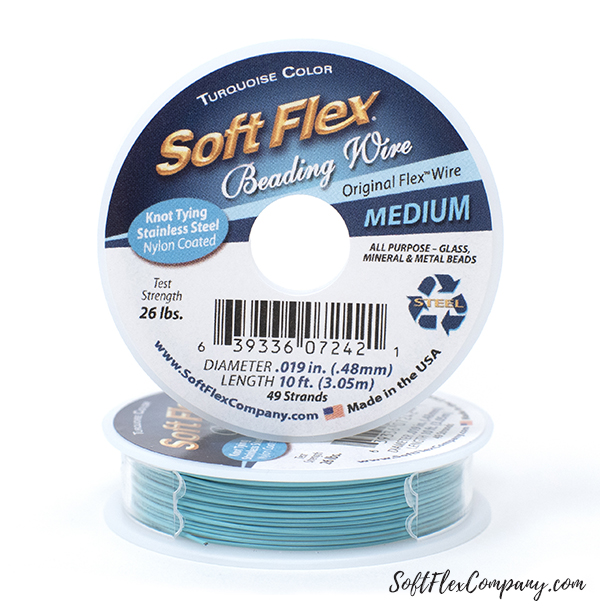 String Your Beads With Vivid Color Wire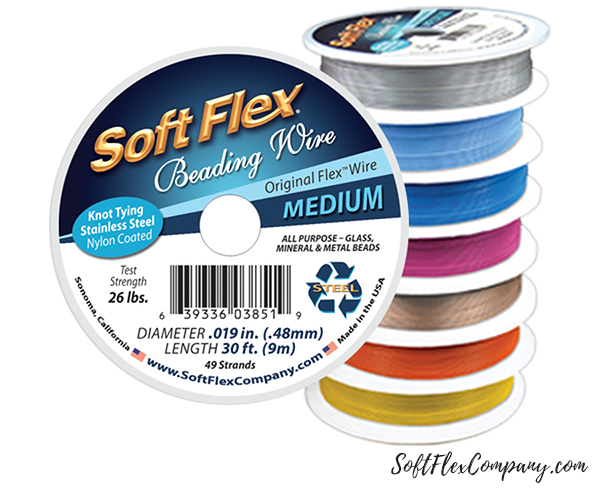 Soft Flex Wire is a lead-free beading wire for designers that demand strength and durability. Soft Flex Wire is a superior beading wire, created by beaders for beaders. Soft Flex Wire is constructed of either 21 or 49 micro woven stainless steel wires. It is supple enough that it can be knotted and comes in a wide variety of colors. It is available in 3 diameters: .014, .019, and .024. We recommend Soft Flex Wire for designers that want their pieces to last and eliminate the frustration of restringing.
Join our Facebook group – VIB. Stay in the know. Stay up to date. From our bead shows to our video shows and sales, you can stay in touch with us. The community is full of artistic and helpful beaders and crafty people. Inspire and be inspired. Share your pictures and get the beading bug from others!
Visit the Soft Flex Company YouTube Channel!
---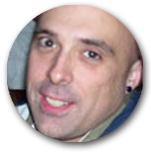 Blog contributor Thomas Soles loves Jazz Age writers and crunchy french fries. His favorite gemstones are Lapis and Pietersite. His favorite hobby is day dreaming. And his favorite mustache is Freddie Mercury's. As you can see, he has a healthy (or possibly unhealthy) sense of humor. You can write to him at Thomas@SoftFlexCompany.com