Pantone's Color Of The Year Classic Blue Is The Perfect Fashion Trend For Jewelry Making Designers
Every once in awhile we get a Czech glass bead mix that just blows me away. In this case, the bead mix is based on the Pantone Color of the Year - Classic Blue. When paired with our matching 2020 Pantone Classic Blue Quad of Beading Wire you have almost everything you need to make a winning design. The wire colors are a perfect complement to the bead mix.
The 2020 Pantone Classic Blue Bead Mix is a custom designed bead mix available in limited quantities. This is the one of the biggest bead mixes we have ever offered! We have retained the same low price as our other mixes, but filled this selection with an overflowing abundance of high quality beads from the Czech Republic. This gorgeous mix is stuffed with beads to match our 2020 Pantone Classic Blue Quad of Beading Wire. This mix is a custom assortment of unique bead shapes and sizes in our Pantone Classic Blue color way. Due to the random selection, there may or may not be exact matches of bead shapes and colors, perfect for "bead soup" and multi strand mixed bead designs!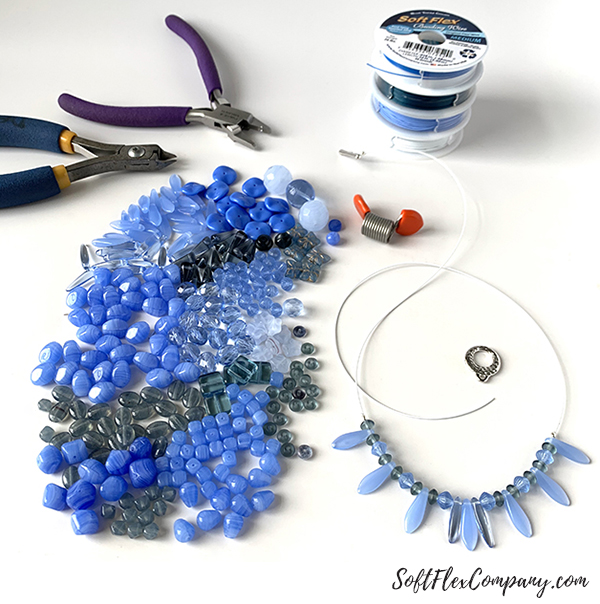 Last week on Facebook Live, I showed viewers what I have in my bead mix. As every bead mix will be slightly different, it is fun to see what combination of beads each person gets. I invited viewers who buy the bead mix to show us their mix in our Soft Flex Company VIB Studio Group. I really like my mix. I love all of the daggers and spears. They are so pretty!
After, I recorded a short earring video for YouTube using the same bead mix. I love how you can turn a bead on its side and it feels different! Also, I show options for how to update these earrings by simply choosing a different bead like a dagger or a petal.
If you are looking for a quick earring inspiration, this YouTube video may be the perfect twelve minute break for you!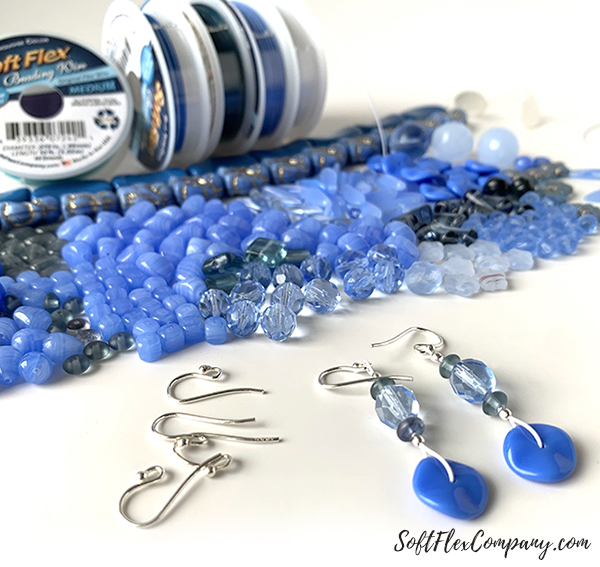 One thing that I absolutely love about jewelry making is that it doesn't require a lot of time or funds. You can sit down and make these earrings for super cheap and in less than 12 minutes. All you need are some basic items.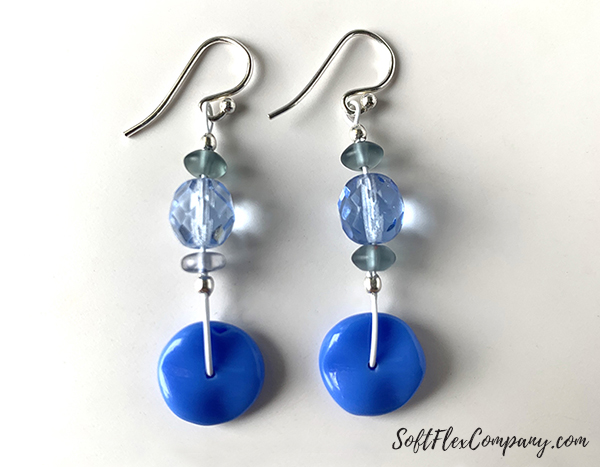 All in all, I had fun exploring the 2020 Pantone Color of the year. Classic blue is so pretty and easy to use.
Join our Facebook group – VIB. Stay in the know. Stay up to date. From our bead shows to our video shows and sales, you can stay in touch with us. The community is full of artistic and helpful beaders and crafty people. Inspire and be inspired. Share your pictures and get the beading bug from others!

Visit the Soft Flex Company YouTube Channel!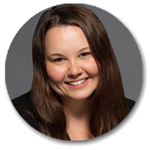 Sara Oehler (pronounced Ay-ler) is a well-known jewelry designer living in the Bay Area. Sara is the author of several beading books, including her latest title, written with Kristen Fagan, Seed Bead Revolution. She has designed and written for numerous publications including: BeadStyle, Bead&Button, Bead Trends, Stringing, Jewelry in Fashion Trends, Simply Beads, The Flow and Today's Creative Home Arts. Currently, Sara is the Sales and Marketing Manager for Soft Flex Company.Ask Sara Bead Expert
Blog: softflexcompany.com/beading-blog
Email: Sara@SoftFlexCompany.com