Today we are shining the spotlight on a member of our VIB jewelry making community. There is an amazing assortment of talented jewelry designers that have joined our Facebook group. We wanted to start taking a look at the individuals that comprise this wonderful collective. The first designer we are featuring is Deb Houck. Deb Houck runs two exciting YouTube channels. You can learn how to stamp, make cards and papercrafts, create holiday decorations and more. She has easy to follow jewelry making tutorials and discussions on how to use your beading tools. She has diverse talents and is a creative artist. If you enjoy her work, visit her Etsy shop. Let's meet Deb Houck!

Have you joined our Facebook group yet? VIB (Very Important Beading Studio) is a group with thousands of jewelry designers and hobbycraft creators. We have members that have been designing necklaces for decades. And we have members that have strung their first bracelet a day ago. We welcome all talents and styles and we foster an atmosphere of creative energy. We want to share the joy of creating and we want to learn a new trick or three. Want to master your crimping pliers? Check out the group and get advice from a pro.
Would you like to be a part of our 'Spotlight On Our VIB Jewelry Making Community' series? If you are a member of our VIB group and an active jewelry designer, we may be asking if you would like your name in the spotlight!
Spotlight On Jewelry Maker Deb Houck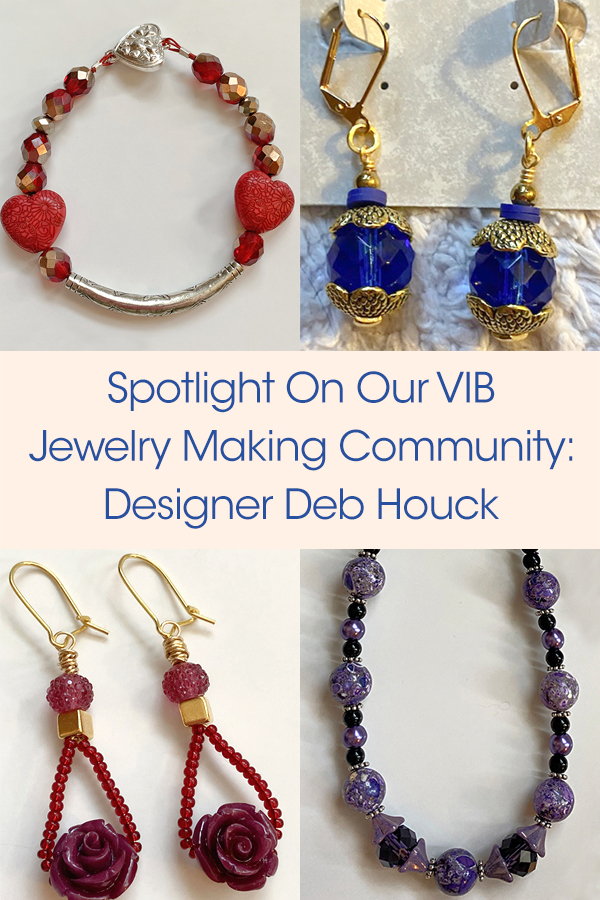 Deb Houck - Designer, Maker, Owner Of Dahlia Designs
My jewelry making journey began around the same time the company I worked for (in an entirely different field) was being sold. I was in a different state than where I call home. I have always had a love for jewelry, but had never made any. My daughter gave me a bead kit for Christmas in 2011 and that sparked the desire to make jewelry even more. In 2012, I spent a lot of time in hotel rooms, working for corporate America. I spent the nights and weekends making jewelry. In 2013 and 2014, I had some consulting work. I was also setting up Dahlia Designs to try and sell some of what I was making. I mostly sold at local craft fairs. My daughter and my mother and others supported my new venture as I "retired" (albeit way early) from my other career. I was hooked big time! I was buying up loads of pretties, taking classes, attending Bead Fest and other local bead shows. I told myself I should buy all these pretties and learn as much as I could while I still had the funds.
In 2016, my very independent elderly mother fell and it became apparent she could no longer care for herself like she used to. I found myself spending more and more time with her. I was in charge of her health and her finances. I had to move her twice. I had to sell her home, take her for doctor visits and hospital visits, and so on. Needless to say, my creative mojo took a hit. Although I did still make a little bit of jewelry, I didn't spend much time trying to sell any of it.
In 2020, I lost my mother. She was, I believe, the person that most instilled a love of jewelry in me. She was always wearing her rings, earrings and necklaces. Pretty much right up until she left us. I think losing her made me more passionate about making jewelry again. I wanted to save my dwindling little business by trying to sell more jewelry. Right now, jewelry is an online business, at least in this area of the country. I decided to set up a second YouTube channel. I called this one: Dahlia Designs – Jewelry and More. I wanted to force myself to actually USE some of the beautiful beads and findings I bought before. I wanted to practice many of the skills I learned prior to 2016. Again. I heard the call of many more pretties enticing me to bring them home.
Enter Soft Flex Company. Previously, I had bought a number of Soft Flex Trios packages from Jewel School. But they sat for several years. I am not sure if it was a YouTube or Facebook live video I came across, but I just had to have the Winter kit Soft Flex released in November! This kit had the White Topaz color Soft Flex wire in it. Wow! I was ever so impressed by the quality of the wire and the crimp tubes! I have other beading wire, but it doesn't have the same quality coating and feel to it that Soft Flex does. Their crimp tubes are like no other that I have tried. They are thicker and hold better. Then, I just had to buy the Metallic Sparkles kit and strands (I love Metallics). This kit had Antique Brass color Soft Flex wire in it and crimp tubes in several different metals. Again, very impressed! This year, unlike in past years, I decided I actually need to make things with the kits I buy - otherwise, why buy them!?! I used up nearly everything in these kits. I just had a few bugle beads and some of the beading wire left.
I am hooked. I'm loving the kits, the beading wire, and the crimp tubes so much! Thank you, Soft Flex Company, for delivering quality products! Further, your designers and everyone I've encountered just seem like such lovely people - inside and out! Your customer service is fabulous! I could say more, but this is already too long. Thank you for the opportunity to create with your beautiful, quality products, and the opportunity to share what I make as well!
Creative Love,
Deb
Deb Unboxes Our Metallic Sparkles Design Kit
We love unboxing videos. Watching somebody open a mystery box and discuss the contents is a great way to get an idea of what a product is like before you buy it. We have unboxed goodies from other companies on our YouTube and Facebook channel. Sara and Kristen have even audibly gasped at how beautiful some of the beads they have unboxed have been. Unboxing a kit is like Christmas - any time of the year.
We were excited that Deb took the time to film an unboxing video with our Metallic Sparkles Design Kit (Sold Out). She had already opened her kit, but she took the time to detail the contents. She even showed us what she made with her kit. So many stunning designs! We loved the video.
If you purchase a Design Kit, all you will need to finish a bunch of jewelry, from the kit, is a basic set of tools. Crimping Pliers and Cutters, for the most part, are all you have to have on hand. Occasionally we will surprise you with a jewelry medium that might require a different tool. But we will never sell a kit that requires tools that a beginner cannot easily get their hands on.
This video shows you some of the unique jewelry pieces you can make from a kit. Depending on the style of jewelry you make, you can make one kit turn into many jewelry designs. Deb gives some insight into what is in a kit and how far it goes. Kits are a great way to load your beading supplies for one low price. Keep the kit separate and you can design with a theme in mind. If you just want to beef up your beading toolkit with varied supplies, you can add the components to your beading supplies as a collection of parts - it is up to you!
From Deb:
The mystery Design Kit, called Metallic Sparkles, by Soft Flex, and the coordinating Silver Sparkle and Gold Sparkle strands are just beautiful! I work mostly with silver, so I enjoyed going a bit out of my comfort zone using brass, copper, and gold as well. Once I got started using the kit, I didn't want to stop until I finished it and that is pretty much what I did. I LOVE the beading wire (Antique Brass) provided in the kit, and there were so many sparkly pretties to play with it was hard to choose which ones to use first. Also, I had the opportunity to really try out the Crimp Tubes in various metals and they are the best I've ever used!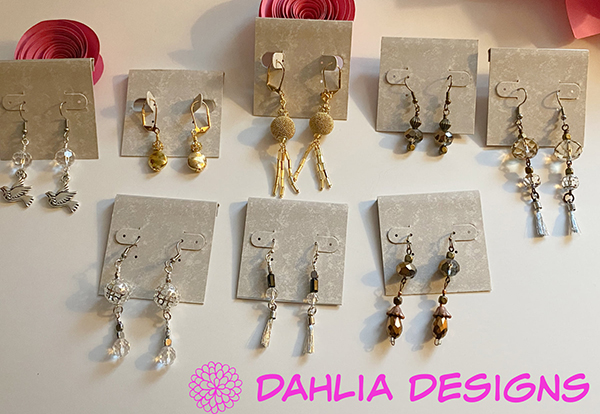 Finished Jewelry From Dahlia Designs YouTube Channel
If you love what Deb created with out Metallic Sparkles Design Kit (Sold Out), check out some other videos she released using elements from our design kits. These videos will show you the kind of colors and beads we explore in our monthly themes. You can also see how many different and unique jewelry pieces it is possible to create with a single kit.
Deb makes some amazing jewelry. If you love her designs, make sure you visit her Etsy store and support her!
Visit Deb's Links
If you value the passion and talent a small business brings to the craft industry, now more than ever, you need to support small businesses. The world is a very uncertain place right now. Make sure you show your favorite jewelry designers some love. Make sure you shop small stores when you can. The big box chains will survive. But big box stores were created to sell general goods. Small stores are anchored by people that truly love what they sell. If you want to support art, you need to focus on the little guys!
Visit Deb's YouTube channels:
Dahlia Designs - Jewelry and More
Visit her Etsy shop: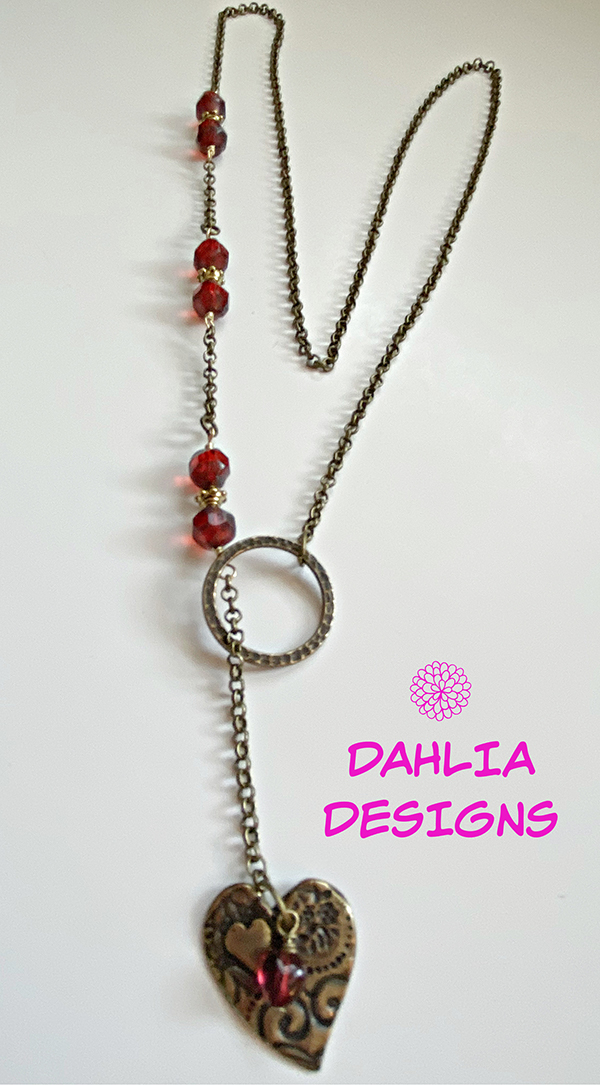 Join our Facebook group – VIB. Stay in the know. Stay up to date. From our bead shows to our video shows and sales, you can stay in touch with us. The community is full of artistic and helpful beaders and crafty people. Inspire and be inspired. Share your pictures and get the beading bug from others!
Visit the Soft Flex Company YouTube Channel!
---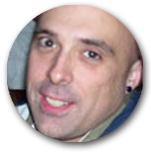 Blog contributor Thomas Soles loves Jazz Age writers and crunchy french fries. His favorite gemstones are Lapis and Pietersite. His favorite hobby is day dreaming. And his favorite mustache is Freddie Mercury's. As you can see, he has a healthy (or possibly unhealthy) sense of humor. You can write to him at Thomas@SoftFlexCompany.com