Soft Flex employees got an early Christmas present and we wanted to share it with everybody! We thought it would be fun to see how our team turned our Retro Christmas Design Kit into a collection of personal jewelry pieces. Not all of us are pros. This is your chance to see how the people in our staff that do not design jewelry for a living interpret a kit full of beading supplies. If you are a beginner beader, you can see how easy it is to make jewelry with one of our kits. With basic crimping techniques, you can make stunning DIY jewelry that looks like it was bought from a jeweler.

Each month, we offer an exciting mystery jewelry making design kit. Inside each of these themed kits is a collection of beads, wire, and findings. If you have a pair of crimping pliers and cutters, it is easy to make a bunch of jewelry. They are the perfect gift for crafters and jewelry designers. They are great for all ages (supervised if you have youngsters). Soft Flex employees that wanted to try out a kit were given one as a gift. We are going to see what staff did with their kits.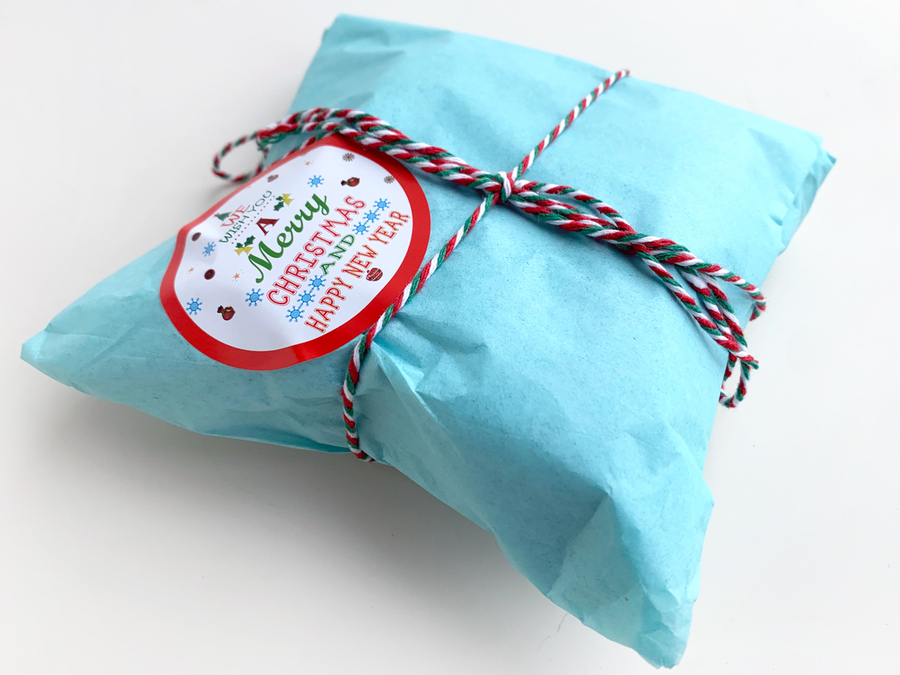 Check out our Design Kits! Each kit is a themed collection of beading supplies. You never know where one of our kits will transport you! Take an adventure into an undersea kingdom with a colorway that is aquatic and amazing. Explore the neon streets with a collection that is infused with the palette of a glossy wet downtown district. Go gothic on Valentine's Day with a dark heart collection of sweet treats. Our themes are meant to transport you and make it easy to make jewelry with an existing colorway to follow. We love to mix it up, too. Our Golden Gate themed Design Kit featured colors that those of us in the Bay Area might find familiar but might not express the colors people think of when they think of the iconic landmark. The rich red span is often hugged in pearlescent fog and is a striking figure against blue skies and soft pink color banded sunsets. All of our kits are thoughtfully designed and curated. You are going to love the supplies inside!
Hurry! Our kits are limited in quantity and usually sell out before the end of the month. At the end of each month, we reveal our recent kit on the Soft Flex Facebook page and YouTube Page. Open your kit when you get it or wait for Sara to reveal the contents and open yours along with us live!
If you'd like to join us in the design challenge next month, buy this kit and challenge yourself to try something new and unexpected. If you are new to beading, this kit comes with findings, beads, wire, and surprises.
Our kits are great for skill building. We want our kits to feel challenging. We want them to be accessible for beginners and advanced designers alike, but we love to throw in elements that may seem difficult to test our beaders skills and make them think out of the box. We think jewelry is great when it is easy. But when you really have to engage your mind and process your materials and tools, we think that your jewelry has the potential to be life changing.
Our kits may be inspired by a colorway or theme, but they are meant to be creative interpretations. Imagination and innovation do not follow the rules. Expect the unexpected.
Supplies are very limited. Don't miss out!
Team Soft Flex Celebrates Christmas Crafts - We Bead Too!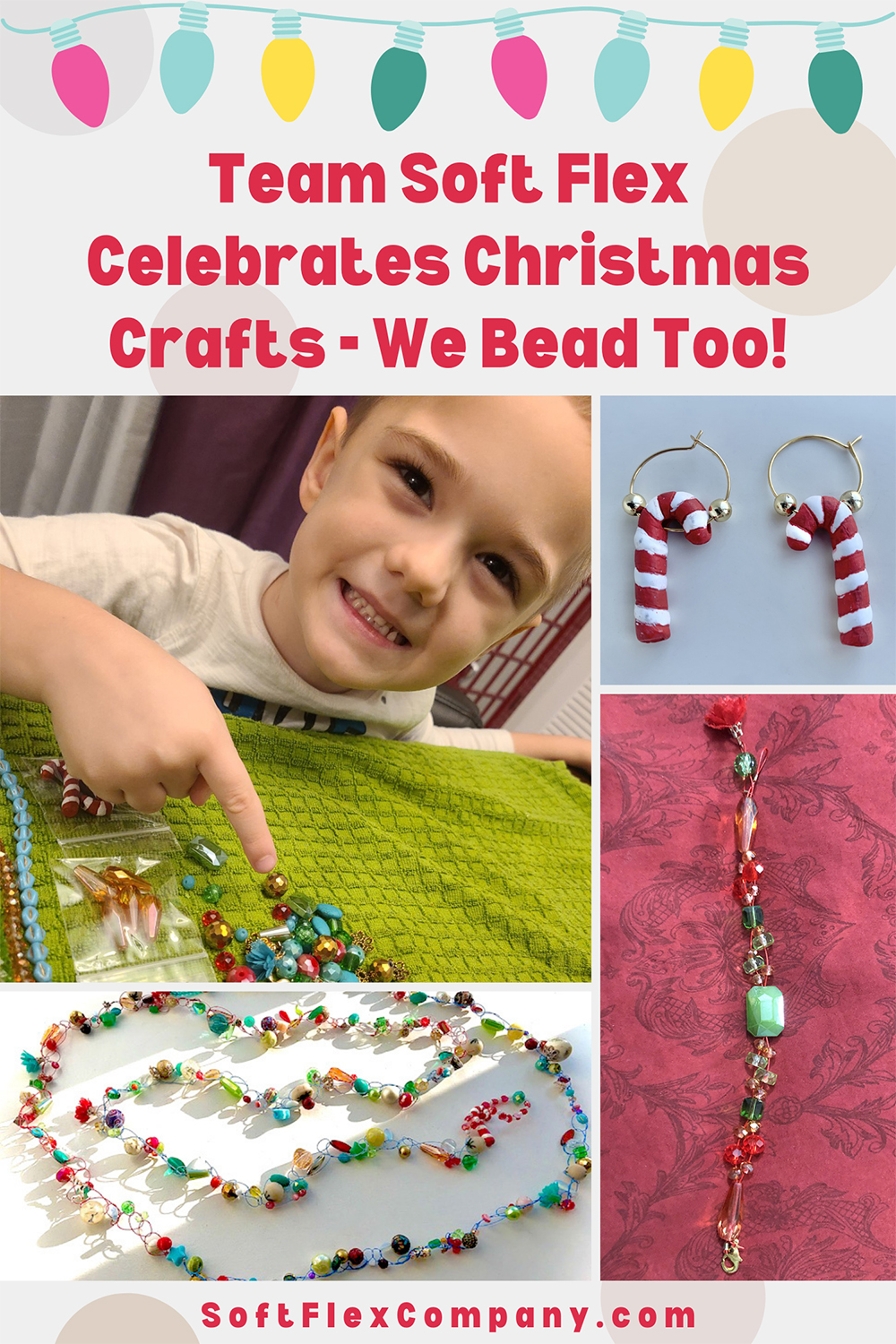 Mike - Papa Soft Flex, Our Shiny Nosed Claus That Leads The Way
Mike Sherman, The inventor of Soft Flex Beading Wire, shares some thoughts and joy.
We got a surprise visit from Mike during a recent live show. Mike is the inventor of Soft Flex Beading Wire and a co-founder of the company. If you want to hear about the beading industry from an insider, you are going to enjoy this short video. Mike and Sara discuss how Soft Flex Company originated. How our business was made strong and grew with word of mouth. Mike discusses how to show customers how much you value them and how to foster a relationship with your customers. He discusses how frustrated he was with the state of beading wire when he was a jewelry designer. He invented a wire that was much more supple and flexible and much less prone to breaking and kinking. We love Mike. He is a kind and generous individual that created a wonderful place for us to work and the perfect beading wire for us to design our jewelry. Meet Mike!
Thomas - The Jovial Blogging Elf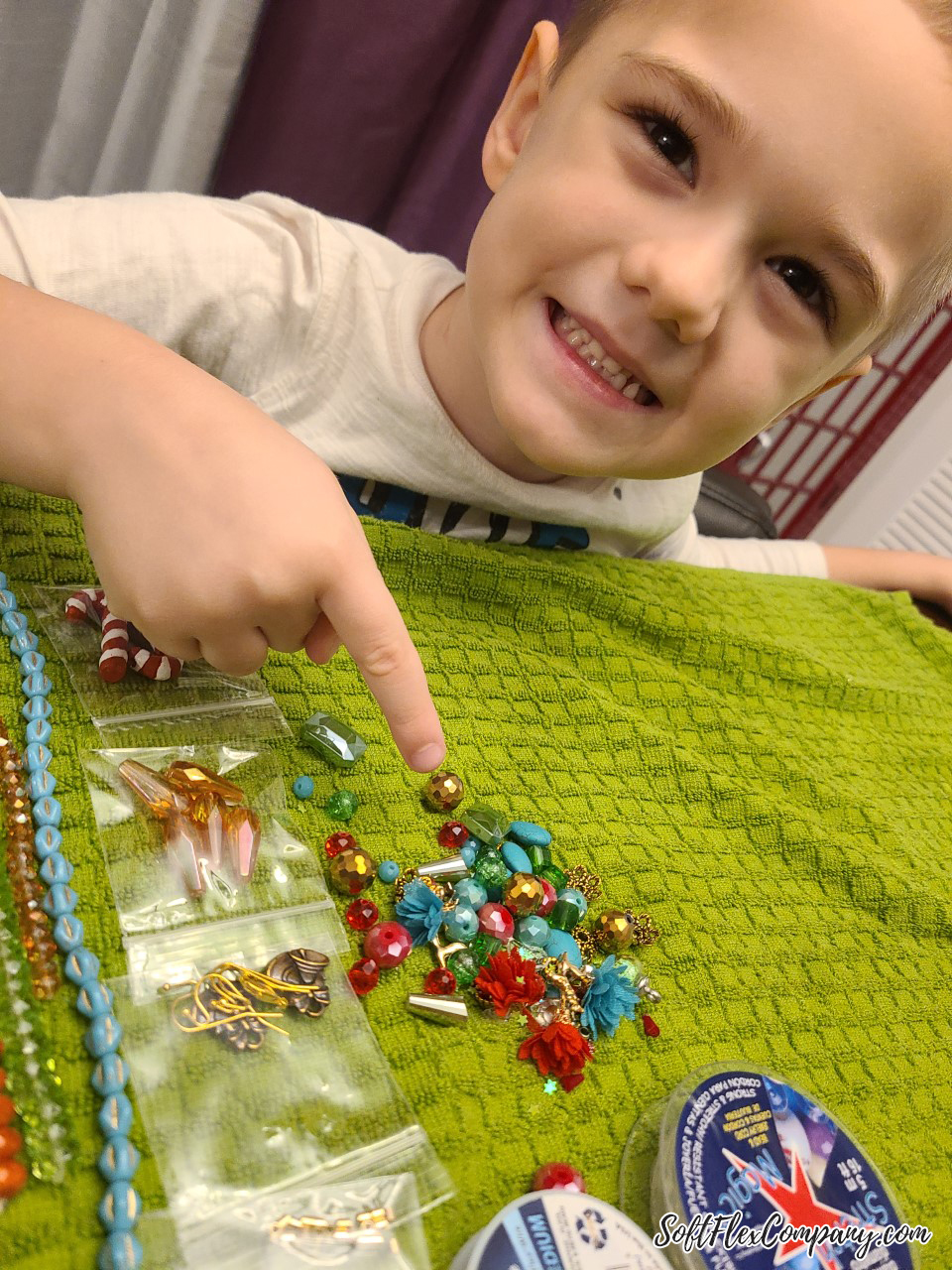 This elf has worked with Soft Flex Company for almost twenty years. It has truly been one of the best career experiences of my life. I work with a crew of wonderful people I consider family - family is not always blood! I have traveled thousands of miles across the United States with some of my coworkers. I have shared so many wonderful moments with the people that make this company special. I have made friends all across the country and learned how to make crafts and jewelry that stimulate my mind and excite my senses.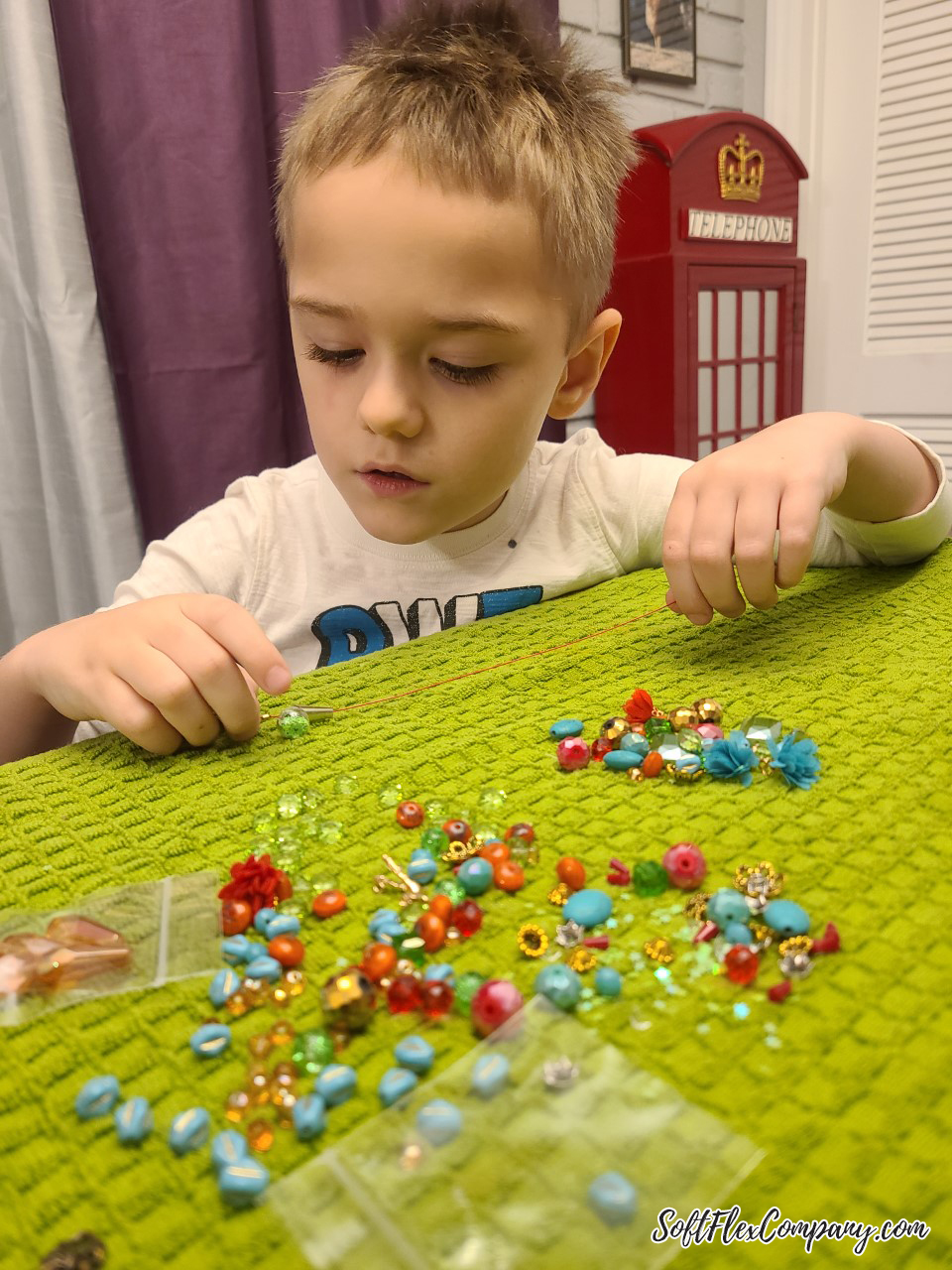 I think hobbies and crafts should be shared with young minds. My parents and grandparents all encouraged me to try any new hobby that sparked my imagination. They bought me pencils so I could draw. I learned how to paint with watercolors. I learned how to make doll faces with apples and cotton stuffed pantyhose. I learned how to make wooden projects. I was given as many books as I asked for and spent quiet time reading and exploring new worlds in my head.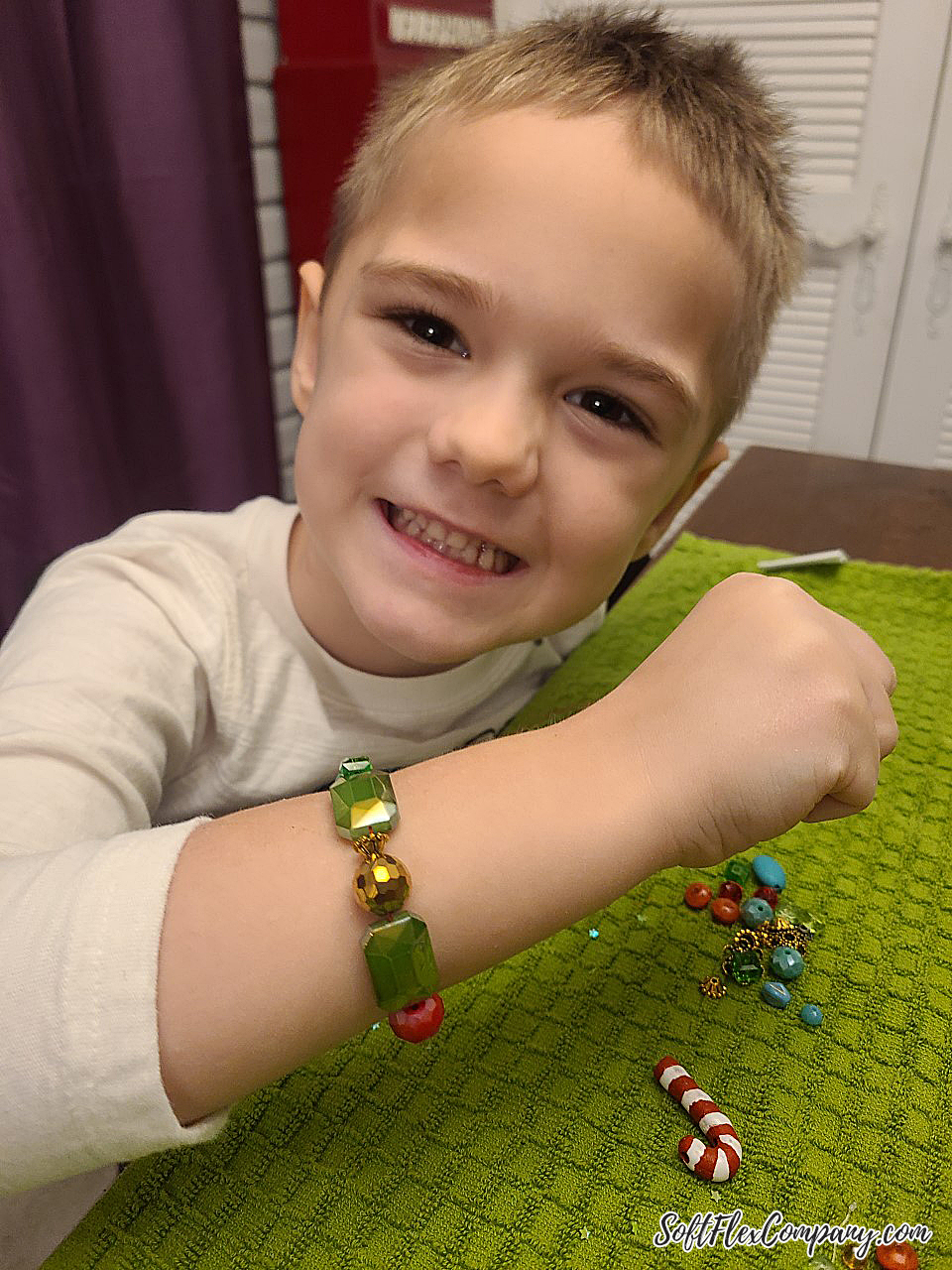 The time has come to share my love of crafting with my son. Beads are a wonderful way to teach your children new ideas and life lessons. They can learn to count by adding and removing beads from a string. They can recognize colors and patterns as they guide each bead. They can identify shapes as they go. They can lean how to think in abstract ways and design asymmetrical jewelry. They might show you how calculating and math minded they are and create a necklace that is full of pleasant patterns. If you are making jewelry with your children or grandchildren, you are teaching them the value of cooperation. There are so many hidden ways to teach new values and thoughts to your children through beads. It is no wonder this ancient craft has endured through the ages.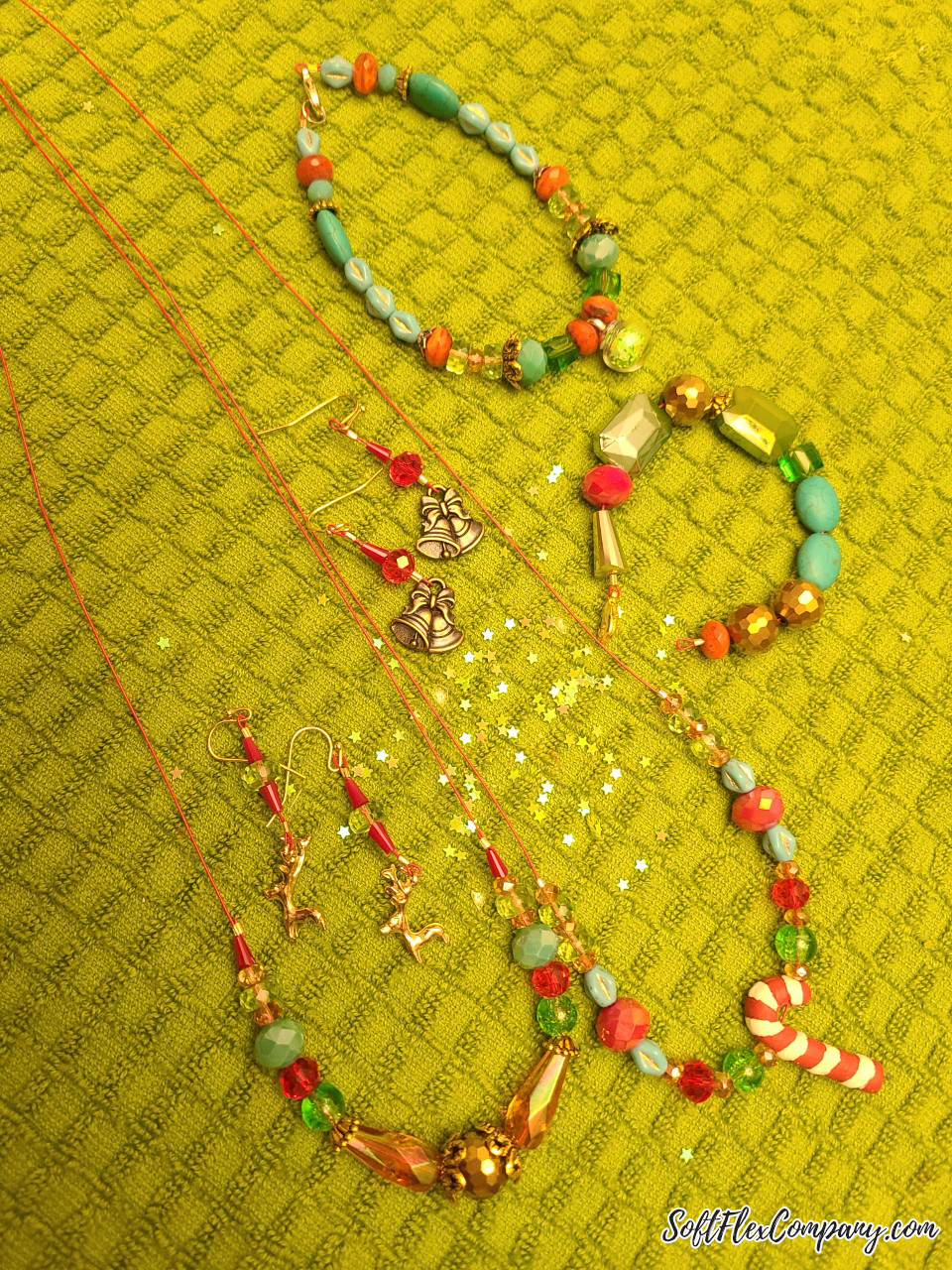 Janice - The Joyous Accounting Elf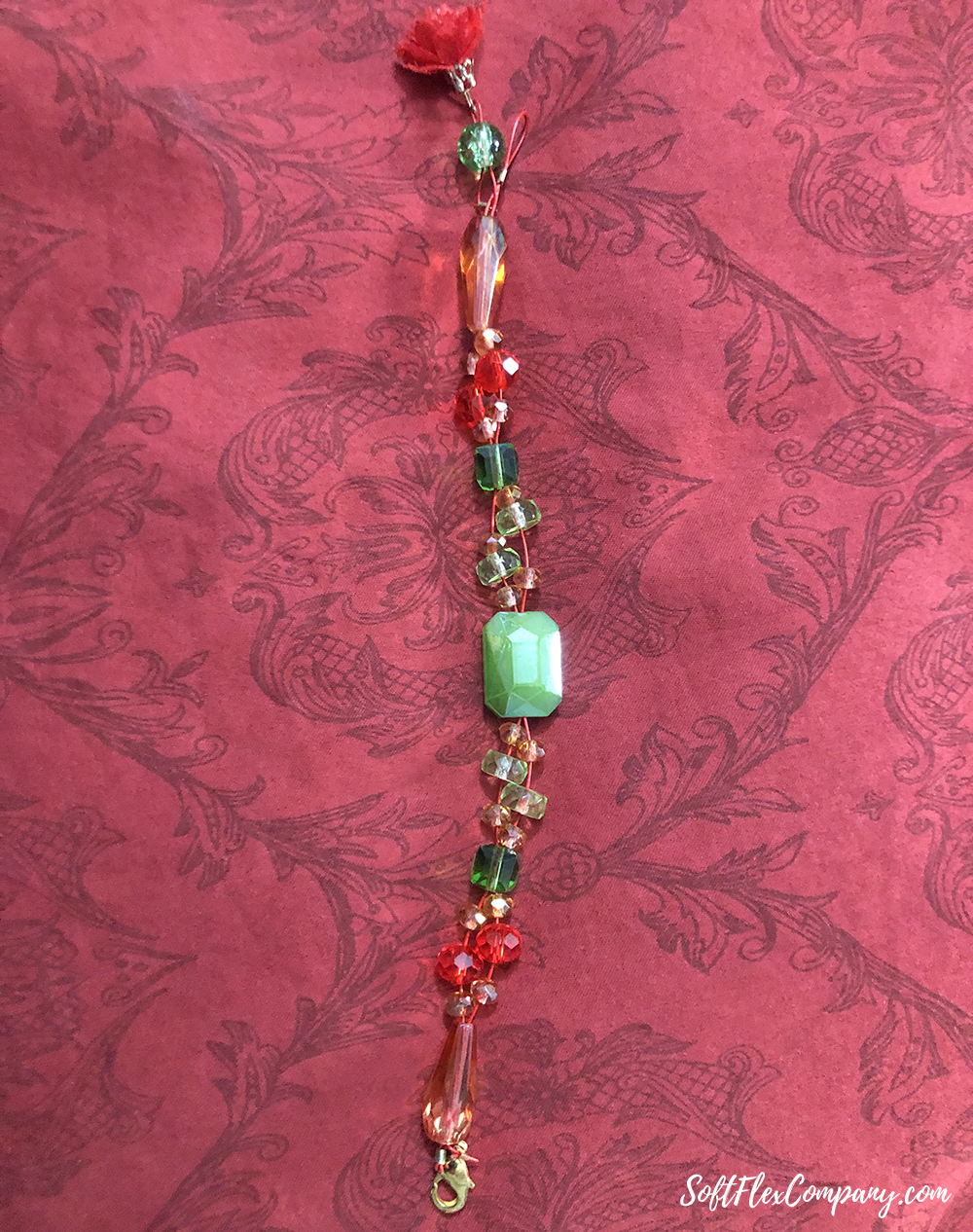 We love seeing one of our family try something new! Look at this gorgeous bracelet! Janice made a Christmas bracelet full of magical retro vibes! We bet she is dreaming up her next necklace as she crunches our numbers. We love our hard working math elf. Math is certainly a talent that not all of us possess!
From Janice:
Here's a picture of the first Soft Flex bracelet I've ever made.
The challenge was great for me as it made me actually make something and not just wonder what to do with it. Sara's video really helped me to come up with an idea. I basically followed her bracelet with my own variations. I certainly had my beginner challenges of coming up with a design, then needing to make the bracelet smaller. I crimped the end crimp too soon which required starting from scratch. Then I cut my final loop that was connecting the lobster claw, so I improvised and added another loop just to attach the lobster claw. Feeling happy with myself and looking forward to working out some more designs.
Thank you for the inspiration and the fun kit to work with! I needed that.
Shelley - The Most Merry Customer Service Elf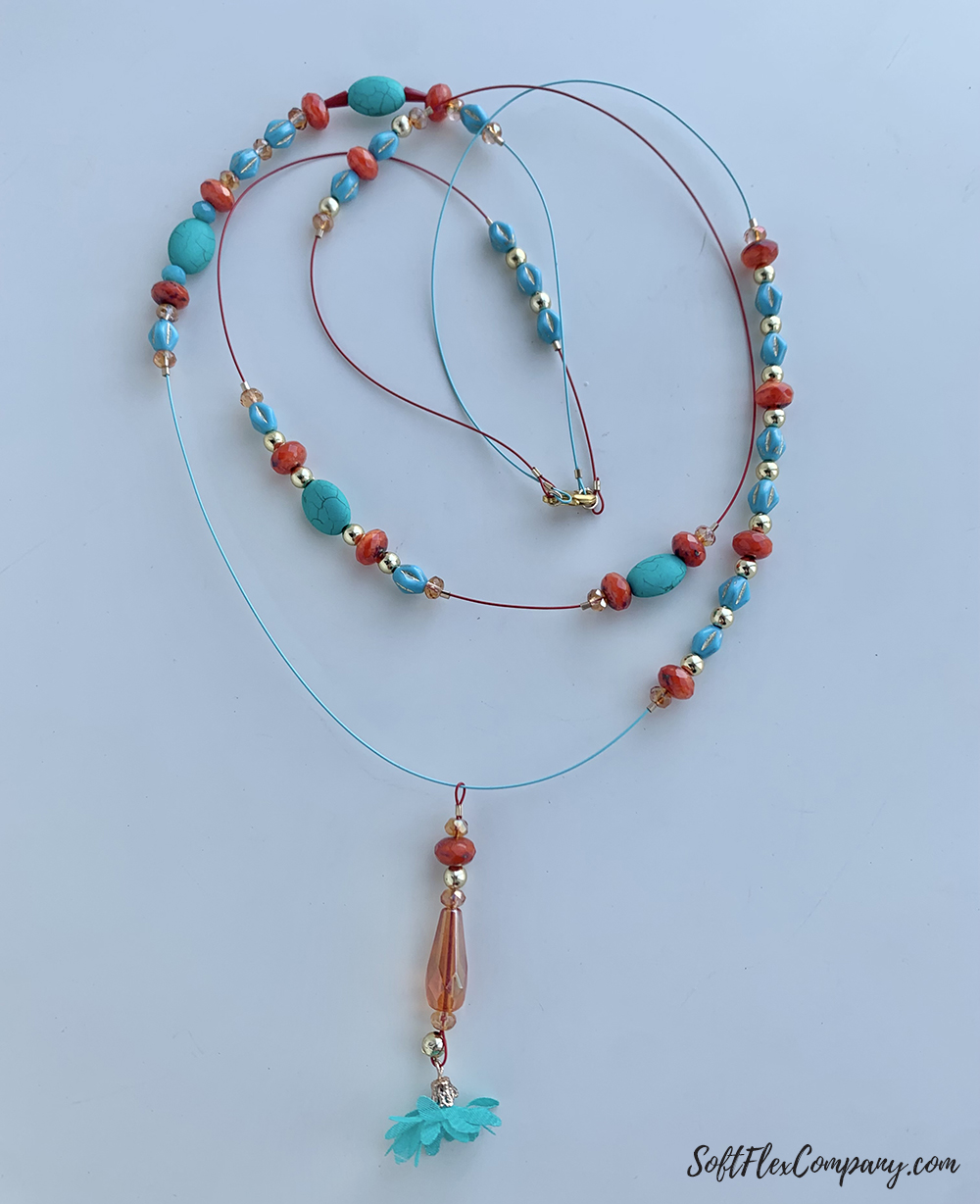 Shelley is the elf you want when you call us up! Shelley is a multi-tasker. Shelley has been a part of our trade shows. She is a tireless worker at the office and knows everything you could possibly know about Soft Flex products and Soft Flex Beading Wire. Like most of the staff, she has been here for decades. She is an important part of our company and is a wonderful jewelry designer. It is always nice to feature her stunning jewelry!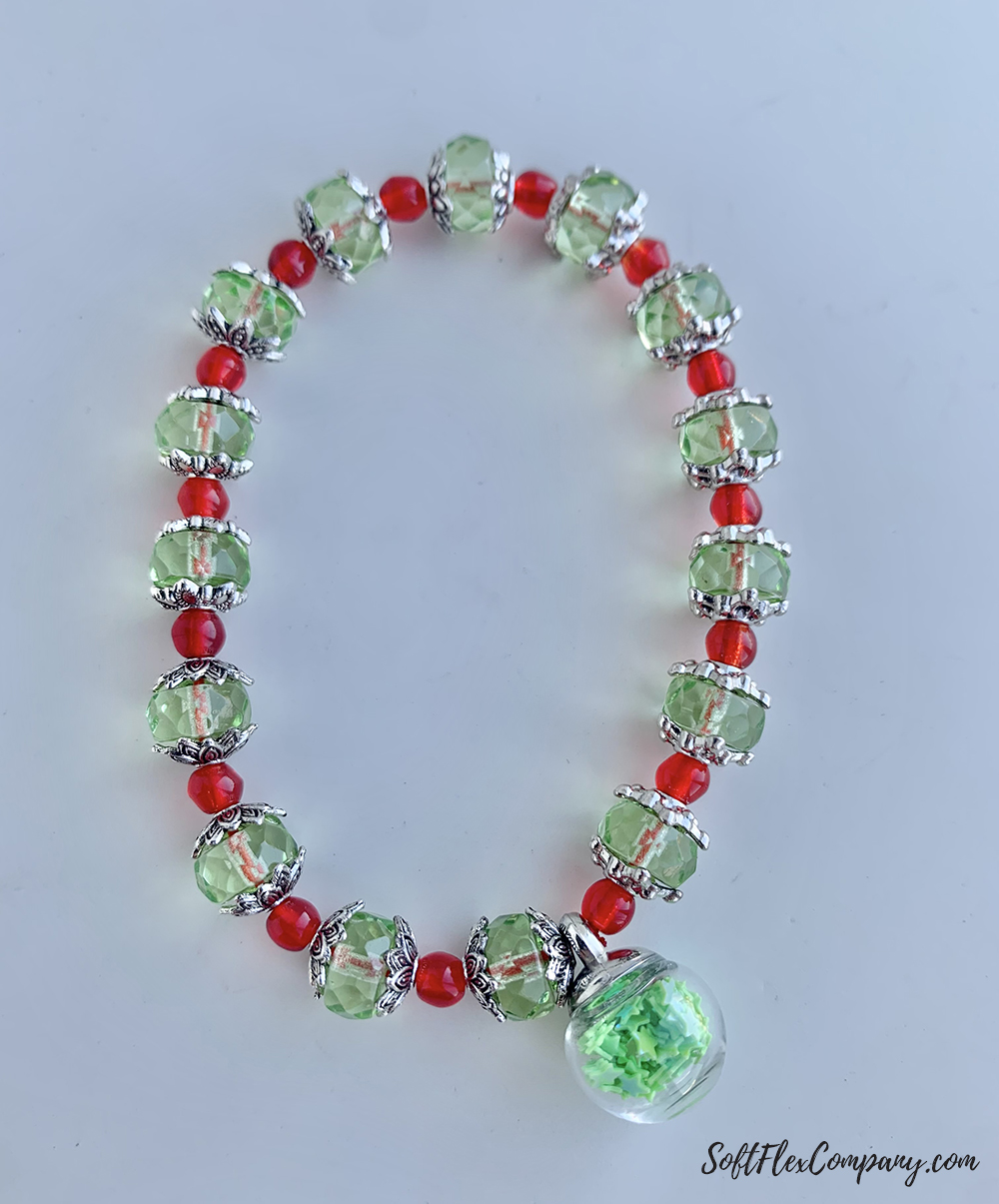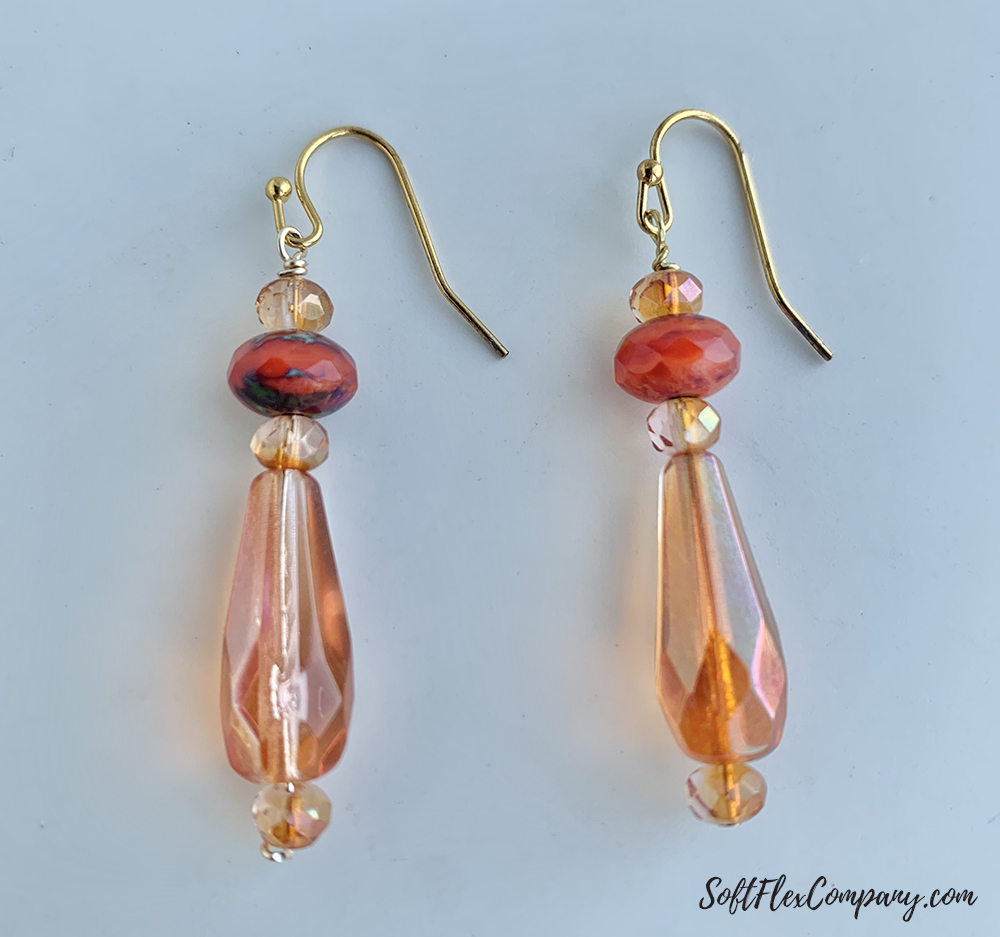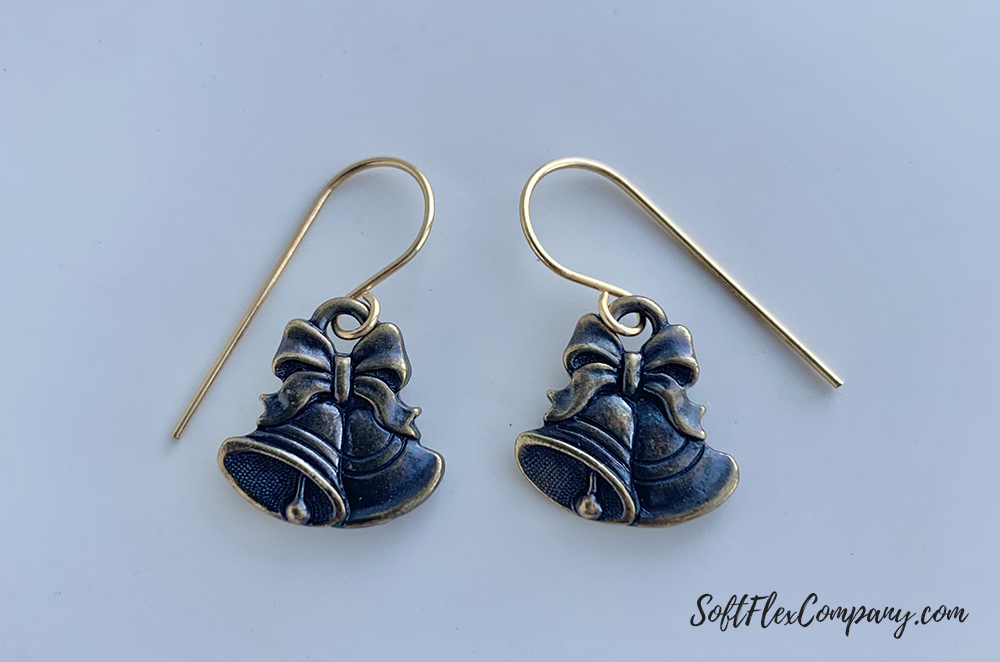 From Shelley:
I had so much fun trying to use all the components and beads I got in this festive kit. I made an eyeglass holder, a necklace, a bracelet and three pair of earrings. I had a great time doing it, and I am getting lots of compliments on the jewelry!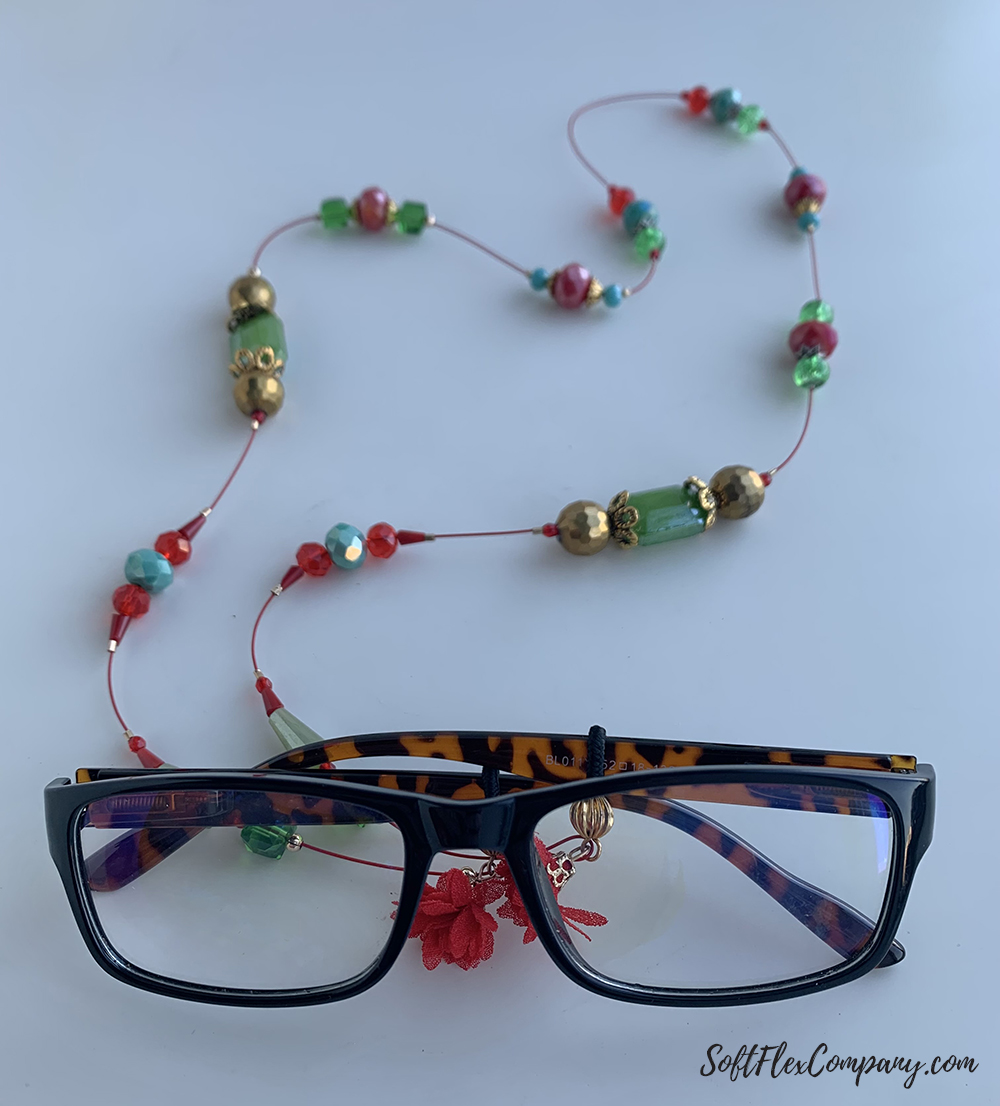 Teri - The Jubilant Customer Service Elf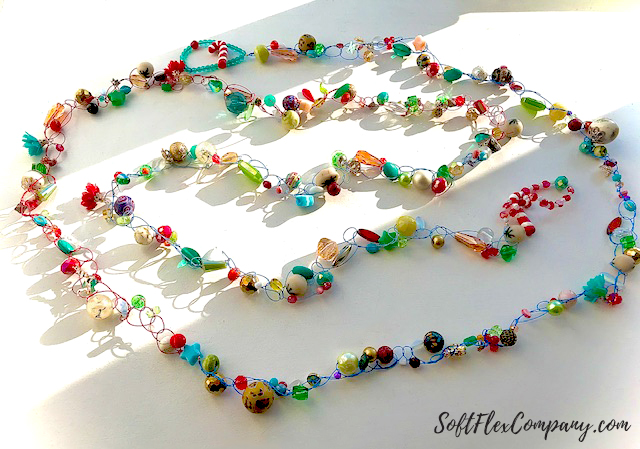 Teri is our newest elf. She is fitting right in with the family. She is busy answering phones and taking your orders. If you email us, she will make sure your order is handled with care. This elf is a fabulous customer service representative and we are glad she joined the team. Even better that she loves to be creative.
From Teri:
This is what I made with the bead kit. You might be asking yourself, what is it? It's garland for your tree or fireplace!!

Shelley taught me this simple slip knot trick when I first started to work here. I added some beads and wire that she gave me as well. There's also a few beads I made with my daughters when they were little. I thought it would be fun to add to it every year with leftover beads.
Damien - The Joyfully Creative Graphic Designer Elf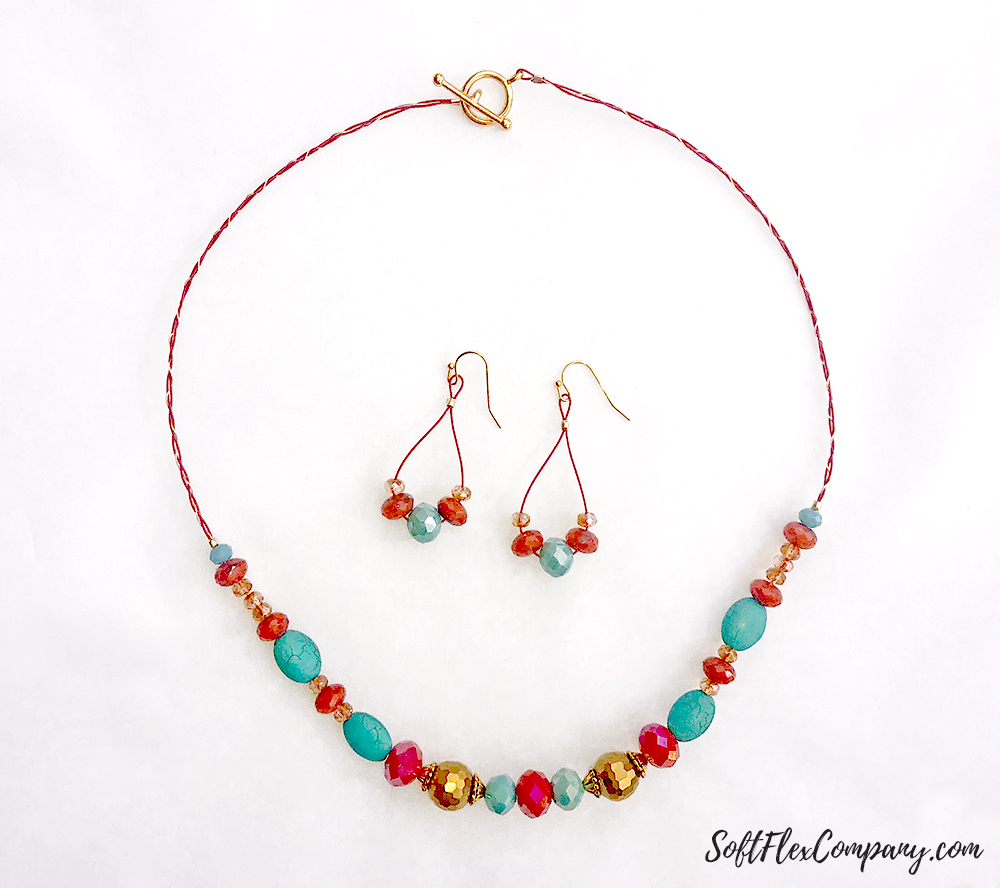 Damien is one of our graphic designers. If you see an image of a necklace that you find particularly striking or a bracelet against a flawless backdrop, you know that he has been working his magic. The real joy in his talent is when you don't notice it. If you love the jewelry and product presentation on our site but never give it a second thought, it is because he has created an image that is pleasant and wonderful. He is one of the the background employees that make this company amazing!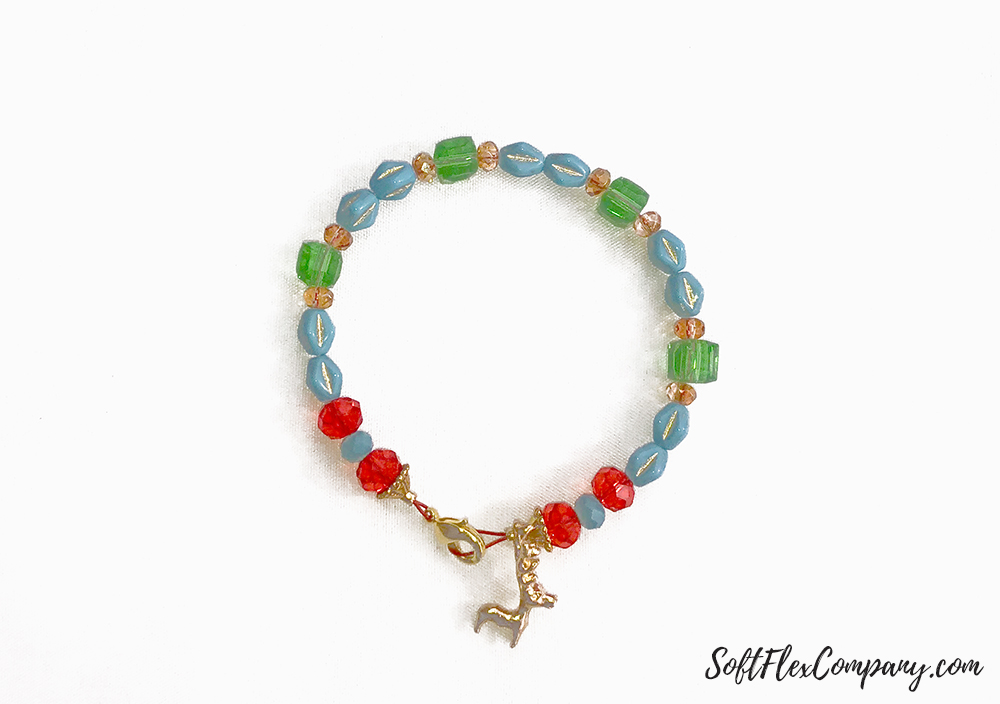 From Damien:
The Retro Christmas kit was a burst of colors that I normally don't use when designing. It was a nice challenge and I had a fun time trying something new. For the necklace, I decided to use two strands of the red coral beading wire along with one strand of our gold plated wire and then braid them on each side of the necklace to help tie in with the gold beads and findings.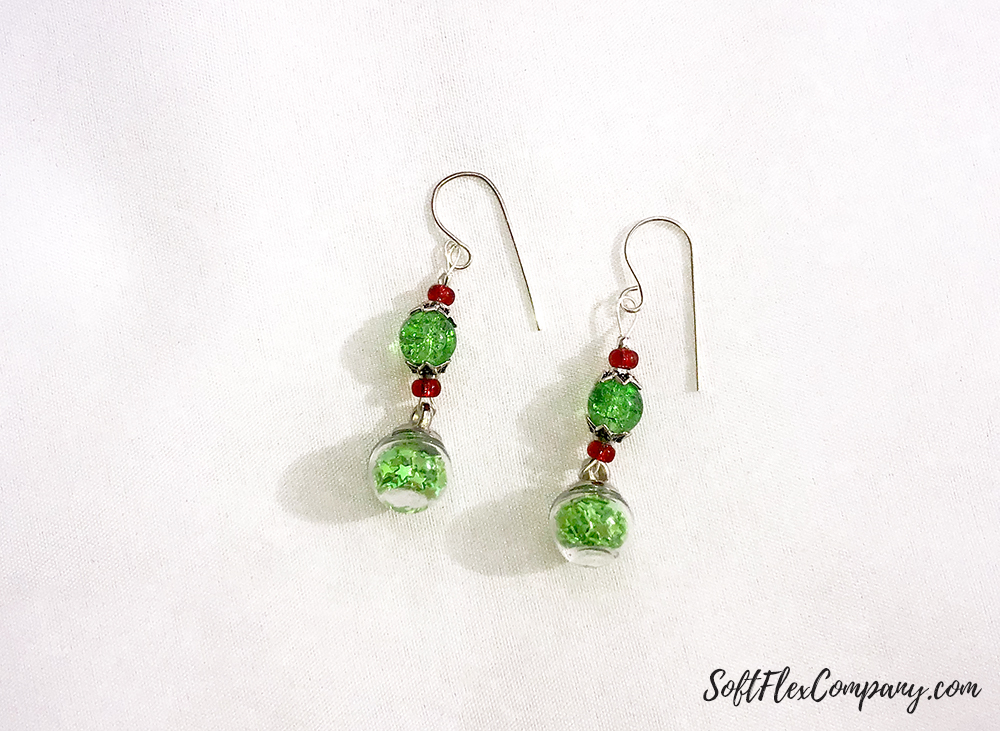 Kristen - Our Festive And Free Spirited Elf
Kristen is a familiar face. If you have watched any of our video library on YouTube or Facebook page, you have likely seen an episode of Free Spirit Beading. Kristen is a talented artist. This fun elf is a jewelry designer, a graphic designer, and all around creative force. Her show is wonderful if you are a beginner, you can expect to learn a fun new technique or master a basic one. If you are a jewelry designer, she has tips on how to overcome crippling perfectionism. If you tend to drop a project because it is flawed, she shows you how to accept a flaw and move on. Even better, you will learn how to turn a flaw into a design element. Make sure you check out her series!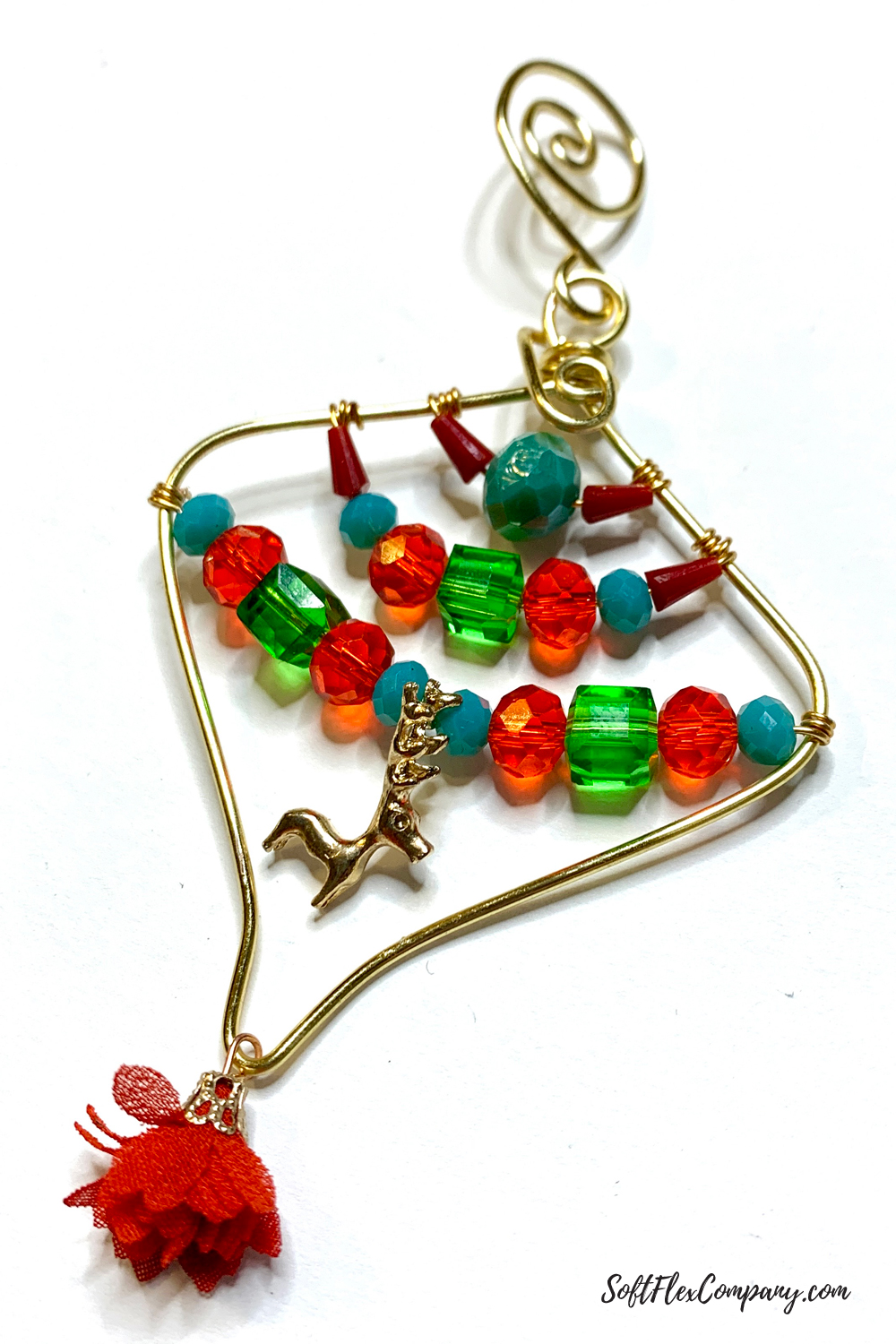 From Kristen:
The cheerful colors of this kit remind me of candy canes and gumdrops and the gorgeous palette of retro glass ornaments! It brought me a lot of joy and nostalgia designing the items for this mystery kit and creating it!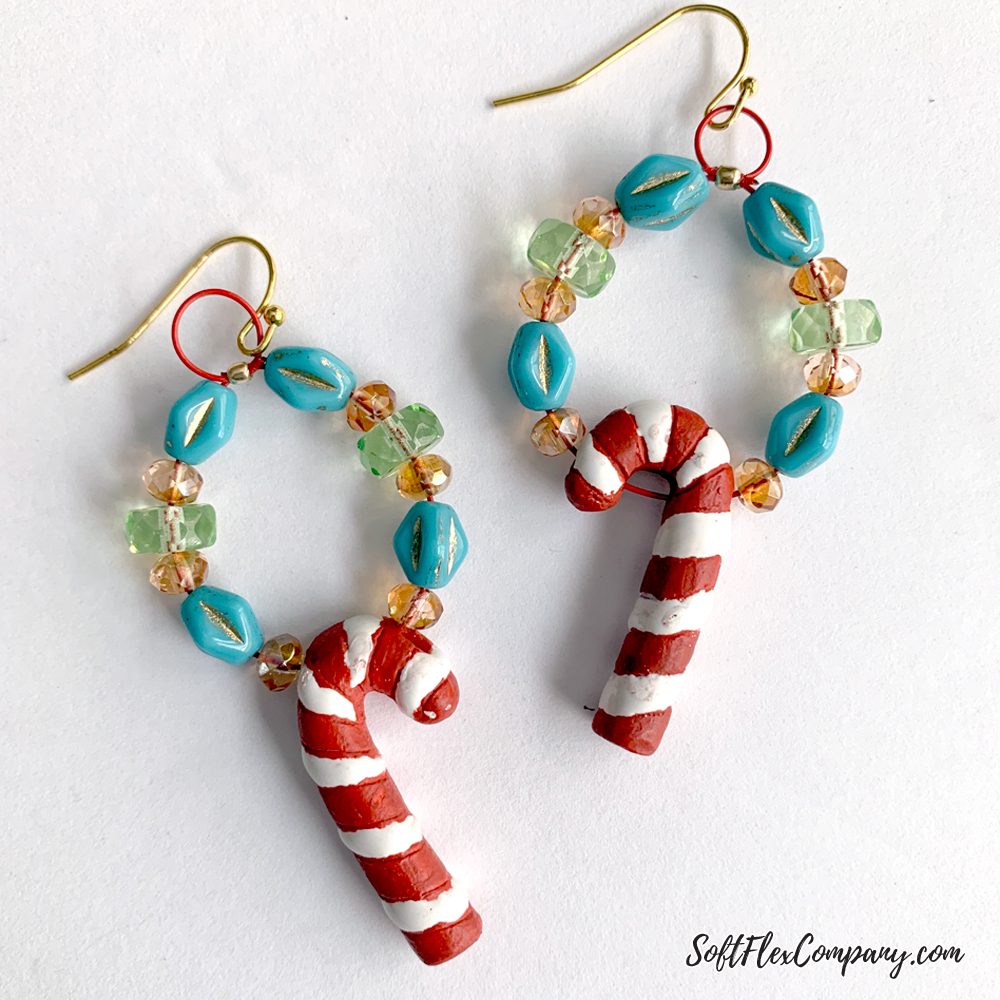 Sara - The Mrs. Claus Of Our Team
Sara is the real Mrs. Claus of our family. She started with the company over twenty years ago. She traveled across the world with the company founders/ owners. She has taught jewelry classes and jewelry making at trade shows and bead stores. Sara has been featured on television segments and interviewed on radio shows. Her input has created product lines and helped evolve our brand. She has been filming live videos and hosting sales for years on our social media. She has been the force behind the innovative designs you see on our site. We are excited to see what she has in store for next year!
From Sara:
I've worked at Soft Flex Company for 22.5 years and feel like we have the very best team right now. My co-workers are creative, hard working and we all genuinely care about each other and our customers. I loved seeing what many of them made with the Retro Christmas Design Kit. It is fun to see each person's personality shine with the same mix of beads and beading supplies from the kit.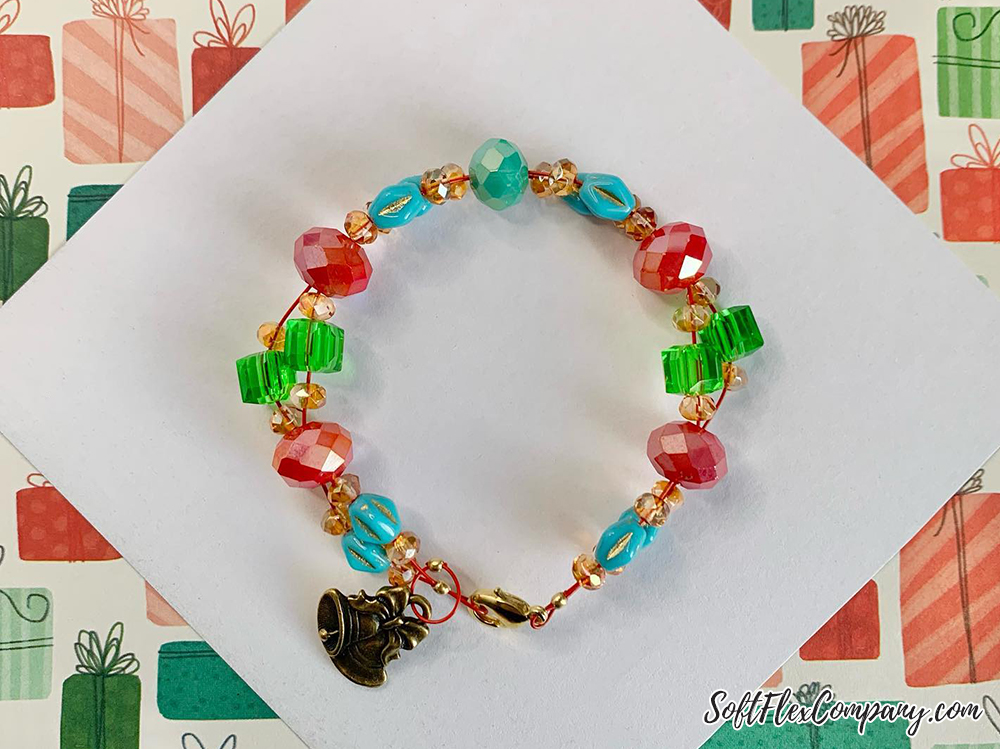 From Sara:
I love the holiday season. This kit might be my favorite Christmas kit yet because the colors were a little surprising but oh so festive! I loved seeing what all of our friends made with this kit.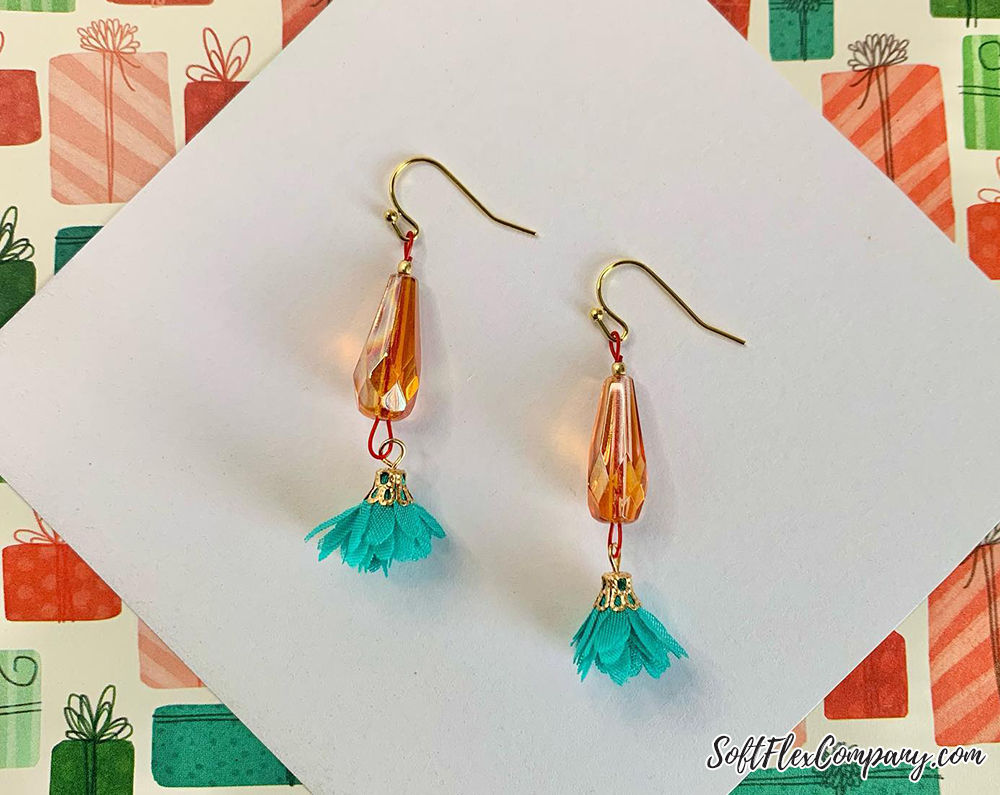 Join our Facebook group – VIB. Stay in the know. Stay up to date. From our bead shows to our video shows and sales, you can stay in touch with us. The community is full of artistic and helpful beaders and crafty people. Inspire and be inspired. Share your pictures and get the beading bug from others!
Visit the Soft Flex Company YouTube Channel!
---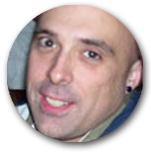 Blog contributor Thomas Soles loves Jazz Age writers and crunchy french fries. His favorite gemstones are Lapis and Pietersite. His favorite hobby is day dreaming. And his favorite mustache is Freddie Mercury's. As you can see, he has a healthy (or possibly unhealthy) sense of humor. You can write to him at [email protected]