Each month, at Soft Flex Company, we put out a brand new kit that is chock full of themed beading supplies. We keep the contents of these jewelry making kits a mystery until Sara unboxes the kit at the end of the month. Last Christmas, we thought it would be fun to see what employees at Soft Flex would do with their kit. We made some merry Christmas jewelry with our Retro Christmas Design Kit (Sold Out). We thought it would be fun to make some magic with our recent Love is Love Design Kit (Sold Out). James put a lot of heart into this colorful kit and we wanted to share his brilliant vision.

Need a big boost of imagination? Check out our Design Kits. Each kit is an exploration. We brainstorm an idea, choose a stirring colorway, and find the perfect beads to complement the theme of each kit. Each kit is a shot of inspiration. They are the perfect gift for crafters and jewelry designers. They are great for all ages (supervised if you have youngsters). Check out what staff did with their kits.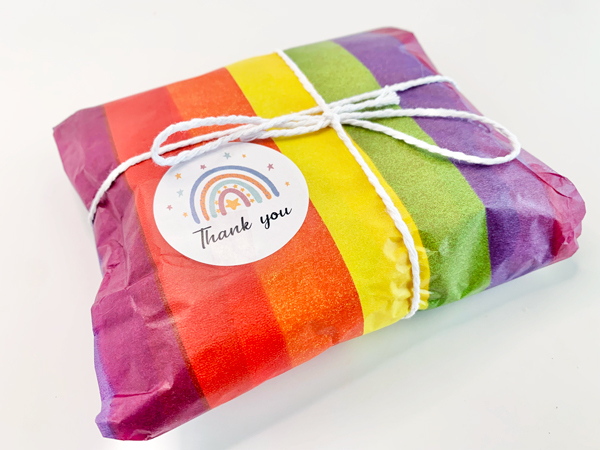 Each of our kits is a themed collection of beading supplies. You never know where one of our kits will transport you! Take an adventure into an undersea kingdom with a colorway that is aquatic and amazing. Explore the neon streets with a collection that is infused with the palette of a glossy wet downtown district. Go gothic on Valentine's Day with a dark heart collection of sweet treats. Our themes are meant to transport you and make it easy to make jewelry with an existing colorway to follow. We love to mix it up, too. Our Golden Gate themed Design Kit featured colors that those of us in the Bay Area might find familiar but might not express the colors people think of when they think of the iconic landmark. The rich rusty orange span is often hugged in pearlescent fog and is a striking figure against blue skies and soft pink color banded sunsets. All of our kits are thoughtfully designed and curated. You are going to love the supplies inside!
Hurry! Our kits are limited in quantity and usually sell out before the end of the month. At the end of each month, we reveal our recent kit on the Soft Flex Facebook page and YouTube Page. Open your kit when you get it or wait for Sara to reveal the contents and open yours along with us live!
If you'd like to join us in the design challenge next month, buy this kit and challenge yourself to try something new and unexpected. If you are new to beading, this kit comes with findings, beads, wire, and surprises.
Our kits are great for skill building. We want our kits to feel challenging. We want them to be accessible for beginners and advanced designers alike, but we love to throw in elements that may seem difficult to test our beaders skills and make them think out of the box. We think jewelry is great when it is easy. But when you really have to engage your mind and process your materials and tools, we think that your jewelry has the potential to be life changing.
Our kits may be inspired by a colorway or theme, but they are meant to be creative interpretations. Imagination and innovation do not follow the rules. Expect the unexpected.
Supplies are very limited. Don't miss out!
Team Soft Flex Celebrates Love Is Love - We Bead Too!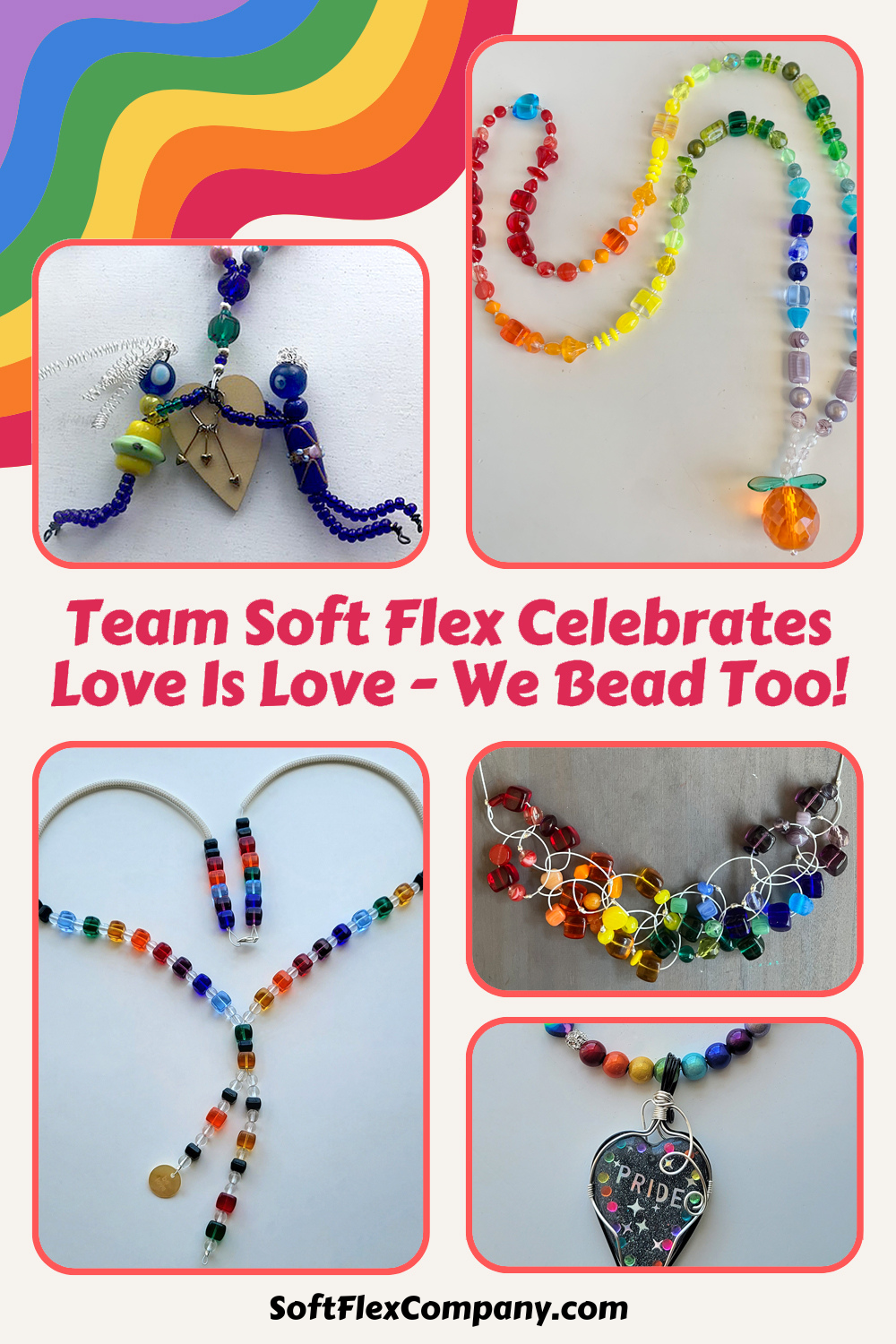 Sara Oehler - Soft Flex Guru
From Sara:
With 3 kids, rainbows are just an everyday thing around my house. We also ardently believe that love is love and that everyone deserves love in all of its amazing forms. I was pleased with how this kit turned out and how much it means to my co-workers and our community at large. If you haven't gotten a chance, please look up The Trevor Project, and know, if you bought a kit, part of your purchase will go to a really wonderful cause.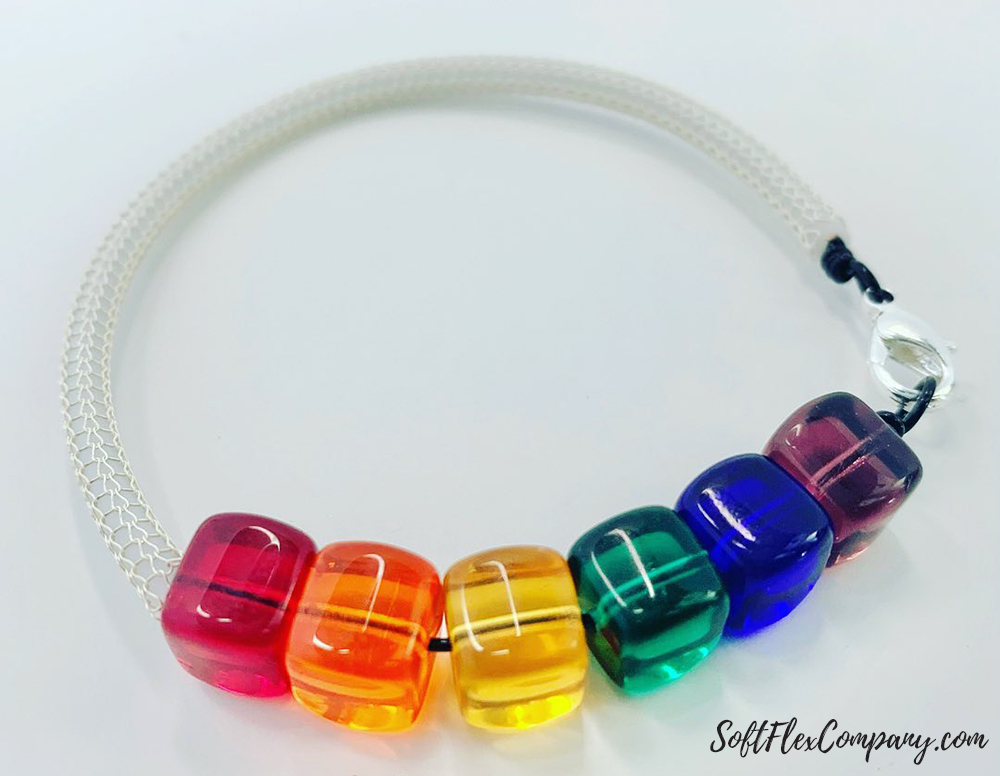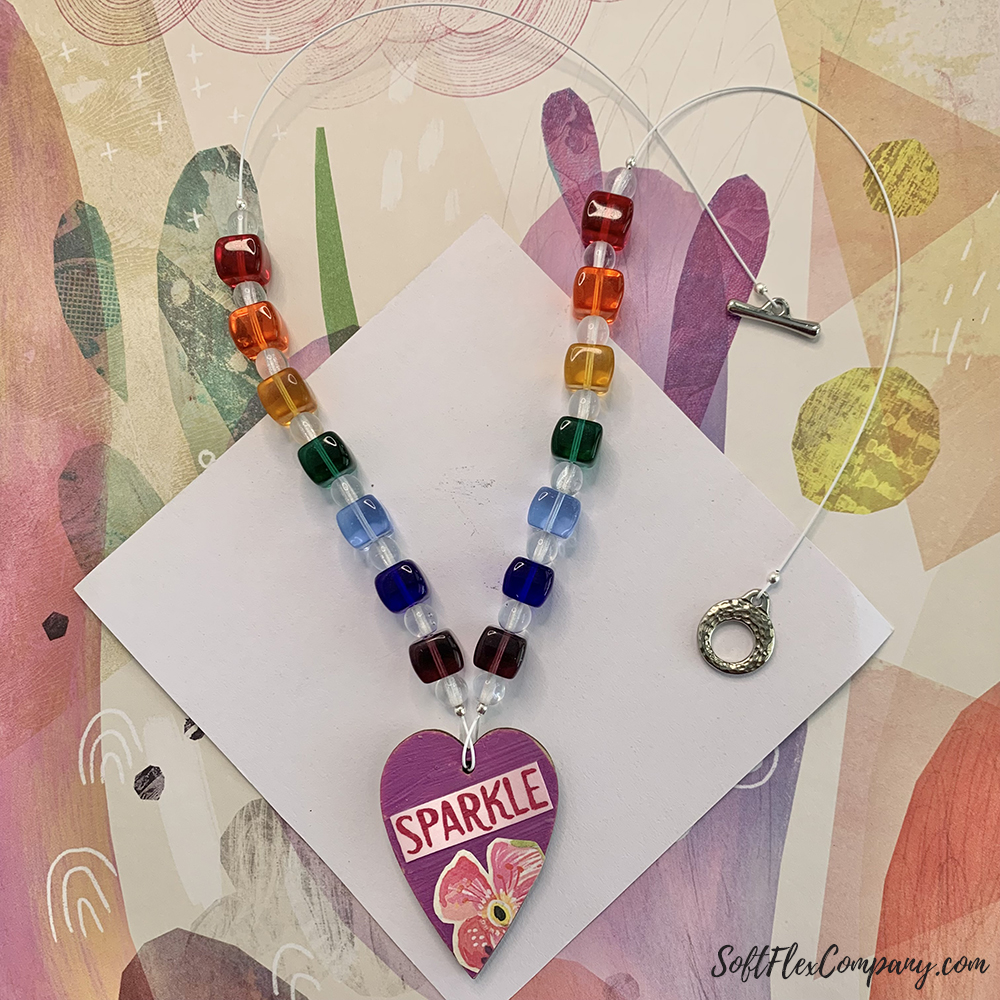 Kristen Fagan - Free Spirited Artist
From Kristen:
Everything's coming up rainbows! The Love is Love jewelry making kit for June has been a big, colorful love fest. This kit was a passion project from the staff at Soft Flex Company and it's just been the best! In addition to the awareness and inclusivity this kit has brought, I'm so happy that a portion of the proceeds will go to The Trevor Project. Personally, I also got the opportunity to share about an amazing community and organization I'm a part of at RealMamaBears.org.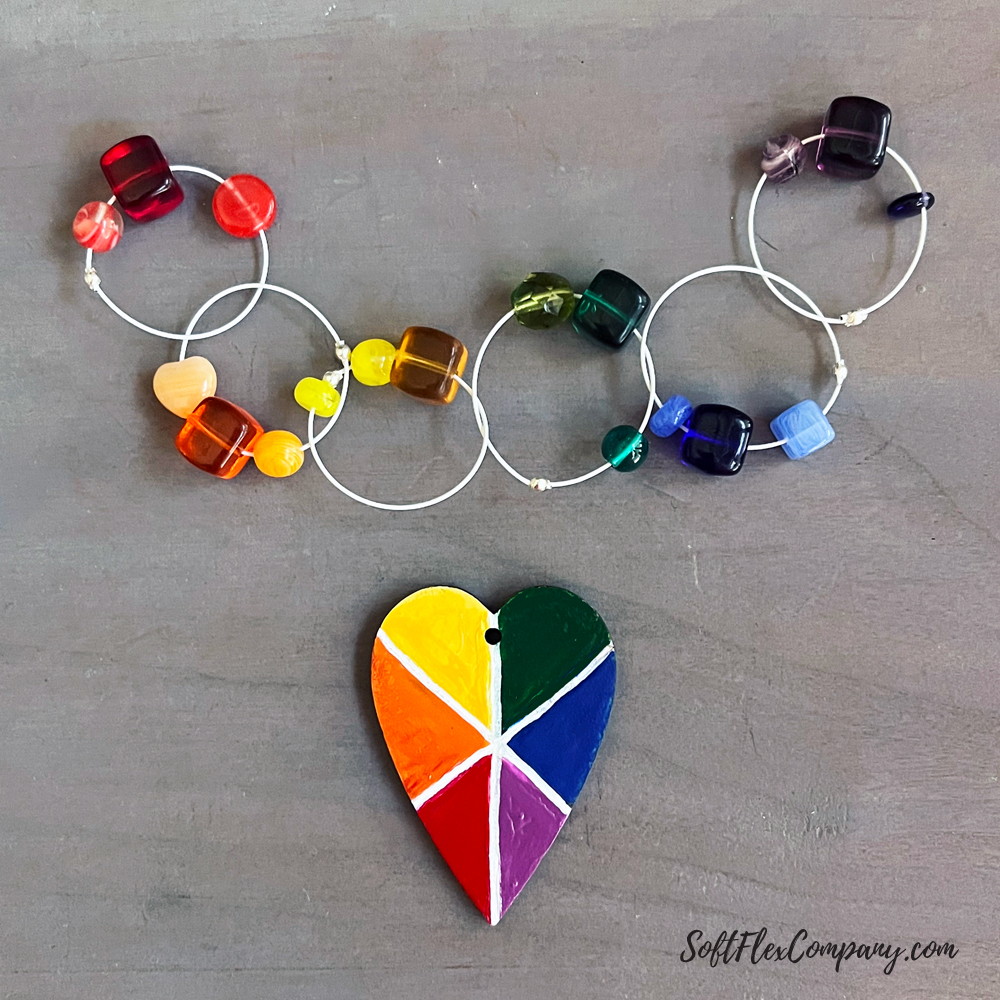 Damien Shay - Graphic Designer Extraordinaire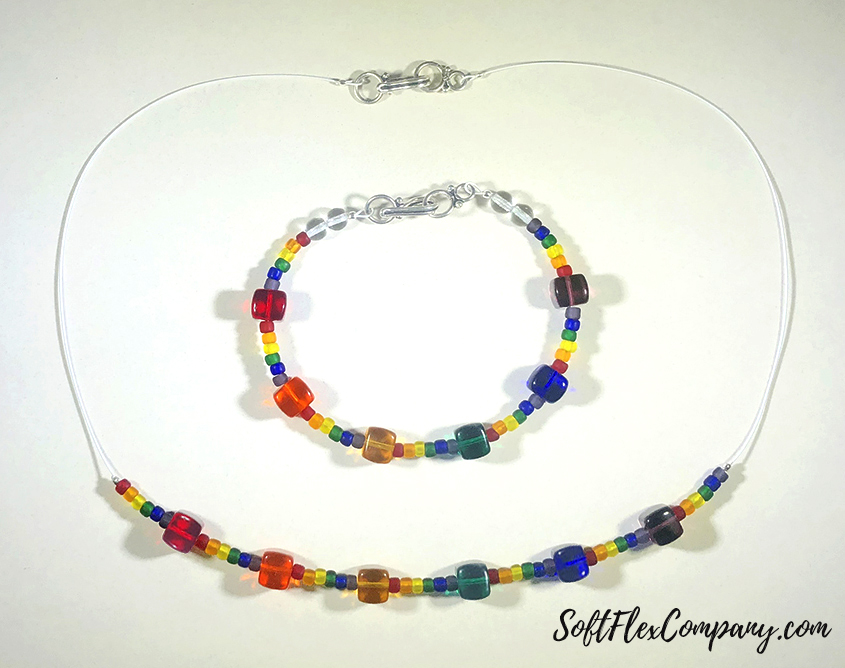 From Damien:
This is one of my favorite Soft Flex design kits so far. It's so bright and colorful. I had a great time making myself some new pride jewelry.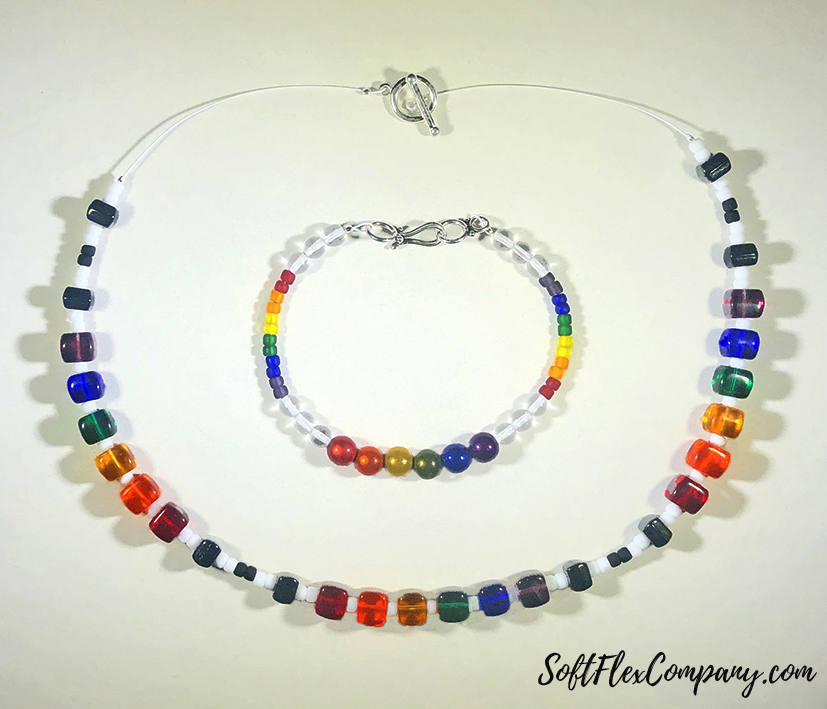 Shelley Richey - Customer Service Wizard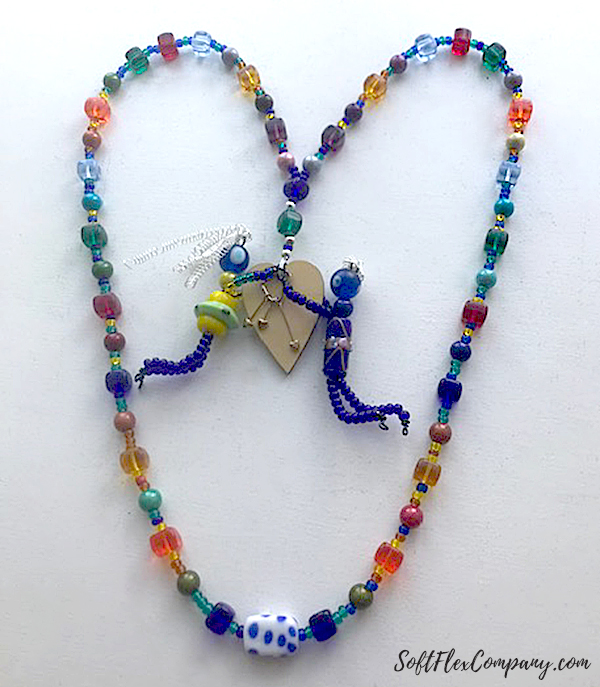 From Shelley:
WOW! What an inspirational kit. The square beads, the glowing rounds-- but the best part of this kit was the theme! I wanted to visually show two people in love- whose hearts were beading (get it?) as one.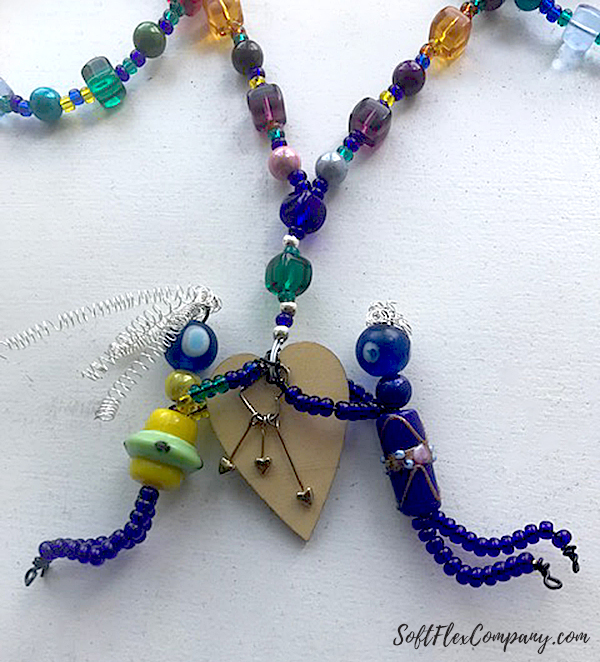 Thomas Soles - Blogger And Behind The Scenes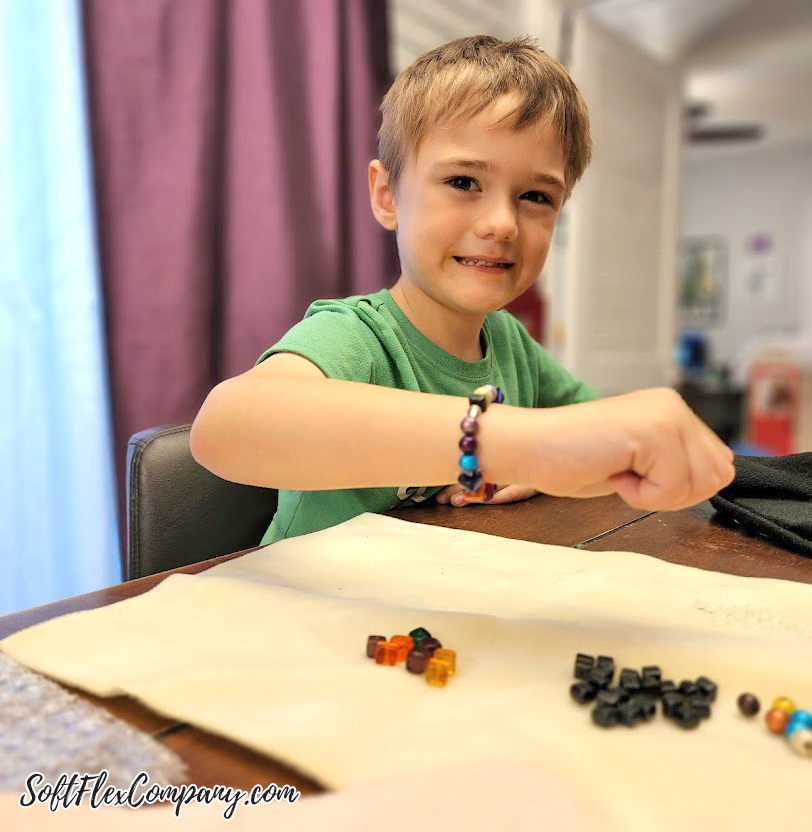 From Thomas:
I was excited for the Love is Love kit because it meant quality crafting time with my son. We put together some jewelry with the Retro Christmas Design Kit (Sold Out) and I was eager to make some new memories. He loves wearing bracelets, so we made one for him and one for me. I started a necklace for Momma, but need to finish crimping it up.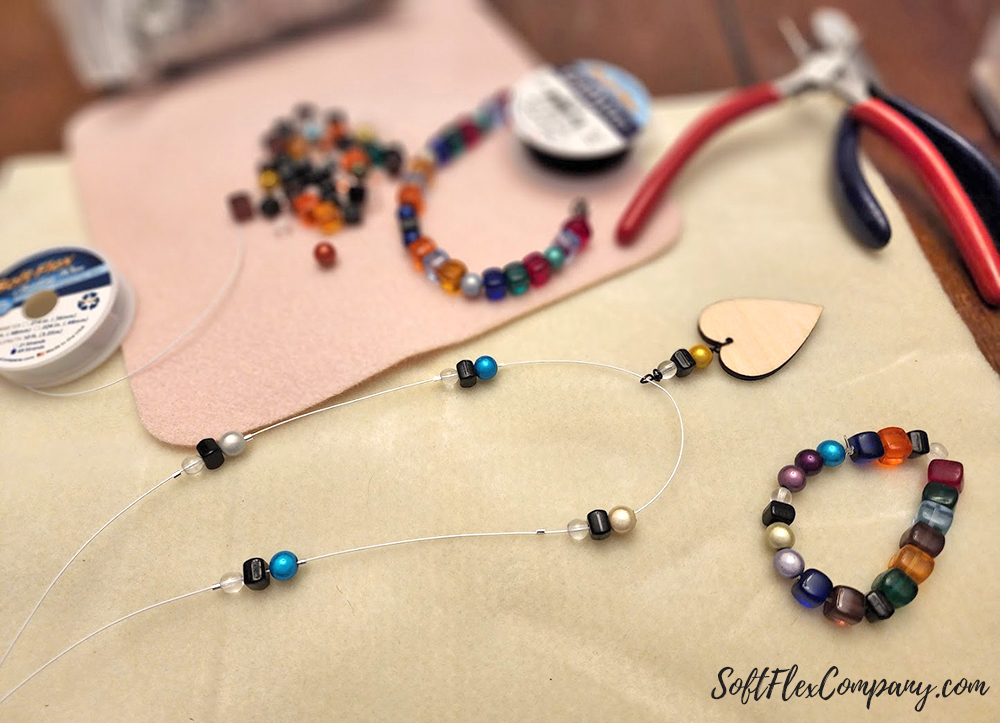 Note: Kristen and Sara have a great trick when it comes to crimping on a single strand of beading wire - insert a tiny length of remnant wire (small bits of wire in your supplies that you have not thrown away or used for other projects) into the crimp so it crimps down on two strands. Then cut that small length of wire at the crimp. This is a great way to keep your crimps from slipping on a single strand.
Janice Thompson - Numbers Genius And Accounting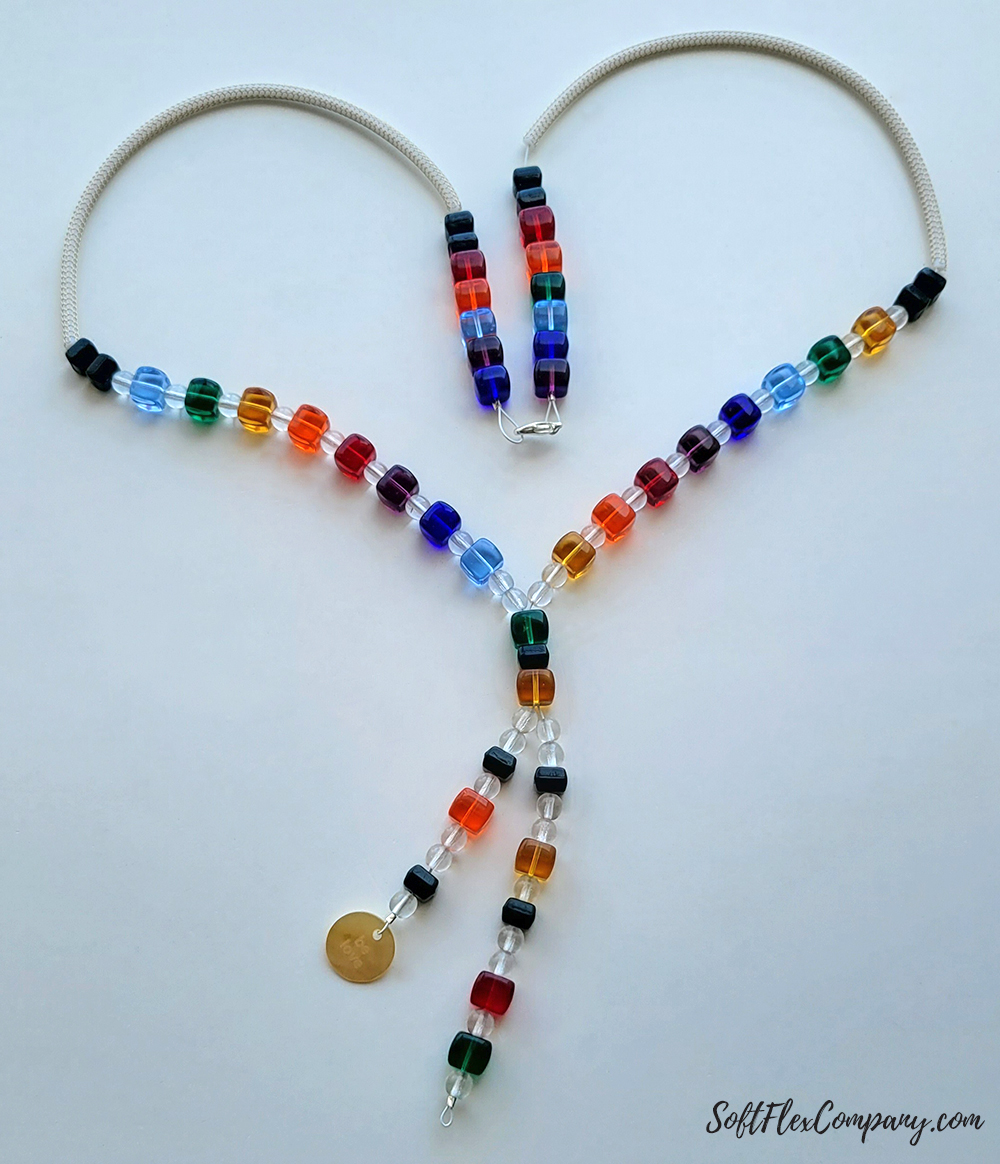 Teri Thomas - Customer Service With A Smile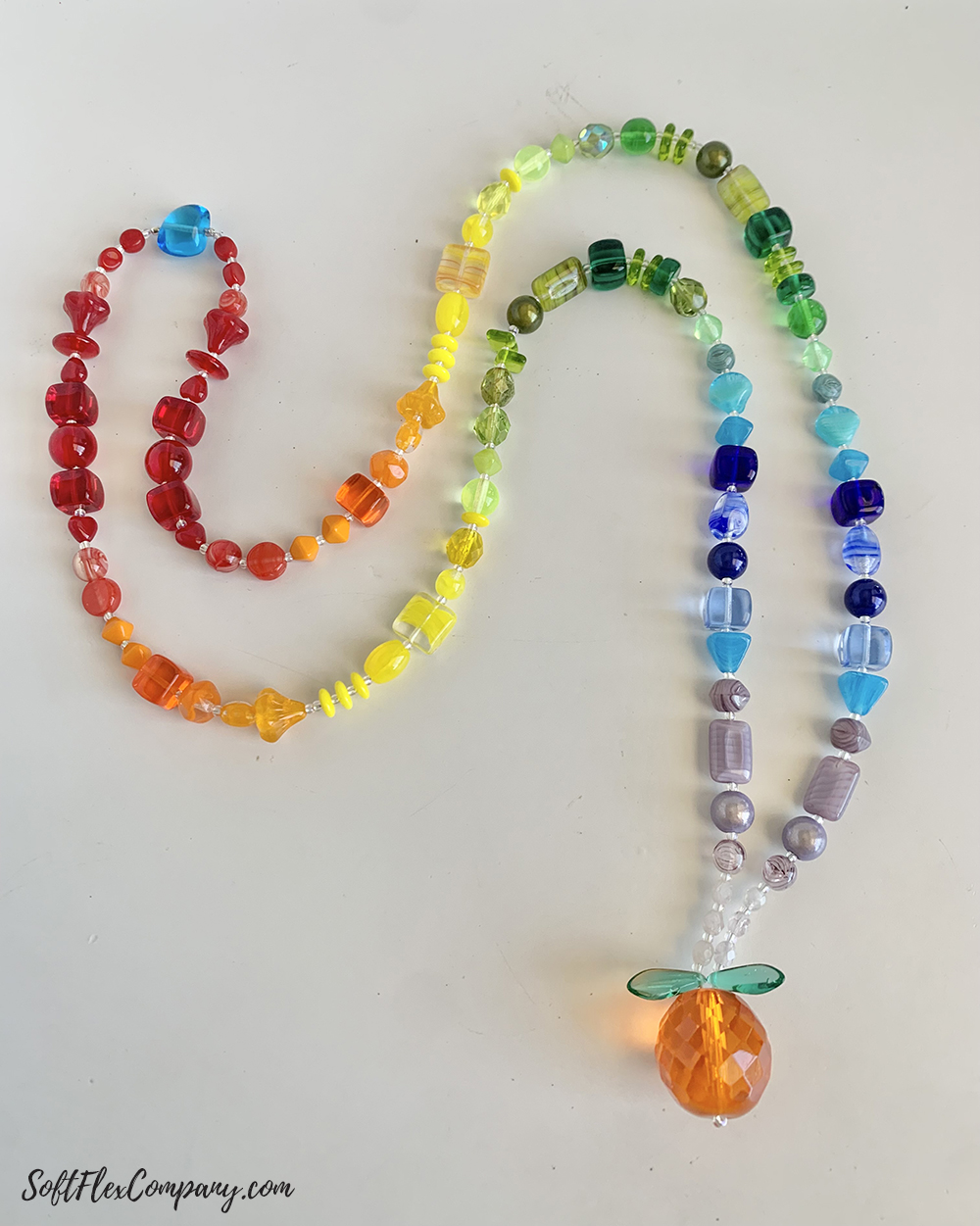 From Teri:
I was so inspired by the "LOVE is LOVE" bead kit not only for the fantastic colors but most of all because I LOVE, LOVE, LOVE working for a company that openly embraces diversity!
James Browning - Craft Wire Maestro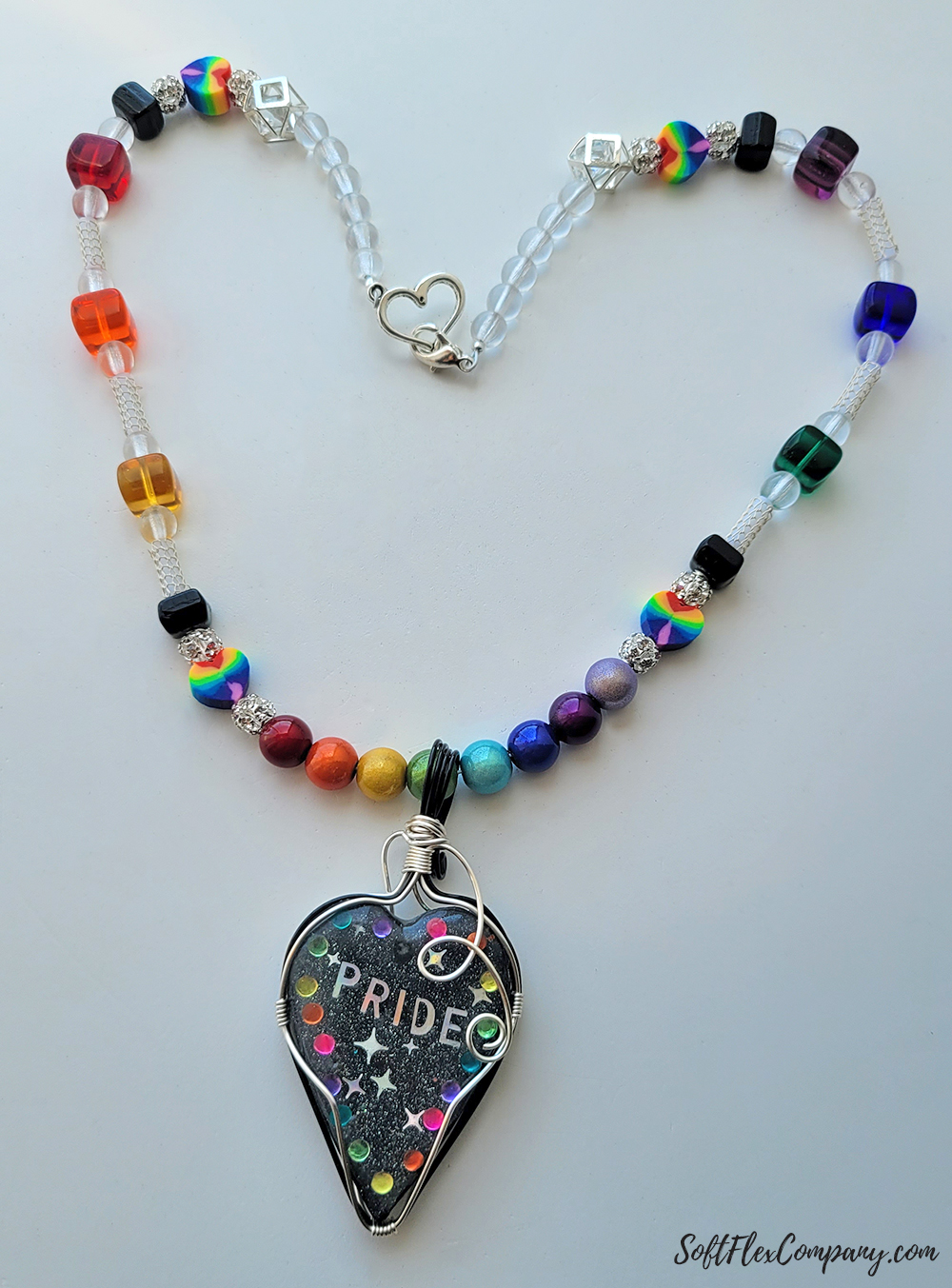 From James
I loved putting this kit together and bringing in some of my favorite creators to participate! I had never worked with resin before, so the pendant was really fun to make!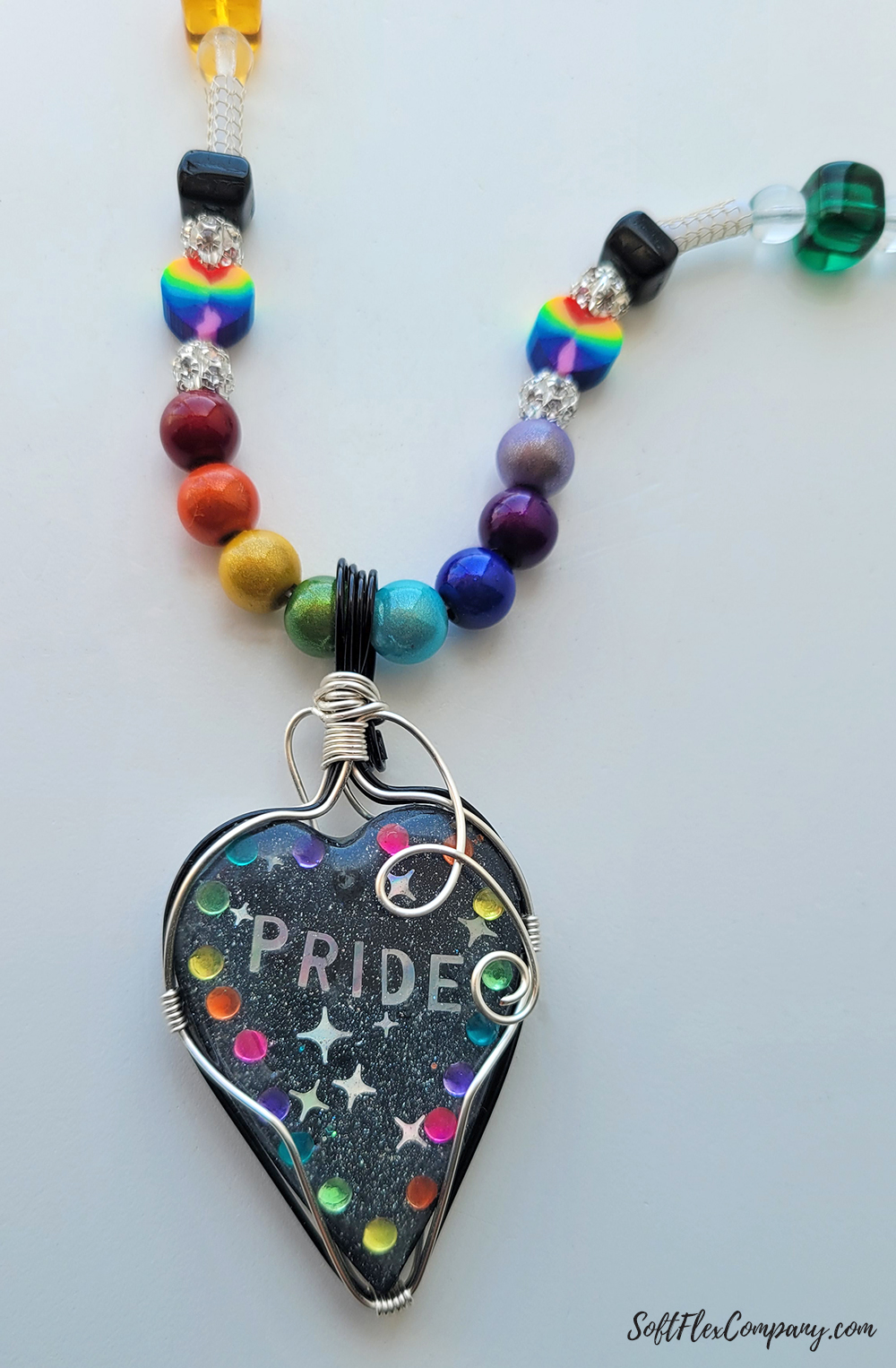 Join our Facebook group – VIB. Stay in the know. Stay up to date. From our bead shows to our video shows and sales, you can stay in touch with us. The community is full of artistic and helpful beaders and crafty people. Inspire and be inspired. Share your pictures and get the beading bug from others!
Visit the Soft Flex Company YouTube Channel!
---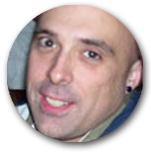 Blog contributor Thomas Soles loves Jazz Age writers and crunchy french fries. His favorite gemstones are Lapis and Pietersite. His favorite hobby is day dreaming. And his favorite mustache is Freddie Mercury's. As you can see, he has a healthy (or possibly unhealthy) sense of humor. You can write to him at [email protected]