Did you join us during the Great Bead Extravaganza? Participating in a big bead show has never been easier! The Midsummer Market theme of the latest show is an homage to Bead and Button. Bead and Button was one of the biggest bead shows in the world. Downtown Milwaukee turned into a beaders paradise in each year. Thousands of beaders, hobbyists, and crafters converged on the city to take classes, find extravagant sales, and get deals on jewelry supplies. The Great Bead Extravaganza is a great way to celebrate that wonderful show - and you don't even have to leave the house!

Today, we will look at the exhibitors and designers that made the Great Bead Extravaganza so special. We have their presentations. We will give you their links. And we will check out some of the supplies they offer on their sites and stores. Get an intimate look at your favorite makers and crafters. Support small businesses. When you buy from the little guys, you are buying from artisans and crafters that are passionate about what they do and what they create! Big box department stores might have a huge selection, but they are staffed with people that are selling products, not people that adore what they do.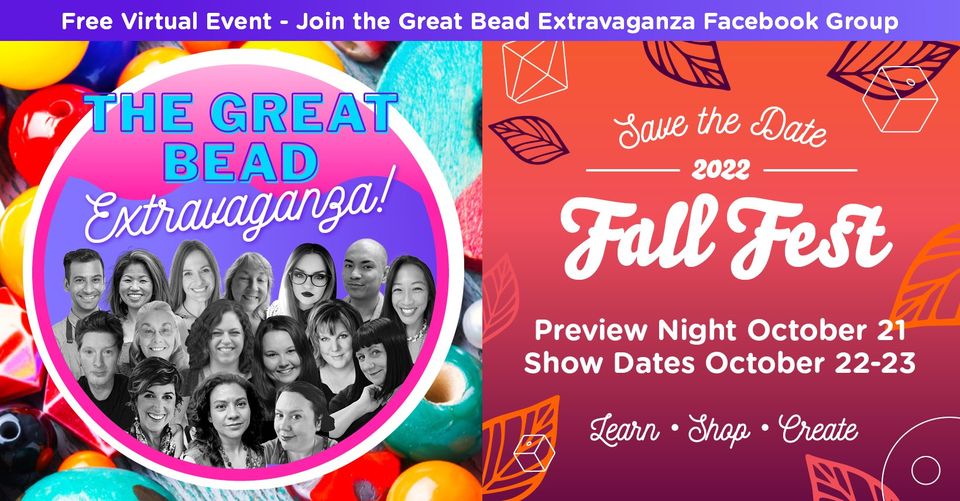 The Great Bead Extravaganza
The world's biggest online bead show is back. The Great Bead Extravaganza was bigger and better than ever! We hope you were able to share the joy with our community. The wonderful designers and artists that take part in each of these amazing shows have decades of experience of selling at bead shows across the world. We have truly managed to recreate the high energy and buzz of the biggest bead shows in real life. If you have never walked the halls of a busy bead show, this is your chance to do it from home! Save money on hotel and travel and spend it on what you really want - BEADS!
If you missed any of the live shows. This is your chance to catch up. We have every moment of the show within a quick link. Simply join the Facebook group and enjoy the fun.
Make sure you save the date for the next show! Live viewers have lots of chances to win big giveaways. Live viewers can interact with creators and they are doing their jewelry demos. It is definitely worth the effort of being present. And not only that, the entire event is free!
Here are the links you need to get connected:
The Great Bead Extravaganza Site
Official Facebook Page
Official Facebook Group
TGBE Instagram
TGBE YouTube
Note about videos: If you have any difficulty following a video link from this page, it is likely due to the layout of Facebook. If you cannot view a video from this page, visit the Facebook group - The Great Bead Extravaganza - and watch the presentations there. You can find the videos in the topics on the bar at the top of the page. Select Presentations and you can find the shows that were live during the big bead show.
July 22nd Project Preview Party
Preview night! Meet the exhibitors! Everybody was on hand and ready for the big bead show. Get a look at what was upcoming and what everybody was excited about. A lot of buzz in the air. It felt like the eve before a big holiday. Want to meet everybody and see what you are in store for? Check out this behind the scenes look. Before the show starts, everybody is ready for big fun and new experiences.
Trouble seeing video? Try watching on the exhibitors Facebook page or visit the Facebook group - The Great Bead Extravaganza - and watch the presentations there. You can find the videos in the topics on the bar at the top of the page. Select Presentations and you can find the shows that were live during the big bead show.
July 23rd (Day One)
Allegory Gallery, Andrew Thornton & William Jones - AllegoryGallery.com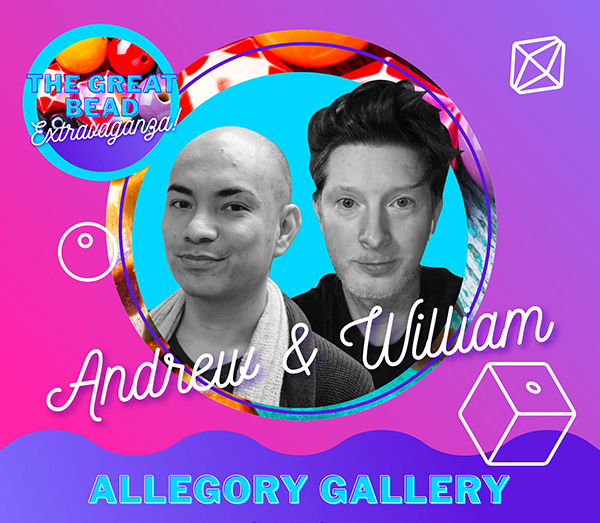 Andrew & William's Great Bead Extravaganza Video - Click Here!
Products: beads, gemstones, Czech glass, pearls, original artworks & prints, laser-cut wooden pendants, luxury bead blends & inspiration kits, charms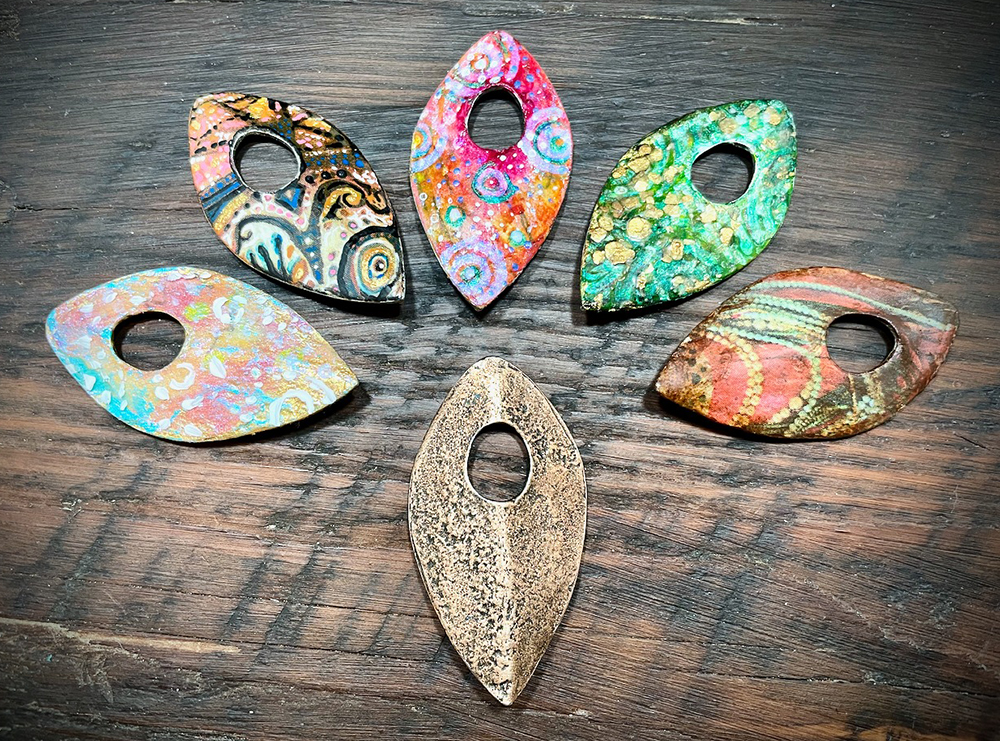 From Allegory Gallery's site:
Join our Allegory Gallery Design Challenges Group here on Facebook! Want to join our Inspired by Reading Book Club? Hit the link to join the group! We've paused the club for COVID, but if you're in, you'll be ready when we start back up! Like Podcasts? Join our Allegory Gallery Interviews Podcast Page! We also paused this during COVID, but we'll be starting back up soon! See all of our latest projects on our website at www.allegorygallery.com!
Candie Cooper, Candie Cooper - CandieCooper.com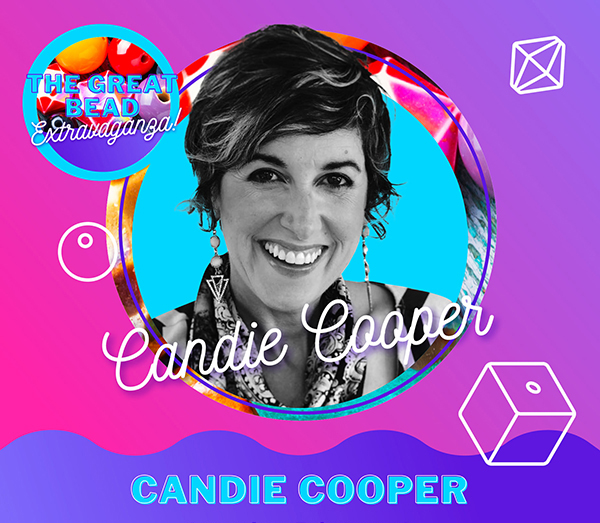 Candie Cooper's Great Bead Extravaganza Video - Click Here!
Products: instruction, beads, charms & findings, African fabrics & beads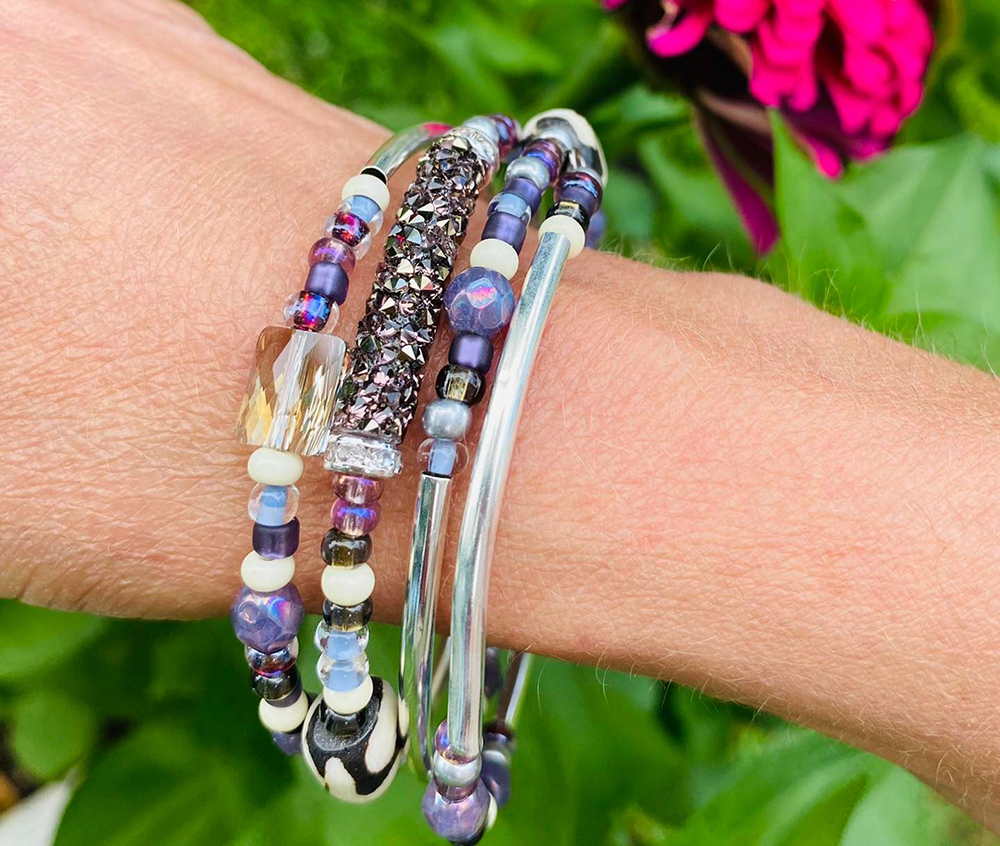 From Candie Cooper's site:
Hi, I'm Candie. I design jewelry and crafts, author books, teach classes and host television programs. I thrive on simple ideas that anyone can achieve. I also love projects made from unexpected materials that stand the test of time. Join me as I lead a creative life – check out my portfolio or blog.
Kate Richbourg Jewelry, Kate Richbourg - katerichbourgjewelry.com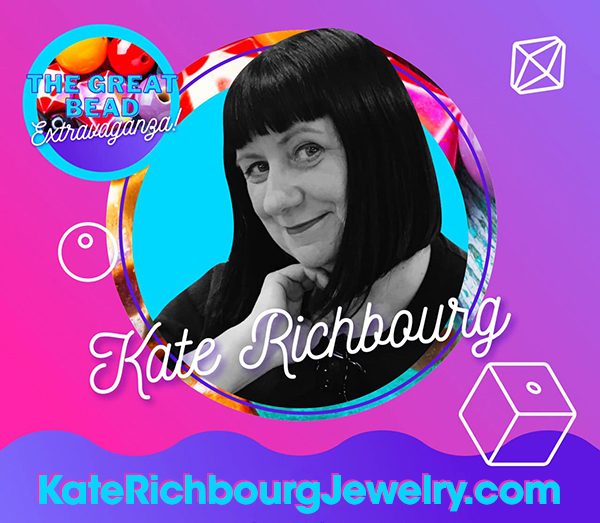 Kate Richbourg's Great Bead Extravaganza Video - Click Here!
Products: beads & gemstones, metal components (blanks, sheets, & rivets), tools, findings, buttons, online classes and more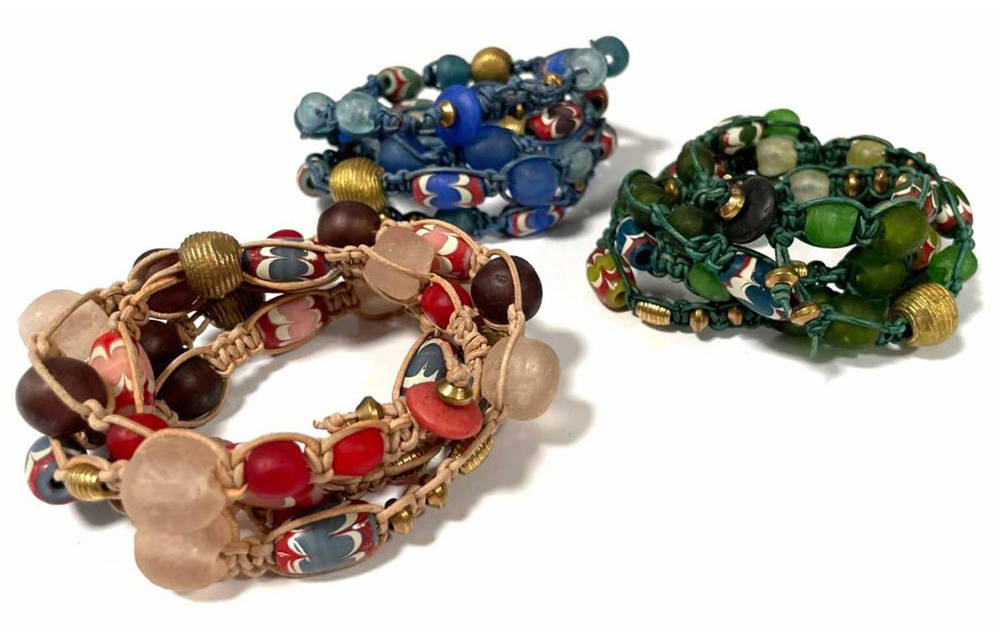 From Kate Richbourg 's site:
Simply put, Kate Richbourg loves jewelry. She loves to teach it. She loves to make it. She loves to wear it. Teaching and designing jewelry since 1992, she teaches at national shows, bead societies, bead shops and in her studio in Redwood City, CA. She is published in a variety of jewelry magazines and is the author of the popular blog "We Can Make That at Home." She has also appeared on several episodes of the DIY and HGTV network shows "DIY Jewelry" and "Craft Lab." Kate is the author of two bestselling books, Simple Soldering: A Beginner's Guide to Jewelry Making and Metalsmithing Made Easy. Wanna make your own jewelry? Learn more about Kate's classes at her studio and nationally at www.katerichbourg.com
JillMacKay.com, Jill MacKay - JillMacKay.com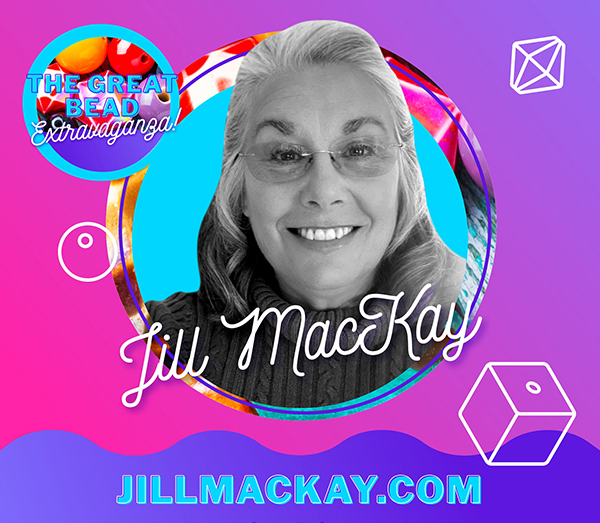 Jill MacKay's Great Bead Extravaganza Video - Click Here!
Products: Jill MacKay designed & manufactured jewelry-making components, findings, leather shapes, high quality beads, kits & instruction, inspiration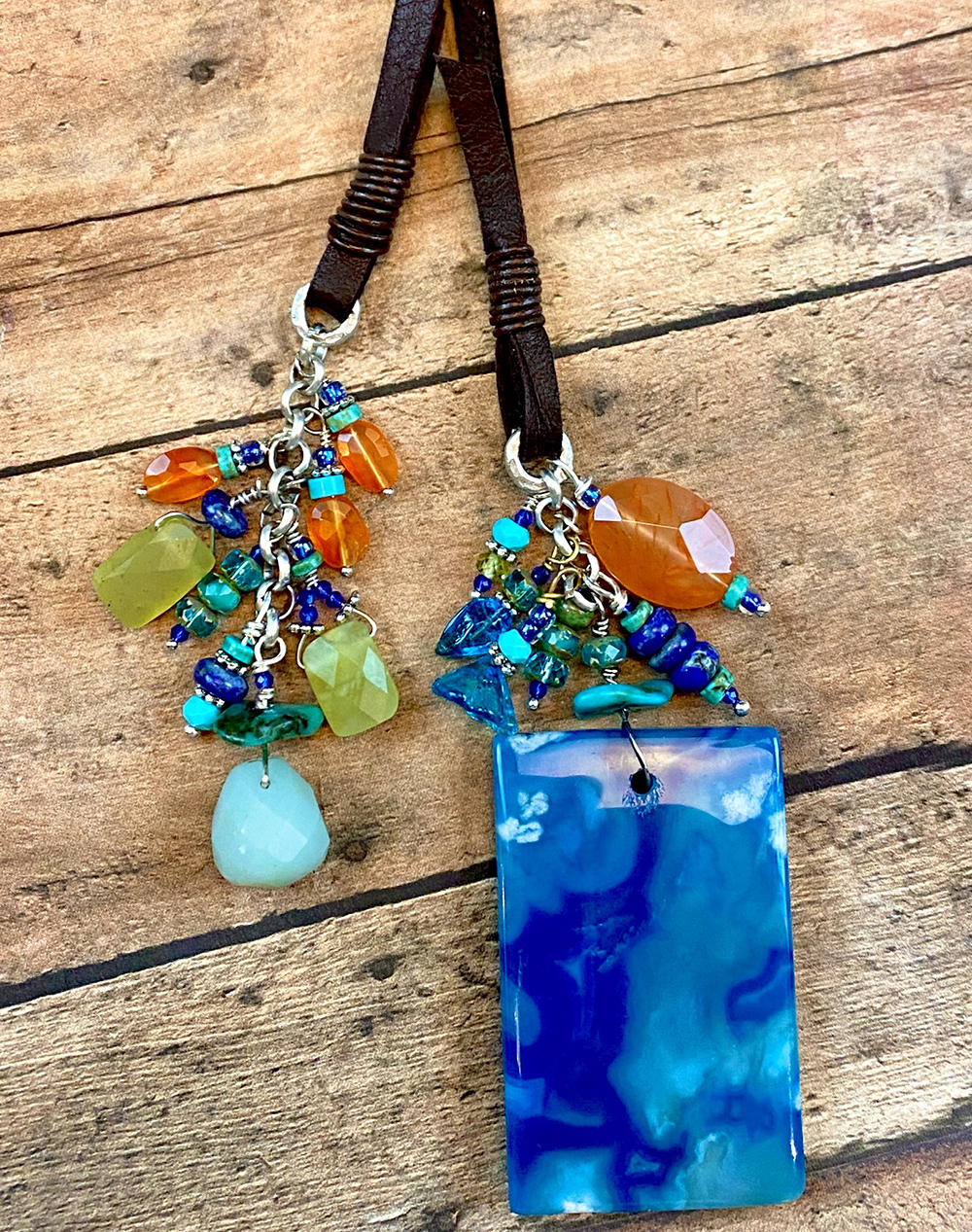 From Jill MacKay's site:
Jill MacKay is an accomplished designer, author and consultant. Her name is synonymous with innovation and inspiration. Jill MacKay designs product lines and licenses to national chain stores, manufacturers and television retailers. Jill is perhaps best known for having been the jewelry designer for the daytime drama The Guiding Light, and for her work on Paramount Studio's Star Trek: The Next Generation. In addition, Jill is a celebrated Arts in Education (AIE) specialist and working artist having collaborated with many of our national art institutions and organizations on large-scale projects and residencies. MacKay also does Art in Public Places large scale, permanent sculpture installations.
Soft Flex Company, Sara Oehler - SoftFlexCompany.com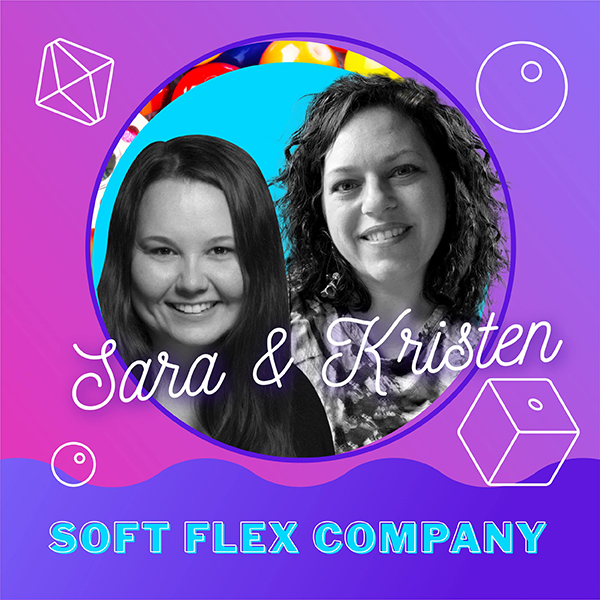 Sara Oehler's Great Bead Extravaganza Video - Click Here!
Products: beading wire, craft wire, tools & supplies, crimps, beads, kits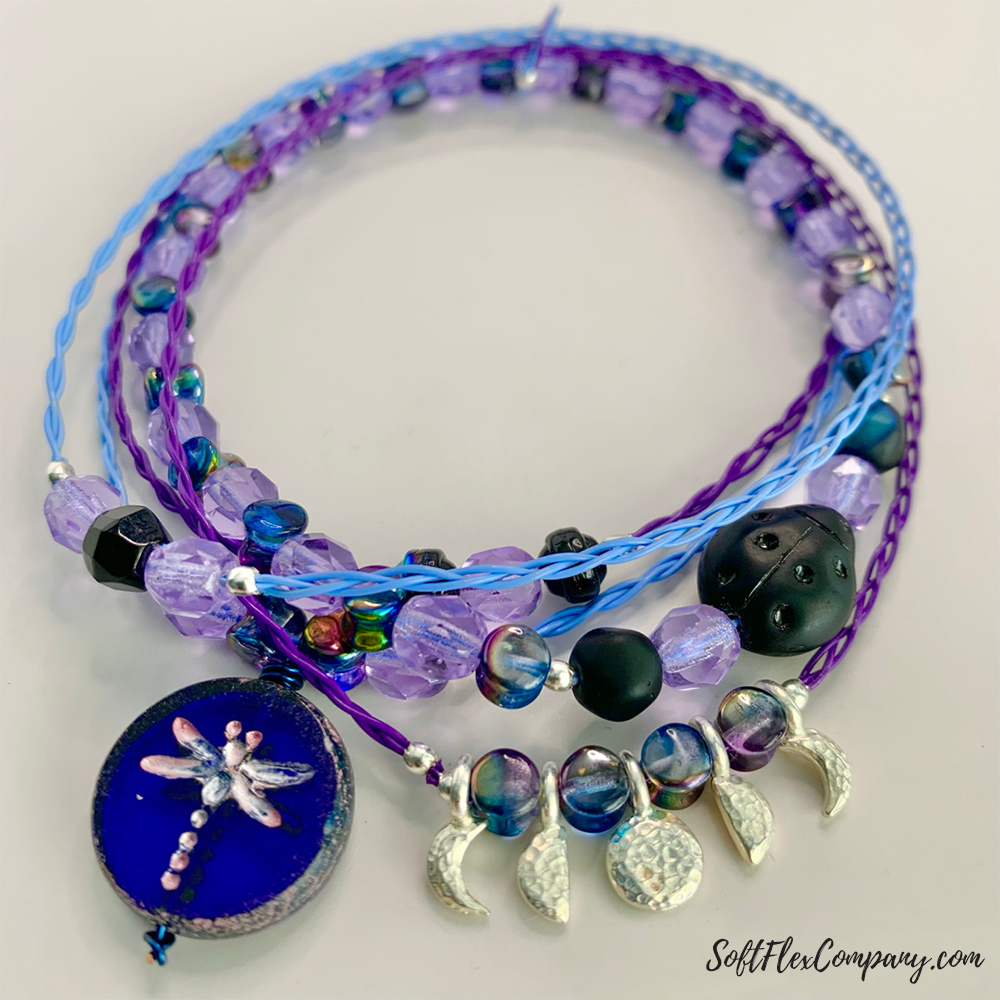 From Soft Flex Company's site:
Defining Excellence Then and Now We lead our industry with simply the best products and services. We celebrate our innovative ideas and proudly inspire creativity with our passion to educate. We are dedicated to exceeding the expectations of our customers and are grateful for their continued loyalty.
SilverSilk, Nealay Patel - SilverSilkOnline.com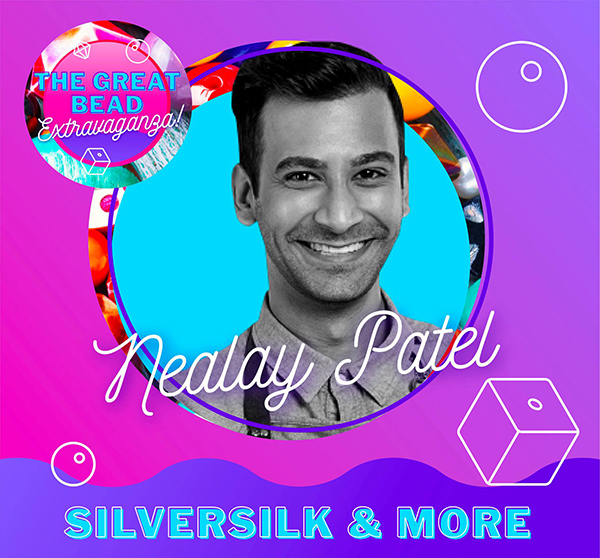 Nealay Patel's Great Bead Extravaganza Video - Click Here!
Product: SilverSilk unique knitted wire jewelry chain, custom findings, instruction/kits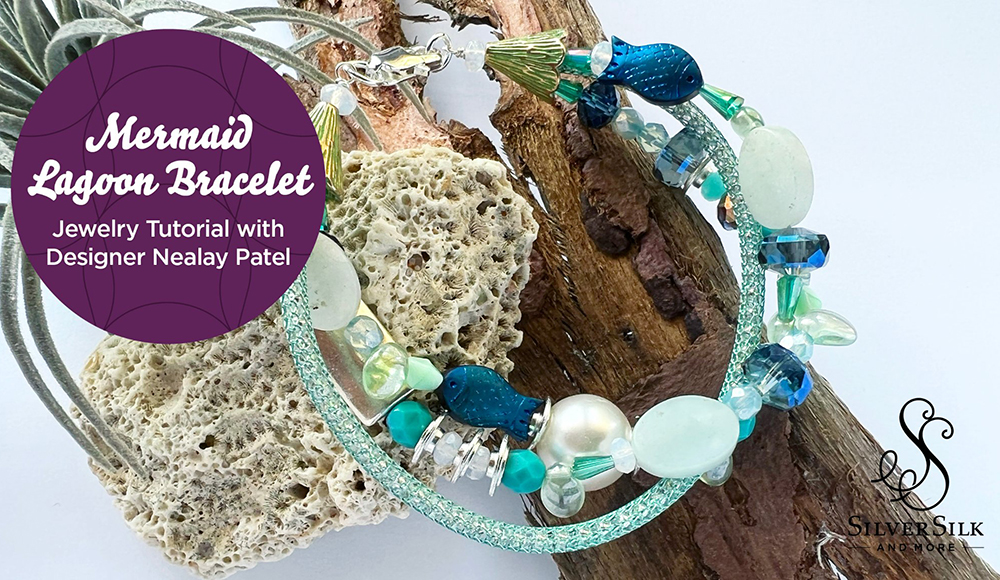 From Nealay Patel's site:
Silversilk is a very versatile, super fun, fetchingly fresh, knitted jewelry revolution! Simply put, SilverSilk is a knitted wire jewelry chain. But, it's like no other jewelry chain out in the craft market. SilverSilk is made by many tiny latch-hook needles that spin around with wire, intricately machine-stitching the wire into an elegant yet strong and supple knitted wire chain. This knitted wire stitchwork offers the crafter new and unusual ways to use it. You can string large-hole beads on it, sew through it, wire-wrap it, glue it, put it in resin or just leave it as a draped jewelry chain. And best of all, you can do it yourself with the easy-to-follow tutorials on my channel, where I cover all the different product lines. Lucky for you, all the tutorials are available for free so you can just browse through the different playlists on the SilverSilk & More YouTube channel to learn how to best use each type of knitted wire lines I carry. It's fairly simple, and great both for beginner jewelry designers as well as those looking to expand on their use of materials. Just pick a knitted wire chain, explore and get creating. You can also head on over to Amazon to get my books on jewelry making that spell out everything you need to embark on your jewelry-making spree.
Kellie's Bead Boutique, Kellie Sutton - KelliesBeadBoutique.com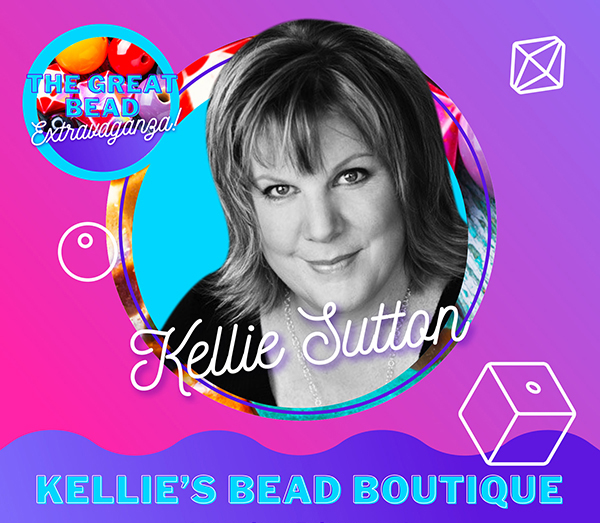 Kellie Sutton's Great Bead Extravaganza Video - Click Here!
Products: beads: Czech glass, seed beads, wood, crystal, semi-precious, buttons, findings, charms & pendants, tools & supplies, kumihimo supplies, kits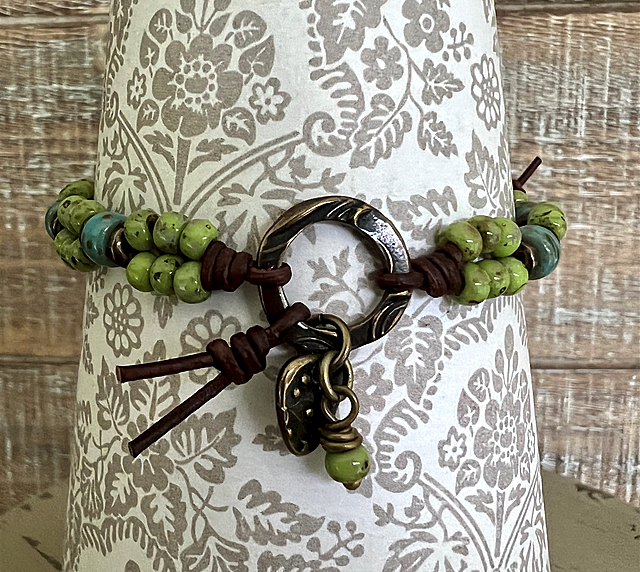 From Kellie Sutton's site:
Kellie's Bead Boutique is a full service bead store that opened in December 2009. Owner Kellie Sutton created a successful line of jewelry, Kellie Sutton Jewelry, that was sold to over 80 stores across Canada and worn by women in the US, Japan, Australia, England and more! Kellie has been featured in many local and national newspapers, been seen on local TV and has had her designs shown in several issues of Bead Style magazine. Watch Global TV news to see her designs being worn by Deborah Hope, Kristi Gordon, and Wesla Wong. Opening a bead store seemed like a natural progression to Kellie with her love of beads and a yearly pilgrimage to Tucson in February helped fuel that passion. Kellie strives to carry the best quality beads, have a great selection and will hopefully have something that will inspire you to make your own unique jewelry!
July 24th (Day Two)
The Bead Place, Abbi Berta - BeadPlace.net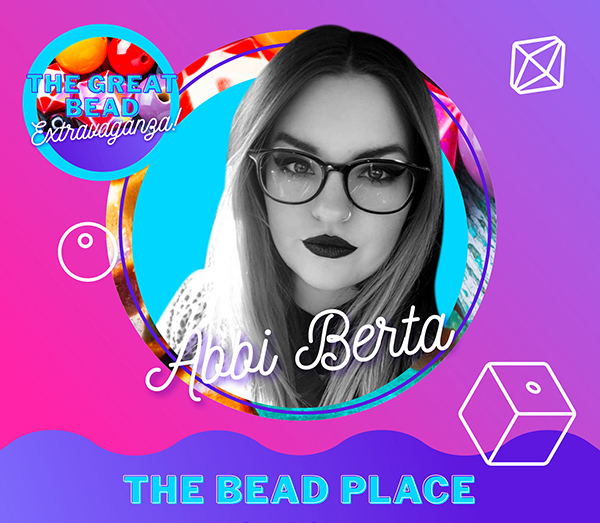 Abbi Berta's Great Bead Extravaganza Video - Click Here!
Products: yarns & fibers, beads & jewelry components, artisan components, TierraCast, kits & patterns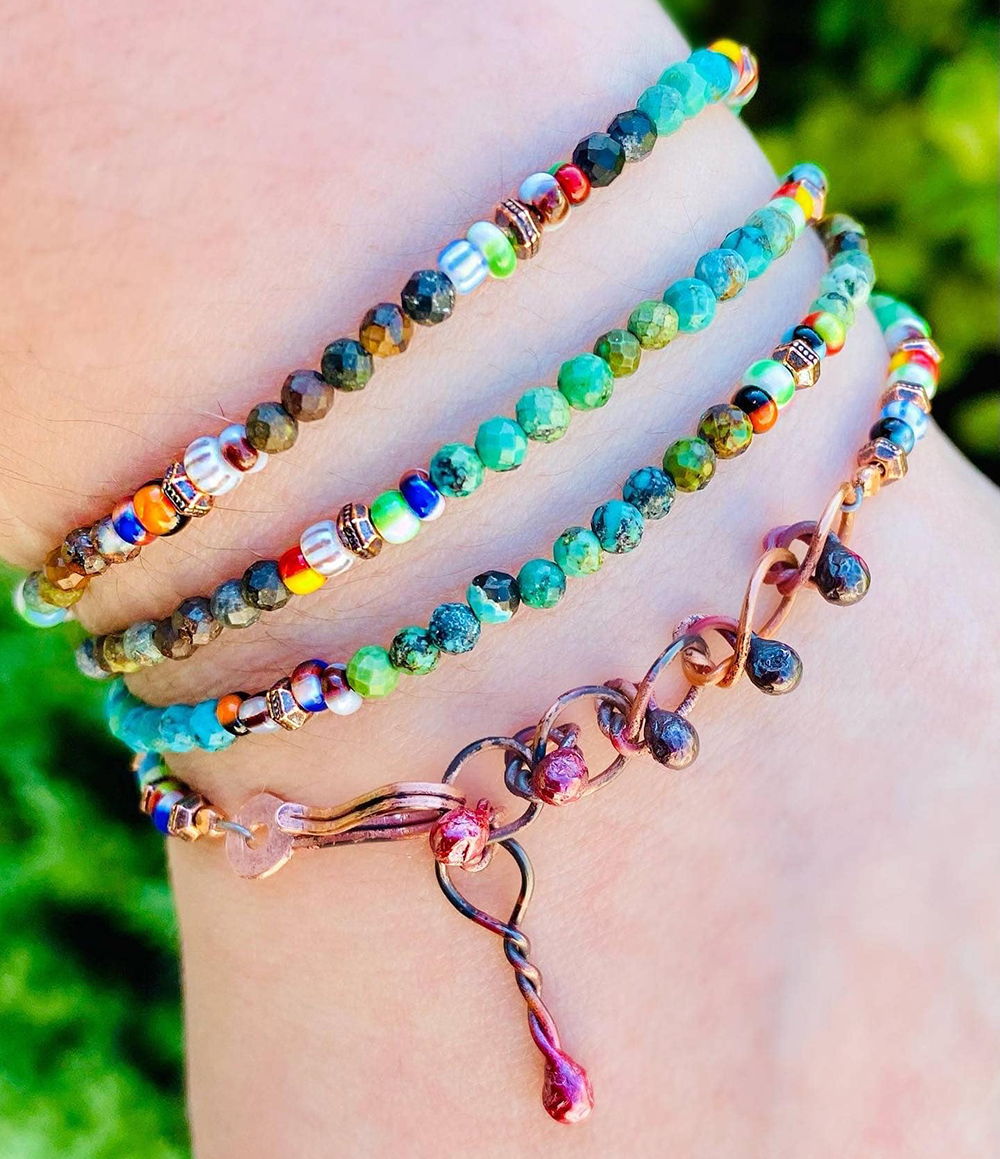 From Abbi's site:
Rhonda Berta and her daughter, Abbi were bitten by the bead bug years ago while vacationing with their family in West Palm Beach, FL. Abbi, (then 8 years old) noticed that a woman was wearing a very intricate and beautifully beaded necklace. This woman, pleased that her hand-beaded design was appreciated, was kind enough to take them to her favorite bead shop and the rest is history...
Humblebeads, Heather Powers - Humblebeads.com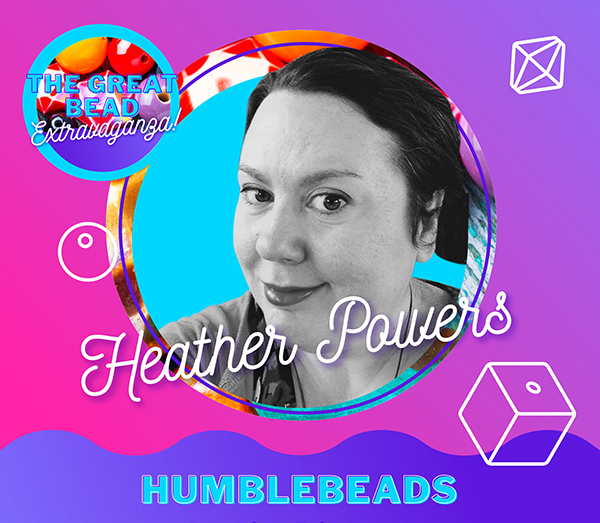 Heather Powers' Great Bead Extravaganza Video - Click Here!
Products: curated collection of Czech glass, metal pendants, charms and findings, artisan beads, beads, spacers & findings, metal pendants & charms, 'Faux Tin' copper components inspired by nature, instruction
From Heather Powers' bio:
My jewelry and beads have appeared in the pages of BeadStyle, Beadwork, Bead Trends, and Stringing Magazine. My work has also been displayed on HGTV and PBS's "Beads, Baubles, and Jewels". I'm the author of three books, Jewelry Inspired by Nature, Beautiful Elements and the Beadmaking Lab.
Whether through teaching, hosting events, writing, or making beads - it is my goal to give out as much inspiration as the world has gifted me! Nothing makes me happier than seeing someone's creativity spark to life after using my beads, taking a class, or reading my book.
Green Girl Studios, Cynthia Thornton - GreenGirlStudios.com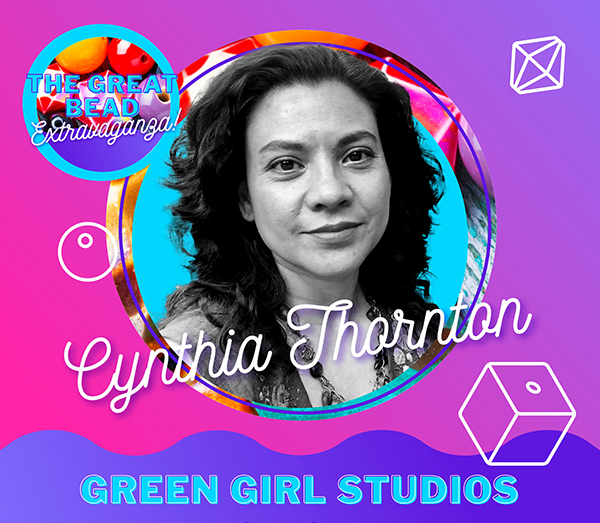 Cynthia's Great Bead Extravaganza Video - Click Here!
Products: original artworks & prints, artisan-cast metal beads, pendants & charms, artisan articulated paper art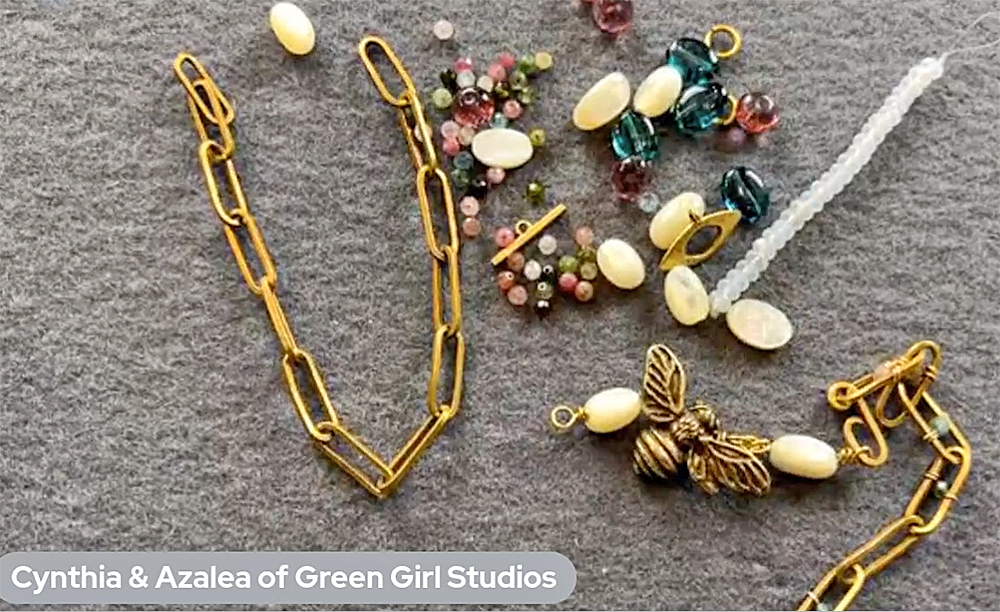 From Cynthia Thornton:
The Great Bead Extravaganza is a wonderful example of the creativity and generosity of the beading community. Sara and Andrew worked together to fill the void caused by canceled shows and retreats; gatherings that many of us find really inspiring - it's a fantastic way to meet fellow makers and to learn new techniques. This event brought those things together in an accessible way, that was fun and easy!
Star's Beads and Clasps, Kay Goss - StarsBeads.com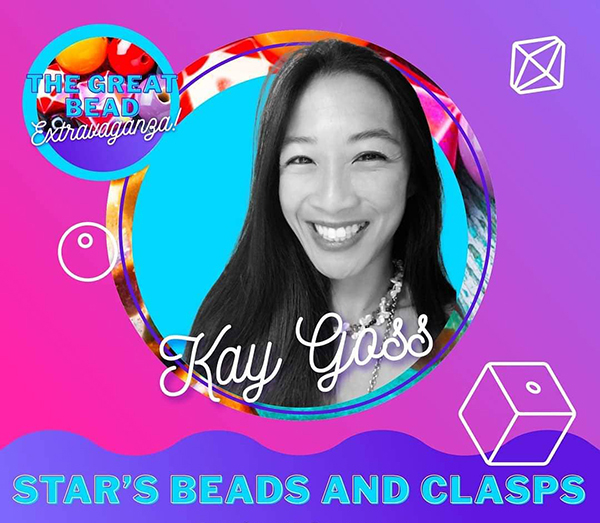 Kay Goss's Great Bead Extravaganza Video - Click Here!
Products: handmade glass beads, high-end semi-precious, pearl, crystal, seed beads, specialty findings & chain, artisan clasps, essential oils, instruction
From Kay Goss:
It is so incredibly refreshing to see an amazing community come together to enjoy a common passion. I am grateful join industry leaders to push our passion into the next generation. The best things can come with change and although it may not be what we know, it is leading us to create a colorful path in the virtual world. This event is the most innovative of its time and I am proud to be a part of it! Continue to create. Thank you for all those that joined me! To pre order any of the kits please join our FB group at www.facebook.com/groups/starsbeadsspecialdestash.
TierraCast, Tracy Proctor - TierraCast.com
Tracy's Great Bead Extravaganza Video - Click Here!
Products: Original metal beads and findings, unique supplies & jewelry making kits, collections & themed beading supplies, finished jewelry, leather & leather crafts, earring posts, ear wires, jump rings & more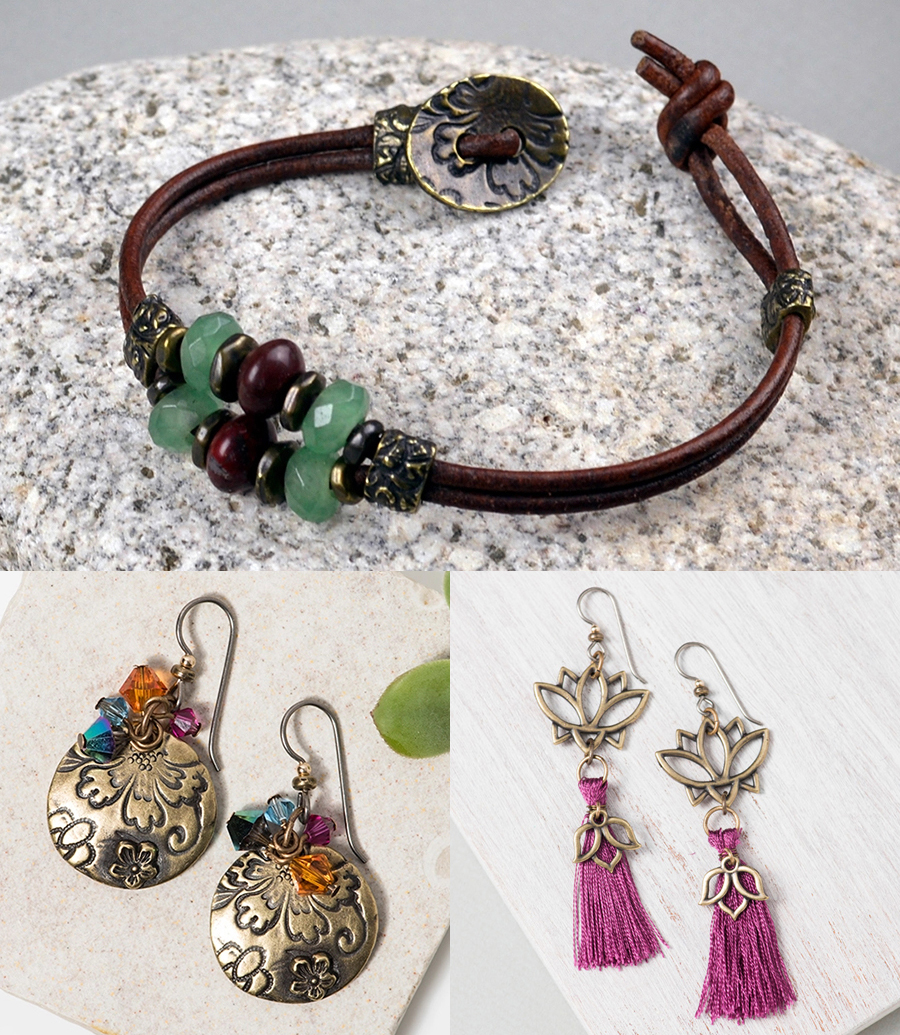 From TierraCast.com:
Our talented and dedicated staff currently possesses over 350 years of company service, averaging 14.5 years for each employee! Long-term relationships with our vendor partners, contractors, and service providers also play a critical role in our success. Most importantly we acknowledge the tremendous relationship we have with our customers.
After 40 years, the company is embracing another new chapter. With a fresh cohort of design, technical and production talent on board, TierraCast is stretching in new directions. At our core we remain a passionate group of people who love making quality parts for you to use. We make every effort to ensure your experience with TierraCast is pleasant, professional and adds value to your endeavor.
The Bead Gallery, Jamie Yoshida - TheBeadGallery.com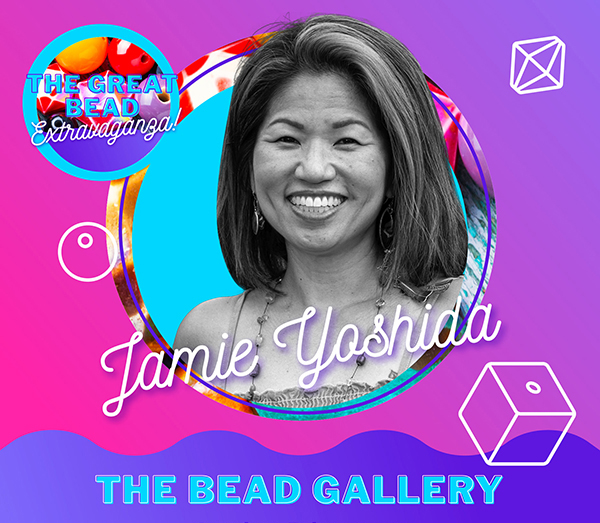 Jamie's Great Bead Extravaganza Video - Click Here!
Products: Hawaiian themed beads, artisan glass beads, gemstone beads, beads: wood, glass, crystal and more, kits & mixes, supplies, findings & tools, instruction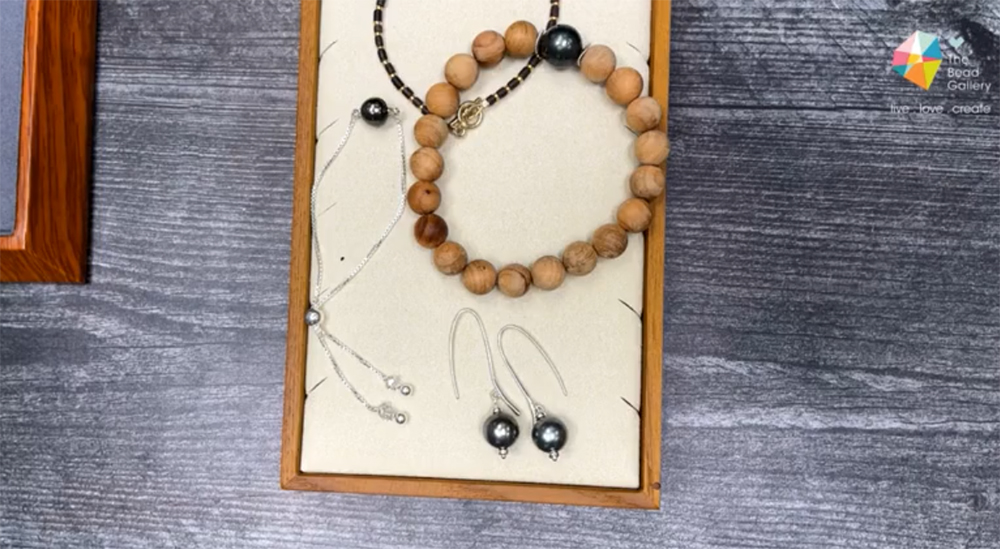 From Jamie Yoshida:
Aloha everyone! We are so excited to get a part of this exciting extravaganza and we wanted to send you a warm welcome from Hawai'i!
Since it's our first time to meet many of you, I wanted to introduce the three of us- that you will meet on our The Bead Gallery YouTube channel and The Bead Gallery, Honolulu Facebook Lives! You can also catch me making late night jewelry on IG!
We thought we'd bring a bit of Hawaii to you, with ALOHA themed projects featuring pineapples, pikake, and techniques we've been teaching for the past 24 years.
Christi Friesen, Christi Friesen - ChristiFriesen.com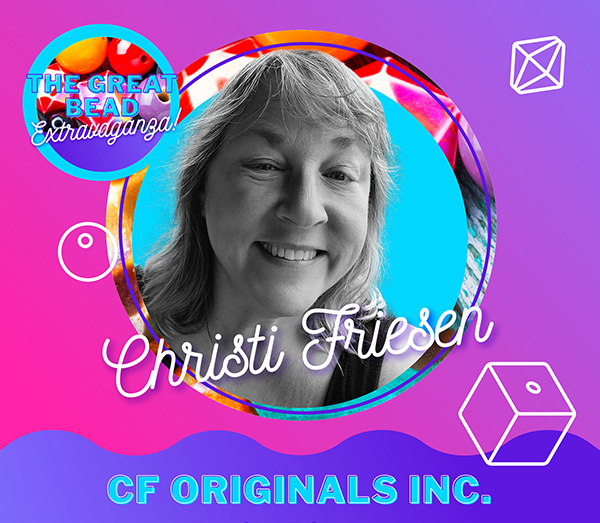 Christi's Great Bead Extravaganza Video - Click Here!
Products: Swellegant metal coatings/patinas/dyes, unique tools & supplies, found objects, curious collections & special things, originals artwork, beads, focals & brooches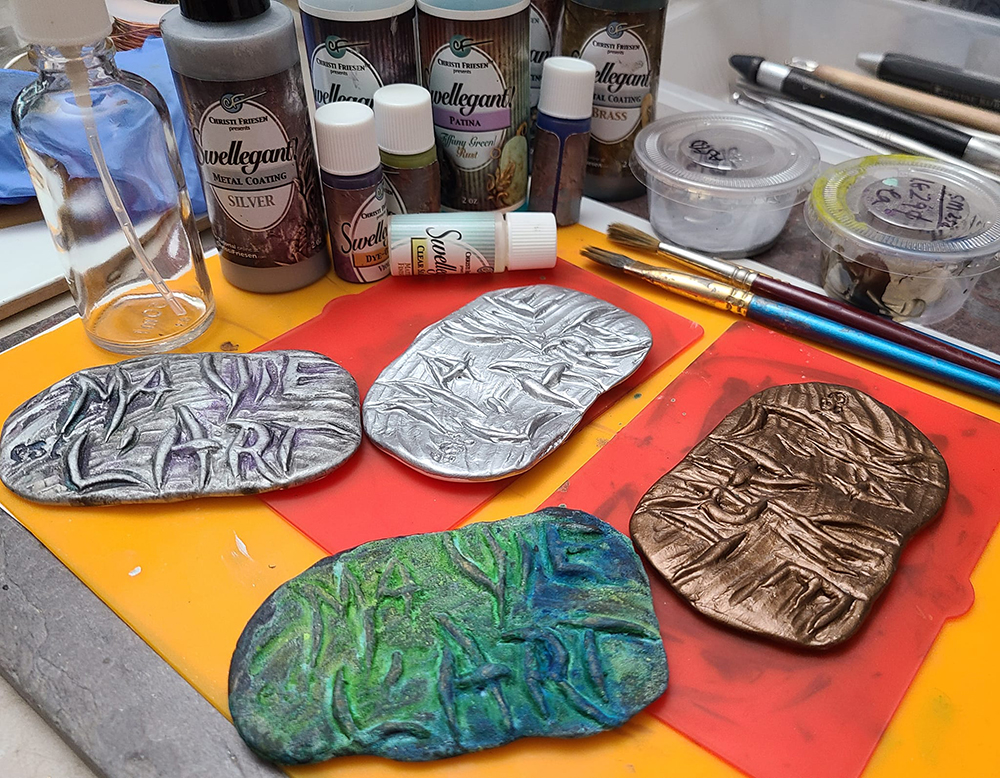 From Christi Friesen's site:
Christi Friesen is an award-winning artist, who works in mixed media. Her work has been showcased in numerous books, magazines, and exhibits. She is the author of over a dozen how-to books on creating with polymer clay. She teaches throughout the world, using humor and positive energy to encourage students to stretch their creativity, technical skills, and artistic confidence. "It seems to me that one of the joys in life is to be interested. Interested in what you do, interested in what surrounds you, interested in what you experience. Creating interests me. And I find joy in creating things that are interesting to look at."
Join our Facebook group – VIB. Stay in the know. Stay up to date. From our bead shows to our video shows and sales, you can stay in touch with us. The community is full of artistic and helpful beaders and crafty people. Inspire and be inspired. Share your pictures and get the beading bug from others!
Visit the Soft Flex Company YouTube Channel!
---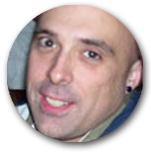 Blog contributor Thomas Soles loves Jazz Age writers and crunchy french fries. His favorite gemstones are Lapis and Pietersite. His favorite hobby is day dreaming. And his favorite mustache is Freddie Mercury's. As you can see, he has a healthy (or possibly unhealthy) sense of humor. You can write to him at Thomas@SoftFlexCompany.com