Let's learn how to make a ring with Soft Flex Craft Wire! James discusses how to make a fun ring with a wire wrapped rose center. His video is easy to follow and will have you designing a ring of your own in no time!

Employee James Browning films a series on YouTube called Conversations in Wire. Conversations in Wire is uploaded to YouTube every other Thursday. James explores his passion for Craft Wire jewelry. He has shown us how to create bird's nest charms, wrap stones, and more. If you have any questions for James, you can post them in the comments field on his videos or email him. If you happen to create anything shown in his video, we would love to see your work, post it in our Facebook group – VIB. James would certainly be happy to see if anybody is creating his projects.
James starts this video with a brief introduction. He is a sales representative for Soft Flex Company, based in Sonoma, California. He invites viewers to visit our gallery. The Soft Flex Gallery is open every Wednesday and Thursday from 10:00am to 3:00pm. If you are a wholesale buyer, you can call to schedule an appointment if those days are inconvenient. The appointment must be approved as we need to make sure the gallery is staffed. There are items in the gallery that are not on our website and there are always gallery sales that are well worth checking out.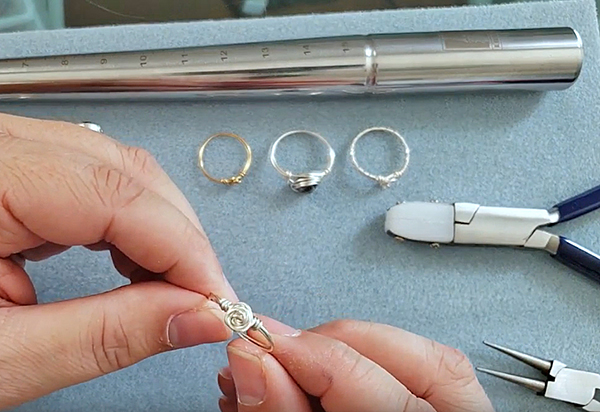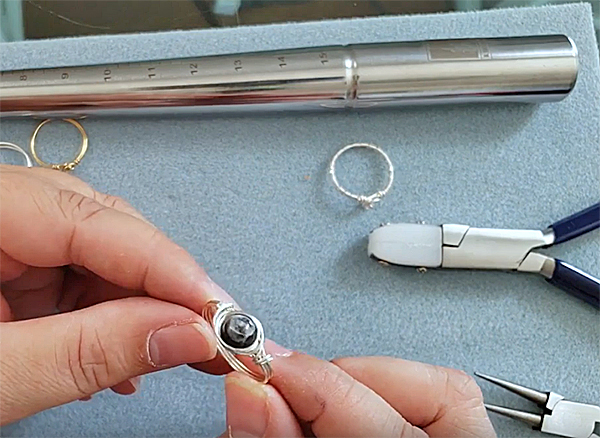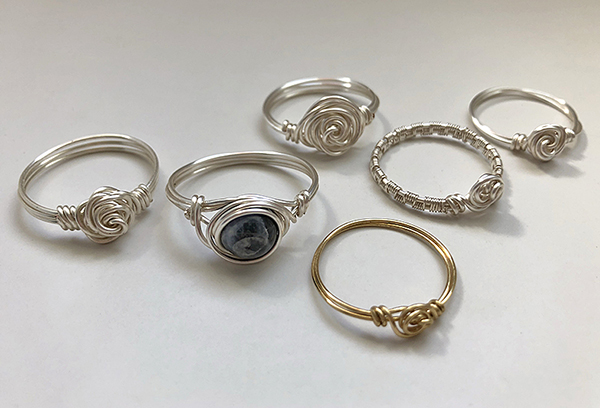 Today, James is working on a little ring. James says you just need wire and some tools. His ring, he calls a rose ring or simple wrap ring, is basically a ring with a twisted or swirled center to give the rose dimension. He says that changing the gauge of wire will give the ring a finer look. You can change the color of the wire for a different look. You can add stones to the ring if you would like, he added a Sodalite stone to one of his rings. Once you have gotten the hang of wire wrapping, you can make your rings more intricate with wire detail.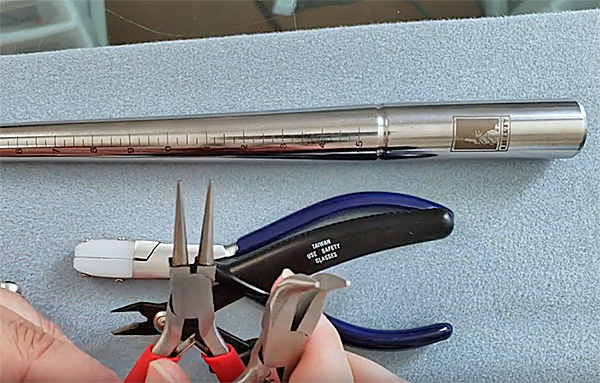 James shows us his tools. You will need a ring mandrel. A ring mandrel is a ring sizer that jewelry makers use to size rings before working on them as it is much harder to adjust later. You can also use a dowel. James uses a metal mandrel that makes it easy to work harden the ring while it is on the mandrel. Work hardening is the process of making Craft Wire retain its shape. Craft Wire is soft and malleable on the spool. Once it is work hardened, it becomes half-hard and will hold its form. You can work harden the wire by striking it with a nylon tipped hammer, a Wire Whacker, or nylon jaw pliers. A soft surface is preferable as metal to metal strikes can harm the finish on the wire.
James shows us his pliers. He is using nylon jaw pliers, round nose pliers, bent nose pliers, and cutters. He is using 20 Gauge Non-Tarnish Silver Craft Wire. If you do not have the tools for this project, he suggests a Craft Wire Starter Kit. Craft Wire Starter Kits are great for building a tool box. They are cost effective and include a bead mat, cutters, nylon jaw pliers, round nose pliers, bent nose pliers, lobster clasps, a 10 yard spool of 22 Gauge Soft Flex Craft Wire, and a free package of Beads.
For this ring, James cuts off twenty inches. This will give him a lot of wiggle room on the design. He grabs the end of the wire he cuts off the spool with his bent nose pliers. He takes his nylon jaw pliers and pulls down the wire. This straightens and work hardens the wire a little to stiffen it. He bends the wire slightly so he can find the center of the wire.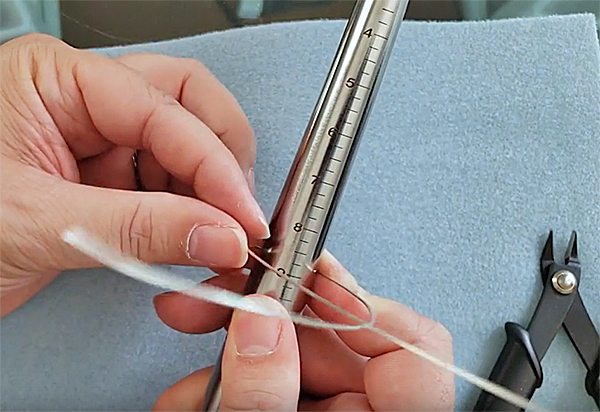 James finds the center of his wire. He feels like he may have cut too short a piece of wire off the spool and decides to make a smaller ring. He places the wire on the ring mandrel. He is opting for a pinky ring. He figures his pinky is a size eight. On the sizer, he places the wire on size nine. Wire wrapping the ring will add bulk to the design that he needs to account for. He wraps the wire around the mandrel three times. You can wrap the wire more or less depending on the look you are aiming for. Once it is wrapped he pulls it off the mandrel to test it on his finger. When he is sure the size is right, he places the ring back on the mandrel.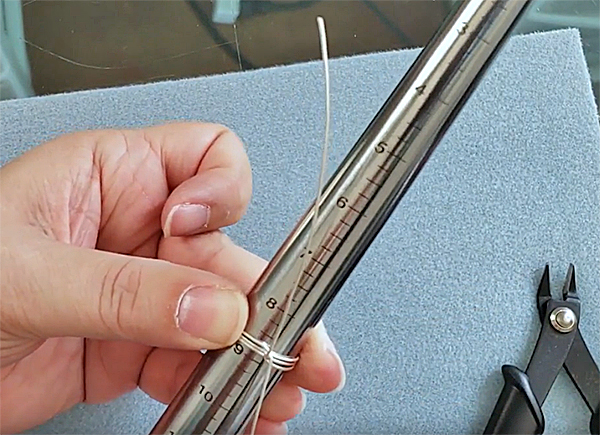 James twists the wire on the mandrel to lock it in place. He takes a single wire and wraps around the center. He wants this to be a flat spiral so he takes his time wrapping. You can wrap both wires at the same time if you are in a hurry. James says he does not suggest trying to speed this process up. Part of being a decent wire designer is taking your time and making sure you are doing everything correctly. Rushing through a project is a good way to fail.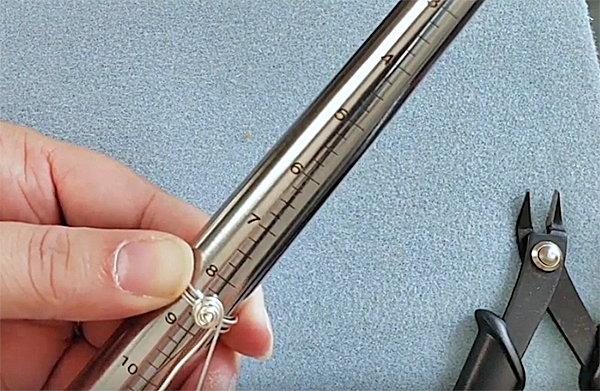 James wraps a neat spiral. He has a couple inches of wire left. The remaining wire is on opposite ends of the ring. He removes the ring from the mandrel. He curves one of the wire pieces through the inside of the ring. To make the wire neat, he uses his bent nose pliers and squeezes it. He does another loop inside and squeezes the wire. He suggests a gentle touch with the pliers as bare metal can mar the wire. He does another wrap and flattens the looped wraps.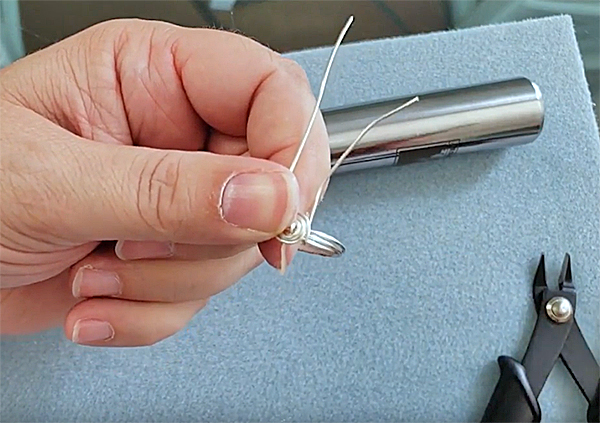 If you are not accustomed to projects like this or are a new wire wrapper, James suggests a smaller gauge. He says 22 gauge wire is a good choice for beginners. It is easier to manipulate and bend.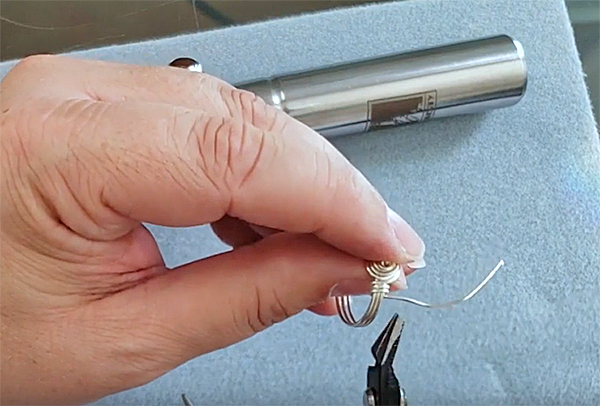 James wraps the opposite side three times so both sides of the center are uniform. He cuts the remaining wire off near the center. He uses bent nose pliers to work the tiny bit of wire left into the wrapped loops.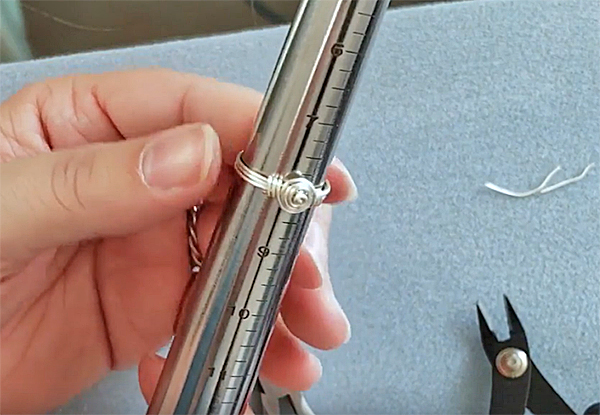 James places the ring back on the mandrel. The size is no longer a nine, but an eight. He says that is why it is really important to measure the ring well as it can shrink an entire size. He says that placing the finished ring on the mandrel will help center the ring again if you have bent it at all while wrapping the rose.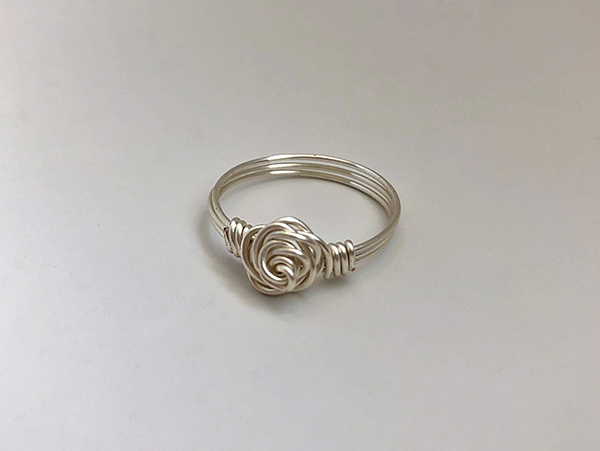 Watch James make a second ring. Watch this great video for simple instructions. James is a great teacher and he is passionate about Craft Wire.
Visit our Facebook page for more project ideas. Visit our Facebook Group if you would like to join our creative circle and post pictures of your new ring.
Check it out James' unique pea pod wrap charm:
Visit the Soft Flex Company YouTube Channel!
---
Blog contributor Thomas Soles is the Trade Show Coordinator for Soft Flex Company. His favorite stones are Lapis and Pietersite. His favorite hobby is day dreaming. And his favorite mustache is Tom Selleck's. As you can see, he has a healthy (or possibly unhealthy) sense of humor. You can write to him at [email protected]