This week on Free Spirit Beading with Kristen Fagan, we made a simple beaded bracelet strung on Soft Flex flexible beading wire with chunky gemstone beads and matching components and crimps. This beaded bracelet tutorial for beginners is just what you need to kick off a week of creativity.

DIY Beaded Bracelet Tutorial with Gemstones on Beading Wire
I knew I wanted to design with gemstone beads, but which ones? After gathering three piles of options, I asked for help from the members of our VIB Facebook group. See which beads they chose and learn more about cherry quartz gemstone beads, how to crimp beading wire and our newest TierraCast jewelry making components!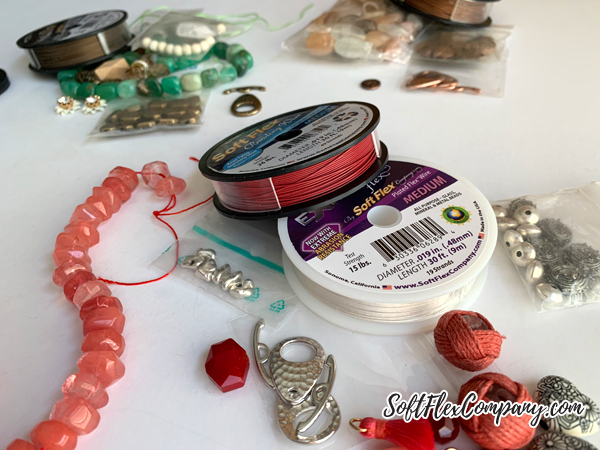 Supplies:
Soft Flex .019/Medium Diameter Wire in Spinel
2x2mm Crimp Tubes in Sterling Silver
12mm Cherry Quartz Faceted Rondelle Beads
10x14mm Pink Barrel Shaped Beads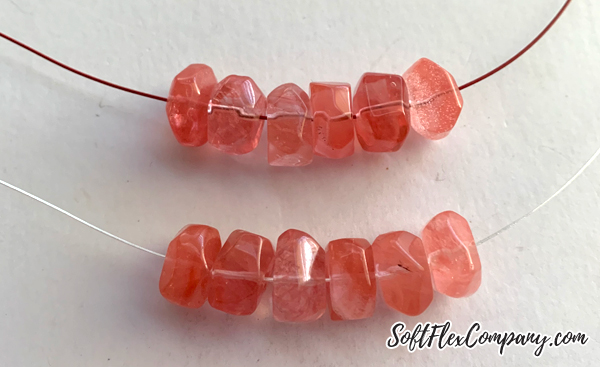 After deciding to use cherry quartz beads we looked at two beading wire options; Extreme 925 Sterling Silver and Soft Flex Wire in Spinel (which can also be found in our Be My Valentine Trios variety pack.). I shared how the wire color chosen can enhance and complement your beads depending on the desired effect - see picture above!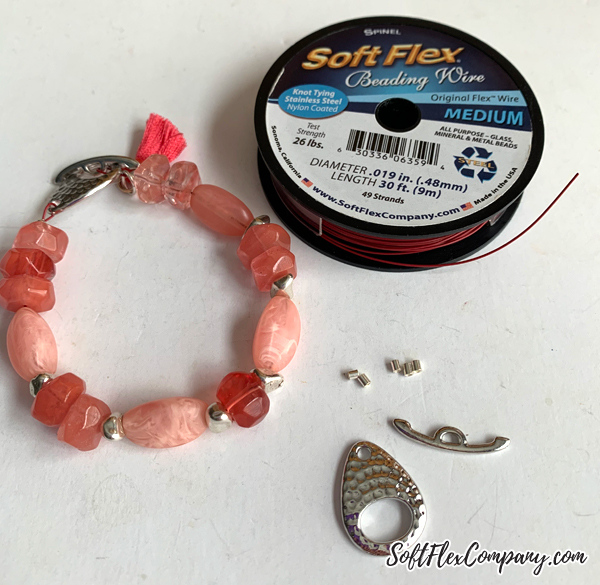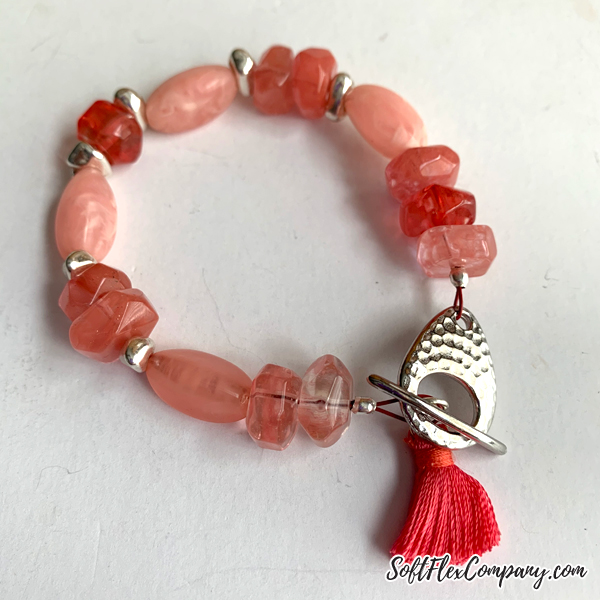 There were a few adjustments on the design pattern along the way and in the end we completed this simple single strand bracelet on Spinel Soft Flex beading wire and finished with sterling silver 2x2mm crimps, rhodium plated TierraCast Ellipse Clasp Set, and a pink tassel for a little flirty fun and design balance!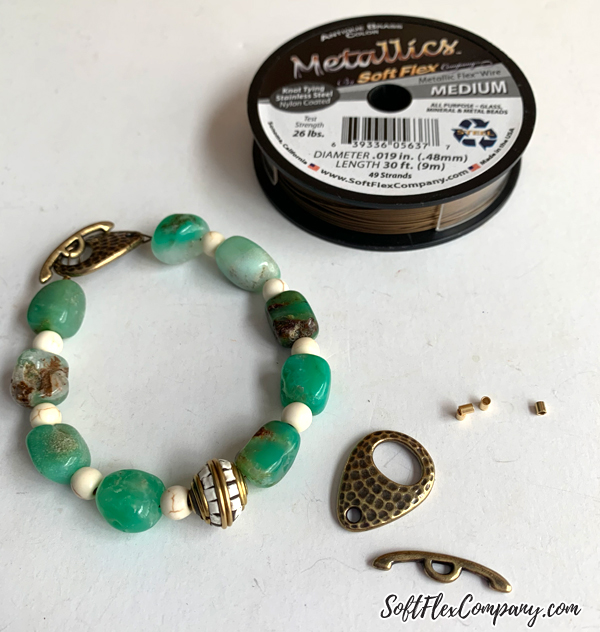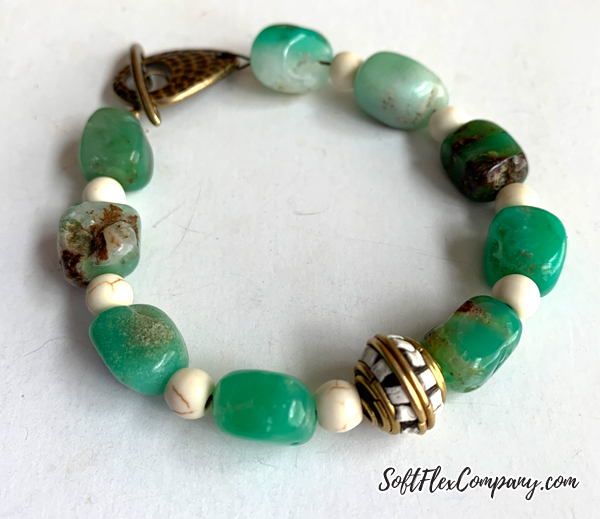 I shared another design example using a combination of Chrysoprase and Howlite gemstone beads strung on Antique Brass Soft Flex beading wire and finished with gold filled 2x2mm crimps, oxidized brass TierraCast Ellipse Clasp Set.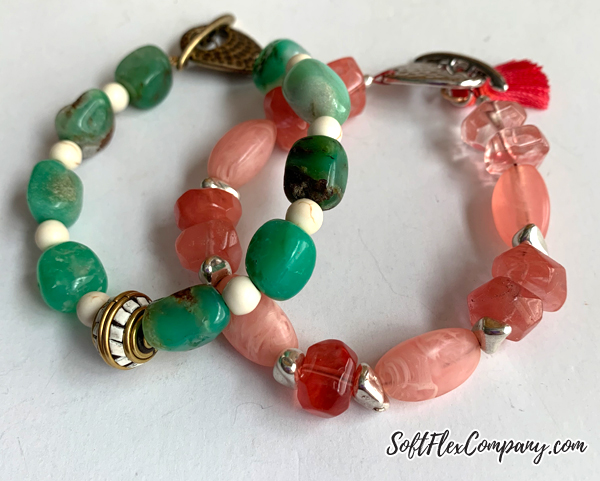 I opted for Magical Crimping Pliers when crimping because I love the finished look of the crimp and my favorite crimping pliers are now ergonomic!
If you love this project, you might like these simple beaded projects that also use gemstone beads.
Agate And Crystal Set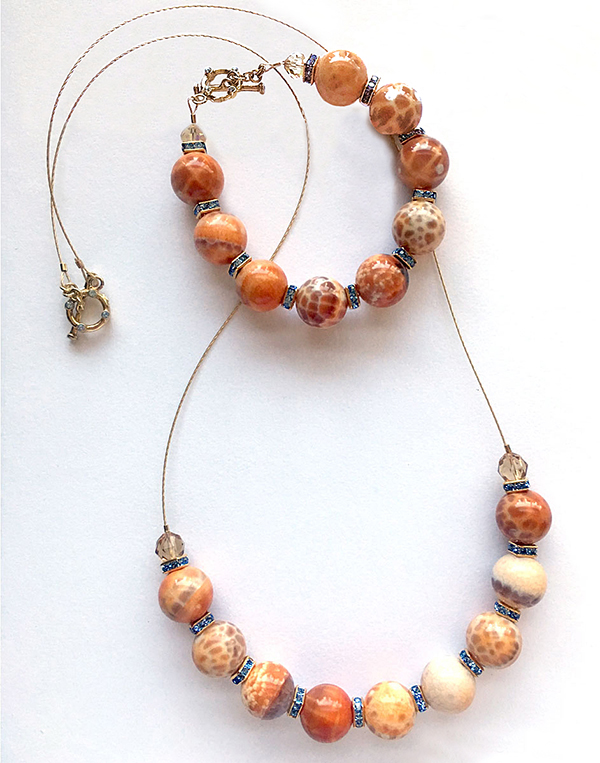 Find instructions for creating these earrings on our blog: Agate and Crystal Set
Wave Rider Bracelet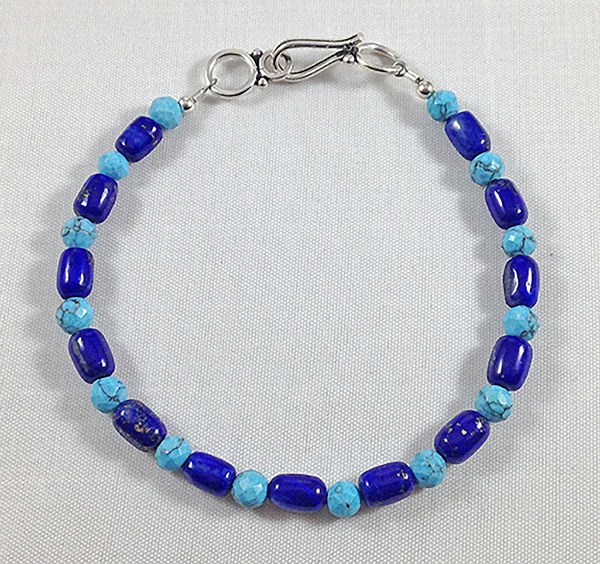 Find instructions for creating this design on our blog: DIY Men's Bracelets and Necklaces
Join our Facebook group – VIB. Stay in the know. Stay up to date. From our bead shows to our video shows and sales, you can stay in touch with us. The community is full of artistic and helpful beaders and crafty people. Inspire and be inspired. Share your pictures and get the beading bug from others!
Visit the Soft Flex Company YouTube Channel!

---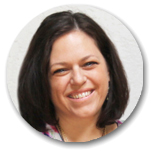 Kristen Fagan is the Website Graphic Designer and a Jewelry Making Educator for Soft Flex® Company. She is the co-author of Seed Bead Revolution, an artist and creativity guide. She currently lives in Arizona with her husband, their two sons and two dogs. When she's not painting, drawing or beading, she enjoys reading, yoga, exploring the outdoors and traveling. Her favorite stones are Opal, Turquoise, and Quartz and she can't bead without Bead Stoppers. You can email her at [email protected] or visit her Website | Facebook | Instagram