Let's learn how to bead! Sara covers the basics of making beaded jewelry. Watch her latest video as she goes through the fundamentals of crimping and using tools to make jewelry. She shows you how to work with Craft Wire. Watch her process the beads and materials in front of her and turn them into beautiful jewelry. This is a fantastic video for beginners wanting to master their techniques.

Sara starts the video announcing she is back from vacation and bright eyed and ready to bead. She says she will discuss the brand new beading kits that we just added to our website. The kits are ideal for the beginner that is just learning how to bead and does not have a complete toolbox. The kit is an all in one kit that contains: tools, clasps, crimps, and a project card to for a unique piece of jewelry. We recently put together a Craft Wire Starter Kit and a Bead Stringing Starter Kit and Sara is going to be looking at those during the course of the video. Finally, she will take a look at our TierraCast Western Winds Kit and see how you might use that kit to make some lovely jewelry.
Sara says these kits are great as holiday gifts. Sara says these kits were created when she sat down with fellow employee/ beader James Browning. The two wanted to offer a great kit that had some flexibility and choice for the customer. They wanted a solid selection of tools and beads. The Bead Stringing Starter Kits come in your choice of beading wire. You can select the findings you would like: gold, sterling silver, or copper. The staff at our gallery will select a color-complementary set of beads to go with the colors you have selected for the kit. Each kit will be unique. There will be about three different styles of beads in the mix you receive. The kit comes with a free beading project idea card that includes crimping instructions. A pair of cutters and crimping pliers also comes with the kit.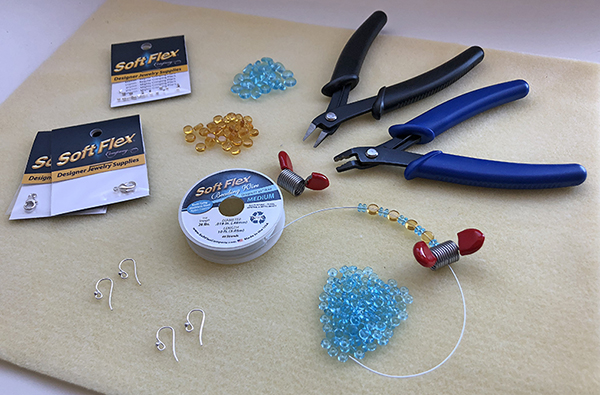 Sara demonstrates how Beadstoppers work. Beadstoppers are included in the beginner beading kit. They are an invaluable asset to any beader. They function as a stop so beads do not slip off an unfinished piece of jewelry. Simply place a Beadstopper on the end of your wire and they will keep everything in place. Perfect if you have to set your design down before it is finished. Perfect for stringing a potential piece of jewelry and seeing how the finished piece will look and drape before you crimp it. Beadstoppers are a great alternative to tape, which can be messy. They are much better than alligator clips as they will not damage the wire.
Sara uses the Bead Stringing Starter Kit to create a simple bracelet. She places a Beadstopper on the end of the wire she chose, Soft Flex Tanzanite medium diameter (.019). Sara strings the Tanzanite colored beading wire through a selection of beads.
This design is basic and easy. She says there is room to play with the selection of beads. You can design asymmetrical patterns, you can get creative, or you can simply add an easy selection of beads and just go with a classic beaded piece of jewelry.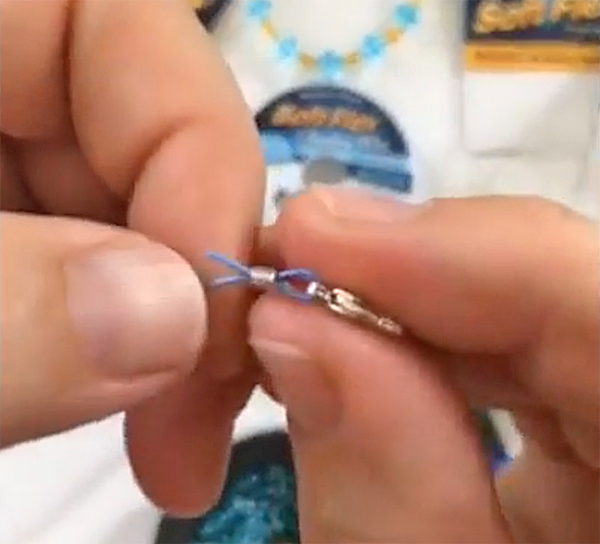 Sara crimps a lobster clasp to one end of her bracelet. She explains how to crimp the lobster clap on the wire. She explains the crimping hole and the rounding hole on the crimping pliers. The crimping hole with the tooth is first, it puts a divot in the tube. The rounding hole is then used to finish the crimp. We suggest rounding the crimp, turning it, rounding it, and repeating that four or five times for a nice finish. Do not smash the crimp or you will work harden it – think of the pressure as if you were shaking your grandmother's hand. Sara removes the Beadstopper and crimps the other side.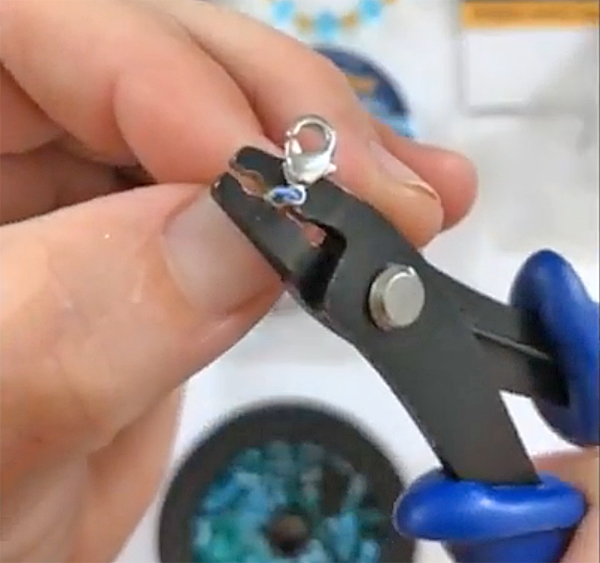 The kit is perfect for a beginner! The kit is simple and easy. It is a great learning set and completes with everything a beginning beader needs to get acquainted with the craft.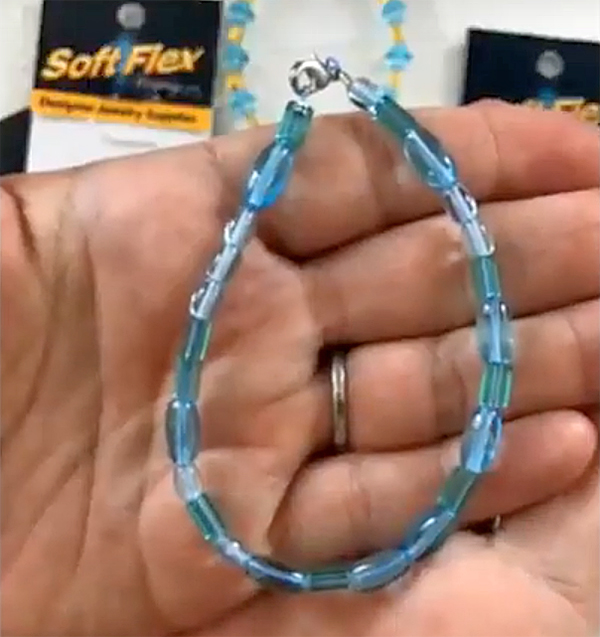 Sara then moves on to the Craft Wire Starter Kit. She says this kit is great for people that want to watch employee James Browning's new YouTube series. James films his videos and posts them on YouTube every other Thursday. His first show was posted two weeks ago. His new show will be uploaded this week. James says he will be making wire wrapped bird's nests. James is passionate about wire wrapped jewelry and will be discussing how to use Craft Wire to make beautiful jewelry designs.
The Craft Wire Starter Kit comes with a free project idea, just like the Bead Stringing Starter Kit. This kit includes a bead mat, bead nipper, round nose pliers, bent nose pliers, lobster clasps (copper, gold, or sterling silver), a 10 yard spool of Soft Flex 22 Gauge Craft Wire in your choice of metal color. A pack of beads will also be added to the kit.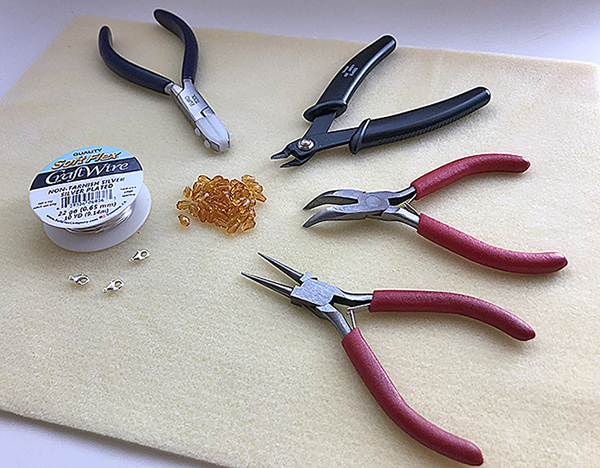 Sara says this kit will also be a good basic introduction to jewelry design. She is going to make a simple bracelet with this kit as well. Sara takes her pair of nylon jaw pliers and straightens and smoothes the wire before she uses it. Sara uses her round nose pliers and discusses how she makes a loop with Craft Wire. She uses a pair of bent nose pliers to hold the loop in place as she finishes it. She then cuts the finished loop with bead nippers.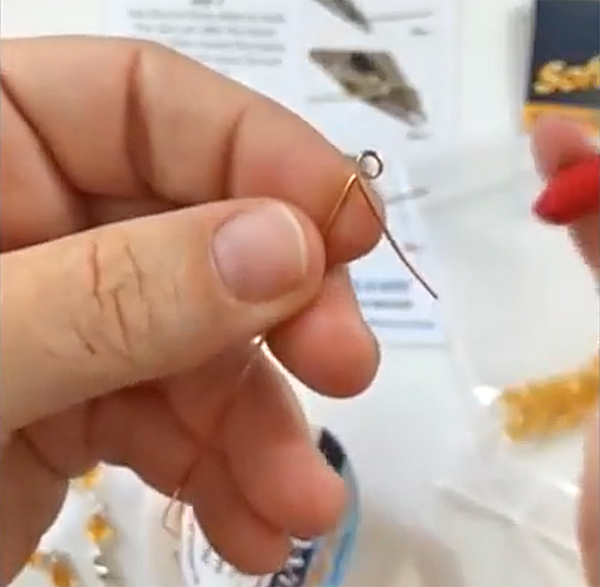 Sara places a bead on the wire with her finished loop. She then adds a loop on the opposite side of the bead to bookend the bead with looped Craft Wire. Sara says she is doing a clean, very straight wrap with the tools, but she says that you can do any kind of loop you like, it can be very clean or it can be messy – depending on the jewelry design.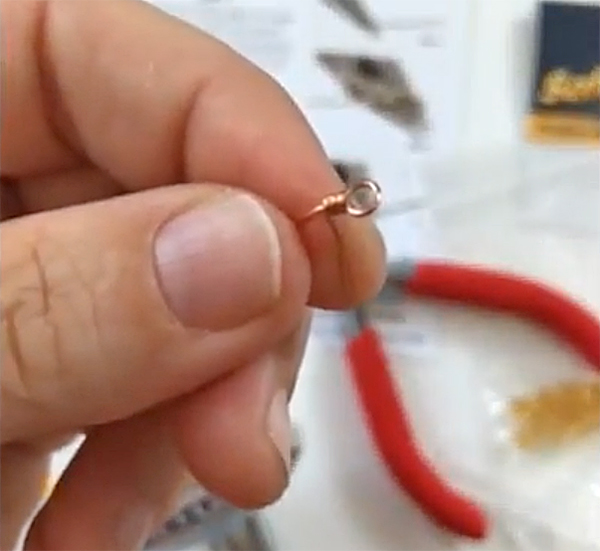 Sara makes another loop. This time, she attaches the bead with the two loops to this new loop. This is the first step in creating a chain. Sara adds a small amber bead to this segment of the chain and bookends this bead with loops. She says these kits make it easy for anybody to start wire wrapping. She says this is a great set for people following James' videos.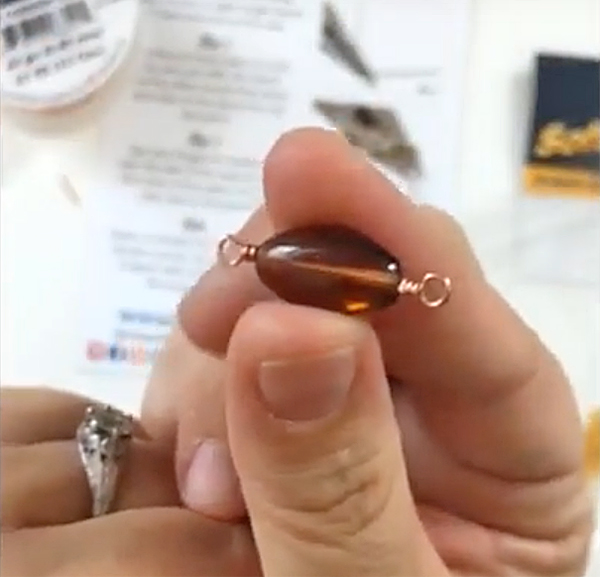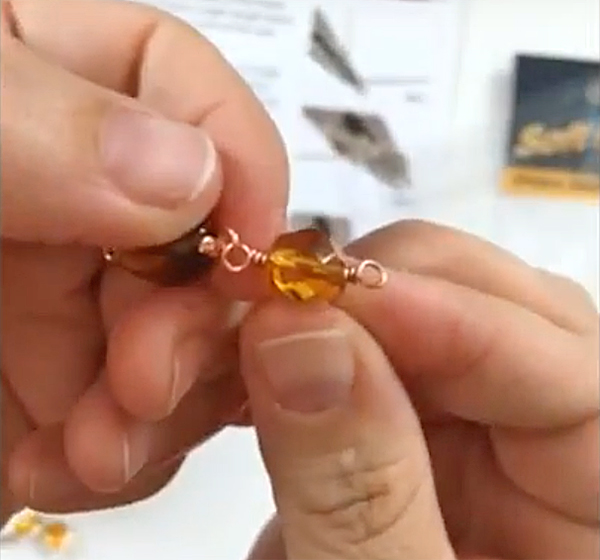 Finally, Sara opened the TierraCast Western Winds Kit. Sara says photos of what she made with this kit are posted on our Facebook Group – VIB. If you are not a member of our VIB group, feel free to join us. We love to create jewelry and share photos of jewelry we have created. Members can post their creations or just spectate.
The TierraCast Western Winds Kit comes with beads, crimp tubes, 10 feet of Soft Flex beading wire, ear wires, and items from TierraCast's newest Southwestern themed collection. There are no tools in this kit. It is great for beginners with their own tools or professional designers that want to add some Southwestern flair to their jewelry collection.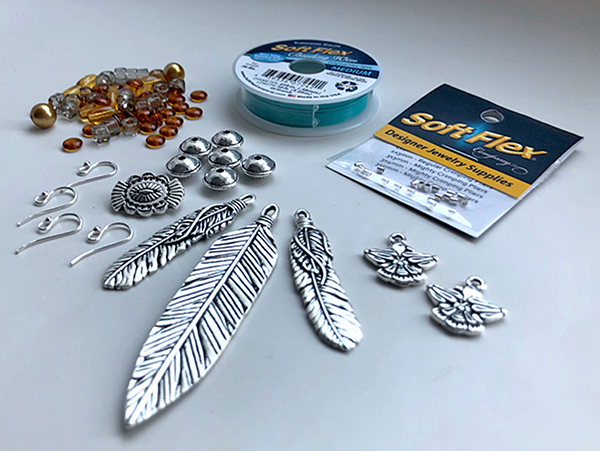 Sara shows her Green Turquoise Soft Flex .019 diameter. It is her favorite colored beading wire. She cuts off a length of this beading wire and crimps it. She leaves a loop near the crimp so she can attach an ear wire. She is showing techniques and is just being playful. She adds amber beads and a metal bead to the wire. She shows how to make a fringe design. Working with Soft Flex and just playing around to see where the jewelry creation takes her. She doesn't like where her design is going so she starts again. She shows how easy it is to change design ideas as you string. You are not locked into a jewelry design until you finish it. Getting playful and creative is a great way to learn new techniques or find inspiration. She shows how you can finish the earrings she has with simple cuts on the wire or how adding beads might make the finish perfect. She says beading is an ongoing education and there is always room to learn.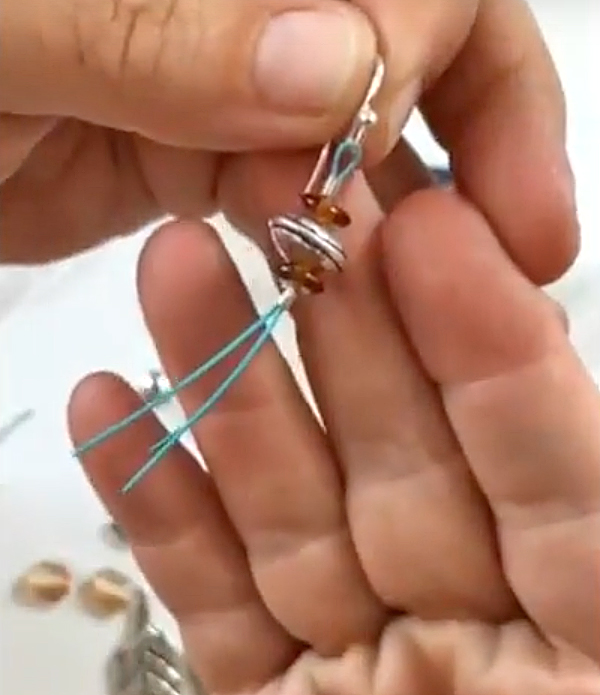 Join us on Facebook if you would like to participate in our live beading shows or sales. If you cannot make it, you can always catch up on the replay on YouTube or Facebook. Make sure you check out the video, Sara is a great teacher!
Check out this video featuring Kristen Fagan.
Visit the Soft Flex Company YouTube Channel!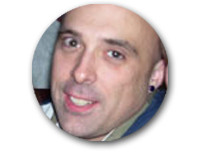 Thomas Soles is the Trade Show Coordinator for Soft Flex Company. His favorite stones are Lapis and Pietersite. His favorite hobby is day dreaming. And his favorite mustache is Tom Selleck's. As you can see, he has a healthy (or possibly unhealthy) sense of humor. You can write to him at Thomas@SoftFlexCompany.com.