My goodness, it's Kit Day! Kit Day is our favorite day of the month. It is a Soft Flex Company celebration. If you are a member of our VIB Facebook group or part of our social media community, you are probably as excited as we are. Kit Day is when we reveal our latest mystery jewelry making kit on Facebook - live - and then make some fun jewelry. In tandem, we release our newest design kit for sale. Each of our design kits are full of beads, wire, and components. If you have basic beading tools on hand (crimping pliers and cutters) you have everything you need to make a bunch of lovely jewelry. In this blog, we will take a look at some designs our friends and employees made with a previous kit - our Amazon Princess Design Kit (Sold Out). Let's celebrate Kit Day!
Join us live on Facebook, today. We are going to open our Purple Polka Dot Design Kit (Sold Out). Sara will show you how much fun our kits are and she will show you how to make some artistic jewelry. Our Facebook videos are almost like a free jewelry making class online. Get a crash course on how to design and finish your favorite new necklace.
Let's enjoy a powerful gallery of jewelry designs from our previous kit. The Amazon Princess Design Kit (Sold Out) was a fierce ode to an iconic warrior princess. We color matched our favorite superhero to make a jewelry kit that packed a punch! If you love Wonder Woman, you will love this display of themed jewelry. We have some delicate, but mighty, jewelry from Soft Flex Employees Sara Oehler and Kristen Fagan. We also have jewelry from YouTube designer Sandy Huntress and a striking collection from members of our VIB Facebook group.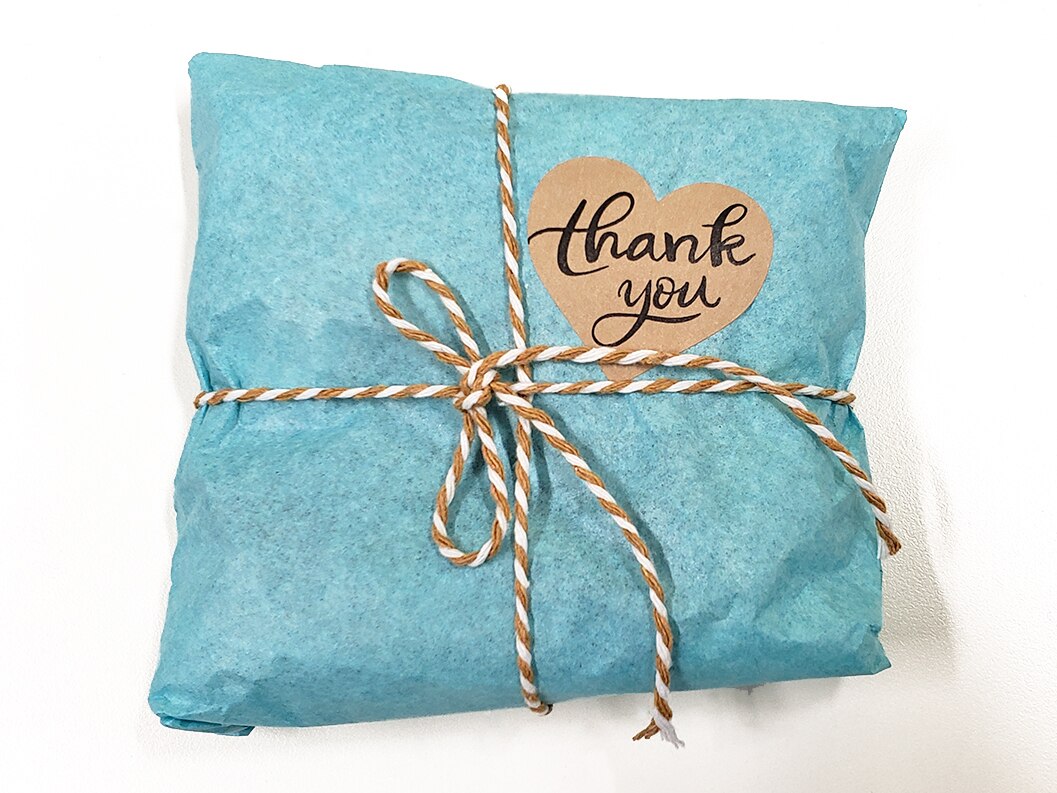 The Serenity Shore Design Kit is an afternoon on the glowing waterfront of your favorite beach!
The sun glistens on the surface of the foamy white capped waves. The stirring water is painted with swatches of green and blue. Tide pools are alive with sea turtles and starfish. The brine of the ocean fills the warm air. Silver sunglasses and smiles, vacation mode is in effect and it is time to take a second and appreciate the gentle slack time of summer.
Sara will be doing a live broadcast on the Soft Flex Facebook page, with the Serenity Shore Design Kit, on Wednesday, July 29th at 1pm (PST).
If you'd like to join us in the design challenge next month, buy this kit and challenge yourself to try something new and unexpected. If you are new to beading, this kit comes with findings, beads, wire, and surprises.
Our kits are great for skill building. We want our kits to feel challenging. We want them to be accessible for beginners and advanced designers alike, but we love to throw in elements that may seem difficult to test our beaders skills and make them think out of the box. We think jewelry is great when it is easy. But when you really have to engage your mind and process your materials and tools, we think that your jewelry has the potential to be life changing.
Supplies are very limited. Don't miss out!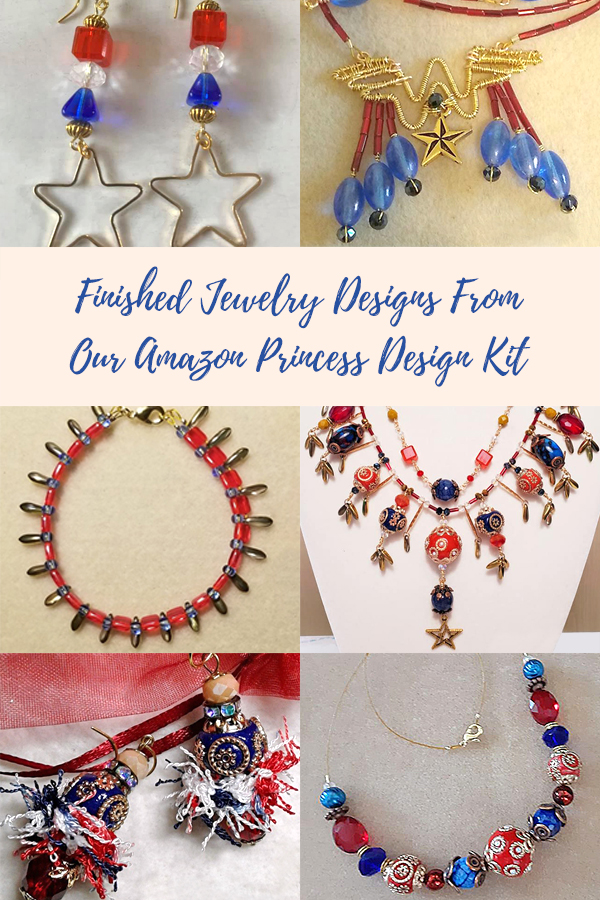 Sara Oehler Designs
We love Diana Prince - Wonder Woman! Many of us can remember our first encounter with this heroic woman of action. Diana graced television sets during the seventies. She was quiet and unassuming in her daily Navy duties. But, when a crisis presented itself, she spun into an explosive warrior. She was a spellbinding figure, armed with intelligence, grace, and a Golden Lasso. We watched her tackle problems and save the innocent. We marveled at her Invisible Jet. We envied her athlete speed and skill and we saw a little bit of ourselves in her interactions with Steve Trevor. Lynda Carter made this powerful woman an icon.
We love everything about this epic hero. Her outfits were stunning - costume and motorcycle jumpsuit. She was a fiery patriotic blend of primary colors. Her red, gold, and blue appearance was fearless and striking. We wanted to create a jewelry making kit with these same bold colors. We love making jewelry that commands attention. We think this kit looked amazing. We could not wait to put it on our site and share it with our community.
From Sara's Simple Earrings video:
The finished design turned out modern and gorgeous. You could pair it with blue and white for a patriotic holiday like Memorial Day, Fourth of July, Veteran's Day or President's Day. You could pair it with evergreen for Christmas or hot pink for Valentine's Day. Red is so versatile and always makes a statement.
Did you make your own valiant jewelry designs with this daring design kit? Our mystery themed jewelry making kits are a fabulous way to create stunning jewelry for very little money. Inside each kit is everything you need to string a bunch of jewelry. The kits are incredibly economic and a great way to stuff your jewelry supplies, during this pandemic, without slimming your wallet. Shop at home with confidence. Our kits are a great value.
Kristen Fagan Designs
Was Gal Godot your first Wonder Woman? Gal is a mighty amazon. Gal brought a tenderness and a naivete to the warrior. She was raised outside of society as we know it. She honed her talents in physical combat but her social interactions were almost child like. We got to see her overcome her awkwardness and become as confident with her speech craft as she was with her super powers. Gal is truly a goddess made flesh as she faces her trials. She is a powerful symbol of feminine strength and beauty.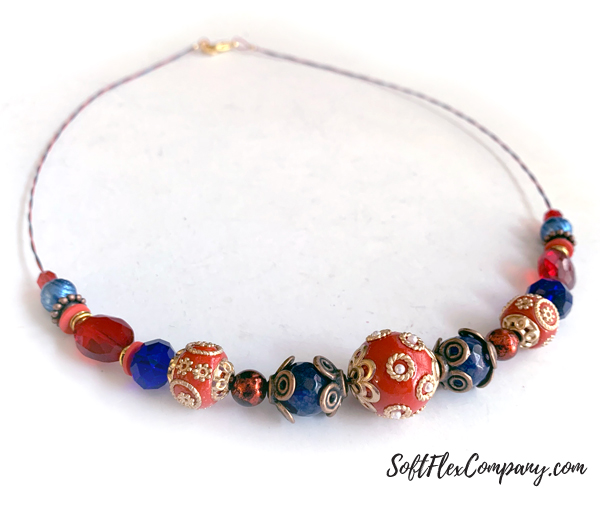 Gal's warrior goddess faces the darkest moment of her journey with courage. She rides a fountain of fire and becomes a powerful phoenix. Her weapons and armor are hardly necessary by the end of the movie. She is such an unstoppable force that she bends the will of the world around her.
We wanted to make a kit that explored this powerful icon. Strength, innocence, and grace. Make your own mighty jewelry. Design your own golden lasso or a bead encrusted tiara. You are a powerful human. You should wear jewelry that makes you feel powerful.
From Kristen:
This week, I shared 3 different techniques for making simple teardrop and hoop earrings with Soft Flex flexible beading wire. These DIY beaded earring designs are beginner friendly. You don't need much in the way of supplies, just some basic jewelry tools such as a pair of cutters, crimping pliers and chain nose pliers, assortment of beads, beading wire, and earring findings!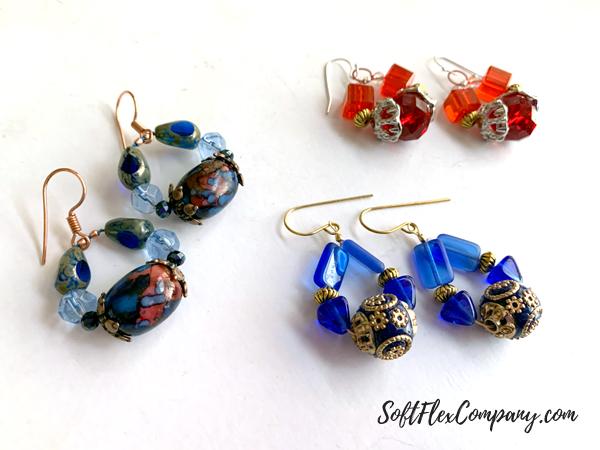 There are so many design options with our jewelry making kits. You can string a bunch of necklaces, bracelets, earrings, and more. Earrings are especially fun. They require so few beading supplies that you can make a bunch with very little materials on hand. You can string a single bead on a teardrop loop of wire. You can create a hoop and fill it with beads. You have so many choices. We have a rainbow of color beading wire to play with and a catalog of beads. Start making earrings with your kits and you will fall in love with how easy it is. Make a pair to complement your necklace or just something to flatter an outfit!
Sandy Huntress Designs
Sandy Huntress is a talented jewelry designer. She has a fantastic YouTube channel where she explores jewelry making techniques and provides tips and tricks on how to become a better crafter. You can learn how she works with stamps, polymer clay, paints, resin, and more. She has a wonderful collection of jewelry projects. Check out her library if you enjoy watching an artisan at work.
It turns out, we really challenged Sandy with this design kit. Wonder Woman's colors happen to be Sandy's least favorite color combination - ever. She does not like the primary triadic colors: red, yellow, and blue. We were delighted to see Sandy tackle the challenge and make some amazing jewelry designs, despite her lack of fondness for the colors inside this theme. We love to think of our design kits as challenging. We want you to have to plot a course before creating your jewelry. We think it is great to conquer a creative 'block' when making art. Be fearless and undertake a design challenge!
Fortunately, Sandy knows that ratios can make all the difference. If you create art with a pallet of equal colors, your work can sometimes be stagnant and lifeless. If you blend your colors with unique rations, they are going to end up accenting each other and making your work gorgeous. If you string an 80/20 ratio of two given colors, you are going to end up with something striking. Keep this in mind the next time you are making art.
If you would like to keep up with Sandy, follow her on these links. Check out her YouTube channel, she is so creative!
YouTube
Blog
Facebook
Instagram
Pinterest
VIB Group Member Designs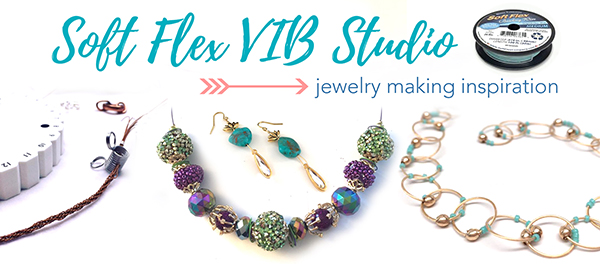 We gathered a small assortment of fun designs from our VIB Facebook group. There were so many wonderful ideas and jewelry pieces. You really need to join our group to see them all. A lot of our members also have stores online. If you see a design you love, make sure you let the designer know. They may sell you that design or at least let you know how they made it. We would love to see your work too, join us today!
VIB is a great place to visit during the COVID-19 pandemic. It is a place to chat and meet new friends. It is a great way to be social during quarantine. Stay healthy and stay at home. You can learn a new tip or technique daily. You can get inspired by the gorgeous jewelry designs other people in the community post. You can also get your own jewelry gently critiqued if you want pointers on how to make your designs really stand out. We love wallflowers and chatty designers alike. Lurk or showcase your talent. You are going to love our fun club.
If you would like to see more Amazon Princess jewelry designs, go to our VIB group. On the left hand side of the page, in the 'Search this group' field, type or paste this: #amazon. This will search the Wonder Woman inspired designs we hash tagged.
See more of her designs in her Etsy Shop.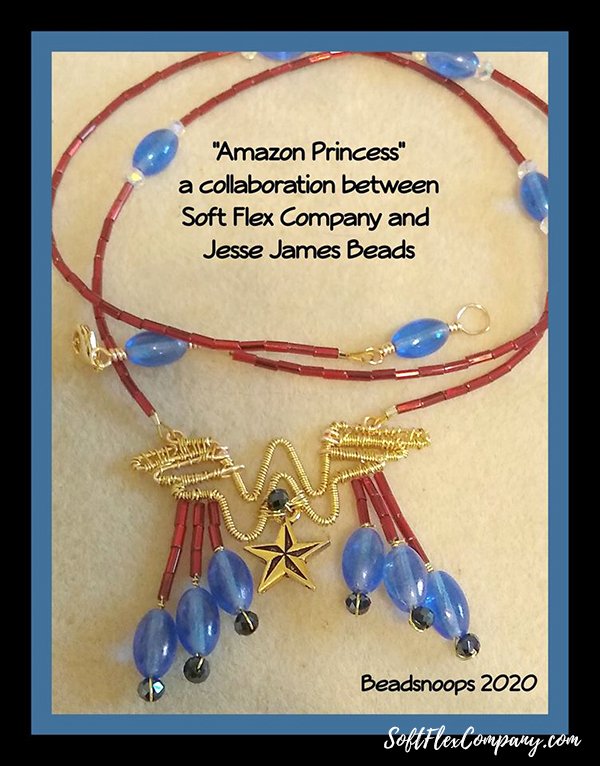 See more of her designs on her Ebay page.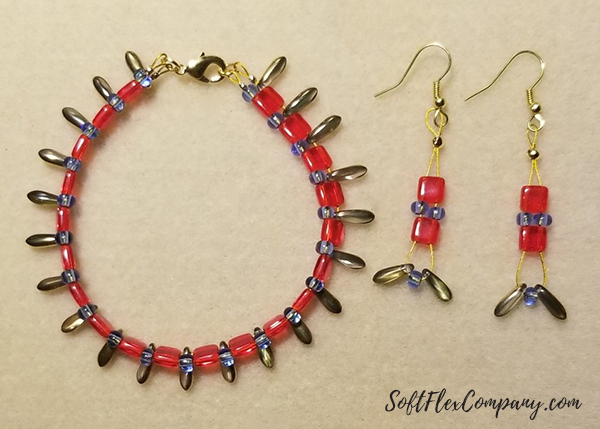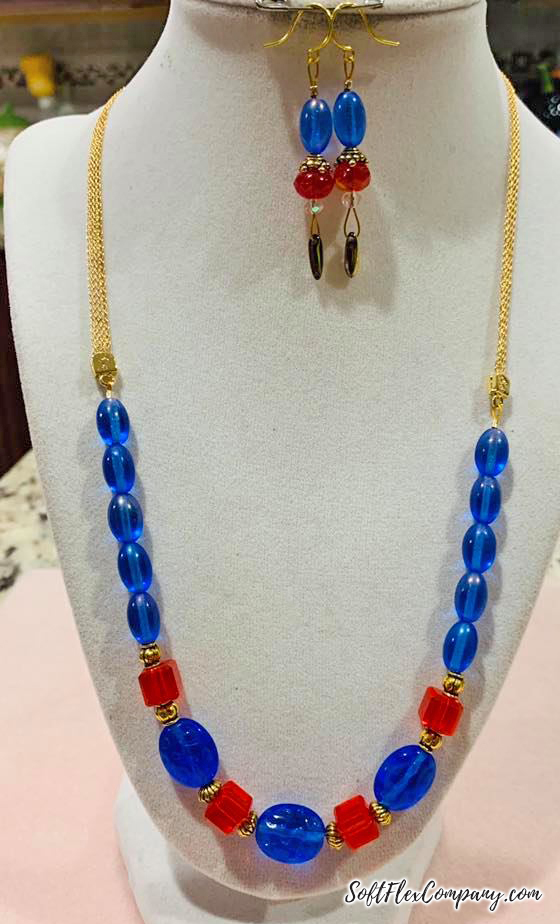 Designed by Soft Flex VIB Studio Member: Terry Murphy Matuszyk
See more of her designs in her Etsy shop and on her Facebook page.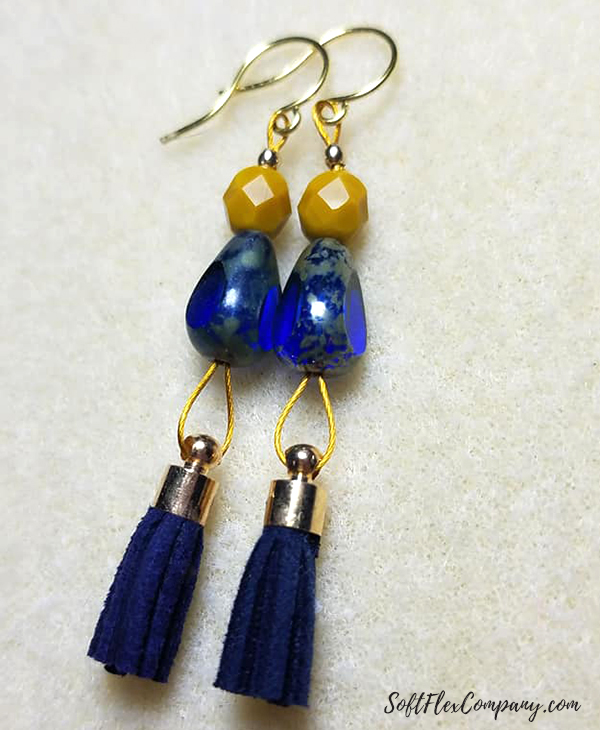 See more of her designs on her Facebook page.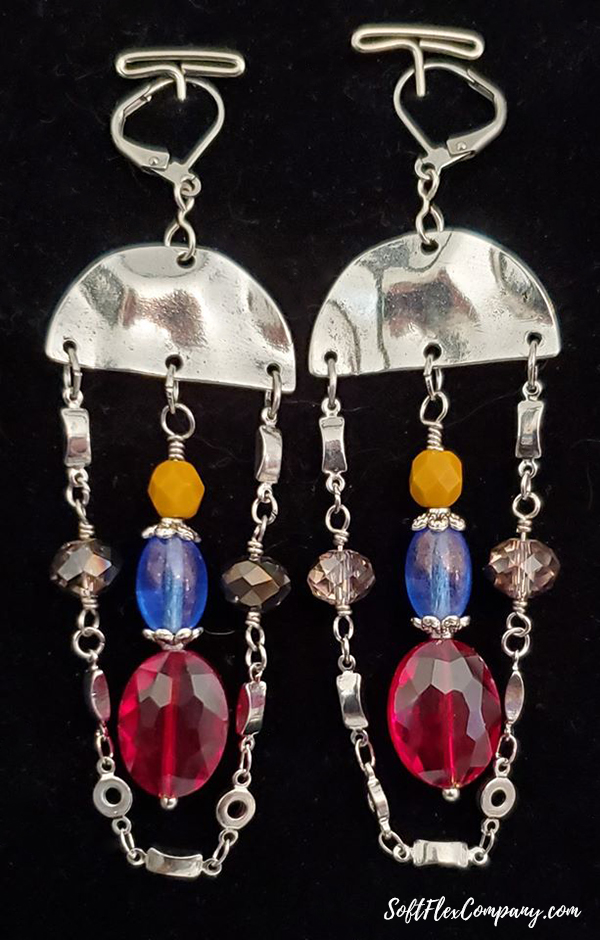 See more of her designs on her Facebook page.
Designed by Soft Flex VIB Studio Member: Jennifer Ackley Gammon
See more of her designs on her website.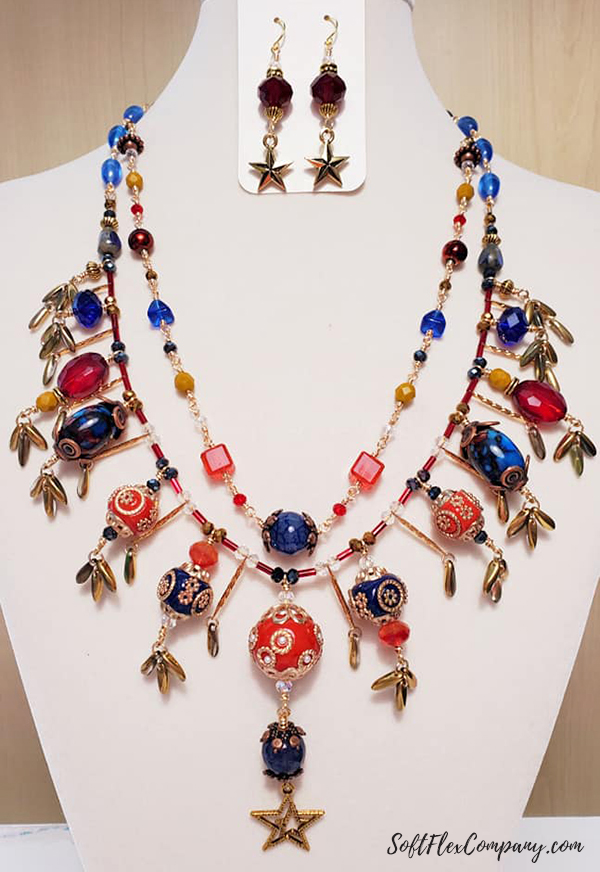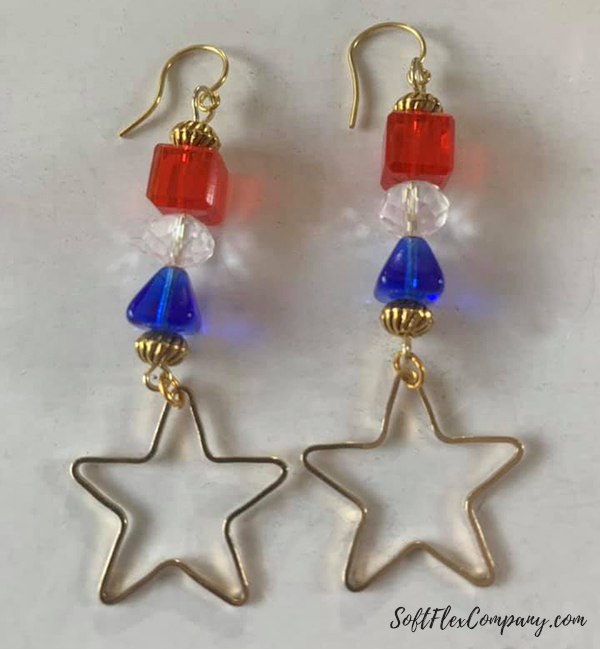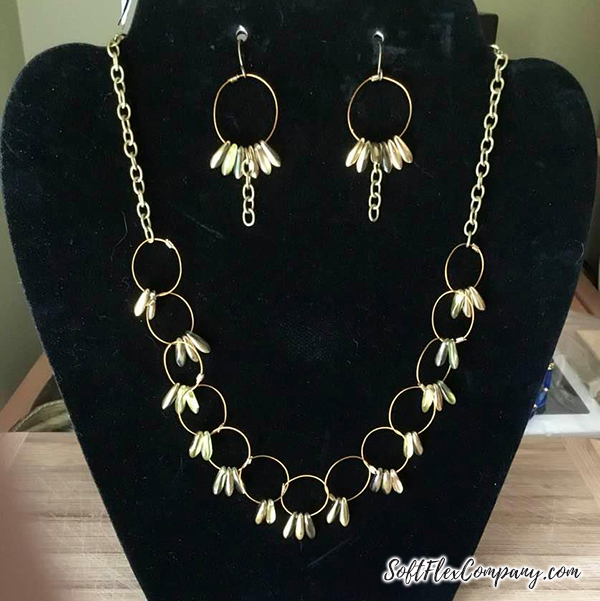 Designed by Soft Flex VIB Studio Member: Carey Marshall Leimbach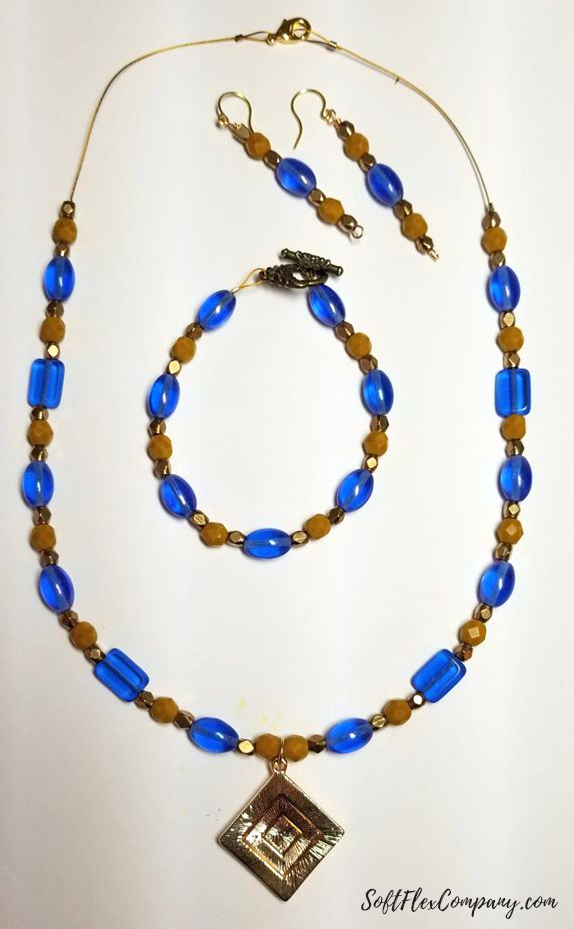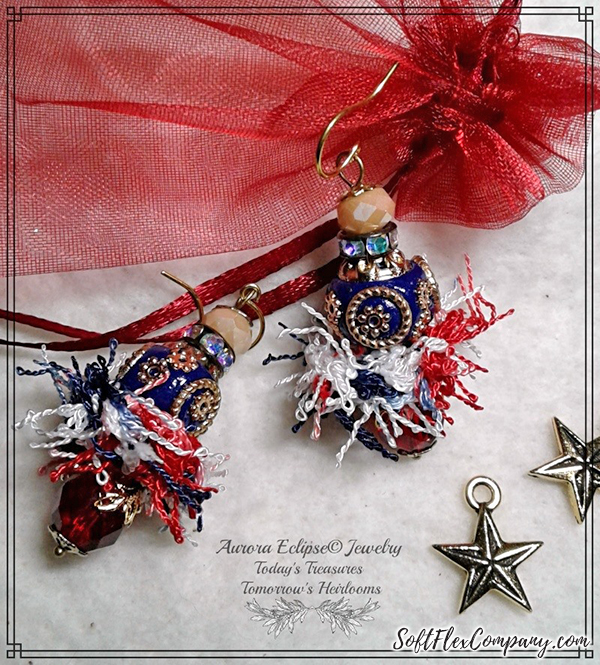 Join our Facebook group – VIB. Stay in the know. Stay up to date. From our bead shows to our video shows and sales, you can stay in touch with us. The community is full of artistic and helpful beaders and crafty people. Inspire and be inspired. Share your pictures and get the beading bug from others!
Visit the Soft Flex Company YouTube Channel!
---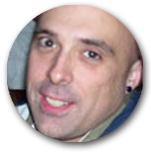 Blog contributor Thomas Soles loves Jazz Age writers and crunchy french fries. His favorite gemstones are Lapis and Pietersite. His favorite hobby is day dreaming. And his favorite mustache is Freddie Mercury's. As you can see, he has a healthy (or possibly unhealthy) sense of humor. You can write to him at Thomas@SoftFlexCompany.com