Kit Day has returned! Kit Day is the most anticipated day of the month at Soft Flex Company. We put a fabulous jewelry making design kit together and release it at the end of each month. Each kit is a themed set of beading supplies that is a mystery until we reveal the kit and make some jewelry, live on Facebook. Today, we are releasing our newest kit. We are revealing our previous kit, for the first time. And finally, we are looking at what the community made with the kit before that. It is a day full of creative energy and fun. Join us for Kit Day!
Join us live on Facebook, today. We are going to open our Serenity Shore Design Kit (Sold Out). Sara will show you how much fun our kits are and she will show you how to make some artistic jewelry. Our Facebook videos are almost like a free jewelry making class online. Get a crash course on how to design and finish your favorite new necklace.
Let's look at the wonderful jewelry our employees and our community made with a previous kit - the Purple Polka Dot Design Kit (Sold Out). Today we will check out designs that Sara and Kristen made during the filming of their jewelry shows. Sara unboxed her kit on Facebook and made some jewelry and Kristen filmed Free Spirit Beading with the kit. We will look at jewelry our VIB group on Facebook made. Our VIB members are designers, crafters, and beginners. It is a collective of people that love to create and learn. If you need to learn a new technique, this is the group for you! If you want to be inspired or inspire others, you are going to love this community!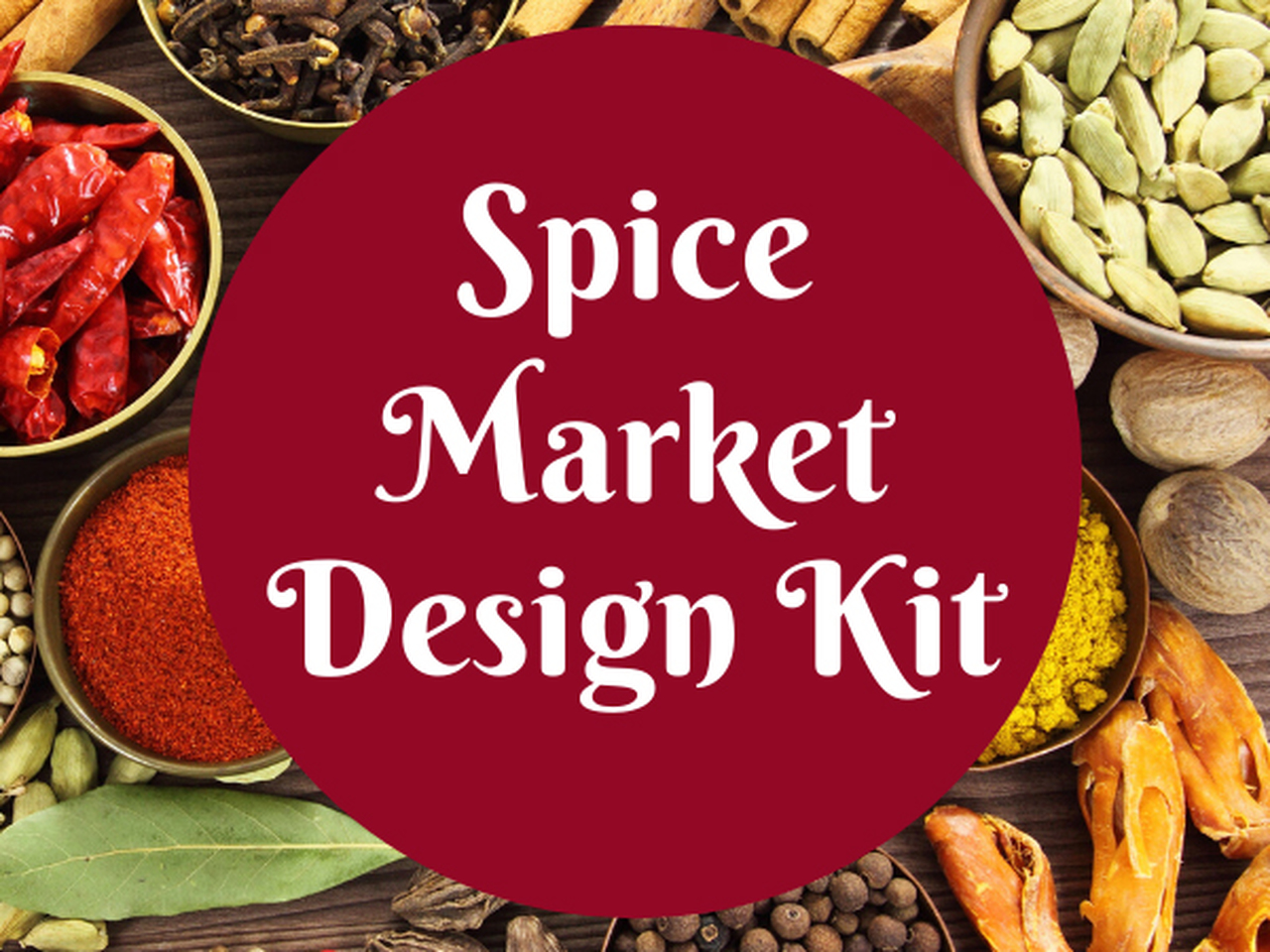 The Spice Market Design Kit is a quiet pause at the desert bazaar.
The sultry sweet aroma of cinnamon dances in the wind. Tan desert sand dusts your clothes. The heat is invigorating. You gaze at the merchants' tables. Amber jars line vendors' offerings. Red paprika is piled in fragrant heaps. Exotic saffron is bagged in small sachets. Don't miss this savory kit of delicious spice!
Sara will be doing a live broadcast on the Soft Flex Facebook page, with the Spice Market Design Kit, on Wednesday, August 26th at 1pm (PST).
If you'd like to join us in the design challenge next month, buy this kit and challenge yourself to try something new and unexpected. If you are new to beading, this kit comes with findings, beads, wire, and surprises.
Our kits are great for skill building. We want our kits to feel challenging. We want them to be accessible for beginners and advanced designers alike, but we love to throw in elements that may seem difficult to test our beaders skills and make them think out of the box. We think jewelry is great when it is easy. But when you really have to engage your mind and process your materials and tools, we think that your jewelry has the potential to be life changing.
Supplies are very limited. Don't miss out!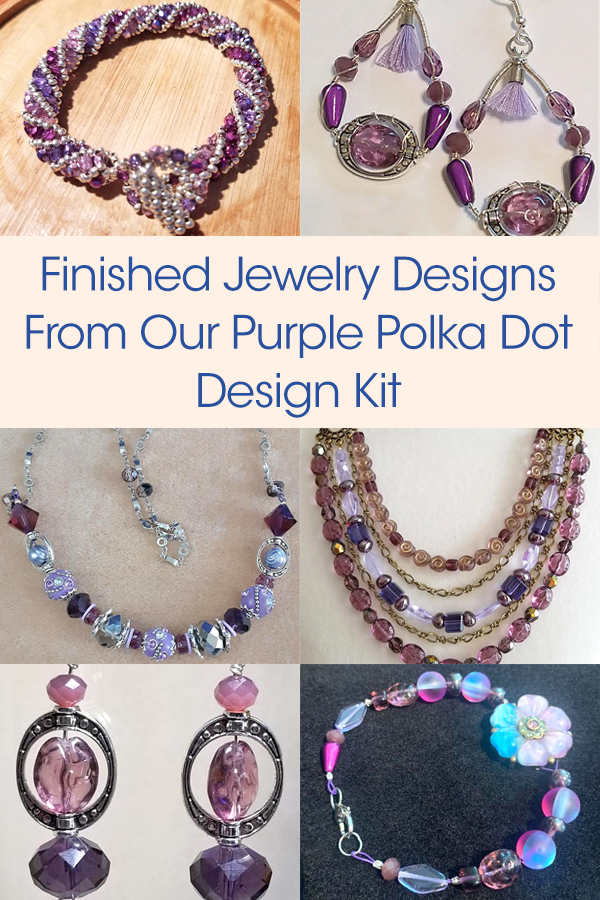 Sara Oehler Designs
Each month ends with an unboxing. We reveal the latest kit. It is a mystery up until this point. A themed image on our website and a wrapped package is all we show off, until today. Sara goes live on Facebook and opens the kit. We love the drama and excitement. What is she going to make? Will this kit challenge her sensibilities? Will she make something you would make or is she going to do something unconventional and challenge herself? That is part of the fun of Kit Day. Sara doesn't rehearse or practice. She opens the kit and goes on a journey!
Each of our design kits are packed full of beads, wire, and components. They are a great deal. We load our kits up and charge a price you can afford. If you have basic beading tools on hand (crimping pliers and cutters) you have everything you need to make a bunch of lovely jewelry.
You can participate in Kit Day is so many different ways. You can keep your kit sealed until kit day and open it with Sara. Good luck, though, that takes a lot of willpower! But the payoff is like Christmas each month! You can open it the day you get it and make jewelry that is perfect for your style. You can wait until the contents of the kit are revealed and try variations on the designs that others post in our Facebook group. You do you! Make kit day your own jewelry making ritual.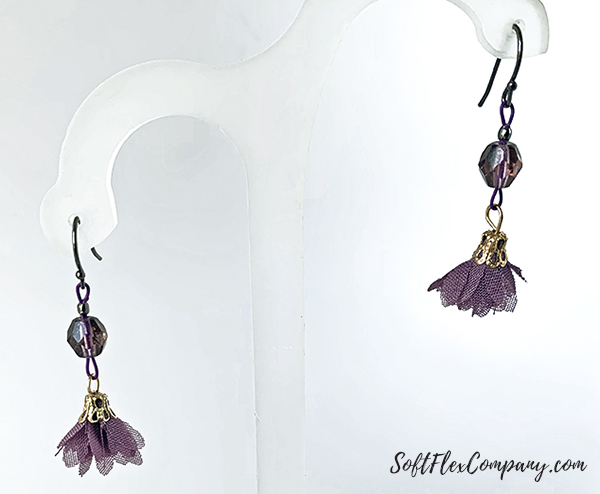 Kristen Fagan Designs
Kit Day is fantastic for inspiration. Are you stuck or making the same necklace over and over? Do you feel like you need a little spark to move forward? Kit Day is a way to explore how others conquer their kits. Every kit is loaded with the same basic items. Kit Day allows you to experience these materials through a bunch of other eyes. Some designers open our kits and make intricate wire wrapped beaded jewelry. Some designers make elaborate multi-strand necklaces. Some designers make simple bracelets that just look stunning. Every kit is interpreted differently by the unique designers that purchase them. If you want to see how your jewelry compares to others, this is a great time to check out the designs.
Look at this beautiful bracelet. Kristen made an easy ladder stitch piece. Have you tried something like this? Why not? Make something amazing with your kit. Wander a different road and see where it takes you. Think out of the box and create a piece of jewelry that you have never considered. Make sure to post it on our Facebook group. You are sure to be loaded with kudos and praise. But you can also ask for a gentle critique if you wonder what you can do to take you jewelry to the next level. We want you to be the best artist you can be!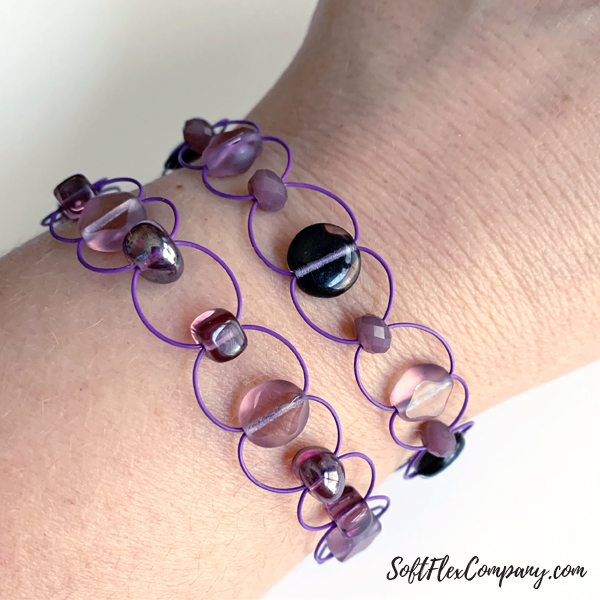 If you love a challenge, you will love our kits. Each kit follows a theme. Some themes are safe and easy. Snow Queen was easy, icy blue and white - perfect for the holidays but not super difficult. Dark Heart was a little more challenging, a Gothic Valentine - how do you pair pink and black? Do you go cute or embrace the darkness? Amazon Princess was a Wonder Woman themed kit. Turns out that not everybody likes that color theme. Sandy Huntress, a talented YouTube jewelry designer, was dismayed when she found that it contained her least favorite color combination - red, yellow, and blue. Sandy took a minute to consider her options and came back with jewelry that delighted her. We think this is one of the best parts about our kits. We did not set out to make each kit something that was extremely easy. We want you to feel challenged. This is a puzzle. Each kit is accessible. Beginners and professionals, alike, will be able to make jewelry with the kit. But, we want you to have to consider the parts before you begin. We think a thoughtful and plotted design leads to learning. We would love it if we stimulated your brain.
VIB Group Member Designs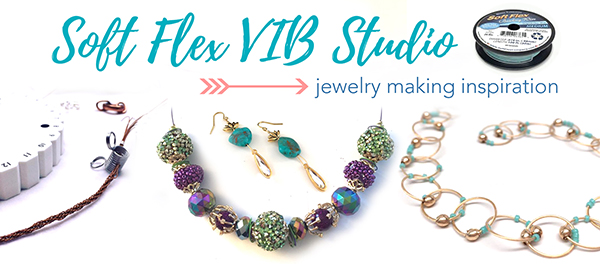 We gathered a small assortment of fun designs from our VIB Facebook group. There were so many wonderful ideas and jewelry pieces. You really need to join our group to see them all. A lot of our members also have stores online. If you see a design you love, make sure you let the designer know. They may sell you that design or at least let you know how they made it. We would love to see your work too, join us today!
VIB is a great place to visit during the COVID-19 pandemic. It is a place to chat and meet new friends. It is a great way to be social during quarantine. Stay healthy and stay at home. You can learn a new tip or technique daily. You can get inspired by the gorgeous jewelry designs other people in the community post. You can also get your own jewelry gently critiqued if you want pointers on how to make your designs really stand out. We love wallflowers and chatty designers alike. Lurk or showcase your talent. You are going to love our fun club.
If you would like to see more Purple Polka Dot jewelry designs, go to our VIB group. On the left hand side of the page, in the 'Search this group' field, type or paste this: #purple. This will search the Purple Polka Dot inspired designs we hash tagged.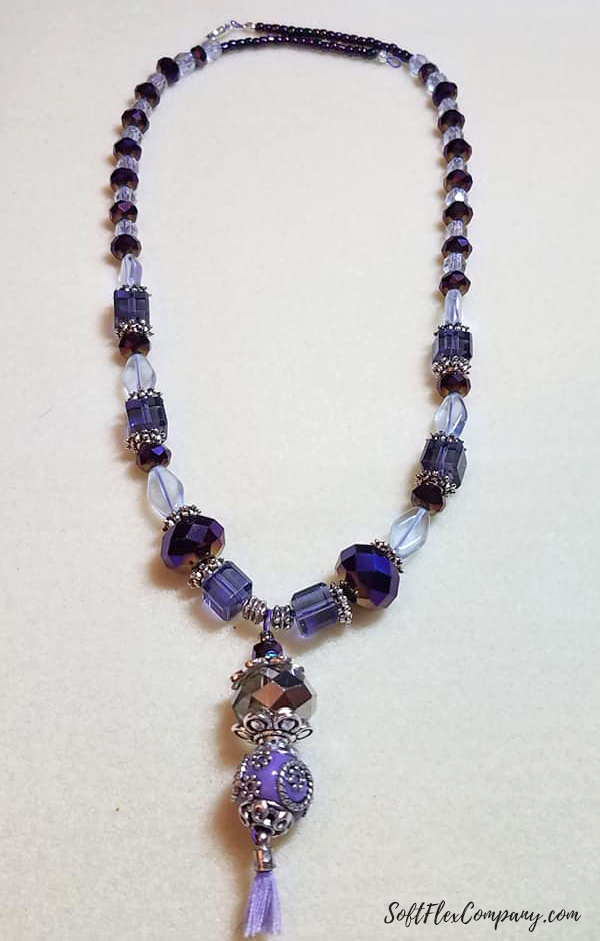 Designed by Soft Flex VIB Studio Member: Terry Murphy Matuszyk
See more of her designs in her Etsy shop and on her Facebook page.
See more of her designs in her Etsy Shop.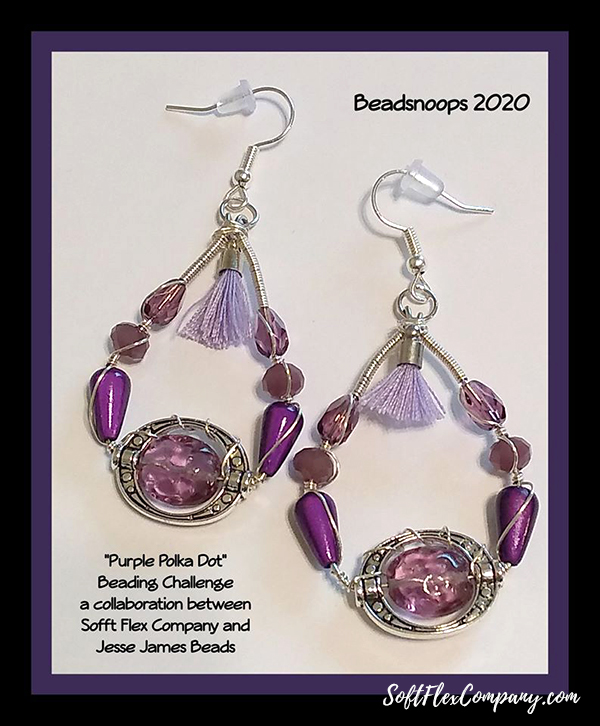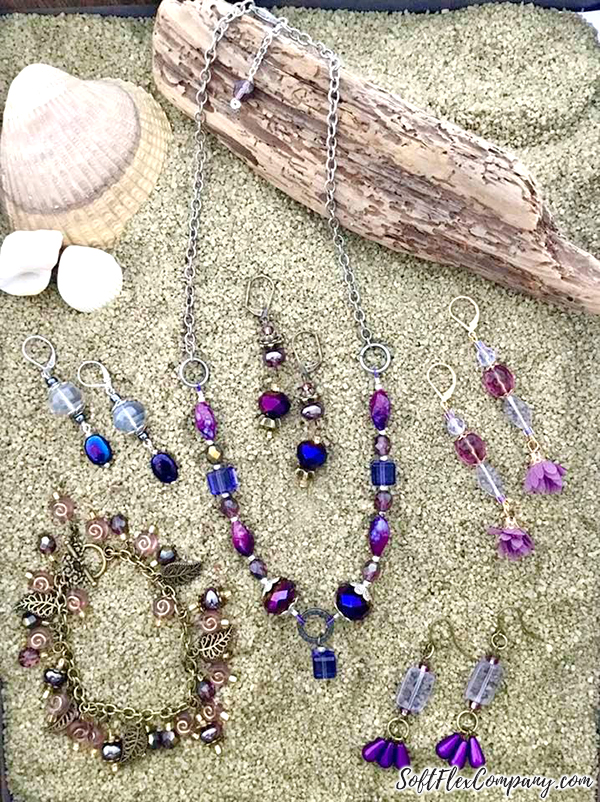 See more of her designs on her Ebay page.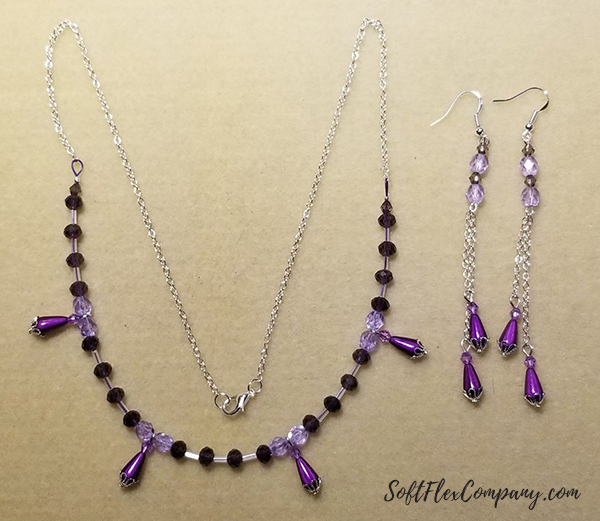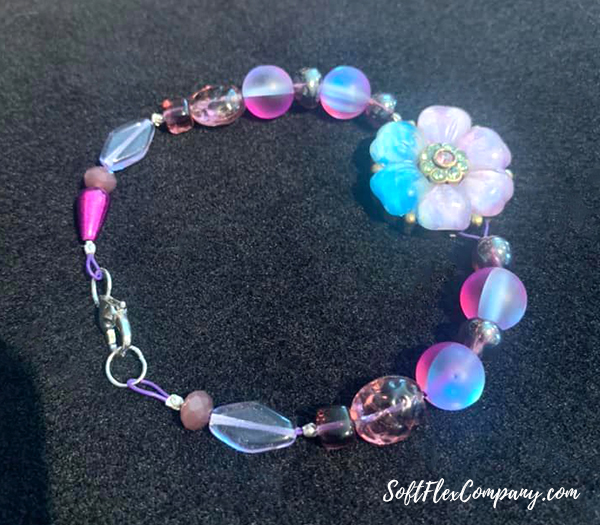 See more of her designs on her Facebook page.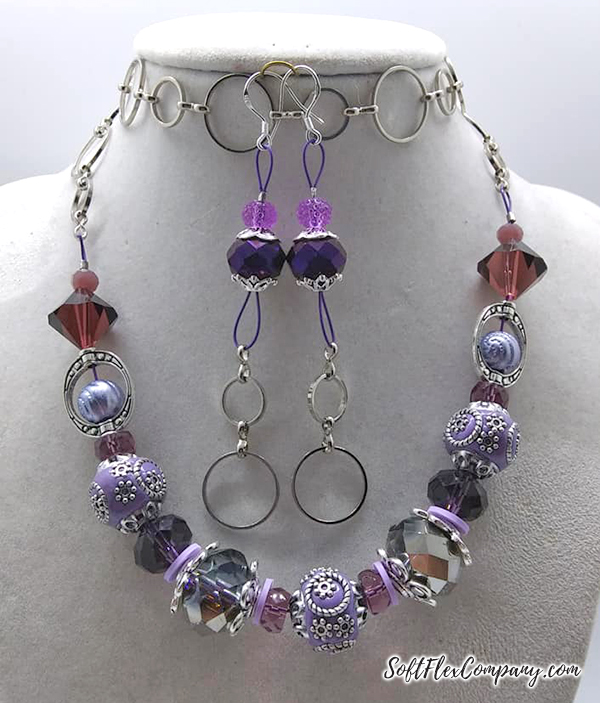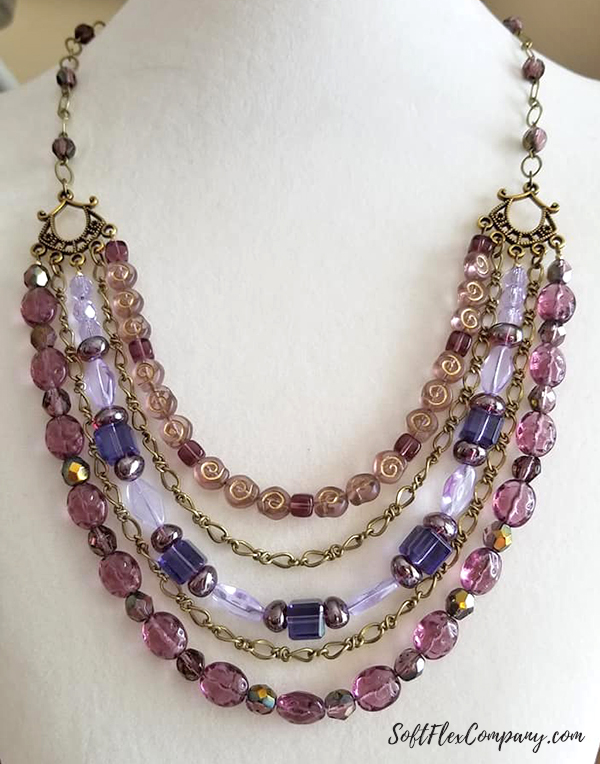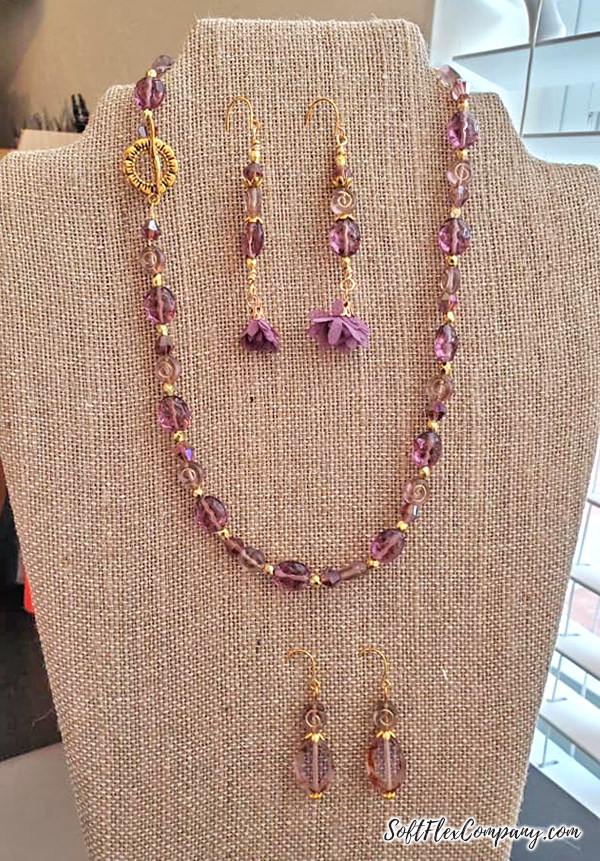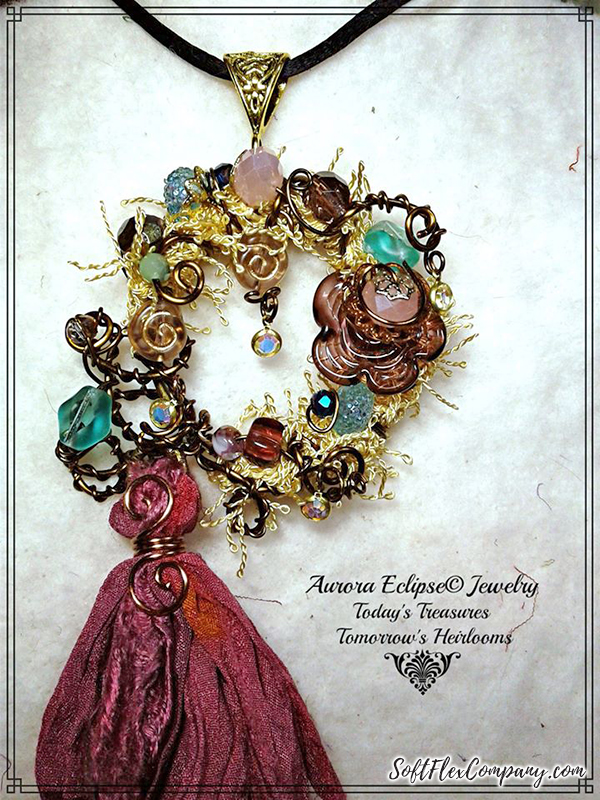 Designed by Soft Flex VIB Studio Member: Jennifer Ackley Gammon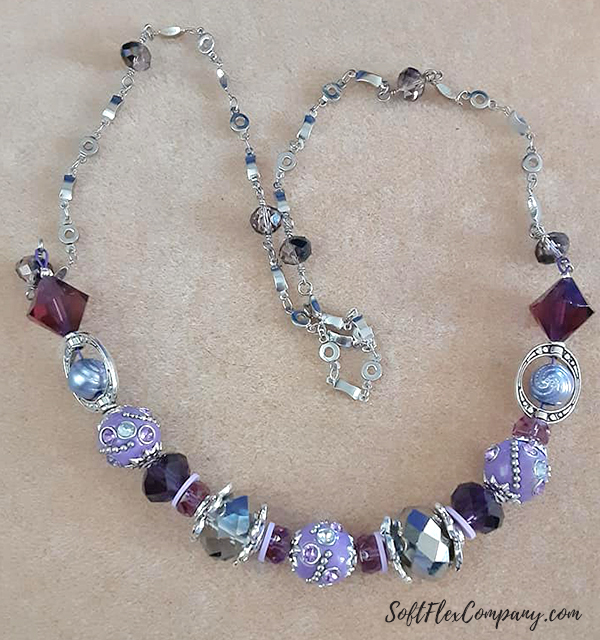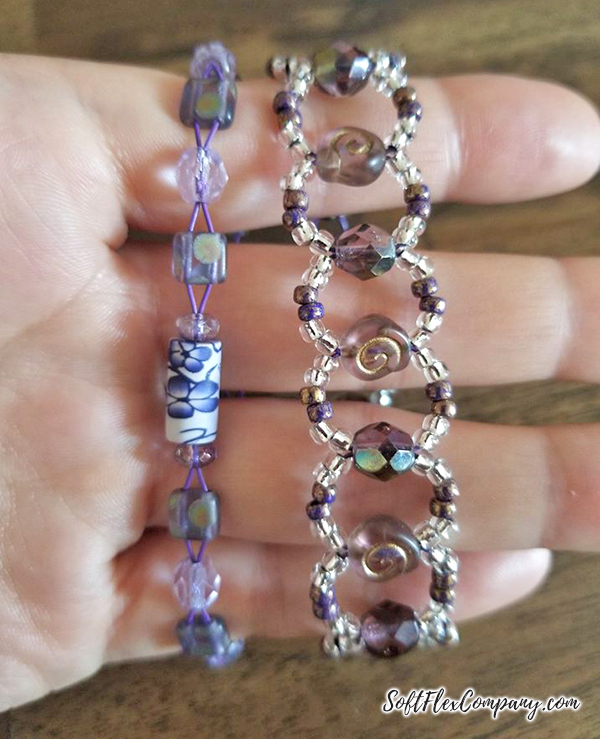 Designed by Soft Flex VIB Studio Member: Carey Marshall Leimbach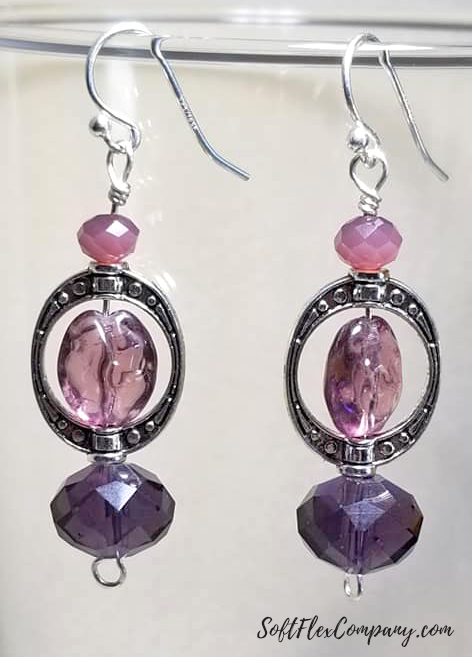 See more of her designs on her website.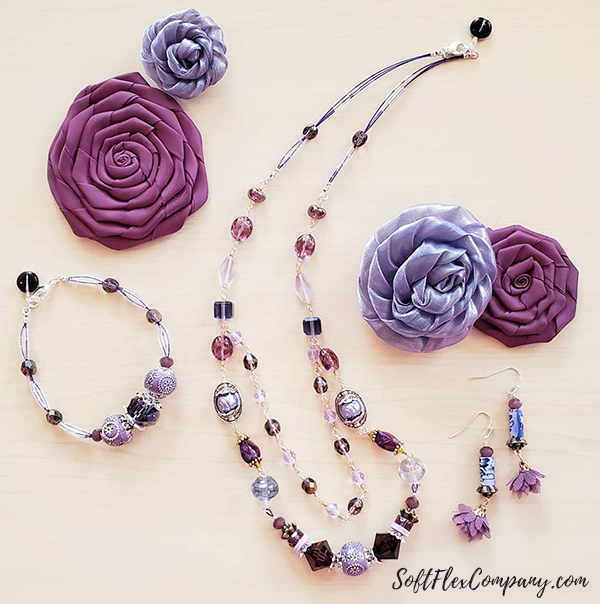 Join our Facebook group – VIB. Stay in the know. Stay up to date. From our bead shows to our video shows and sales, you can stay in touch with us. The community is full of artistic and helpful beaders and crafty people. Inspire and be inspired. Share your pictures and get the beading bug from others!
Visit the Soft Flex Company YouTube Channel!
---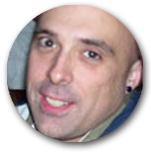 Blog contributor Thomas Soles loves Jazz Age writers and crunchy french fries. His favorite gemstones are Lapis and Pietersite. His favorite hobby is day dreaming. And his favorite mustache is Freddie Mercury's. As you can see, he has a healthy (or possibly unhealthy) sense of humor. You can write to him at Thomas@SoftFlexCompany.com