What an exciting morning! Our latest mystery design kit has hit the shelves! If you love our themed beading kits, you are going to love the Unicorn Sparkles Design Kit. This kit is full of mystical colors. The jewelry you create with this kit will be fit for a mother of dragons. If you have not had a chance to grab one of our kits, read on to see some of the jewelry designs that were made with our previous kit - the Shades of Coral Design Kit.
Check out our kits. We have tool kits for designers that need to beef up their toolbox. We offer starter kits to beginners that need the fundamentals. And we offer mystery collections that are themed. If you have the tools, a themed mystery kit includes everything else you need to create a bunch of unique jewelry.

Are you ready for some eye candy? Today we are looking at jewelry designs created by staff member Kristen Fagan and members from our Facebook group – VIB. The designs from our VIB group are incredible. It is fun to see how diverse the finished jewelry designs are – they were all created from the same materials, but creative minds love to wander down different avenues. We think they really knocked it out of the park.
If you have not joined our Facebook group yet, do so! We would love to have you. Our VIB group is full of talented jewelry designers and crafty folk. We love to foster the spirit of acceptance and inspiration. There are always lively discussions about the beading and the craft. There are giveaways and stuff you will not find any where else. We love active participants but do not require you to chat. If you do feel chatty or would like to hear some opinions about your Soft Flex strung jewelry, you can post your images and get feedback.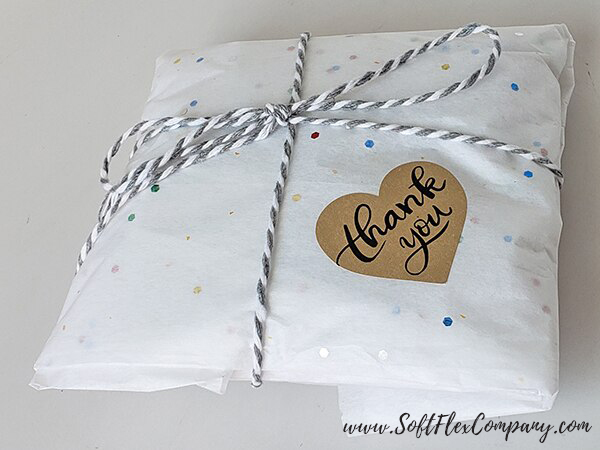 The Unicorn Sparkles Design Kit is a fanciful celebration of whimsy. Magical vibes are found in abundance in this kit full of mythical colors – sparkling silver, prismatic rainbows, mystical purple, and more! Create your own fairy-tale jewelry with this legendary design kit!
A guest host will be doing a live broadcast on the Soft Flex Facebook page, with the Unicorn Sparkles Design Kit, on Wednesday, August 28th at 3:30pm (PST). If you'd like to join us in the design challenge next month, buy this kit and challenge yourself to try something new and unexpected. If you are new to beading, this kit comes with findings, beads, wire and surprises.
Supplies are limited, so hurry!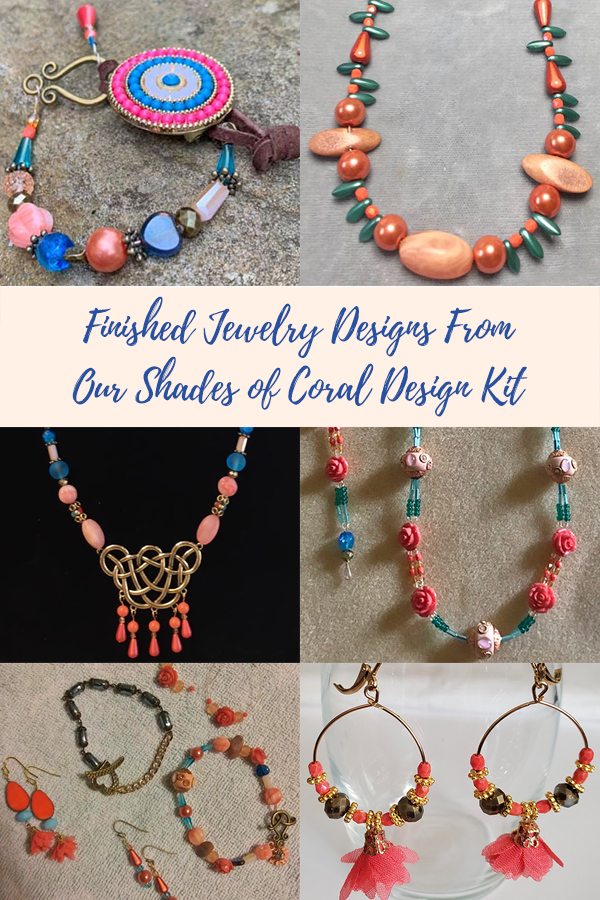 Kristen Fagan Designs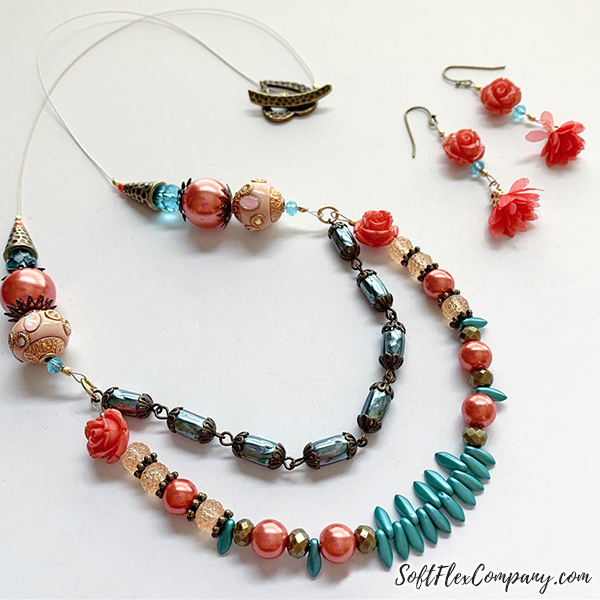 Our Shades of Coral Design Kit was a celebration of Pantone's Color of the Year for 2019 - Living Coral. This warm color evokes so much. There is life and optimistic hope. Coral is playful and bouncy. It is inviting. Inspired by the colors under the sea, this palette gives us beachy vibes - perfect for summer style jewelry designs!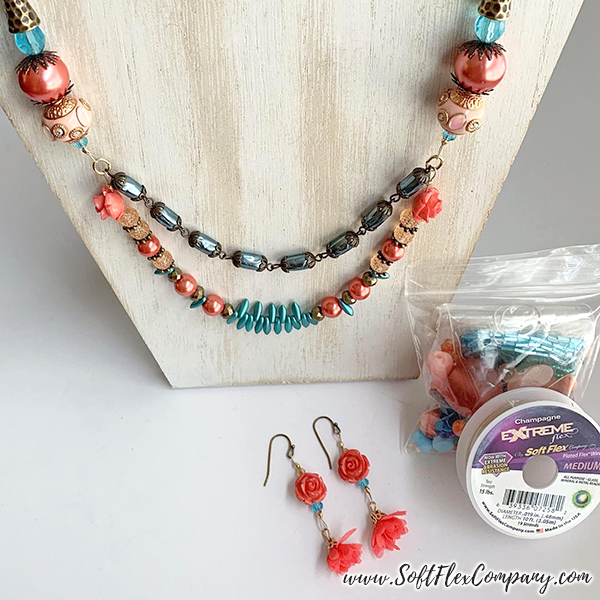 Our gallery staff puts the Design Kits together. They take a theme and run with it. These themes have explored so many fun worlds and ideas. We have looked at the colors of the uncharted seas. The romance of seaside Greek villages. We have looked to the holidays for inspiration and have celebrated the people we love. All of our kits are unique and are not sold elsewhere. If you would like to purchase a kit, we release new ones towards the end of each month. Quantities are very limited, so make sure you grab one quick!
If you miss out on one our jewelry Design Kits, there is still a chance to design with the color palette. We often follow up with Trios Beading Wire Packs and Bead Mixes that share the theme of the Design Kits. This is a good way to grab some of the fun of the Design Kit or enhance the Design Kit you purchased.
VIB Group Member Designs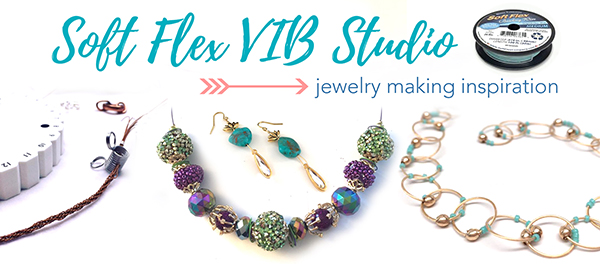 We gathered a small assortment of fun designs from our VIB Facebook group. There were so many wonderful ideas and jewelry pieces. You really need to join our group to see them all. A lot of our members also have stores online. If you see a design you love, make sure you let the designer know. They may sell you that design or at least let you know how they made it. We would love to see your work too, join us today!

If you would like to see more Shades of Coral jewelry designs, go to our VIB group. On the left hand side of the page, in the 'Search this group' field, type or paste this: #shadesofcoral. This will search the Shades of Coral designs we hash tagged.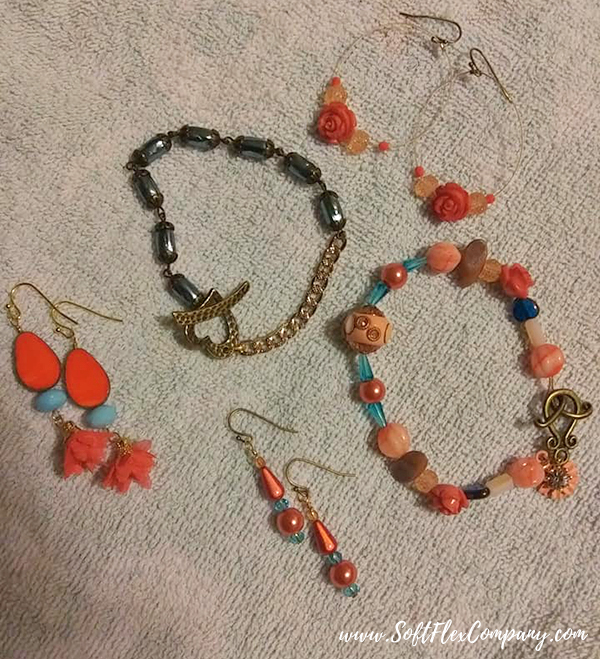 See more of her designs on her Facebook page In Rose's Garden Custom Treasures.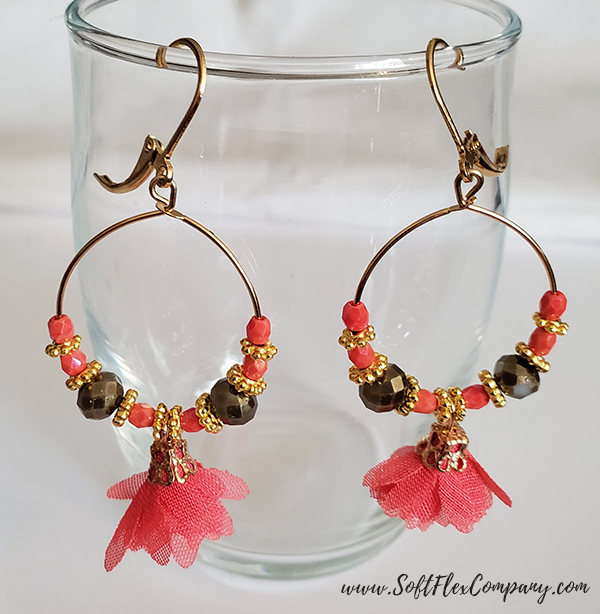 See more of her designs in her Etsy Shop.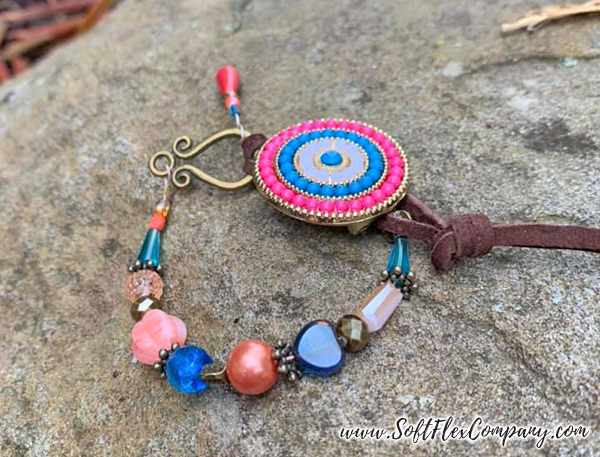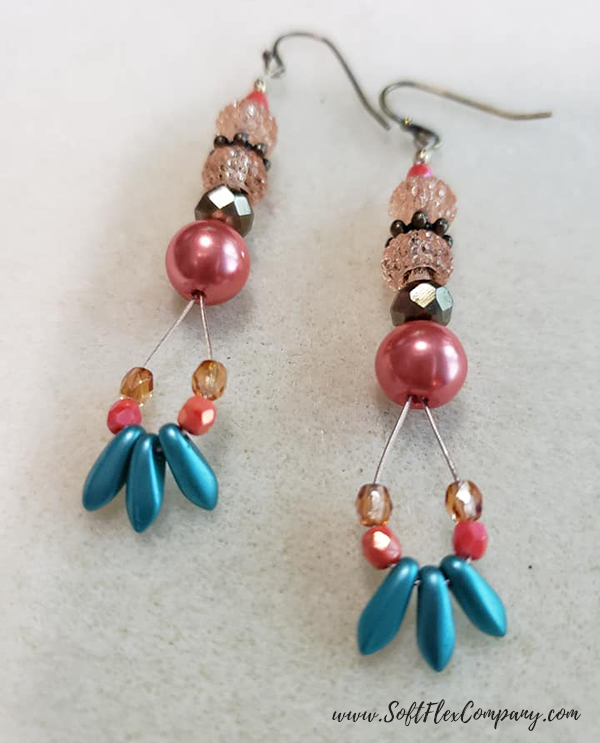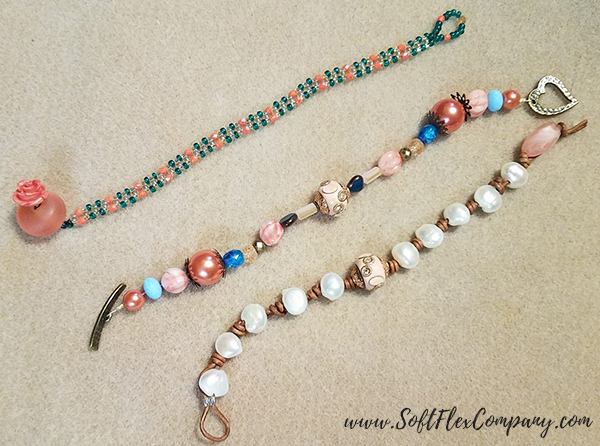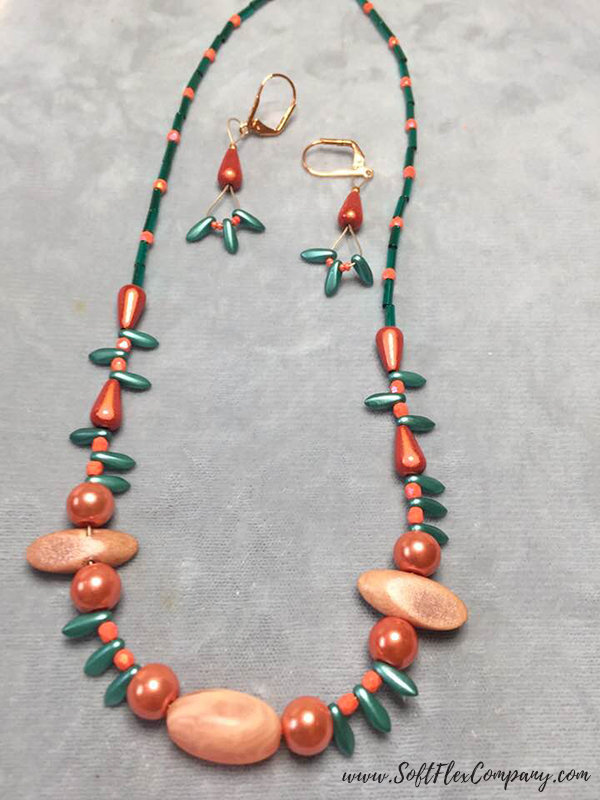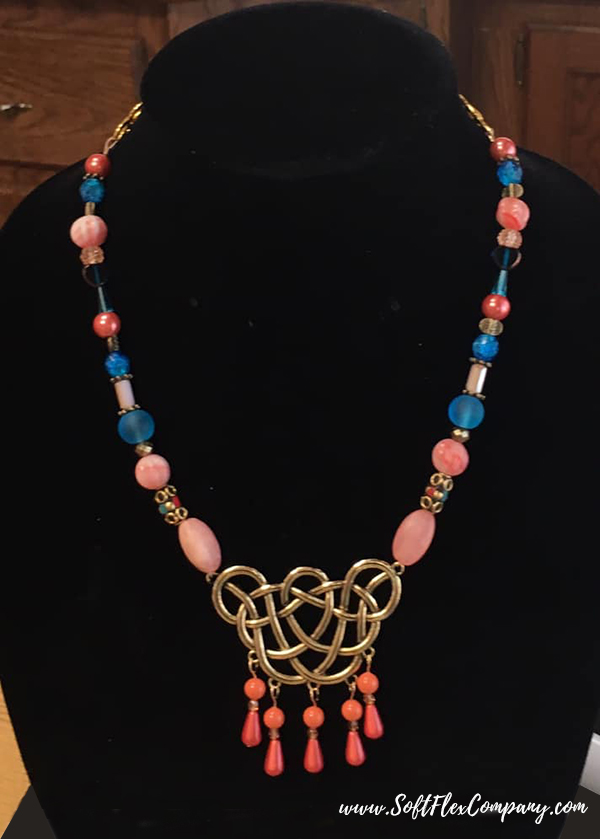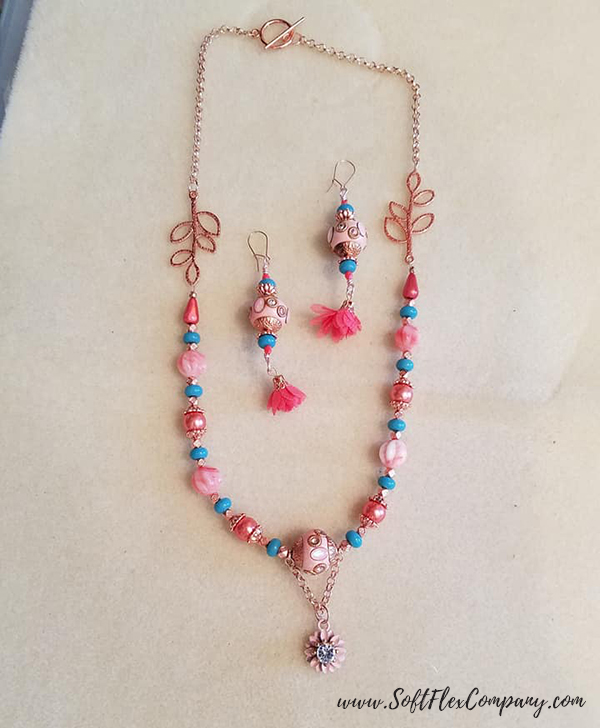 Designed by Soft Flex VIB Studio Member: Terry Murphy Matuszyk
See more of her designs on her Facebook page Pink Chapeau Vintage Jewelry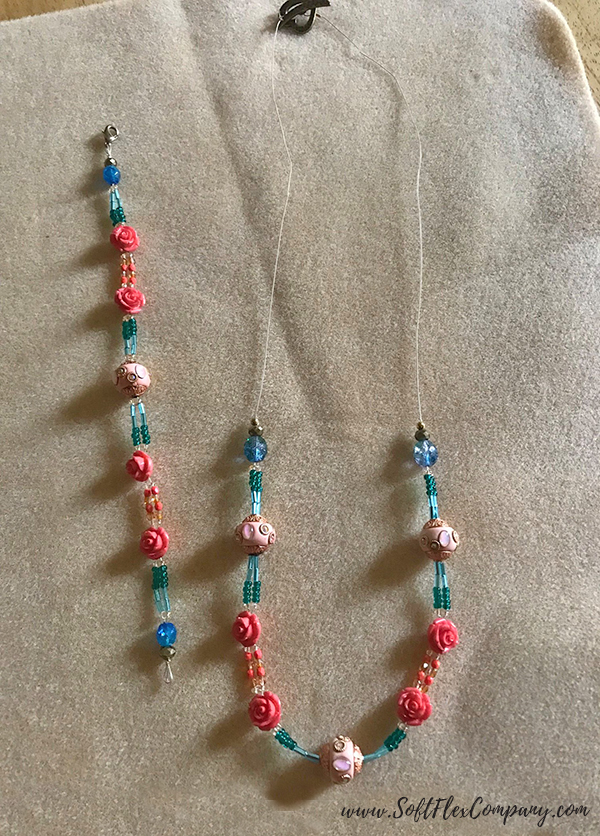 Join our Facebook group – VIB. Stay in the know. Stay up to date. From our bead shows to our video shows and sales, you can stay in touch with us. The community is full of artistic and helpful beaders and crafty people. Inspire and be inspired. Share your pictures and get the beading bug from others!
Visit the Soft Flex Company YouTube Channel!
---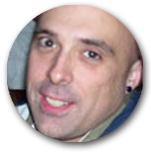 Blog contributor Thomas Soles loves Jazz Age writers and crunchy french fries. His favorite gemstones are Lapis and Pietersite. His favorite hobby is day dreaming. And his favorite mustache is Freddie Mercury's. As you can see, he has a healthy (or possibly unhealthy) sense of humor. You can write to him at [email protected]