Let's learn how to make some handmade rings! Today, we are exploring wire rings (rings designed using Craft Wire). These free projects may seem a little daunting for beginners. But, our videos are gentle and easy to follow. You will not be lost as you work. To kick things off, we will show you a rose ring that is so simple. If you have a ring mandrel - or something you can use as a mandrel, you will be amazed at how easy this ring is to wrap and finish. We will move on to more intricate work and then finish up with a gorgeous kumihimo ring. If you love making jewelry, you are going to love learning how to make your own homemade rings!

James Browning is a talented teacher. If you have ever wanted to learn a new technique with Craft Wire, his videos make it easy. James is instructive and fun to watch. One of his best tips is to work slow. Do not rush. Take time to finish your designs. You can catch a mistake and correct it before it turns into a nightmare. Craft Wire is a forgiving medium as long as you work slowly and methodically. If you have ever wanted to learn how to wire wrap, there is no time like now! Make sure you catch his YouTube series, Conversations in Wire. James explores varied and exciting wire working projects for every skill level.
Soft Flex Craft Wire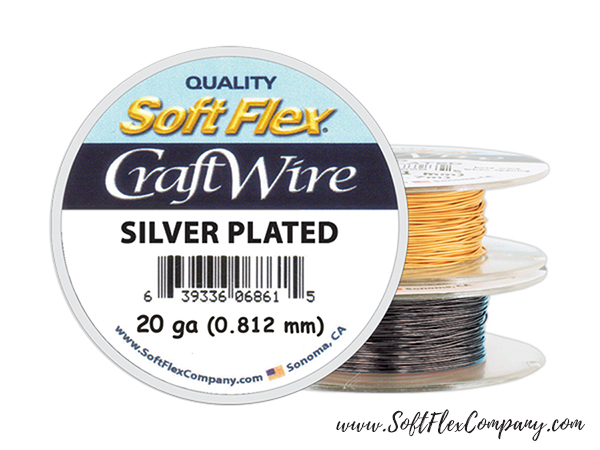 Soft Flex Craft Wire is a high quality, permanently colored copper wire. It is resistant to scratching, peeling and marring. This is due to the special enameling process used to coat the wire to produce the wide spectrum of colors we offer. After the enamel is applied, the wire is then clear coated to prevent tarnishing. Bare Copper is the only wire in the line that is not treated. If antiques and old findings are your medium, Bare Copper will patina - perfect for making that new project look like an heirloom.
Quality Soft Flex Craft Wire is 100% lead and nickel free. There are no other metals used in the wire production other than copper and fine silver. The temper of the wire is soft. It is firmer than similar wire products offered on the market, which are typically only available in dead soft and can't be tempered to half hard. We currently offer six of the most commonly used gauges in the jewelry industry and more are on the horizon. An exceptional design idea deserves a professional craft wire.
Learn How To Make Handcrafted Rings With Craft Wire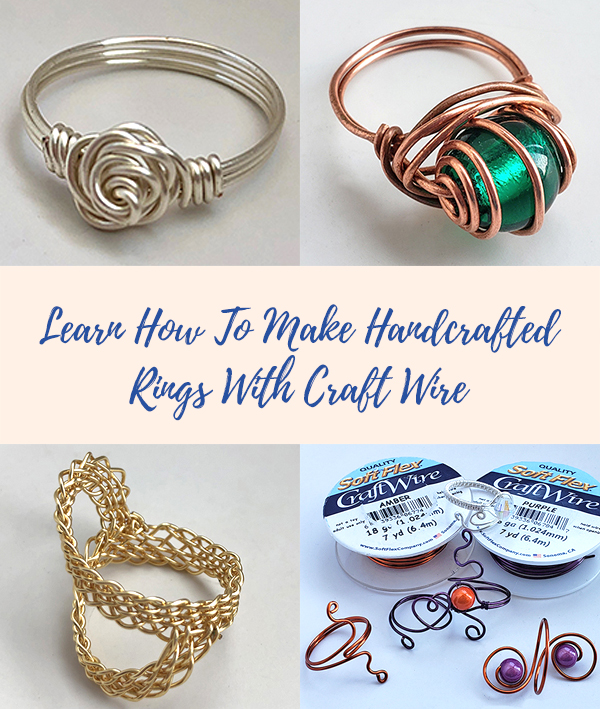 How to Make a Rose Bead Ring with Soft Flex Craft Wire
Kristen showed us how to make wire worked jewelry. If you have never used Craft Wire, you should add some to your collection. Craft Wire is easy to work with and once you start getting the hang of it, there are so many ways to use it in your handmade jewelry designs. Craft Wire can frame and cage beads. Craft Wire can be looped and chained. Craft Wire can even be turned into ornaments for your favorite holidays.
Would you like to learn how to wire wrap a ring? Handcrafted rings made with Soft Flex Craft Wire are easy to make. Each ring has a million possibilities - change up the color of the wire or beads and you have a new masterpiece. To truly master this art, you will want to get a ring mandrel. You can use a homemade mandrel, but a ring mandrel will provide consistent sizes for your finished jewelry.
Join Kristen LIVE! She films a new episode of her jewelry making tutorial show on Soft Flex Company's Facebook page or YouTube channel on Monday's.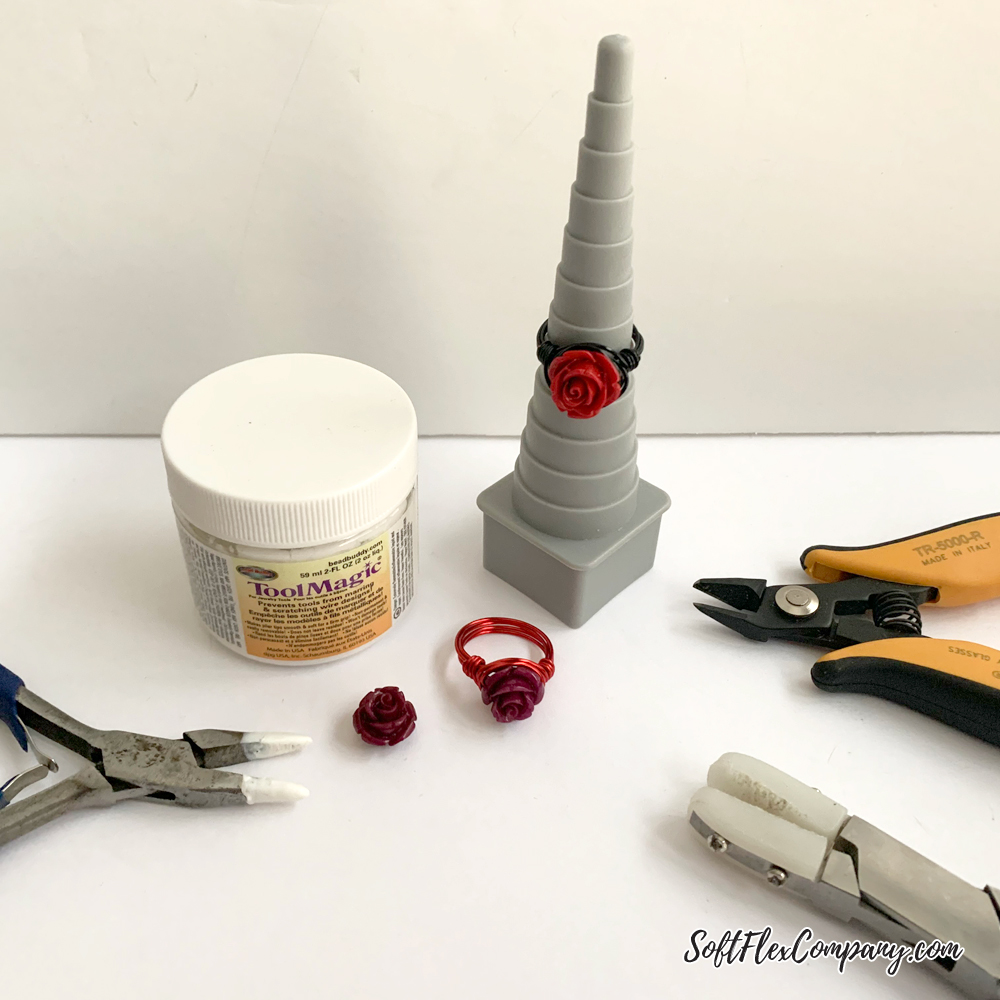 From Kristen:
My experience is that if you are using a mandrel like I did, the final design seemed to be one step smaller when finished than where I started. So, I suggest try making it one step larger and it should end up smaller once wrapped.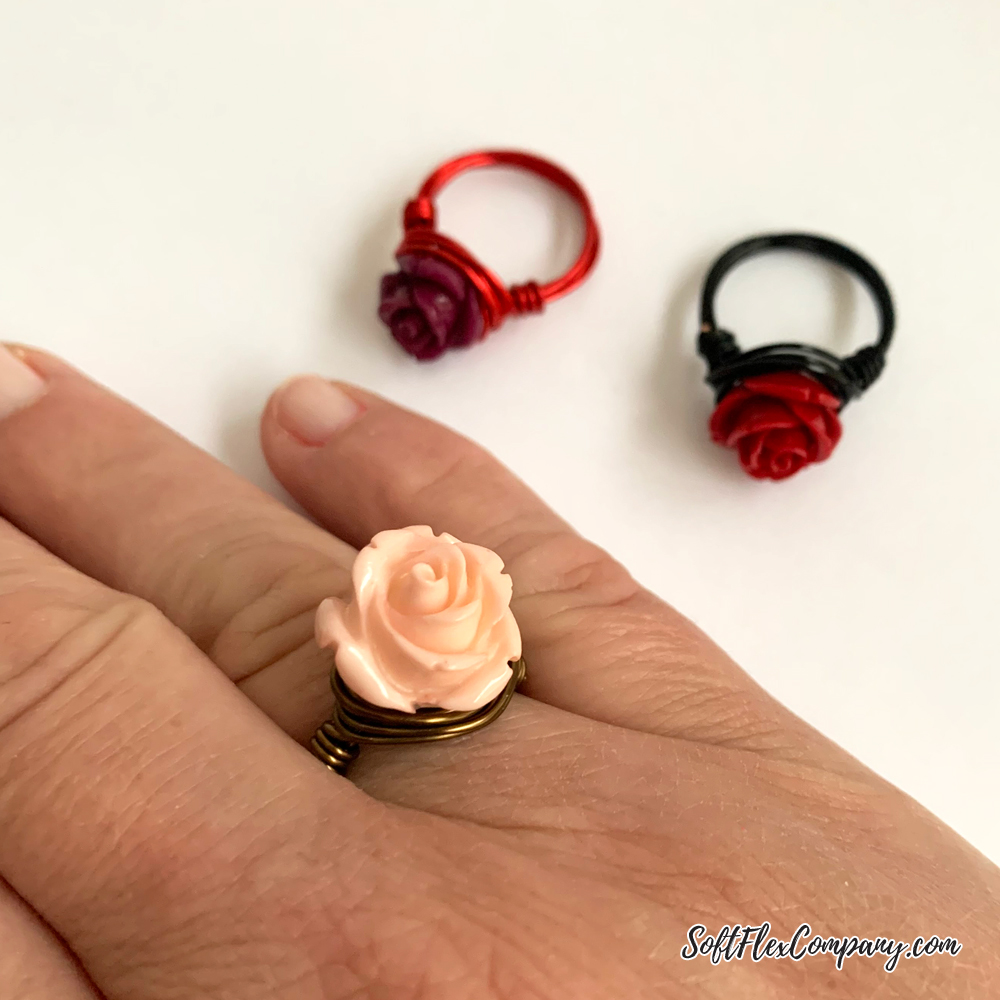 Soft Flex Craft Wire - 20 Gauge
Soft Flex Craft Wire - 20 Gauge Silver Plated
Rose Bead from Jesse James Beads
Ring Mandrel from The Bead Place
Nylon Jaw Pliers
Chain Nose Pliers
Tool Magic
Cutters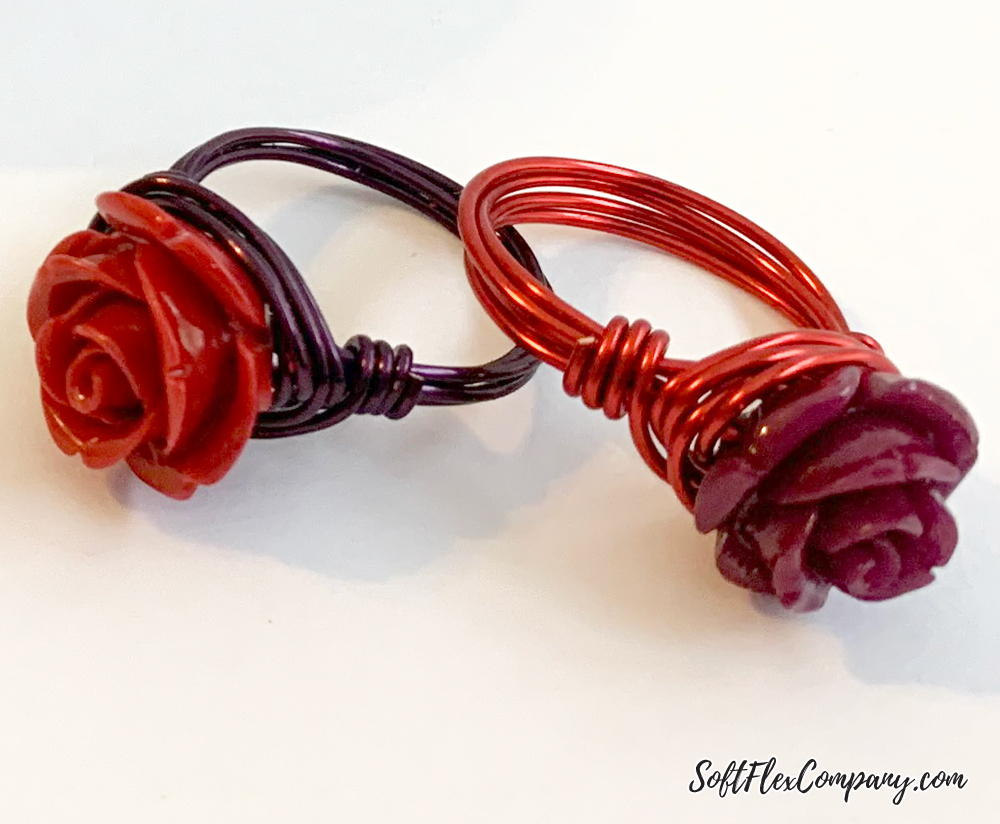 How To Make A Rose Ring Using Soft Flex Craft Wire
In this video, James shows you how to wire wrap a simple ring with a rose focal element. This lovely piece of jewelry is basically a ring with a twisted or swirled center to give the rose dimension. If you would like to change the look of the finished ring, a finer gauge of wire will mix things up. You can also us different colors of craft wire to give the ring an exciting new appearance. Adding stones is another easy way to give this wire wrapped ring a gorgeous look. James added a Sodalite stone to one of his rings. Once you have gotten the hang of wire wrapping, you can make your rings more intricate with wire detail.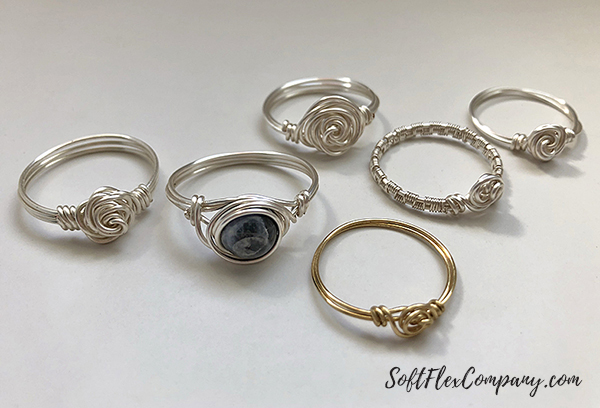 You will need a ring mandrel to finish this design. A ring mandrel is a ring sizer that jewelry makers use to size rings before working on them as it is much harder to adjust later. You can also use a dowel. James uses a metal mandrel that makes it easy to work harden the ring while it is on the mandrel. Work hardening is the process of making Craft Wire retain its shape. Craft Wire is soft and malleable on the spool. Once it is work hardened, it becomes half-hard and will hold its form. You can work harden the wire by striking it with a nylon tipped hammer, a Wire Whacker, or nylon jaw pliers. A soft surface is preferable as metal to metal strikes can harm the finish on the wire.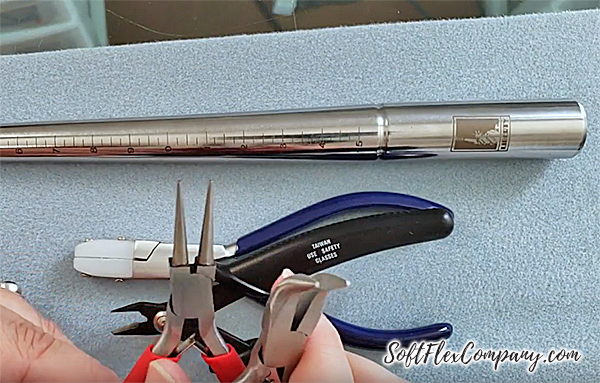 Ring Mandrel
Soft Flex Craft Wire - Silver Plated 20ga
Cutters
Nylon Jaw Pliers
Round Nose Pliers
Bent Nose Pliers
Craft Wire Starter Kit (optional)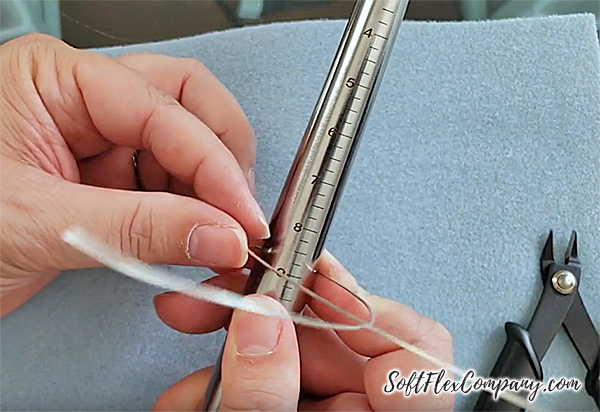 For a wire working project like this, James uses these tools: nylon jaw pliers, round nose pliers, bent nose pliers, and cutters. He is using 20 Gauge Non-Tarnish Silver Craft Wire. If you do not have the tools for this project, he suggests a Craft Wire Starter Kit. Craft Wire Starter Kits are great for building a tool box. They are cost effective and include a bead mat, cutters, nylon jaw pliers, round nose pliers, bent nose pliers, lobster clasps, a 10 yard spool of 22 Gauge Soft Flex Craft Wire, and a free package of Beads.
For this ring, James cuts off twenty inches. This will give him a lot of wiggle room on the design. He grabs the end of the wire he cuts off the spool with his bent nose pliers. He takes his nylon jaw pliers and pulls down the wire. This straightens and work hardens the wire a little to stiffen it. He bends the wire slightly so he can find the center of the wire.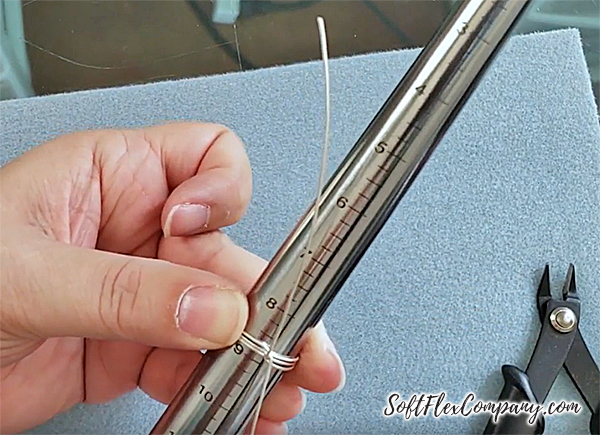 James finds the center of his wire. He places the wire on the ring mandrel. For this project, he is designing a pinky ring for himself. He figures his pinky is a size eight. On the sizer, he places the wire on size nine. Wire wrapping the ring will add bulk to the design that he needs to account for. He wraps the wire around the mandrel three times. You can wrap the wire more or less depending on the look you are aiming for. Once it is wrapped he pulls it off the mandrel to test it on his finger. When he is sure the size is right, he places the ring back on the mandrel.
James twists the wire on the mandrel to lock it in place. He takes a single wire and wraps around the center. He wants this to be a flat spiral so he takes his time wrapping. You can wrap both wires at the same time if you are in a hurry. James says he does not suggest trying to speed this process up. Part of being a decent wire designer is taking your time and making sure you are doing everything correctly. Rushing through a project is a good way to fail.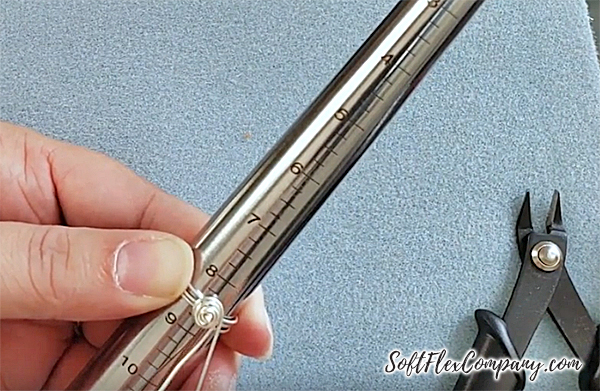 James wraps a neat spiral. He has a couple inches of wire left. The remaining wire is on opposite ends of the ring. He removes the ring from the mandrel. He curves one of the wire pieces through the inside of the ring. To make the wire neat, he uses his bent nose pliers and squeezes it. He does another loop inside and squeezes the wire. He suggests a gentle touch with the pliers as bare metal can mar the wire. He does another wrap and flattens the looped wraps.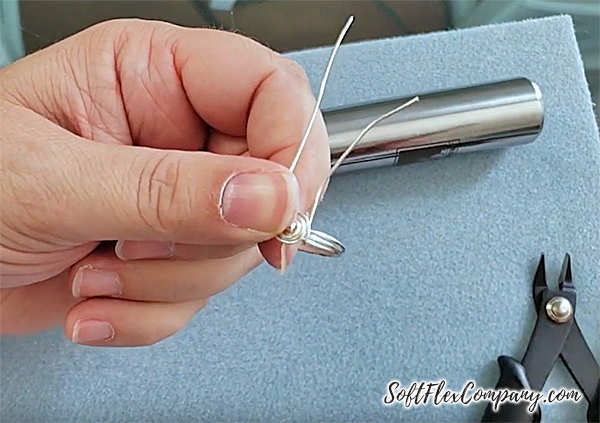 If you are not accustomed to projects like this or are a new wire wrapper, James suggests a finer gauge. 22 gauge wire is a good choice for beginners. It is easy to manipulate and bend. A thicker wire may not cooperate if you are not used to working with a malleable craft wire.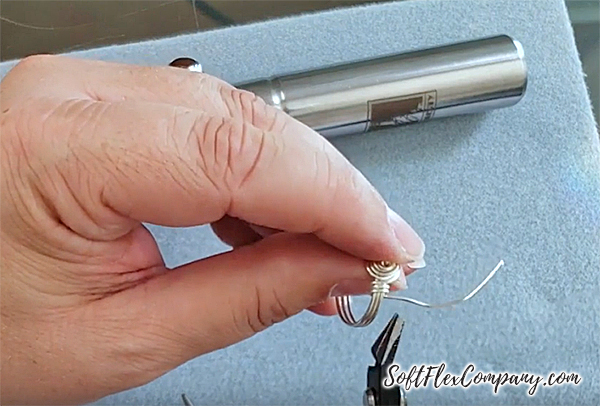 James wraps the opposite side three times so both sides of the center are uniform. He cuts the remaining wire off near the center. He uses bent nose pliers to work the tiny bit of wire left into the wrapped loops.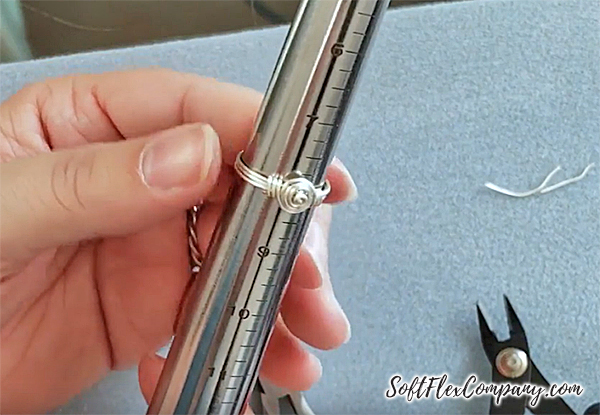 James places the ring back on the mandrel. The size is no longer a nine, this is why it is important to measure the ring well as it can shrink an entire size. Placing the finished ring on the mandrel will help center the ring again if you have bent it at all while wrapping the rose. This is a good time to do any detail work before you finalize your design.
Make sure you check out the video. This ring is perfect for beginners. It looks a lot more difficult to make than it actually is. Once you have completed your first ring, you will have the confidence to move on to more difficult pieces. Good luck!
How To Make Adjustable Wire Rings Using Craft Wire
These rings are fabulous. You can use different colors and wrap your own unique styles. This is a great chance to get creative and make your own signature jewelry. You can add stones or change the color of your wire to make your rings unique and full of creative spark. Think out of the box and make a wild design!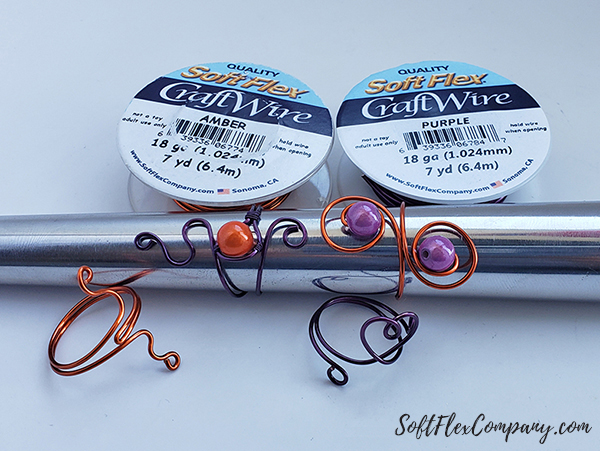 These rings are perfect for color specific holidays. Red Soft Flex Craft Wire is perfect for Valentine's Day. Soft floral colors would make for a perfect Mother's Day gift. Orange and purple are the ideal accessory for every witch or phantom that haunts your halls.
Soft Flex Craft Wire - 18ga
Soft Flex Craft Wire - Silver Plated 18ga
Soft Flex Craft Wire in Closeout
LoopRite Looping Pliers
Nylon Jaw Pliers
Bent Nose Pliers
Chain Nose Pliers
Round Nose Pliers
Bead Nipper (Cutters)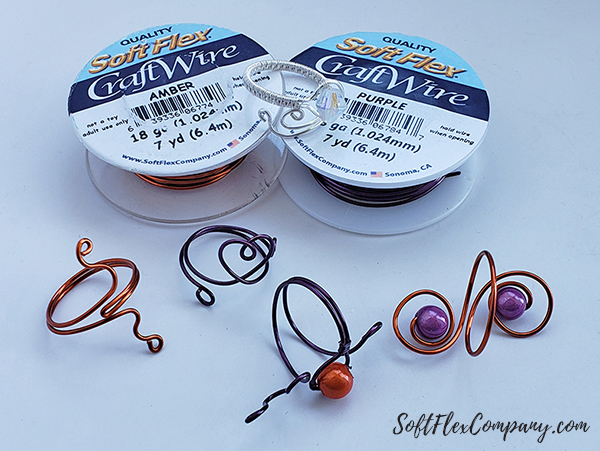 What kind of artistic flourish are you going to add? Are you a fan of tight loops or do you love free flowing and loose designs? This is an amazing free spirited ring!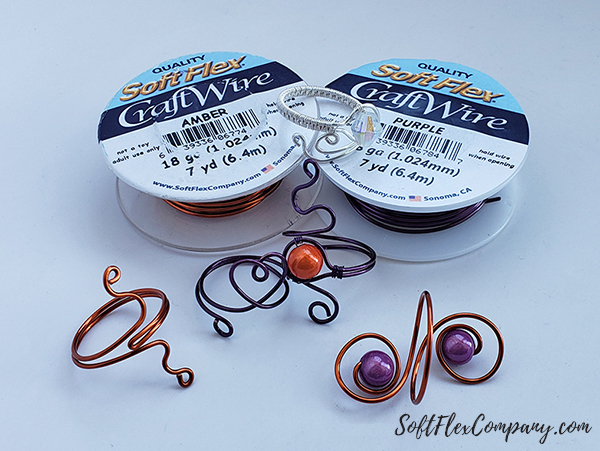 Make A Captured Bead Ring Using Soft Flex Craft Wire
In this video, James shows you how to make an incredible wire wrapped ring. These rings are minimal but full of drama. A captured bead is the centerpiece of the ring and spirals add fun details. These rings are really amazing and quick to make. Watch James in action. He gives easy to follow instructions. You will have your own ring in no time.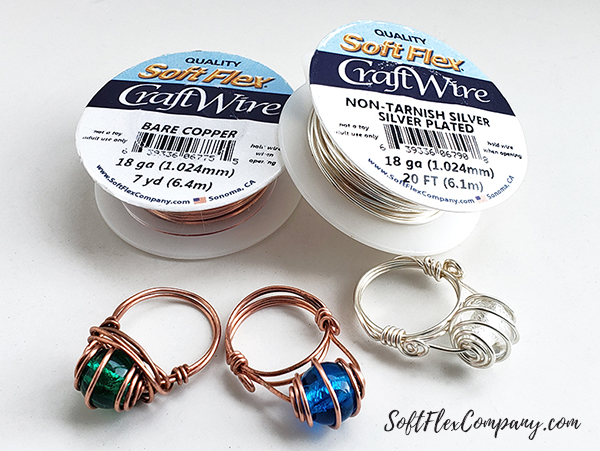 If you crave variety, these rings are perfect additions to your jewelry box. Simple changes turn each ring into a unique piece of jewelry. Change the wire color and you have a new look. Change the size, shape or color of the bead and you have a new focal. Get playful and you can turn your ring into something James had not even considered.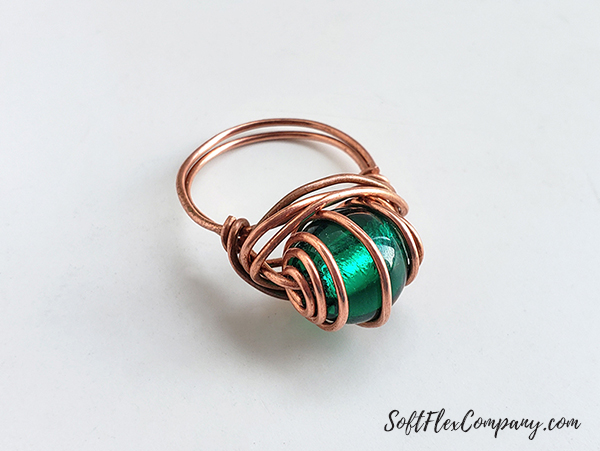 18ga Soft Flex Craft Wire in Bare Copper
Round Bead
Ring Mandrel or Dowel
Nylon Jaw Pliers
Bead Nipper (Cutters)
Round Nose Pliers
Chain Nose Pliers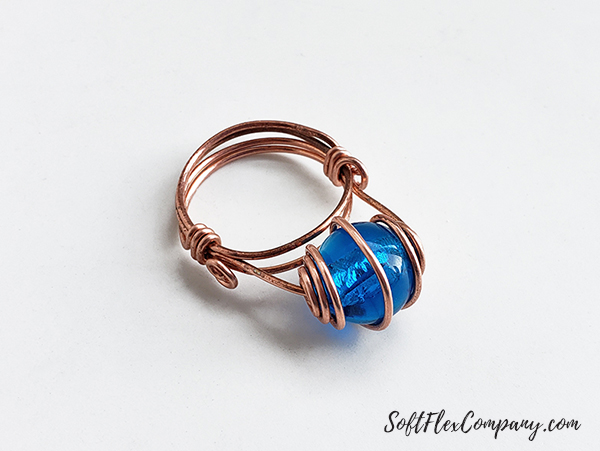 If you enjoyed this video, make sure you visit James' library of wire working instructions. He has free project ideas using Soft Flex Craft Wire that you will love. You can find lots of his jewelry project ideas on our YouTube channel. He has wire wrapped stones. He shapes wire into words and names. He shows you how to make Craft Wire spiders for the holidays and so much more.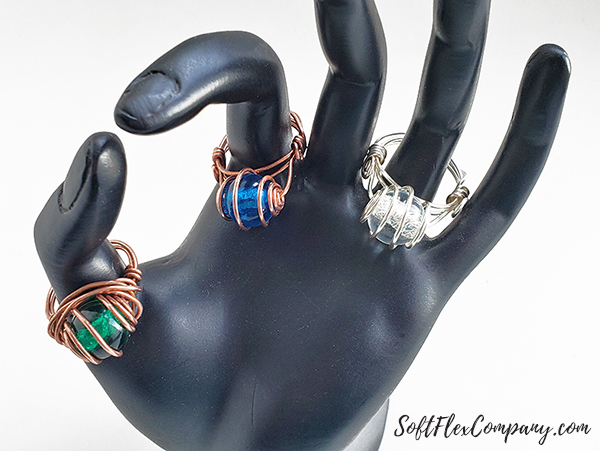 Learn Kumihimo Wire Weaving Using Soft Flex Craft Wire
In this video, James demonstrates how to use a square Kumihimo plate with 22 gauge Soft Flex Craft Wire to create a flat wire weave that can be turned into a fun ring. James got this idea working in Tucson at the To Bead True Blue bead show. This ring was James first time working with a Kumihimo plate. It took some work, but James nailed this design. If you have not worked with Craft Wire and a Kumihimo plate, consider getting plenty of wire before trying this project as the first attempt may not be perfect.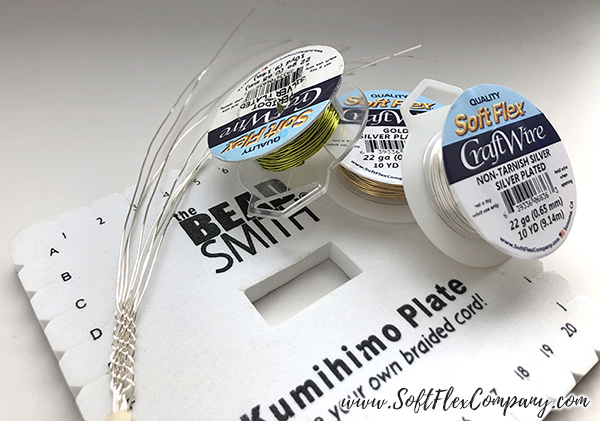 James suggests taping the wire for this piece. Using Craft Wire and kumihimo together takes some patience and you want to make sure the wire is orderly while you work. If your wire is trying to get away from you, this is going to be very frustrating.
Square Kumihimo Plate
Soft Flex Craft Wire - Silver Plated 22ga
Cutters
Nylon Jaw Pliers
Round Nose Pliers
Bent Nose Pliers
Craft Wire Starter Kit (optional)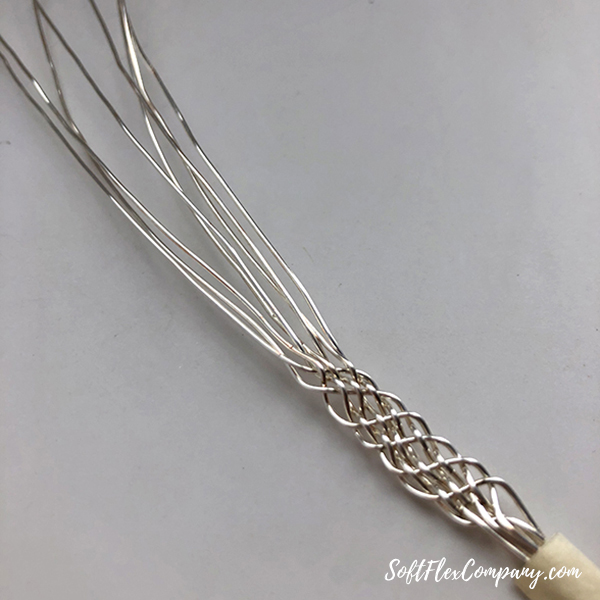 This ring can be made with a single color or you can choose multiple colors for a really fun design.
The finished ring is absolutely amazing. It looks like a fun infinite design.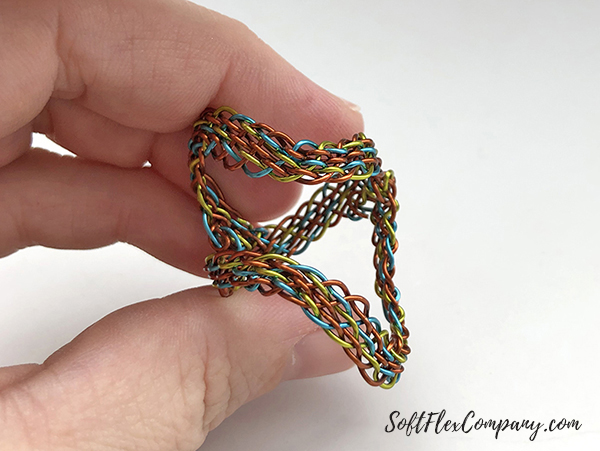 James uploads his videos to YouTube every other Thursday. Follow along as he explores his passion for Craft Wire jewelry. If you have any questions for James, you can post them in the comments field on his videos or email him.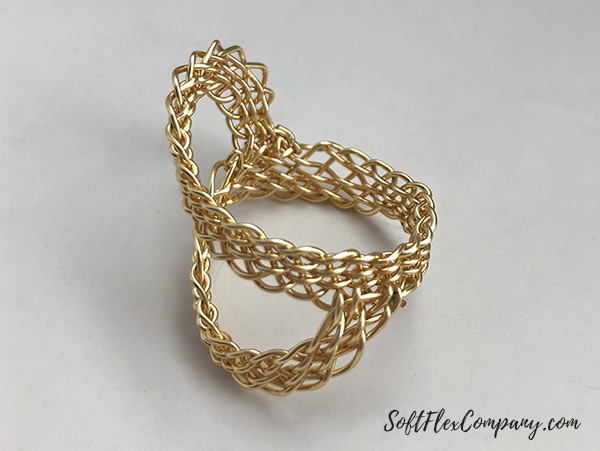 Join our Facebook group – VIB. Stay in the know. Stay up to date. From our bead shows to our video shows and sales, you can stay in touch with us. The community is full of artistic and helpful beaders and crafty people. Inspire and be inspired. Share your pictures and get the beading bug from others!
Visit the Soft Flex Company YouTube Channel!
---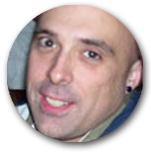 Blog contributor Thomas Soles loves Jazz Age writers and crunchy french fries. His favorite gemstones are Lapis and Pietersite. His favorite hobby is day dreaming. And his favorite mustache is Freddie Mercury's. As you can see, he has a healthy (or possibly unhealthy) sense of humor. You can write to him at Thomas@SoftFlexCompany.com