Learn How To Make Wire Wrap Bead Connectors To Create A Handmade Beaded Chain With Craft Wire
Last week on Soft Flex Company's Facebook Live, I created a fun and beachy design using a strand of 6mm Matte Amazonite beads that I purchased from a Soft Flex Live Sale. I fell in love with these beads as soon as I saw them. They are such a beautiful, soft and soothing color. I love that these beads are matte. Don't get me wrong, I like to sparkle, but there are plenty of times in my Mom life where sparkly necklaces are a little too much for the occasion.
Click here to see all of our beautiful beads!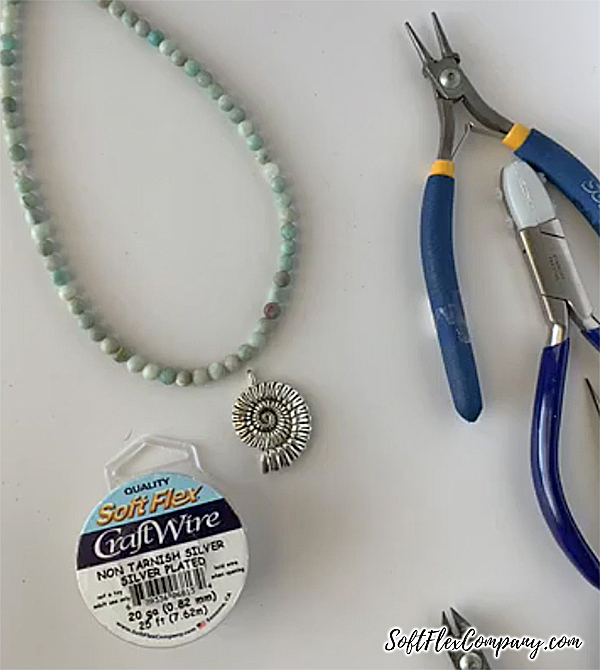 In my beadbox, I found some beautiful samples of metal beads, pendants and findings from TierraCast. I thought that this particular pendant was the perfect addition to this necklace. Did you know that TierraCast (and Soft Flex craft and beading wire) are all Made in the USA? Both companies are located in Sonoma County, California. Our products are a perfect match!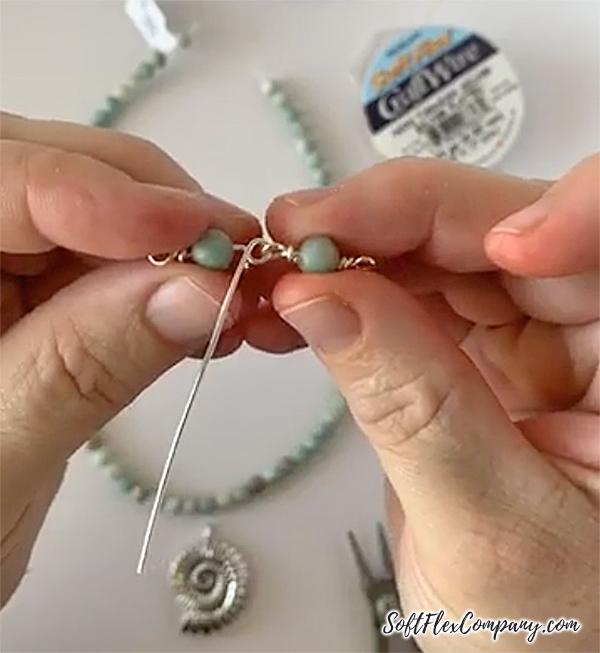 I thought that it would be fun to create a beaded chain in the front of the necklace using Soft Flex Craft Wire to make handmade wire wrapped, beaded connectors. I linked the connectors together to make a chain. In this video, I show my favorite way to make wire wrap links. I show it in an easy to follow, step-by-step fashion that should help beginners learn this technique.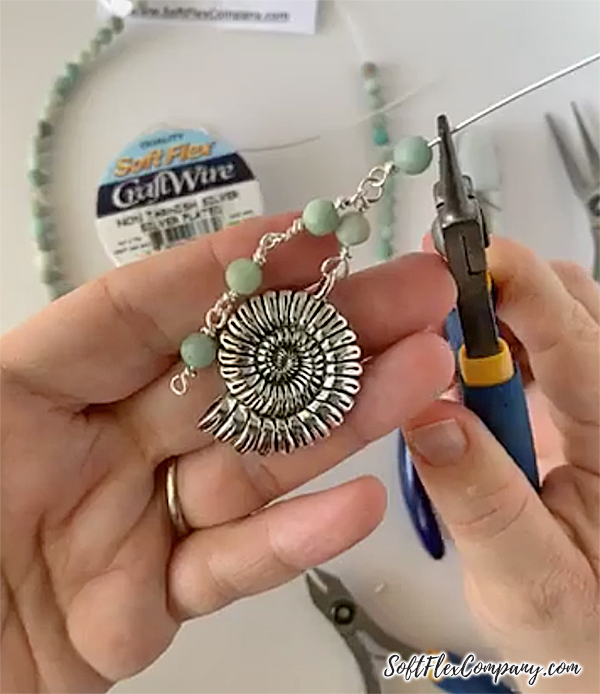 Let's talk tools! For this project, I used Nylon Jaw Pliers to straighten bends out of the wire. I used Round Nose Pliers and Chain Nose Pliers to create the loops. A pair of Round Nose Pliers are used to make round shapes in wire. A pair of Chain Nose Pliers are used to make 90 degree angles and to hold and maneuver pieces of wire. And finally, I cut off the extra wire with a pair of Jewelry Making Wire Cutters.
Click here to see all of our fabulous beading tools!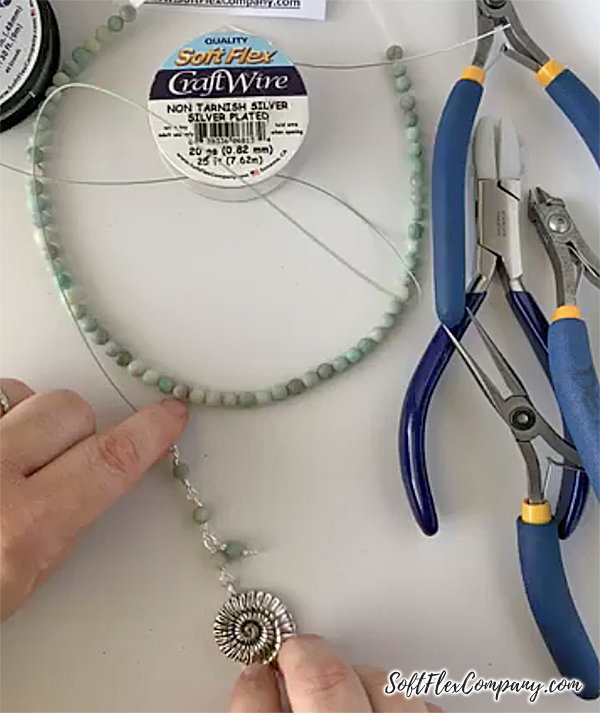 Soft Flex Craft Wire is a high quality, permanently colored copper wire. It is resistant to scratching, peeling and marring. This is due to the special enameling process used to coat the wire to produce the wide spectrum of colors we offer. After the enamel is applied, the wire is then clear coated to prevent tarnishing. Bare Copper is the only wire in the line that is not treated. If antiques and old findings are your medium, Bare Copper will patina - perfect for making that new project look like an heirloom.
Quality Soft Flex Craft Wire is 100% lead and nickel free. There are no other metals used in the wire production other than copper and fine silver. The temper of the wire is soft. It is firmer than similar wire products offered on the market, which are typically only available in dead soft and can't be tempered to half hard. We currently offer six of the most commonly used gauges in the jewelry industry and more are on the horizon.
In this design, I used 20 gauge craft wire in the non-tarnish silver plated color. You could definitely use 22g (which is thinner) if you prefer. I liked this gauge due to the size of the pendant and it just happened to be what I had on hand.
Click here to see our amazing craft wire!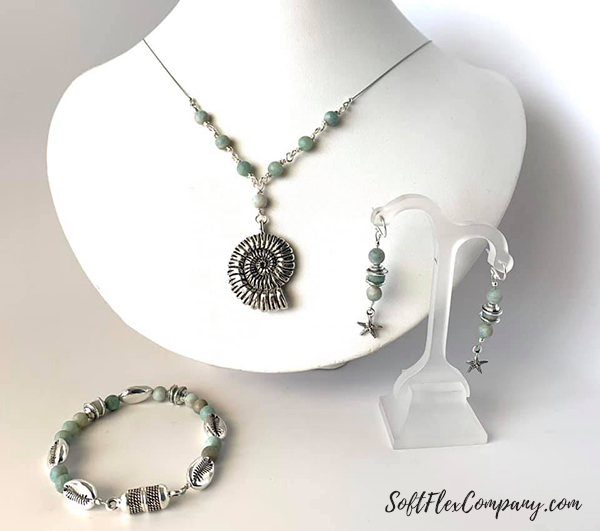 To finish off my design, I used Magical Crimpers to attach Medium diameter Soft Flex Beading Wire in Fluorite color to the ends of my handmade chain to make a long necklace. I used 2x2mm crimp tubes (also Made in the USA). This necklace is long enough that it doesn't require a clasp!
Click here to see the wide array of colors in Soft Flex Beading Wire!
Off camera, I completed the full set of designs with the earrings and bracelet shown above. I love to make 2 to 3 pieces of jewelry at a time that can coordinate together. Since I already have the beads and materials out, I might as well complete a set, right?
I love how this design set turned out. I might even offer some of those great TierraCast pieces in our next Soft Flex Live Sale! The next Soft Flex Live Sale on Facebook is May 5th at 1pm PST. Live sales offer items that we cannot carry in our normal online catalog. You will find gently used or even unused samples, products with slight flaws and lots and lots of beads from our bead and gemstone line - many one-of-a-kind. It is a whole lot of fun.
Join our Facebook group – VIB. Stay in the know. Stay up to date. From our bead shows to our video shows and sales, you can stay in touch with us. The community is full of artistic and helpful beaders and crafty people. Inspire and be inspired. Share your pictures and get the beading bug from others!

Visit the Soft Flex Company YouTube Channel!
---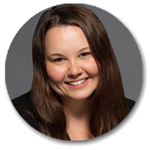 Sara Oehler (pronounced Ay-ler) is a well-known jewelry designer living in the Bay Area. Sara is the author of several beading books, including her latest title, written with Kristen Fagan, Seed Bead Revolution. She has designed and written for numerous publications including: BeadStyle, Bead&Button, Bead Trends, Stringing, Jewelry in Fashion Trends, Simply Beads, The Flow and Today's Creative Home Arts. Currently, Sara is the Sales and Marketing Manager for Soft Flex Company.Ask Sara Bead Expert
Blog: softflexcompany.com/beading-blog
Email: Sara@SoftFlexCompany.com