We love Vintaj products. Vintaj offers so many ways to explore your Colourful Soul. The online shop is a utopia for beaders and craft/ hobby folk that love to mix media and try new things. The company was founded on brass components but is now a destination for paints, jewelry pop outs and more! You can even find finished jewelry. Be a risk taker with your art and get playful. Want to learn more? We sat down with Vintaj partner and Education Director, Jess Lincoln, for a beading party. Come play with us!

Do you love meeting exciting jewelry designers? We think it is so much fun to get inside their heads and see what makes them tick. Especially when you can apply some of their knowledge to your own jewelry projects. There is no better way to excel than to stand on the shoulders of giants. We have been holding live jewelry making parties on Zoom. You can find these fun beading shows on the video section of the Soft Flex Company Facebook page and our YouTube Channel. In the past, we have featured Just Bead It owner, Joyce Trowbridge. We have discussed owning a business as a young millennial, with Sam Siegel. We discussed the ways we have adapted our businesses to COVID, with Kay Goss. We have learned a new knotting technique from Danielle Wickes of John Bead. We have learned a lot about these wonderful jewelry designers. And we have learned a lot about ourselves. Join our beading parties for deep dives into the jewelry industry, travel, and how making jewelry can be beneficial for mental health and clarity.
Live Beading Party! Meet Jewelry Designer Jess Lincoln, Education Director For Vintaj
Jess Lincoln, from Vintaj, joined us for a beading party. We were excited to learn how to paint jewelry from a pro. We had an amazing time learning how to apply Colourful Soul Ultimate Paints to Colourful Soul Wooden Jewelry Pop Outs. Jess showed us lots of tips and tricks. You will be a jewelry painter in no time! Learn how to follow the rules and paint within the lines. Learn how you can paint your metal jewelry components. Jess also showed us how to break all the rules, she took her panel of wooden pop ups and dropped it face down in paint. This fun moment brought joy to Kristen as she exclaimed, "Take away the control and just play!"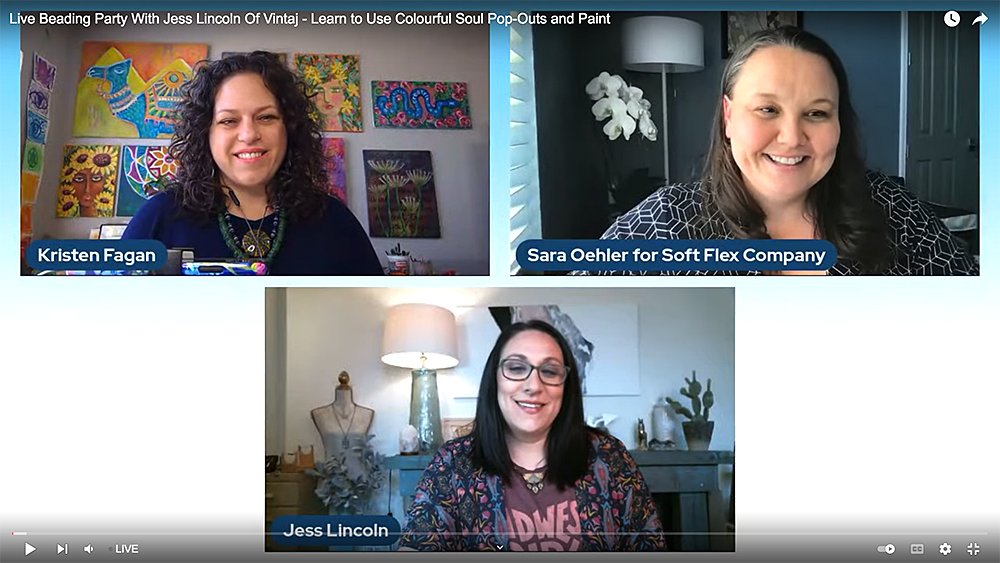 Ultimate Paints are wonderful. If you are afraid to paint because of the permanence, check out this video. You will learn how forgiving Vintaj paints are and how you can wipe them to create tie dye effects or how a mistake does not mean that your project is ruined. This is also a perfect way to involve children and friends in a craft.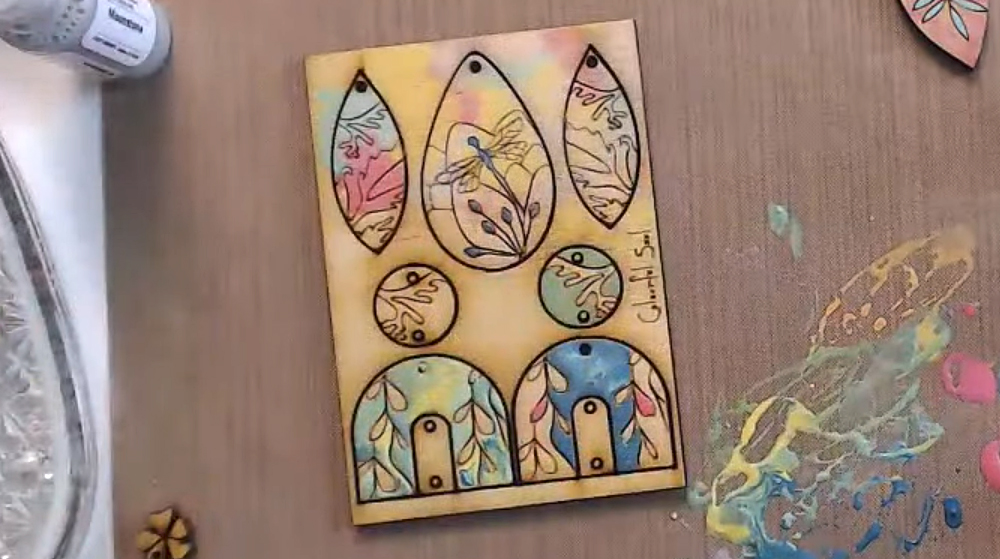 Colourful Soul Wooden Jewelry Pop Outs are wonderful for unique jewelry. They come in blank templates. You can paint them as you please. Color in the lines or break the rules and smear you paint everywhere. Once your painting is complete, you can turn the pop outs into pendants, earrings, or whatever you please!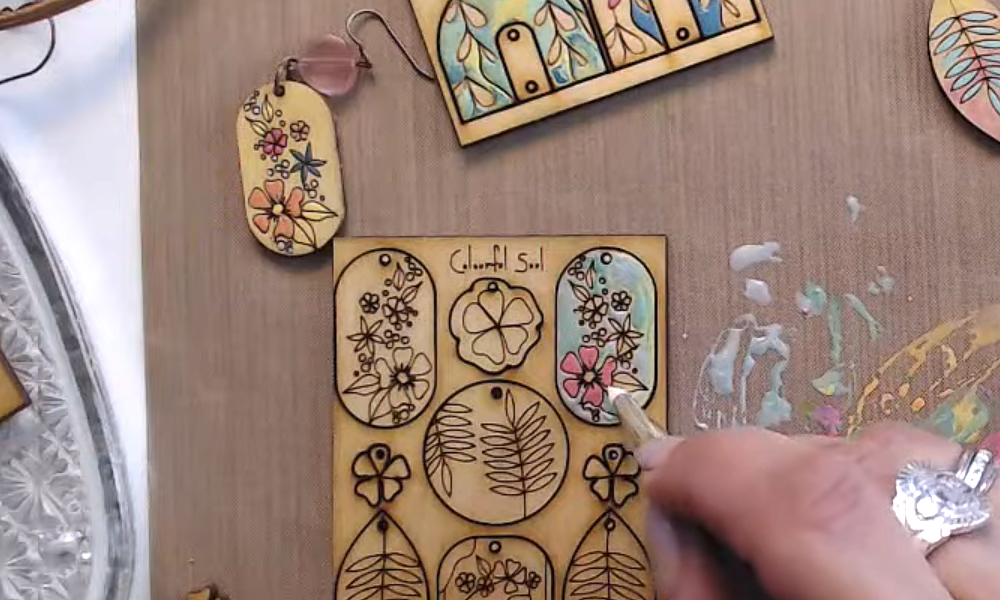 Meet Jess Lincoln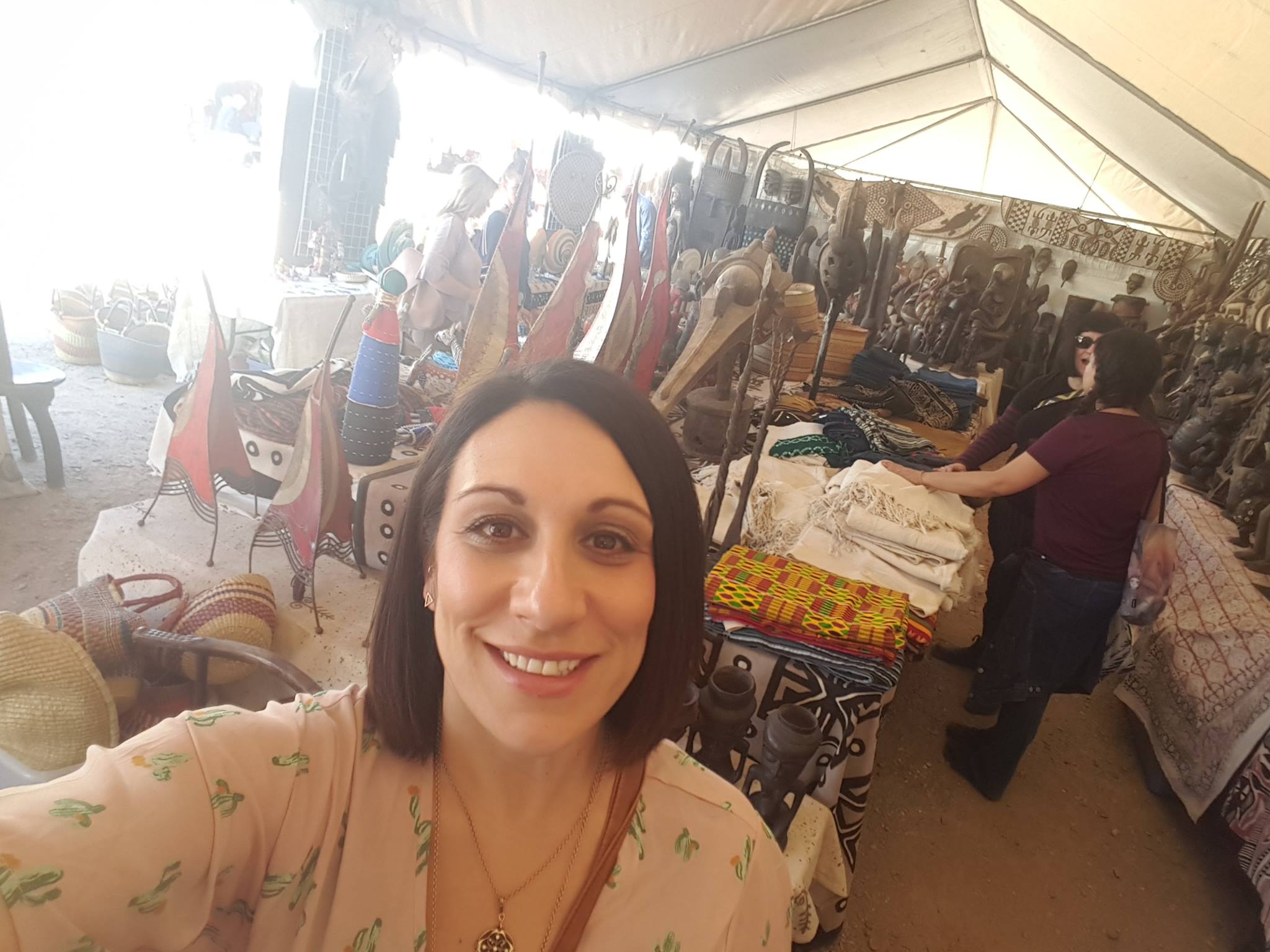 Jess Lincoln was involved in the beading community before she became a partner with Vintaj. Jess and her mother were local bead store owners in Galena, Illinois. Their bead store was called Galena Beads. It was nestled in the cozy downtown area and enjoyed brisk business with crafting customers.
In 2004, two jewelry designers, Jeanne Holland and Wendy Mullane visited the store and inquired about selling their finished jewelry at the store on consignment. Their specialties included jewelry with natural brass components. The two business partners used a process that naturally aged the brass and looked gorgeous. Jess was taken with the brass jewelry pieces. They all wanted to share with the beading community on a larger scale. Within months, the three ladies became partners based on these components. In 2005, Vintaj incorporated as a business. A year later, they were setting up their booth at their first trade show - Bead&Button. Bead&Button, at the time was one of the largest bead shows in the world. Vintaj became a powerhouse for creative and beading supplies.
Jess Lincoln is enjoying her role as a partner of Vintaj as their Education Director. But, she has not forgotten where she came from. If you visit Galena, look for Rustic River Finds. Her mother is still running the store, but she has changed the name from Galena Beads. On rare occasions, you might even find Jess working at the store to help her mother. Visit Rustic River Finds on Facebook if you cannot make the trip!
Jess Lincoln Q&A On Jewelry Design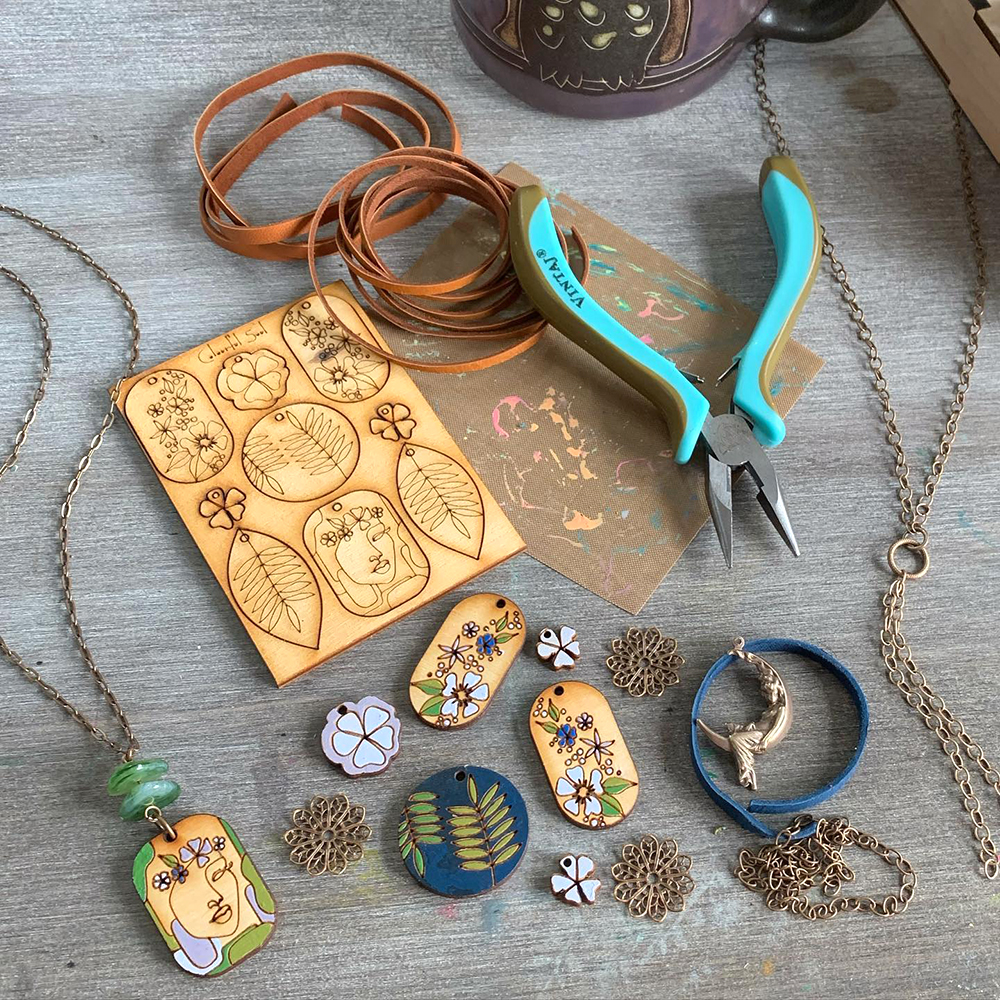 How long have you been making jewelry?
I have been making jewelry now for over 20 years, I can't believe it! In 2001, while shopping for sewing supplies in my Chicago neighborhood, I came across a jewelry making basics book that included some glass beads, findings, and wire. I used all the supplies that night, and then searched out bead stores in my area and the rest is history! I never turned on the sewing machine again or finished the project I needed supplies for in the first place. It brought me right back to my love for making friendship bracelets with all the pretty embroidery thread colors as a kid, who remembers that?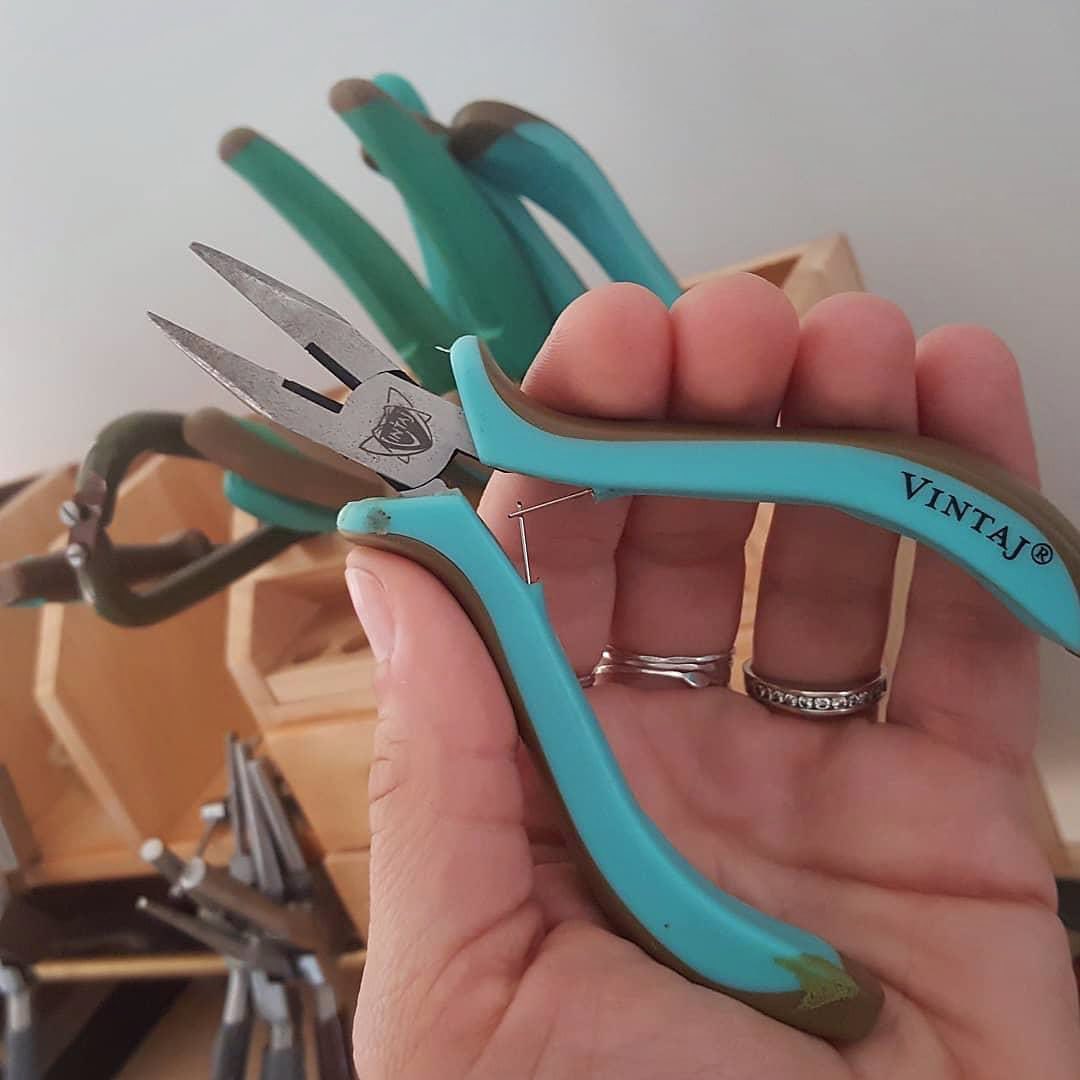 Is there a tool you cannot live without?
That's a tough one. I love so many of my jewelry tools! But as simple as they are, I would say I couldn't live without my Vintaj Ergo Chain Nose & Round Nose pliers with cutters built in. Without these two basic tools, I wouldn't be able to even assemble simple jewelry designs, so for these I am grateful!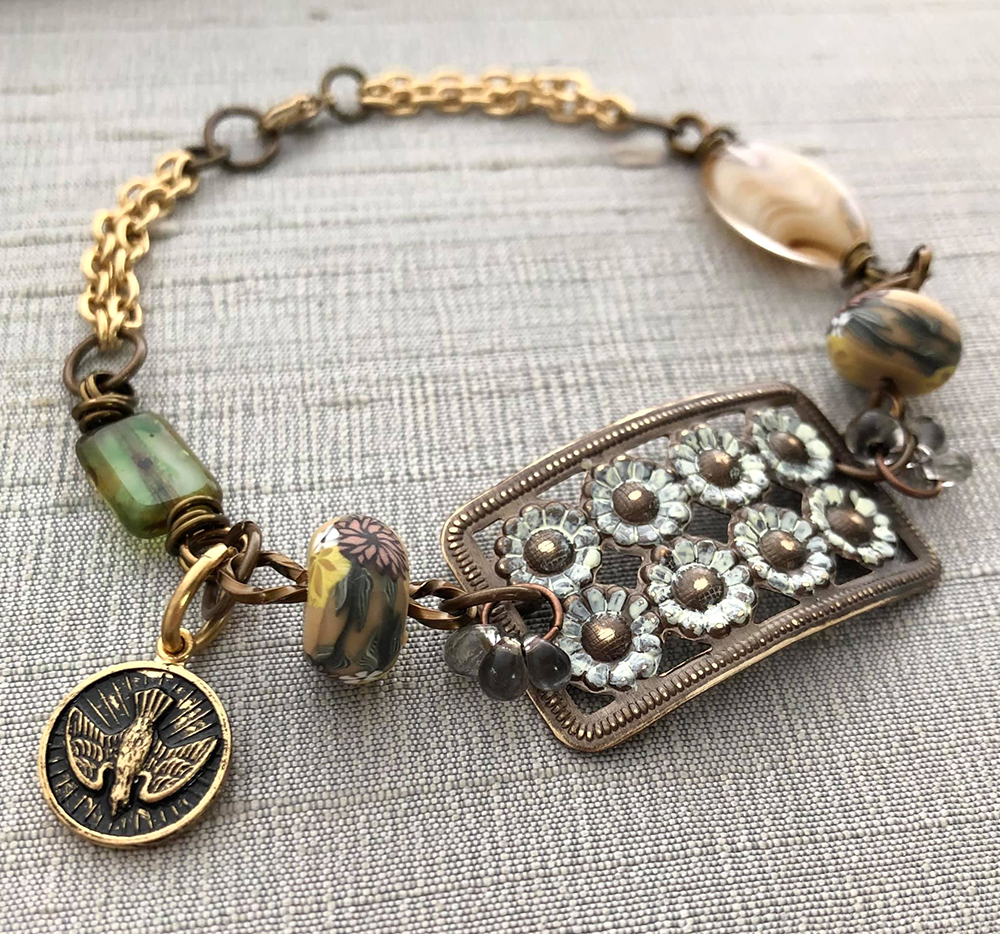 What color palette (or technique) do you love working with?
My favorite go-to color palette tends to be neutral colors mixed with hints of green, verdigris or turquoise. Love these colors paired with our natural brass and artisan copper metal components. I use them with many techniques, including basic bead linking to painting and staining with our inspiring Colourful Soul collection I can't get enough of.
Where do you draw inspiration from for your jewelry designs and color choices?
I draw my inspiration from nature. The color palette, as well as nature-inspired charms and pendants to incorporate into my designs. My favorite elements to incorporate into jewelry pieces are leaves, and we have a large selection to choose from in our metal and wood collections. A great source of inspiration for me is Pinterest, it's an amazing tool for finding new color palettes or spring-boarding off a beautiful piece of jewelry to create something of your own style.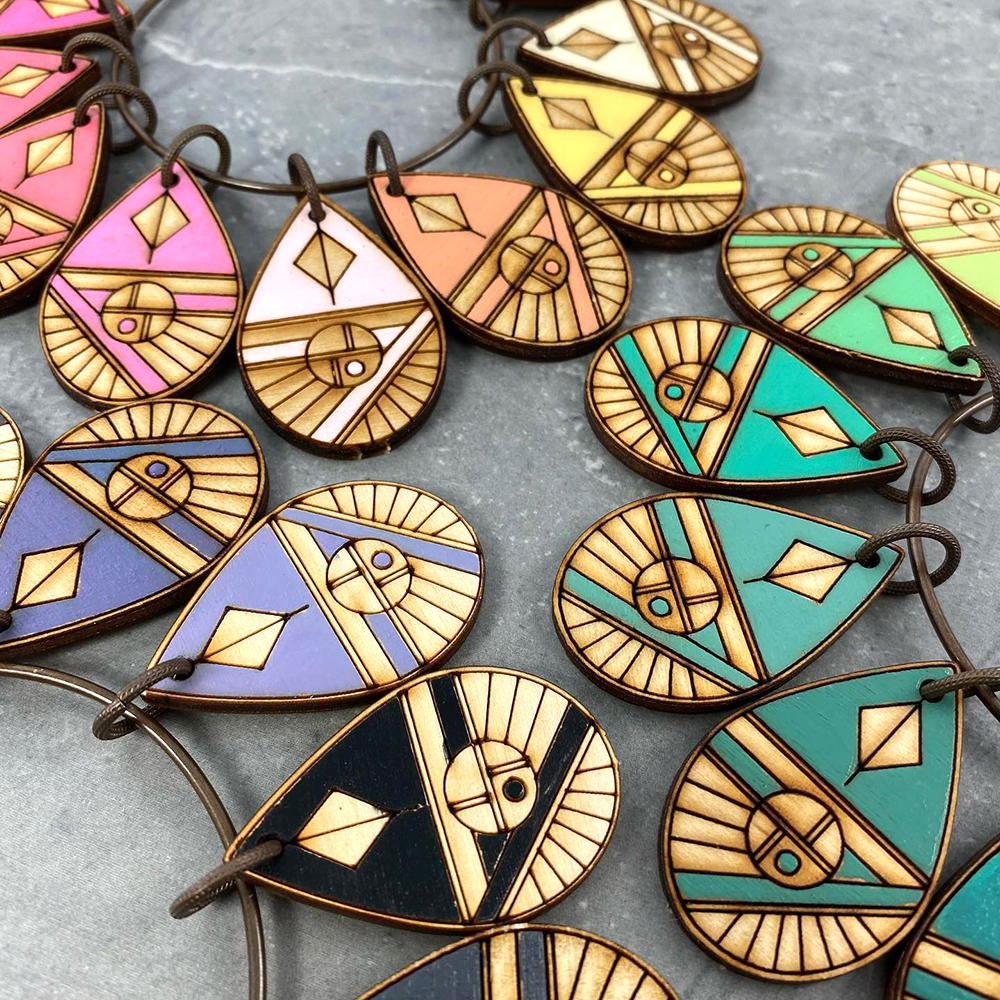 Why do you love Soft Flex Beading Wire?
Soft Flex beading wire is so versatile! I love your offering of unique colors, and metal colors to match our findings. And especially its high-quality for making jewelry extremely durable, yet flexible at the same time.
Jess Lincoln Q&A On Owning A Business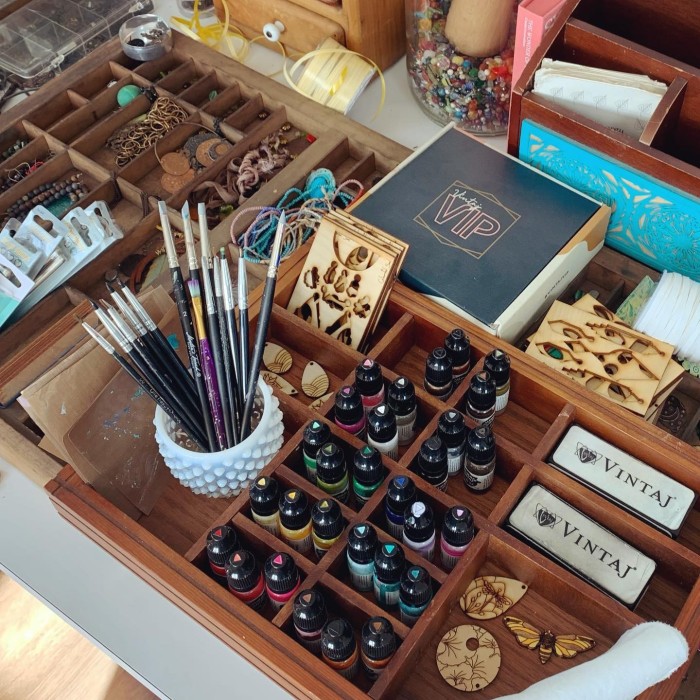 What convinced you to open your business?
In November of 2004, I opened a bead store with my mom in Galena, IL for my love of collecting beads and making jewelry. At that time, we taught mini workshops and sold our handmade jewelry. This is when I met my Vintaj business partners; Wendy, and Jeanne, they came into our shop and within a few months of meeting, in summer of 2005 we joined forces and started this amazing journey together to share our passion for jewelry design and creating innovative products for others to enjoy. We introduced our brand at the Bead&Button Show in 2006 to the industry, and it quickly grew from there. Fast forward 17+ years and we are motivated more than ever to bring the therapeutic craft of jewelry making to as many people as possible. And, my mom is still in the same store front as Rustic River Finds, which has evolved into a destination bead, jewelry, and gift shop for so many.
What do you wish you knew when you first started?
I wish I knew how addicting this all was, lol! Thankfully, it's a healthy addiction, besides when the bead hoarder in me comes out and they take over areas of the house, garage, etc... Last year my husband and I built a house, and we dedicated a space above our three-car garage for a jewelry studio to store my 20+ years of bead collecting. . . and all the other art and craft supplies that comes with being a maker. This is where we run our Vintaj Salvage Etsy liquidation shop - https://www.etsy.com/shop/vintajsalvage. And of course, this doesn't include the Vintaj warehouse full of metals, stones, paints, tools, and everything dreamy that I love! Never enough space, it keeps growing. But, I wouldn't change it for anything, I would swim in beads if I could.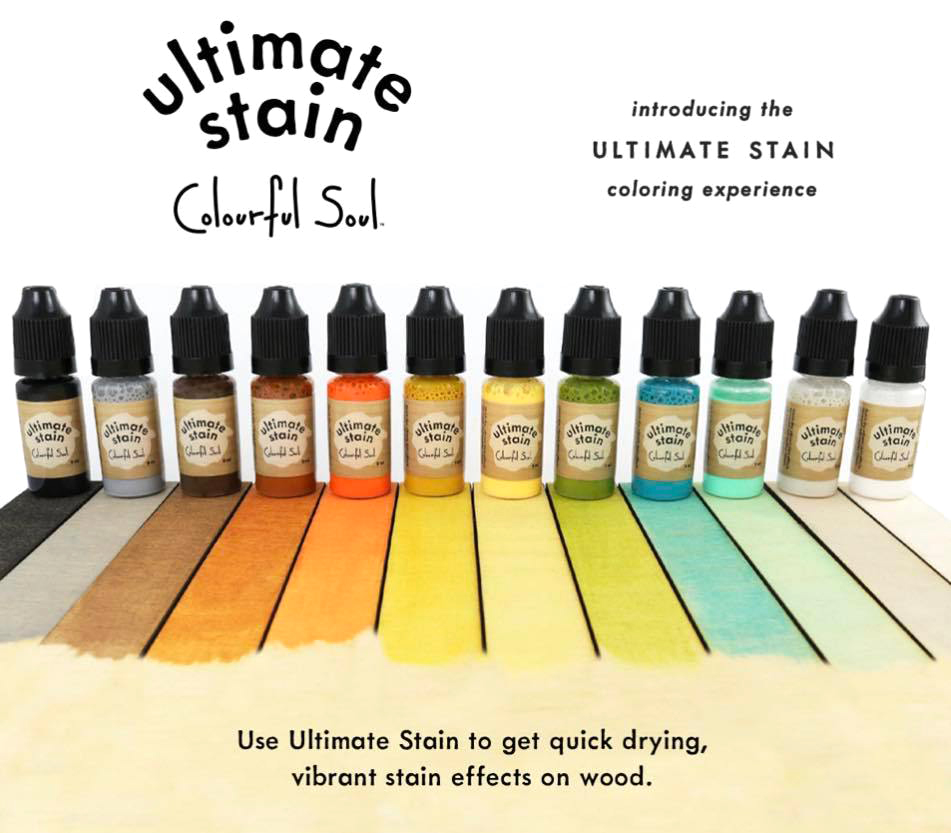 What products are you known for and/or why should people use your products?
Vintaj is best known for our quality MADE IN THE USA jewelry components and findings, and the versatility you have a designer to bend, twist, turn, hammer, dapped, paint, and so much more to create unique designs. The product collection we are especially known for is our signature Natural Brass finish. Natural Brass is nickel and lead free, it is finished with a meticulous, eco-friendly, hand process. We are proud of the unique and artistic nature of the stages we apply and the time it takes to bring you these naturally beautiful elements. Due to the careful hand process used on each Vintaj piece, everyone has its own unique color and luster. It is these subtle differences that give our product such depth and dimension. We now have 10 beautiful metal finishes, an amazing tool, paint and stain line, fun wood components, bead mixes and much more!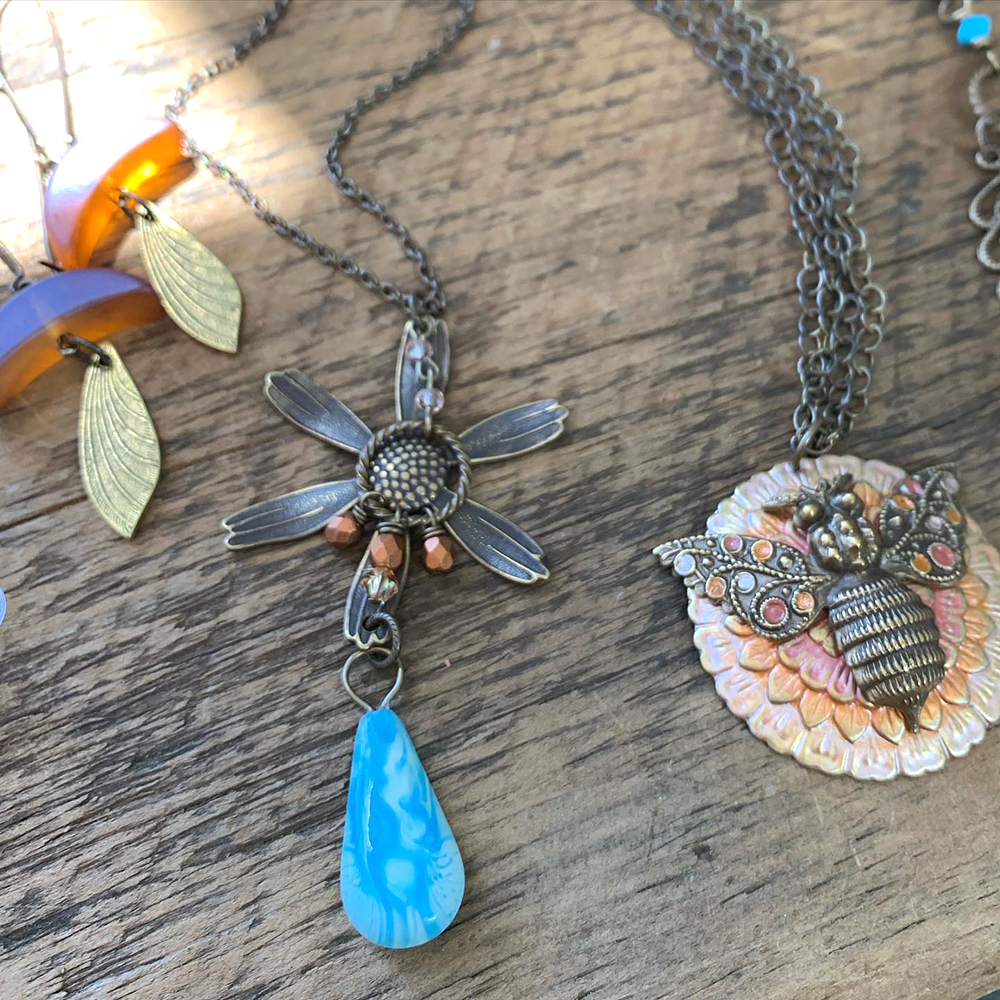 Do you feel like you have time to follow your passions while owning a business?
I am blessed that everyday I'm able to follow my passion to create something and be surrounded by beautiful things that make me happy. As our Education Director, I get to experiment with endless techniques and products to share unique ways they can be used. Bonus, I love seeing what others make with our pieces, which inspires me to keep doing what I love! On a side note, as a business owner, you do tend to work a lot, and over the years I seem to have a harder time to plan vacations and get away from the hustle. My goal is to make sure I do carve in that time now while my daughters are still young, so we can build more memories together. And while away, we always search out bead and crystal shops to visit... does that count as working on my vacation? I can't seem to get away from it.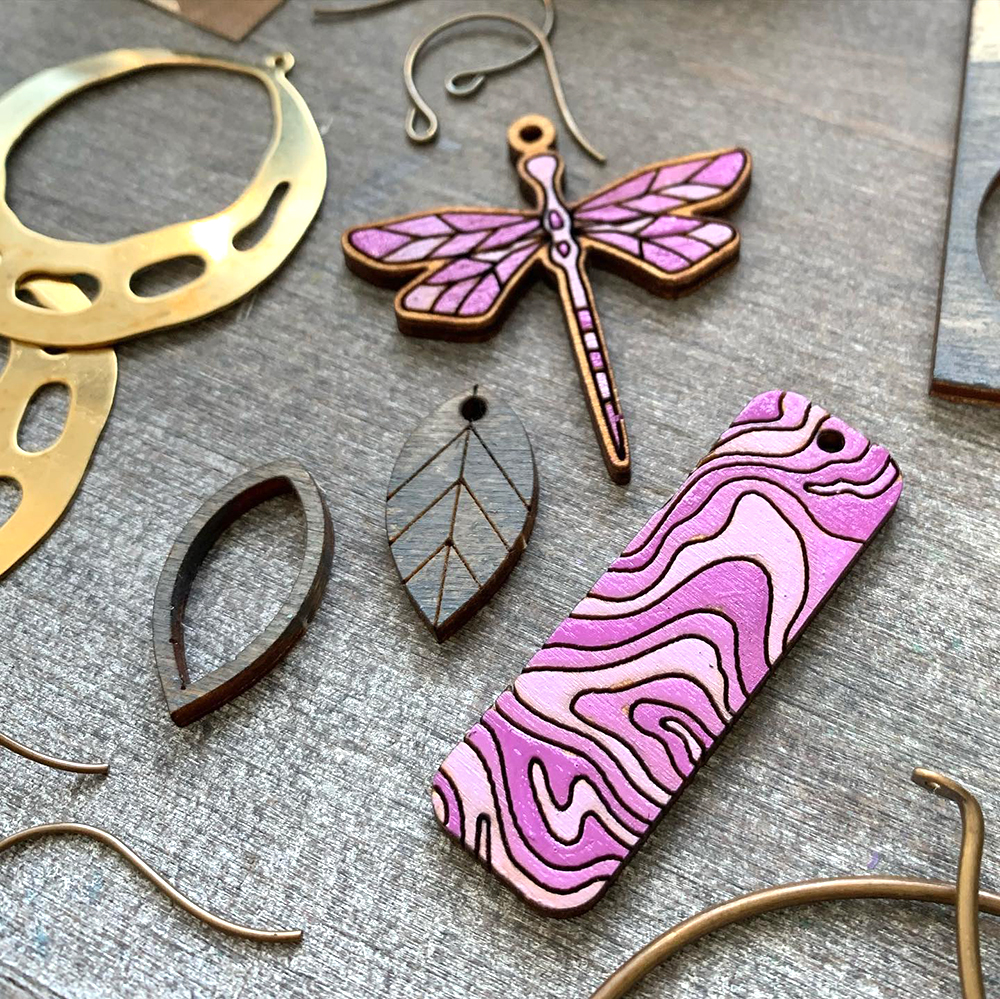 What is your contact info and how can customers best find you or your products?
You can find our products on our website and social media:
Product questions can be emailed to [email protected]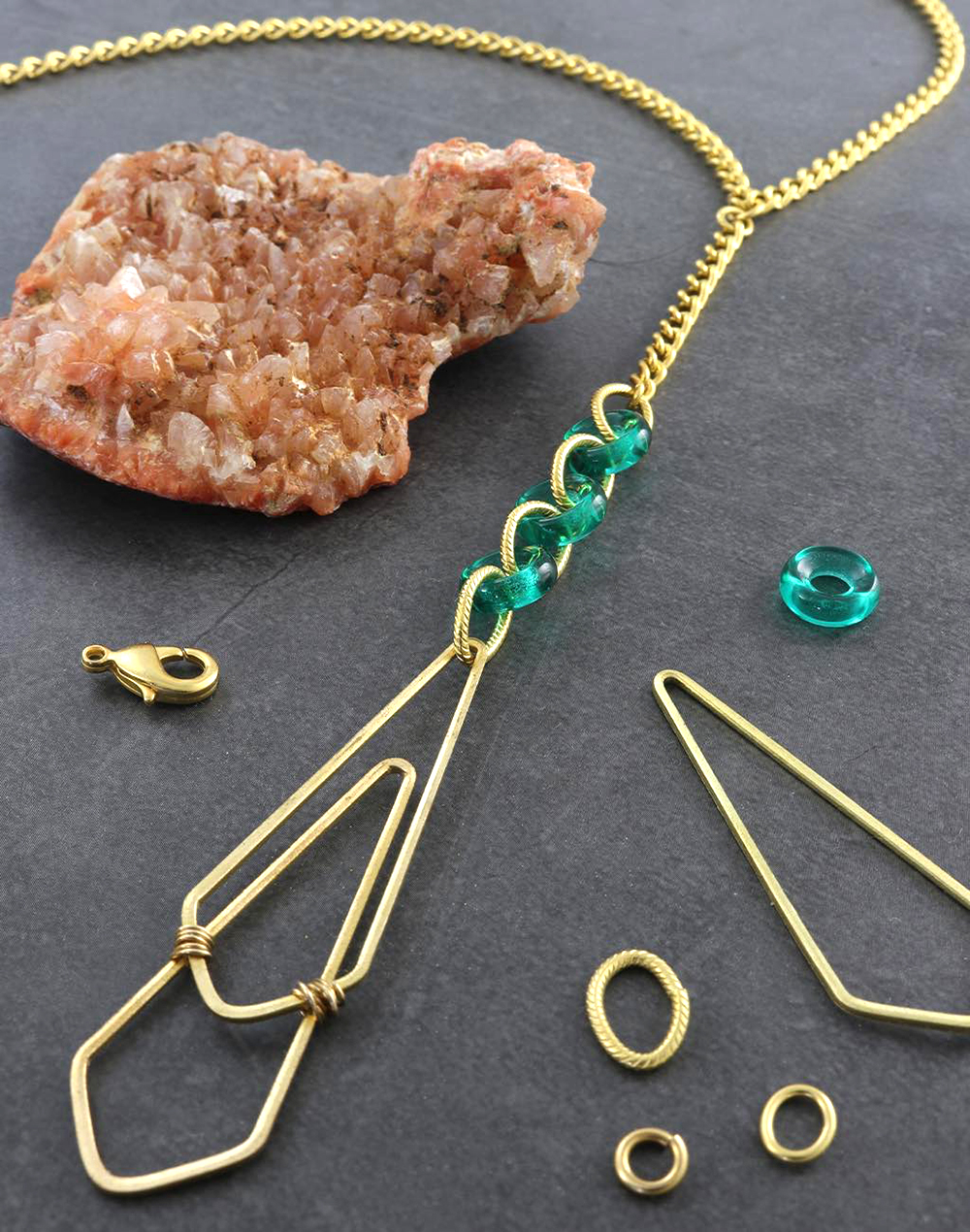 Join our Facebook group – VIB. Stay in the know. Stay up to date. From our bead shows to our video shows and sales, you can stay in touch with us. The community is full of artistic and helpful beaders and crafty people. Inspire and be inspired. Share your pictures and get the beading bug from others!
Visit the Soft Flex Company YouTube Channel!
---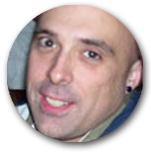 Blog contributor Thomas Soles loves Jazz Age writers and crunchy french fries. His favorite gemstones are Lapis and Pietersite. His favorite hobby is day dreaming. And his favorite mustache is Freddie Mercury's. As you can see, he has a healthy (or possibly unhealthy) sense of humor. You can write to him at [email protected]