Our VIB jewelry making community is full of creative crafters and uncommon artists. Talented jewelry designers from all over the world post their creations daily. It is an exciting hub of inspirational media and educational messages. Today, we are putting the spotlight on one designer, Diane Humphrey of Artistic Metals and Gems. Diane has traveled all over the globe. She currently calls Georgia home and is a business owner in a quaint tourist town. When the pandemic shut the world down, Diane, like many of us, looked for ways to explore creativity and keep positive. She found Sara and Kristen's presentations on Facebook and YouTube. Making jewelry soon became a passion. She is opening a new jewelry store and we think her designs are gorgeous! Learn more about Diane. If you fall in love with her jewelry, make sure you contact her and support her small business!
Have you joined our Facebook group yet? VIB (Very Important Beading Studio) is a group with thousands of jewelry designers and hobby/ craft creators. We have members that have been designing necklaces for decades. And we have members that have strung their first bracelet a day ago. We welcome all talents and styles and we foster an atmosphere of creative energy. We want to share the joy of creating and we want to learn a new trick or three. Check out the group and get advice from a pro.
Spotlight On Jewelry Maker Diane Humphrey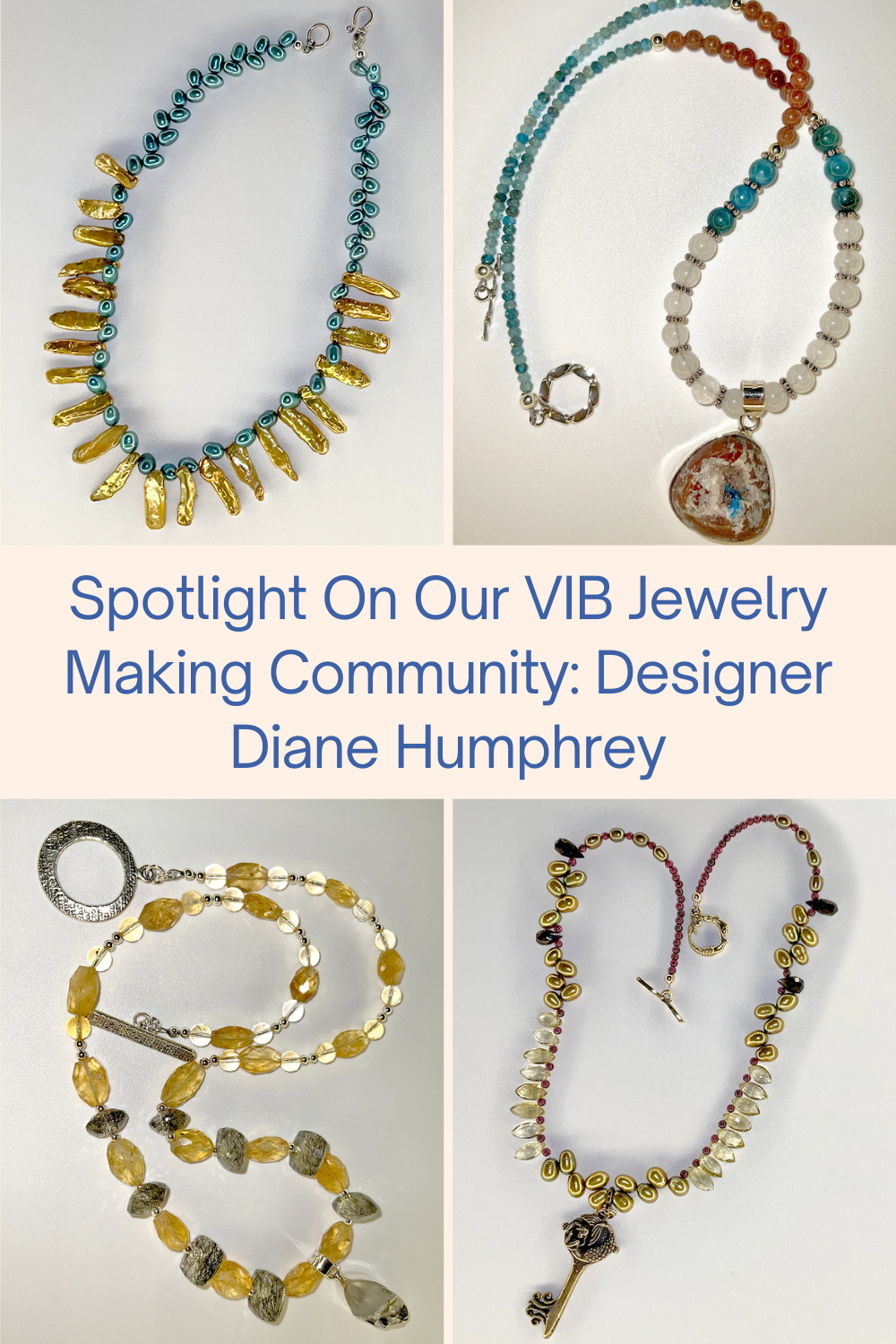 Meet Diane Humphrey - Designer And Owner Of Artistic Metals And Gems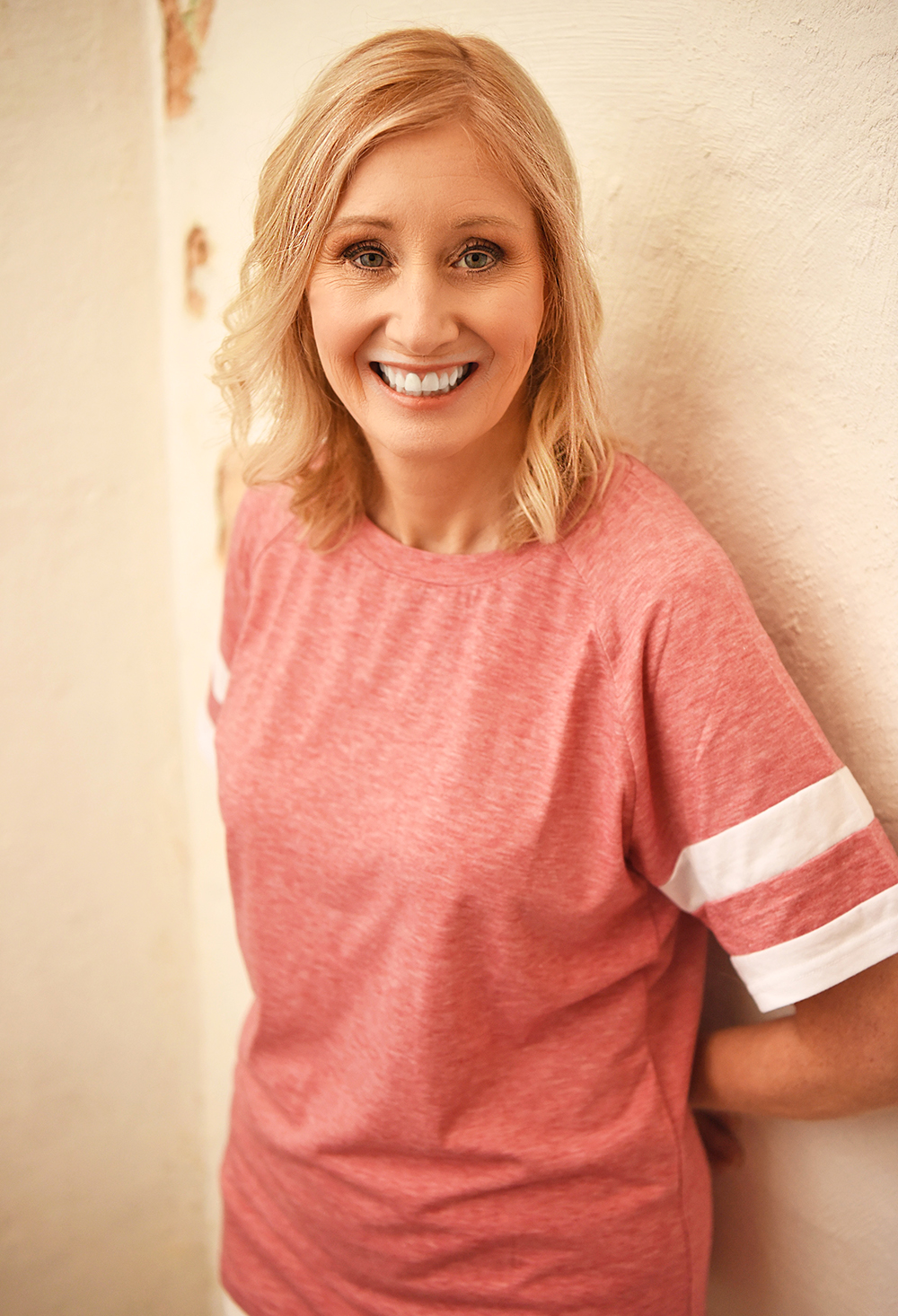 Hello, my name is Diane Humphrey. I am originally from Kalamazoo, Michigan. I have lived in cities across the United States and I have lived in Copenhagen and Paris. After graduating college, I moved to Paris and married a Parisian I met while studying abroad the year prior. After being married for a year, we had a child. We moved to the U.S. in 1989.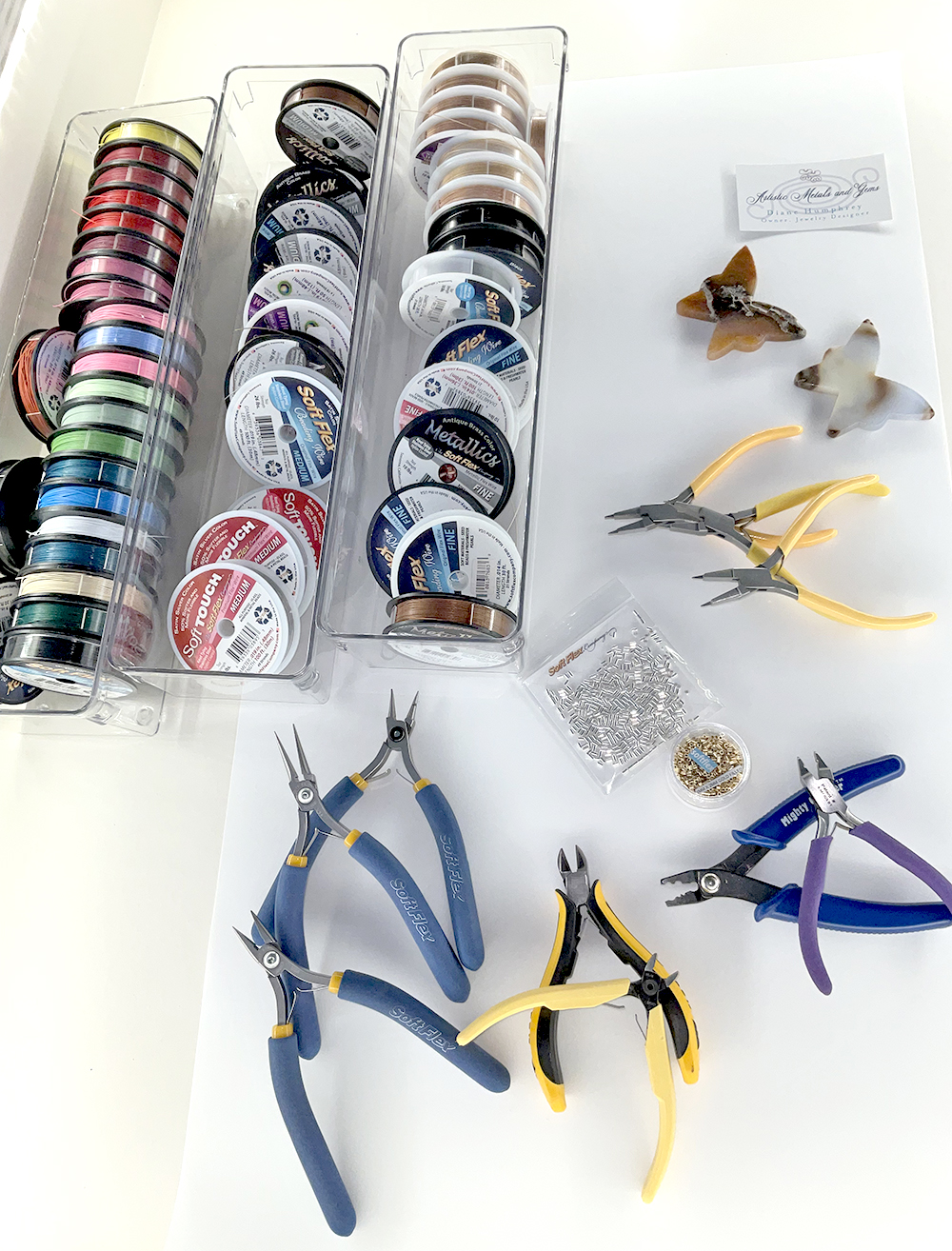 A year after my divorce from this Parisian, I was diagnosed with a rare form of cancer. It was just before my 30th birthday and I was given a poor prognosis. In June, I celebrated my 60th birthday and 30 years (post the cancer diagnosis) in remission.
I met my current husband in 2009, when I was living in Fountain Hills, Arizona. We celebrated our ten year wedding anniversary this year! I have a great memory of a jewelry store in Fountain Hills. They offered helicopter trips to Four Peaks Mountain to mine amethyst. This adventure was a little scary, the helicopter blades seemed as if they were going to hit the mountain side as we neared. I breathed a sigh of relief when we landed. Mining the amethyst was a lot of fun. Looking back, this experience and some visits to the Tucson International Rock & Gem show, may have been the beginning of my interest in gemstones.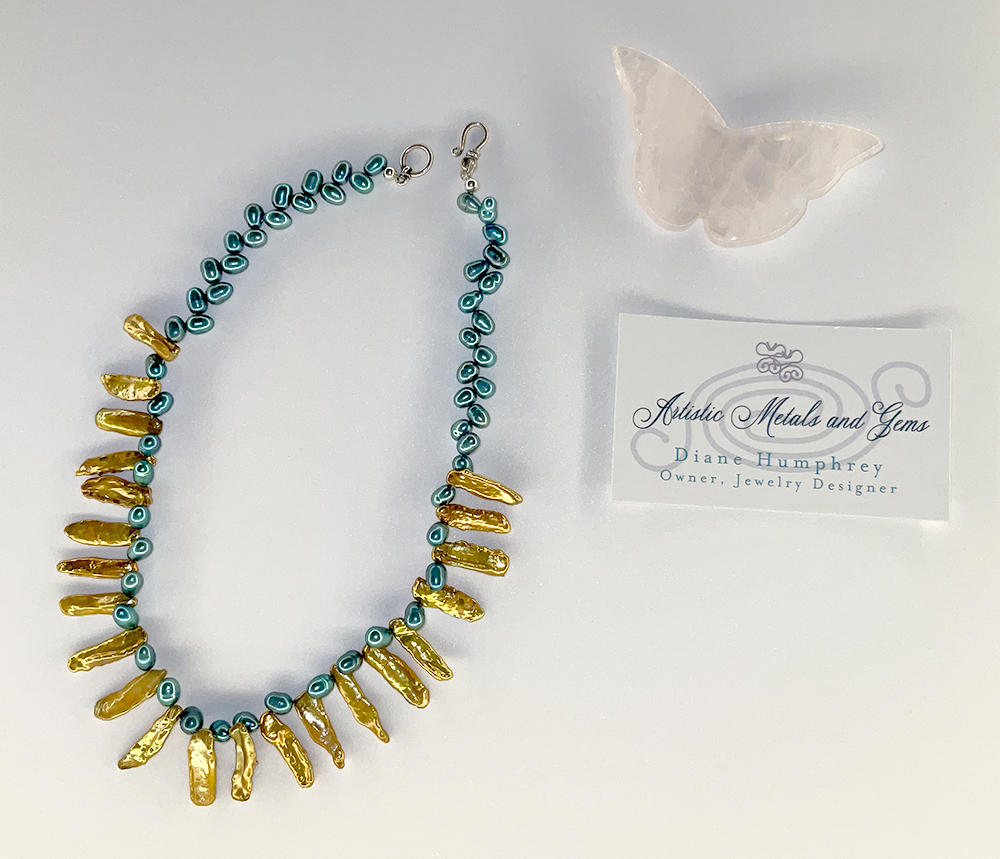 After living in Arizona, we moved to Kaneohe, Hawaii. We lived there for five years. After Hawaii, we moved to my husband's home state of Georgia.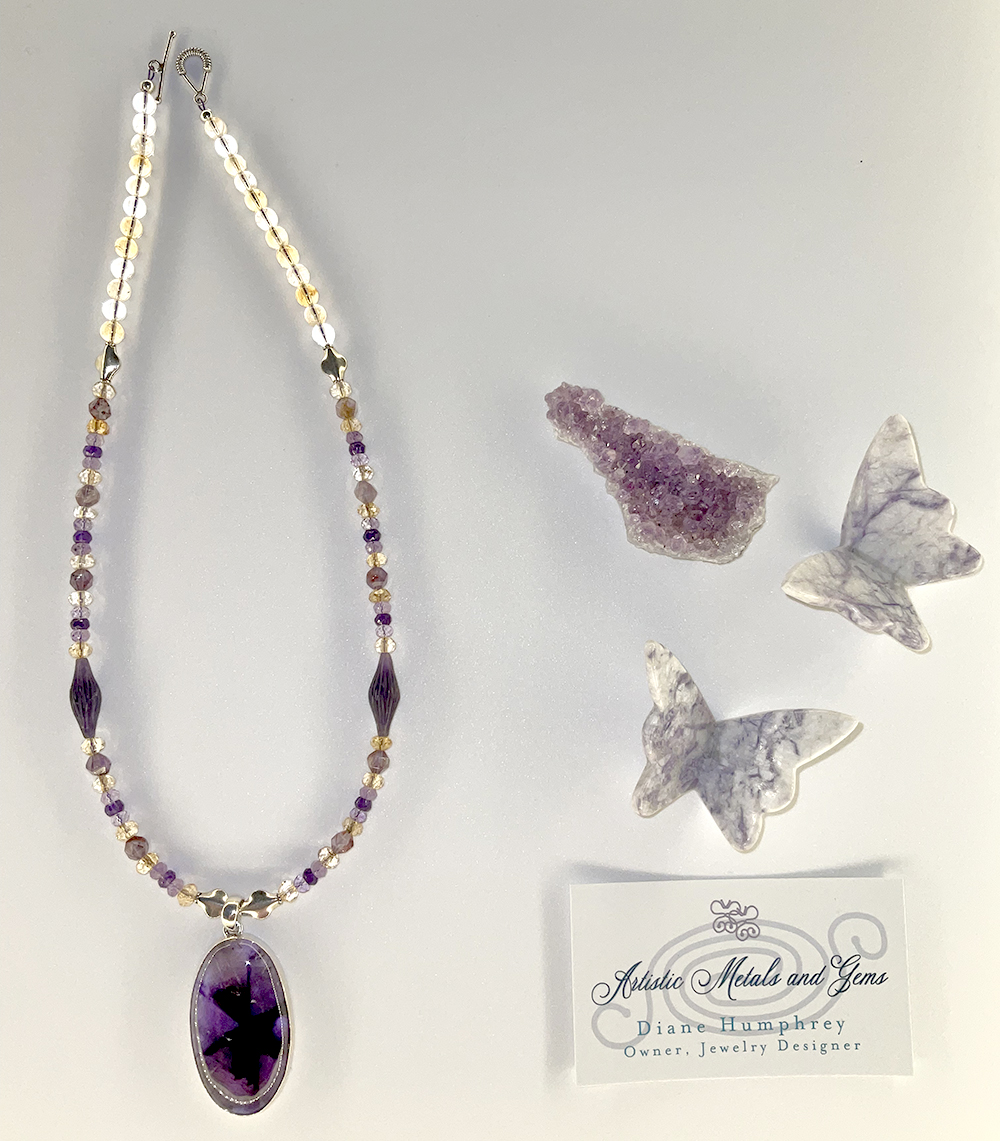 Pine Mountain, Georgia, is our new home. Once we got here, we did a major renovation on our house. In 2016, we bought a 1927 Pure Gas Station and restored it from a dilapidated building to a beautiful landmark in downtown Pine Mountain. It is currently a provisions store with wine, craft beer, olive oil, cheese, etc. as well as vintage furnishings, vinyl records and other interesting items.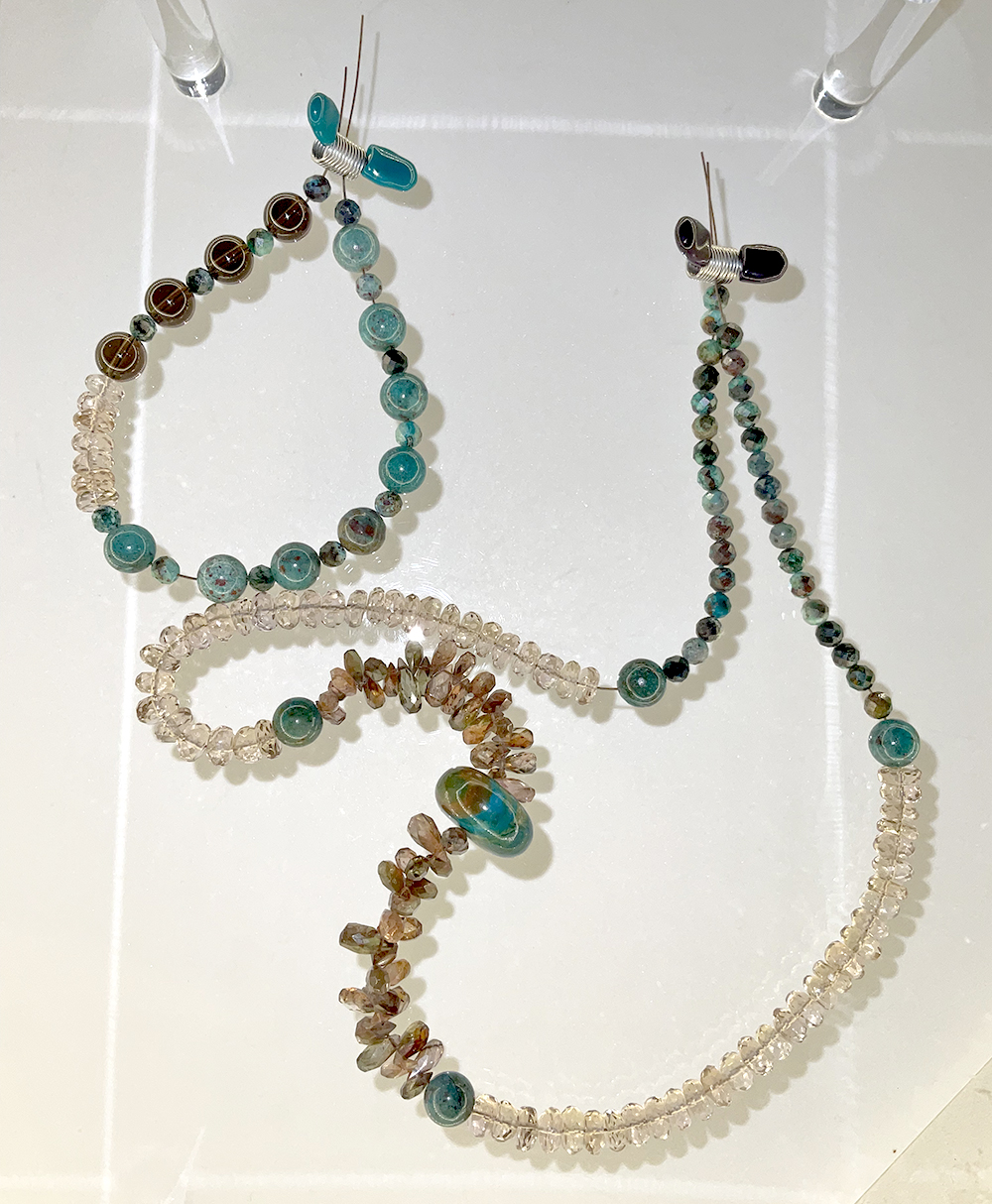 Diane Humphrey On Soft Flex Company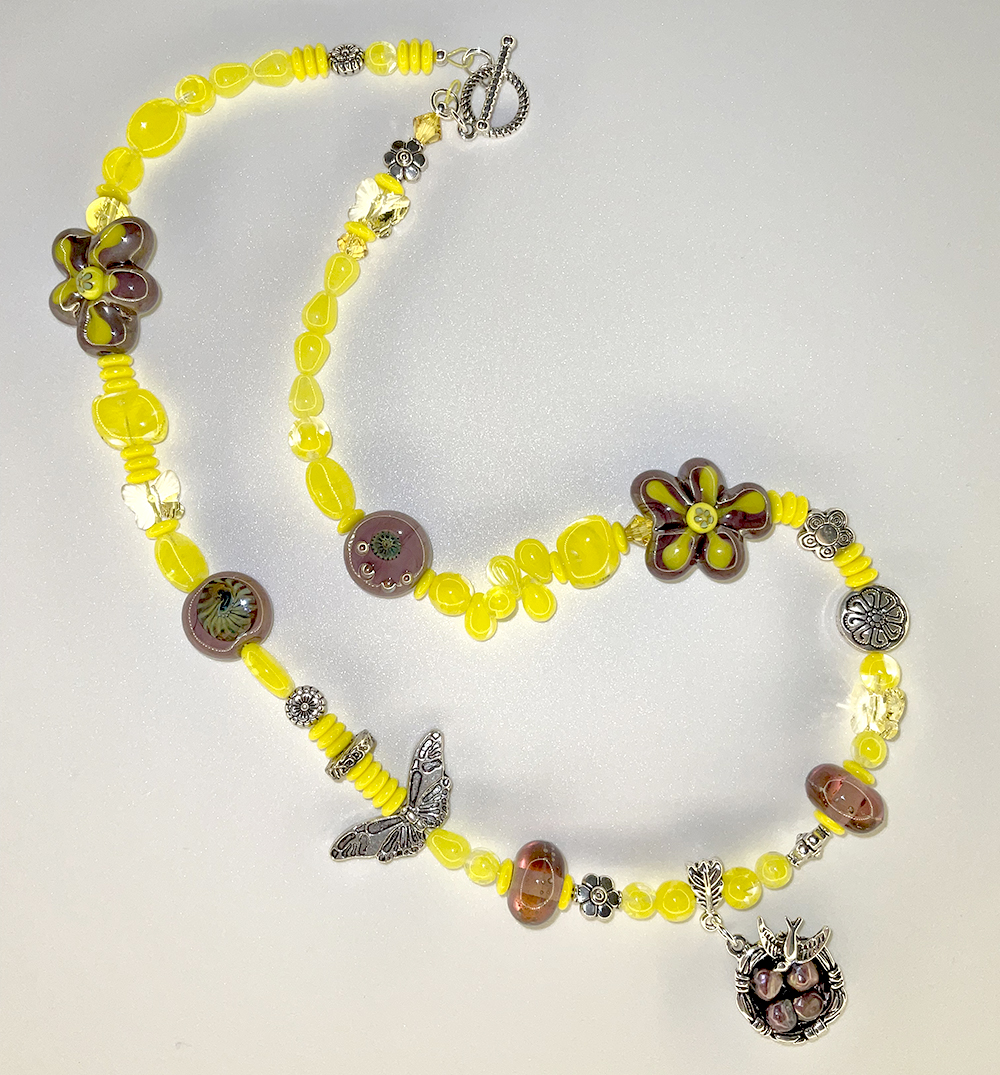 For twenty-five years, I managed investment portfolios for ultra- affluent clients of major financial institutions in the U.S. I retired in 2014 and began doing something I enjoyed: interior designing homes and business venues. When the Covid-19 pandemic arrived in early 2020 and the world shut down, I started looking for other ways to be creative and came across interesting jewelry making videos on YouTube. This is where I discovered Soft Flex. Sara and Kristen's weekly videos kept me company and they taught me how to make jewelry.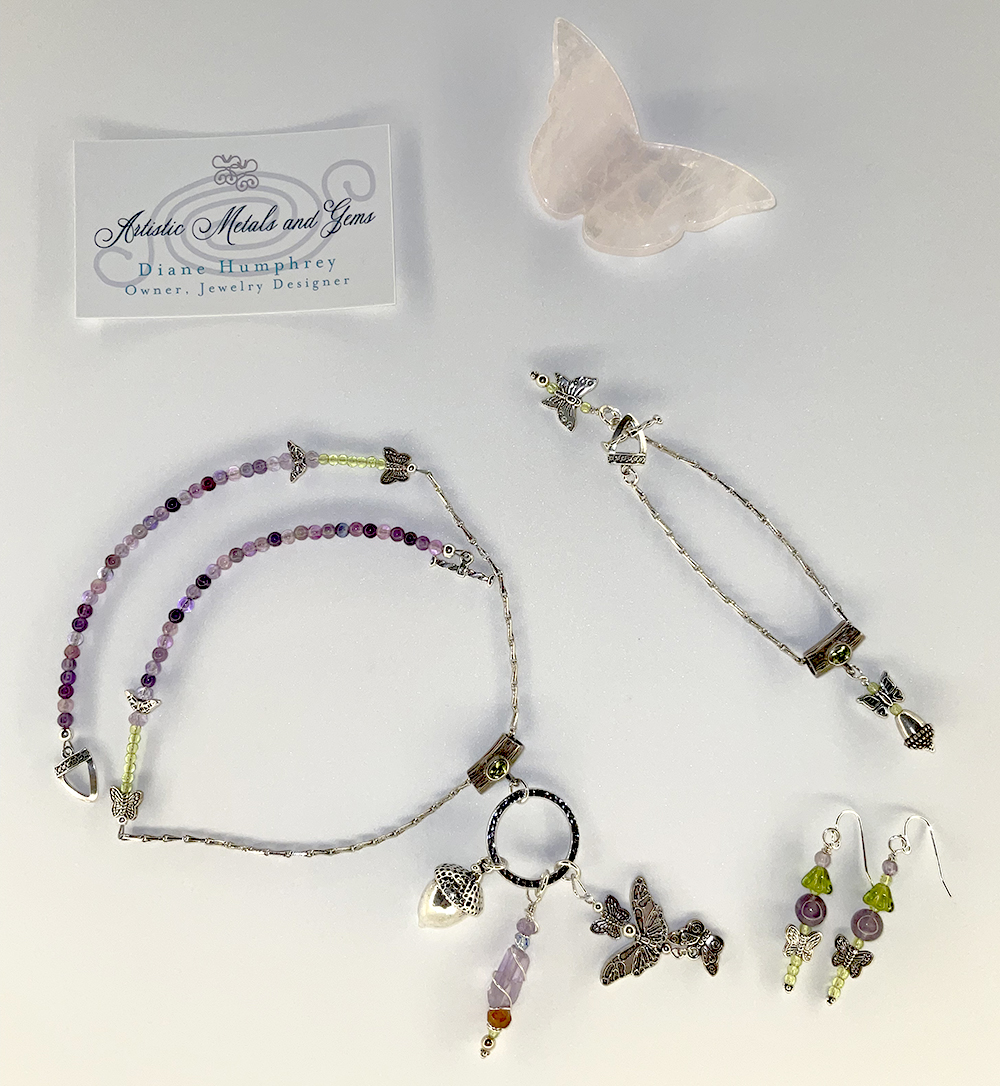 Soft Flex Company makes high quality wire and findings. I trust their products and do not use wire or crimps from any other manufacturer. Some of my favorite tools are also from Soft Flex. I started with glass beads and gradually wanted to move toward working with real gemstones. At first, I was hesitant to buy gems and beads in a live auction; however, Soft Flex makes it easy and fun, plus their employees are very helpful. It's now my favorite way to shop!
Soft Flex Company has wonderful live sales on Facebook. I began building a varied and beautiful mix of gemstones and beads from their sales. Almost every photo in this Blog includes at least one item purchased in a Soft Flex Live Sale.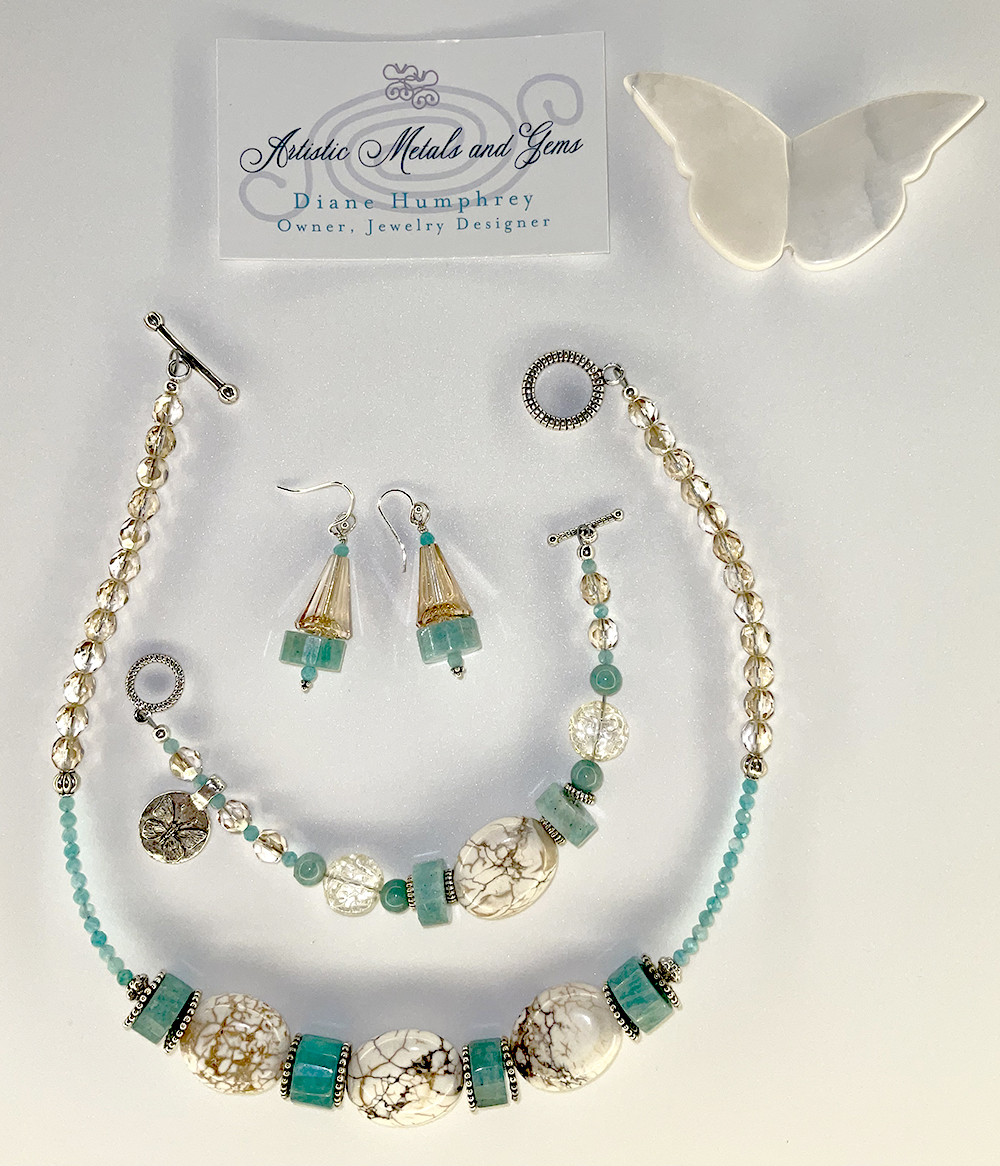 I have learned so much about beading and wire skills from the folks at Soft Flex. I bought some finished pieces of jewelry in the live sales to see some of Soft Flex folks' work firsthand.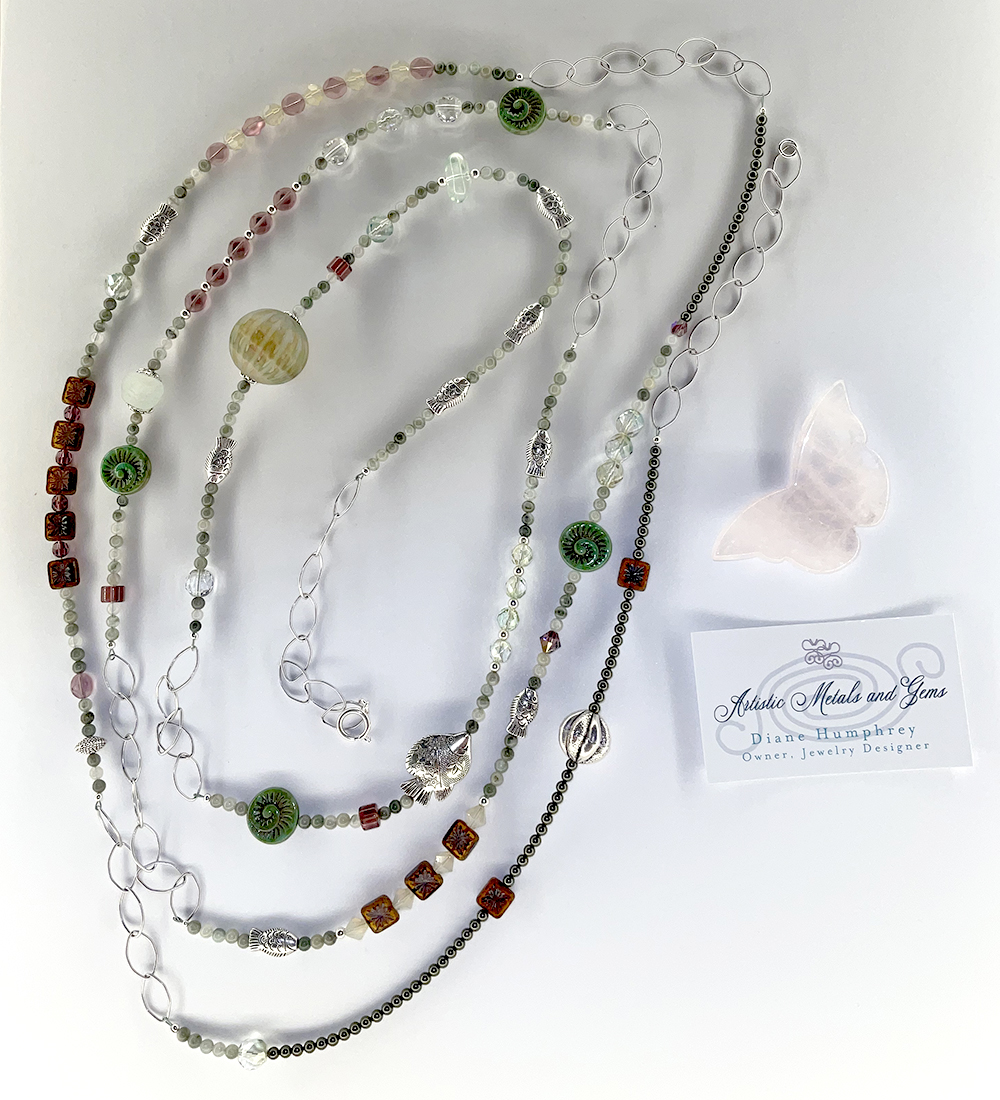 Through Soft Flex, I was introduced to other companies, such as SilverSilk, TierraCast, Vintaj, The Bead Shop, and Green Girl Studios. They continually introduce new companies to enlarge the circle of quality people and product offerings with the Great Bead Extravaganza, The Great Bead Trade, and weekly YouTube/ Facebook videos.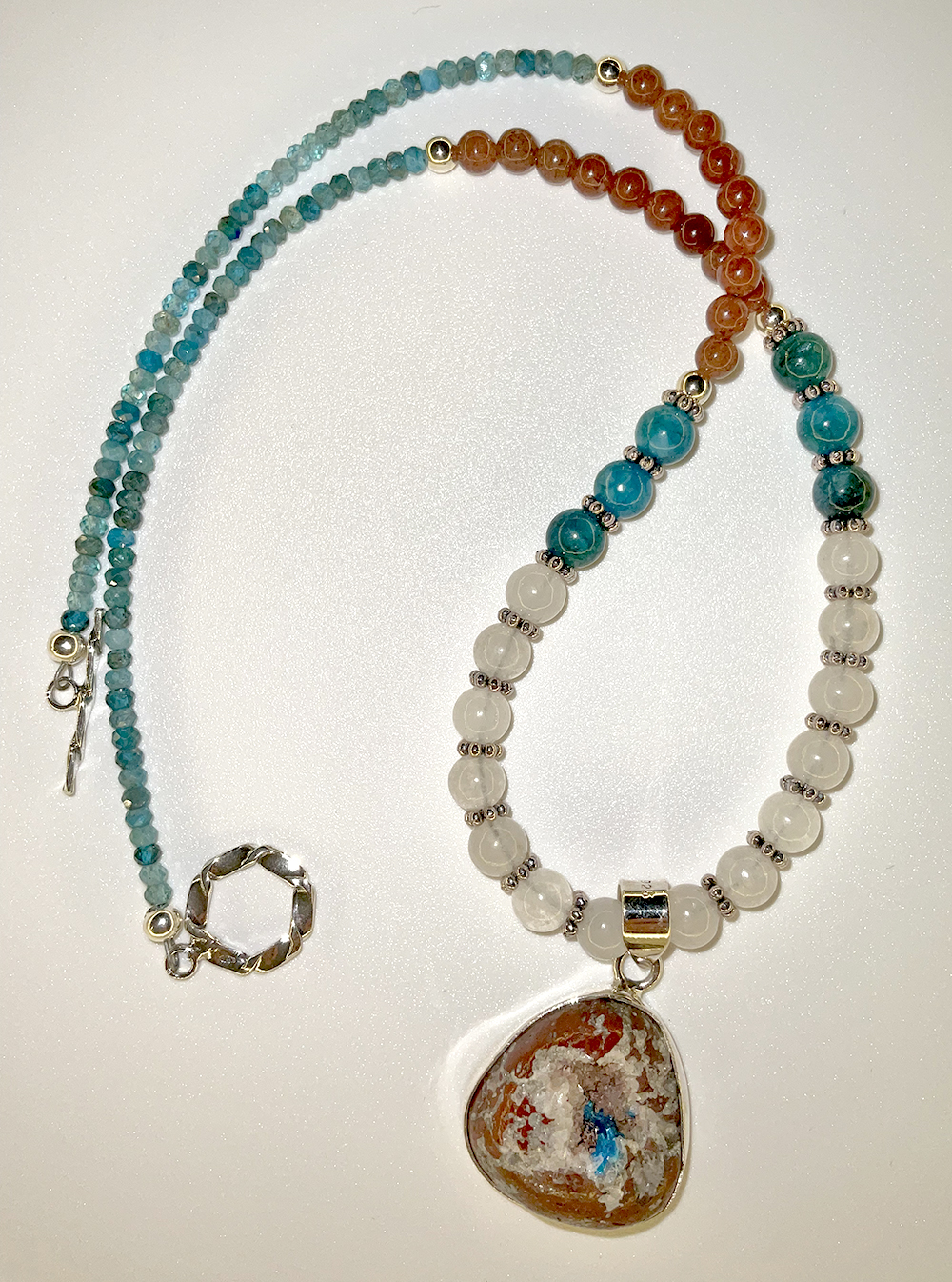 Designing jewelry has become my all-consuming passion. I love trying different color and texture combinations, to make my designs. I do not have a formal "process" for designing. I never repeat a design. A color, or combination of materials, may come to mind and I go from there. I have found it very helpful to have a large inventory and variety of items to draw from. I never know what I might ultimately do with a unique lamp work bead or Gary Wilson stone I have purchased though the Soft Flex live sales. I'm sincerely thankful to have the choices from the vast number of products they offer.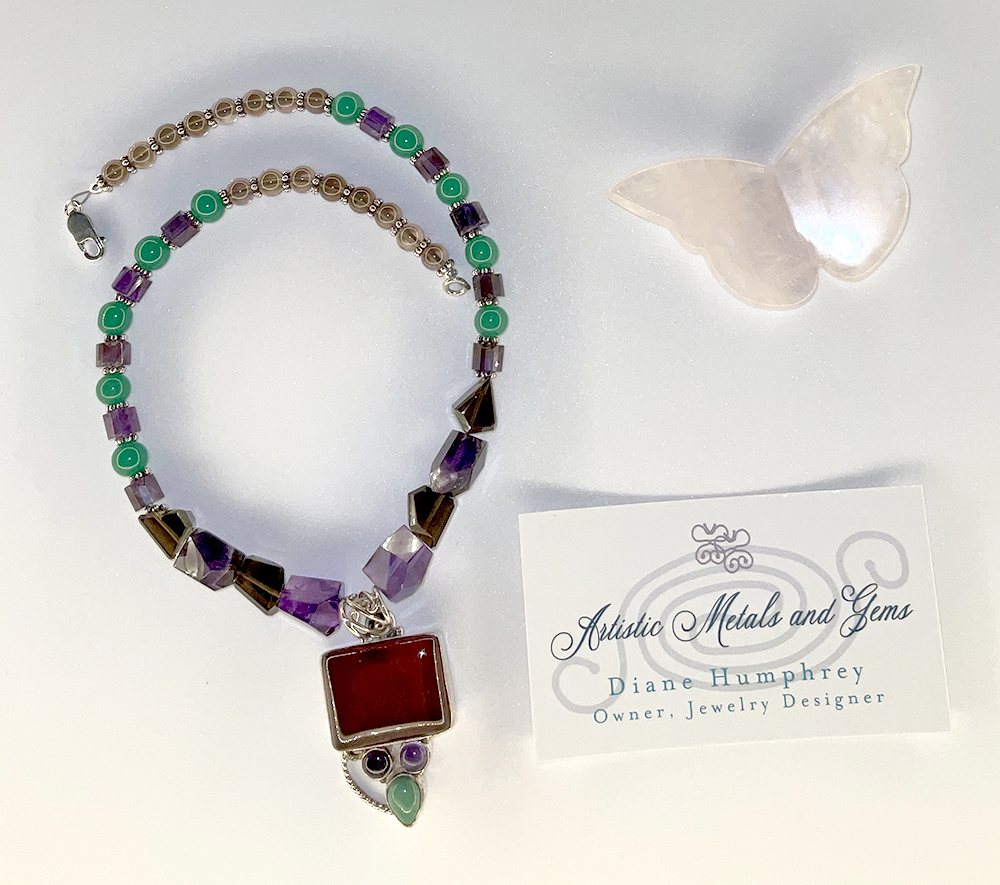 One of my goals for this year is to improve my metal smithing and wire wrapping skills. I'll be watching Kate Richbourg's and James Browning's YouTube videos to learn more about these amazing techniques.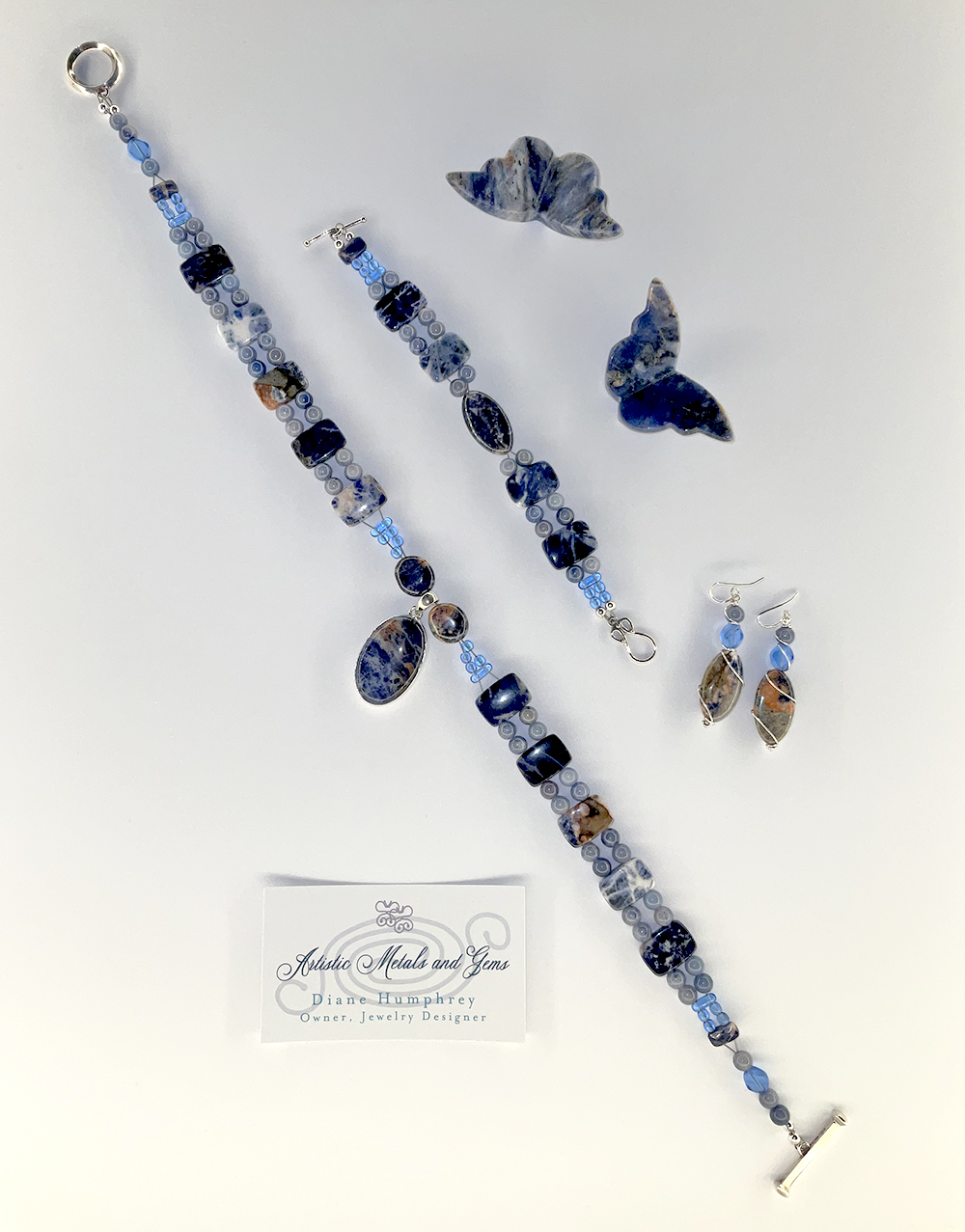 At first jewelry making was a fun way to spend my time, but now I am focused on making it a successful business. Since I really just want to spend all my time making jewelry and learning new skills, I have found it necessary to force other important duties of running a business, such as administrative tasks and technology, into my daily routine. Stay tuned for my new website, Artistic Metals and Gems, and my Etsy store coming later this summer.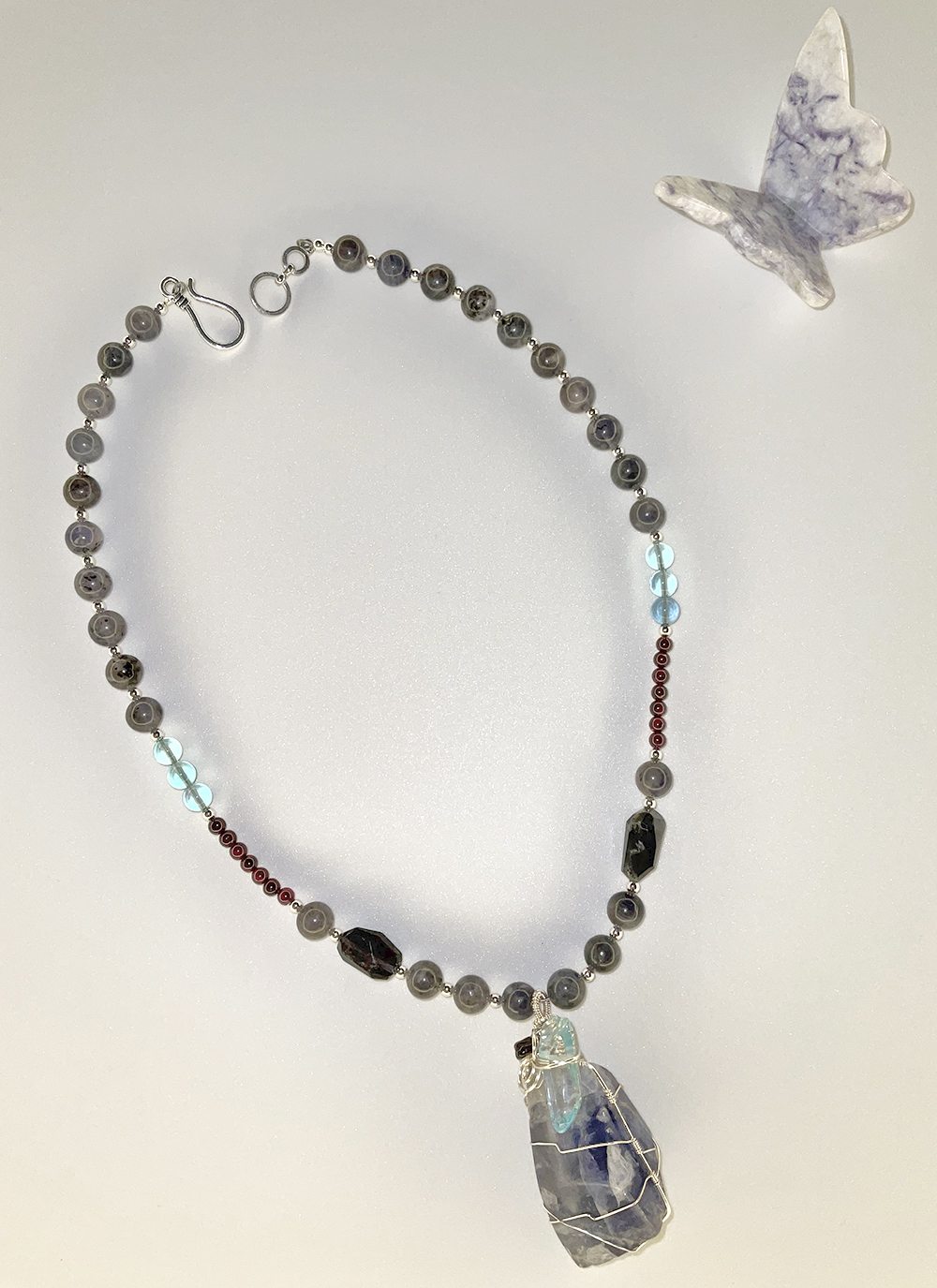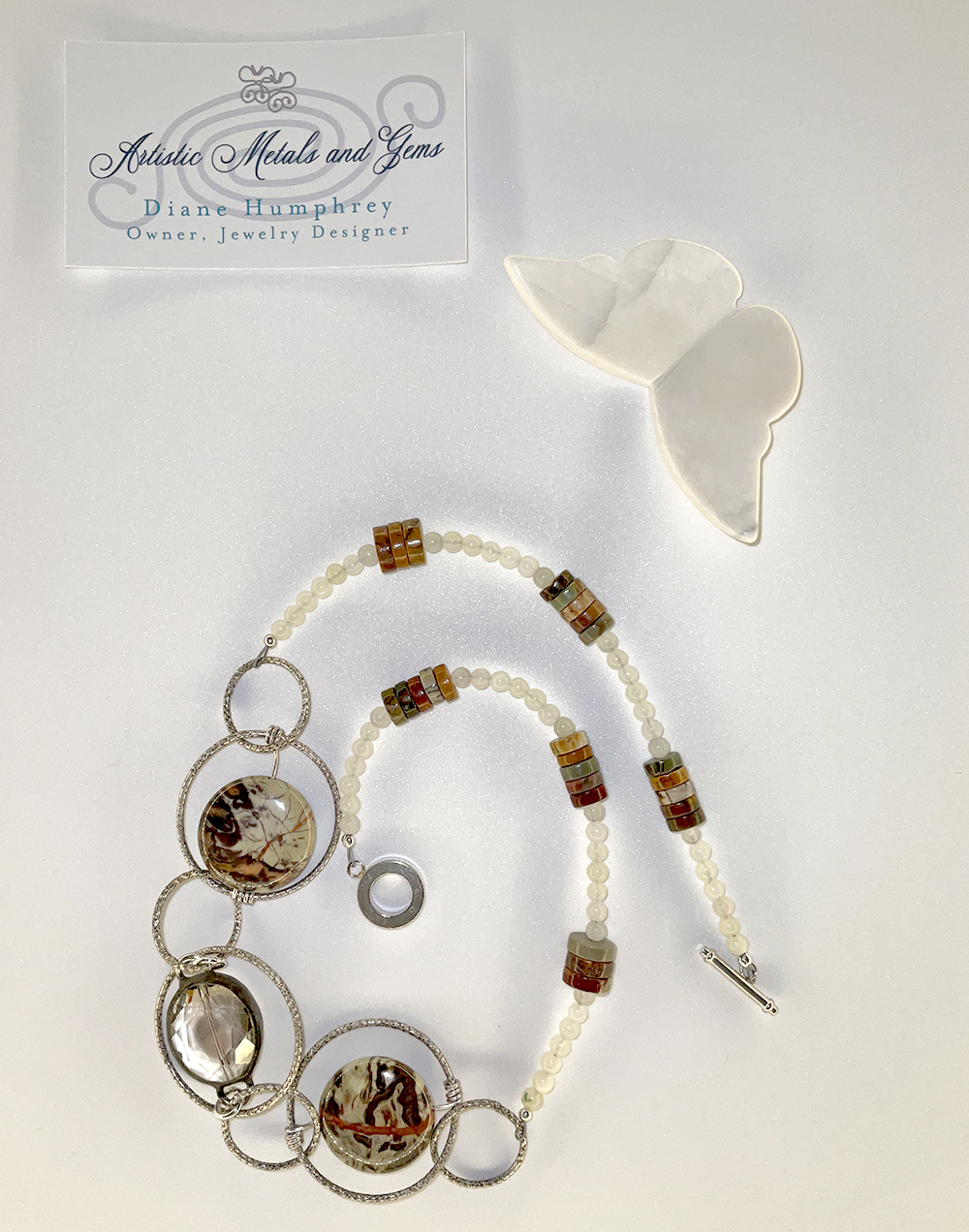 5 Things Diane Learned About Starting A Jewelry Business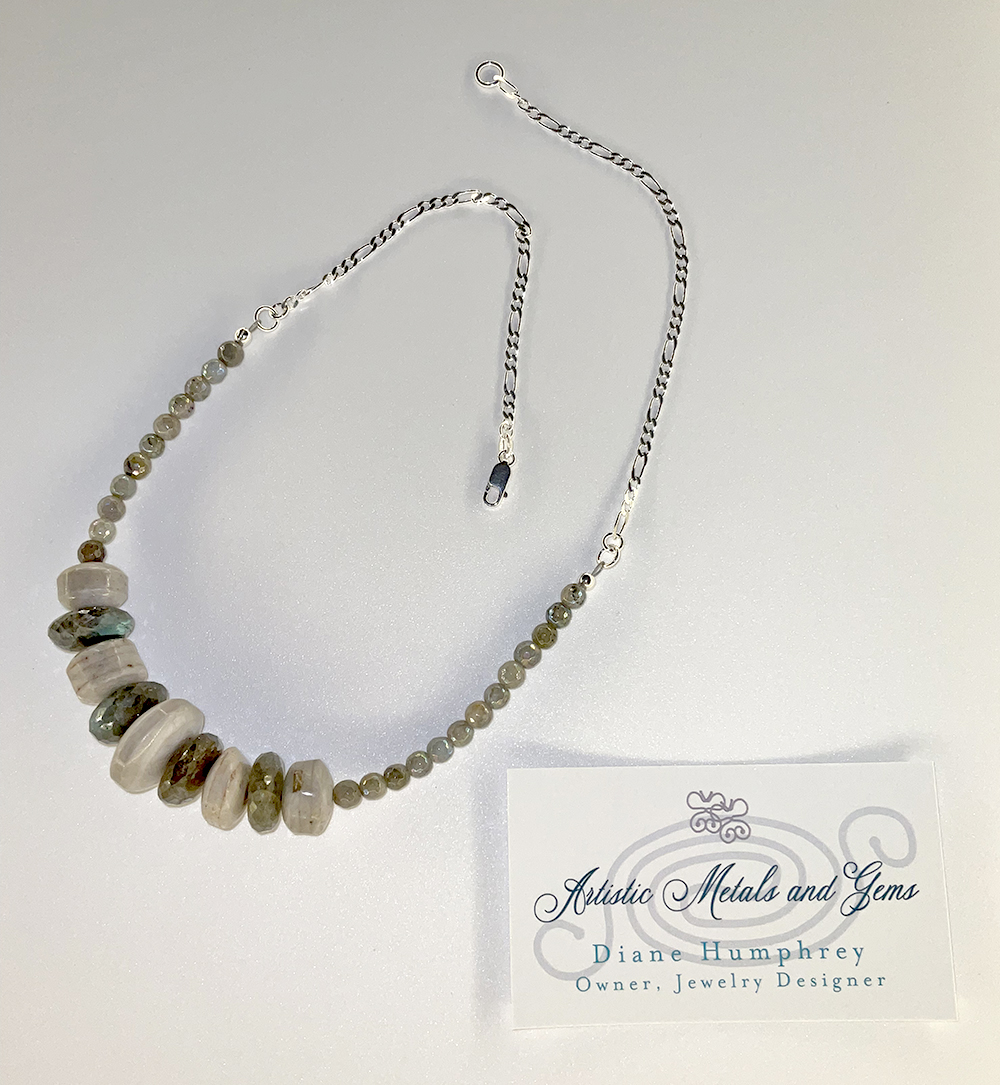 1.) There is a lot of competition out there! But there are also a lot of customers! Almost everyone wears jewelry - including pets. Think outside the box. I have thought about creating a line of dog and cat collars. Tapping into the pet market might be very lucrative. Explore! Don't be afraid to put your designs out there.
2.) You need a logo. I suggest getting inspiration from graphic designers who span the globe. Try "99designs" by Vistaprint. You can give them a lot of details about your vision or none at all and let them work with it.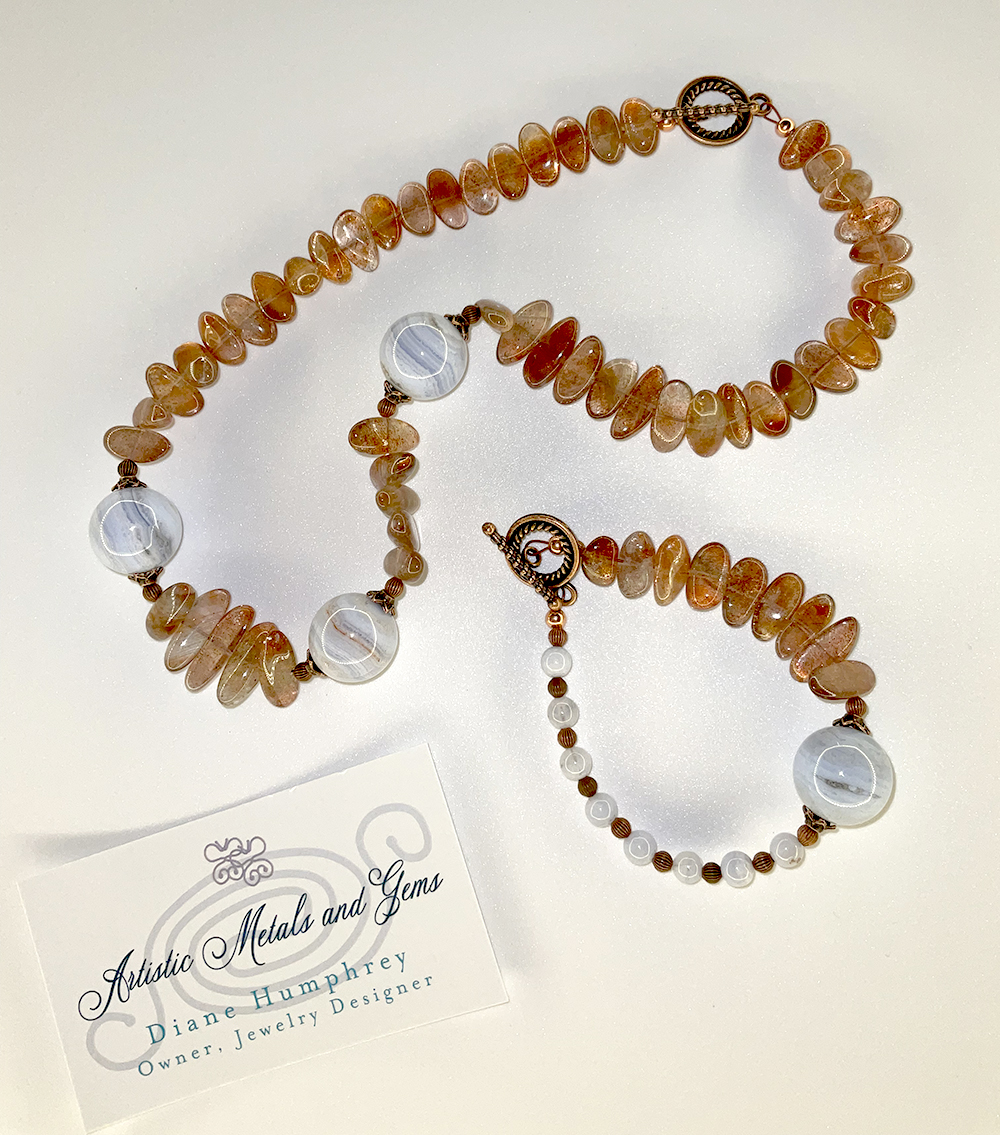 3.) Keep track of all your purchases. When you buy a string of beads or special pendant, write down how much it costs on a piece of paper and keep it with the item. Even if you don't think you'll ever want to sell your jewelry, it is a good idea to know the value of each component.
4.) You don't need an accountant or QuickBooks (unless you like accounting). Just a simple notebook or spreadsheet is enough to keep track of your expenses.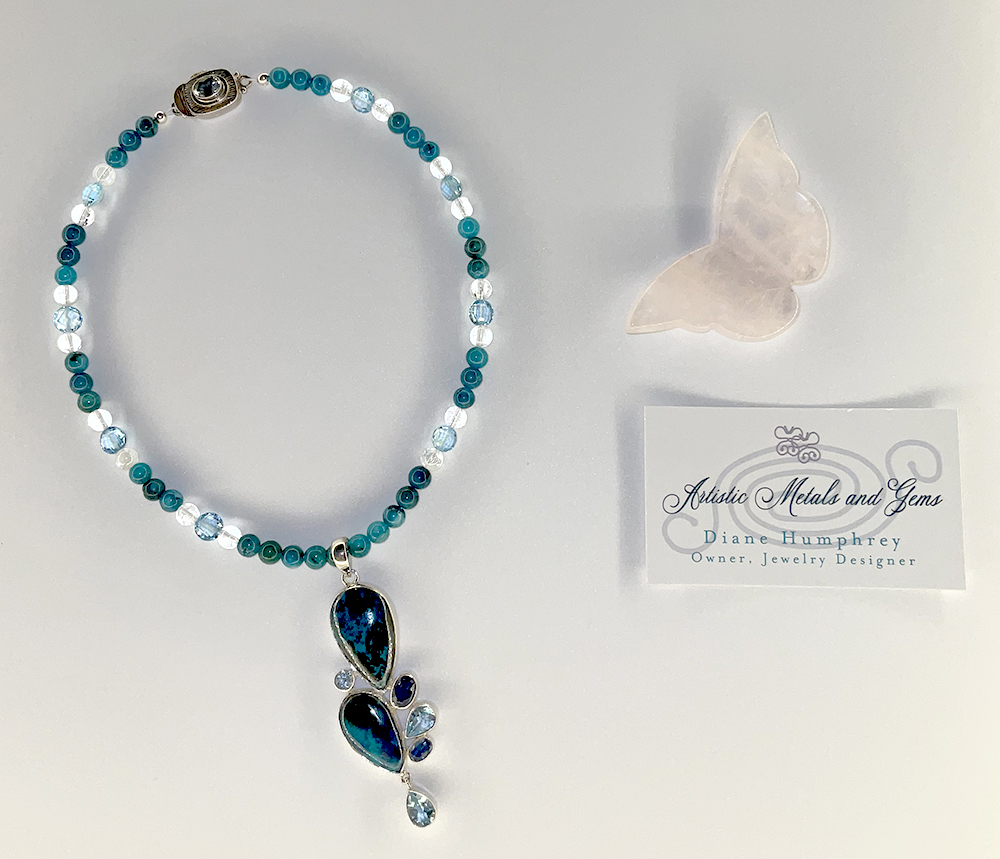 5.) If you decide to sell online, explore Square, Shopify, Wix and others out there before you commit to a website supporter.
Diane Humphrey's Suggestions For New Beaders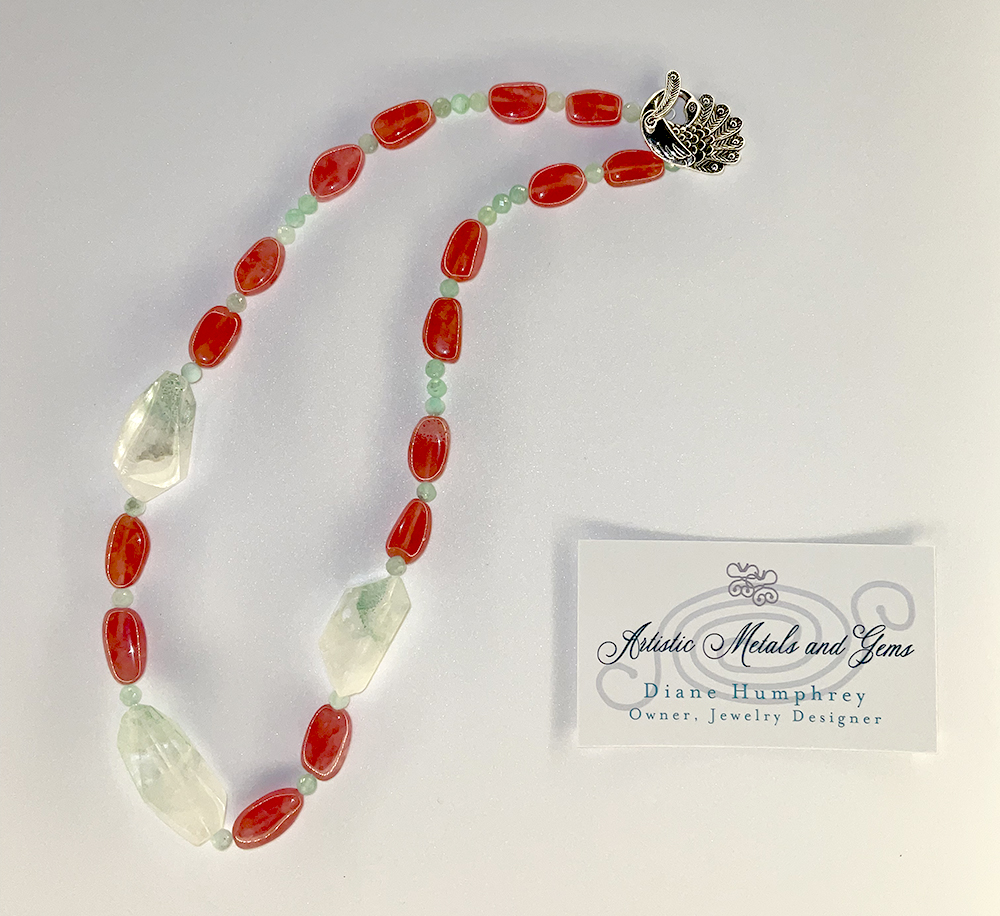 Collect a large stash of materials from which to draw inspiration. This can be done in an affordable manner by buying interesting pieces of jewelry at thrift stores or estate sales. Look for pieces that can be taken apart and reused in other designs. Use new beads and the Soft Flex kits with used pieces to create exciting new pieces of jewelry. Also consider one's own jewelry holdings - is there something you never wear that could be repurposed?
Organization: I have made a not so small investment in clear acrylic bins from The Container Store and JoAnn Fabrics. I sort glass and metal beads by color, then group them in a bin by theme, such as animals, birds, bugs (butterflies, bees), nautical, Asian, African, etc.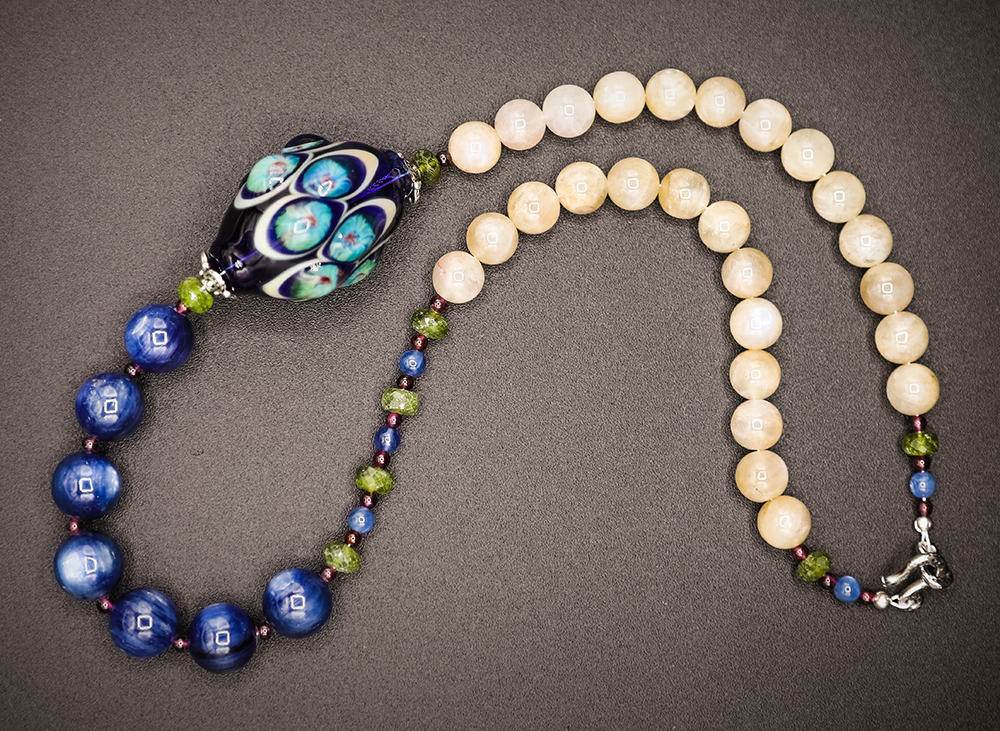 My gemstones are in bags in separate bins, by type, or if I do not have many of one gemstone, I'll group by color. I organize wire by grade or by very fine, fine, medium, and heavy.
Buy quality tools. No sense in hurting one's wrist or hand with a bad tool. Just like using low quality wire or crimps, bad tools could lead to frustration. High quality tools may cost a little more upfront, but you will save money in the end as economy tools may break or lose their edges earlier.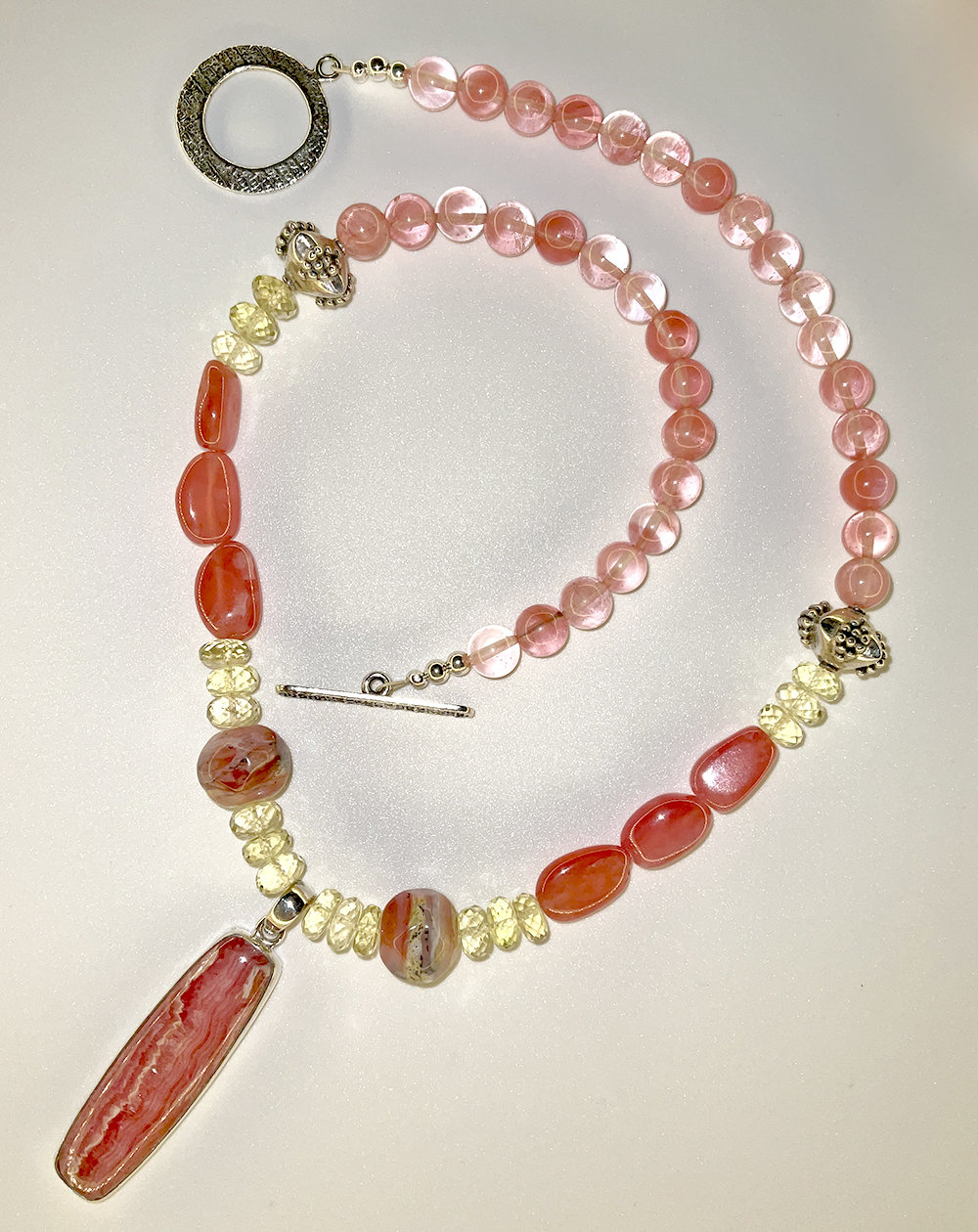 Learn about gemstones. Watch YouTube about gemstones, such as the www.gemstones.com videos. Some gemstones, such as Kunzite, are very sensitive to light. Fluorite and Kunzite are best used in necklaces or earrings, rather than bracelets, because they don't tolerate the wear and tear.
Buy a large piece of light-colored smooth velvet to cover your work table. It is soft on your hands and keeps beads from rolling off yonder. I suggest these heavy ply bags for storing items.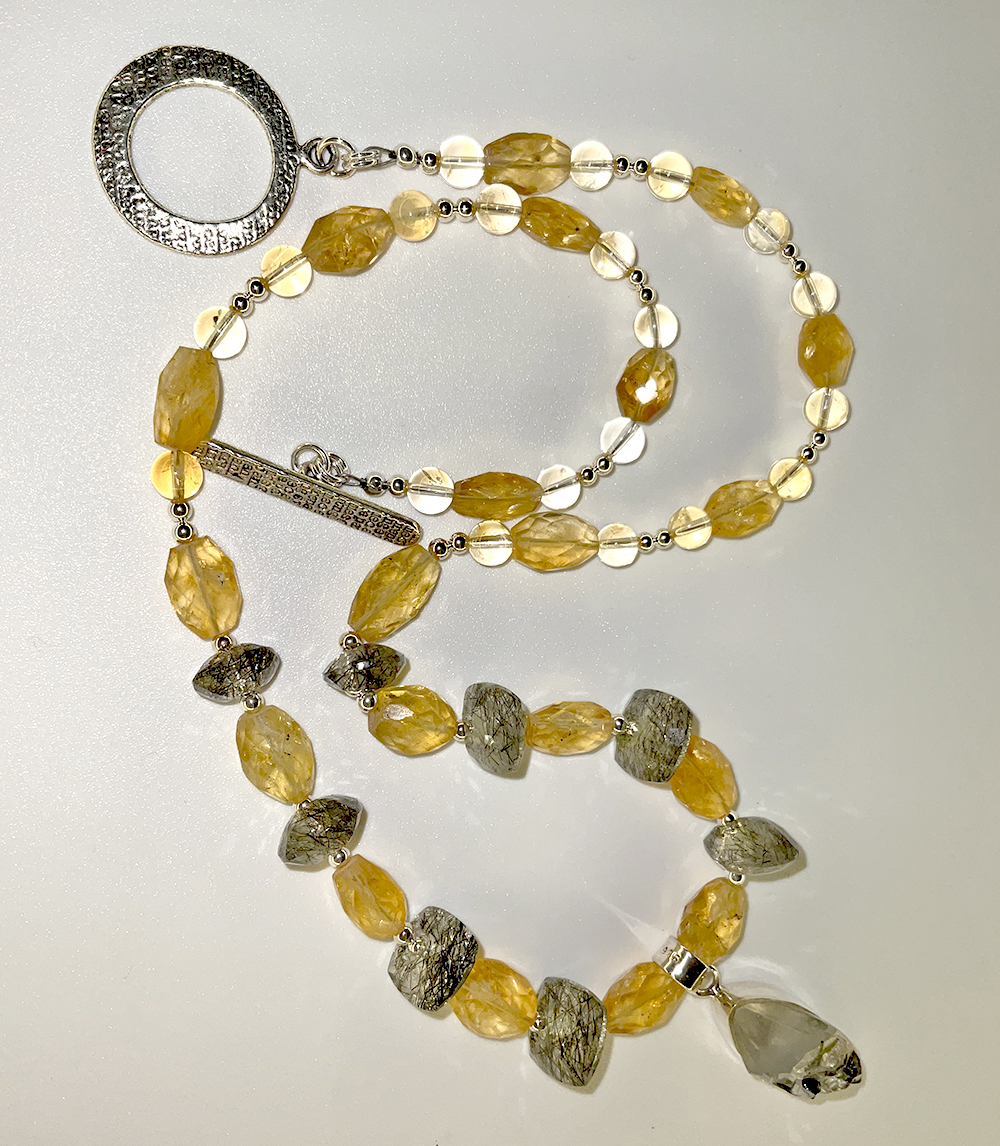 Visit Diane's Links
Learn more about Diane's Jewelry business:
Etsy (will launch soon, check back for the link)
Email Diane - [email protected]
Learn more about the Pure Gas Station Diane helped restore: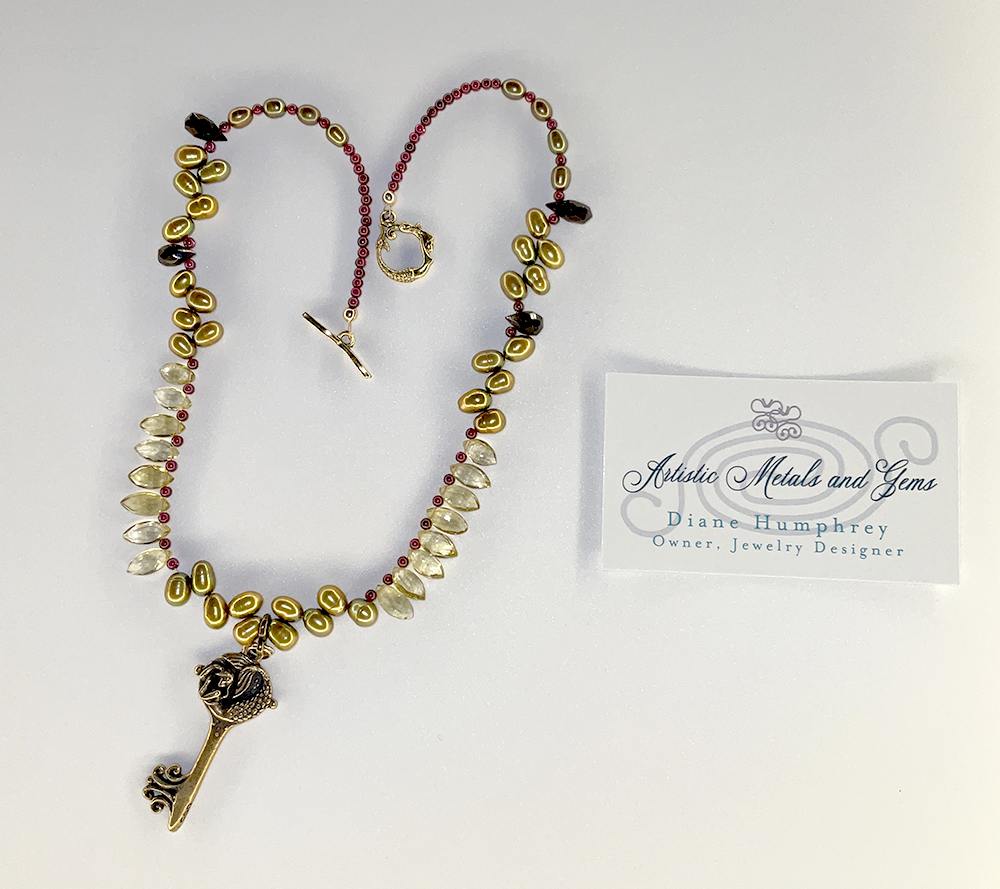 Join our Facebook group – VIB. Stay in the know. Stay up to date. From our bead shows to our video shows and sales, you can stay in touch with us. The community is full of artistic and helpful beaders and crafty people. Inspire and be inspired. Share your pictures and get the beading bug from others!
Visit the Soft Flex Company YouTube Channel!
---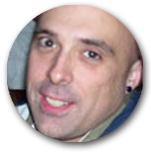 Blog contributor Thomas Soles loves Jazz Age writers and crunchy french fries. His favorite gemstones are Lapis and Pietersite. His favorite hobby is day dreaming. And his favorite mustache is Freddie Mercury's. As you can see, he has a healthy (or possibly unhealthy) sense of humor. You can write to him at [email protected]