Don't let the little ones have all of the fun this Halloween! You deserve some quality time with your favorite ghouls and goblins. Let's make a little hocus-pocus this month. We are joining the horde at Jesse James Beads and haunting the hallways for two nights - October 21st and 22nd. Enter our haunted houses and trick or treat with us. We will be going live on Facebook and creating magic with our creepy jewelry kits. Four friendly phantoms will be teaching you tricks and techniques. If you grab some goodies from both Jesse James Beads and Soft Flex Company, we will usher you into an after-life party. The lucky revelers at this dance of the dead will be privy to a Zoom gathering of ghosts. Share a glass of spirits with us as we discuss our favorite Halloween crafts. Let's take a look at the crystal ball and see what is in store for everybody!

This enchanting event promises to be a real spook-tacular. Check out our live broadcasts on the Jesse James Beads and Soft Flex Company Facebook pages. If you purchase the kits available on each site, you can join the jamboree and make some delightfully devilish jewelry. Each company's kit complements the other. The Soft Flex kit is loaded with bewitching beading supplies. Jesse James' kit is brimming with beautiful beads. If you have purchased both jewelry kits, you will gain access to the afterparty. We will be drinking some wine and sharing secrets. Don't miss out, kits are selling fast and when they are gone, you will not find them again, in this life or the next. Save the date for a supernatural time!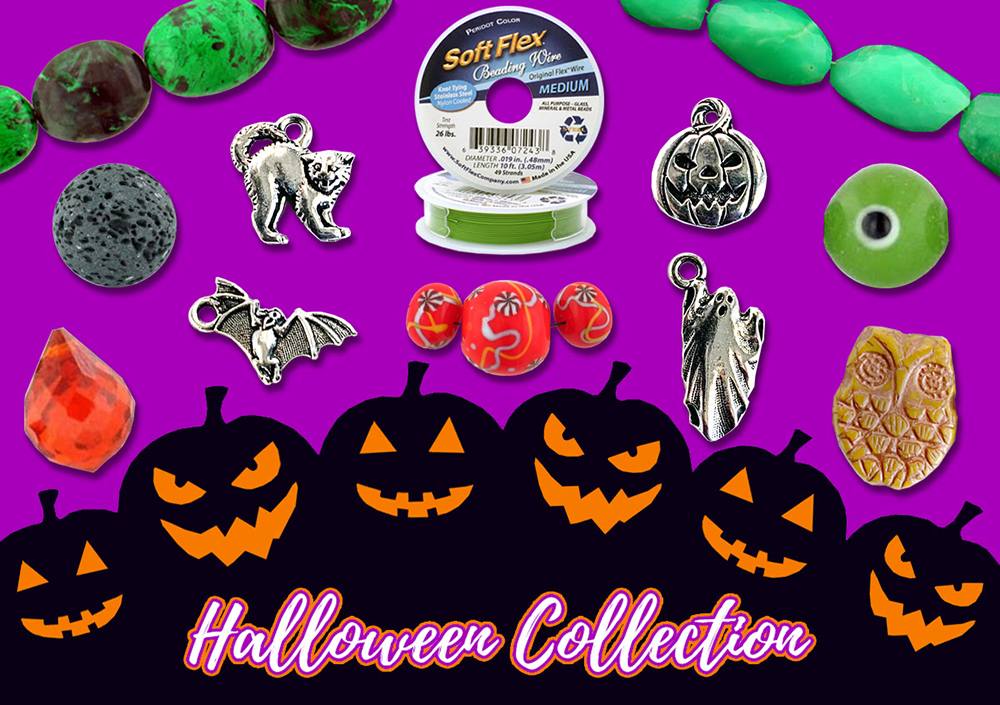 Trick or Treat! Check out our creepy collection of Halloween charms and a spooky themed gallery of beads. This assortment of ghoulish delights is perfect for Halloween arts and crafts with your younglings or easy Halloween crafts for adults. Make an elegant necklace for a dark gathering. Make a friendship bracelet with your lil vampire. Halloween DIY crafts are pumpkin spice and everything nice! Come check out our chilling compilation before the sunsets on the fun!
Trick or Treat Jewelry Making Party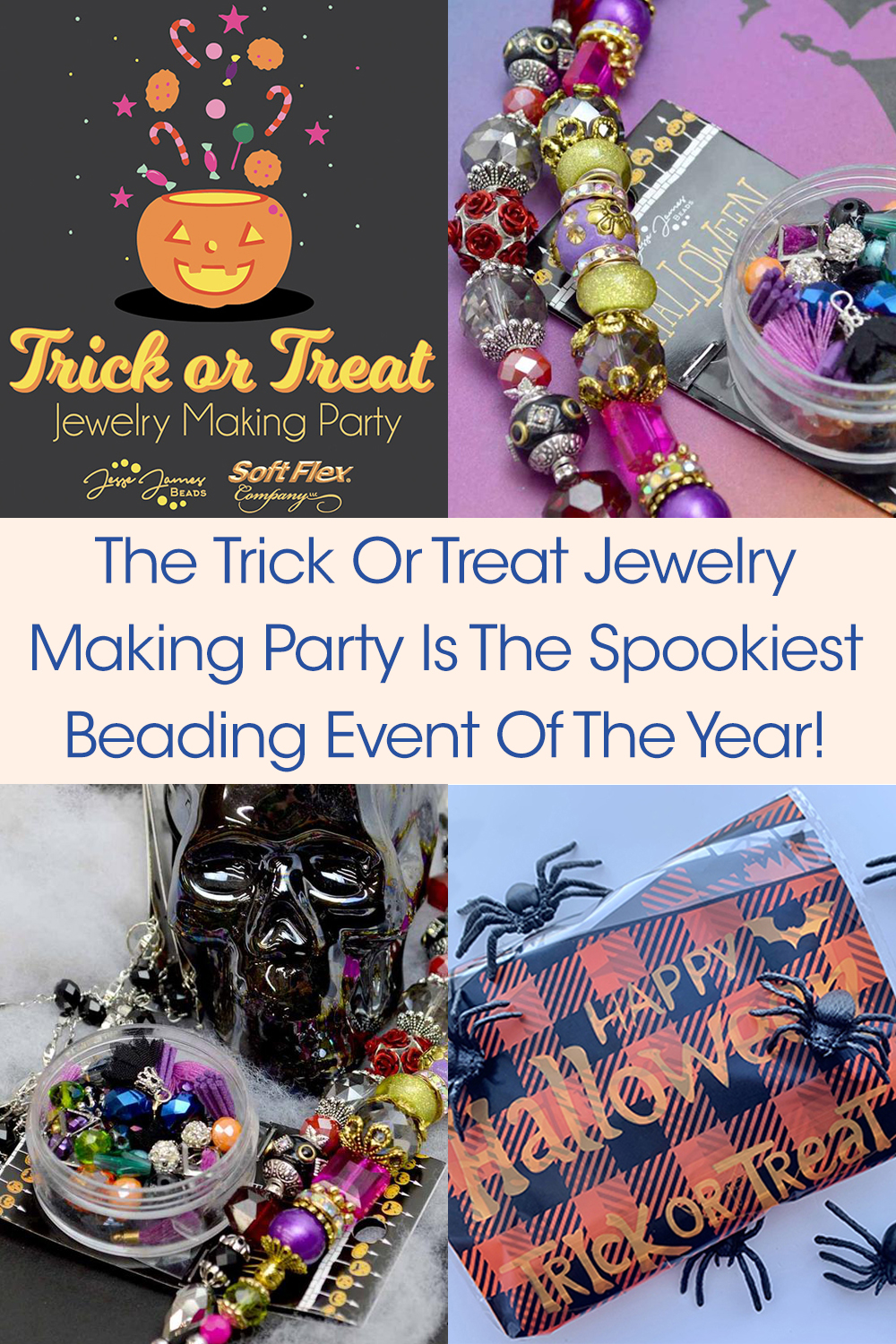 Join Us For Our Trick Or Treat Jewelry Making Party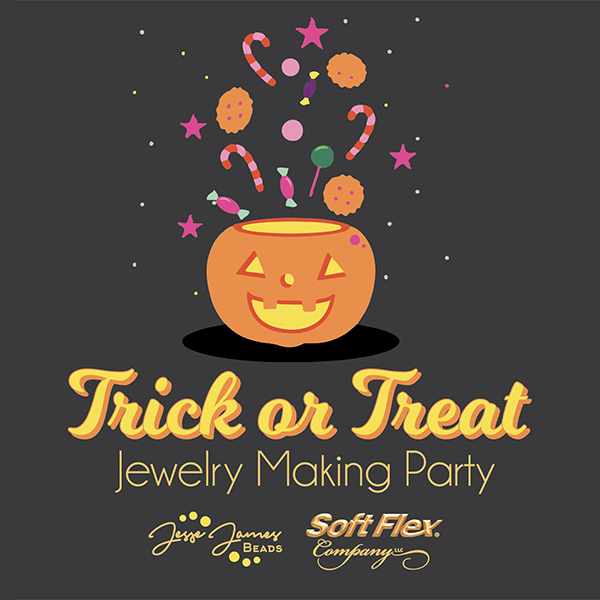 4 projects, 4 designers, 2 nights, 1 fun filled online event! Join us October 21st and 22nd! Grab the supply kit here and get the bead kit from Jesse James Beads.
Before the eve of Halloween is here, Soft Flex Company and Jesse James Beads are teaming up to host a hair-raising Trick-or-Treat Party. Satisfy your sweet tooth and go door to door to meet devilish designers. Knock on Jesse James Bead's portal and discover a delightfully dark kit full of bloodcurdling beads. Ring Soft Flex Company's doorbell and behold a beastly batch of beading supplies (findings and wire). This eerie 2-night event runs October 21st and 22nd with 4 designers offering their best tips, tricks and projects. A cackling collection of jewelry creators invite you to their haunted homes. Design a bone-chilling bracelet or enchanted earrings. If you have purchased a kit from each company, you will be granted exclusive access to an after event full of lively apparitions and more bead talk. Do you dare join us? We welcome all mortals and eager souls. Join a crew of phantasms and poltergeists for a creepy crawly time!
Important Dates:
10/13 - Kit Purchase Deadline
10/14 - Kit Ship Date
10/21 - Trick-or-Treat Party Classes, Night 1
10/22 - Trick-or-Treat Party Classes, Night 2
10/22 - Trick-or-Treat After Party with Wine Tasting!
Note: This is a supply kit for a special event. This kit does not contain beads. Please be sure to purchase the matching bead kit from Jesse James Beads to play along!
SOLD OUT!
We have sold out of this kit. But don't be spooked! You can still purchase all of these items, individually, on our website. The Soft Flex supply kit portion consisted of these supplies:
1- Black Magic Trios
1-24g Silver or Black Craft Wire
3 - 12mm Silver Plate Lobster Clasps
50 - 2x2mm Sterling Crimp Tubes
10- Silver Plated Ear Wires
1 pair of the following Halloween charms: Bat, Owl, Ghost or Jack o Lantern
Gaze Into The Crystal Ball For A Preview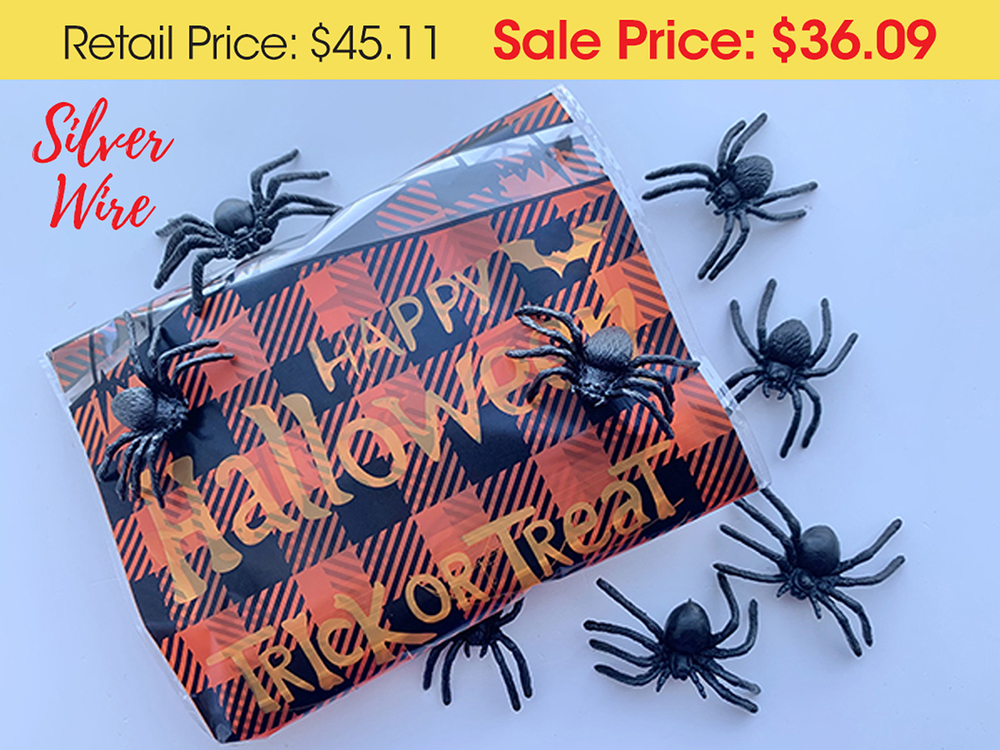 We love a good mystery. Our lips are sealed about the contents of our Trick or Treat Jewelry Making Party Kit. We do guarantee that everything inside is worth the price. All of our kits are priced well under their value. You are sure to get some real bang for your buck. Normally our kits are standalone affair, you buy a kit and get enough treats inside to make a lot of jewelry. For this kit, we loaded it up with stunning findings and beading supplies. You will need beads to complete your designs. We strongly suggest purchasing a kit from both Jesse James Beads and Soft Flex Company so you can put the two kits together for a real powerhouse mix of spooky supplies.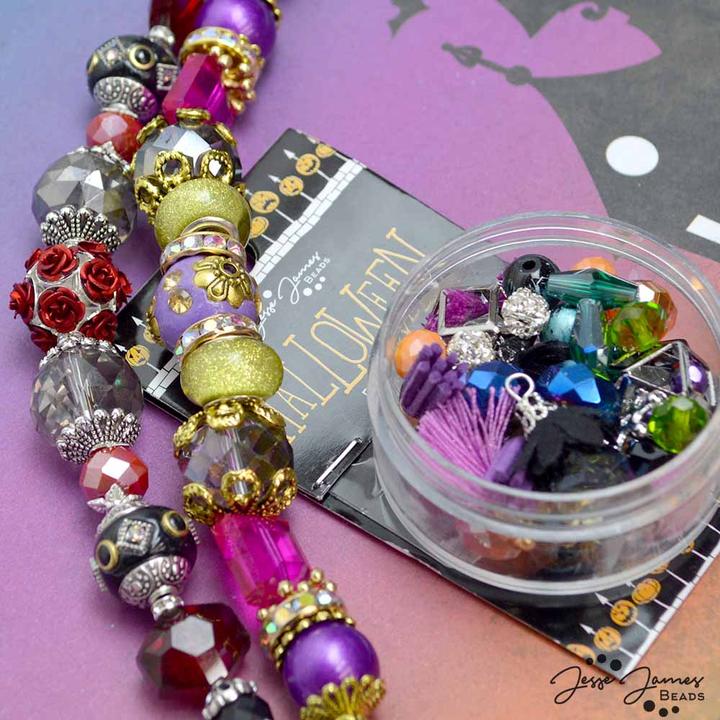 Jesse James Beads always releases a crowd pleasing mix of fun colors and brilliant shapes. Soft Flex Company has collaborated with JJB for years for our mystery themed jewelry design kits. We love adding a little extra magic to our kits and they never disappoint. If you buy one of our monthly kits you will find an exclusive mix of goodies from Jesse James Beads inside. If you buy their Trick Or Treat Jewelry Making Party Kit, you will have a monstrous mix of bubbling beads. Combine these otherworldly beading kits together and invite a party of poltergeists to possess your beading bench.
Join Us For A Haunted Night Of Halloween Crafting Fun - October 21st and 22nd!

As ghosts and ghouls prepare for their annual Halloween haunts, the teams at Jesse James Beads and Soft Flex Company have teamed up to host their own hair-raising Jewelry Making Event!
Trick-or-Treat two spooky kits for Jesse James Beads and Soft Flex respectively, then join our magical designers for a two-night jewelry making event on Thursday October 21 and Friday October 22 from 7-9pm EST. BONUS - we will have a Maker Session after party (more tricks) with wine tasting (extra treats!) after classes conclude on Friday night.

The Trick-or-Treat Jewelry Making Party will be hosted on the Jesse James Beads and Soft Flex Company Facebook pages, and bonus afterparty via Zoom. You must purchase the Trick-or-Treat Party Kit from both Jesse James Beads and Soft Flex to gain access to the afterparty. Want to imbibe with us? Get your wine kit here

Important Dates
10/13 - Kit Purchase Deadline
10/14 - Kit Ship Date
10/21 - Trick-or-Treat Party Classes, Night 1
10/22 - Trick-or-Treat Party Classes, Night 2
10/22 - Trick-or-Treat After Party with Wine Tasting!

Who's Teaching?
Sara Oehler (Soft Flex)
Kristen Fagan (Soft Flex)
Deb Floros (Jesse James Beads)
Brittany Chavers (Jesse James Beads)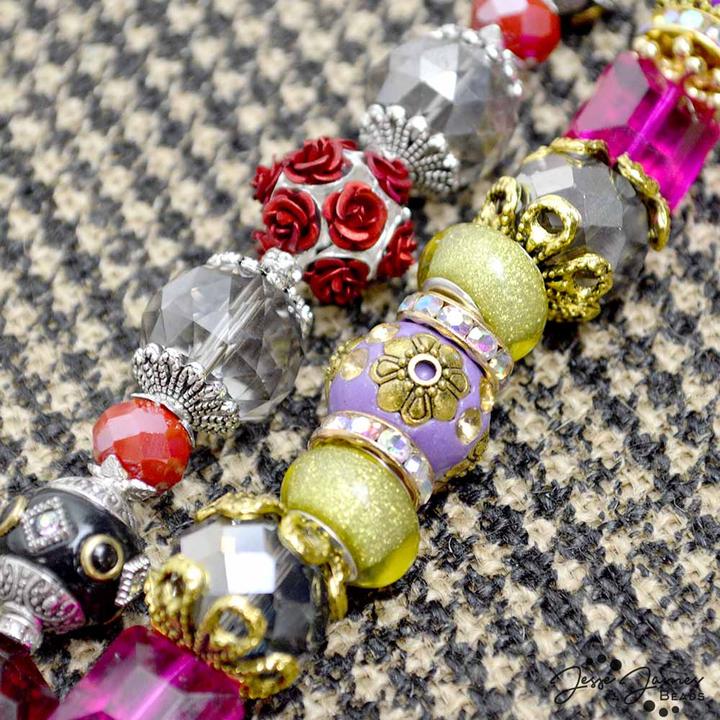 What Kind Of Halloween Magic Can You Find In A Soft Flex Design Kit?
If you want an idea of what you might find in a Soft Flex Company Kit, check out Sparkle by Monica's latest video. Our kits may be a mystery until they are unboxed at the end of each month, but you can get an unbiased opinion about the products inside by watching YouTube designers that are not affiliated with Soft Flex. YouTube creators offer a look at the contents and then give you a commentary about their thoughts. Sometimes they even design jewelry on the fly and let us see how they envision the contents coming together.
This infectious video is a treat. Our approving owls thought it was a real hoot. You will have a howling time watching this cute video but watch our for ear worms! If you are not singing Jolene by the end of this video, you are made of sterner stuff than we are - Owl-Leen, Owl-Leen, Owl-Leen, Owl-Leeeeeeen!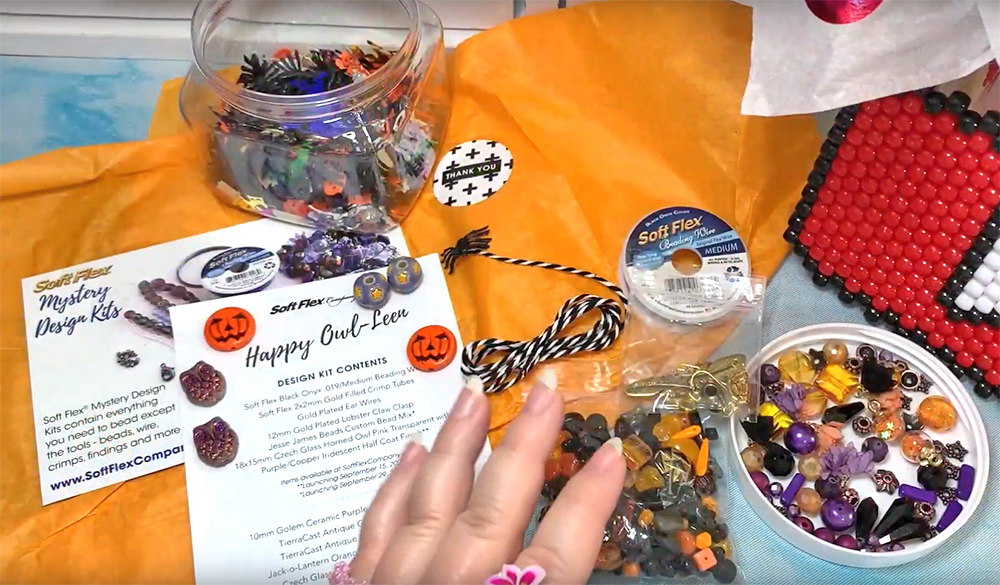 Visit Monica's Links:
Website
Facebook
Twitter
Instagram
TikTok
Pinterest
What Is In The Magical Mystery Box From Jesse James Beads?
Want to know what is inside Jesse James Bead's Magical Mystery Boxes? Sara showed us the gorgeous gothic contents of their Halloween edition. This is a good look at the kind of quality beads you can expect to find when you purchase from Jesse James Beads. Each month is a new theme. You will find a delicious mix of beads and supplies. You may even get some Soft Flex Beading Wire in your next kit.
From Jesse James Beads:
An incredible monthly subscription bead box from your friends at Jesse James Beads has arrived! Receive an abundant box of beads and jewelry components each month in the mail with the Magical Mystery Bead Box. Every month has a theme and a wonderful variety of beads and baubles, each hand chosen by the JJB Design Team.
Subscriptions renew automatically, subscriptions can only be cancelled after your last charge in the subscription. If you need to cancel early for whatever reason, please contact us for help cancelling your subscription.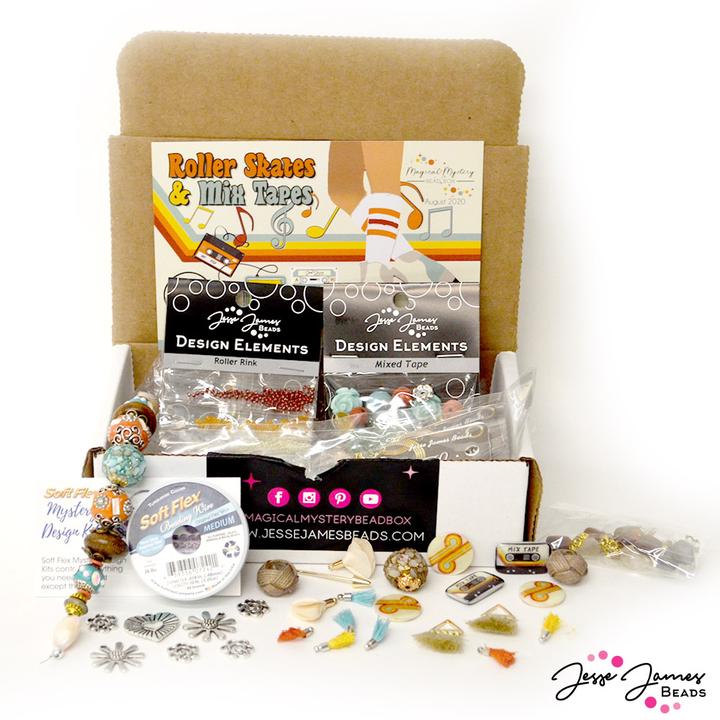 Join our Facebook group – VIB. Stay in the know. Stay up to date. From our bead shows to our video shows and sales, you can stay in touch with us. The community is full of artistic and helpful beaders and crafty people. Inspire and be inspired. Share your pictures and get the beading bug from others!
Visit the Soft Flex Company YouTube Channel!
---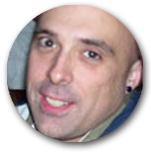 Blog contributor Thomas Soles loves Jazz Age writers and crunchy french fries. His favorite gemstones are Lapis and Pietersite. His favorite hobby is day dreaming. And his favorite mustache is Freddie Mercury's. As you can see, he has a healthy (or possibly unhealthy) sense of humor. You can write to him at Thomas@SoftFlexCompany.com