We hope you joined us this week for some insightful jewelry making videos. This recap is a splash of fall and a dash of winter magic . We designed jewelry using our 2020 Fall/Winter Pantone collections. These colors are brilliant for seasonal jewelry, holiday crafting, Boho necklaces and so much more. Stay fashionable this winter with Pantone! We also looked at some playful Halloween crafts and Christmas icicles that you are going to love. Let's deck the halls with beautiful beads!

The holiday season is in full swing. We are designing Christmas crafts and Halloween haunts. But, like any avid beader, we are doing it with color and style! We love Pantone and think that their iconic colors are always in fashion. We spotlighted our beads and wire inspired by the 2020 Fall/Winter Pantone collection. And we made some stunning jewelry. Kristen began the week with a Military Olive color palette. She showed us how to make a jewelry set using mixed media. This is a wonderful video if you want to learn a new jewelry technique. Sara showed us how to make some gorgeous holiday icicles. These are perfect for an accent on gift wrap or as ornaments and home decor. Change the colors up and you have a perfect Christmas or Hanukkah decoration. Finally, James showed us how to make a spooky Halloween skeleton using Craft Wire. Share the joy of holiday crafts with your family. Let's make some jewelry!
Soft Flex Craft Wire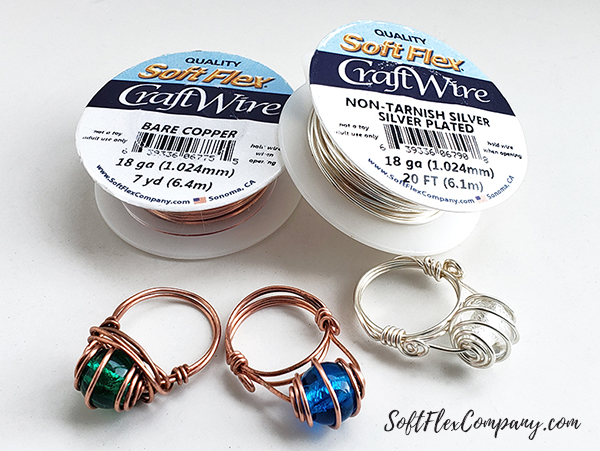 Soft Flex Craft Wire is a high quality, permanently colored copper wire. It is resistant to scratching, peeling and marring. This is due to the special enameling process used to coat the wire to produce the wide spectrum of colors we offer. After the enamel is applied, the wire is then clear coated to prevent tarnishing. Bare Copper is the only wire in the line that is not treated. If antiques and old findings are your medium, Bare Copper will patina - perfect for making that new project look like an heirloom.
Quality Soft Flex Craft Wire is 100% lead and nickel free. There are no other metals used in the wire production other than copper and fine silver. The temper of the wire is soft. It is firmer than similar wire products offered on the market, which are typically only available in dead soft and can't be tempered to half hard. We currently offer six of the most commonly used gauges in the jewelry industry and more are on the horizon. An exceptional design idea deserves a professional craft wire.
Sara's new video premieres on YouTube on Saturday!
Sara's newest jewelry making video will be available on YouTube this Saturday. This time, Sara is making a bracelet using our Pantone inspired color collections. If you love the lush look of beautiful Pantone colors, you will love this bracelet made with our 2020 Fall/Winter Pantone beads. Don't miss this fun and instructive jewelry making video!
Jewelry Making Videos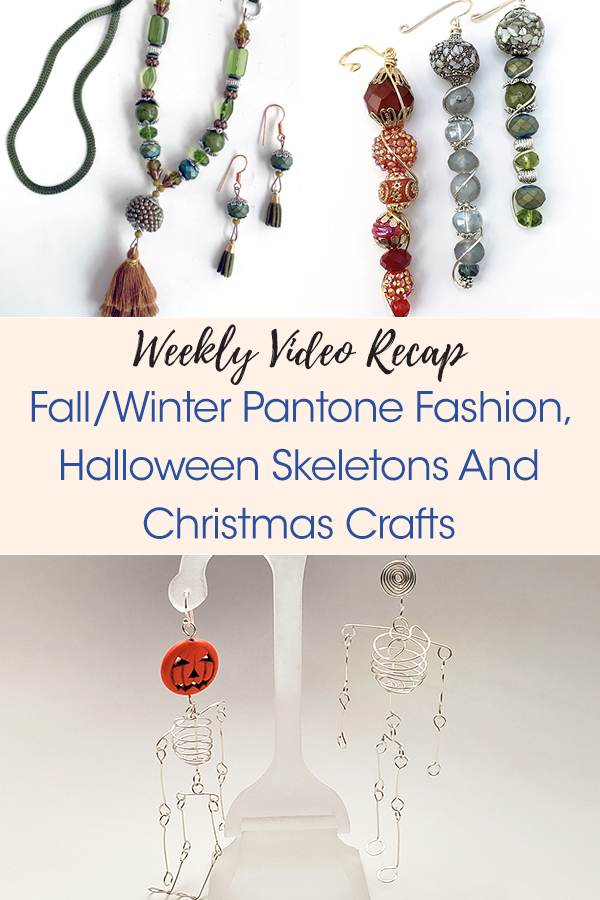 Make Beaded Jewelry With 2020 Fall/Winter Pantone Color - Military Olive

Pantone knows color! This week on Free Spirit Beading, Kristen showed off our latest Pantone color collections. We have bead mixes and bead strands based on the 2020 Fall/Winter Pantone collection. We put together a Quad of Beading Wire that is a perfect accent for your beautiful Pantone inspired beads. Using a little artistic liberty, we color matched these delightful colors from Pantone: Fired Brick (Garnet), Sleet (Tanzanite), Blue Depths (Dark Blue Lapis), and Military Olive (Antique Brass). If you love to stay fashion forward or just adore Pantone's iconic colors, this is the perfect episode to indulge in! Kristen makes a gorgeous necklace and earrings set with the Military Olive colorway. This decadent color is great for the holidays or even a retro color palette.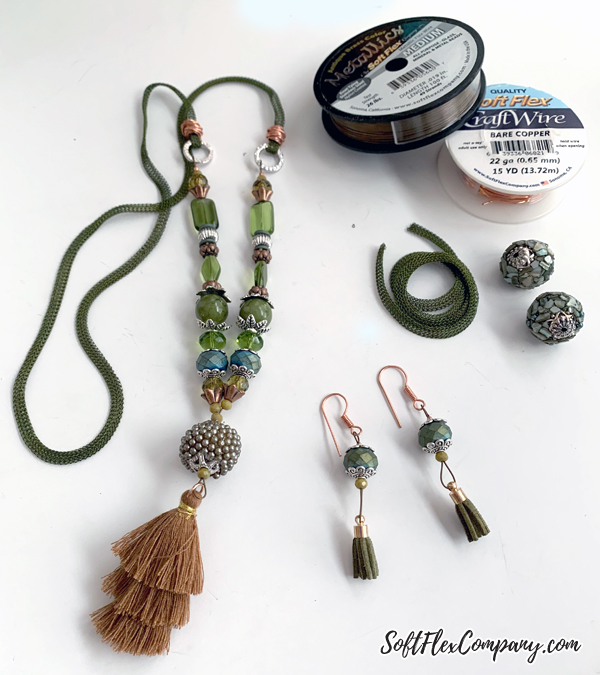 From Kristen:
This week on Free Spirit Beading with Kristen Fagan, let's create a mixed media jewelry design that incorporates bead stringing, crimping and wire wrapping for a variety of textures and interest. This tutorial used the Military Olive Pantone Bead Strand & Pantone Bead Mix exclusive to Soft Flex Company with Hammertone Ring Connectors, SilverSilk and Craft Wire.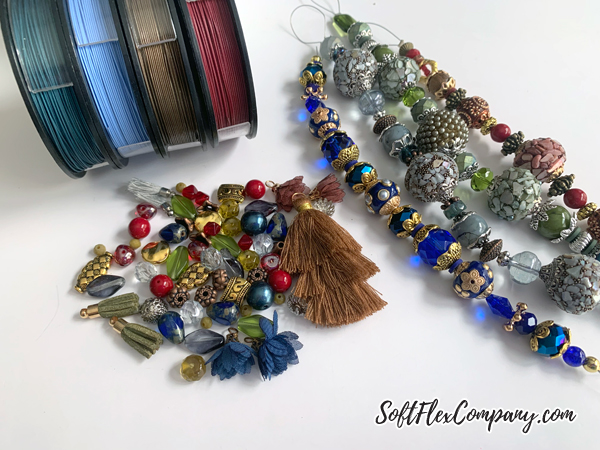 2020 Fall/Winter Pantone Quad of Beading Wire
2020 Fall/Winter Pantone Bead Mix
2020 Fall/Winter Pantone Military Olive Bead Strand
Hammertone Ring Connector
Ear Wires
Soft Flex Craft Wire - Bare Copper, 22 Gauge
SilverSilk Flat Mesh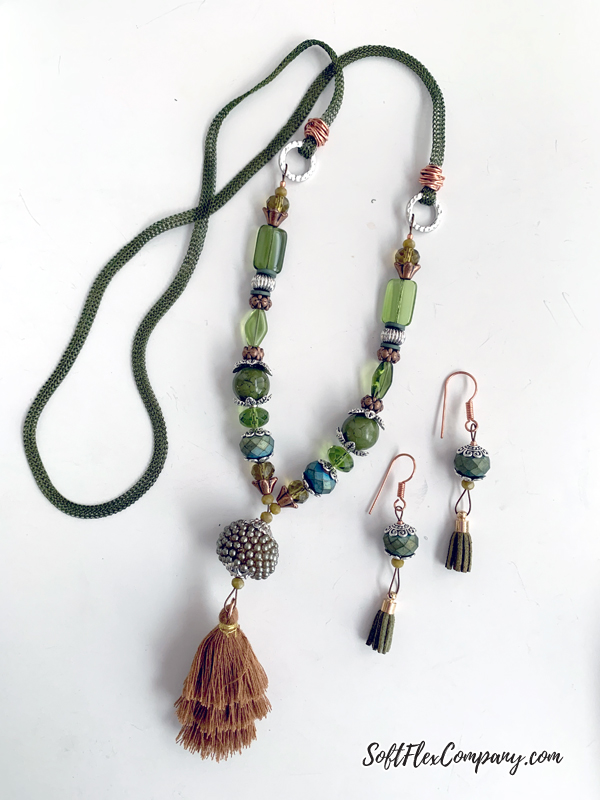 This is a wonderful video for a beginner beader that is looking to create more intricate and difficult jewelry designs. Kristen explores a bunch of unique mediums and beading supplies. She strings the focal showcase of her necklace on Soft Flex Beading Wire. The beads and tassel look stunning. She then uses SilverSilk Flat Mesh to connect and finish her design. The messy wrapped Soft Flex Craft Wire on the SilverSilk gives the necklace an organic look that gives the piece a lot of character. Don't be afraid to use Craft Wire with a messy finish on your handcrafted jewelry. One of the best things about handmade necklaces is the freedom to have fun. Professional jewelry can be rigid and sterile. Hand made jewelry designs have a buoyant and funky look. Every hand crafted jewelry design is one of a kind and created with love!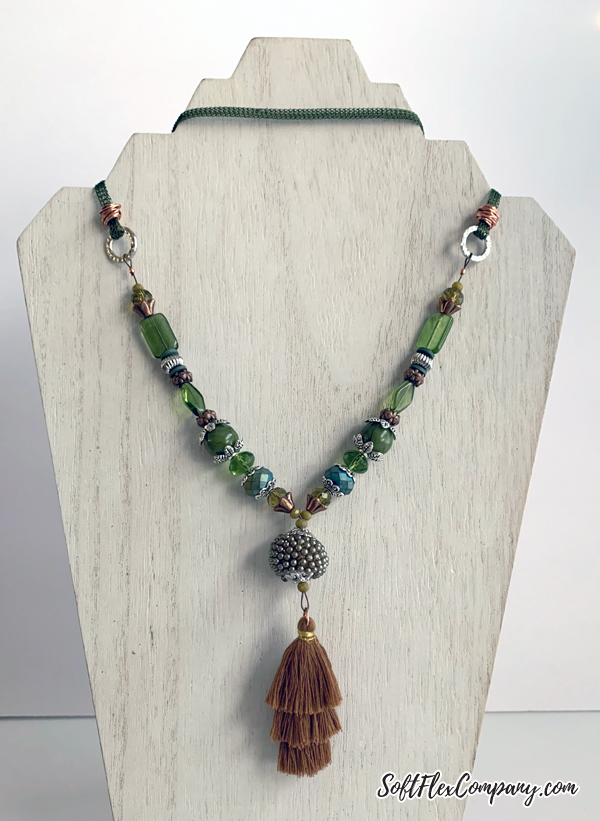 Be adventurous! If you are tired of stringing single strand necklaces and want to evolve into a deeper jewelry making skill set, this video will give you some inspired design ideas. Kristen shows you how to work with crimps, Soft Flex Beading Wire, SilverSilk, and more. She also shows you how to design earrings with beading wire. Soft Flex is so versatile. You can string a new set of earrings for every occasion and match any piece of jewelry with a stunning accent!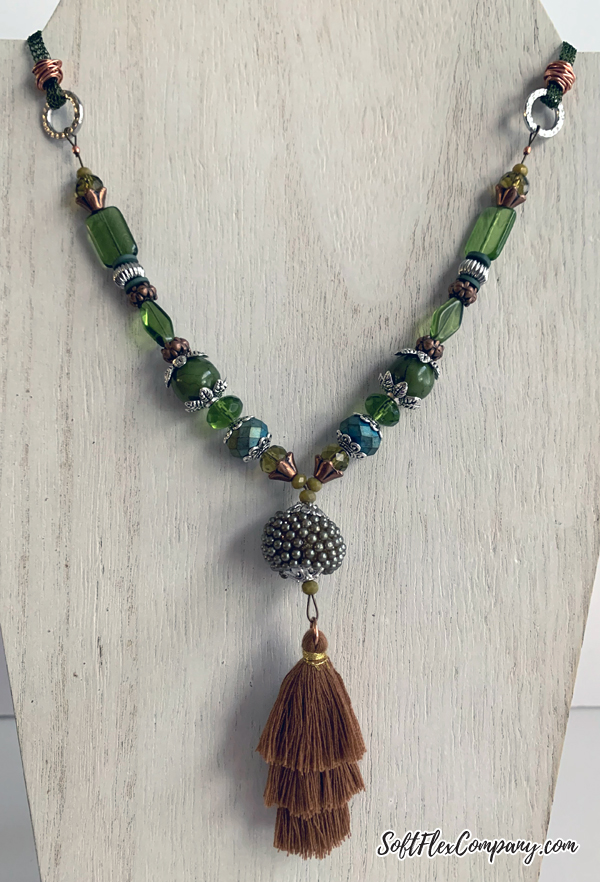 Learn How To Make The Best And Easiest Beaded Icicle Ornaments
Whenever Sara makes a holiday ornament, we always get some great feedback. We have Christmas ornaments and Hanukkah decorations on our Pinterest that get lots of attention. Everybody falls in love with Sara's fun handcrafted ornaments and holiday crafts. And, it is no wonder. Her handmade ornaments are full of color and fun. Add some lovely beads and you can have sophisticated holiday accents that will make every head turn. Have you been a little naughty this year? Give Santa a wonderful beaded icicle ornament and promise to be good next year!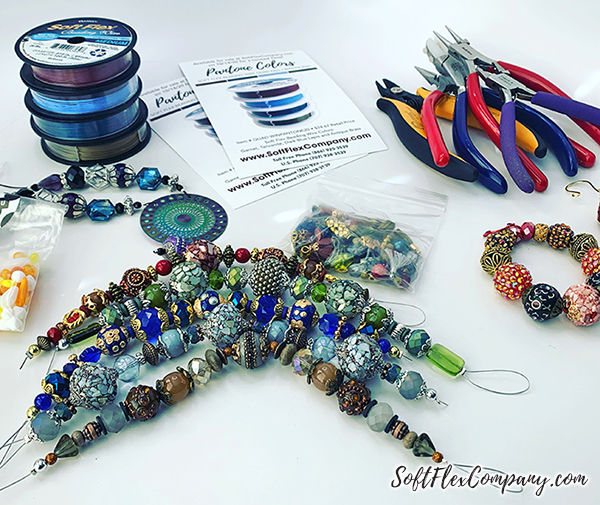 The 2020 Fall/Winter Pantone Collection is perfect for elegant ornament designs. Your icicles will look amazing as an added perk to to a gift wrapped present. They are great for catching light on a glowing Christmas tree. And then are fun accents to your next big holiday meal. Give your guests a take home gift with their roasted duck. These lovely beaded ornaments are so easy to make and so easy to customize. Use your favorite colors - festive green and red, traditional blue and white, or glamorous black and gold. You can personalize your beaded icicle to any friend or family member.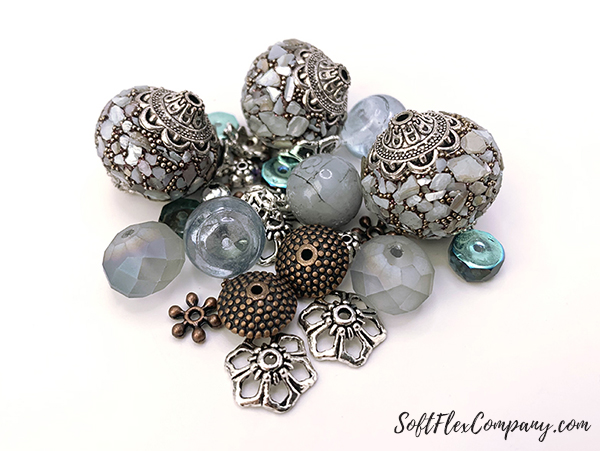 2020 Fall/Winter Pantone Quad of Beading Wire
2020 Fall/Winter Pantone Bead Mix
2020 Fall/Winter Pantone Bead Strands
Soft Flex Craft Wire, 18 Gauge
Soft Flex Craft Wire - Silver Plated, 18 Gauge
Ring Mandrel or Dowel
Nylon Jaw Pliers
Cutters
Round Nose Pliers
Looping Pliers
Chain Nose Pliers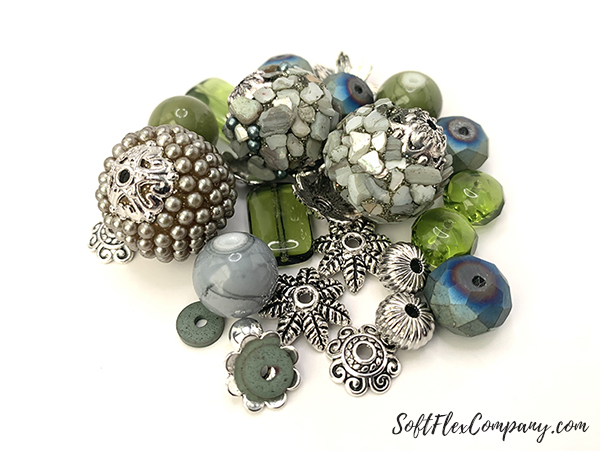 Sara discussed our upcoming Great Bead Extravaganza. Only a couple weeks away, The Great Bead Extravaganza will be a live series of exciting jewelry demonstrations on Facebook. Consider this a virtual bead show. If you have never had the opportunity to visit a bead show in real life, this is the next best thing. And, unfortunately, in 2020, this is really the only way you are going be able to visit a bead show. COVID-19 has been rough for all of us. Personal and economical. In this industry, as in many others - local bead stores, beading supply companies, and and jewelry designers have all had to adapt and change the way they do business or shutter the doors. We wanted to take the fun and creative excitement we all love so much about bead shows and bring it home to you. From November 6th - 9th, 2020, there is a packed schedule of events planned. You can find all of the information on our Facebook group. Join us. We will have a fun virtual beading community from quarantine!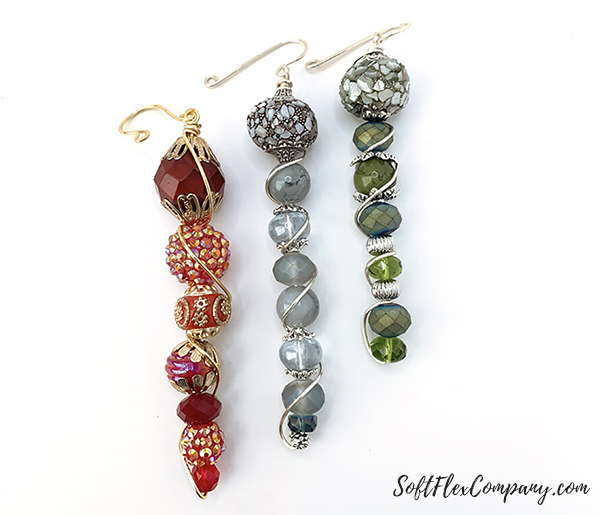 The beads you will find in our 2020 Fall/Winter Pantone Collection are radiantly seasonal. Mix and match your strands. Get festive or design jewelry that has the cold chill of the coming winter. These are so simple to create. Involve your friends and family. They are fun and addictive. You do not need to be a wire worker to get the hang of them. A couple of minutes practice and you will be designing your own. And when we say addictive, trust us, you are not going to want to stop. One member of our beading community has made 379 of these beautiful beaded icicles. That is some dedication!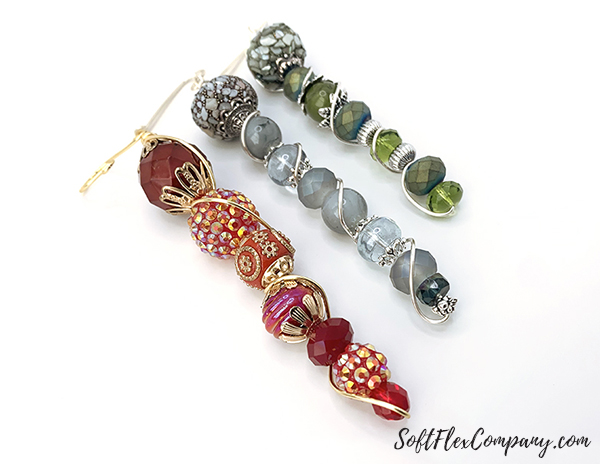 DIY Halloween Wire Skeleton Tutorial - Use Craft Wire to make Halloween Shapes

James Browning, our Craft Wire guru, has returned for a spooky Halloween video. This time, he showed how to make a cute and spooky wire skeleton. He used 22 gauge Craft Wire to make this impish little skelly. This decoration is perfect for gifts or decorations. You can make smaller versions and turn this scary little guy into a jewelry pendant. If you want to follow along, you will be making an army of the undead in no time. If you like this video, make sure you check out James' other fun craft videos. He is great for inspiration. Learn how to make a wide variety of eclectic wire wrapped jewelry designs and handmade crafts.
James often uses a mandrel to shape his wire. He has a ring mandrel that he has used in the past. In this video, he shows you how to improvise and he uses a tool handle as a mandrel. Don't be afraid to experiment! Break the rules and make some art!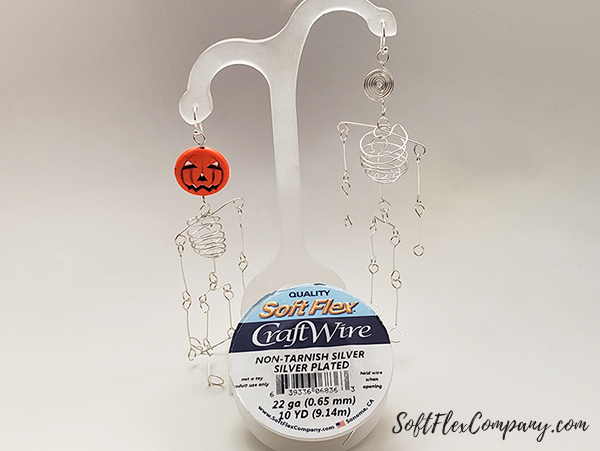 Soft Flex Craft Wire, 22 Gauge
Soft Flex Craft Wire - Silver Plated, 22 Gauge
Ring Mandrel or Dowel
Nylon Jaw Pliers
Cutters
Round Nose Pliers
Looping Pliers
Chain Nose Pliers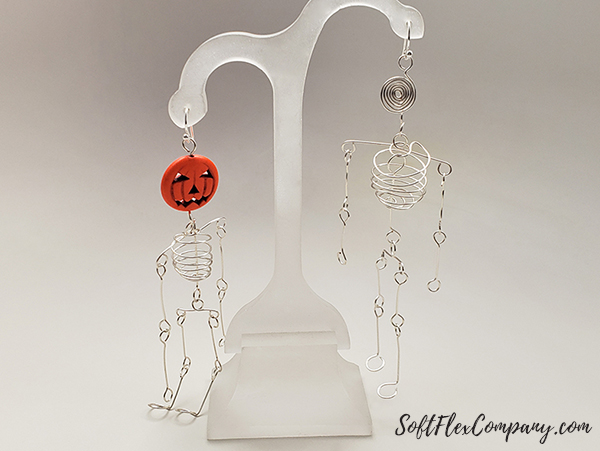 Join our Facebook group – VIB. Stay in the know. Stay up to date. From our bead shows to our video shows and sales, you can stay in touch with us. The community is full of artistic and helpful beaders and crafty people. Inspire and be inspired. Share your pictures and get the beading bug from others!
Visit the Soft Flex Company YouTube Channel!
---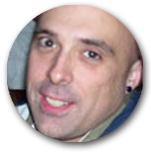 Blog contributor Thomas Soles loves Jazz Age writers and crunchy french fries. His favorite gemstones are Lapis and Pietersite. His favorite hobby is day dreaming. And his favorite mustache is Freddie Mercury's. As you can see, he has a healthy (or possibly unhealthy) sense of humor. You can write to him at [email protected]