Ho! Ho! Ho! Our last video recap of the year is full of festive jewelry making ideas. We are busy making gifts for all of our friends and family. Would you like to see what they are getting this year? The stockings are going to be full of earrings, ornaments, and beads. Check out these videos for some fantastic jewelry ideas!

Kristen filmed this year's last episode of Free Spirit Beading. She designed some earrings and a Holly Jolly Christmas ornament.
Sara filmed two videos. She discussed our kits and gift sets. She created some lovely jewelry. You won't want to miss these holiday videos.
Don't miss our other holiday jewelry and ornament ideas. Follow our blog and check out our Free Beading Project Ideas. Subscribe to our YouTube channel for more tips. Visit our Facebook page if you want to catch our live shows and sales. And join our Facebook group – VIB, if you want to join a friendly community or jewelry designers and all around creative people. We would love to see your holiday creations. Post pictures on our VIB group!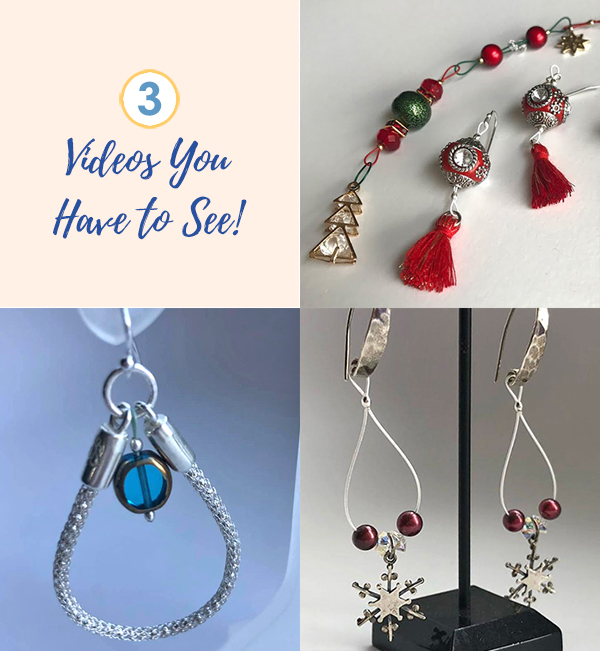 Free Spirit Beading with Kristen Fagan: How To Make A Holly Jolly Christmas Ornament And Earrings!
Kristen was excited to create some jewelry using our Holly Jolly Under the Tree Bead Mix. This mix was inside one of our kits, the Holly Jolly Christmas Design Kit. The kit has sold out, but we are happy to offer the bead mix to people that would still enjoy using the merry colors of Christmas.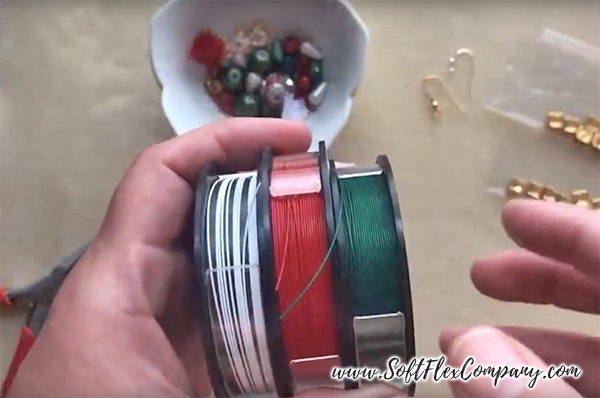 Kristen selected our Soft Flex Trios - Holly Jolly beading wire set to string all of her designs for the video. This Trios set has three seasonal colors of beading wire inside: Green Emerald, White Quartz, and Red Coral. Perfect for creating some lovely holiday fashion or décor.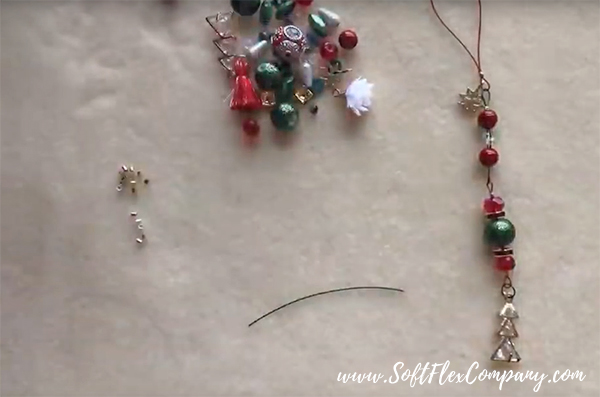 Kristen grabbed some Squaredelles from our shelves. She used 6mm Emerald and Siam Ruby Crystal Squaredelles. Our Crystal Squaredelles are wonderful. They come in a variety of color. We have beads and findings. We have toggles that match our Squaredelle beads.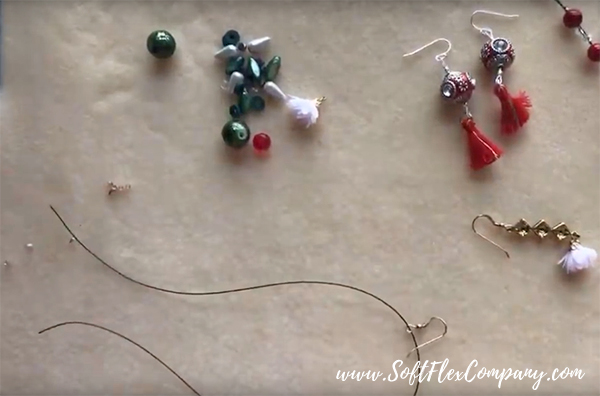 Kristen's tools and materials for designs in this episode include: 2x2mm Crimp Tubes, Ear Wires, Soft Flex Pro Flush Cutters, Chain Nose Pliers, Magical Crimping Pliers, Soft Flex Beading Wire, and Soft Flex Craft Wire.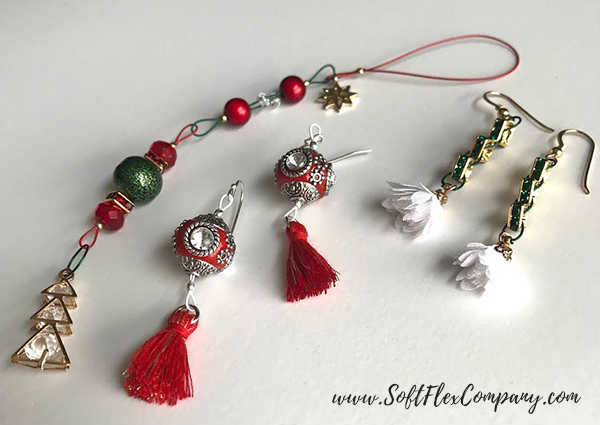 Live Demonstration with Sara Oehler: Giving The Gift Of Beading - Christmas And Holiday Gift Ideas
Sara filmed a video about giving beads and jewelry making supplies as gifts. She reflected on what beads mean to her. They have been a huge part of her life for decades. She said that beads are part of being human. Beads and jewelry making crafts have been with us since the earliest man walked the Earth. If you would like to learn about early man and the significance of beads, check out this blog.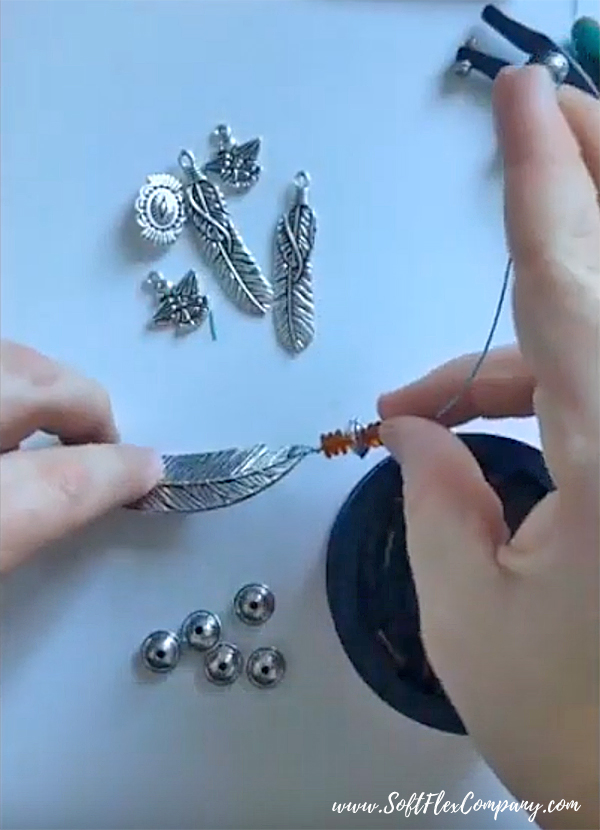 Sara showed our Holly Jolly Under the Tree Bead Mix. This bead mix is a custom mix that is exclusive to Soft Flex Company. It was made for us by our friends at Jesse James Beads. Inventory is limited and when this bead mix is gone, you will not be able to buy it again.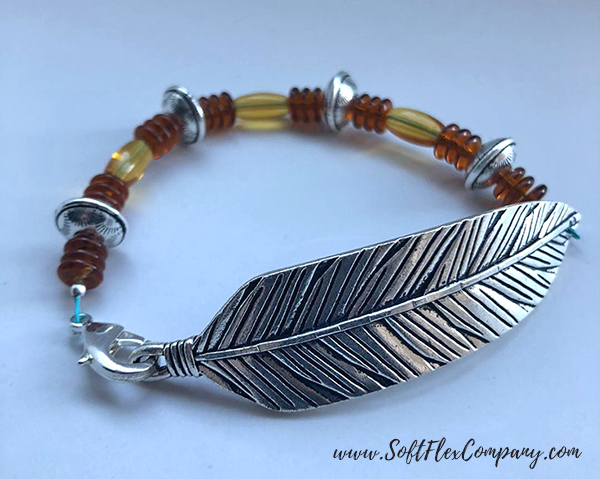 Sara discussed our Gift Certificates. Right now, we are offering a credit for purchasing a Gift Certificate. If you purchase a $25 dollar kit, you will receive $5 in store credit. If you purchase a $50 dollar kit, you will receive $10 in store credit. If you purchase a $100 dollar kit, you will receive $20 in store credit.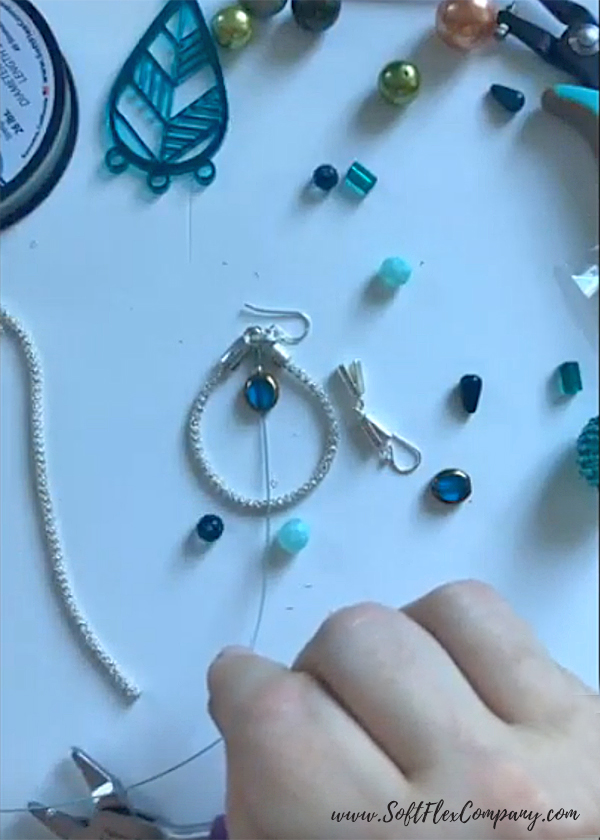 Sara discussed our kits and gift sets. Our kits are full of beads and wire. If you are shopping for a beader that has it all, a kit is a fun way to give them supplies that will create a lot of varied jewelry. If you are shopping for a beader that wants or need tools, gift sets are kits with Magical Crimping Pliers and cutters.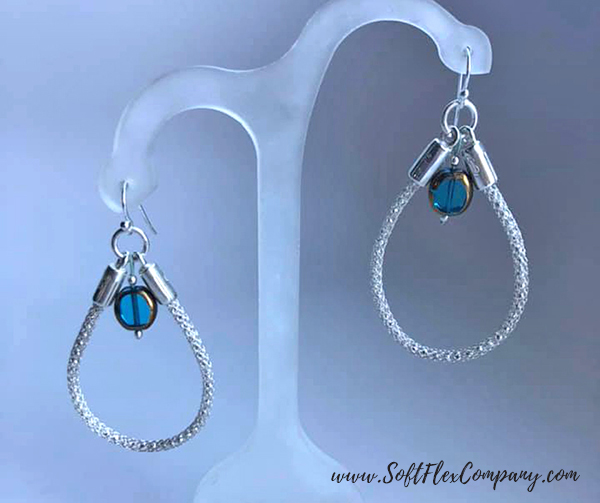 Sara finished the video designing earrings. She used elements from the kits. Give the gift of beading to your loved ones. Beads are a great way for creativity to flourish. And, who knows, if you give beads as a gift, you may receive some lovely jewelry in return!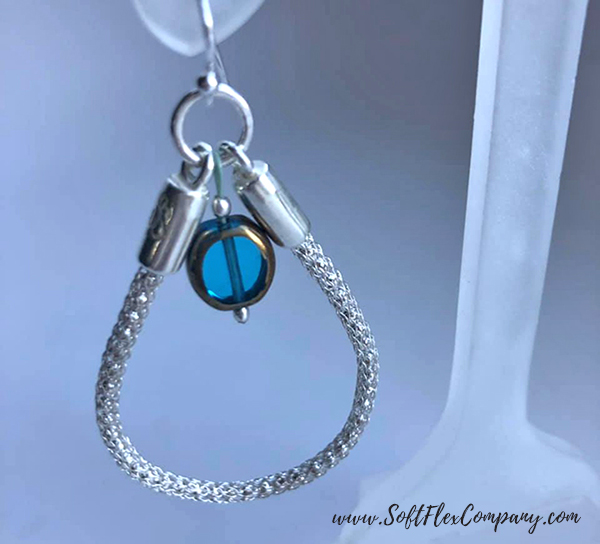 Live Demonstration with Sara Oehler: Quick And Easy Last Minute Earring Gift Ideas
Sara started her video discussing Soft Flex sales. She then moved on to show us some earrings she created. She discussed the wire and materials she used to create some of the earrings. She loves using Soft Flex Extreme Flex Beading Wire. Our Extreme line is a copper alloy wire that is plated in 24 karat gold, 925 Sterling Silver, and a lush Champagne color. Extreme is a great choice if you want to show the beading wire in your next design.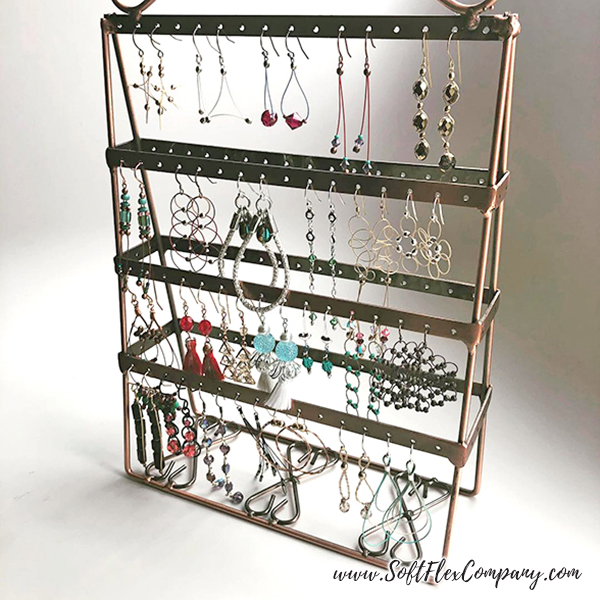 Using Soft Flex Beading Wire for earrings can lead to a number of creative designs. You are not stuck with a rigid wire. You can start simple and create a drop with a single bead. You can create a beaded tassel. You can just use the wire and crimp it into shapes. You have so much room to be innovative. If you want to get more elaborate, you can create beaded ladders and more.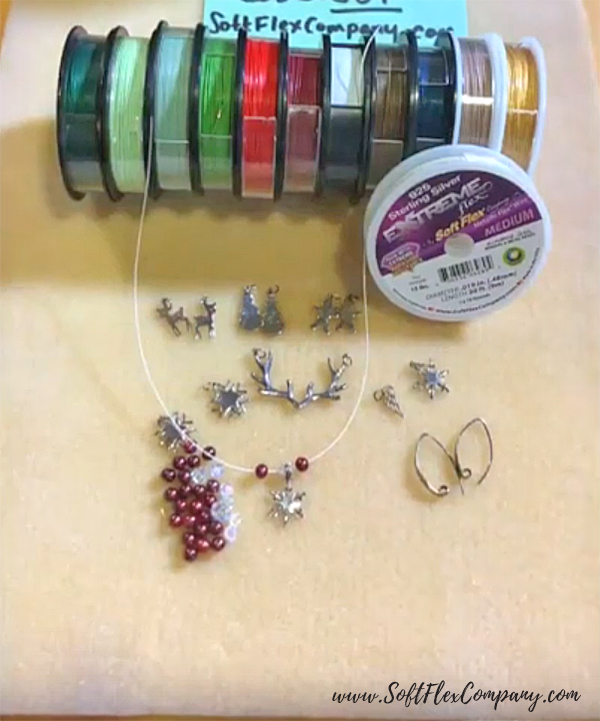 Sara designed some earrings on the fly. She used some Extreme Flex Beading Wire and some seasonal beads. She suggested earrings as gifts. They are simple to make. They take very little time to string and finish. They are extremely cost efficient. Giving them out to friends is a great way to say thank you for everything they do. If you have a barista or are a regular at a grocery store with friendly employees, imagine how nice it would be to give them a handmade gift.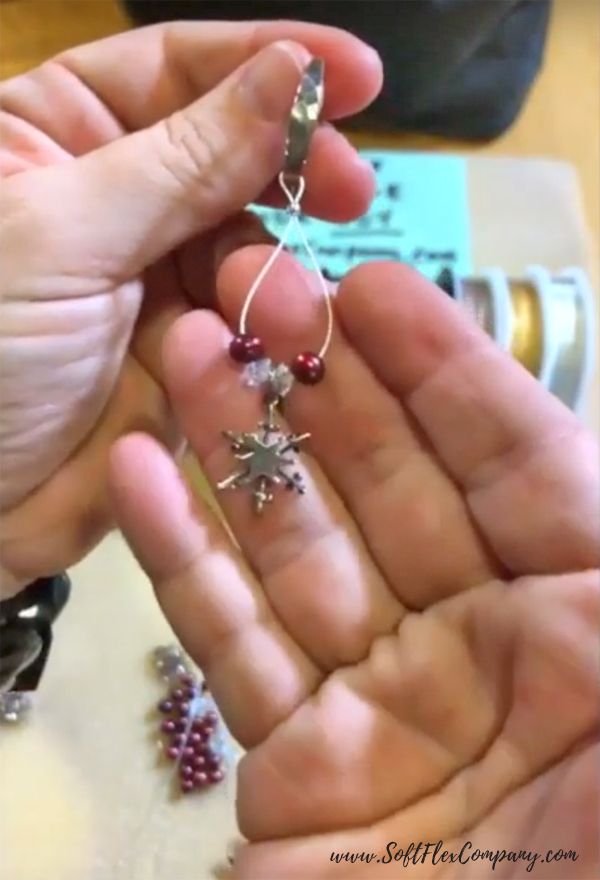 We hope your holidays are spent with friends and family. We hope you had a great year and we hope the upcoming year is prosperous and lovely. Happy holidays from the Soft Flex Family!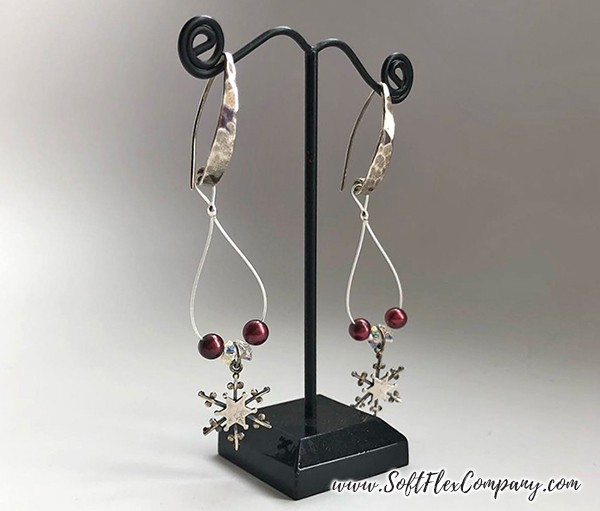 Join our Facebook group – VIB. Stay in the know. Stay up to date. From our bead shows to our video shows and sales, you can stay in touch with us. The community is full of artistic and helpful beaders and crafty people. Inspire and be inspired. Share your pictures and get the beading bug from others!
Visit the Soft Flex Company YouTube Channel!
---
Blog contributor Thomas Soles is the Trade Show Coordinator for Soft Flex Company. His favorite stones are Lapis and Pietersite. His favorite hobby is day dreaming. And his favorite mustache is Tom Selleck's. As you can see, he has a healthy (or possibly unhealthy) sense of humor. You can write to him at [email protected]