Have you ever wanted to make jewelry with a jig board? There are lots of options on the market. We just added WigJig Delphi Jig Boards to our shelves. We think the WigJig brand is your best option for jewelry making jigs. Read on and we will tell you why.

So, what is a jig? A jig is a tool that allows a user to create a design with interchangeable parts. A jig allows the user to create accurate designs and allows a design to be repeated. For example, a jig in the locksmith industry can be used to create a key. With the parts on the jig moved, a new key can be created. Multiple keys can be created without losing accurate measurements.
A jig board in the jewelry industry is a board that uses pegs to hold Soft Flex Craft Wire. The pegs allow a designer to create loops. The pegs also hold shapes. Using a pattern, or having a design idea, the designer can place their pegs on the board to create a unique jewelry design. This design can be repeated - this is a great option for linked wire pieces or earrings.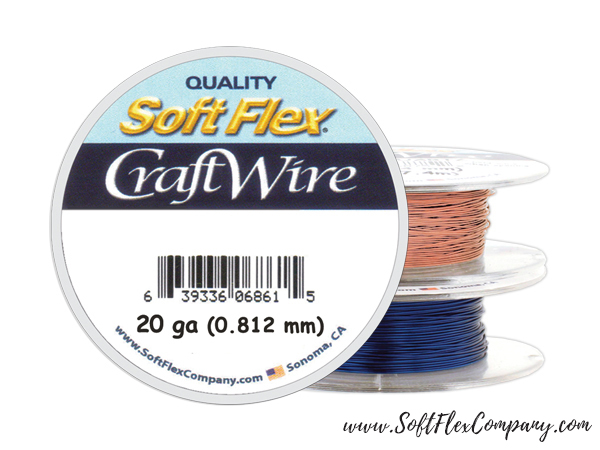 Don't forget to stock up on Soft Flex Craft Wire for your jig board!
Soft Flex Craft Wire is a high quality, permanently colored copper wire. It is resistant to scratching, peeling and marring. This is due to the special enameling process used to coat the wire to produce the wide spectrum of colors we offer. After the enamel is applied, the wire is then clear coated to prevent tarnishing. We currently offer six of the most commonly used gauges in the jewelry industry. An exceptional design idea deserves a professional craft wire.
WigJig Jig Boards
All jigs are not created equal. Clear jig boards allow a designer to place the jig over a pattern and replicate that pattern. This is perfect for a beginner or a designer that wants to recreate a pattern they enjoy. Clear jigs are great, but if they are made with a low quality plastic, the holes on the jig boards can widen over time. With wider holes, the pegs will no longer stay seated correctly and your work will suffer.
Metal jig boards are a great option for designers that want strength and not have to worry about the holes on their boards widening. But, a metal board means that the designer can no longer use the board over a pattern.
WigJig boards are the best of both worlds! Strength and a transparent surface. WigJigs are made with a hard acrylic plastic similar to the material used to create passenger airplane windows. This acrylic design is hard enough to withstand the abuse of the pegs on the board. Peg placement and use will not widen the holes. This transparent material is wonderful for using patterns.
WigJig Delphi Acrylic Wire Jig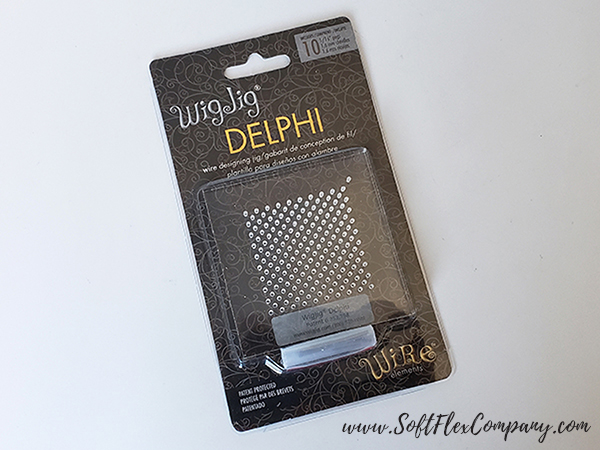 You are going to love the WigJig Delphi!
The transparent Delphi has smaller pegs and closer holes than other WigJig boards. Accordingly, designs made on the Delphi are smaller and more delicate. Smaller earring components can be made on the Delphi to match larger necklace/ bracelet links made on other WigJig boards. It works very well for paper arts designs. Includes jig with 181 holes, 20 metal pegs (1/16" diameter), and wire designing tips.
WigJig Large Super Pegs For Delphi Jig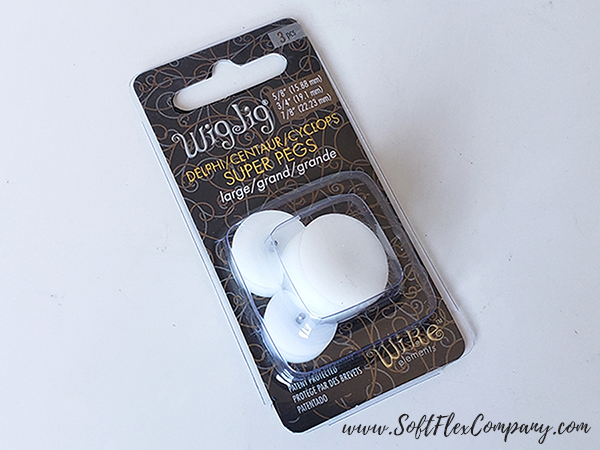 Larger loops with a consistent size. If you are designing professionally - or just want symmetry in your work, this premium set makes it easy!
These Large Round Super Pegs expand your wire designing possibilities when using transparent WigJigs. There is one Super Peg in each of three diameters (5/8" 3/4" 7/8"). These pegs fit the WigJig Delphi, Centaur, Centaur-Lite and Cyclops. Super Pegs are an important accessory to WigJig jewelry tools. They allow making a defined radius in jewelry wire. If you need to shape jewelry wire in a rounded shape with a diameter of 5/8", 3/4", or 7/8" then this set is the one you need.
Designing With Wire Project Booklet For Delphi Jig

Designing with Wire! features seven stunning jewelry project ideas you can create with your WigJig Delphi Acrylic Jig board. Learn how to make three earrings, three bracelets, and a beautiful necklace. This book is perfect for the beginner with their first jig board and also has some great projects for the advanced designer.
Accessories for wire working
Wire working tools are essential for a professional WigJig finish. Don't forget to grab some great tools. Soft Flex Craft Wire is pliable and soft while working on the WigJig, to finish your designs, you will need to remove them from the jig and work harden the wire so it retains its shape. Tools can help you work harden the wire easily and without marring the surface of your wire. We also have tools to help create loops and file the ends of your Soft Flex Craft Wire so they have no sharp edges.
Nylon Jaw Pliers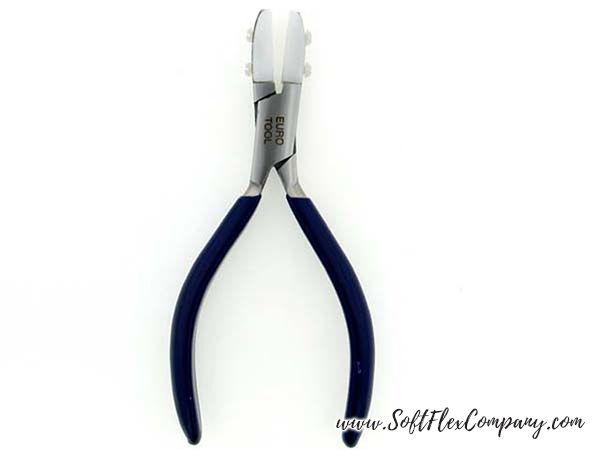 Nylon Jaw Pliers are a must have tool for anyone who wire wraps and designs using wire. Due to the nylon jaws, the wire is less likely to be scratched or marred while being worked on. Also great to recycle and straighten wire! Replacement jaws are also available.
Wire Whacker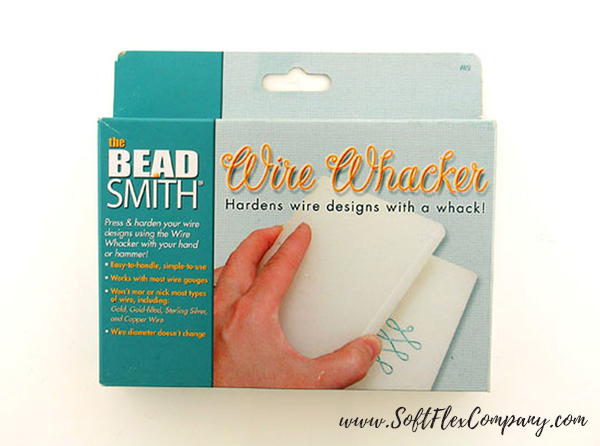 The Wire Whacker is perfect for any wire wrapping designer. The Wire Whacker makes it easy to work harden a wire design with a couple of strikes, rather than slowly hammering the pieces. It is the perfect tool for Soft Flex Craft Wire, the Wire Whacker will not mar or damage the enamel coating on the wire.
Burr Cup

A Burr Cup is used to file and round the end of Soft Flex Craft Wire. No more sharp or irregular edges on the end of your wire wrapped jewelry! It is manufactured with a stainless steel tip and wooden handle. The cup can accommodate up to 16 gauge wire.
LoopRite Looping Pliers

These LoopRite Looping Pliers are perfect for making consistent loops for your wire working projects. The nose of the pliers graduates from 2mm to 8mm. The guidelines along the nose will allow for accurate loop sizes. Make every loop uniform and professional. This is the perfect tool for creating jump rings, head pins, eye pins and more. LoopRite Pliers are perfect for your next Craft Wire project.
Join our Facebook group – VIB. Stay in the know. Stay up to date. From our bead shows to our video shows and sales, you can stay in touch with us. The community is full of artistic and helpful beaders and crafty people. Inspire and be inspired. Share your pictures and get the beading bug from others!
Visit the Soft Flex Company YouTube Channel!
---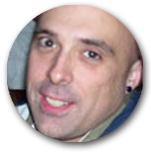 Blog contributor Thomas Soles loves Jazz Age writers and crunchy french fries. His favorite gemstones are Lapis and Pietersite. His favorite hobby is day dreaming. And his favorite mustache is Freddie Mercury's. As you can see, he has a healthy (or possibly unhealthy) sense of humor. You can write to him at Thomas@SoftFlexCompany.com