If you would like to learn how to make jewelry, we have some fantastic videos for you. If you are a beginner beader, you are going to want to grab a warm cup of cocoa and settle in for some easy to follow instructions. If you are a professional designer, you might find some inspiration here or possibly learn about a tool that is not in your jewelry making supplies.

We present ten of our favorite videos for learning a new jewelry technique. Enjoy!
Join our Facebook group – VIB. Stay in the know. Stay up to date. From our bead shows to our video shows and sales, you can stay in touch with us. The community is full of artistic and helpful beaders and crafty people. Inspire and be inspired. Share your pictures and get the beading bug from others!
Make A Kumihimo Bracelet With Soft Flex Wire
I love Kumihimo. It is so much simpler than it appears. It is basically following a pattern on the disk and repeating. The braiding is easy enough control and work on while watching TV or sitting in a comfy chair. If you vary your colors up, you can really make your designs pop. Adding beads transforms the piece. You can be as intricate or easy going as you want with your Kumihimo disk.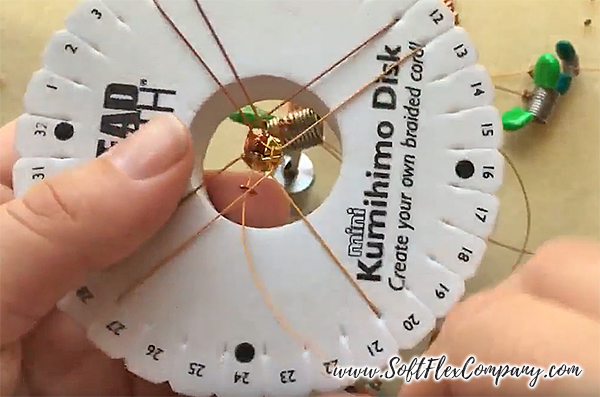 Kumihimo means 'gathered threads' in Japanese. It is a form of braiding. Kumihimo braids can be used to create decorative lace, cords, jewelry or clothing accessories.
Historically, Kumihimo braids have been used in Samurai armor and weaponry. The braids were used as a functional knit for their armor pieces. Decoratively, it adorned their horses armor and the handles of their swords.
Modern Kumihimo disks are great for the crafter on the go. We love using our ten foot Soft Flex Color Wire spools as bobbins.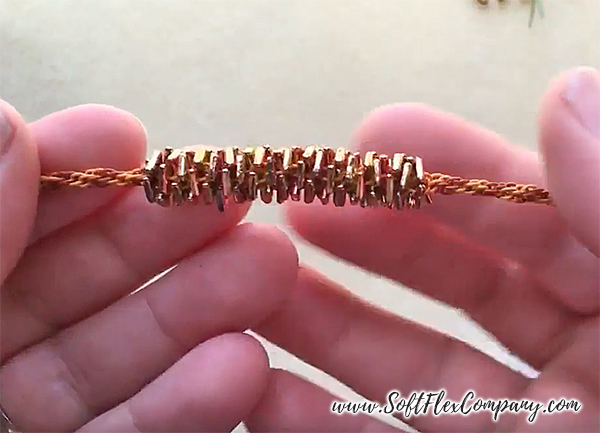 How To Make A Square Kumihimo Flat Braided Bracelet

Square Kumihimo designs are just as easy to create as their circular brethren. The patterns are different from the disks, but they are so easy to follow. A finished Square Kumihimo design will look flatter than a disk design. It is perfect for a bracelet. You can add beads or play with color.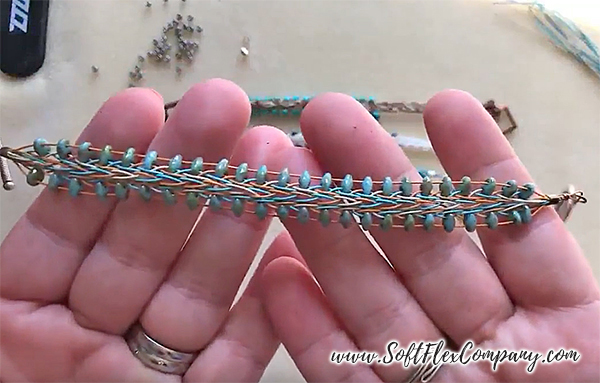 Using Soft Flex Beading Wire on your Kumihimo board is perfect for creating a sturdy and long lasting piece of jewelry. Soft Flex withstands abrasion that would break regular cord and thread. Since it is such strong and flexible wire, you can add as many beads as you want to your Kumihimo designs and not have to worry about them tearing into your design. If you are familiar with Kumihimo, but have not played with the square boards yet, you owe it to yourself to pick one up.
Kristen is a great teacher. Check out her videos. She is easy to follow and has a great outlook on jewelry design.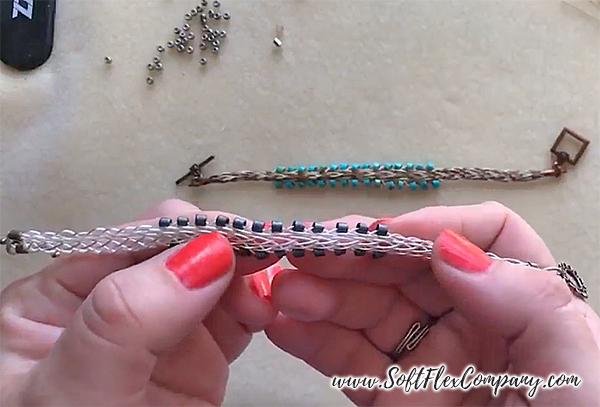 Use Soft Flex Beading Wire On A Knitting Spool To Make Jewelry
A timeless tradition that many will recall learning as a child. The knitting spool you may have used with yarn or thread as a youngster has been reimagined for wire weaving. Try knitting using Soft Flex Craft Wire, Soft Flex Beading Wire as well as thread, cord, yarn, leather, etc. You can add beads. You can weave multiple and different materials together and create unique, one-of-a-kind, bracelets and necklaces. Not only are there three different styles of knitting spools available (3-pin, 4-pin and 5-pin), but there are several different ways to knit on each spool.
Knitting spools are as versatile as Kumihimo Boards. You can use color for a vivid design. You can add beads for an interesting look. You can knit a design that is all wire and have a single focal bead. The finish of a knitted design is similar to a Viking Knit design.
To finish a knitting spool design, you can add a cone and a clasp. If you are feeling extra creative, you can create your own cones with Craft Wire. This will make your design extra personalized. We have lots of videos on our YouTube video if you need extra help.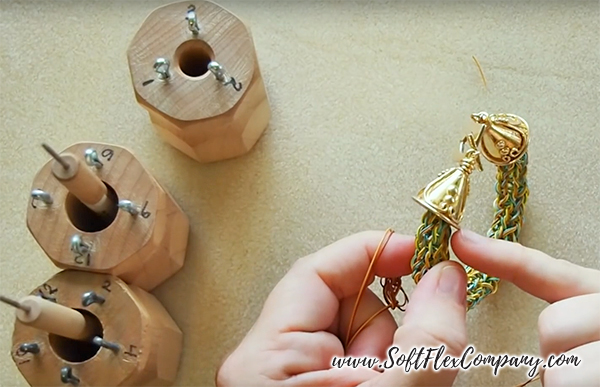 Use Vintaj Patinas To Cover Crimp Tubes And Braid Soft Flex Bangle Bracelets
We do not sell Vintaj Patinas, but we wholeheartedly endorse them. Vintaj Patinas are opaque inks formulated to adhere to metal. They are available in 21 different colors and 4 metallics. They can easily be cleaned with water.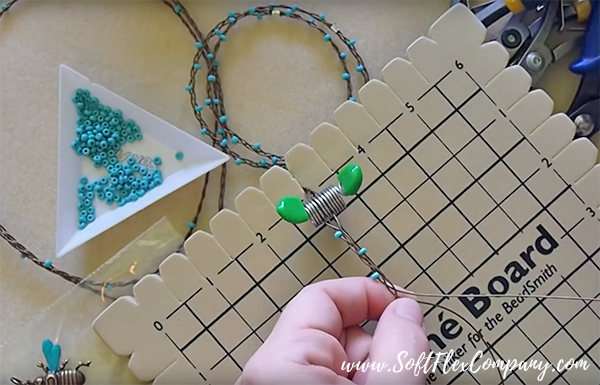 Vintaj Patinas are great for personalizing metals blanks and focal beads. They can add a splash of color or a hint of age. An easy application of patina will make crimps into works of art. If you like Southwestern flavored designs – patinas are wonderful for adding a little cowboy into your jewelry.
Half Knot Spiral Macrame Bracelet with Soft Flex Wire

Macramé is a knotting art. It is functional and visually appealing. Soft Flex is fun with a macramé board. Micro macramé designs are compact and compelling. You can design bracelets, earrings, and more. You can add beads or just use color wire.
Macramé is likely derived from Arabic or Turkish words describing fringes and weaving techniques. It is a form of crafting textiles using knots - rather than knitting, crocheting or weaving.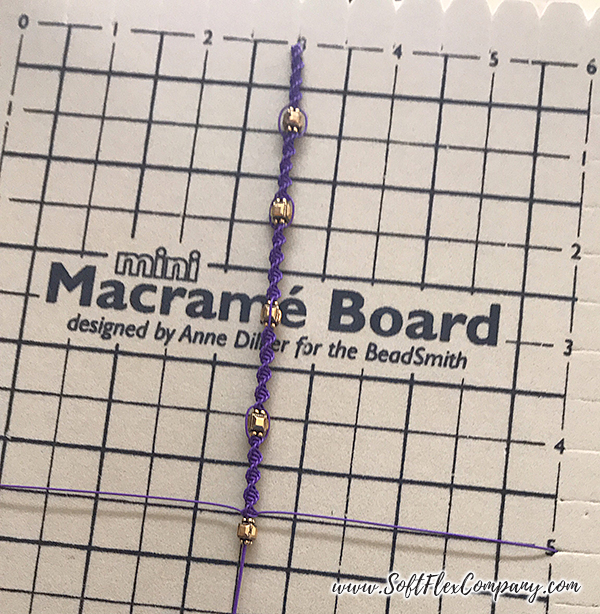 Early macramé was used as a decorative fringe. It later fell into favor with sailors and was used for hammocks, fringe work on railing and bells and decorative finishes to knife handles and bottles. Macramé exploded in popularity during the 1970s and was used for wall hangings, jewelry, and clothing.
On into the 21st century, we have found macramé especially fun to use with Soft Flex Wire. Explore jewelry making with our colored wire and a macramé board!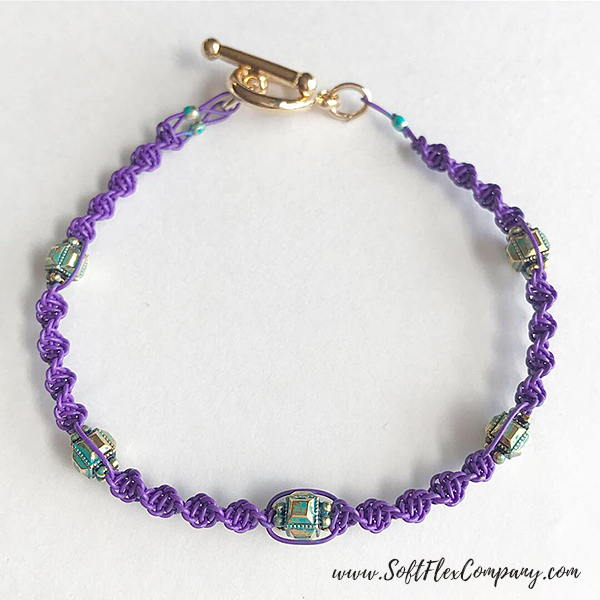 Crimping To Finish A Simple Bracelet Or Necklace

Crimping is one of the most basic aspects to jewelry making. It may seem odd to include a video about crimping. But the importance of crimping cannot be overstated. It is a fundamental part of a jewelry design. A rock solid crimping technique will end the frustration of restringing jewelry. We believe that a good crimp and a good technique will make your pieces last for many years. We feel if your crimps are well finished, you can cut your wire right at the crimp. We do not suggest doubling back through your last beads.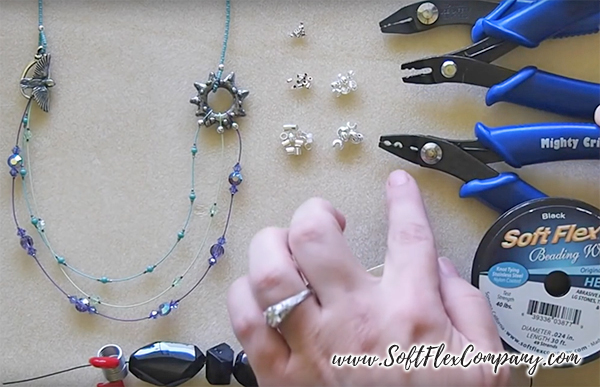 Some people chose to smash their crimps with regular pliers. This will leave irregular crimps that never look the same and can abrade the skin. If you want uniformity in your crimps and a more professional look, we suggest crimping pliers. You can opt for regular crimping pliers or get fancy and use Magical Crimping Pliers.
The video below is a good primer for Magical Crimping Pliers.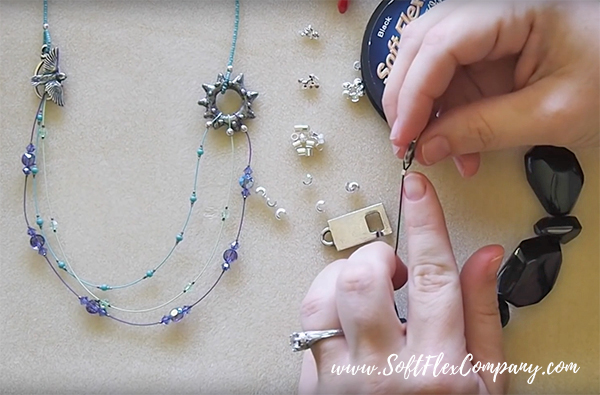 Use Magical Crimping Pliers And Soft Flex Beading Wire To Make Earrings
We love Magical Crimping Pliers. They are as secure as regular crimping pliers with their finish. But they are great for their aesthetic. If you do not like the look of a crimp finished with regular crimping pliers and tend to hide your crimps under crimp covers, Magical Crimping Pliers should be your next purchase. Magical Crimping Pliers turn a crimp tube into a rounded bead. The finish is stunning. You can use these pliers to finish your jewelry or to turn crimps into spacers. If you like illusion necklaces, Magical Crimping Pliers are perfect for securing your 'floating' beads.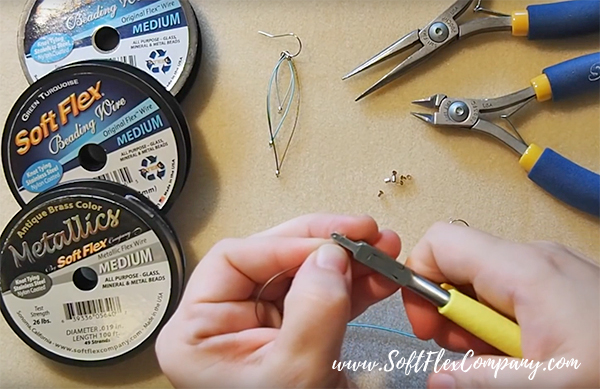 Don't smash your crimps. Turn every component in your design into an appealing element. Magical Crimping Pliers are wonderful.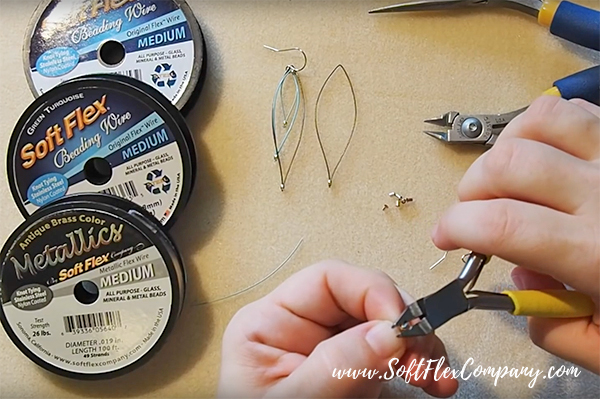 Use Stretch Magic To Make A Bracelet And Earrings

Stretch Magic is fun. It is the perfect medium for beginner stringers or children. It is great for a summer bracelet. It is great if you are on a budget. You do not need tools, for the most part, to finish your Stretch Magic jewelry. Simply string some beads, knot the cord and glue it for extra security. Instant design!
If your beads are on the expensive side or if you want to design jewelry that lasts for years, I would suggest using Soft Flex Beading Wire. But Stretch Magic is great for a fun design.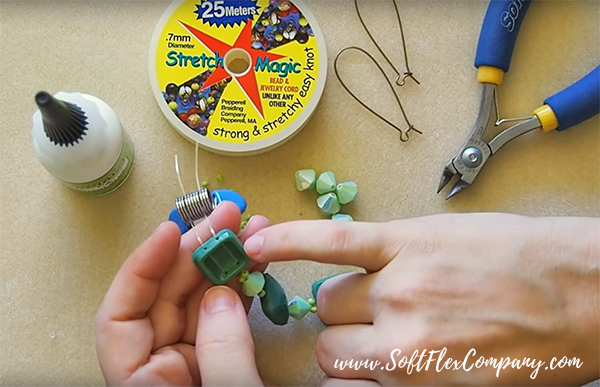 Stretch Magic is a strong elastic-like cord. It is constructed of a mixture of polyester and polyurethane. Stretch Magic is solid and will not fray over time. Stretch Magic does not contain any latex, rayon, or elastic. This product is available in Gold, Clear or Black. To finish off a design, tie a square knot and dab with Special T Glue to secure. .5mm is the thinnest diameter.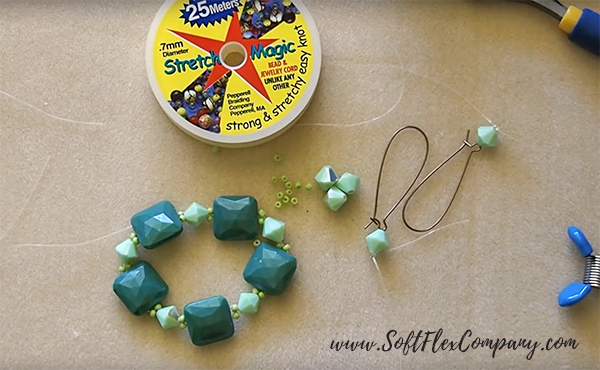 How To Make A Rose Ring Using Soft Flex Craft Wire
Wire wrapping is such a neat skill. You can wrap wine glasses. You can add wire to a glass or gemstone bead. You can create chain or jewelry with it. There are so many possibilities with a spool of Craft Wire.
James is our newest employee. And boy did we win the lottery. He is a skilled artist with Craft Wire and wire wrapping. He filmed a series on how to make some interesting and fun designs with Craft Wire. His series, Conversations in Wire, is on hiatus for a bit, but will return soon. Unfortunately, James is also a skilled tech guy and he is busy optimizing our store info and hardware. When the dust clears, he will be back to his videos.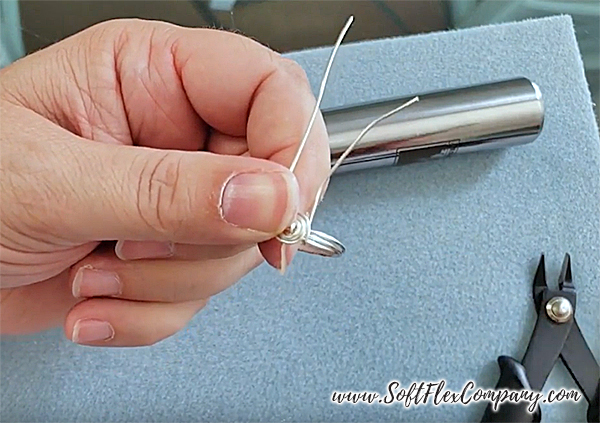 If you enjoy this video on how to wire wrap a ring, make sure you Visit our YouTube library and check his other videos out. He shows you how to create letters with Craft Wire. How to create a pea pod focal bead. He has so many fun ideas and is a great teacher.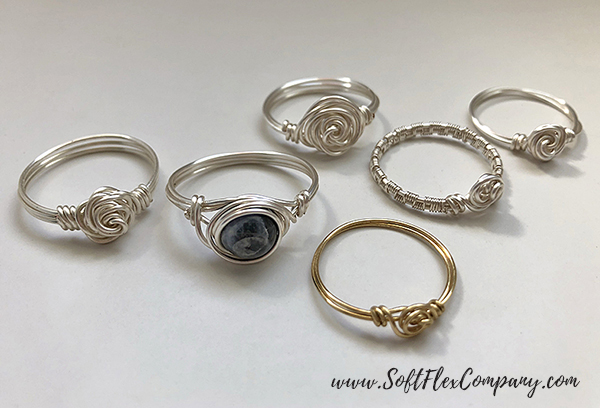 Beading Components And Findings Explained
You can know everything you need to know about beading wire and tools, but if you are unfamiliar with components and findings, you are only hurting your work. This video deserves to be saved in your library. Sara discusses all you need to know about the findings available in our store.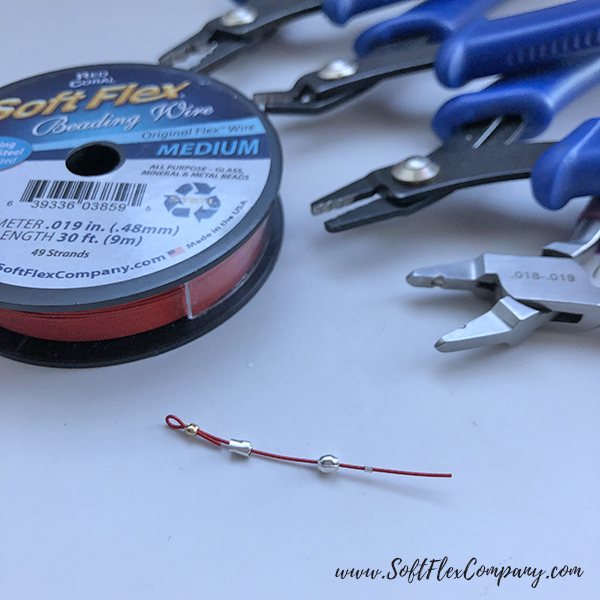 Sara discusses all of the crimps we carry and how to finish them. She discusses crimp covers and touches on the pliers used to finish the crimps. She discusses jump rings and split rings. She talks about how to use wire protectors and why she does not choose to use them. She gives and honest and detailed assessment about how to use findings.
We hope you enjoyed these videos. We hope that you learned a tip or trick or two. We hope you had a very merry Christmas. Visit us in the upcoming year. We have so much to talk about and so many videos planned.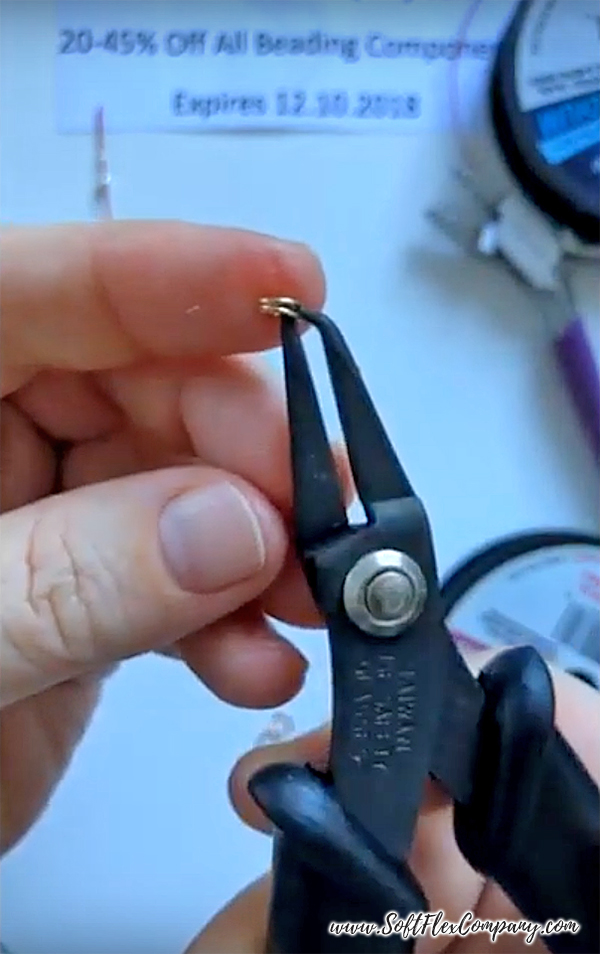 Join our Facebook group – VIB. Stay in the know. Stay up to date. From our bead shows to our video shows and sales, you can stay in touch with us. The community is full of artistic and helpful beaders and crafty people. Inspire and be inspired. Share your pictures and get the beading bug from others!
Visit the Soft Flex Company YouTube Channel!
---
Blog contributor Thomas Soles is the Trade Show Coordinator for Soft Flex Company. His favorite stones are Lapis and Pietersite. His favorite hobby is day dreaming. And his favorite mustache is Tom Selleck's. As you can see, he has a healthy (or possibly unhealthy) sense of humor. You can write to him at Thomas@SoftFlexCompany.com